Ice cream is a universal sweet treat and over the years more and more ice cream flavors are pleasing palates. We love all types of ice cream and there will never be a shortage of ice cream flavors to choose from.
We're sharing some of our favorite ice cream flavors, reader favorite ice cream flavors, and talking about the different types of ice cream flavors.
We've included some common ice cream flavors and some that are newer to the ice cream recipe scene, like Lemon Custard Ice Cream. Peaches and Cream Ice Cream is also a fantastic ice cream flavor.
If you don't see one of your favorite ice cream flavors, let us know in the comments below and we'll consider creating a recipe for it.
Most ice cream shops offer several ice cream flavors, with some including a signature ice cream flavor. It's super fun to go to ice cream shops and try something new. You can also make frozen yogurt at home.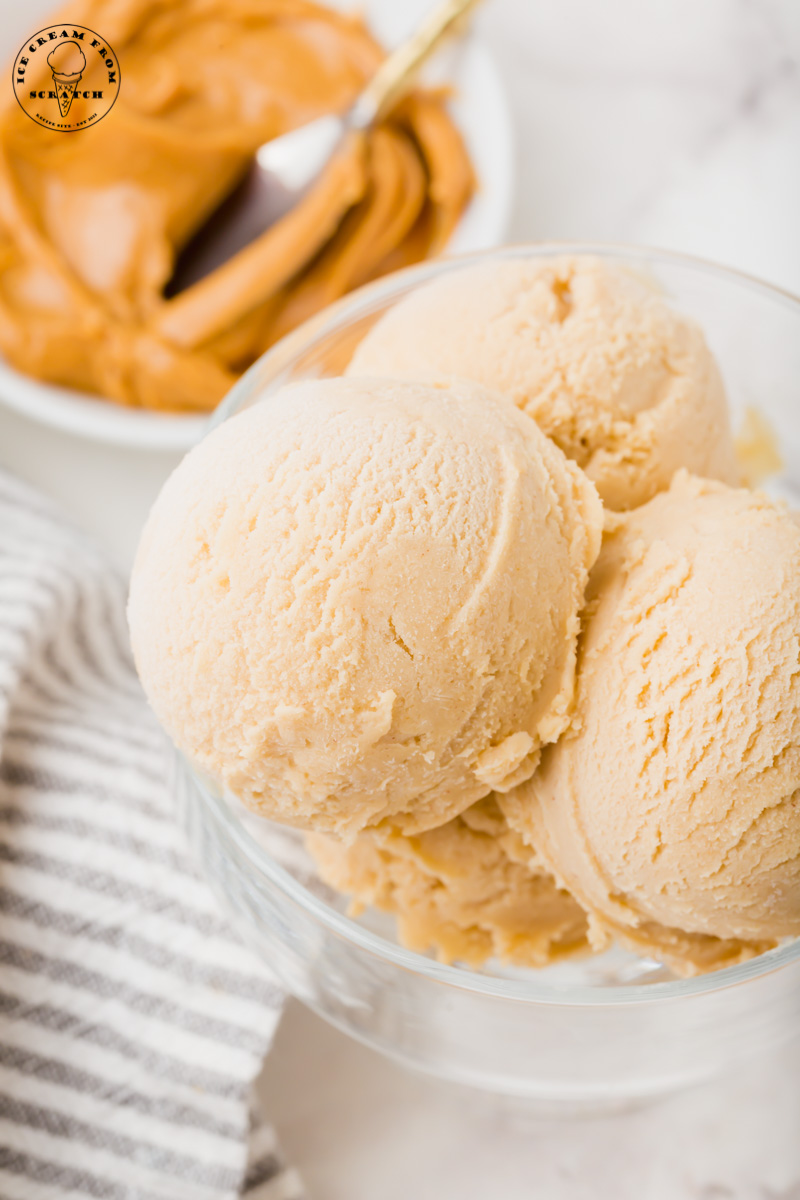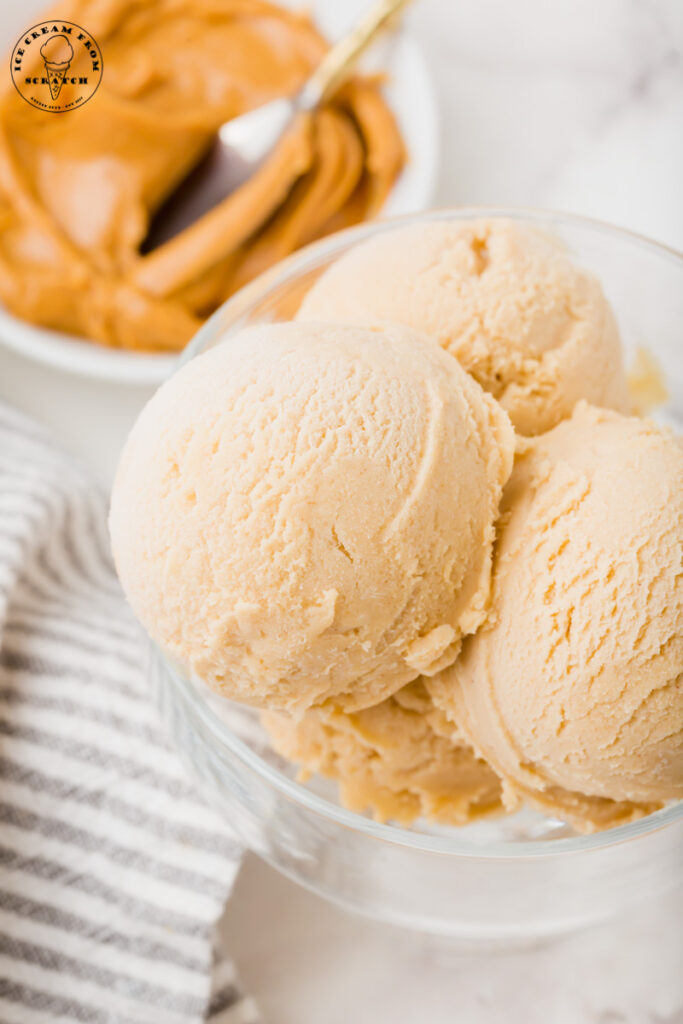 ICE CREAM FLAVORS
Vanilla
Vanilla might be the number one universal ice cream flavor. You can add anything to it to make dress it up until something different. Vanilla ice cream is simple and smooth, and it's one of those ice cream flavors that's good on its own, or with toppings.
There are several types of vanilla ice cream, including no churn vanilla ice cream and custard style vanilla ice cream, that uses egg yolks in the base.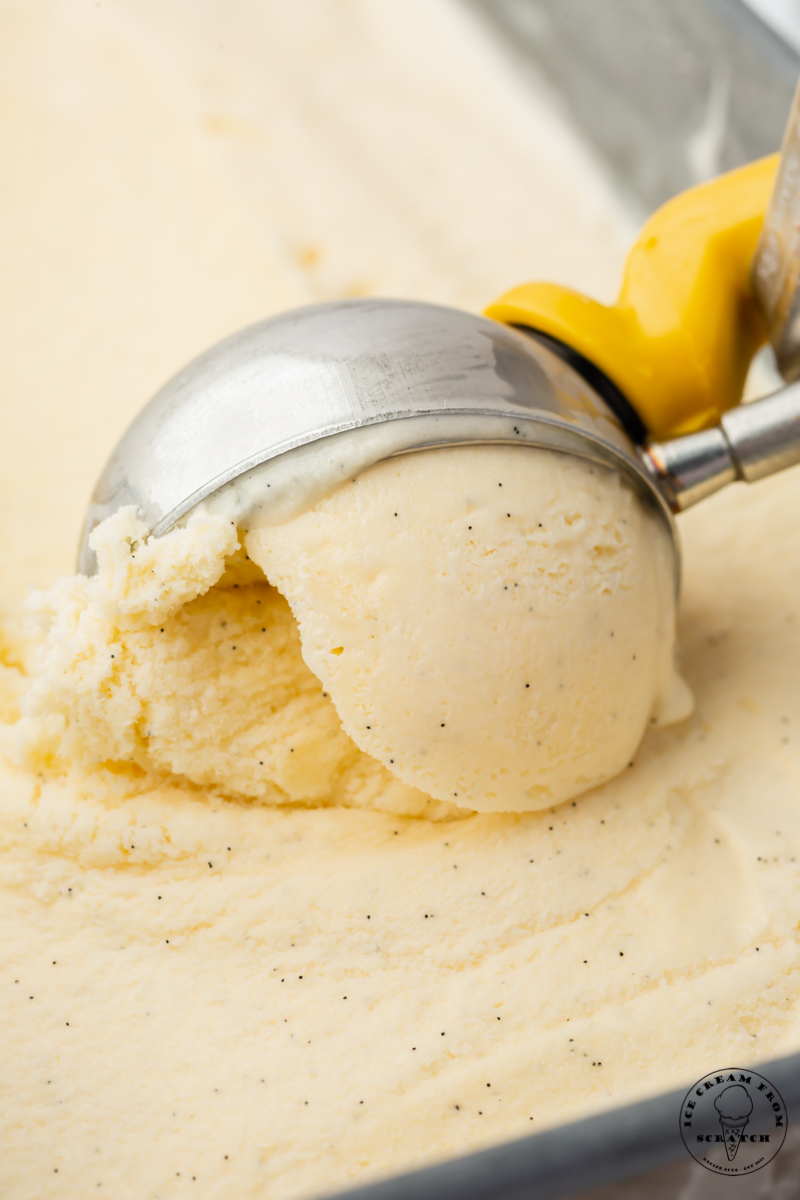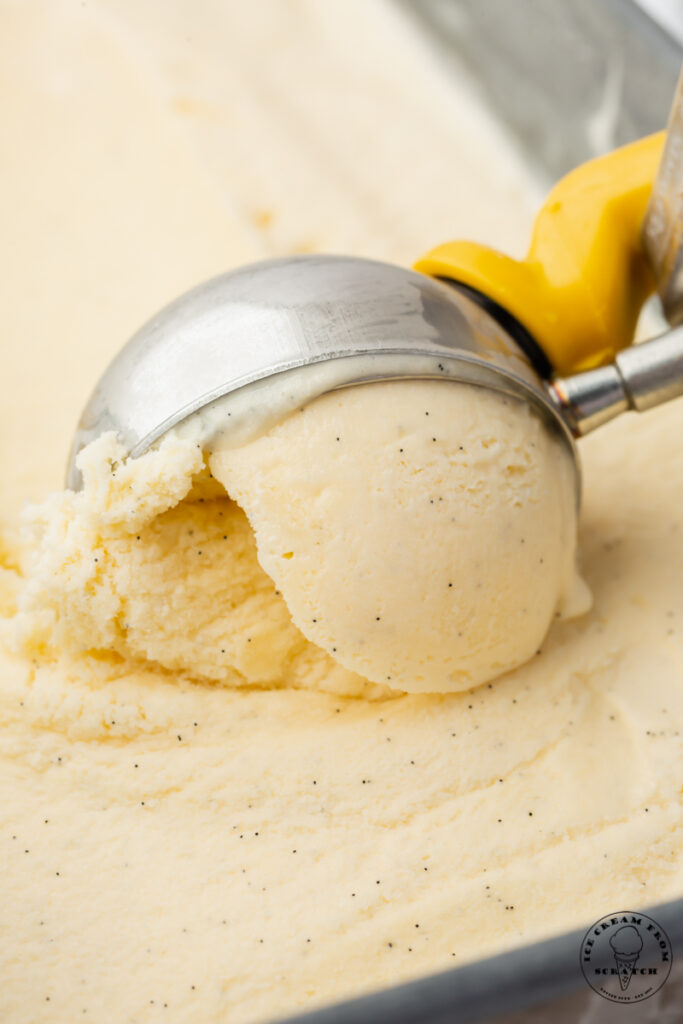 Chocolate
Chocolate, like vanilla, is also a very standard traditional ice cream flavor. You have to love chocolate in general to like chocolate ice cream. You can add most ice cream sauces and toppings to chocolate ice cream.
Chocolate ice cream flavors can be lite or rich, depending on if you make a custard base ice cream or a no churn chocolate ice cream. Also, how much chocolate you add plays a big role in the flavor profile.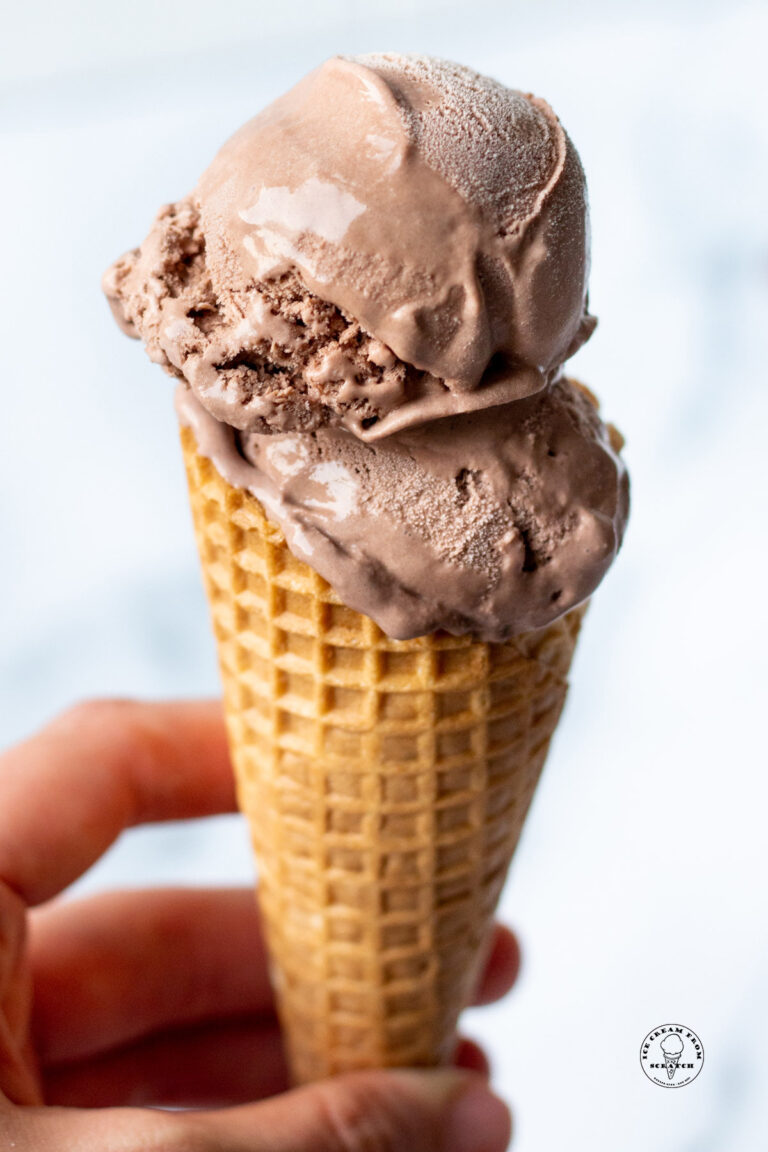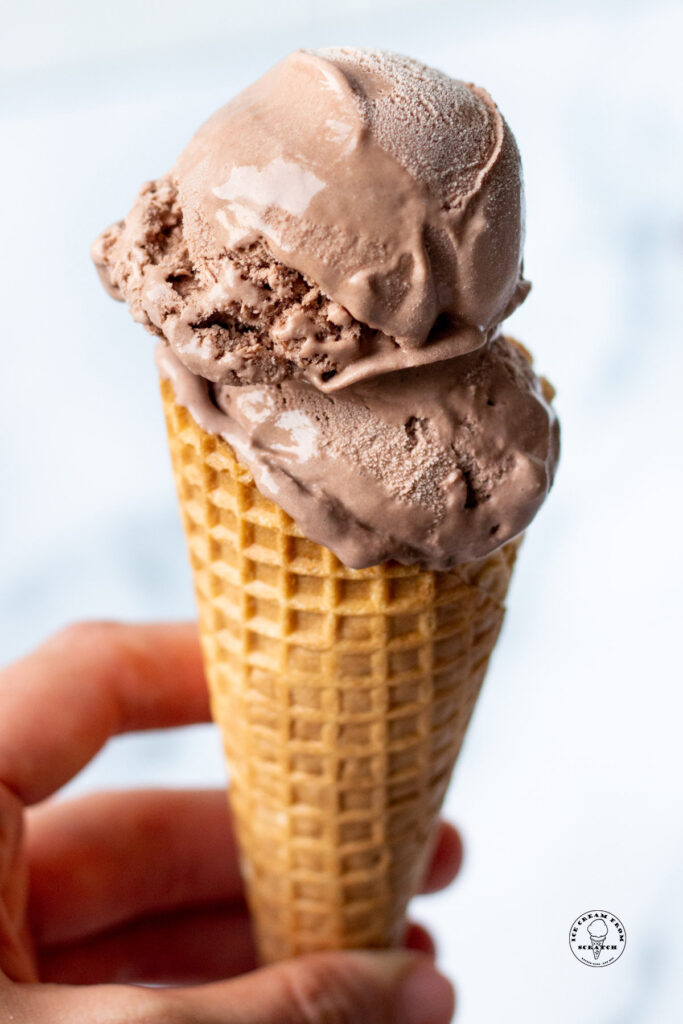 If you like chocolate, but you like a mix of ice cream flavors, you might want to make this chocolate marshmallow ice cream. It's incredibly delicious and has a luscious balance of chocolate and marshmallows.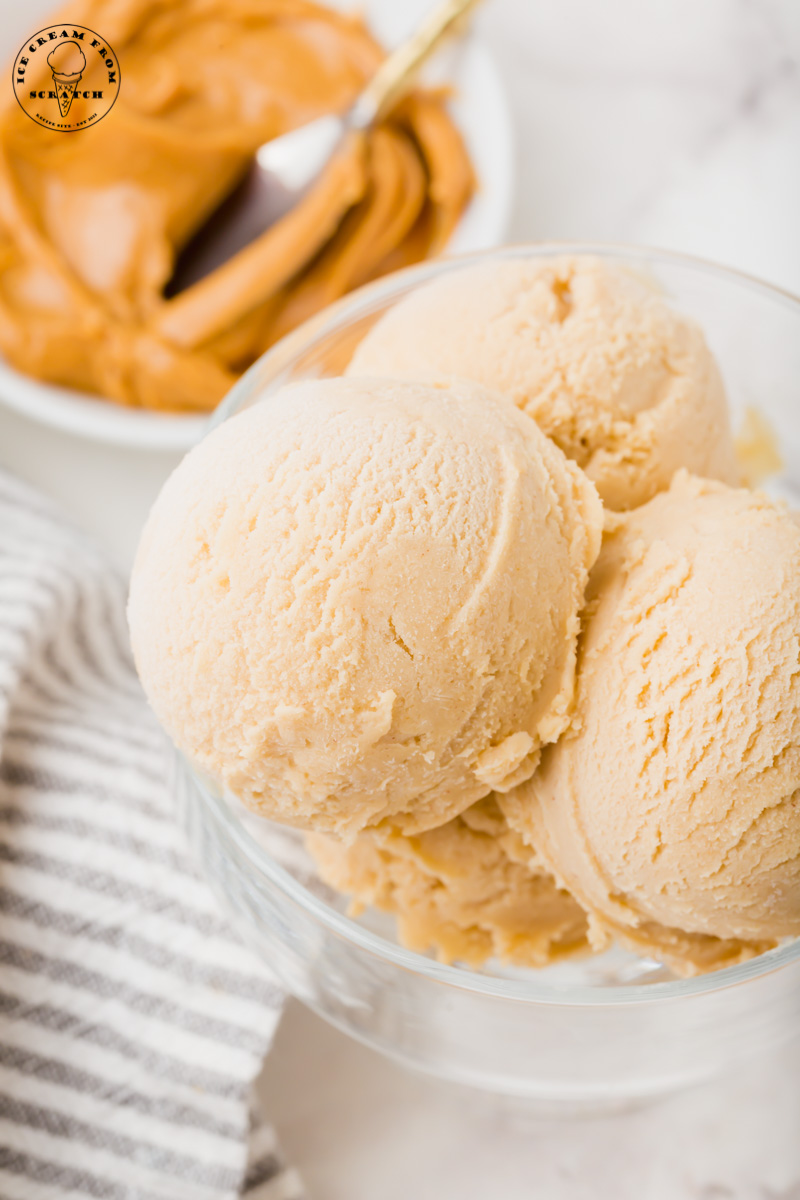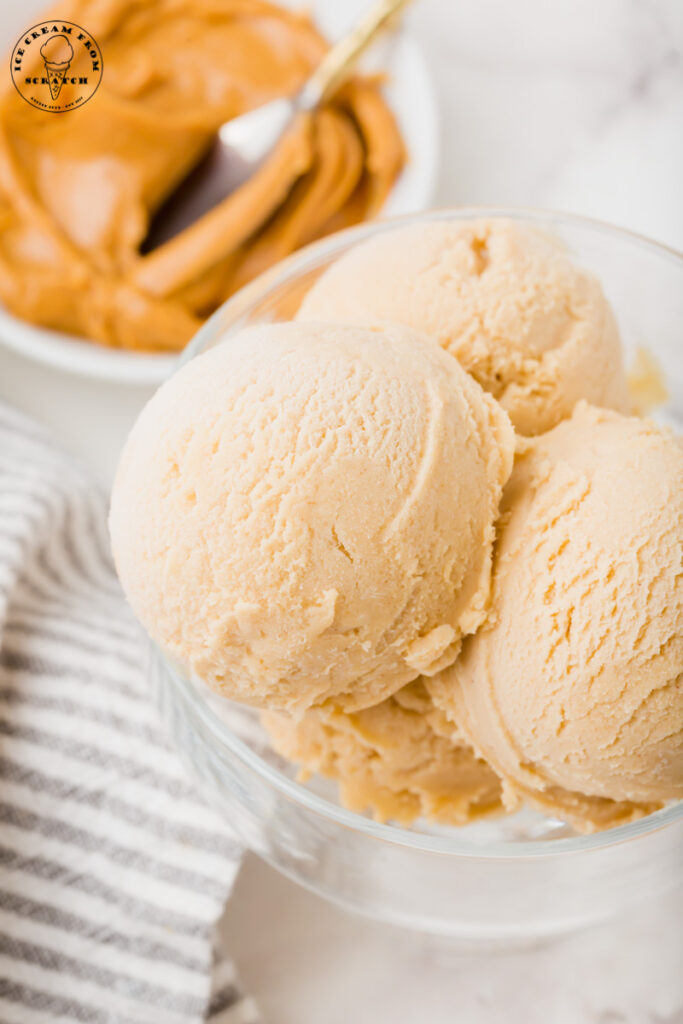 Peanut Butter
Smooth, creamy, and sweet, peanut butter ice cream has been a reader favorite ice cream flavor. It's like a cold reeses peanut butter cup, only better. Peanut butter ice cream makes a decadent peanut butter milkshake and it's incredible with chocolate sauce and crushed cookies.
If you love chocolate and you love peanut butter, you'll want to use peanut butter ice cream to make a chocolate peanut butter milkshake.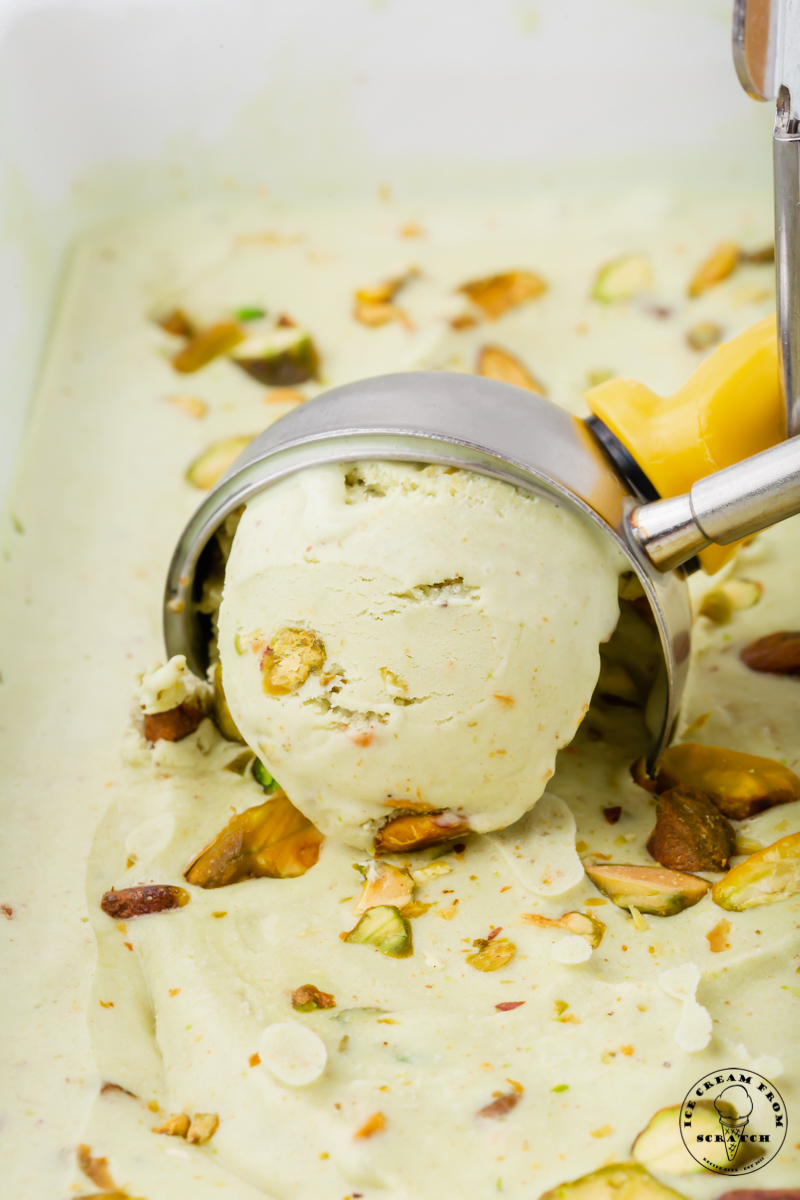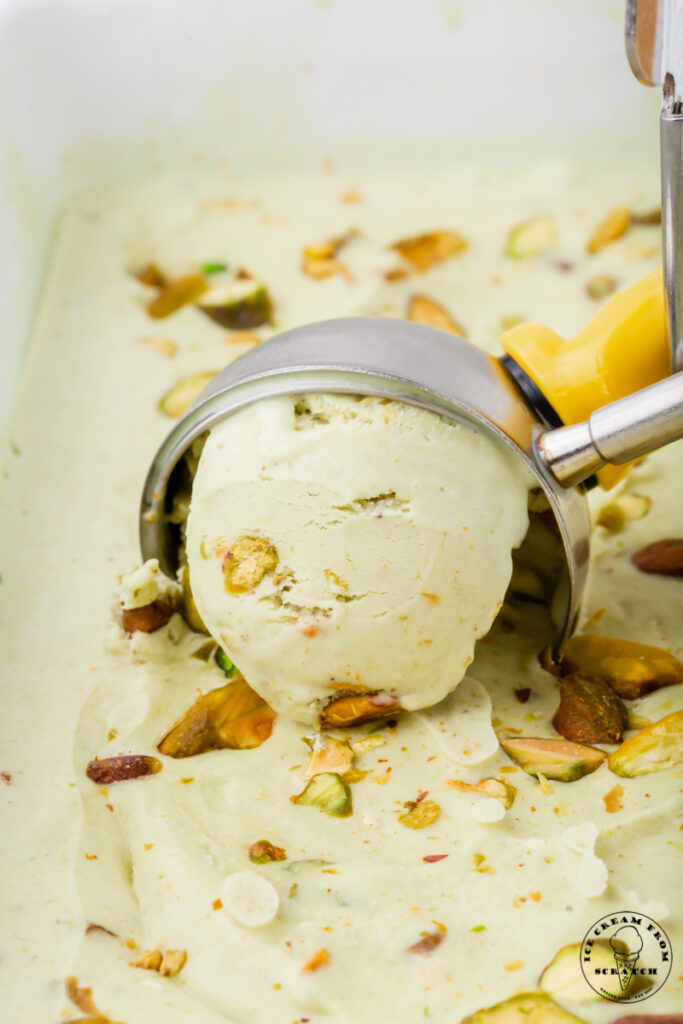 Pistachio
Pistachio Ice Cream is a traditional ice cream flavor that comes with lots of nostalgia. It was my number one most favorite ice cream flavor, which is rare for a kid. Most kids go for bright and colorful ice cream flavors with lots of add ins, but not me. Pistachio was always my go-to and it's why it's on this list of best ice cream flavors.
Cookies and Cream
Cookies and cream ice cream has been around for several years. Who wouldn't love a rich creamy vanilla ice cream churned with crushed cookies? It's one of the best ice cream flavors that works for kids and adults.
This homemade cookies and cream ice cream recipe uses 4 simple ingredients and it's super creamy and dreamy. There's no ice cream maker required to make this cookies and cream ice cream recipe, but you can use one if you like.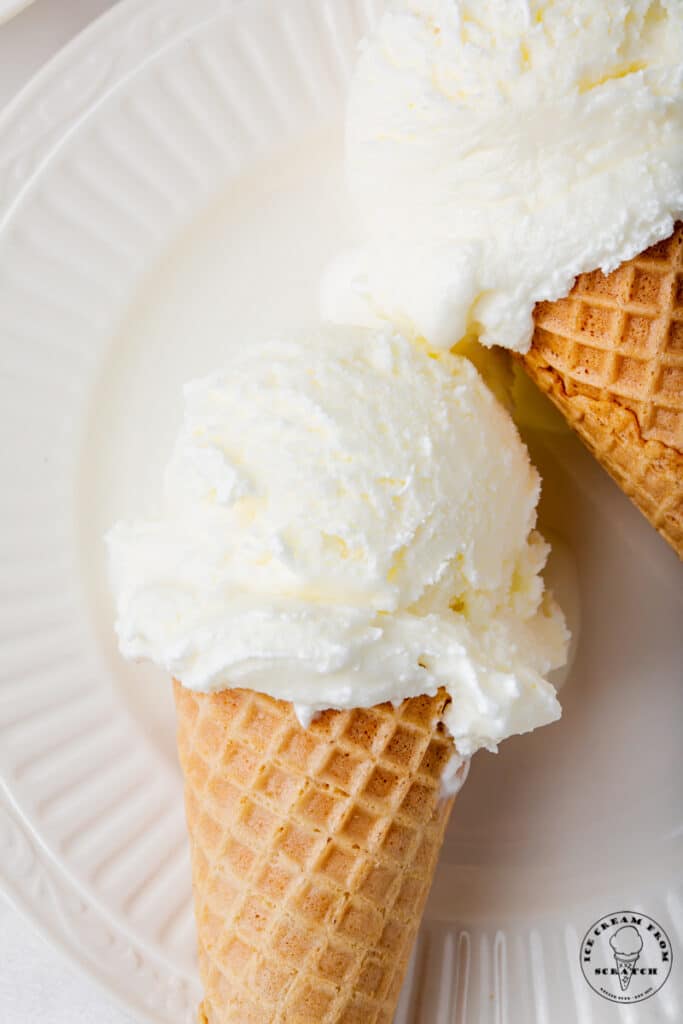 Sweet Cream
Sweet cream ice cream might be one of the first ice cream flavors offered, possibly before vanilla. It's a basic ice cream recipe made with sweet cream, and sometimes vanilla is added.
Sweet Cream Ice Cream is a delicious and simple Philadelphia style churned ice cream that you can make at home with four simple ingredients.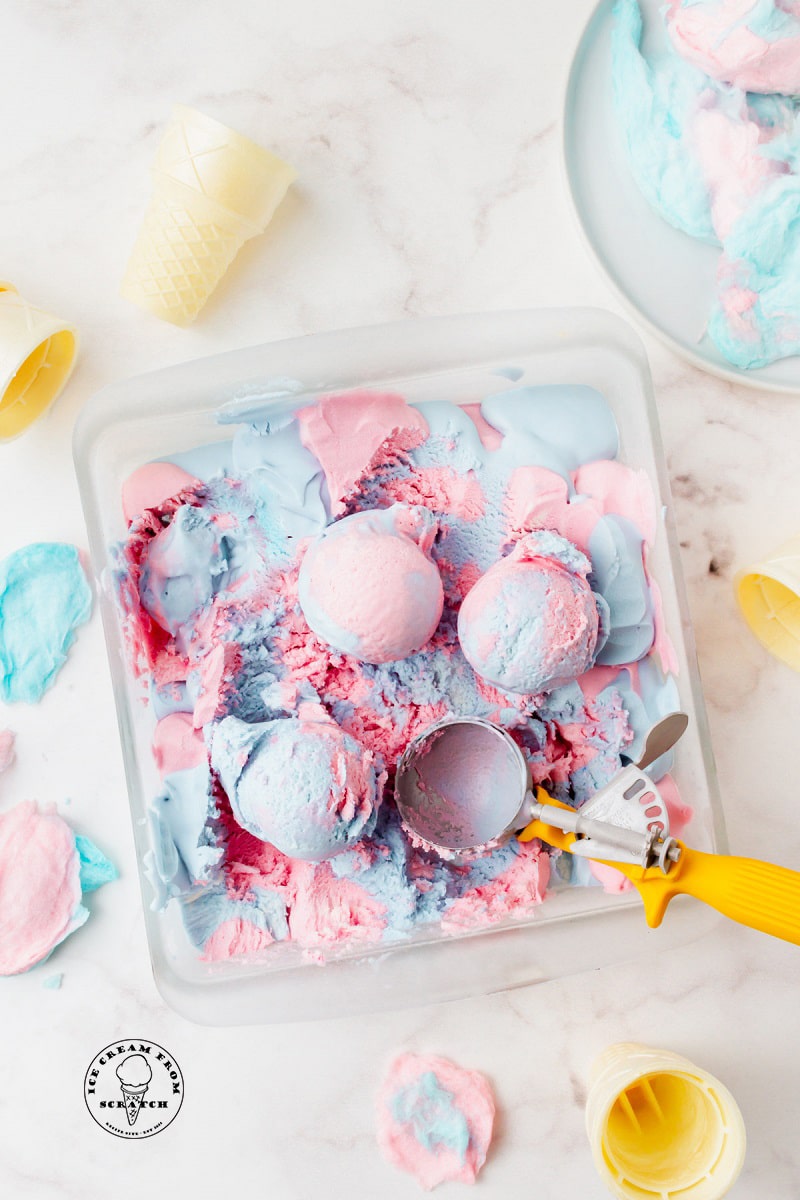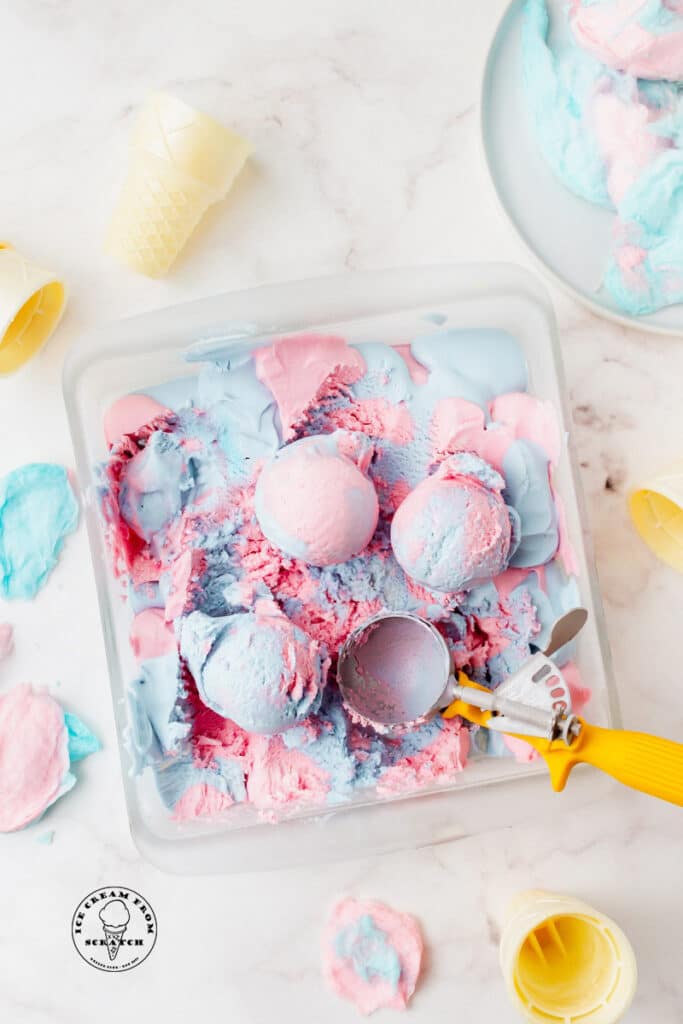 Cotton Candy
Cotton candy ice cream is a fun and colorful ice cream flavor that kids gravitate towards. The cotton candy ice cream flavor can be achieved a few ways but the most common is to use cotton candy or cotton candy flavoring.
You can find cotton candy ice cream flavors in most ice cream parlors and grocery stores. It's super fun and easy to make at home.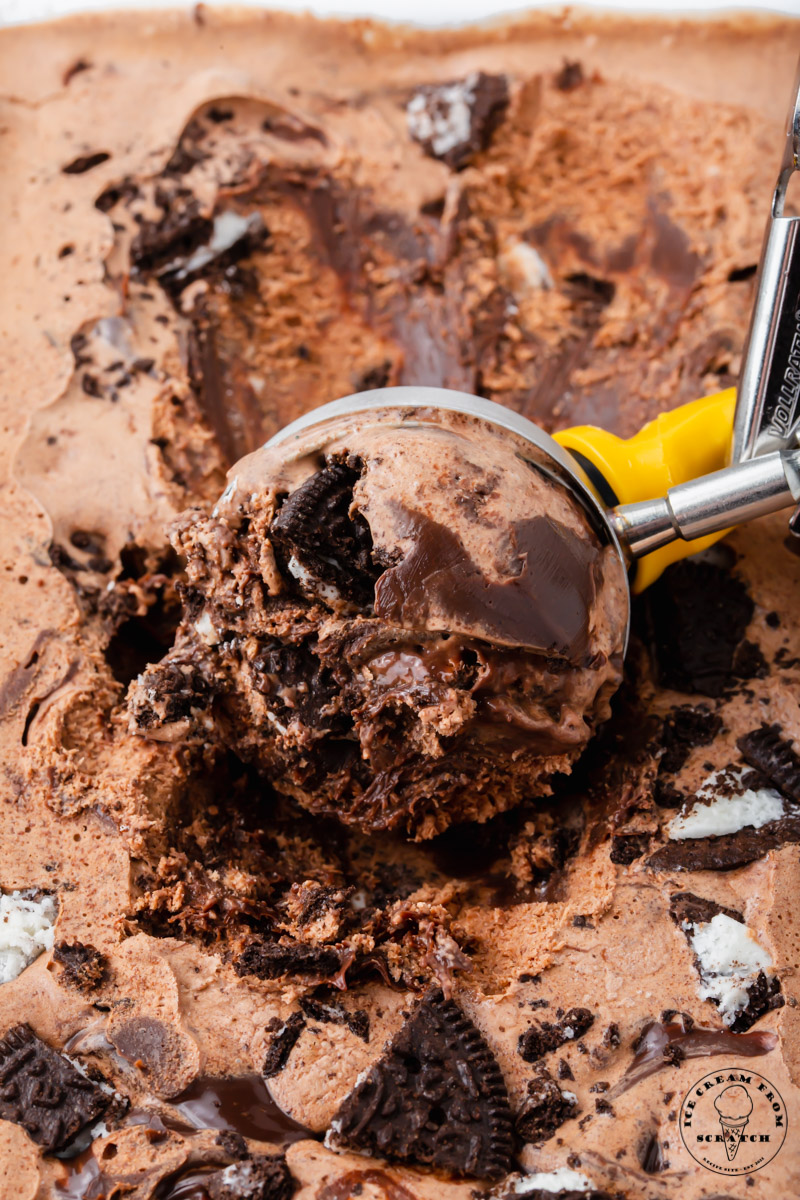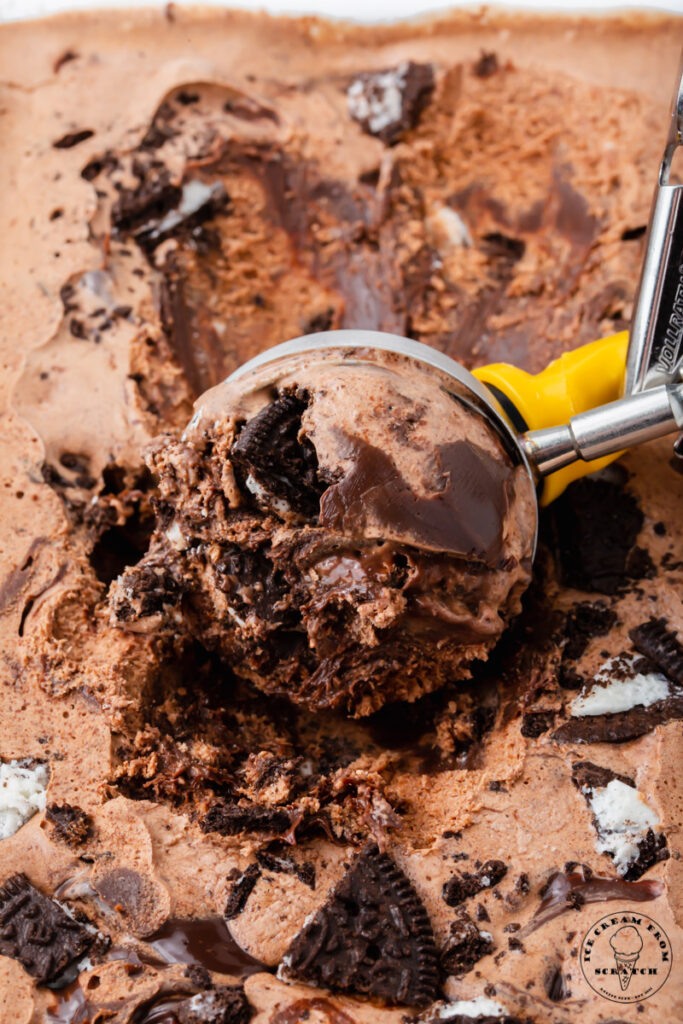 Mississippi Mud
A mix of fun ice cream flavors, this Mississippi mud ice cream flavor is making waves and you can now find it in grocery stores and ice cream shops. Mississippi Mud Ice Cream holds all of the deliciousness you'd expect from a Mississippi Mud pie, including cookies, chocolate, coffee, and cream.
Popular fast food chains are now using this ice cream flavor to make shakes, blizzards, malts and more.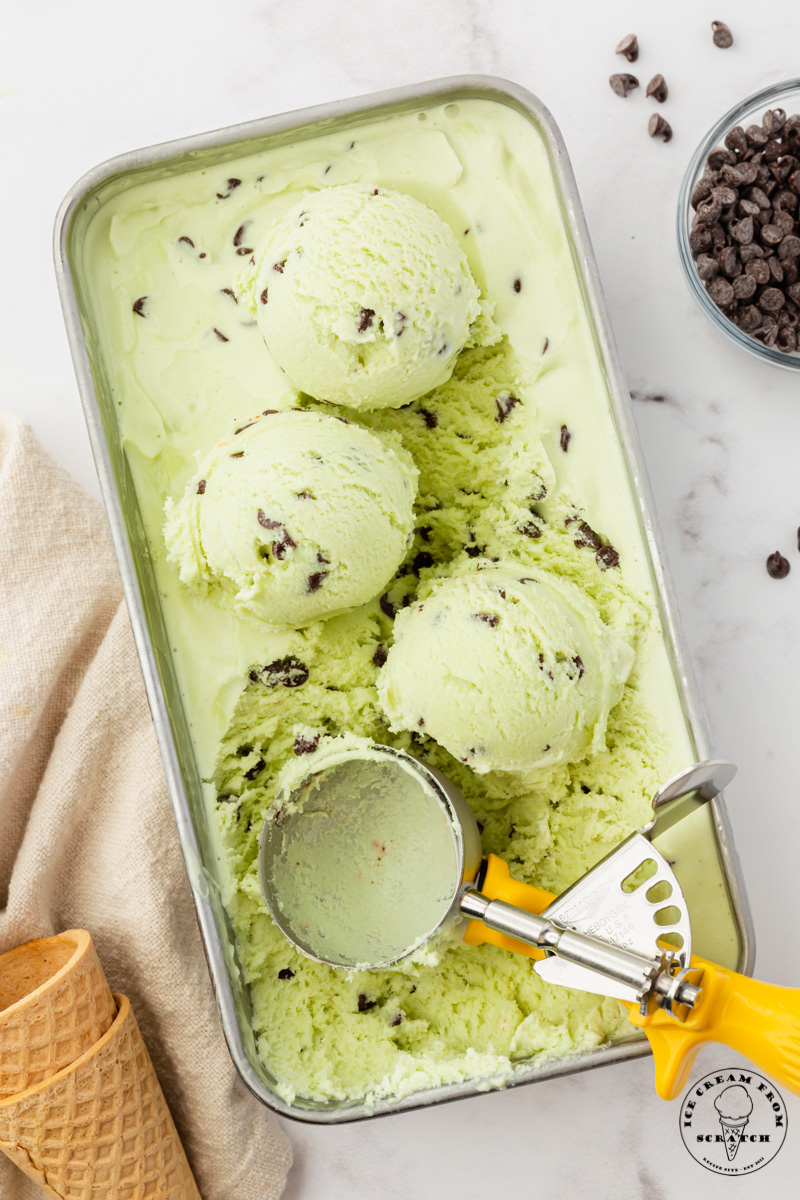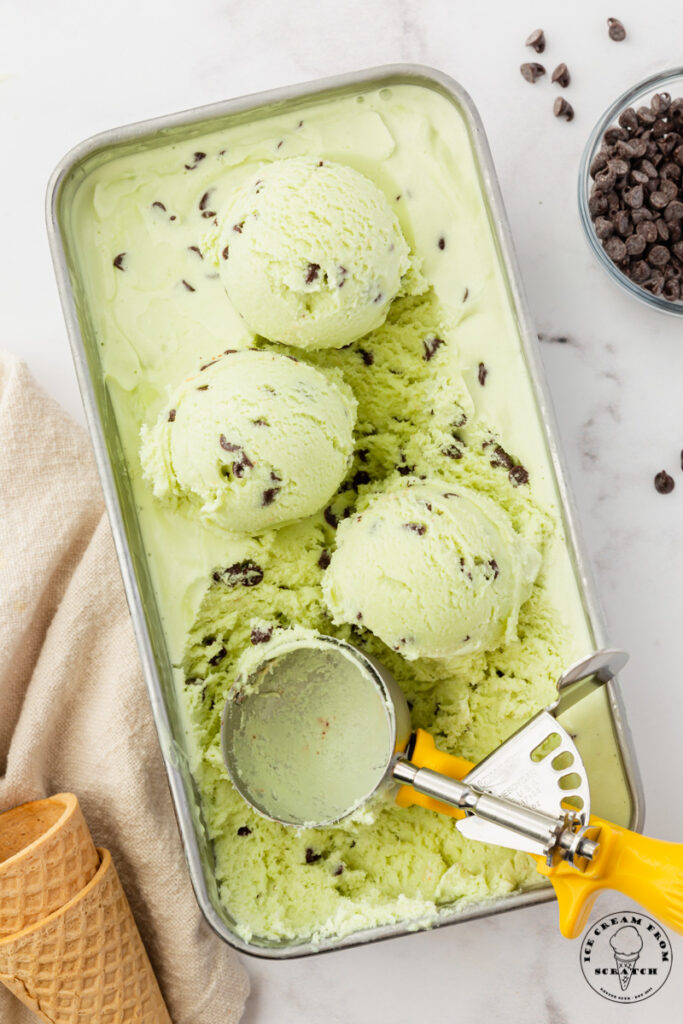 Mint Chocolate Chip
Mint chocolate chip ice cream is one of the best ice cream flavors and you can get it almost anywhere year-round. Smooth, creamy, mint ice cream studded with pieces of chocolate that melt in your mouth – you can't go wrong.
You can also make a mint chocolate chip milkshake.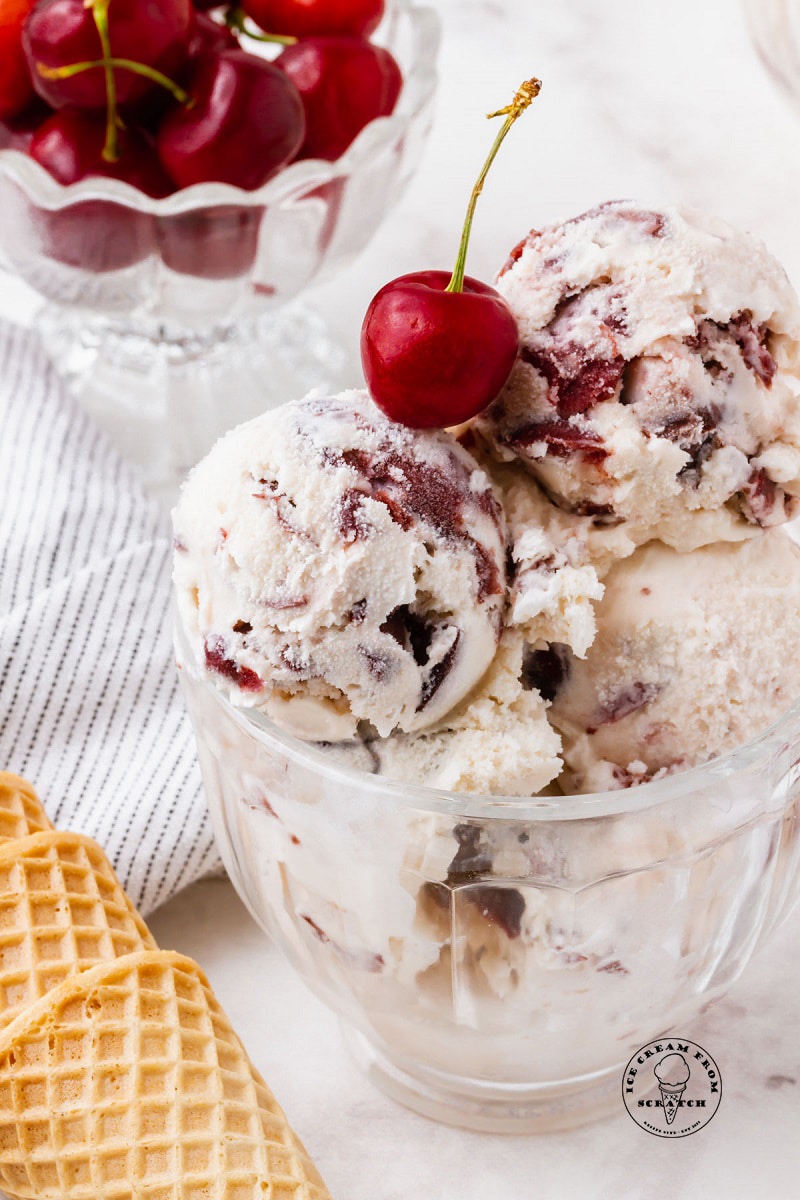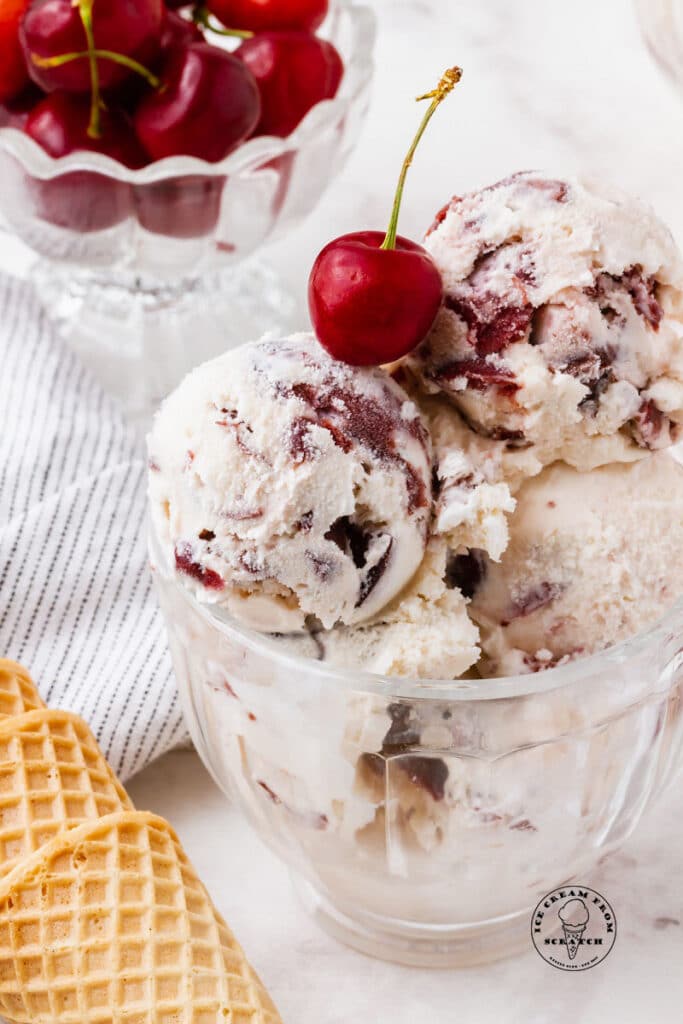 Cherry
Cherry has been a popular ice cream flavor for centuries. From black cherry ice cream, cherry garcia ice cream, to cherry vanilla ice cream – they are all good.
With so many types of cherries, you can have a variety of cherry ice cream flavors. Cherry ice cream flavors are a little harder to find in the grocery store but don't fret, there are tons of cherry ice cream recipes to make.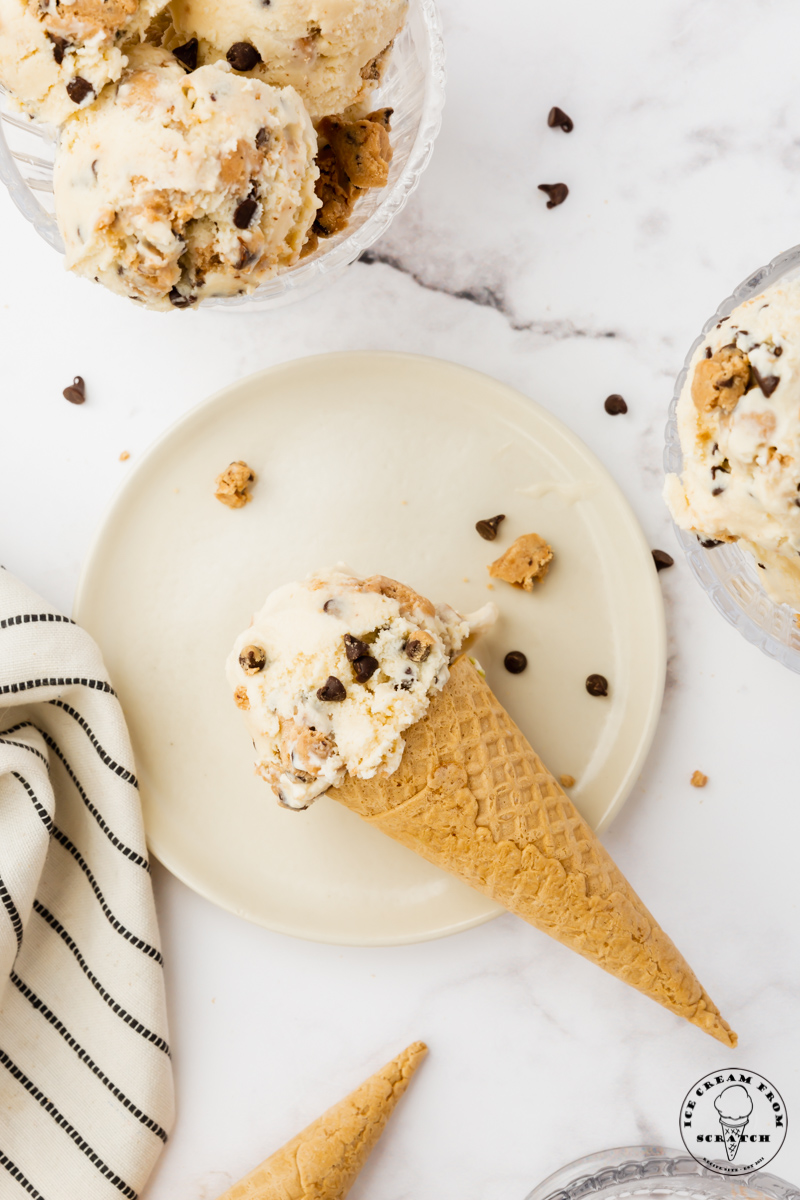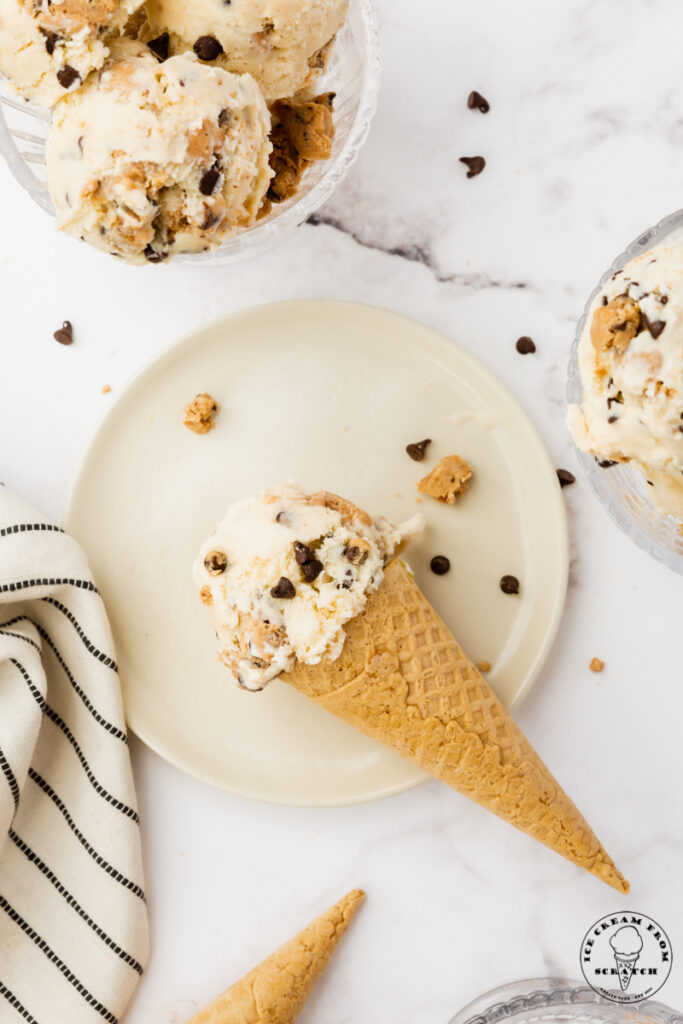 Cookie Dough
One day we're eating vanilla ice cream topped with cookie dough pieces and the next day we're seeing cookie dough ice cream in the freezer section of every grocery store.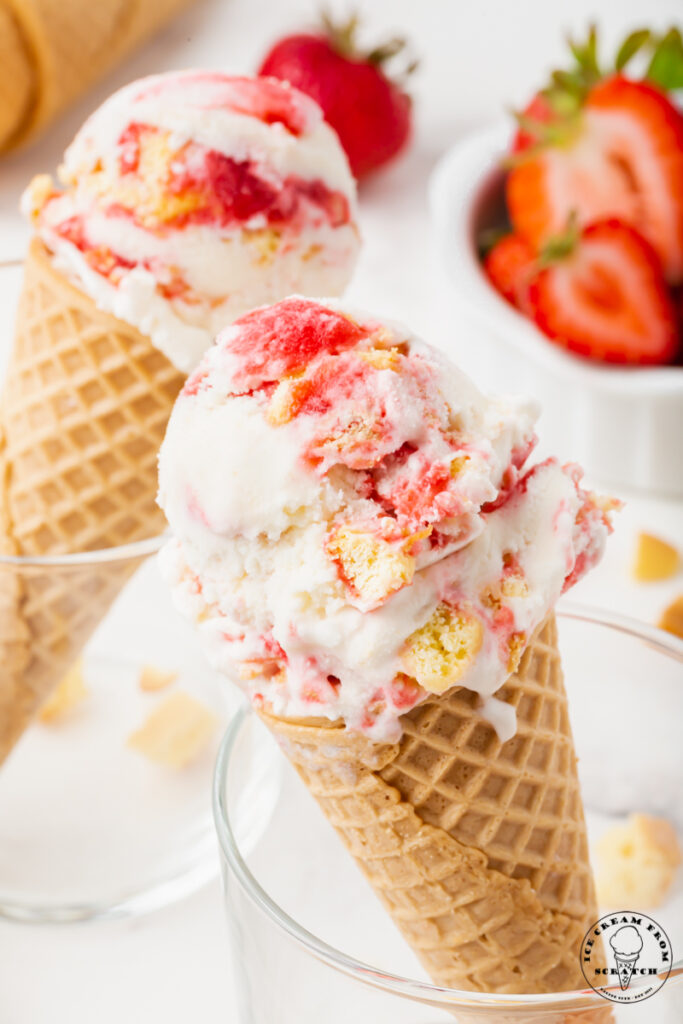 Strawberry
Another universal ice cream flavor that you can find in most grocery stores – strawberry ice cream! We love all things strawberry including this strawberry shortcake ice cream and strawberry sorbet.
We also love making milkshakes with strawberry ice cream. This strawberry banana milkshake is one of our favorites.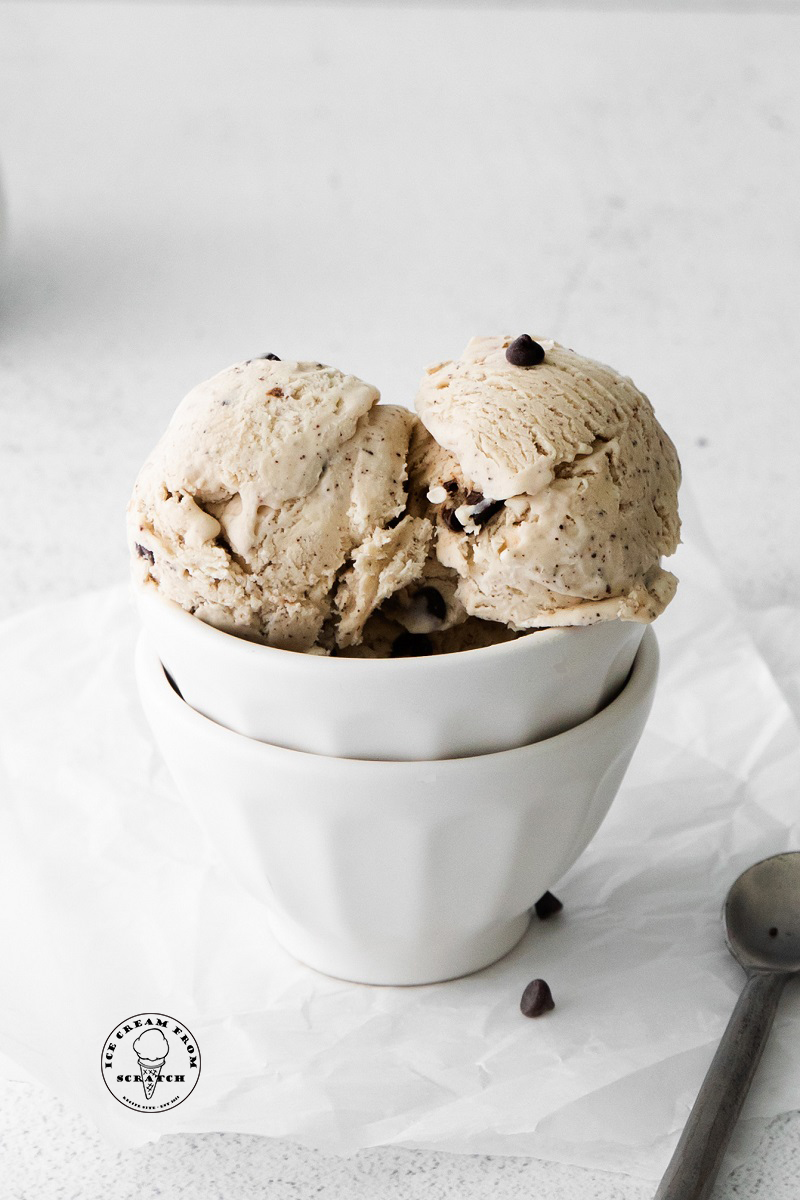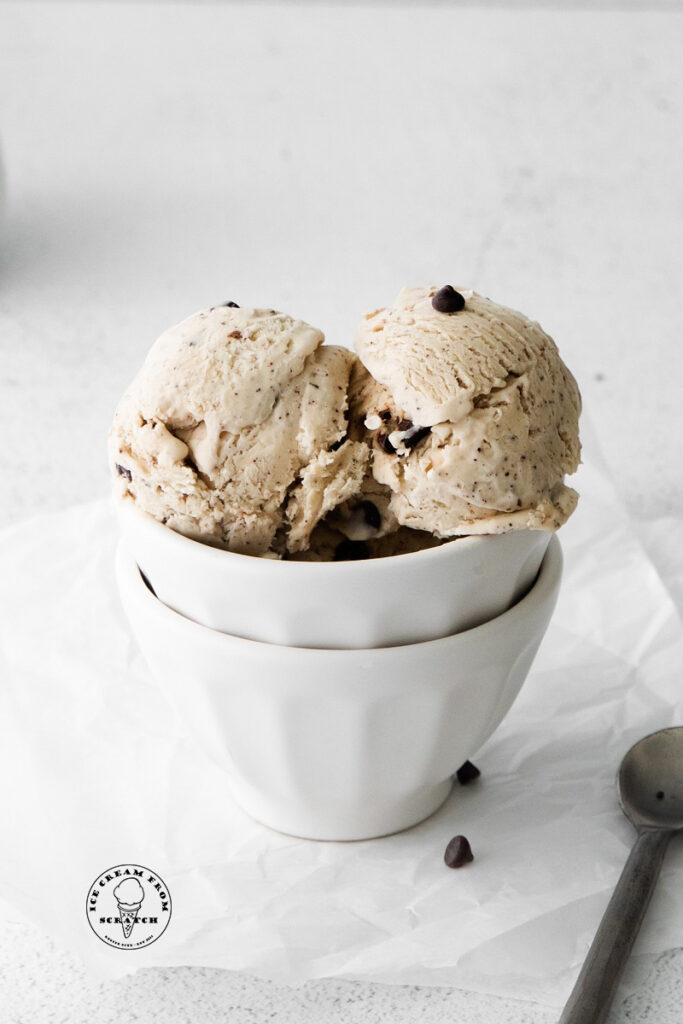 Coffee
Coffee flavored ice cream is one of the most popular ice cream flavors. From Java chip ice cream to Baskin Robins Jamoca Almond Fudge, you can't go wrong with coffee ice cream flavors.
There's something comforting about a smooth, creamy ice cream flavored with fresh roasted coffee. Some coffee flavored ice creams using actual flavoring while others are made with coffee beans. We don't judge when it comes to coffee ice cream.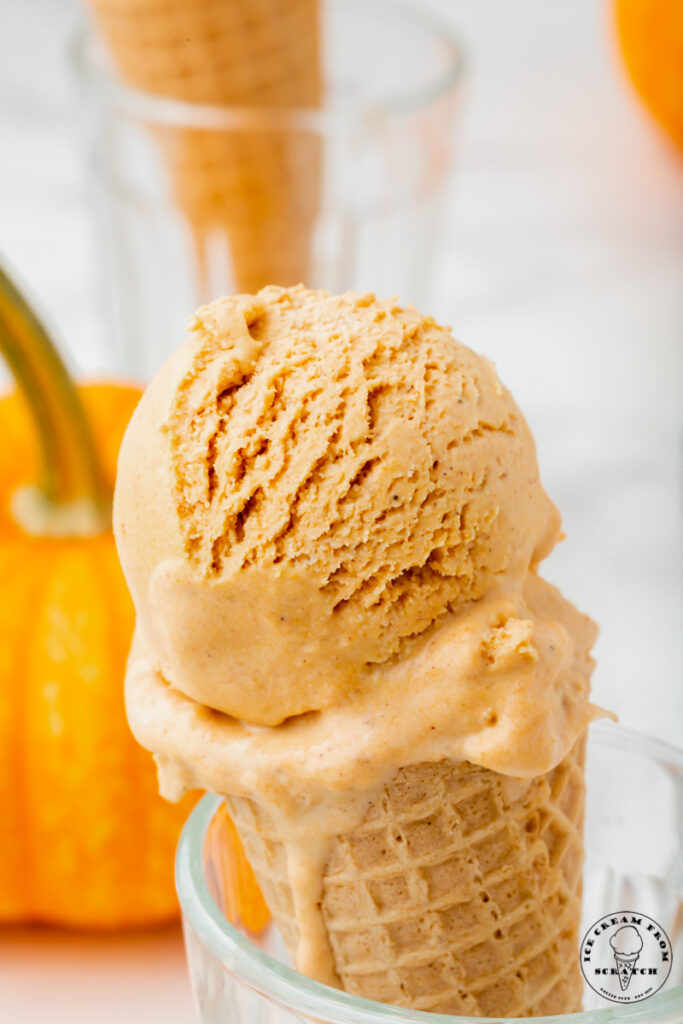 Pumpkin
Although pumpkin may seem like a fall flavor pumpkins are grown year-round so we should treat pumpkin ice cream like a year-round flavor, in my opinion.
If you can't find pumpkin ice cream in the store, we have a few different recipes you might like. Pumpkin Spice Ice cream is super simple to make and it rivals any store bought version.
Pumpkin pie ice cream is like pumpkin spices plus one, with gingersnaps mixed into the pumpkin ice cream. Perfection!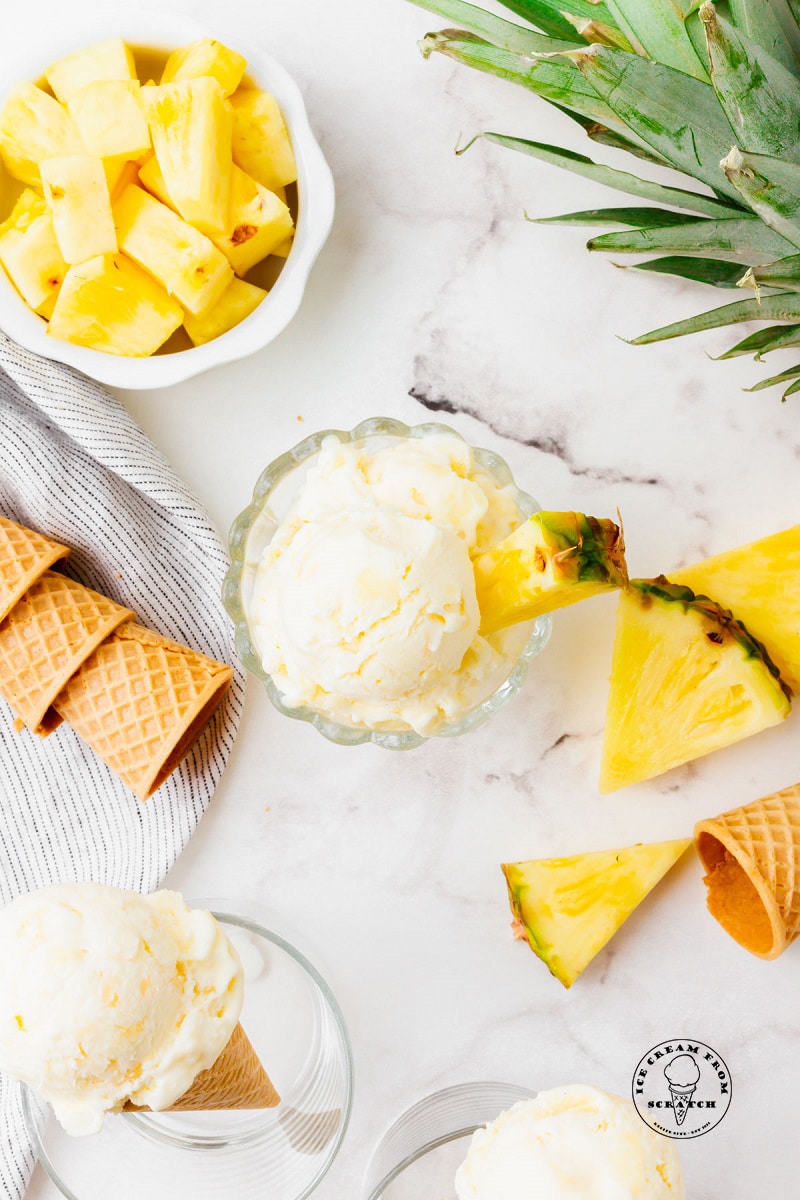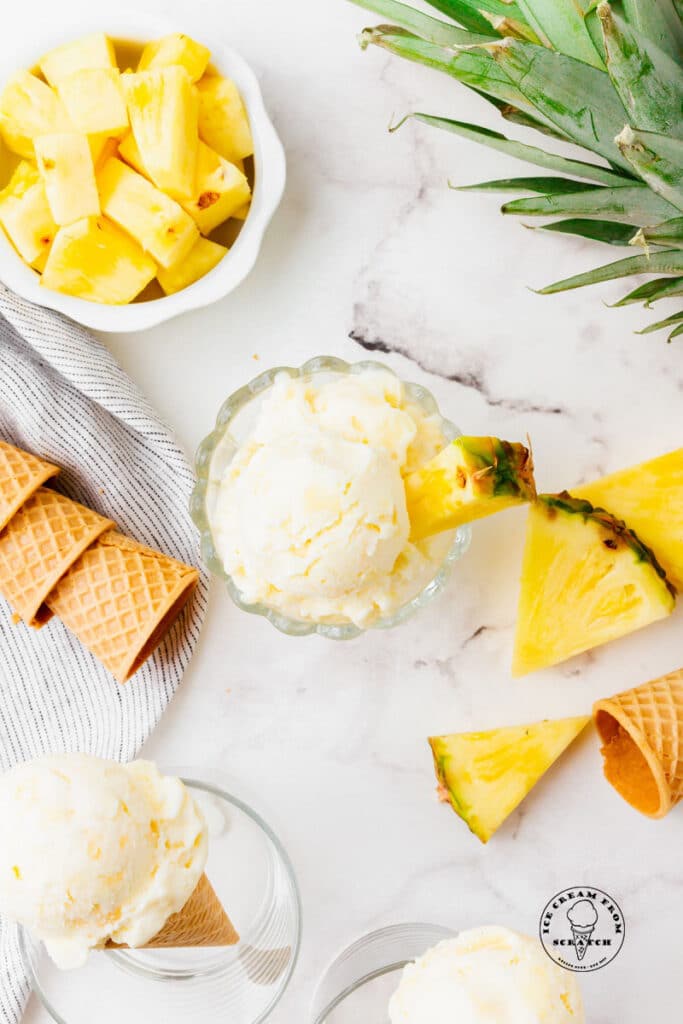 Pineapple
Super sweet, fun, and refreshing, pineapple ice cream has been around a long time and it's one of the simplest ice creams. Pineapple ice cream is a reader favorite and is perfect on its own, in a milkshake, or included in an ice cream sundae.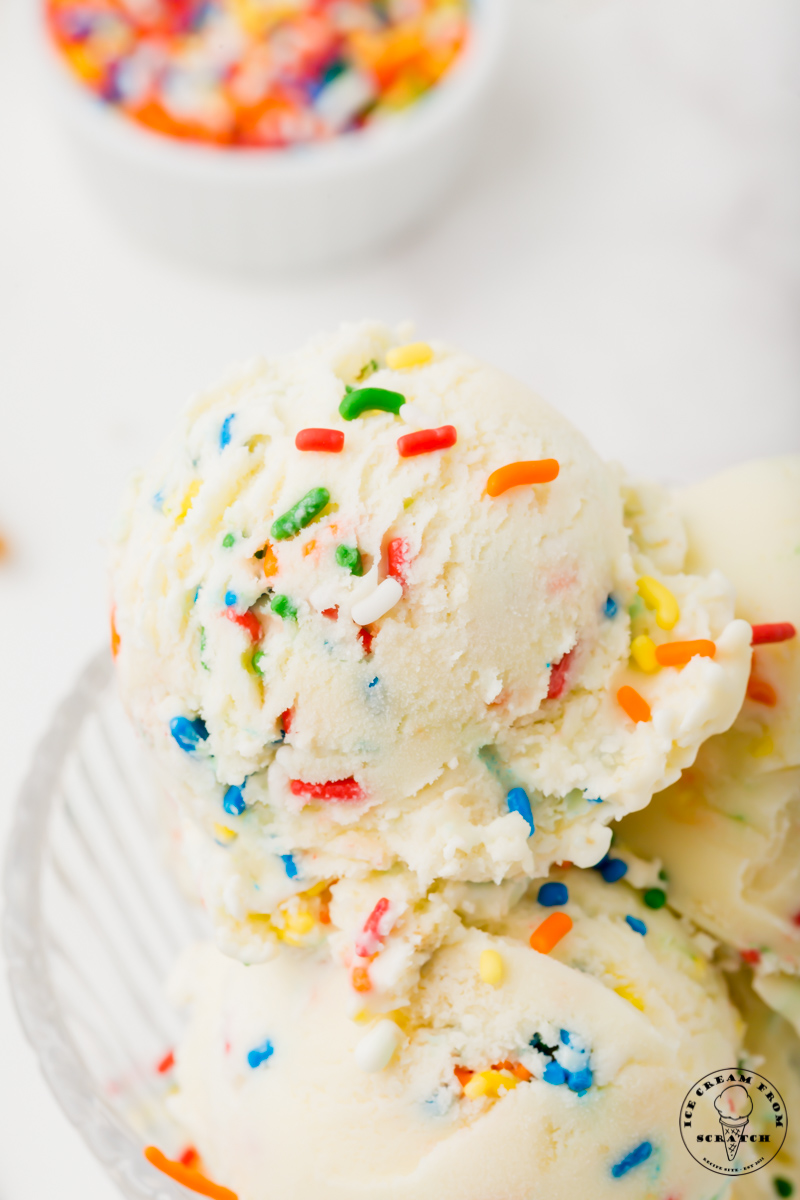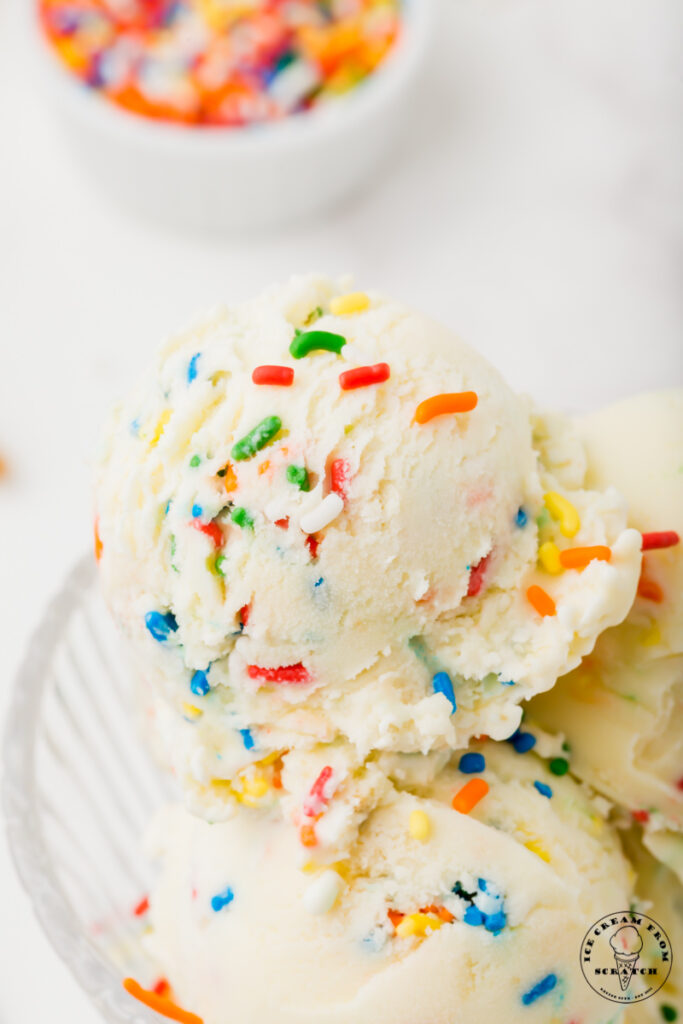 UNIQUE FLAVORS
Here are some additional different ice cream flavors that you might not always find at the store.
Black Licorice Ice Cream – It's made for all of the lovers of black licorice and black jelly beans out there.
Cannoli Ice Cream – The well-loved flavors and textures of cannoli are even better when turned into a creamy, sweet Cannoli ice cream flavor, packed with chocolate chips, pistachios, and pieces of crispy pastry.
Dulce de Leche Ice Cream – A rich custard base means that this French Style ice cream is extra smooth and creamy, and it's churned in your favorite ice cream maker with a sweet, rich swirl of dulce de leche syrup.
Marshmallow Ice Cream – Marshmallow Ice Cream is a traditional French-style churned ice cream with a creamy custard base packed with warm vanilla flavor and toasted mini marshmallows.
Sprinkles Ice Cream – This Sprinkles Ice Cream is a Philadelphia style, churned ice cream. This means that it requires no eggs and no cooking, and is super creamy and delicious.
Eggnog Ice Cream – Learn to make this eggnog recipe using only a handful of ingredients and a few simple steps.
Banoffee Pie Ice Cream – The perfect flavors of sweet bananas and buttery toffee combined to create Banoffee pie ice cream.
French Silk Ice Cream – A rich chocolate ice cream with a French style custard base is swirled with a fluffy vanilla mousse to create this delicious homemade French silk ice cream This French silk ice cream is naturally gluten-free and nut-free.
Melon Ice Cream – A flavor that you aren't likely to find in a grocery store, Melon Ice cream is a fruity, fresh, and delicious gourmet ice cream flavor that you can make at home.
Black Raspberry Ice Cream – Black raspberry ice cream is a sweet, fruity ice cream flavor that so many people love. This French style churned ice cream recipe uses an egg custard base to create a rich, creamy, delicious black raspberry treat.
Toasted Almond Ice Cream – This traditionally churned, French style, Toasted Almond Ice cream recipe features a rich, creamy base flavored with toasted almonds, and a crunchy texture from even more toasted almonds.
Birthday Cake Ice Cream – An ultra-creamy homemade ice cream with a rich, buttery vanilla flavor. Pieces of real cake and rainbow sprinkles make it a super fun ice cream too.
Peppermint Ice Cream – Super fun, refreshing, and full of vanilla and peppermint, this peppermint ice cream is a reader favorite.
Christmas Ice Cream – A super fun ice cream for Christmas! This recipe is simple to make and it's lovely with extra Christmas cookies.
Matcha Ice Cream – Sweet, creamy, and slightly earthy, you're going to love this unique ice flavor.
MORE FLAVORS
Lime Ice Cream
Rainbow Sherbet
Peanut Butter Cup
Black and White
Swirl
Cookie Butter
Horchata
Apple
Honey
Lavender
Don't see an ice cream flavor on this list? Let us know in the comments below.
You can enjoy ice cream year round, so be sure to check out our post on homemade ice cream, as well as our post on Cuisinart ice cream recipes.
HOW LONG DOES ICE CREAM LAST?
Unopened store bought ice cream lasts 2-3 months. Homemade Ice Cream stays good for 2-3 weeks, depending on the ice cream flavor.
When in doubt, if it looks bad or icy, throw it out. Make sure to label your homemade ice cream with the date that you churned it, so you can keep track of how long it's been in the freezer.
TYPES OF ICE CREAM
First off, for a frozen treat to be qualified as ice cream, the mixture used to make the ice cream must be no less than 10% milkfat. The higher the fat, the creamier the texture.
You've probably heard of dairy-free ice cream (we call ice cream without dairy "dairy-free ice cream" as well) but not all dairy-free ice cream is technically considered ice cream. We're not here to take away the fun of ice cream but we thought we'd mention it, since it is a fact that if it's less than 10% milkfat, it's not considered ice cream.
Sorbet isn't technically ice cream either. Sorbet is its own category that we touch on below but since it's frozen, we're considering it loosely related to ice cream. Plus, we really wanted to share sorbet recipes.
There are several types of ice cream but we're going to cover the ones we hear about the most.
Custard Based – Traditionally, many ice cream recipes begin with an egg custard. Custard based ice cream uses a combination of milk, cream, eggs, and sugar, and is first cooked then frozen.
Philadelphia Style – Philadelphia style ice cream is simply ice cream made without eggs. It can be made in an ice cream maker, or without, using a few simple steps.
No-churn using sweetened condensed milk – You can also make a Philadelphia style ice cream using sweetened condensed milk in place of the sugar and some of the milk fat. This is one of the simplest ways to make ice cream and it's perfect for when you want to switch up flavors with add-ins, or make several flavors at once, like Neapolitan Ice Cream.
Both churn and no churn ice cream recipes work well in milkshake recipes.
Soft Serve Ice Cream – Soft serve ice cream is a style of ice cream where air is introduced during freezing, making it softer than traditional churned ice cream. It usually has less milk fat and it's stored at a higher temperature than ice cream.
Sorbet – Again, it's not ice cream but we want to include it. Sorbet is frozen treat that contains little to no dairy (depending on the sorbet). Although it's not considered an ice cream because it doesn't have any milk-fat, it is a delicious frozen treat and it's a great option for those that can't have dairy. Because it is made by using frozen fruits, sugar and water (also called sweetened water), it's light in texture. There are some sorbet recipes that call for a small amount of dairy.
HOW DO I SCOOP HARD ICE CREAM?
There are a couple of methods for scooping hard homemade ice cream. First, you can allow the ice cream to sit at room temperature for 15-20 minutes before scooping. You can also use a heated ice cream scooper. We prefer to set a metal ice cream scooper in hot water for 5 minutes, dry the ice cream scoop, and use it to scoop ice cream.
Note: Each of these links will take you to the exact product on Amazon. As an Amazon associate, I earn a little from each qualifying purchase.
LET'S GET SOCIAL, you can follow us on Pinterest or leave a comment below if you have any questions.
Yield: 6
100+ Ice Cream Flavors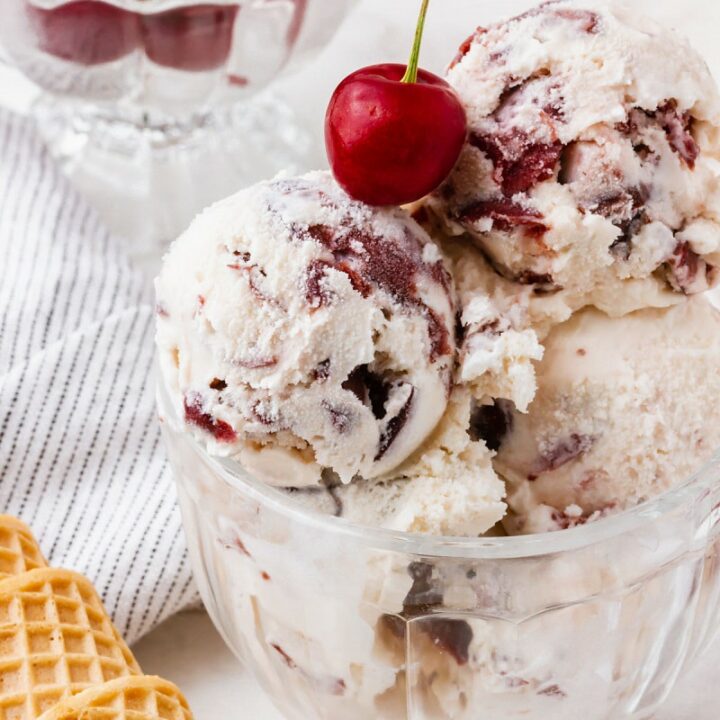 Ice cream is a universal sweet treat and over the years more and more ice cream flavors are pleasing palates. We love all types of ice cream and there will never be a shortage of ice cream flavors to choose from.
Total Time
4 hours
40 minutes
Ingredients
4 large egg yolks
½ cup granulated sugar
1 ½ cups whole milk
1 ½ cups heavy cream
1 teaspoon vanilla extract
Instructions
Chill the ice cream bowl for at least 24 hours or until solid. You should not hear any water sloshing around when you shake the bowl.
In a medium bowl, whisk together the egg yolks and granulated sugar until smooth and pale yellow in color.
Add the milk to a saucepan over medium heat. Bring the milk to a simmer and then remove from the heat. Be sure not to boil.
Add about ½ cup of the hot milk to the egg and sugar mixture and whisk constantly until combined.
Then, add the tempered egg mixture back into the saucepan with the remaining hot milk.
Heat the saucepan on low. Stirring constantly, heat until the base has thickened enough to coat the back of a spoon. This should take a few minutes.
Strain the mixture into a bowl to remove any pieces of egg that may have cooked.
Add the heavy cream and vanilla extract and stir to combine.
Cover the bowl with plastic wrap making sure to have the plastic wrap touching the surface of the ice cream base. This will help keep it from forming a skin while chilling. Refrigerate for at least 3 hours.
Churn the ice cream mixture in the bowl of your ice cream machine according to the manufacturer's instructions (mine took about 20 minutes), until it is thick and the consistency of soft-serve ice cream.
In the last two minutes, add your add-ins and flavors, and churn until they are evenly distributed.
Spoon the ice cream into a shallow container or a loaf pan. Press plastic wrap or wax paper to the surface of the ice cream. Freeze for at least 4 hours, or until solid. Let sit at room temperature for about 5 minutes before serving.
Notes
Use quality ingredients – When making homemade ice cream, you'll want to make sure you are using high quality ingredients for the best outcome.
Chill out – If possible, always start with chilled ingredients. This is important for homemade no-churn ice cream recipes and ice cream maker recipes.
Don't skimp on the fat – High fat milks and creams are essential when making homemade ice cream. Opting for a low-fat option often leads to icy ice creams and inconsistency in the texture.
Don't go crazy with the add-ins – If you're adding in additional ingredients, pick one or two and make sure they are chopped into small pieces.
Don't skimp on the sugar – Sugar not only adds sweetness to homemade ice creams, it also helps with the texture. Sugar is essential for the creamy texture in ice cream.
Nutrition Information:
Yield:
6
Serving Size:
1
Amount Per Serving:
Calories:

363
Total Fat:

27g
Saturated Fat:

16g
Trans Fat:

1g
Unsaturated Fat:

9g
Cholesterol:

228mg
Sodium:

91mg
Carbohydrates:

22g
Fiber:

0g
Sugar:

22g
Protein:

8g
This is an approximate. Please double check the nutritional info based on the brands and add-ins.
ICE CREAM FLAVORS LIST