Easy Homemade Frozen Yogurt
Use your ice cream maker to make homemade Frozen Yogurt with just 5 ingredients!
Full-fat yogurt is sweetened with real honey, flavored with vanilla, and made extra creamy with just a little bit of fresh cream. This frozen yogurt recipe is simple, natural, and completely delicious.
This recipe will give you a homemade frozen yogurt that is free from eggs, nuts, gluten, and artificial additives.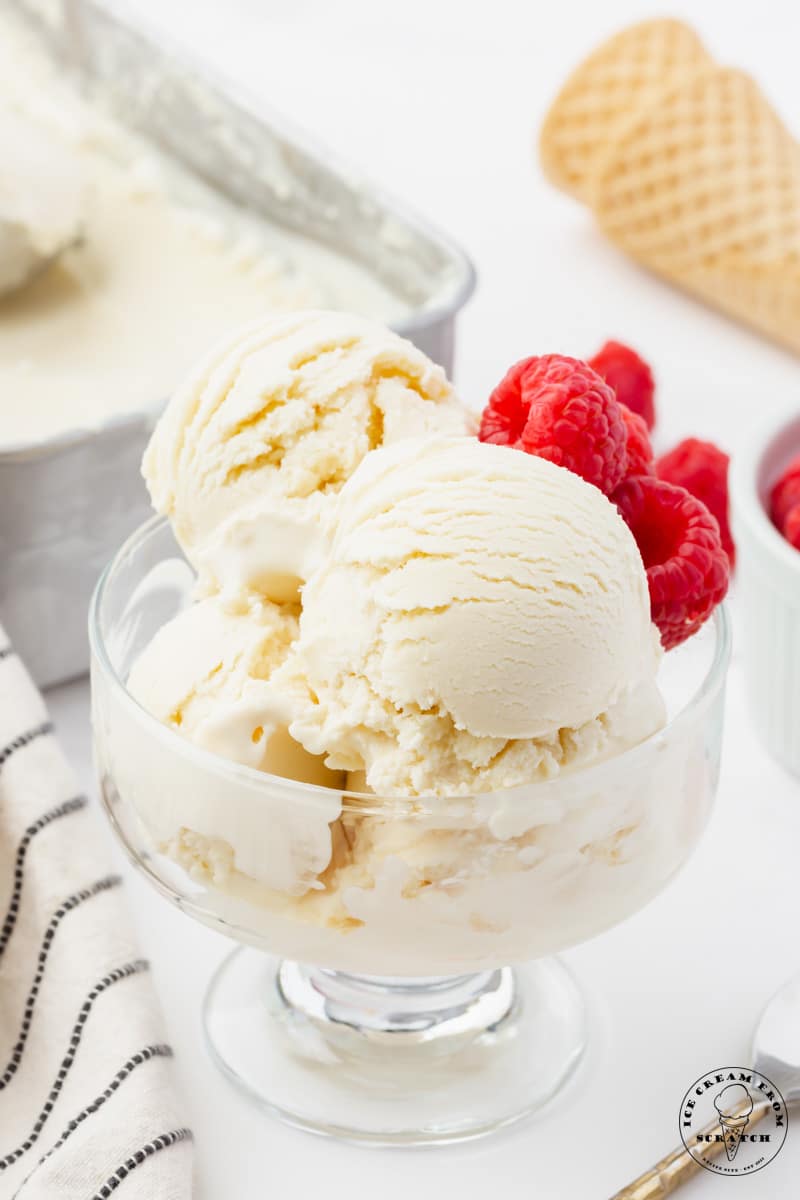 Frozen Yogurt is a favorite frozen treat, made especially popular by fro-yo shops popping up in malls and shopping centers everywhere. The variety of frozen yogurt toppings at those places is probably the best part. They have everything!
You can recreate the froyo experience at home with this simple recipe, with or without a counter filled with 40 different toppings!
Are you wondering why it's called frozen yogurt? Well, because it's made with yogurt! Frozen yogurt is similar to ice cream, but it uses full-fat yogurt instead of milk and cream.
The result is a homemade frozen yogurt that is just a little bit tangy and perfectly sweetened with honey. It's perfect with fresh fruit or raspberry compote, hot fudge sauce, or on top of a warm slice of pie.
Why You're Going to Love this Frozen Yogurt Recipe
It's a bit Healthier – One serving of homemade Frozen Yogurt has approximately 290 calories. That's about 100 calories less than our Vanilla Bean Ice Cream recipe. There is less fat in Greek yogurt than in the heavy cream and egg yolks that are in most homemade ice cream recipes, so you can feel good about enjoying this tasty frozen treat!
It's ready for your additions – This is a basic vanilla frozen yogurt recipe, which means that it's a blank canvas for any kind of flavors, add-ins, or ice cream toppings that you want to add. Use your homemade frozen yogurt to make sundaes or milkshakes too!
An Easy Frozen Yogurt Recipe – Compared to our French-style ice cream recipes, this one is a breeze to throw together. There's no cooking involved and only 5 simple ingredients. Technically I'd call this a Philadelphia-style ice cream recipe, since we're making it in an ice cream machine, but with an ice cream (frozen yogurt) base that isn't a custard.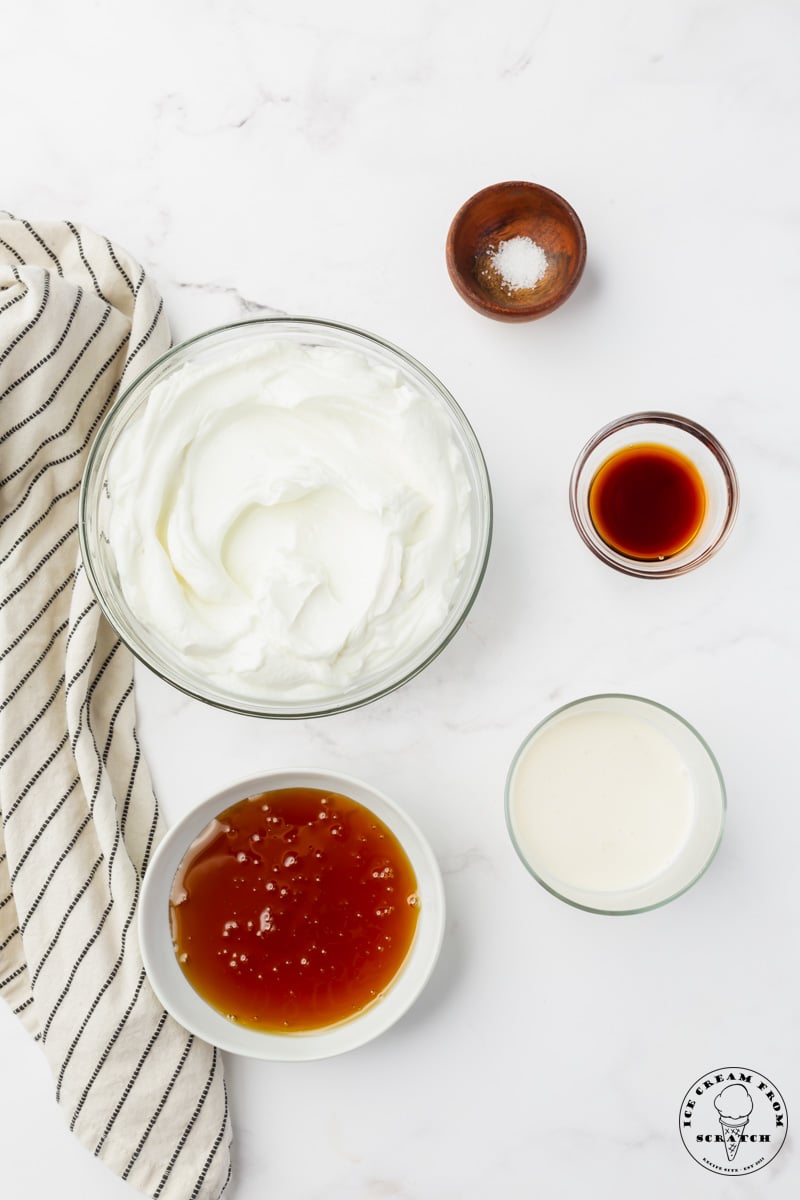 Ingredients Needed
Full-Fat Greek Yogurt – Plain Greek yogurt works well in this recipe. We're adding our own flavors, and we don't need to compete with whatever might be added to flavored yogurt.
Heavy Cream – Just a little bit of cream is needed to make this creamy frozen yogurt. The cream also helps the mixture to thicken up properly in the ice cream maker.
Honey – The flavor of honey goes beautifully with yogurt, and it adds the perfect amount of sweetness to this tart frozen yogurt dessert.
Vanilla Extract – Vanilla is included in almost all of our homemade ice cream recipes. It elevates all of the other flavors in the best way.
Salt – Just a bit balances the sweetness from the honey.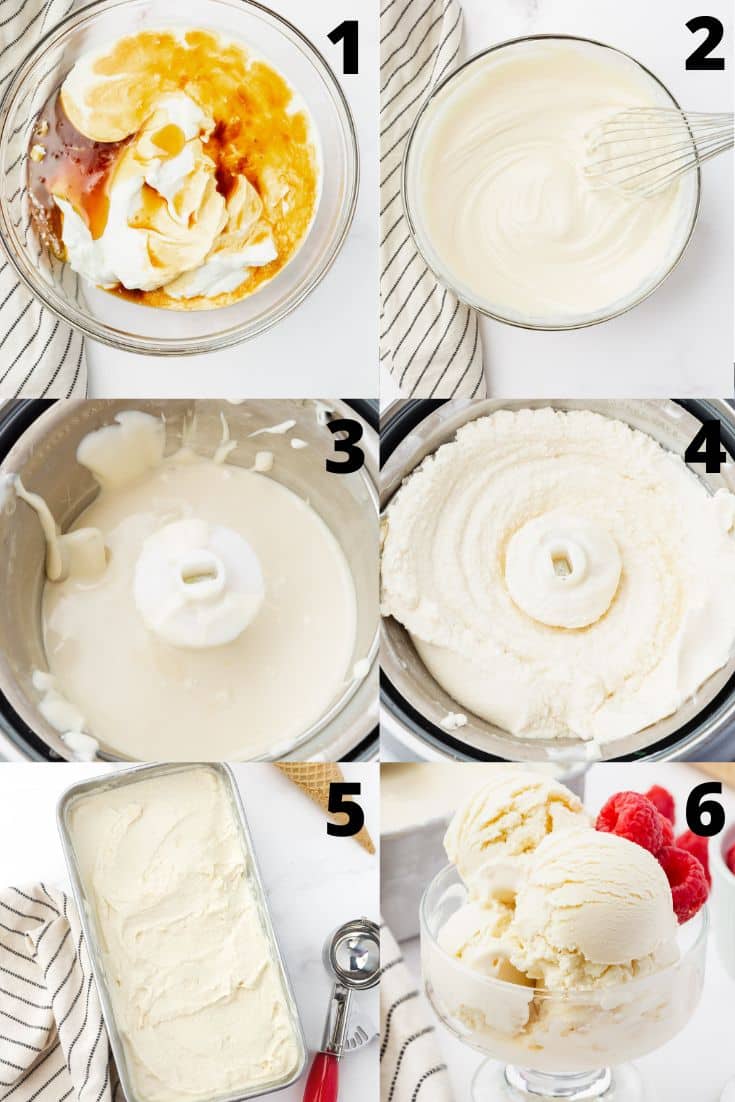 How to Make Frozen Yogurt from Scratch
Start the day before by making sure that the bowl for your ice cream maker has at least 24 hours to freeze solid.
In a large mixing bowl, add the Greek yogurt, heavy cream, honey, vanilla extract, and salt. Mix well until combined.
Cover the bowl and refrigerate the mixture for at least 2 hours, until it is very cold.
Pour the frozen yogurt base into your ice cream maker.
Follow the manufacturer's instructions to churn the frozen yogurt mixture. Mine took about 25 minutes, but yours might take more or less time. Churn until the yogurt is thick, and the consistency of soft-serve ice cream.
You can serve your soft-serve frozen yogurt right away, or transfer it to a loaf pan, covered with plastic wrap or wax paper, and freeze it for 2-3 hours to harden.
Let the frozen yogurt sit at room temperature for 10 minutes before scooping and serving.
These numbered steps match the numbered photos above and are for illustration purposes. For the complete list of ingredients and instructions, please see the recipe below.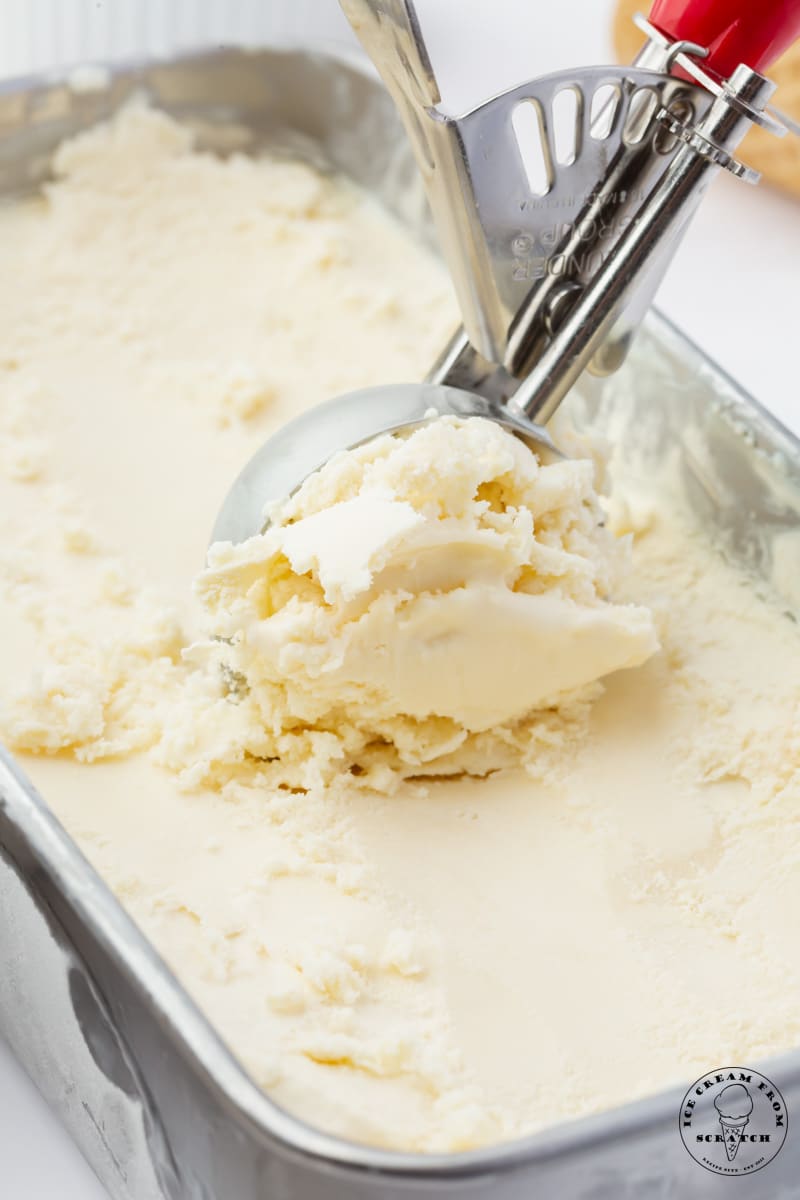 How to Store
Store this homemade Frozen Yogurt in the freezer in an airtight container with a piece of parchment paper or wax paper pressed on top for up to one month.
Tips for Making
Use quality ingredients – When making homemade ice cream, you'll want to make sure you are using high-quality ingredients for the best outcome.
Chill out – If possible, always start with chilled ingredients. This is important for homemade no-churn ice cream recipes and ice cream maker recipes. It's also very important that your mixture is really cold before going into the machine to churn.
Don't skimp on the fat – Choose a high-fat yogurt for the best results. Look for yogurts with 4 or 5% milk fat. 2% yogurt can also be used. Low-fat or fat-free yogurt will give you an icier final product.
Don't go crazy with the add-ins – If you're adding in additional ingredients, pick one or two and make sure they are chopped into pieces no larger than a blueberry or pea.
Don't skimp on the sweetness – You need the honey in this recipe to make the frozen yogurt taste amazing, and it helps with the creamy texture.
Why Is This Frozen Yogurt Recipe Sweetened with Honey?
When making frozen desserts with lower fat ingredients, it's helpful to use a liquid sweetener rather. It helps keep the ice cream softer and reduces the probability of large ice crystals forming.
Aside from the technical reasons, the rich sweetness of honey pairs really well with the tanginess of greek yogurt, so it just seems like a perfect match!
You can use other liquid sweeteners in this recipe if you prefer not to use honey. Try light corn syrup, agave nectar, or pure maple syrup.
Can I Just Freeze Yogurt to Make Frozen Yogurt?
Technically, if you freeze a container of yogurt, you have made frozen yogurt, it just won't be a creamy, delicious dessert that way. Instead, you'll end up with a hard, icy block of yogurt that won't be very appealing.
This recipe adds vanilla and honey to the yogurt to give it more flavor and churns it to incorporate air and make it creamy.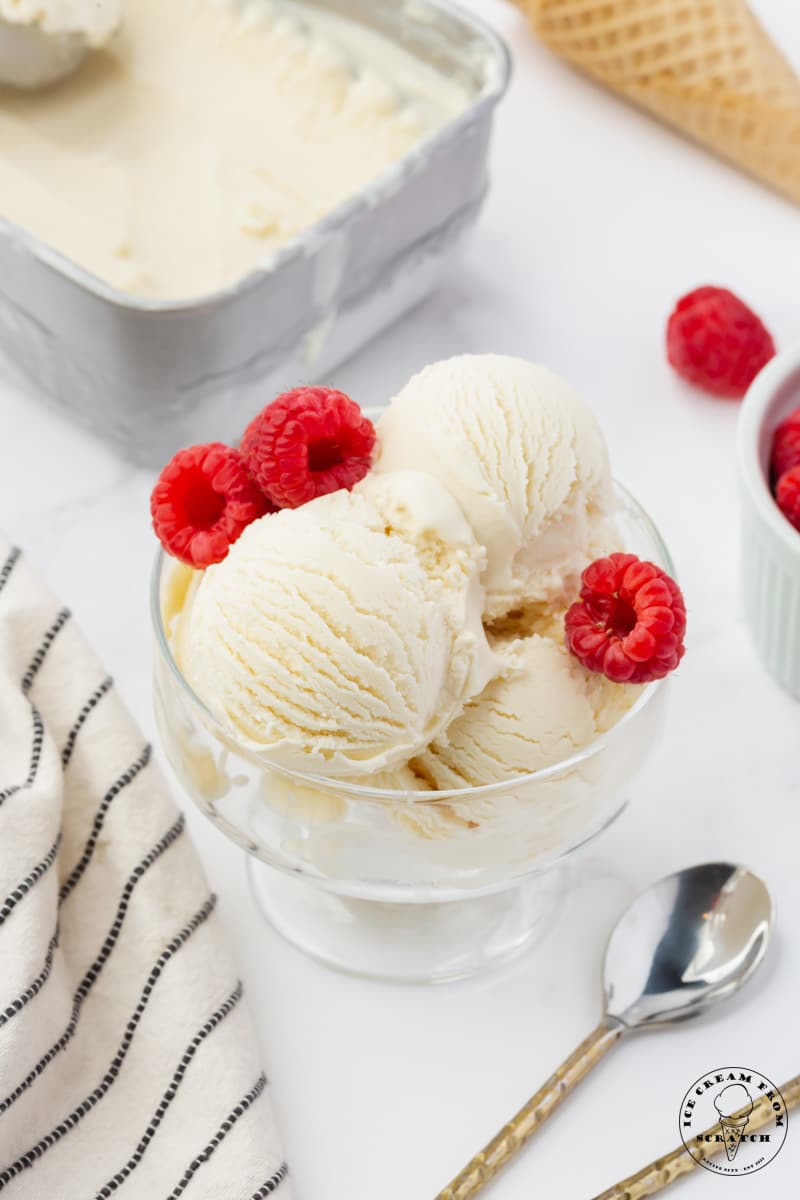 Other Homemade Frozen Yogurt Flavors
Try these suggestions to create new frozen yogurt flavors at home. Then, come up with some of your own flavors and leave a comment to let us know about them!
Strawberry (or any berry) Frozen Yogurt – Puree 1 cup of fresh or frozen berries. Remove the seeds if you like, and stir the puree into the frozen yogurt base. You can add an extra tablespoon of honey or sweetener if the berries aren't especially sweet.
Chocolate Frozen Yogurt – Whisk in up to a half cup of unsweetened cocoa powder.
Swirled Frozen Yogurt Flavors – When you transfer the yogurt from the ice cream maker to the freezer container, you can add fudge sauce, melted peanut butter, caramel syrup, or fruit puree and swirl it in.
Frozen Yogurt Add-Ins
Your only limit to what you can add to homemade frozen yogurt is your imagination! This creamy vanilla frozen yogurt will welcome all types of mix-ins.
Here are some Ideas to get you started! Make sure to only add these to the ice cream maker during the last couple minutes of churning.
Chopped chocolate bars or mini chocolate chips of any variety. Try chopped pieces of your favorite candy bars too.
Rainbow jimmies are always a hit!
Diced berries, bananas, or your favorite fruit.
Cookie dough bits, crushed Oreos, or chopped brownies.
More Homemade Ice Cream Recipes
Our Favorite Ice Cream Making Tools:
Note: Each of these links will take you to the exact product on Amazon. As an Amazon associate, I earn a little from each qualifying purchase.
LET'S GET SOCIAL, you can follow us on Pinterest or leave a comment below if you have any questions.
Did you make this Homemade Frozen Yogurt Recipe? Leave a Comment Below letting us know what you thought and if you added any additional add-ins.
Yield: 6 Servings
Easy Homemade Frozen Yogurt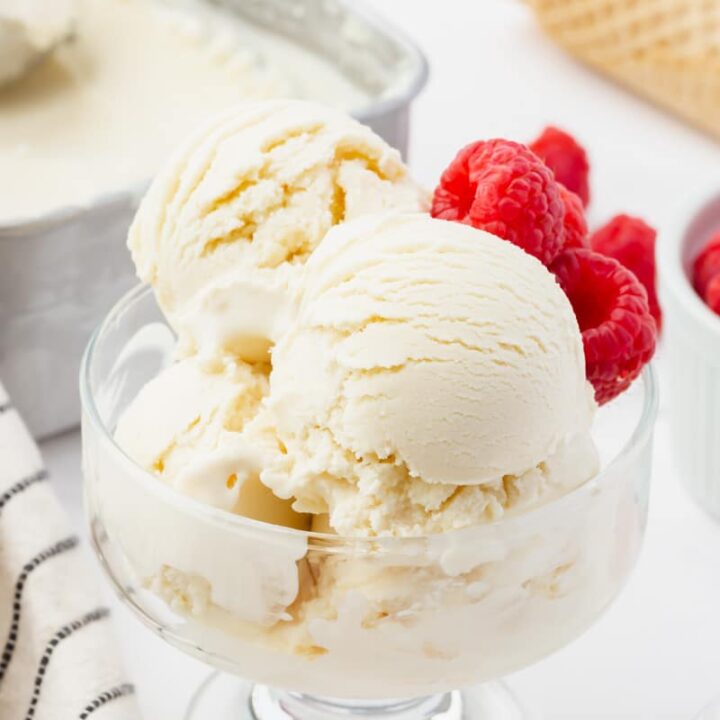 Easy Homemade Frozen Yogurt! This frozen yogurt recipe is simple, natural, and completely delicious, made in your ice cream maker with just 5 ingredients.
Chilling/Freezing Time
5 hours
Total Time
5 hours
35 minutes
Ingredients
3 cups full-fat Greek yogurt, plain
2/3 cup heavy cream
1/2 cup honey
2 teaspoons vanilla extract
⅛ teaspoon salt
Instructions
Chill the ice cream bowl for at least 24 hours or until solid. You should not hear any water sloshing around when you shake the bowl. In a large bowl, add the Greek yogurt, heavy cream, honey, vanilla extract and salt. Mix well until combined.
Refrigerate for 2 hours, until the mixture is very cold.
Add the mixture to the bowl of your ice cream maker.
Churn the frozen yogurt mixture in the bowl of your ice cream machine according to your manufacturer's instructions (mine took about 25 minutes), until it is thick and the consistency of soft-serve ice cream.
Serve immediately or freeze for an additional 2-3 hours in a covered loaf pan for a consistency more similar to store-bought frozen yogurt.
Let sit at room temperature for about 10 minutes before scooping and serving.
Notes
Use full-fat Greek yogurt for the best results. You can use non-fat Greek yogurt, but I find it to be a little icier. I prefer 2% or 5% Greek yogurt for this recipe. The more fat in the yogurt, the creamier the frozen yogurt will be.
I like to use a liquid sweetener, such as honey, for this recipe. It sweetens the frozen yogurt while adding a little flavor. I also find liquid sweeteners help prevent the formation of ice crystals in frozen yogurt. Feel free to use light corn syrup, agave nectar, or maple syrup instead of honey.
It's very important that your mixture is really cold before going into the ice cream machine to churn. If it's not cold enough, it will not get thick.
Recommended Products
As an Amazon Associate and member of other affiliate programs, I earn from qualifying purchases.
Nutrition Information:
Yield:
6
Serving Size:
1
Amount Per Serving:
Calories:

290
Total Fat:

15g
Saturated Fat:

9g
Trans Fat:

0g
Unsaturated Fat:

6g
Cholesterol:

45mg
Sodium:

90mg
Carbohydrates:

29g
Fiber:

0g
Sugar:

29g
Protein:

11g