We're sharing all the best ice cream toppings and anything that would be considered toppings for ice cream. Mix and match any of these ice cream toppings to make sundaes, elevated banana splits, and more.
Depending on what ice cream toppings you have on hand, you could make an ice cream sundae or a brownie sundae. Banana splits are a perfect use of all the best ice cream toppings.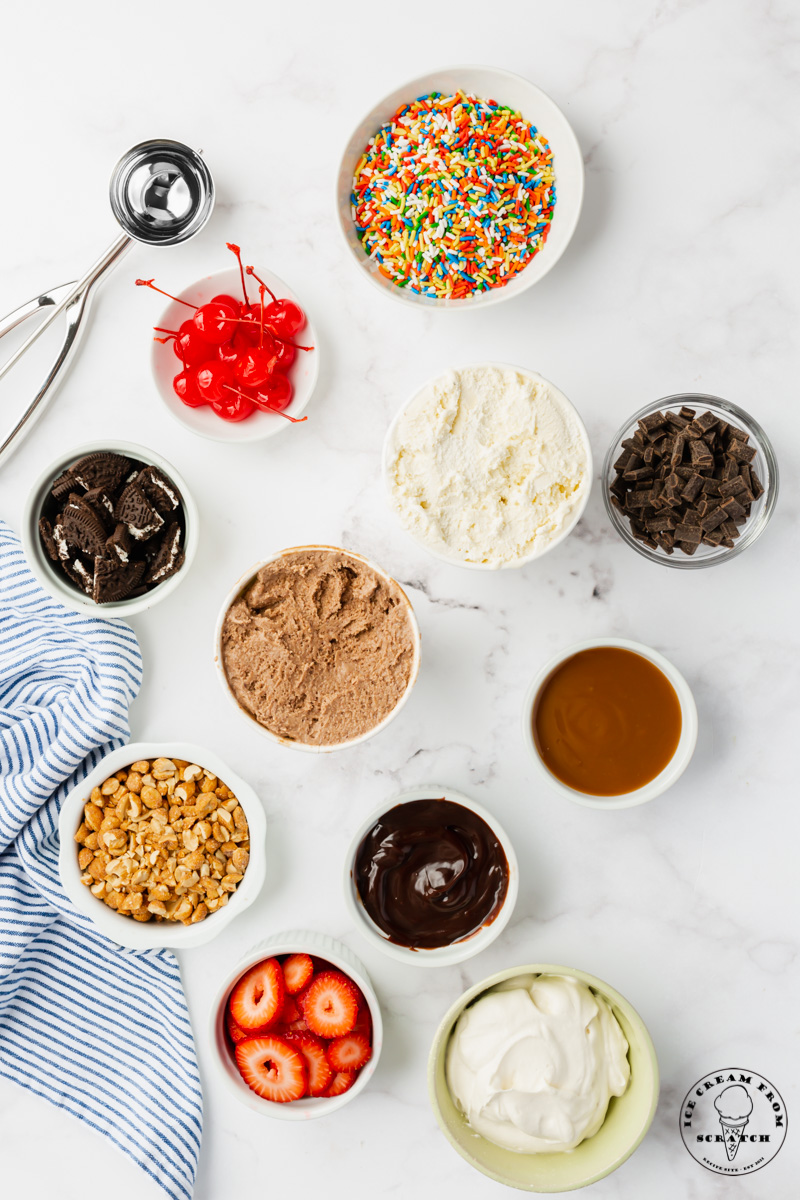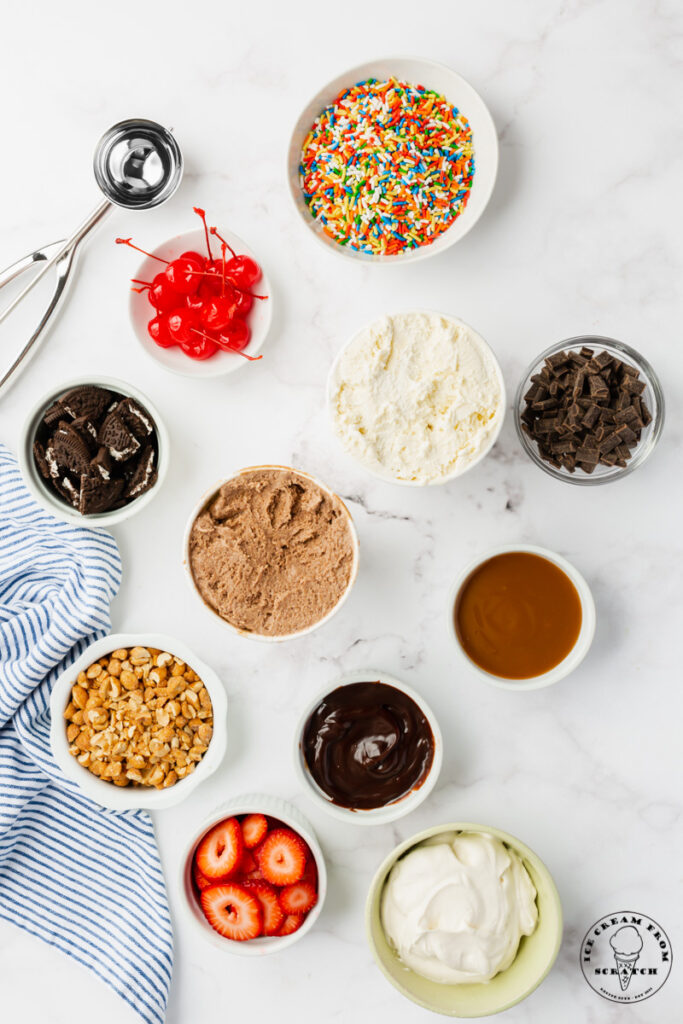 Really, anything could be a topping for ice cream. Traditionally, people used fudge sauce, whipped cream, and cherries, etc.
As ice cream became more and more popular, people started getting more creative with their ice cream toppings. From sauces, to fruit, to chopped candies, we're talking about all the ice cream toppings.
Best Ice Cream Toppings
These are the most popular, or most consumed ice cream toppings. You can make toppings for ice cream at home or purchase them at the store.
Try not to get too carried away with the ice cream toppings. I think a good rule is a maximum of 2 different sauces (unless you're making banana splits), and 2-3 different toppings, at most.
Unless you really do want to pile on all the ice cream toppings, then go for it.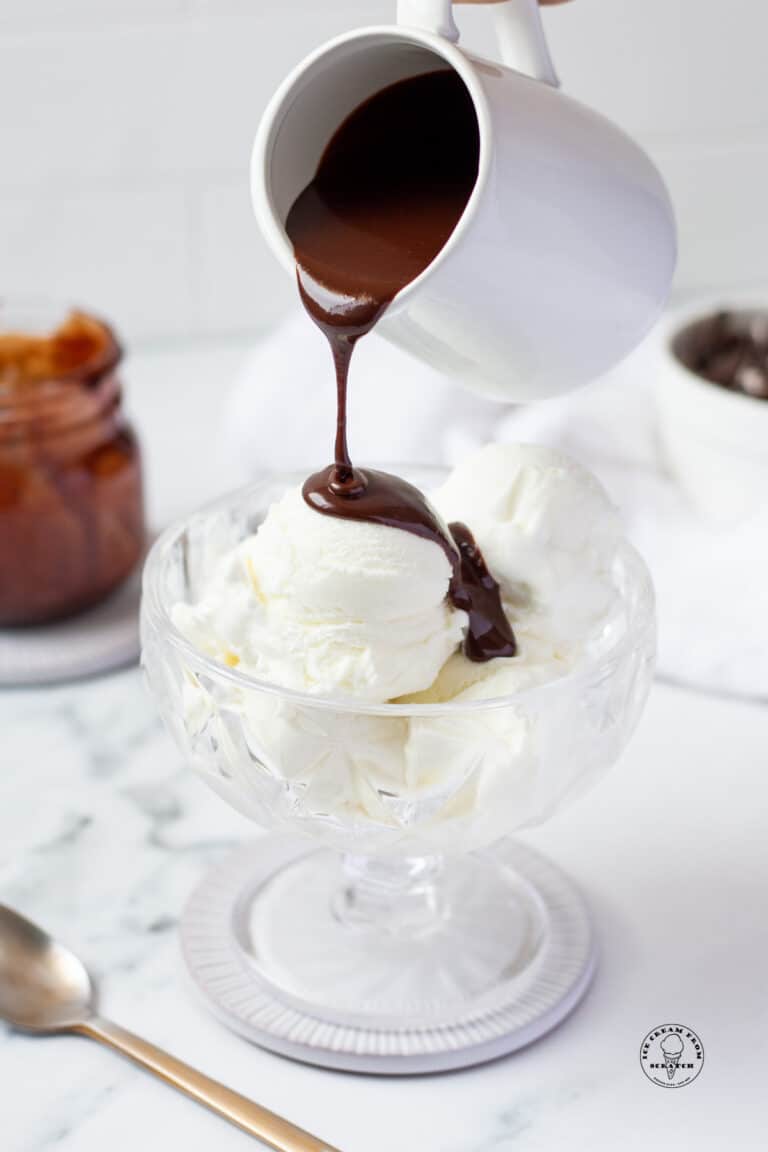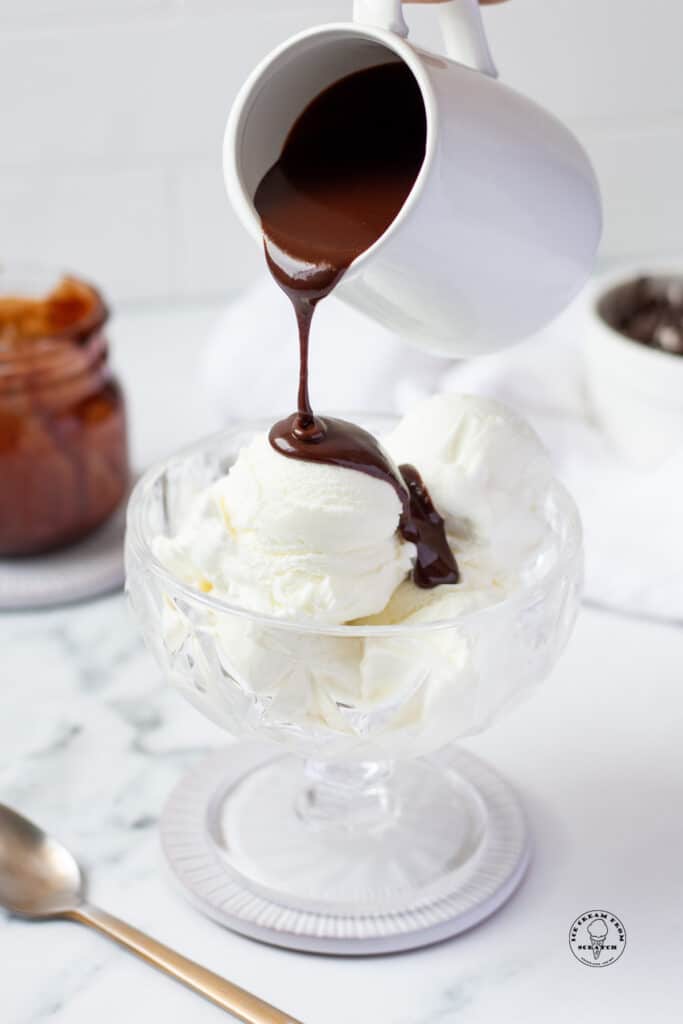 Hot Fudge – Hot fudge, also known as hot fudge sauce is probably the most popular ice cream topping. Rich, chocolatey, and amazing when warmed, this ice cream topping is a classic. We have a homemade hot fudge sauce recipe that is simple to make and has the perfect amount of sweetness.
Sprinkles – There's something about the sugary sweetness of sprinkles that makes them the perfect ice cream topping. Sprinkles come in a variety of colors and shapes and they are super fun.
Chocolate Syrup – We love drizzling chocolate syrup (like Hershey's) over ice cream and we couldn't leave it out of our list of best ice cream toppings. You can make you're own chocolate syrup at home or purchase it at the store. There are milk chocolate versions and dark chocolate versions. I think we've seen a white chocolate version somewhere as well.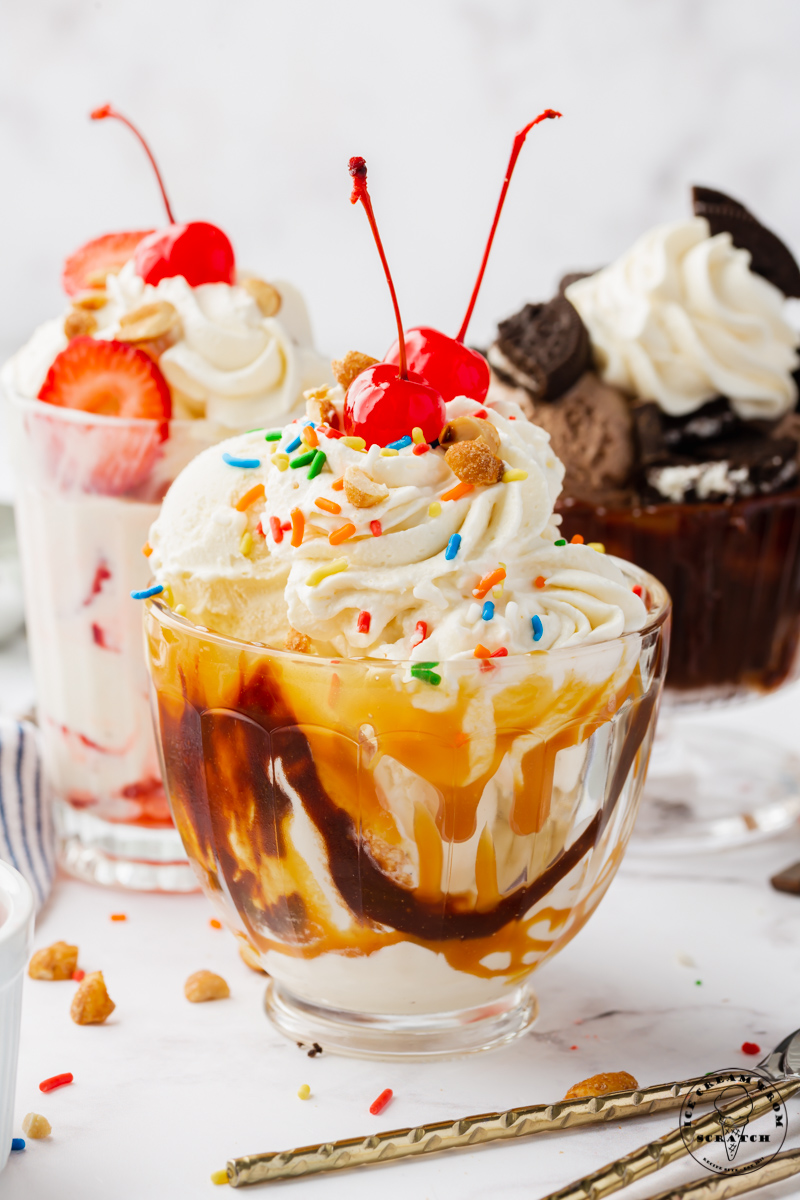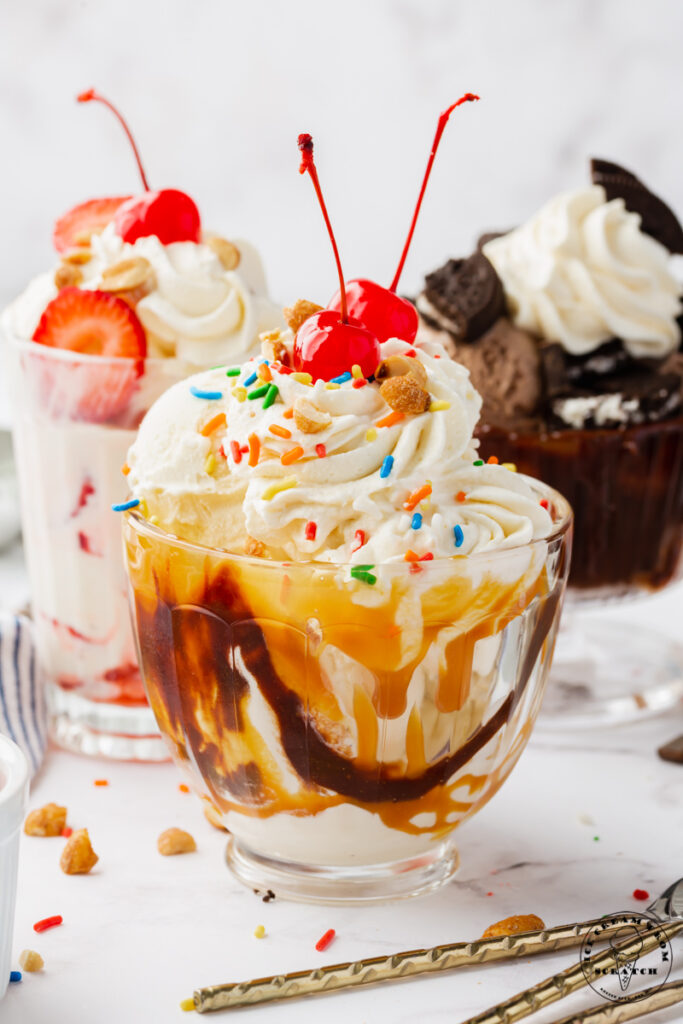 Caramel Sauce – We can't resist a good caramel sauce. It's the ultimate ice cream topping. We love using our caramel sauce recipe, and store bought caramel sauce. Why use just chocolate when you can have a sweet sundae with two different sauces? The combination of chocolate and caramel is divine.
Nuts – Salted, roasted, caramelized, nuts are a classic ice cream topping and there are so many to choose from. For ice cream toppings, you can add them whole or chopped. Almonds, peanuts, pistachios, cashews, pecans, hazelnuts, macadamia nuts, walnuts. The saltiness plays off of the sweetness of the other ingredients perfectly. Delish!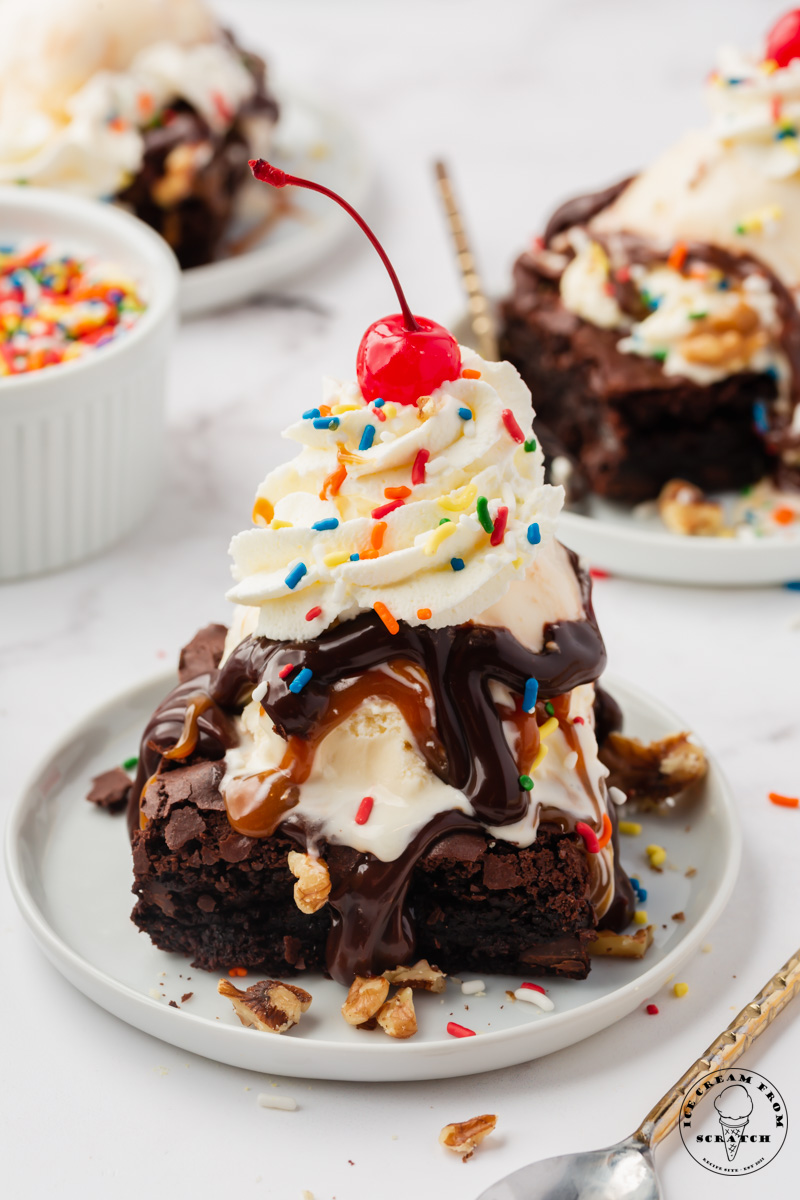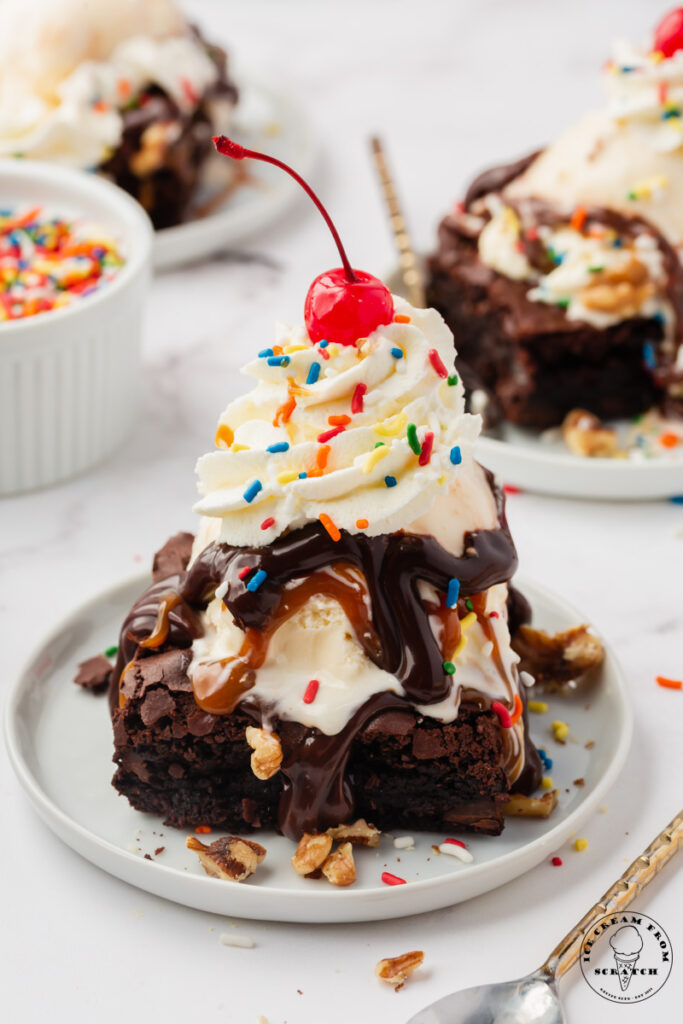 Whipped Cream – Whipped cream is amazing with other ice cream toppings and is a classic. We like making whipped cream at home, and then building ice cream sundaes with it. The most amazing whipped cream will be the kind that you whip up yourself using heavy whipping cream. Feel free to use the refrigerated kind in the metal can though if that's easier.
What Toppings Are Good On Ice Cream?
Along with some of the classic ice cream toppings we shared above, here are some additional toppings for ice cream that are popular.
Caramelized Bananas – There's something about warm, caramelized bananas on vanilla ice cream that is irresistible. If you're not a banana person, you can always caramelize other fruits.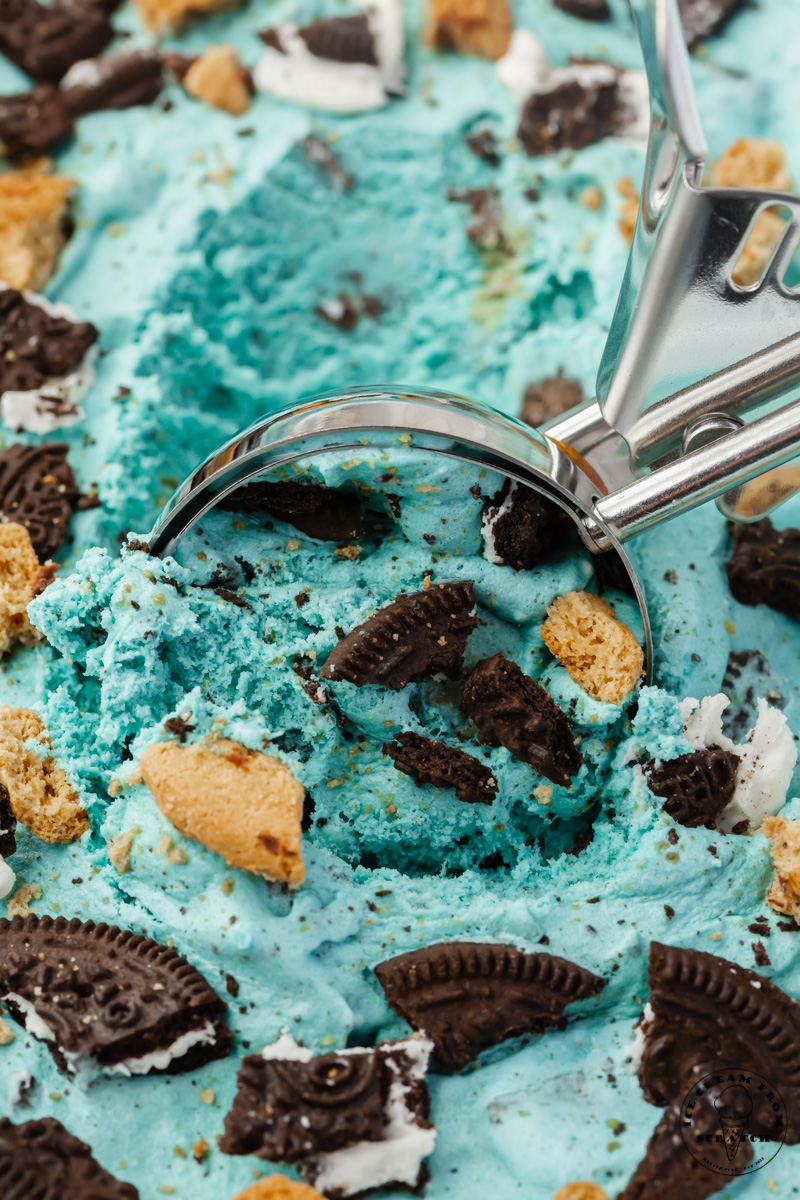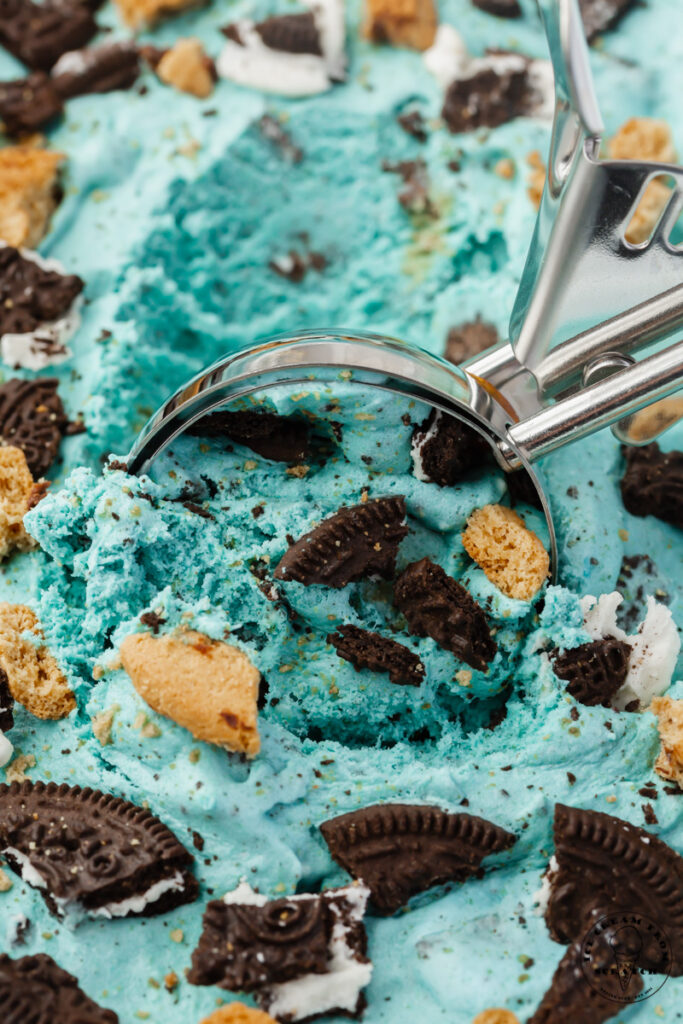 Cookies – While Oreos are by far the most popular cookie ice cream topping, we love using other chopped cookies as ice cream toppings on mixed into ice cream. Chipped chocolate cookies, chocolate chip cookies, shortbread cookies, graham crackers, and Christmas cookies are all great ice cream toppings. Cookie Monster Ice Cream, anyone?
Fruit – For ice cream toppings, strawberries and raspberries seem to be the go-to for most. Fresh and frozen fruit are amazing as ice cream toppings. These chocolate covered cranberries would make a lovely ice cream topping. We also love pineapple on ice cream, and on banana splits. We also love raspberries on Semifreddo.
Pineapple Ice Cream Topping – When you're shopping, look for Smucker's pineapple sauce near the other ice cream toppings. If you can't find that, just use crushed canned pineapple.
Strawberry Sauce – Pick up a bottle of strawberry sauce like you would mix with milk, or look for a sauce marketed for ice cream topping, which will be thicker and more syrupy.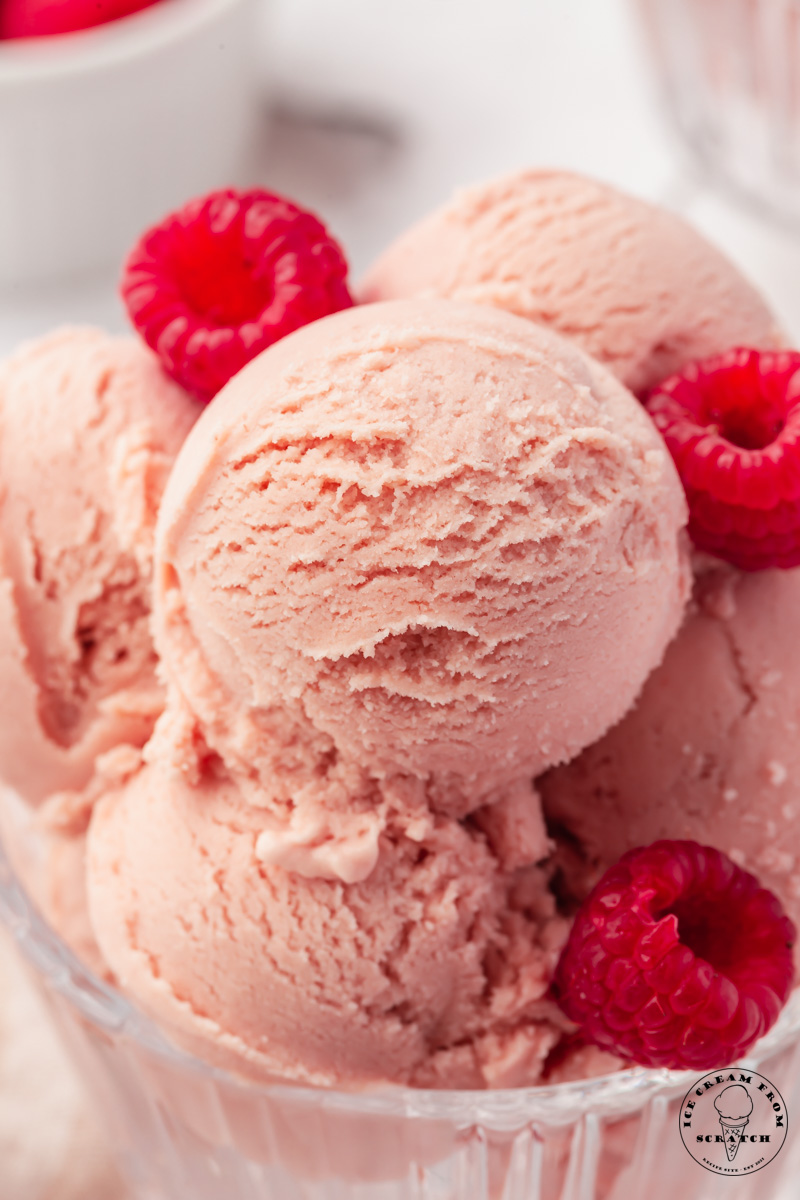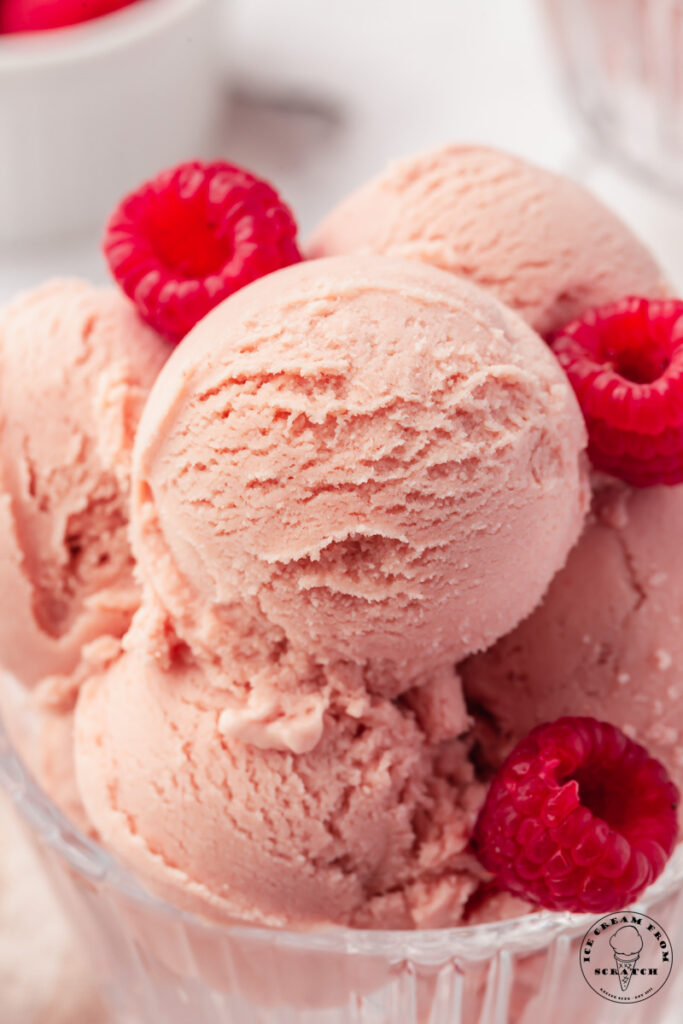 Compote – When it comes to compotes, there are a variety that work really well as ice cream toppings. Raspberry compote is a reader favorite. Apple compote and strawberry compote are also super popular for ice cream toppings.
Blueberry compote is a reader favorite.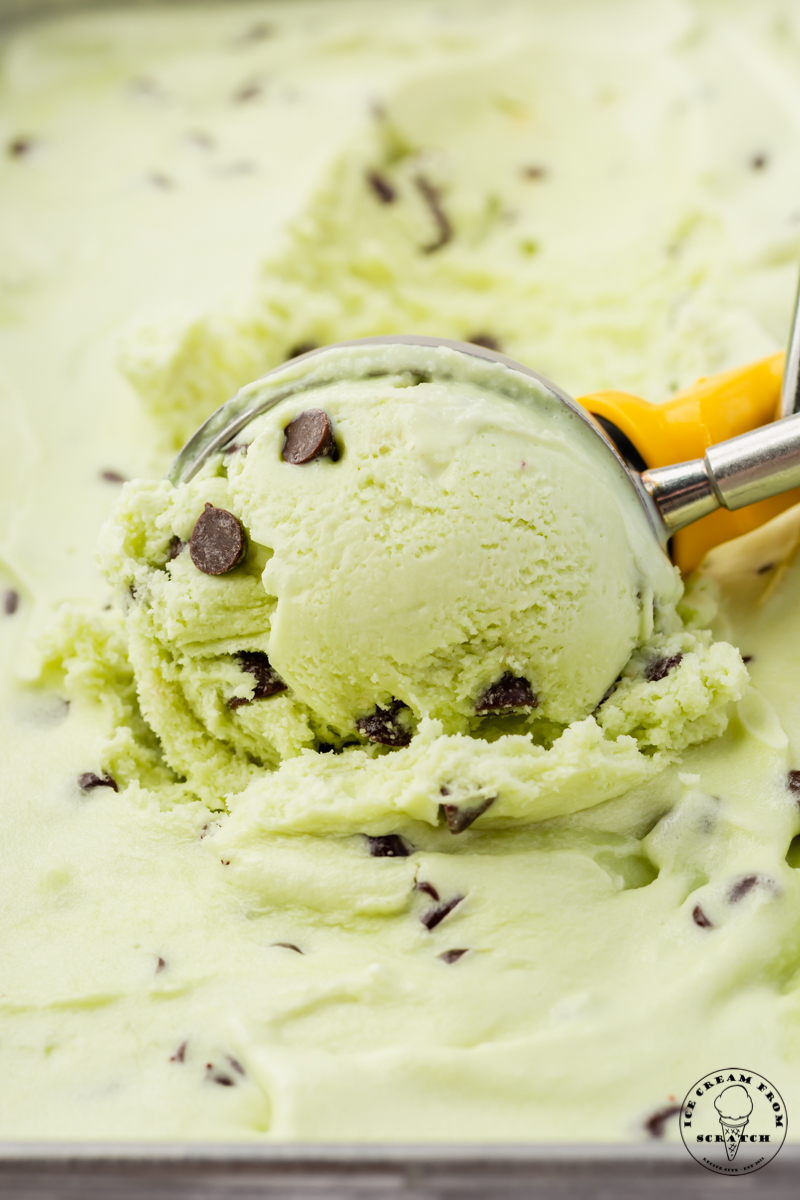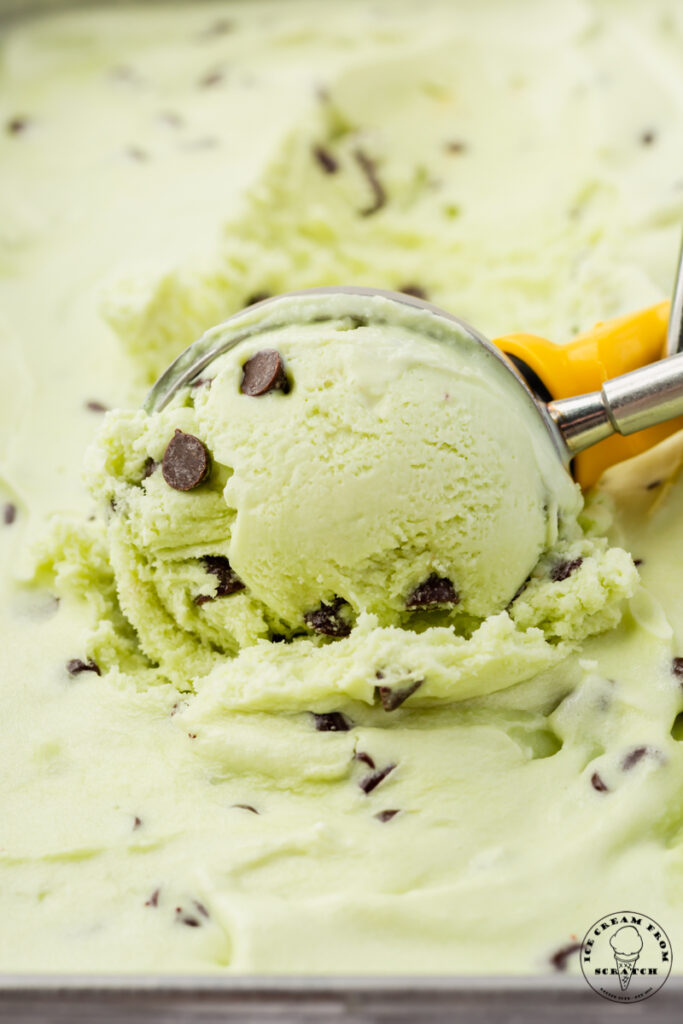 Chocolate Chips – Both regular chocolate chips and mini chocolate chips make great toppings for ice cream. You can also use peanut butter chips, white chocolate chips, or seasonal flavored chocolate chips.
Chopped Candy – Both chocolate based candies and fruity candies make great ice cream toppings. Use small candy as-is, or chop the larger bars up into smaller pieces. M&Ms, Butterfinger, Snickers, Reeses Cups or Pieces, Heath Bar, Kit Kats, Crushed candy canes, gummy bears, Andes mints, Whoppers.
We love using bubblegum as an ice cream topping. It's so colorful and fun, which is why it's the star of bubble gum ice cream.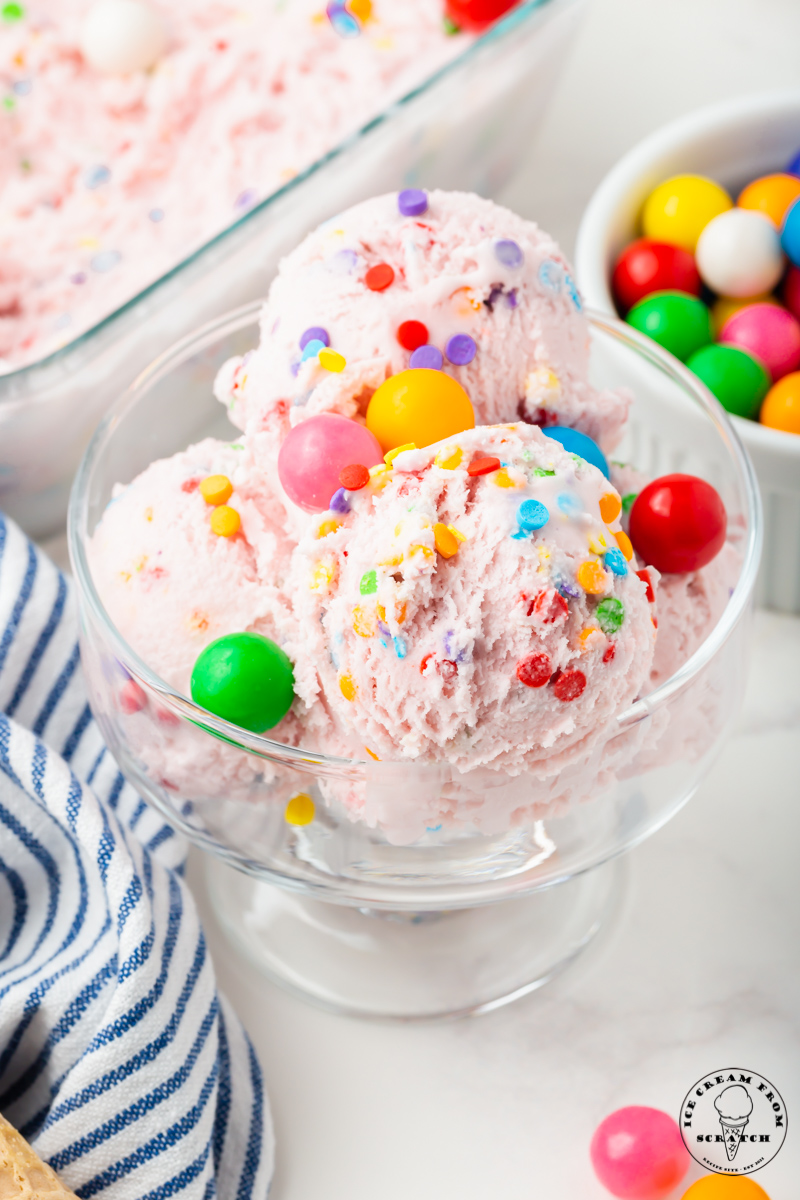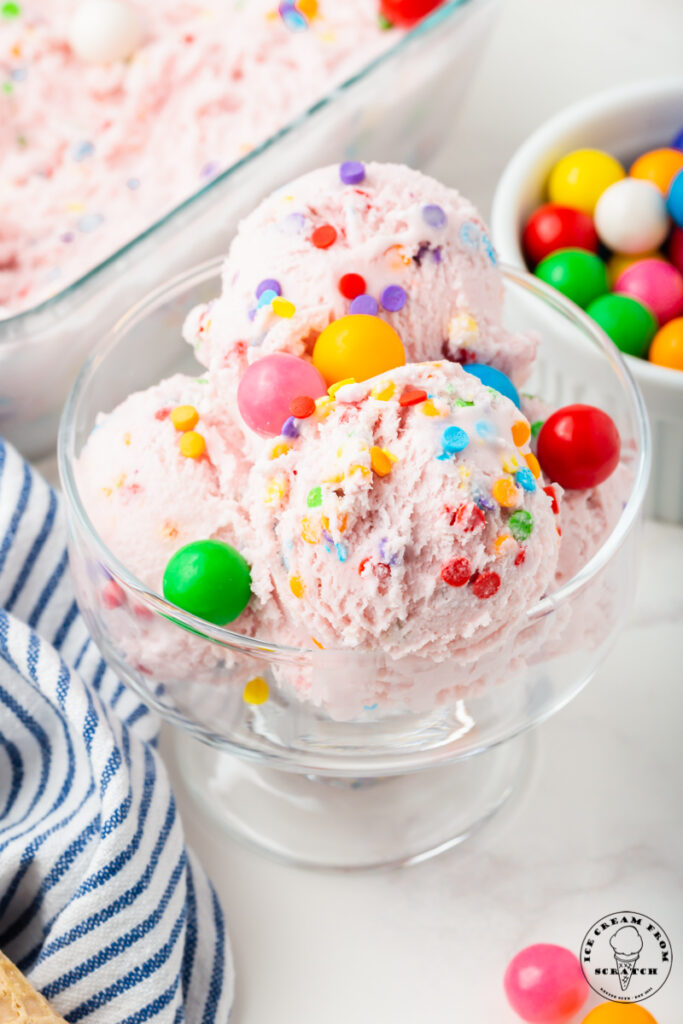 Peanut Butter Topping – Did you know you can make a super simple peanut butter ice cream topping by simply heating peanut butter up? Yep. It's delicious on top of homemade ice cream.
Maraschino Cherry – At least one of these bright red sugary cherries should be at the top of your ice cream. I prefer the ones with the stems still attached. You can also drizzle the maraschino cherry juice over your ice cream as another ice cream toppings idea.
Other Ice Cream Toppings: Brownies, cheesecake, or cookie dough pieces also found in cookie dough ice cream, pound cake squares, crumbled rice krispies treats, shredded coconut, and mini marshmallows.
For a vegan option, top your ice cream with vegan fondue.
All of these ice cream toppings can be mixed and matched to make an ice cream sundae, or you can add them to a banana split.
What are your favorite Ice Cream Toppings? Let us know in the comments below.