Delicious and decadent, yet super simple to make, Caramelized bananas make the best ice cream topping.
You need a few simple ingredients, including ripe bananas, brown sugar, and butter to make these pan fried bananas in a rich caramel sauce.
Don't just stop at ice cream though, caramelized bananas are an excellent topping for pancakes, oatmeal, or waffles too.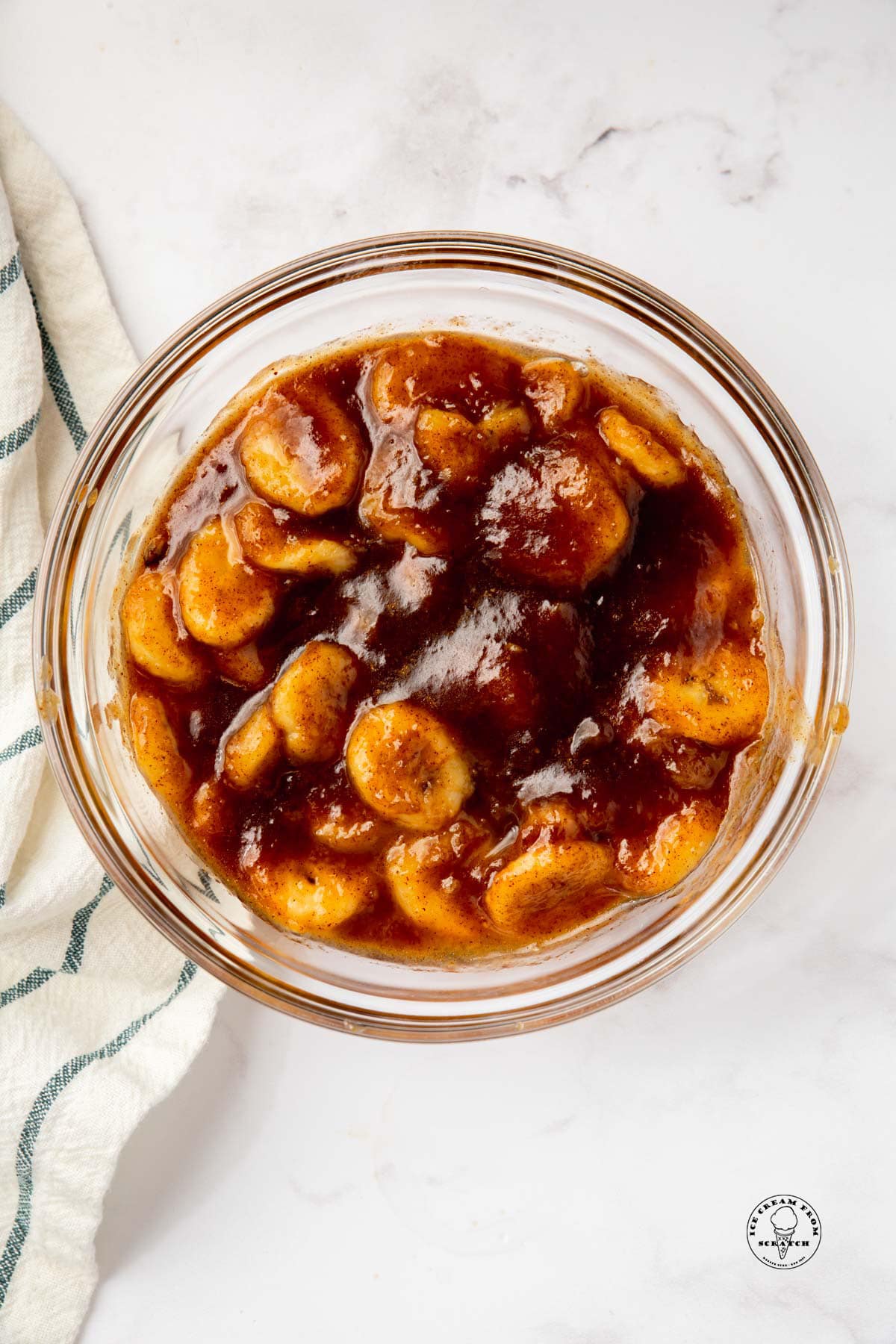 Honestly, sometimes I just eat these caramelized bananas right out of the pan with a spoon! They'd be amazing on Banana Cake.
Our recipe for homemade Bananas Foster Ice Cream has these sweet and spiced bananas churned into it.
That recipe is amazing, but if you'd rather not make ice cream from scratch right now, adding this bananas foster inspired topping to a bowl of vanilla ice cream is the next best thing.
We're thinking about trying to make caramelized bananas in an air fryer next.
Why You're Going to Love this Recipe for Caramelized Bananas
Quick and Easy: It takes about 10 minutes to make caramelized bananas on the stove, and the only prep you need to do is to slice up a few bananas.
The Best Method: You'll find other methods of making caramel bananas, including in the oven or microwave, but this skillet method is the best and easiest way to do it.
Minimal Ingredients: You need ripe bananas and just a handful of basic cooking ingredients to make this recipe.
Completely Delicious: These bananas are perfectly sweet, with just the right amount of cinnamon. The butter and brown sugar caramelizes to make a silky delicious syrup too.
Options: Learn how to make caramelized bananas with or without rum. I'll tell you how to do it both ways! I'll also give you some flavor variations to try.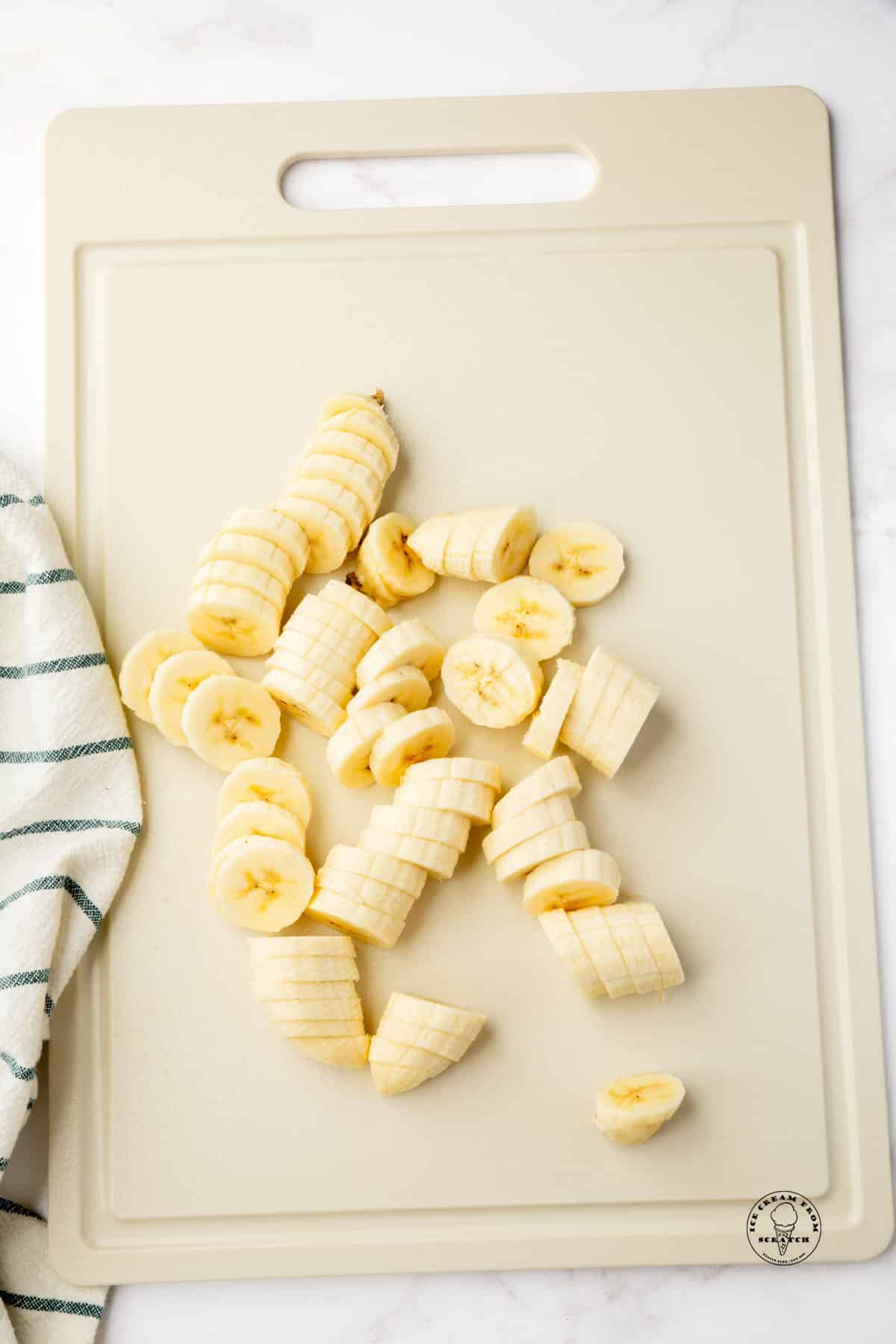 Ingredients in Homemade Caramelized Bananas
Butter– Melted butter makes this sauce rich and silky. To make vegan caramelized bananas, use vegan butter or coconut oil instead.
Brown Sugar – When cooked with butter, brown sugar creates a dark caramel sauce.
Dark Rum – This is a classic flavor addition for bananas foster and caramelized bananas recipes. See below for tips on what you can use instead if you'd prefer not to use alcohol.
Cinnamon – Cinnamon stars in this recipe! It's the perfect lightly spiced add-in to make the bananas extra delicious.
Ripe Bananas – Use yellow, ripe bananas for this recipe. Avoid bananas that are green, or black, overripe ones.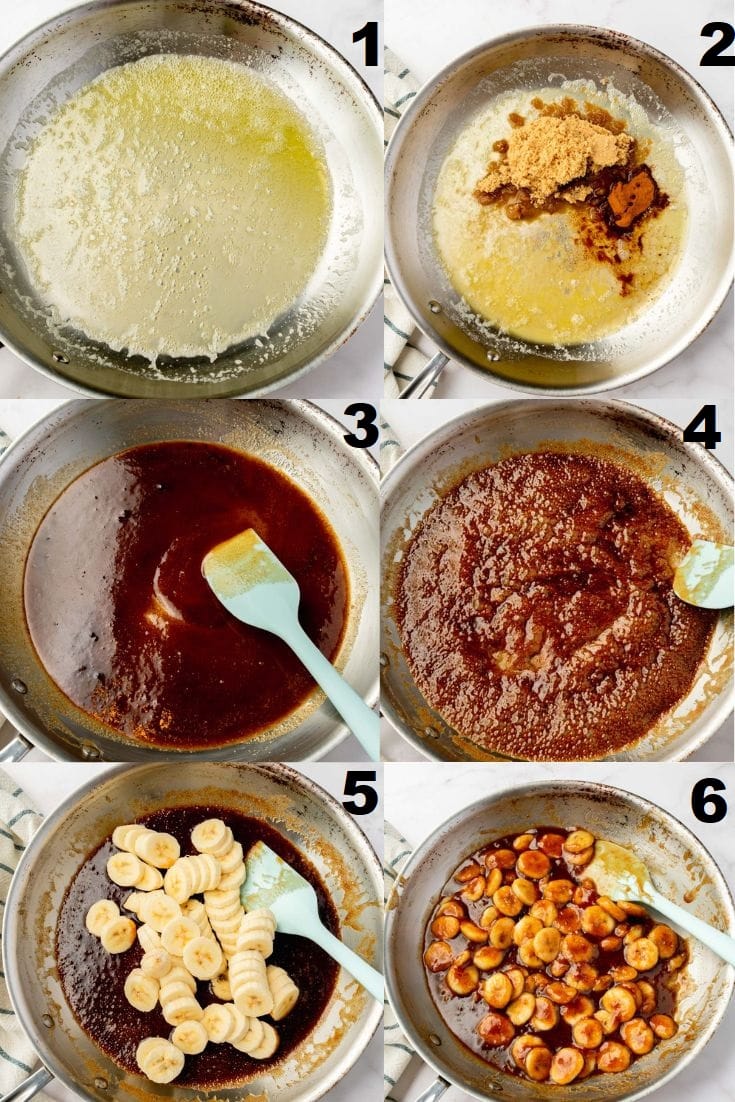 How to Make Caramelized Bananas from Scratch
Here are the simple step-by-step instructions for making this delicious banana caramel sauce:
Add the butter to a large skillet over medium heat and melt completely.
Then add the brown sugar, dark rum, and cinnamon.
Stir to combine.
Bring the mixture to a boil.
When it's boiling, add the sliced bananas.
Cook for 2-3 minutes, or until the bananas have softened. Remove from the heat and serve.
These numbered steps match the numbered photos above and are for illustration purposes. For the complete list of ingredients and instructions, please see the recipe below.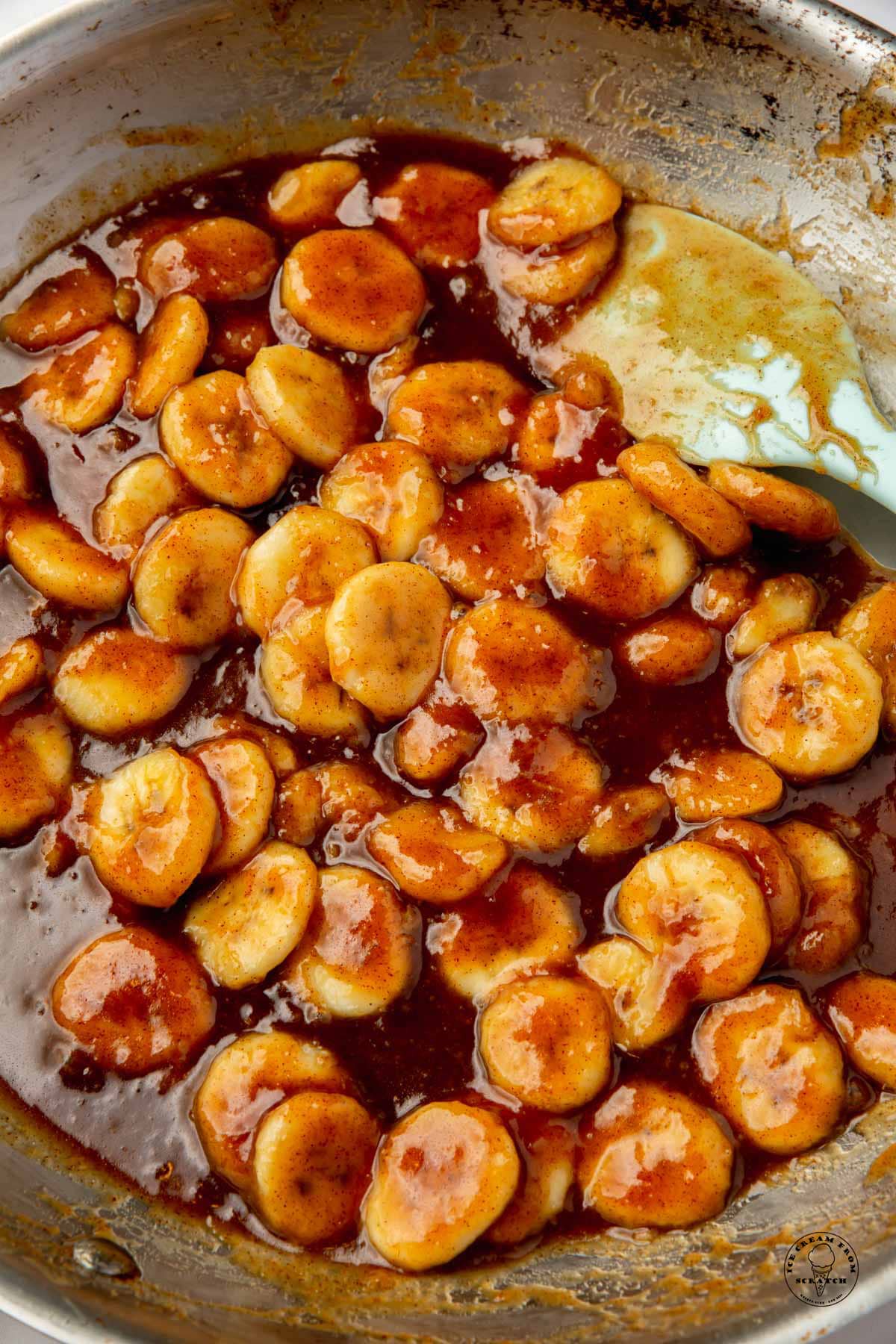 How to Store Bananas in Caramel
You'll find that caramelized bananas are best when served right out of the pan, but if you have leftovers, they can be stored in an airtight container in the fridge for up to 2 days.
Reheat them gently if you'd like to enjoy them warm again, or add them cold to your ice cream or breakfast!
I don't suggest freezing this banana sauce, as the texture will change too much in the freezer.
Tips for Making The Best Caramelized Bananas
Use quality ingredients – When making this simple recipe that has just a few ingredients, you'll want to make sure you are using high-quality ingredients for the best outcome.
Make Sure the Bananas are Just Right – The best bananas for this recipe will be fully yellow, sweet, and soft. You don't want to use over-ripe bananas though, as they will turn to mush in the syrup.
Slice the Bananas Thinly, but don't go too thin. You want the slices to stay intact, so aim to make them about 1/4 inch thick.
Can I Make Caramel Bananas Without Alcohol?
The alcohol used in this recipe for caramelized bananas will cook away, leaving just the flavor of the dark rum behind.
While it can be assumed that all of the alcohol will cook off, it can't be guaranteed.
So, if you'd prefer to cook these bananas without rum, you can. Just be sure that you replace it with the same amount of liquid, and with something flavorful.
Good options to replace the rum in caramelized bananas include apple juice or rum extract added to water.
Do I Need To Light The Bananas on Fire?
If you've ever been served bananas foster table-side, you know that chefs generally flambé this dessert, which means that they add the rum, and then ignite it.
The fire is mostly for show, and definitely not recommended to do in your kitchen. Instead, we'll cook the caramel slowly to cook off the alcohol.
You can play around with reducing the calories in this recipe by using a low-carb brown sugar-style sweetener, although we haven't tested that out quite yet.
You can also reduce the sugar in this recipe by up to half if you like, just note that you will end up with less sauce and it will be a bit thinner.
Caramelized Banana Ice Cream Topping
Why should you make this caramelized banana recipe? So that you can add it to ice cream, of course!
Sliced bananas caramelized with brown sugar, butter, and rum create the classic dessert known as Bananas Foster.
Banana's Foster is always served warm with creamy vanilla ice cream, and I urge you do to the same. It's amazing!
Other Ways to Enjoy Caramelized Bananas
Caramelized bananas make a delicious syrupy topping that is delicious on more than just ice cream.
For Breakfast: Try bananas in caramel on top of pancakes, waffles, or French toast, and enjoy a sweet and special breakfast. Bananas foster oatmeal also sounds amazing!
As Dessert: Or make a dessert out of sliced pound cake topped with caramelized bananas and fresh whipped cream.
Try a Milkshake: Add your cooked bananas to a blender along with some ice cream to create a decadent bananas foster milkshake, or add some of the caramelized bananas into your favorite protein shake instead.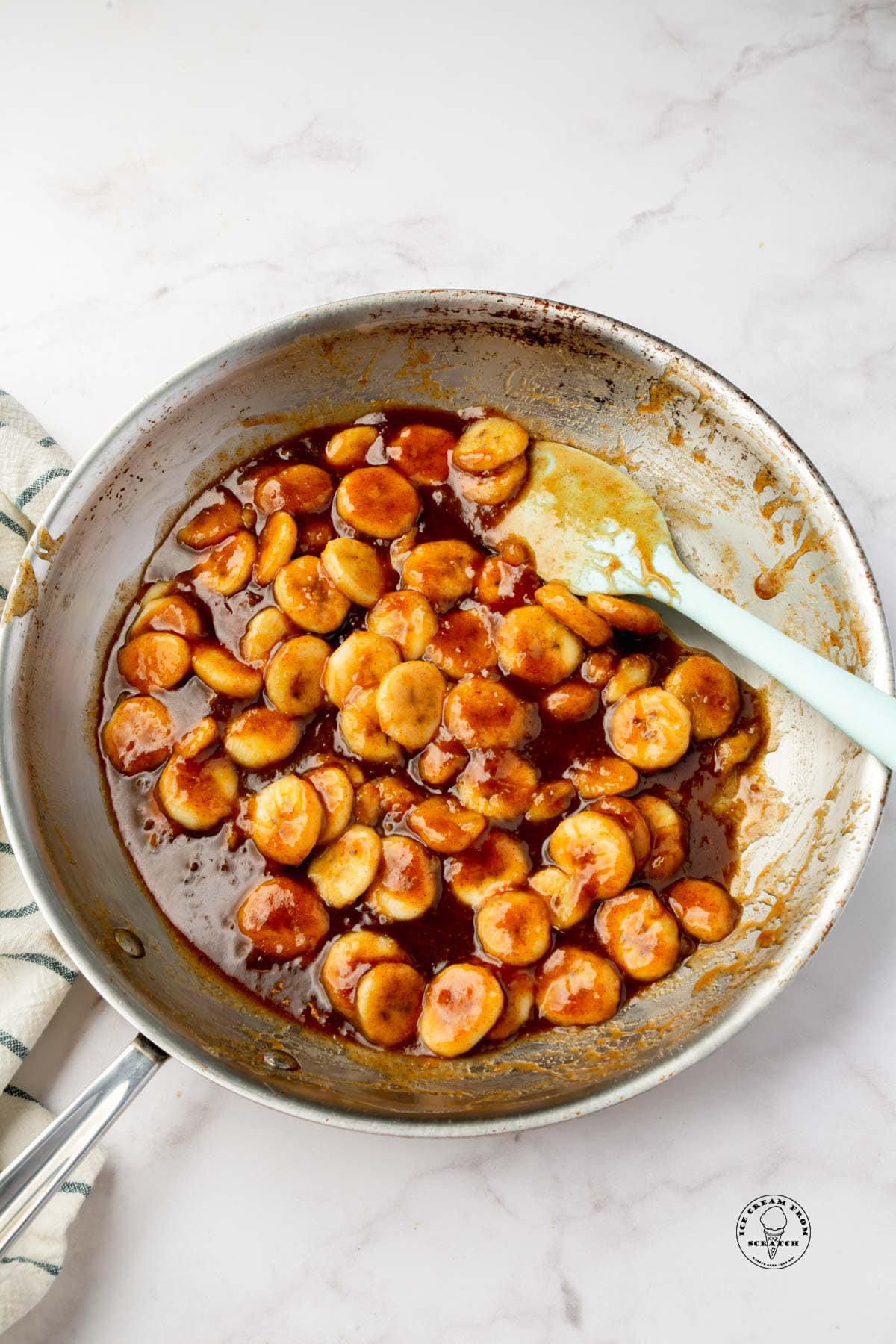 Caramelized Banana Variations
Cinnamon is a perfect match with brown sugar and bananas, but you can try other flavors too.
A splash of orange or pineapple juice will give the caramelized bananas a slightly tangy and tropical flavor.
Add a pinch of cardamom, nutmeg, or even pumpkin pie spice to pan in place of, or in addition to, the cinnamon.
Instead of rum, try bourbon, or other flavored liqueurs.
To get a bit of crunch in your caramelized bananas, add toasted pecans or walnuts to the mix.
Homemade Ice Cream Recipes
Try adding your bananas in caramel sauce to any of these homemade ice cream flavors:
More Frozen Banana Desserts
If you are a fan of desserts that include bananas, I think you will really enjoy our recipe for Banana Pudding Ice Cream. Chunky Monkey Ice Cream also has some bananas in it!
Easier than making fresh ice cream, you might also enjoy learning how to make a Classic Banana Split or these easy Banana Popsicles.
Bananas are always welcome in milkshakes, and you'll find easy recipes for making a banana milkshake, a chocolate banana milkshake, and a strawberry banana milkshake right here.
LET'S GET SOCIAL, you can follow us on Pinterest or leave a comment below if you have any questions.
Did you make these Caramelized Bananas? Leave a Comment Below letting us know what you thought and if you added any additional add-ins.
Yield: 6 servings
Easy Caramelized Bananas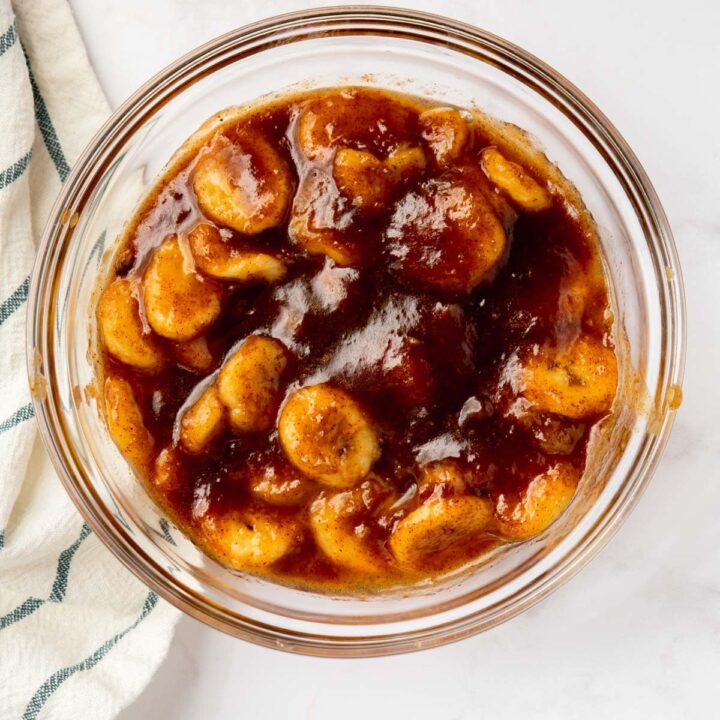 Delicious and decadent, yet super simple to make, Caramelized bananas make the best ice cream topping. Try these sweet bananas on pancakes or waffles too.
Ingredients
¼ cup butter
½ cup brown sugar
3 tablespoons dark rum
1 teaspoon ground cinnamon
3 ripe bananas, sliced
Instructions
Add butter in a large skillet over medium heat. Melt completely.
Stir in the brown sugar, dark rum, and cinnamon until smooth. Bring to a boil.
Add the bananas and toss to coat. Cook an additional 2-3 minutes until the bananas have softened.
Remove from the heat and refrigerate until ready to use.
Notes
Use ripe bananas that are very deep yellow. You do not want to use overly ripe bananas because they will fall apart in the brown sugar mixture while cooking.
Add toasted nuts, a splash of orange juice, or other spices if you'd like to change the flavor and texture of the sauce.
Instead of rum, use fruit juice, or rum extract with water to equal 3 tablespoons. You can also just leave it out if you prefer.
Nutrition Information:
Yield:
6
Serving Size:
1/2 cup
Amount Per Serving:
Calories:

192
Total Fat:

8g
Saturated Fat:

5g
Trans Fat:

0g
Unsaturated Fat:

2g
Cholesterol:

20mg
Sodium:

66mg
Carbohydrates:

29g
Fiber:

2g
Sugar:

22g
Protein:

1g