The classic and still the best, a creamy, thick Chocolate Milkshake is simple to make at home with just three ingredients.
A base of chocolate ice cream and a drizzle of chocolate syrup make this a double chocolate milkshake, and whipped cream and a cherry on top make these extra special and fun to enjoy.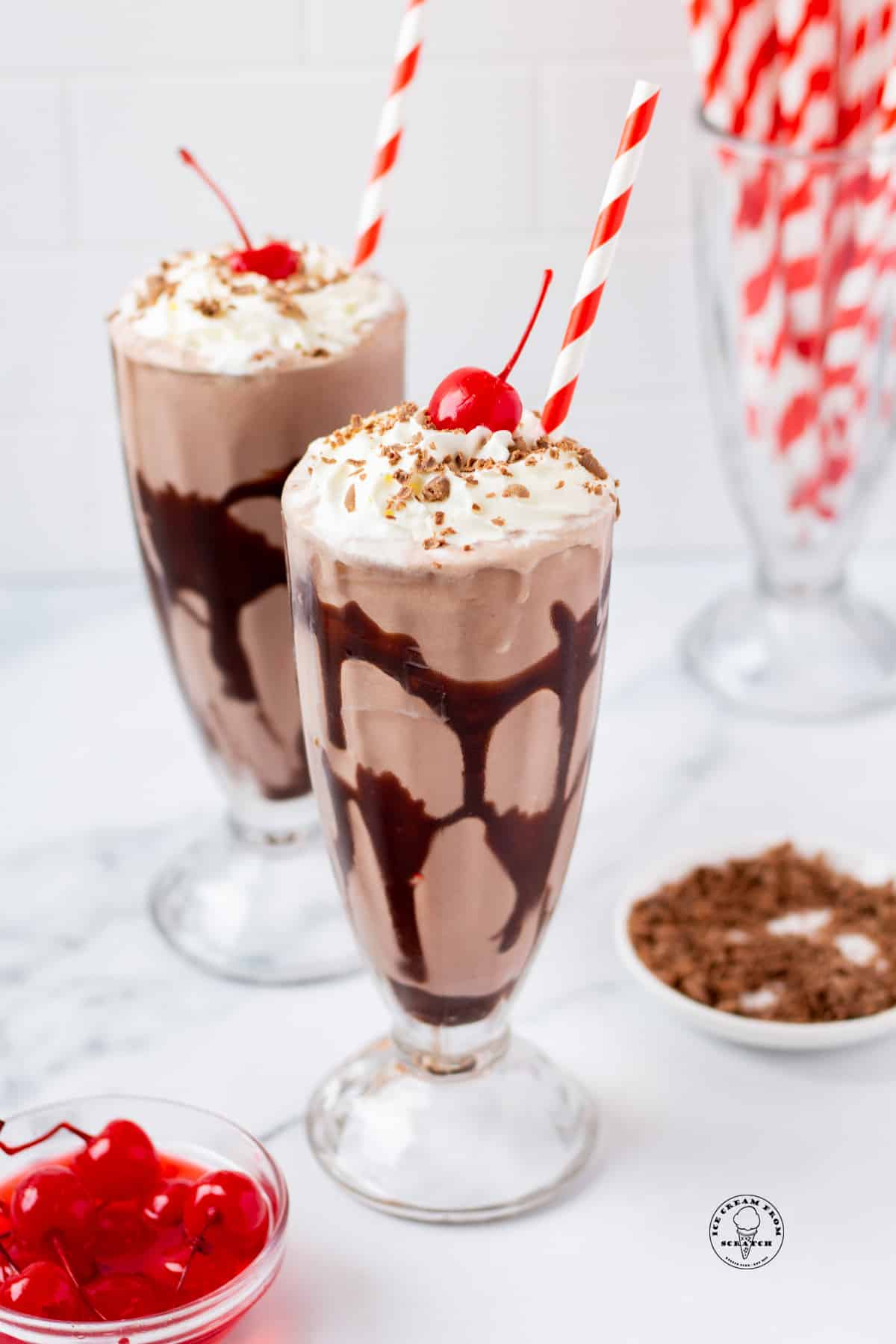 Homemade chocolate milkshakes are nut-free, and gluten-free, depending on the ingredients you choose.
Instructions for making dairy free milkshakes are included as well!
Ice cream purists will tell you that there are only two important flavors when it comes to making the best Chocolate Milkshakes (or any milkshakes): Vanilla and Chocolate.
This is because these are the oldest and most classic ice cream flavors, and with just chocolate ice cream and vanilla ice cream, you can create a never-ending list of fun sundae and milkshake recipes.
Chocolate Banana Milkshakes and Chocolate Peanut Butter Milkshakes are made with rich chocolate ice cream and add-ins. We also love Hershey's Milkshakes.
A Nutella Milkshake starts with vanilla ice cream (but you can also use chocolate) as its base.
All of the fruity milkshakes, like Strawberry Milkshakes, Blueberry Milkshakes, and Mango Milkshakes, are blended with vanilla ice cream.
A deliciously sweet chocolate milkshake can be made with vanilla ice cream, but it will be the most chocolatey if you start with chocolate ice cream.
Create layers of chocolate flavor from the chocolate ice cream, the chocolate syrup, and chocolate shavings.
Why You're Going to Love this Chocolate Milkshake Recipe
It's Perfectly Simple – Chocolate is delicious without any need to add flavors or ingredients. Of course, you can add things to this milkshake if you want to, ideas are further down!
3 Ingredients – The things you need to make a chocolate milkshake are common ingredients that you can easily pick up at the store if you don't already have them.
Scaleable – Make this recipe when you want to enjoy a chocolate milkshake by yourself, or double, triple, or quadruple the recipe to serve your family or your friends a tasty chocolate ice cream treat.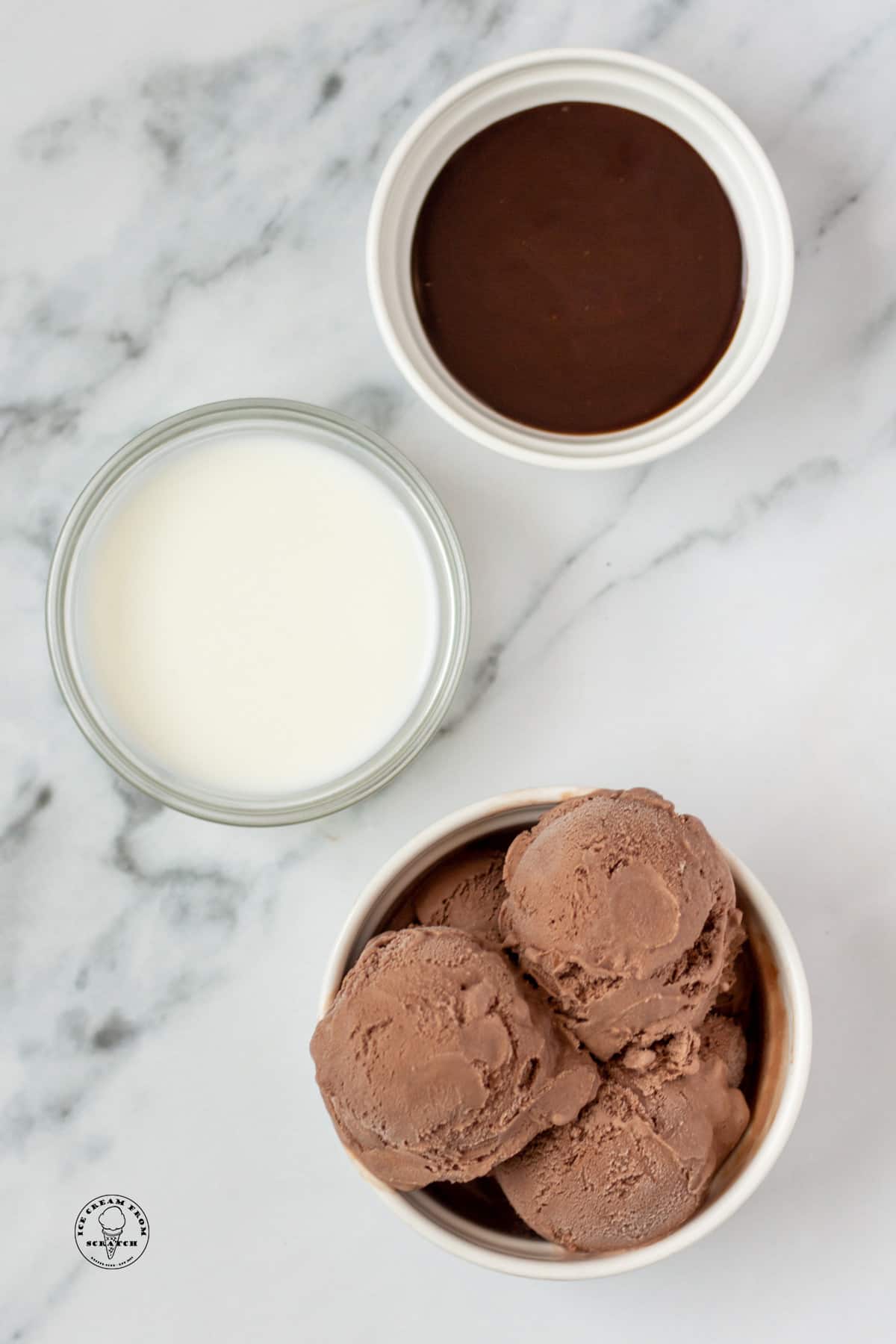 Ingredients in Homemade Chocolate Milkshake
Milk – To make the creamiest milkshake, whole milk is your best choice. If you're making this recipe with dairy-free ice cream, choose your creamiest dairy-free milk.
Ice Cream – You can make a chocolate milkshake using vanilla ice cream and chocolate syrup, but for the best homemade chocolate milkshakes, you should start with chocolate ice cream. Use a good quality ice cream from the store, or make homemade chocolate ice cream to use as your milkshake base.
Chocolate Sauce – For milkshakes, you want to use chocolate syrup or chocolate sauce, rather than hot fudge sauce that you'd use for making ice cream sundaes.
Optional – Whipped cream, chocolate shavings, and a sweet maraschino cherry on top make these milkshakes extra special.
If you have any questions about how to make a chocolate milkshake, please leave a comment below and I will get back to you.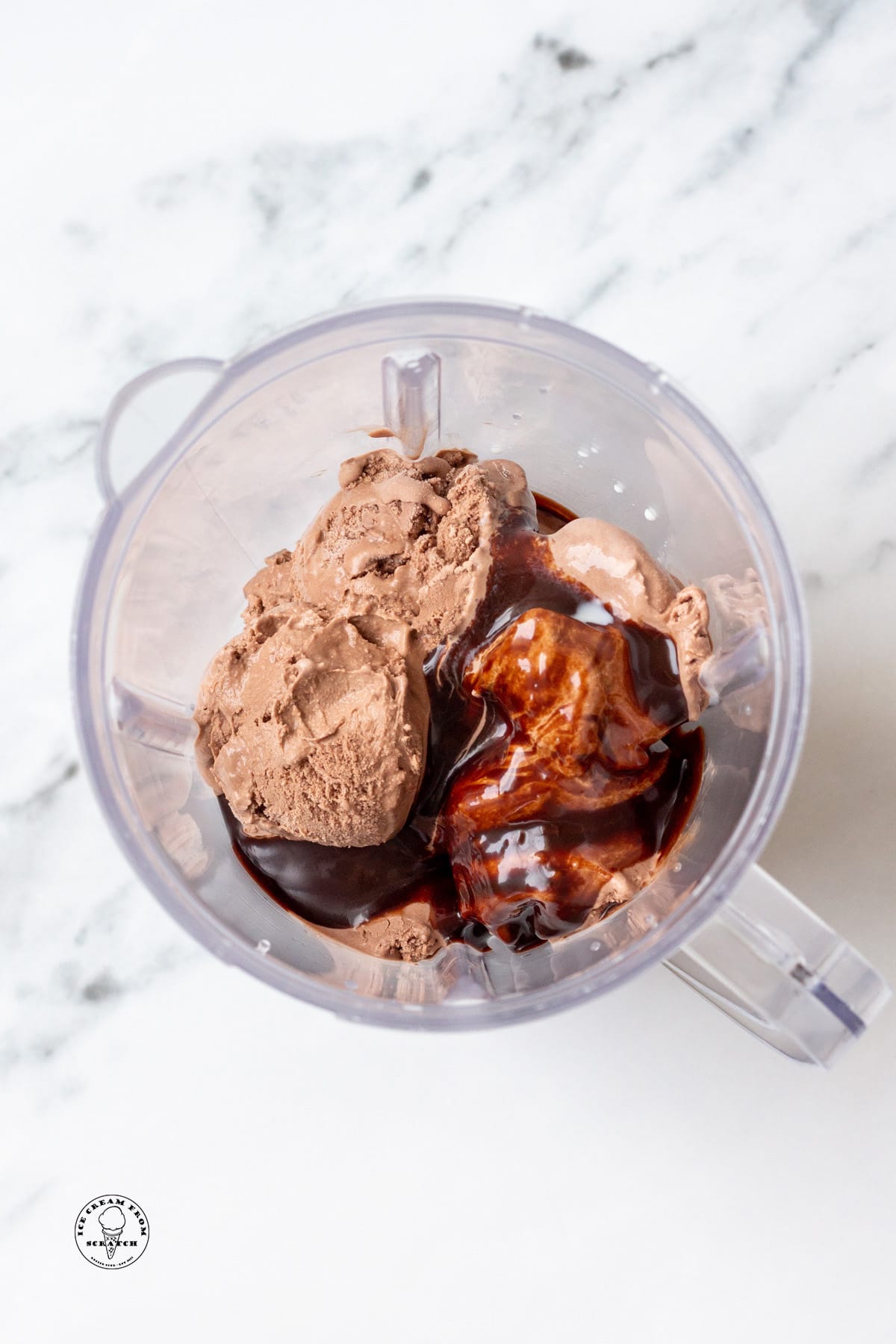 How to Make a Chocolate Milkshake
Add the milk, ice cream, and chocolate sauce to the blender in that order.
Blend until creamy and combined.
Pour into a glass and serve immediately topped with whipped cream, chocolate shavings, and a cherry if desired.
For the complete list of ingredients and instructions, please see the recipe below.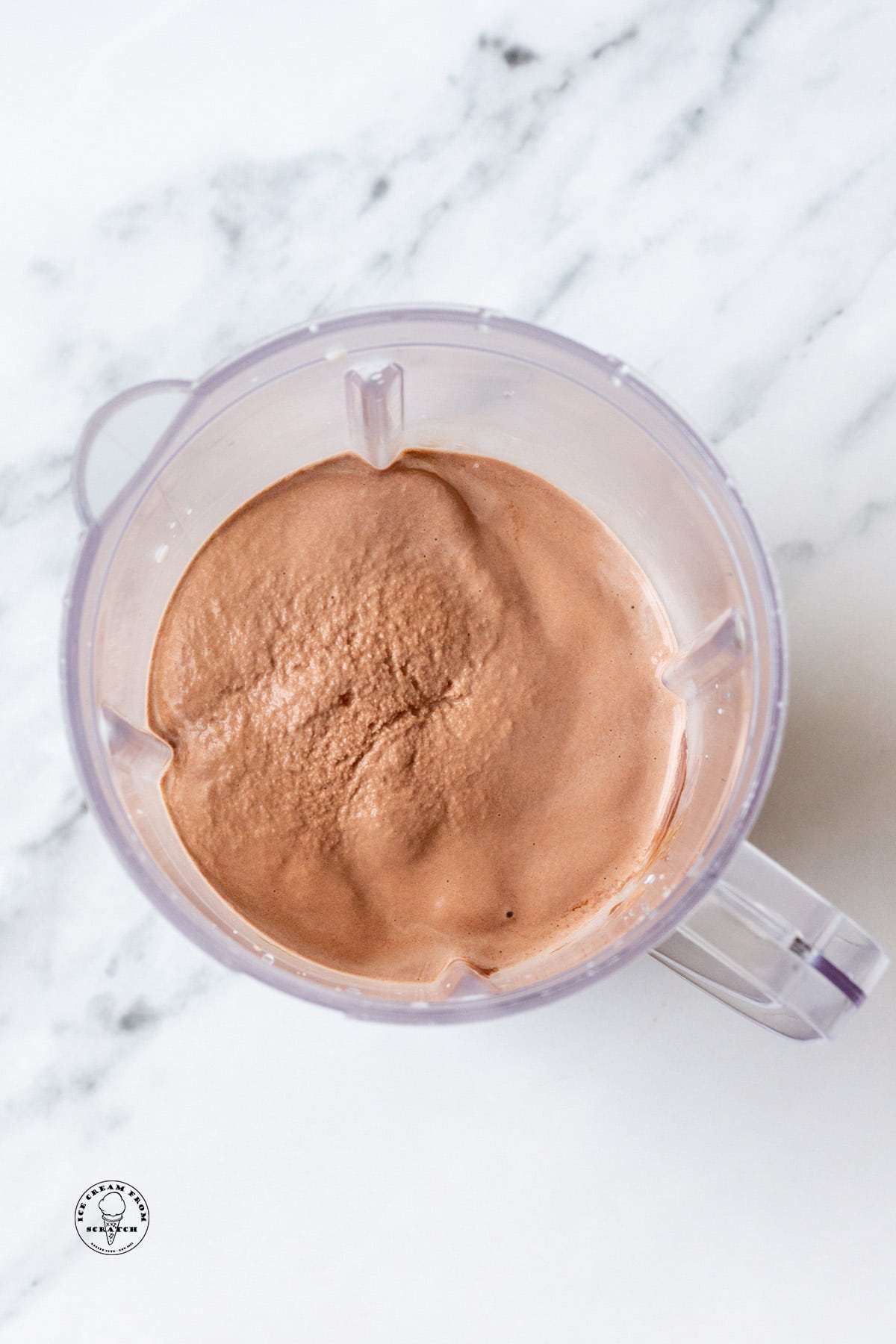 What is the Best Ratio of Ice Cream to Milk in a Milkshake?
All of our homemade milkshake recipes use the same basic milk to ice cream ratio, and it's 2 cups of ice cream to 1/4 cup of milk.
These amounts create a thick milkshake, but you can adjust them to make your shake extra thick or a bit thinner.
TO MAKE A THICK CHOCOLATE MILKSHAKE
Omit the milk called for in the recipe and make the milkshake using just slightly softened ice cream and chocolate sauce.
TO THIN DOWN A MILKSHAKE
Add more milk, a little bit at a time, and blend until the milkshake is exactly how you like it.
Which Milk is Best for Making Milkshakes
For a creamy, non-icy chocolate milkshake you'll want to use whole milk. The fat plays a huge role in keeping the texture smooth.
Skim milk or reduced fat milk won't give you the same thick, creamy texture.
You can use other kinds of milk, including dairy-free milk.
Oatmilk and almond milk can make delicious milkshakes, but you may notice that they are less creamy than if you had used dairy.
If you do use another milk I recommend using less milk and letting the ice cream soften for a few minutes before you make a milkshake.
This will reduce the chances of the milkshake being too icy.
Dairy Free ice cream can be used to make this chocolate milkshake vegan! Choose your favorite from the store, or start with homemade Oat Milk Ice Cream or Coconut Ice Cream.
What is The Best Blender for Making Milkshakes?
Any kind of blender can be used to make homemade milkshakes!
A common inexpensive blender works just the same as a high-powered one, so use what you have.
Here is the basic method for making a milkshake in a blender:
Add the milk to the blender first. Then add in the ice cream, syrup, or any other mix-ins or flavorings.
Blend until well combined and serve immediately.
How to Make a Chocolate Milkshake Without a Blender
While it's not the ideal way to do it, you can enjoy a delicious milkshake without any fancy equipment.
Scoop chocolate ice cream into a quart-size mason jar or a deep glass container and microwave it for 15-30 seconds so that it is soft but not melted.
Add the chocolate syrup, place the lid on the jar and shake the milkshake by hand (see, this is why milkshakes are called "milk shakes"!) until creamy.
Use a spoon to break up any larger sections of ice cream. You won't necessarily need to add any milk, but you can add a splash if you'd like a thinner consistency.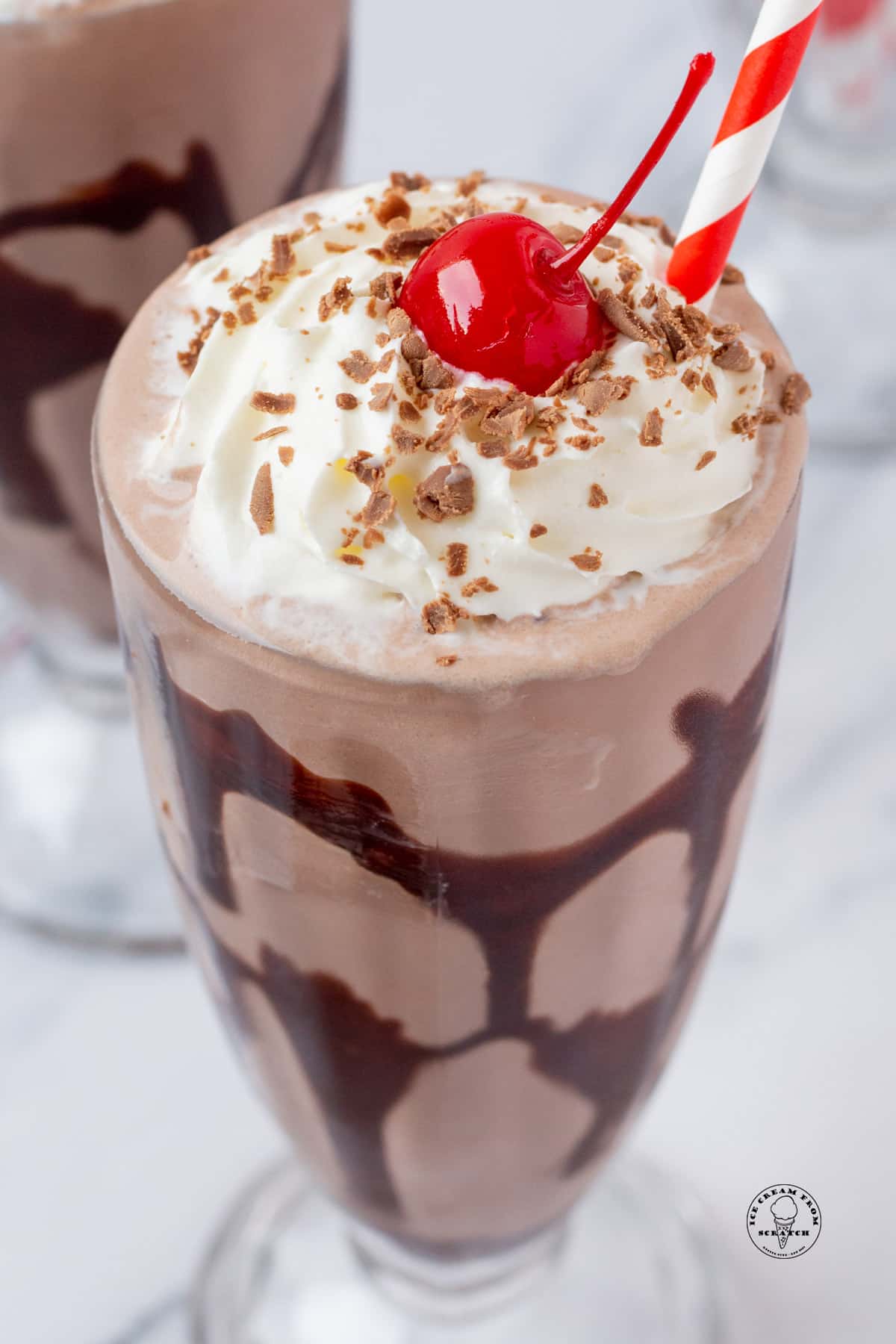 Chocolate Milkshake Add-Ins
A good homemade chocolate milkshake is the perfect backdrop for sweet chocolatey add-ins and toppings!
Sauces, syrups, and flavorings
Add a teaspoon of vanilla extract, or a half teaspoon of almond extract to accentuate the chocolate flavor.
A pinch of instant espresso granules can do the same.
In addition to chocolate syrup, add caramel sauce, peanut butter ice cream topping, or raspberry syrup to change the flavor.
Add-ins and toppings
Keep things simple by topping chocolate milkshakes with fresh whipped cream, and don't forget to include a straw for sipping!
To create a more adventurous milkshake, you can blend in crushed Oreos, bits of cookie dough or baked brownies, or pieces of your favorite chocolate candy bars.
If you remember the "freakshake "craze that happened in the late 2010s, a homemade chocolate milkshake could be the perfect thing to pile up with garnishes like mini donuts, waffles, and candy too. Have fun with it!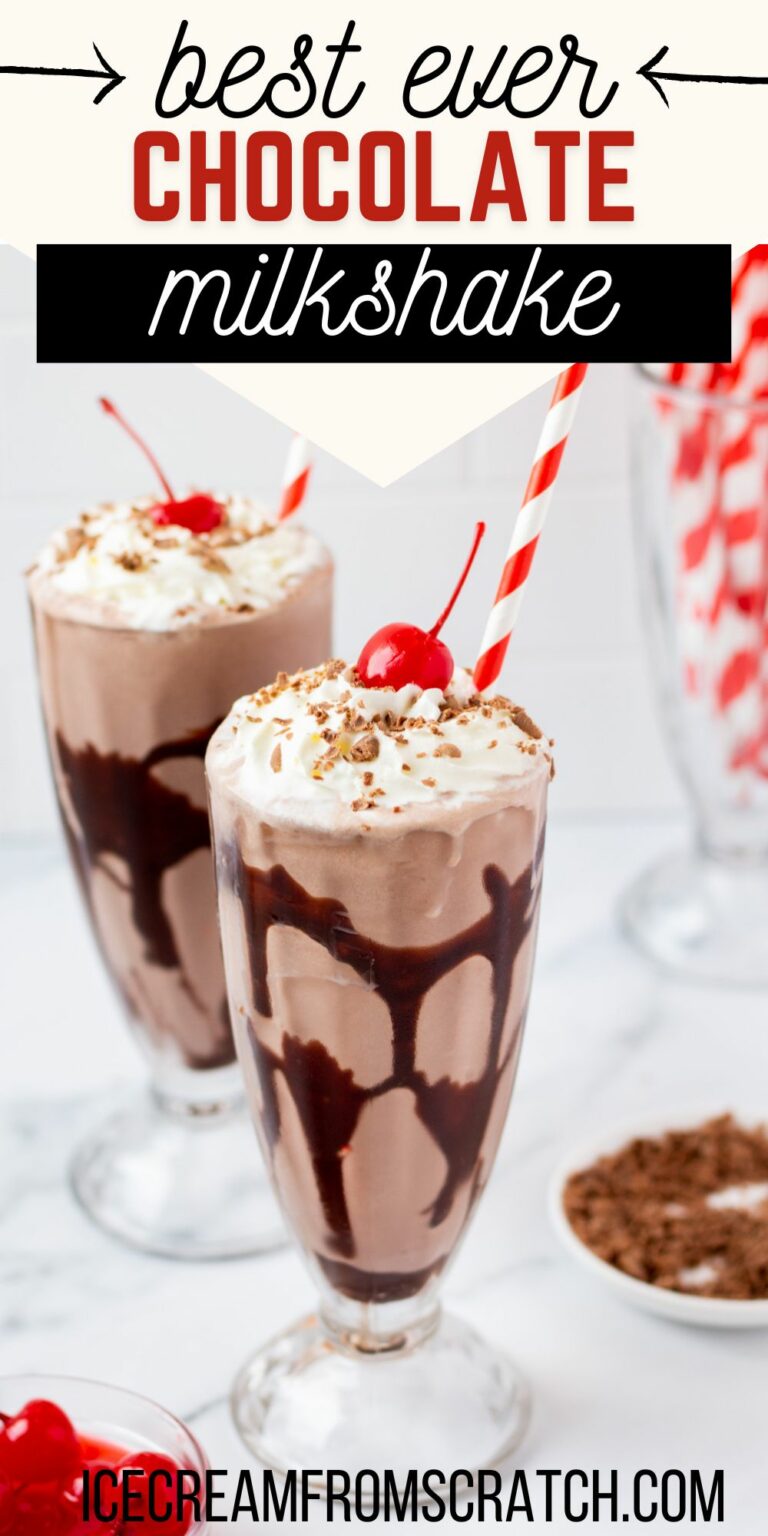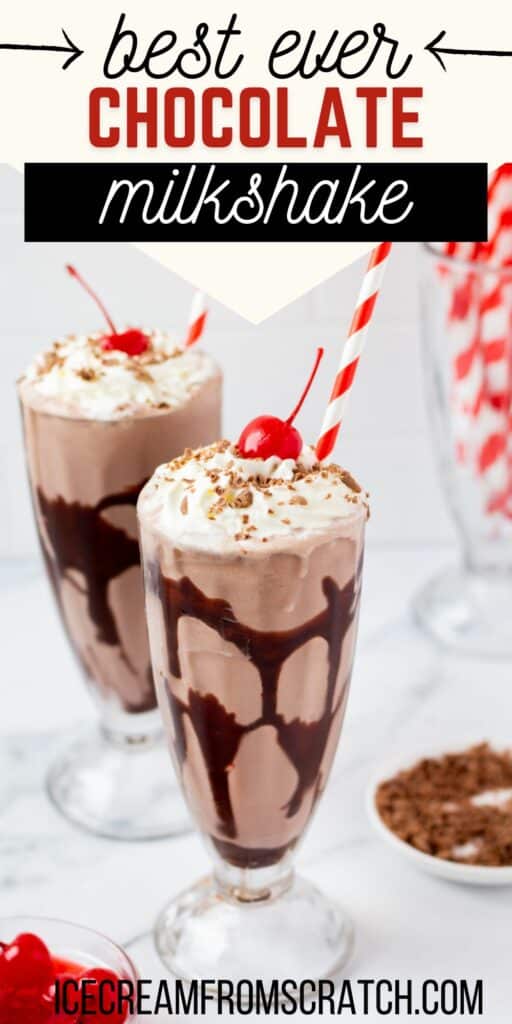 More Homemade Milkshake Recipes
Things we love for making milkshakes:
Heat Conductive Ice Cream Scoop
Note: Each of these links will take you to the exact product on Amazon. As an Amazon associate, I earn a little from each qualifying purchase.
LET'S GET SOCIAL, you can follow us on Pinterest or leave a comment below if you have any questions.
Did you make this Homemade Chocolate Milkshake Recipe? Leave a Comment Below letting us know what you thought and if you added any additional add-ins.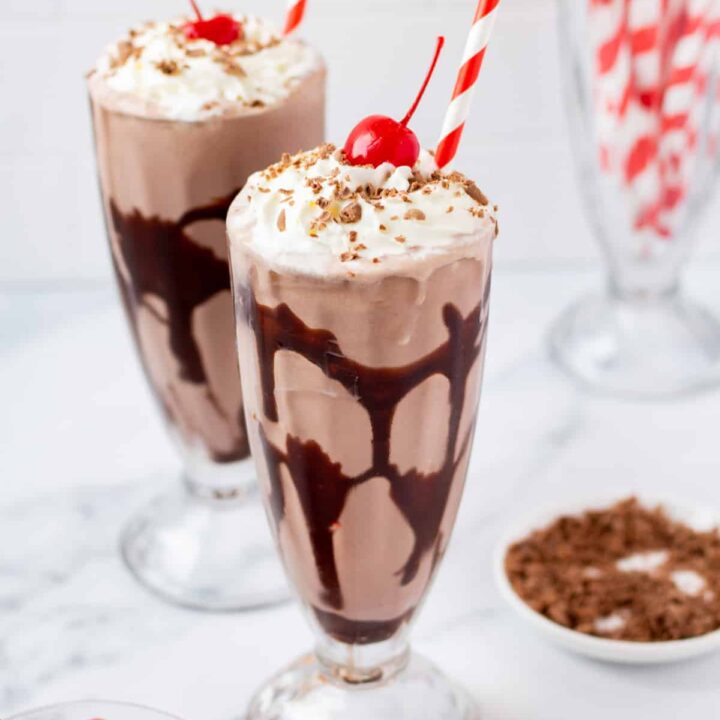 Easy Chocolate Milkshake
The classic and still the best, a sweet, creamy, and thick Chocolate Milkshake is simple to make at home with just three ingredients.
Ingredients
¼ cup (2 oz.) whole milk
2 cups vanilla ice cream or chocolate ice cream
1/3 cup chocolate sauce
Instructions
Add the ingredients to the blender jar in the order listed.
Blend until combined.
Serve immediately.
Top with whipped cream, chocolate shavings, and a cherry if desired.
Notes
For a thicker milkshake, let the ice cream sit at room temperature for 5-10 minutes and omit the milk.
Use dairy-free ice cream and creamy dairy-free milk if desired.
This recipe makes one milkshake. You can double the ingredients in the blender, or make milkshakes one at a time using these proportions.
Nutrition Information:
Yield:

1
Serving Size:

1
Amount Per Serving:
Calories:

1138
Total Fat:

46g
Saturated Fat:

28g
Trans Fat:

0g
Unsaturated Fat:

15g
Cholesterol:

166mg
Sodium:

411mg
Carbohydrates:

167g
Fiber:

6g
Sugar:

142g
Protein:

18g