A thick and creamy strawberry milkshake made with real berries is super simple to make at home.
You only need three ingredients to craft the perfect homemade strawberry milkshake.
Vanilla ice cream is the base for this strawberry milkshake recipe, but you can also use strawberry ice cream to give this shake a super intense strawberry flavor.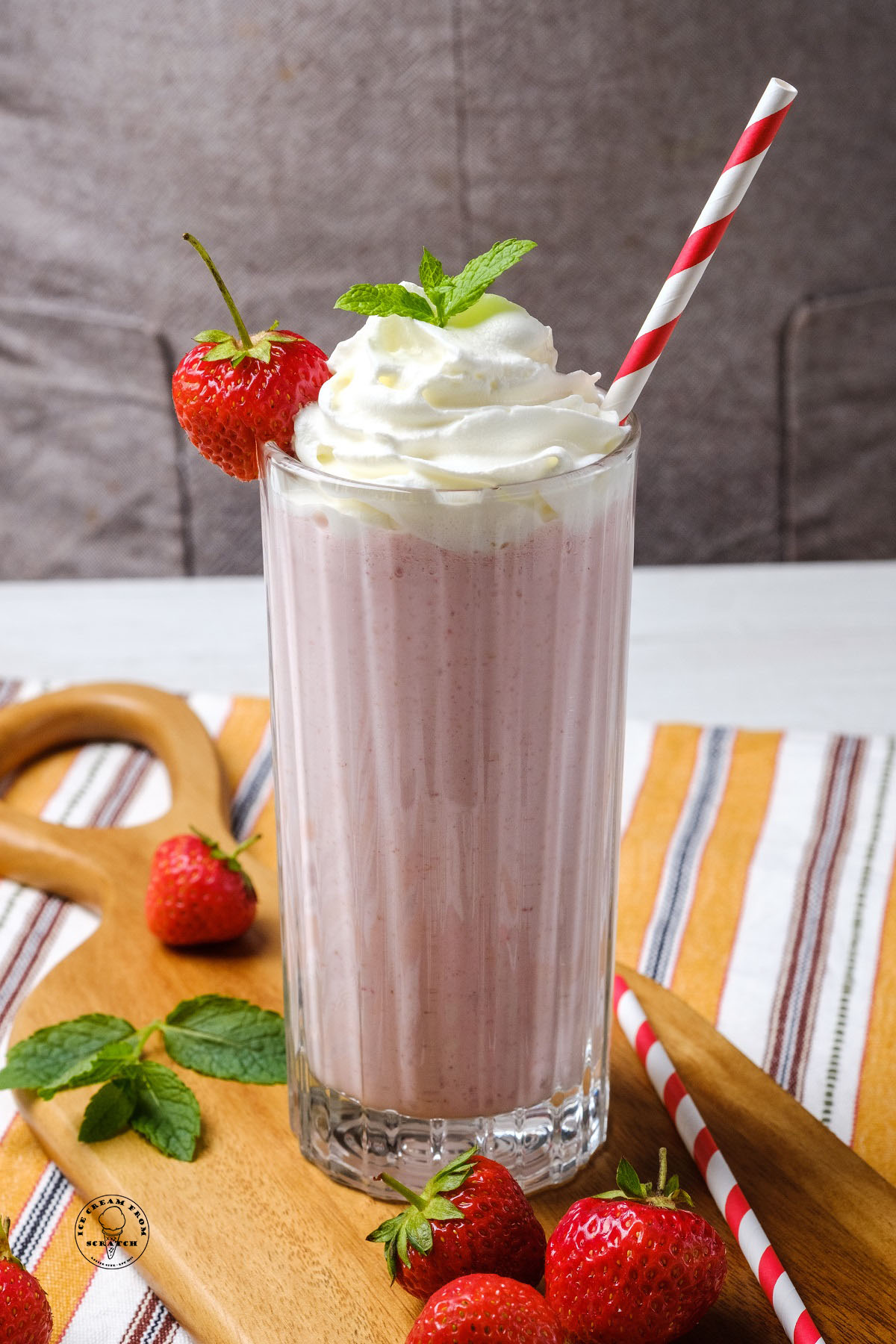 This milkshake is naturally gluten-free, nut-free, and it can be made dairy-free using dairy-free milk and a dairy-free vanilla ice cream.
Why You're Going to Love this Strawberry Milkshake
It's a classic! Who doesn't love a good strawberry milkshake? You're going to enjoy how creamy and sweet this homemade shake is, using either fresh or frozen strawberries.
This milkshake recipe uses only a handful of ingredients and you can make it as thick or thin as you want.
We prefer thick milkshakes so we've included a few tips below on how to make your homemade milkshakes extra thick!
Ingredients in Strawberry Milkshake
Strawberries - Fresh or frozen both work well. If you choose to use frozen berries, you will need the full amount of milk, or your shake will be way too thick.
Vanilla Ice Cream - The base for many excellent milkshake recipes, but you can use strawberry ice cream if you like. Store bought ice cream is great, or you can make our recipe for homemade vanilla bean ice cream.
Whole Milk - If you're making a thicker milkshake, you will want to reduce or omit the milk.
If you have any questions, please leave a comment below.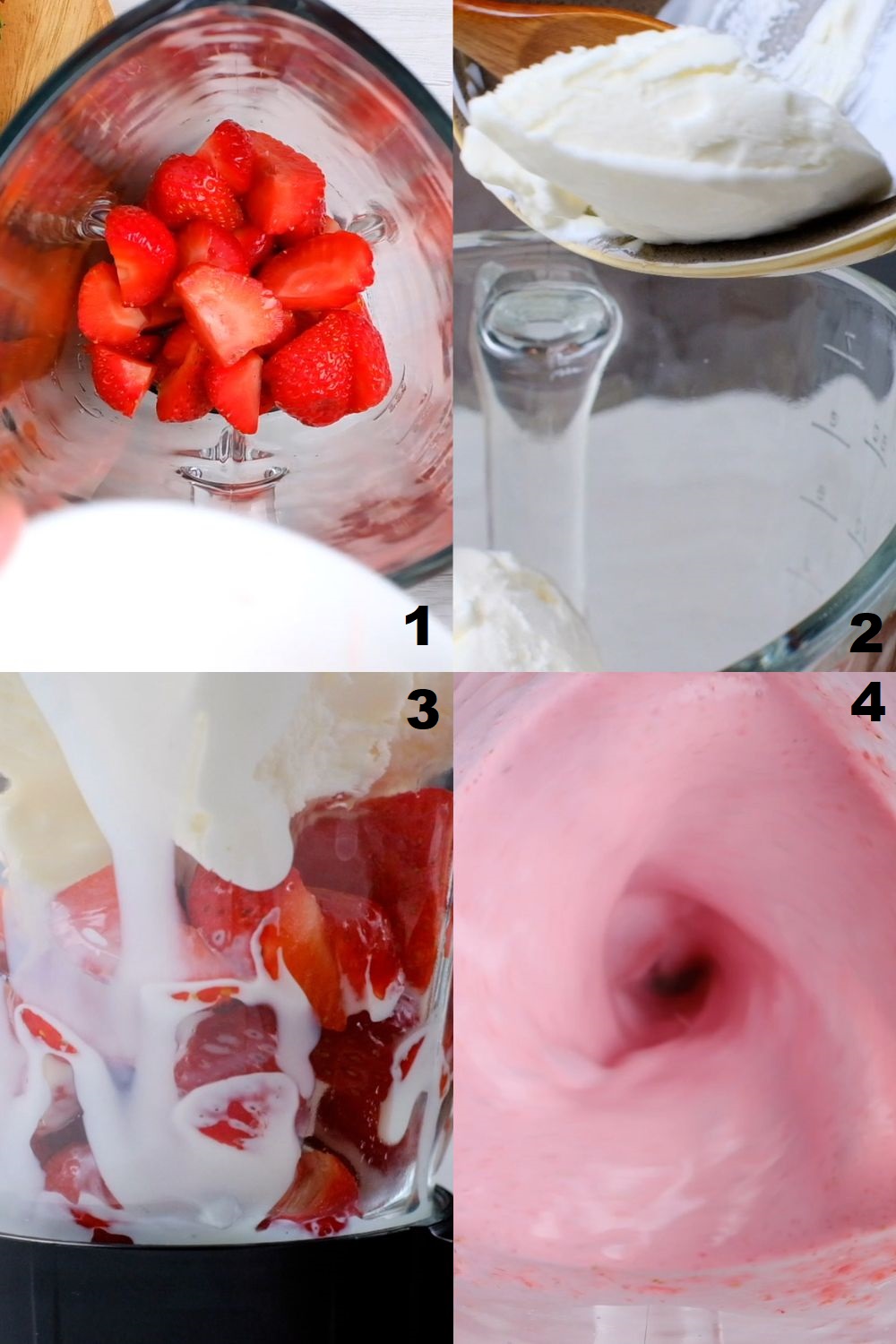 Hot to make a Strawberry Milkshake from Scratch
Add the ingredients to the blender jar in the order listed (strawberries, then ice cream, then milk).
Doing it this way ensures that the berries get well pureed.
If you want a thicker milkshake, omit the milk and allow the ice cream to soften at room temperature for 5-10 minutes before you make it.
Looking for something a little bit different? Make a Strawberry Banana Milkshake instead!
Which Milk is best for Making Milkshakes
For a creamy, non-icy milkshake you'll want to use whole milk. The fat plays a huge role in keeping the texture smooth.
You can use other kinds of milk, including dairy-free milk. Oatmilk and almond milk can make delicious milkshakes, but you may notice that they are less creamy than if you had used dairy.
If you do use another milk I recommend using less milk and letting the ice cream soften for a few minutes before you make a milkshake.
This will reduce the chances of the milkshake being too icy.
How to Make a Vegan Strawberry Shake
To make this recipe vegan, you'll want to use your favorite vanilla ice cream and your creamiest non-dairy milk along with the fresh or frozen strawberries.
There are many excellent non-dairy ice cream options at the store these days, or you can make your own coconut cream ice cream.
Mix Ins For Strawberry Milkshakes
This shake is delicious just like this, but if you want to get creative, you can add extra ingredients to the mix.
Try any of these tasty extras in your milkshake:
Shaved dark or milk chocolate
A drizzle of strawberry syrup inside of the glass.
Small pieces of leftover cheesecake, or vanilla cookies
Add sprinkles and a cherry on top!
I added a pretty sprig of fresh mint to the top of my shake - it makes desserts feel fancy even when they are super easy.
If you have any questions on how to make a milkshake, please leave it in the comments below.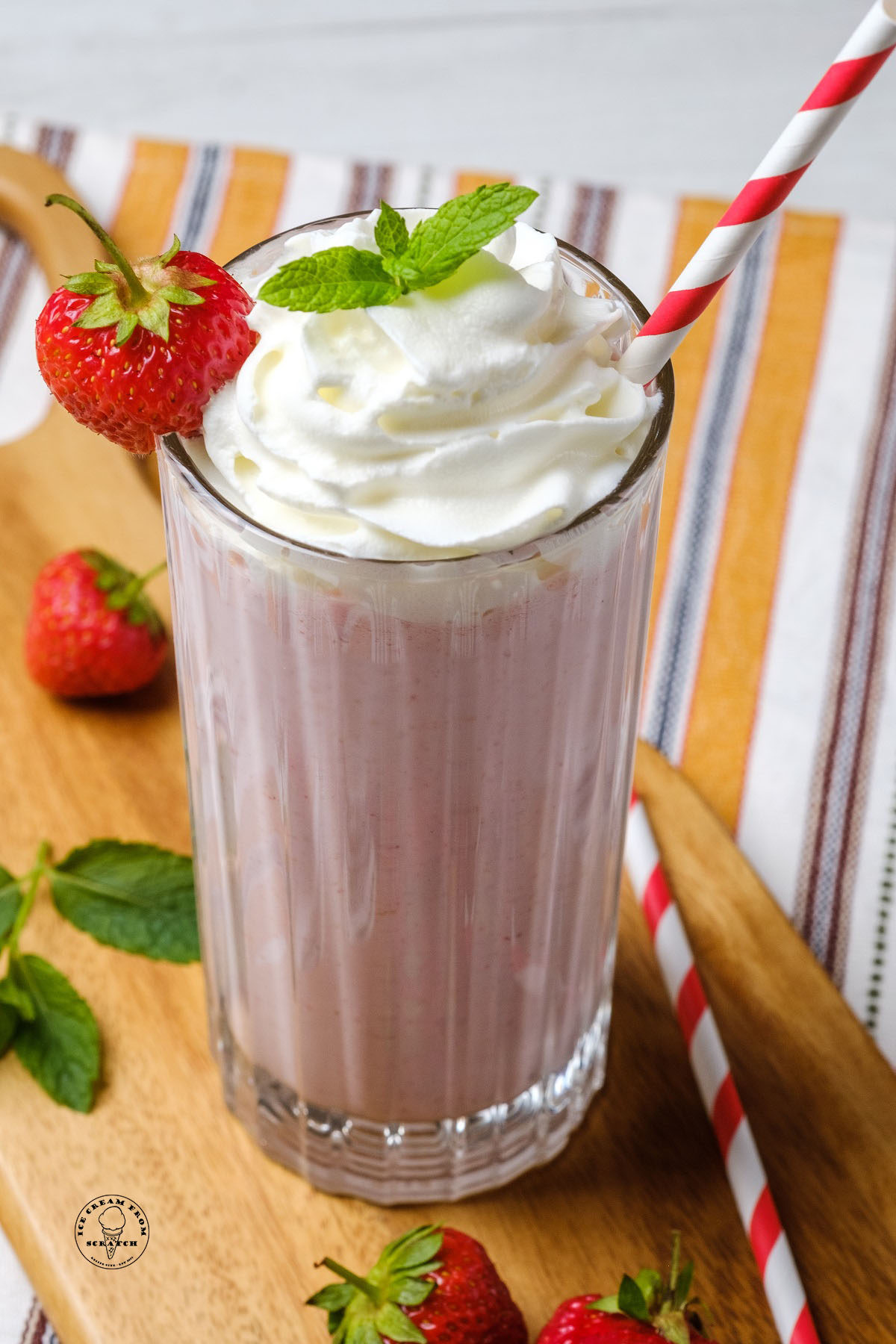 How to Make a Milkshake with a Blender
Any kind of blender can be used to make homemade milkshakes!
Add the fruit to the blender first. Then add in the ice cream, and finally the milk.
If your recipe doesn't include fruit, you should add any mix-ins last instead.
Blend until well combined and serve immediately.
How to Make a Milkshake without a Blender
While it's not the ideal way to do it, you can enjoy a delicious milkshake without any fancy equipment.
Scoop the ice cream into a quart-size mason jar or a deep glass container and microwave it for 15-30 seconds so that it is soft but not melted.
Use a knife to cut your strawberries into very small pieces, or mash them.
Add the strawberries to the ice cream, secure the lid and shake the jar. You can also stir the milkshake mixture with a spoon.
Use the spoon to break up any larger sections of ice cream. If needed, you can add a splash of milk and shake again to get a thinner consistency.
How to make a thick Milkshake
For a thick milkshake use only slightly softened ice cream and the add-ins. You can always add a little milk at a time, to get the desired consistency.
You can also add ice and blend until creamy.
Should I use Fresh or Frozen Berries to Make a Milkshake?
You can use whatever strawberries you have on hand. Fresh berries are great, and will blend up smoothly in your milkshake.
Frozen strawberries are great because they can be kept for a very long time, so you can be sure to always have them available. A milkshake made with frozen berries is thicker and icier.
Both ways are delicious!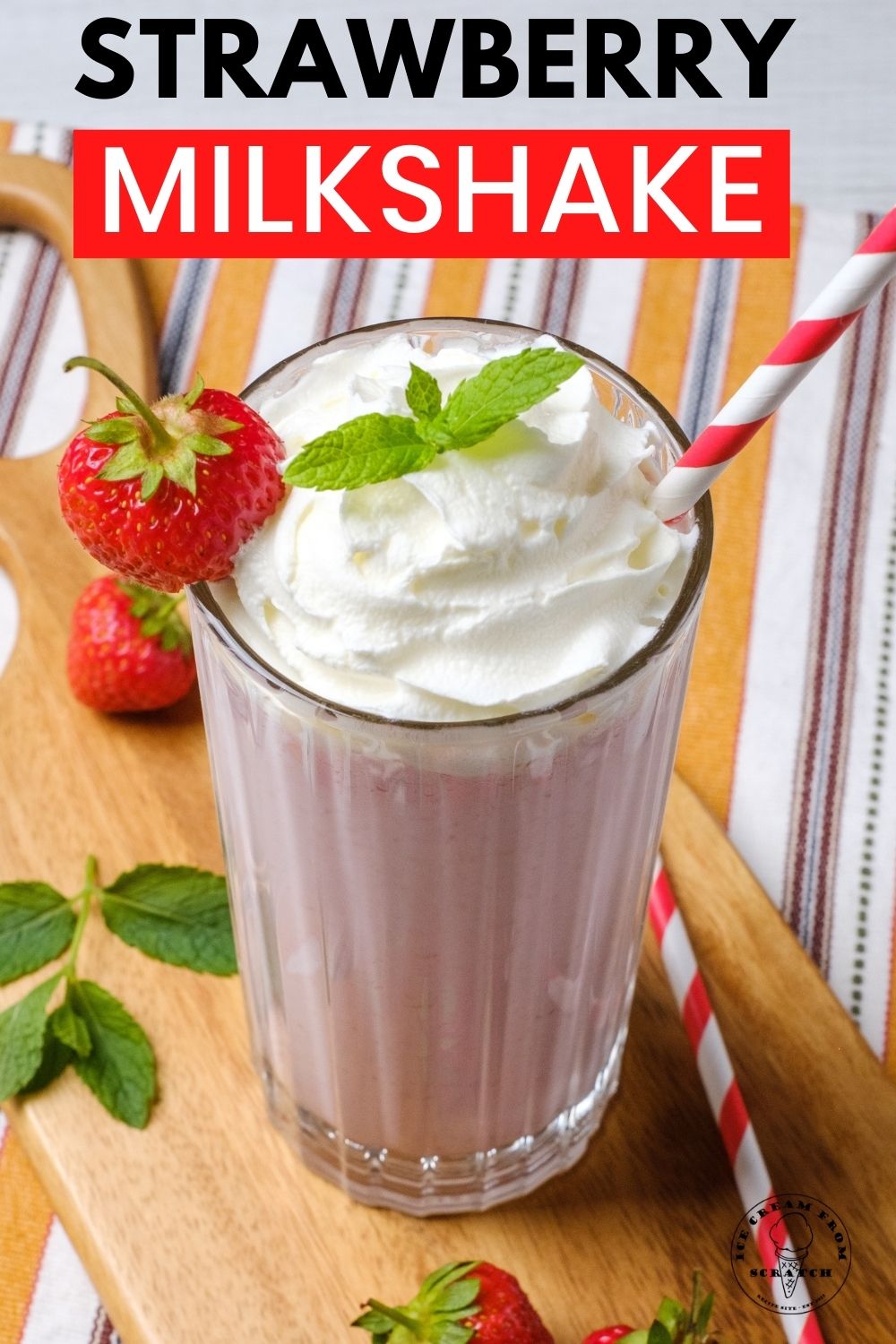 More Milkshake Recipes:
Peach Milkshake - If you like this strawberries and cream milkshake, then a Peach Milkshake will be right up your alley! Fresh or frozen peaches are blended together with vanilla ice cream.
Banana Milkshake - Bananas in a milkshake make it extra thick and sweet, and this recipe can be made with either chocolate or vanilla ice cream.
Mango Milkshake - The tropical flavor of mangoes is delicious blended into a milkshake! Try it with coconut ice cream to keep the tropical vibes going.
Peanut Butter Milkshake - The perfect treat for peanut butter lovers. If hazelnut is more your style, try a Nutella Milkshake instead.
If you're looking for more milkshake ideas, you can turn any of these Cuisinart ice cream recipes into a milkshake.
Some of our favorites are:
Black Raspberry Ice Cream - With the beautiful dark purple color that you expect from this fruity flavor.
Peanut Butter Ice Cream - Rich, creamy, full of peanut butter and ready to eat on a cone or in a dish.
Butterscotch Ice Cream - The richness of butterscotch takes this homemade ice cream over the edge of amazing!
Dairy Free Coconut Ice Cream - I love this vegan ice cream recipe and use it to make milkshakes often, and especially if I want them to be dairy free.
Dairy Free Oat Milk Ice Cream - Did you know that you could make ice cream with oat milk? It's easy!
Really, you can turn any ice cream into a milkshake with just a few simple ingredients!
Things we love for making milkshakes:
Heat Conductive Ice Cream Scoop
Note: Each of these links will take you to the exact product on Amazon. As an Amazon associate, I earn a little from each qualifying purchase.
LET'S GET SOCIAL, you can follow us on Pinterest or leave a comment below if you have any questions.
Did you make this strawberry milkshake? Leave a comment below letting us know what you thought.
Yield: 1 serving
Strawberry Milkshake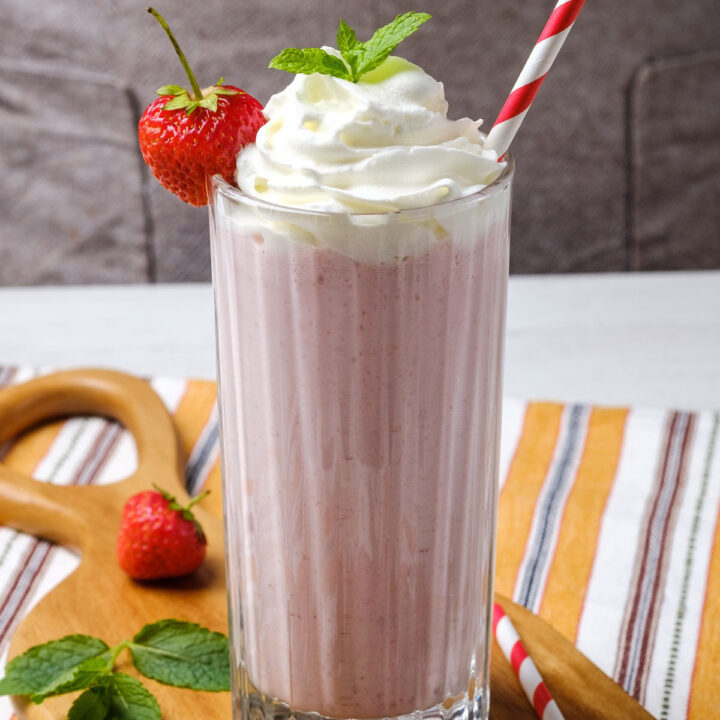 A thick and creamy strawberry milkshake made with real berries is super simple to make at home with either fresh or frozen strawberries.
Ingredients
1 cup strawberries, hulled and sliced
2 cups vanilla ice cream
¼ cup (2 oz.) whole milk
Instructions
Add the ingredients to the blender jar in the order listed.
Blend until combined.
Serve immediately.
Notes
For a thicker milkshake, let the ice cream sit at room temperature for 5-10 minutes and omit the milk.
You can use frozen strawberries in this milkshake recipe, but don't omit the milk or the shake will be too thick.
You can use strawberry ice cream in place of the vanilla ice cream, for a deeper strawberry flavor.
Nutrition Information:
Yield:
1
Serving Size:
1
Amount Per Serving:
Calories:

633
Total Fat:

31g
Saturated Fat:

19g
Trans Fat:

0g
Unsaturated Fat:

10g
Cholesterol:

121mg
Sodium:

242mg
Carbohydrates:

79g
Fiber:

5g
Sugar:

68g
Protein:

12g