Peppermint Milkshake Two Ways
A cool and refreshing Peppermint Milkshake is so easy to make, and everyone will love it!
Treat yourself to a sweet and minty milkshake made with homemade peppermint ice cream, or use vanilla ice cream plus crushed candy canes instead.
This homemade milkshake recipe with just two ingredients is perfect for the holidays or as a special treat any time of the year.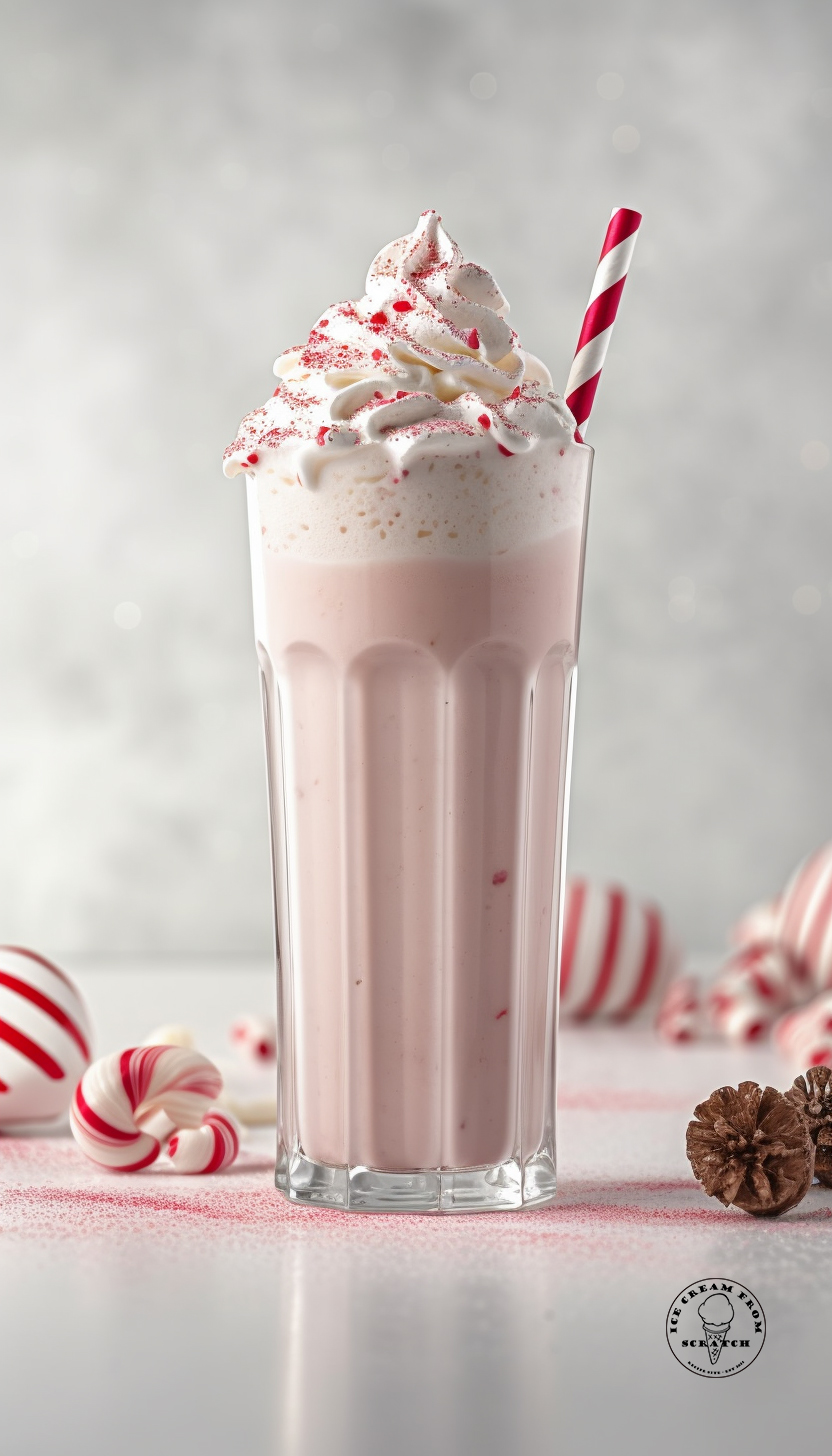 When you're feeling festive, you have to try this Peppermint Milkshake recipe!
With a beautiful blend of icy peppermint and velvety smooth ice cream, it's just like a sweet, minty, indulgent candy cane in a glass.
We love making milkshakes at home all year round. Peppermint milkshakes fit nicely into the Christmas holiday season, along with our Eggnog Milkshake recipe.
You should also try a Coffee Milkshake. It's great for those times when you need a little bit of extra pep. Or, stick with a classic and make the best Chocolate Milkshake instead!
Why You're Going to Love This Peppermint Milkshake
Homemade peppermint milkshakes are so festive and fun!
This milkshake is a pretty pink color and packed with peppermint flavor, so it's perfect for Christmas or any time during the holiday season. Enjoy this treat while you're decorating the tree or wrapping gifts.
This recipe is also super easy to make. You only need ice cream, milk, and a blender to make the best, creamiest milkshake at home. And even if you don't have a blender, I'll tell you how to make it work!
Need more ice cream ideas for the holiday season? Be sure to try our recipes for Christmas Ice Cream and Eggnog Ice Cream, or learn how to make a Homemade Ice Cream Cake to serve all of your holiday guests.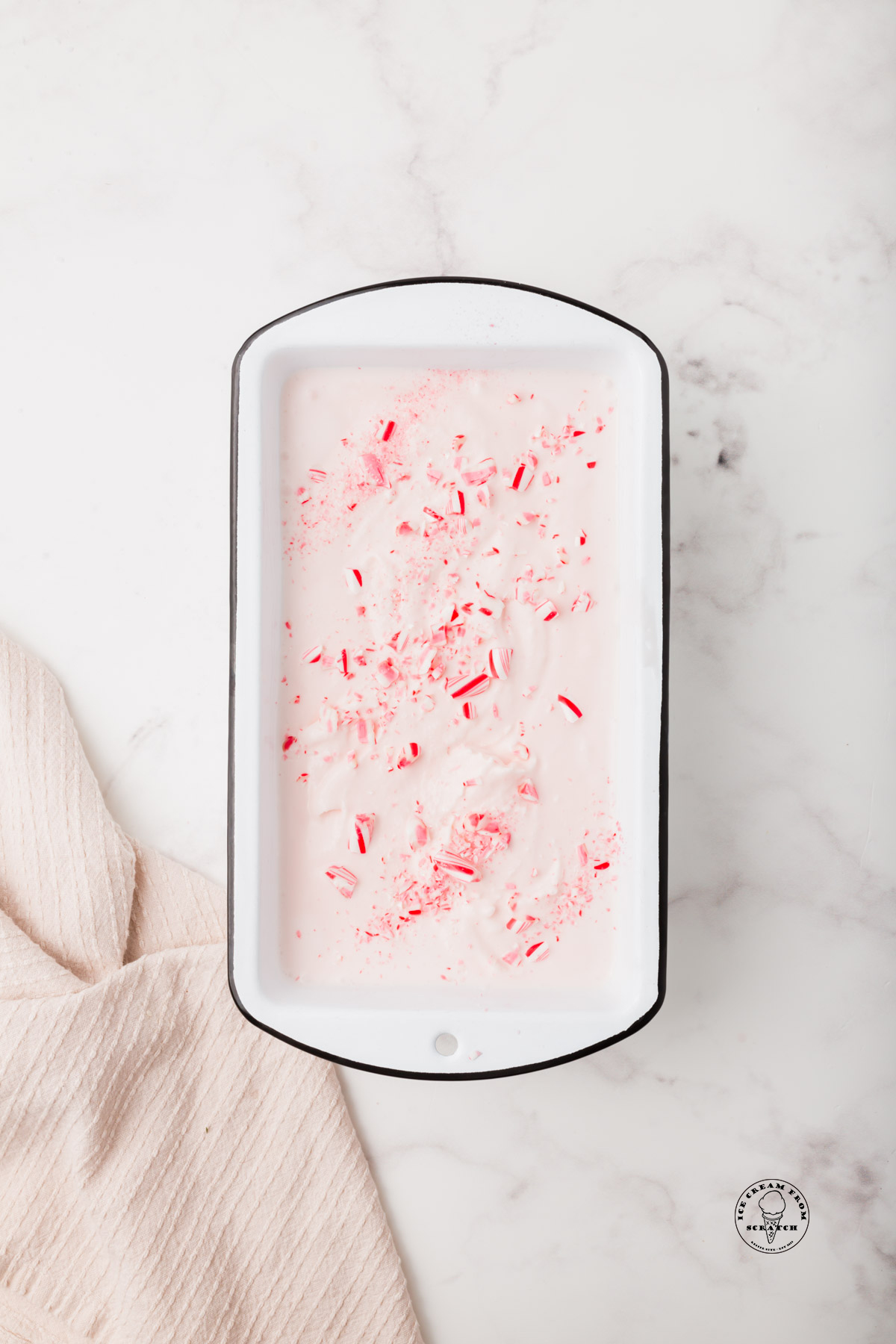 Ingredients in a Peppermint Milkshake
You only need two ingredients to make the perfect peppermint milkshake!
Peppermint Ice Cream – Look for this in grocery stores in the fall and winter months. It's generally a seasonal ice cream flavor. You can also make your own Peppermint Ice Cream from scratch using our easy recipe.
Milk – The best and creamiest milkshakes are made with whole milk.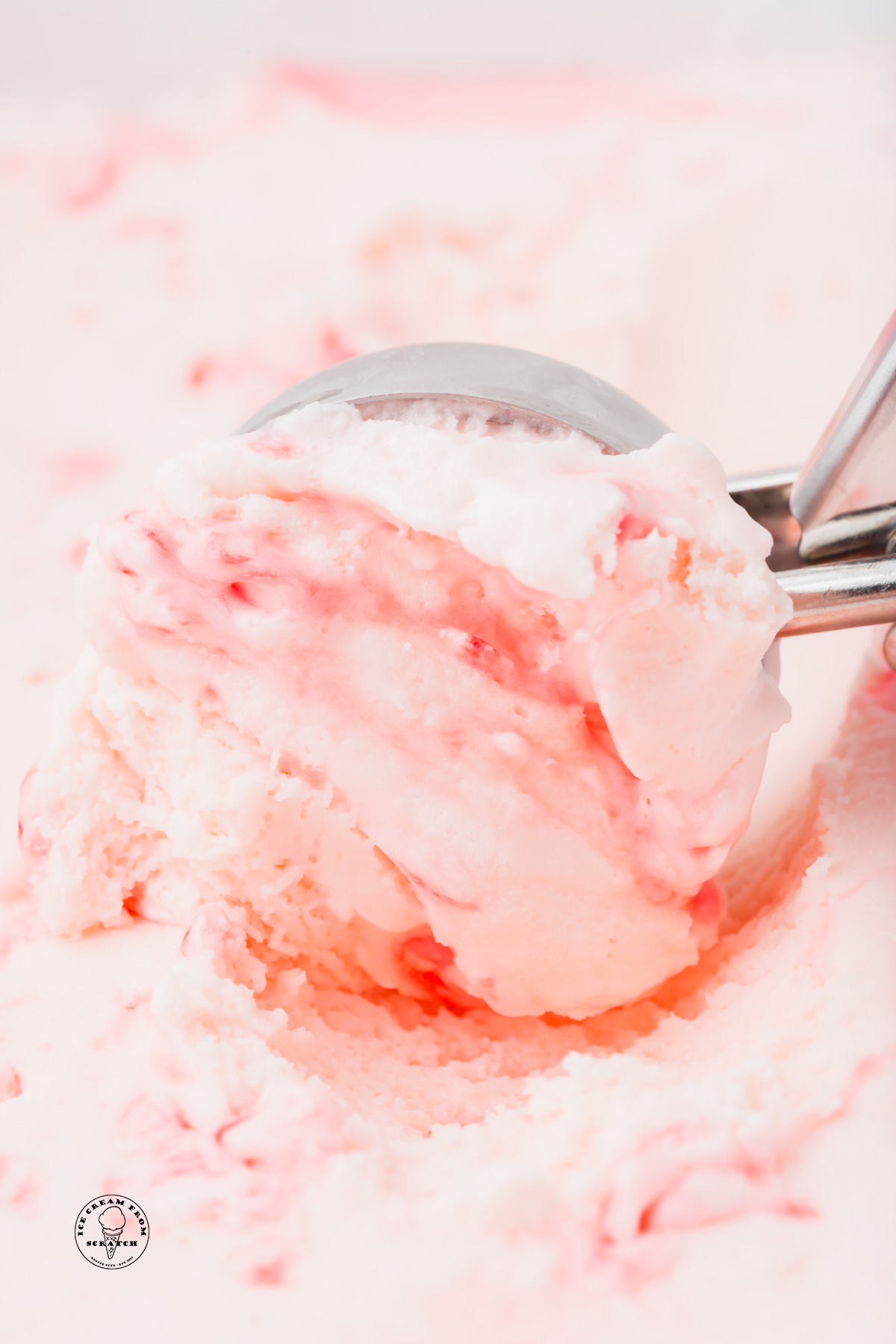 How to Make A Peppermint Milkshake
First, add the peppermint ice cream and milk to the jar of your blender.
Blend until creamy and combined.
That's it! I suggest serving your milkshake topped with whipped cream and crushed candy canes on top.
For the complete list of ingredients and instructions for making a peppermint milkshake, please see the recipe below.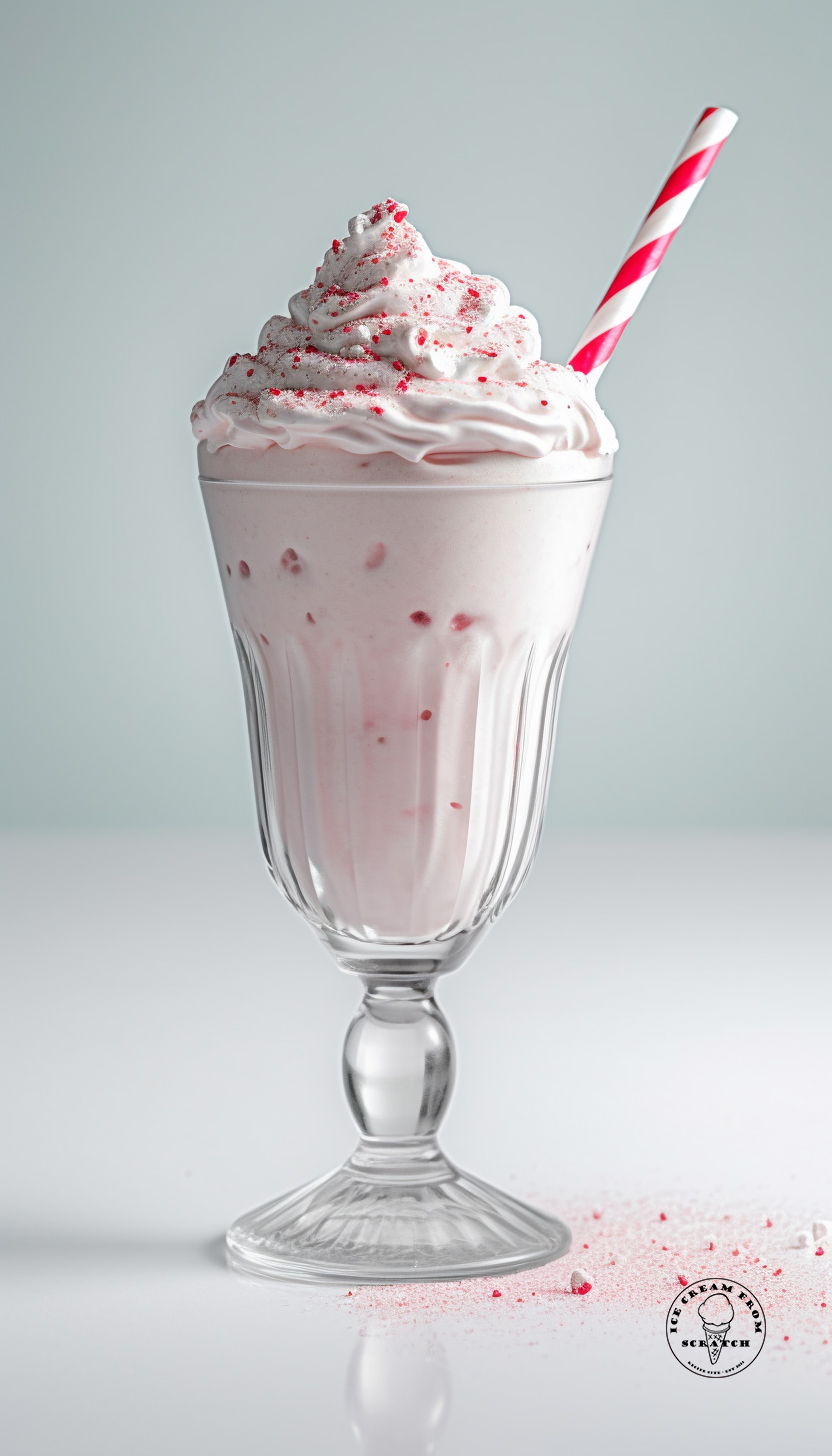 How To Make a Peppermint Milkshake with Vanilla Ice Cream
If you can't find any peppermint ice cream and you don't want to make a batch of homemade Candy Cane Ice Cream for the occasion, you can start with plain vanilla ice cream instead.
This version of the recipe is just as good but requires a few extra ingredients.
Add ¼ cup of crushed candy canes and ½ tsp of peppermint extract to the blender with the ice cream and milk.
Be sure to use peppermint extract and not mint or spearmint extract. Those extracts have a stronger, more herbal flavor and won't be tasty here.
How to Store Leftover Milkshakes
While it's not likely that there will be leftovers after you blend up this milkshake, you do have options if you need to save some for later.
It's best to keep pre-made or leftover milkshakes in a sealed container in the freezer.
When you're ready, you can eat the frozen milkshake with a spoon, or let it thaw for a few minutes and blend it again until it's back to the right consistency.
Tips for Making The Best Homemade Milkshakes
Use quality ingredients – When making homemade milkshakes, you'll want to make sure you are using high-quality ingredients for the best outcome.
Chill out – If possible, always start with chilled ingredients. It's best to keep the milk in the fridge and the ice cream in the freezer until right before making your shake.
Enjoy right away – It's important to drink your homemade milkshake right after blending it. It will melt quickly, and you'll lose the perfect milkshake texture you've created!
Make it dairy free – For any of our milkshake recipes, replace the ice cream with a creamy plant-based frozen dessert and replace the milk with your creamiest don-dairy milk alternative.
Check out our amazing vegan milkshake recipe, and use that as a base for a peppermint milkshake or any other milkshake flavors you can imagine!
How To Make A Milkshake Without A Blender
No Blender? No Problem! All you need is a large mason jar with a lid (or a similar container) and a little bit of elbow grease!
Microwave the peppermint ice cream in a quart-size mason jar or another deep glass container for 15-30 seconds. This softens it up and creates the right texture.
Then, put the lid on your jar and shake, shake, shake! You can also use a spoon to break up the ice cream and stir it up.
You may not need to add any milk, but if the milkshake mixture is too thick, add a tablespoon and mix again. Continue until your milkshake has the texture that you like, and enjoy.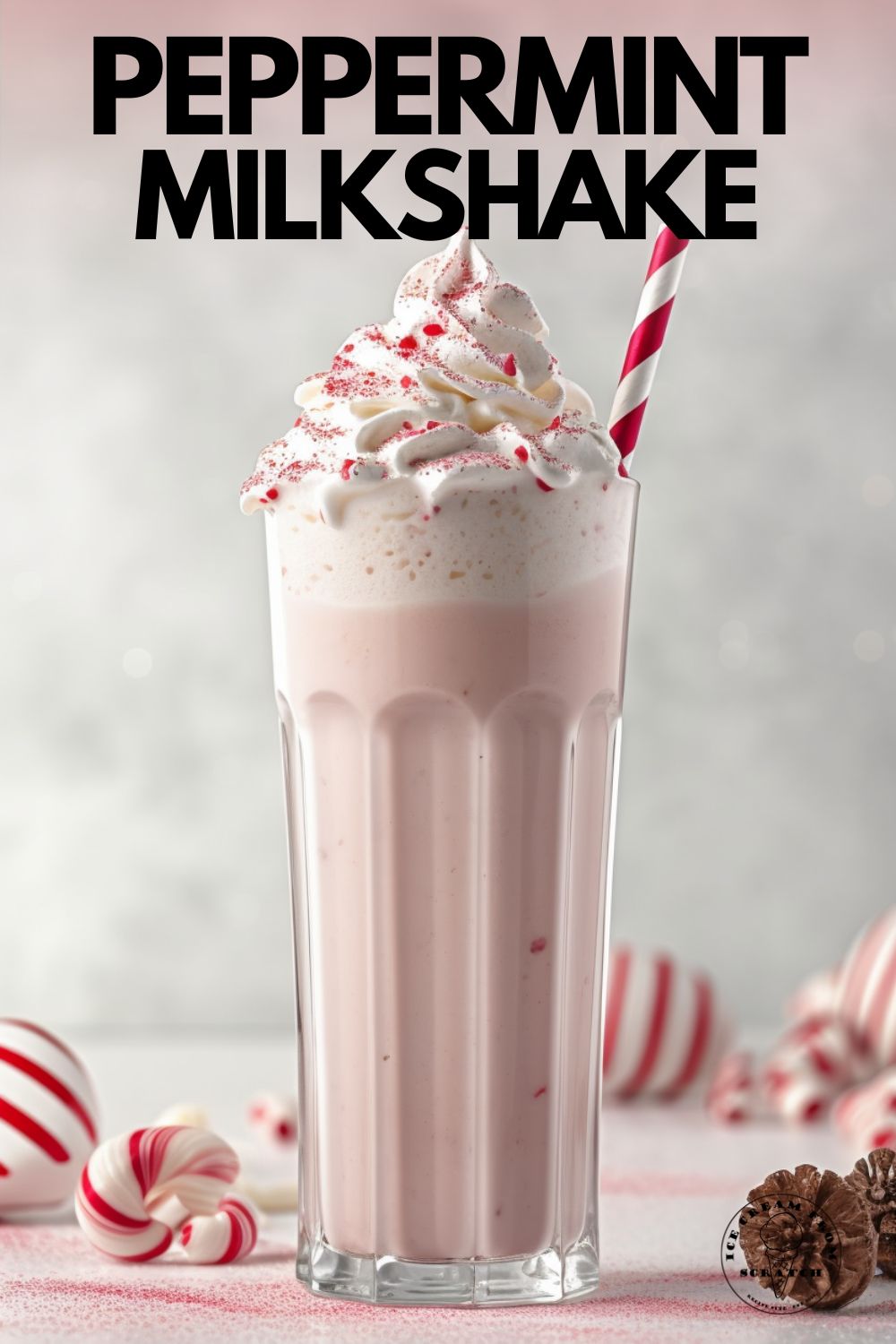 How Do You Make An Extra Thick Milkshake?
To make your homemade milkshake thicker, leave out the milk. Let the ice cream sit out at room temperature for a few minutes so that it's soft enough to blend.
Peppermint Milkshake Add-Ins
You can add extra ingredients to your peppermint milkshake to make it even more delicious!
Add crushed candy cane pieces into the milkshake, or use them as a pretty garnish that also adds a bit of crunch.
Dark chocolate shavings are also a delicious addition to peppermint milkshakes.
To make this shake even more festive for the holidays, top it with red and green sprinkles, or add a decorated Christmas cookie to the rim of the glass.
More Easy Homemade Milkshake Recipes
Our Favorite Ice Cream Making Tools:
Note: Each of these links will take you to the exact product on Amazon. As an Amazon associate, I earn a little from each qualifying purchase.
LET'S GET SOCIAL, you can follow us on Pinterest or leave a comment below if you have any questions.
Did you make this Homemade Peppermint Milkshake Recipe? Leave a Comment Below letting us know what you thought and if you added any additional add-ins.
Yield: 1 Serving
Peppermint Milkshake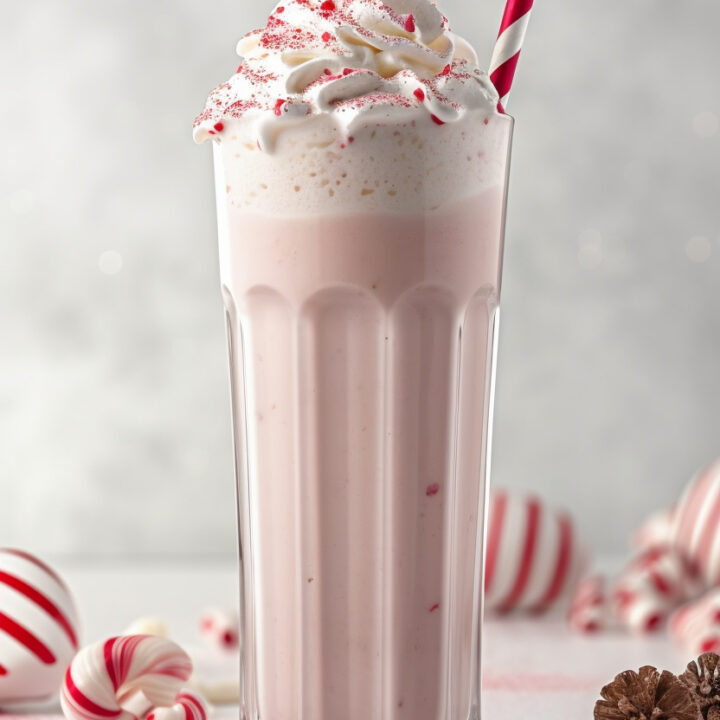 A delicious, cool, and refreshing Peppermint Milkshake is easy to make! This homemade milkshake recipe with just two ingredients is perfect for the holidays.
Ingredients
¼ cup (2 oz.) whole milk
2 cups peppermint ice cream
Instructions
Add the ingredients to the blender jar in the order listed.
Blend until combined.
Serve immediately.
Top with whipped cream, and crushed candy canes.
Notes
Instead of peppermint ice cream, use vanilla ice cream plus ¼ cup crushed candy canes with ½ tsp of peppermint extract.
For a thicker milkshake, let the ice cream sit at room temperature for 5-10 minutes and omit the milk.
Nutrition Information:
Yield:
1
Serving Size:
1
Amount Per Serving:
Calories:

635
Total Fat:

34g
Saturated Fat:

21g
Trans Fat:

0g
Unsaturated Fat:

11g
Cholesterol:

121mg
Sodium:

241mg
Carbohydrates:

73g
Fiber:

3g
Sugar:

66g
Protein:

12g