Homemade 3-ingredient Lime Popsicles are a cool and refreshing treat!
Made with just a handful of ingredients, these all-natural popsicles are bright and citrusy and perfect for hot summer days.
These fresh lime popsicles are naturally gluten-free, dairy-free, and made without any food coloring.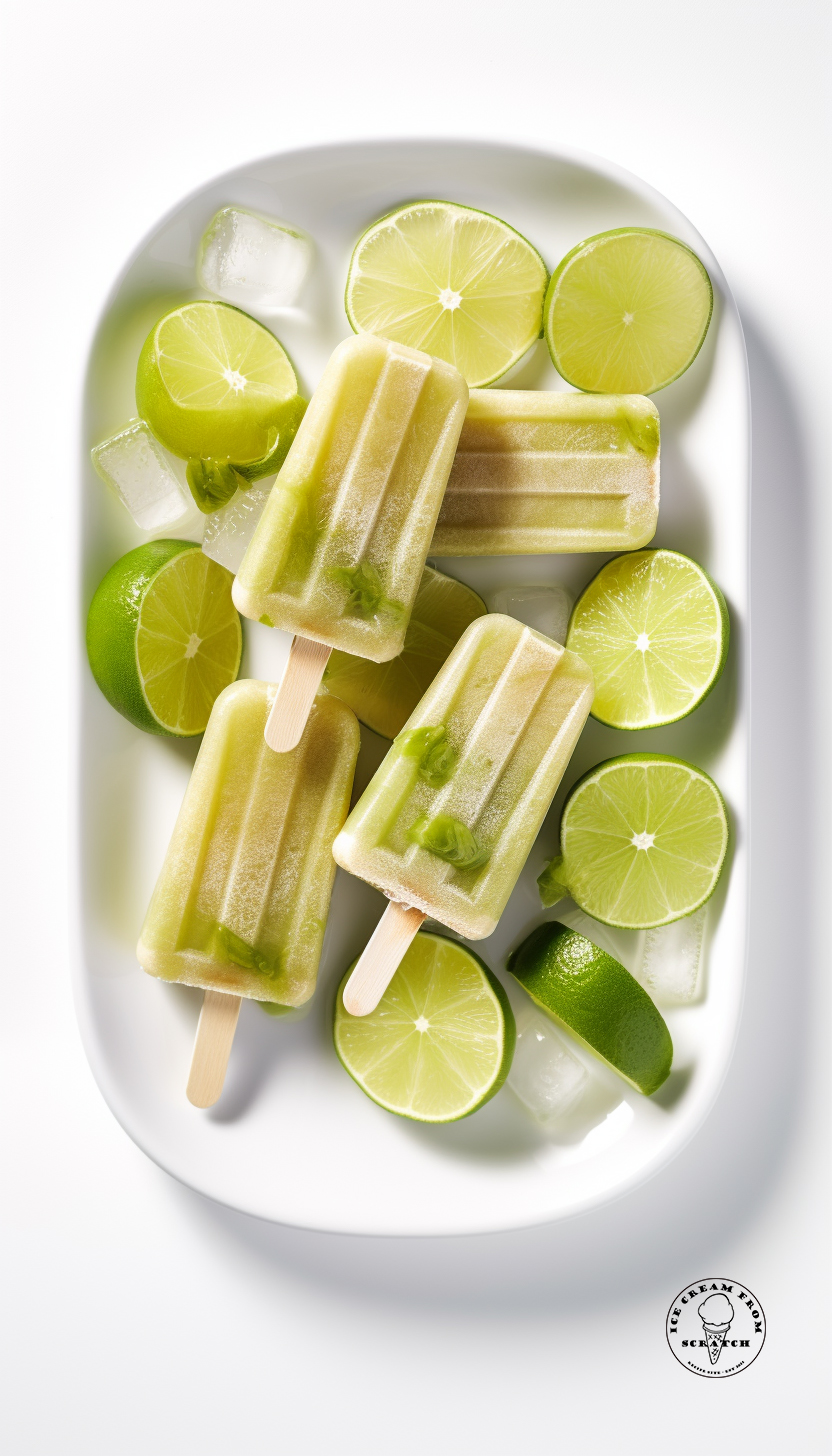 If you love the tart flavor of fresh limes, you are going to fall hard for these Lime Popsicles!
They come together in just a few minutes with simple ingredients like fresh lime juice and sugar.
This easy recipe will teach you how to make your own batch of tasty frozen pops, and includes all of our best tips and tricks for making perfect popsicles every single time.
Why You're Going to Love This Lime Popsicles Recipe
This recipe is SO simple! All you need are fresh limes, sugar, and some water. Briefly heat the mixture on the stove to dissolve the sugar crystals, then pour it into your favorite popsicle mold.
The hardest part is waiting for your homemade lime popsicles to be ready to eat!
You will also love the fresh lime flavor. There is enough sugar in this recipe to offset the slight bitterness of the limes, but not so much that the tart lime flavor can't shine through.
You should also try our recipes for Lime Sherbet, Lime Ice Cream, and Lime Sorbet. We have a lime frozen dessert for every skill level, and this popsicle recipe is the easiest to make!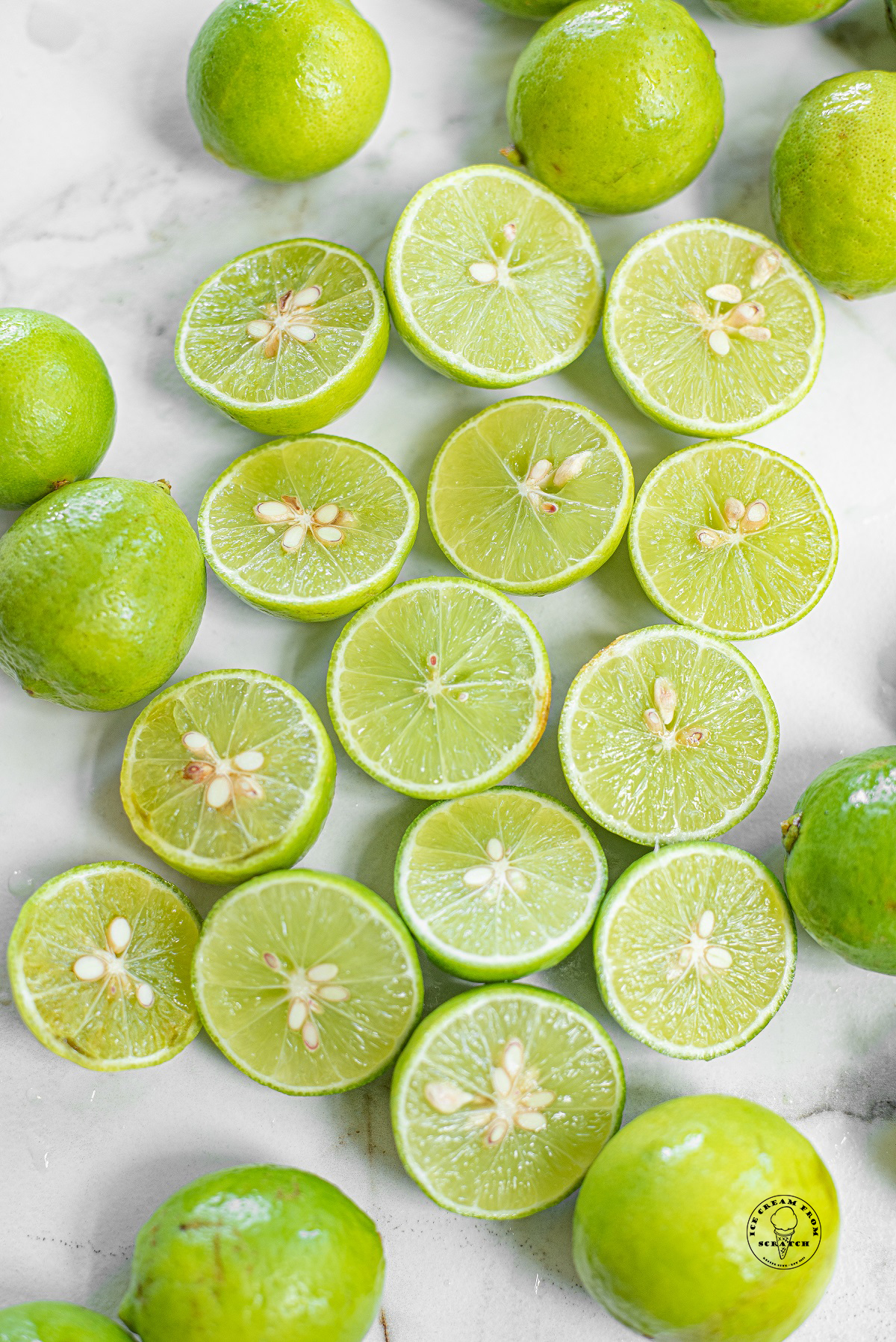 Ingredients in Homemade Lime Popsicles
Water – Water is actually the first ingredient in lime popsicles! Lime juice on its own is too tart and strong for a dessert, so we will water it down and sweeten it to make the popsicle mixture perfectly balanced.
Sugar – Regular granulated sugar is perfect for making popsicles, but you can also make this recipe with honey or agave nectar if you prefer.
Lime Juice – Be sure to use freshly squeezed lime juice for this popsicle recipe. Bottled juice is just not the same.
Sliced Limes – These are optional, but I love the way that these popsicles look with real lime slices inside! Use a mandolin or a very sharp knife to cut the limes super thinly so that they are edible. If you like, you can remove the rind.
You'll also need a popsicle mold and popsicle sticks if your mold requires them. See our best recommendations for popsicle molds toward the bottom of this post.
If you have any questions about making lime popsicles at home, please leave a comment below and I will get back to you!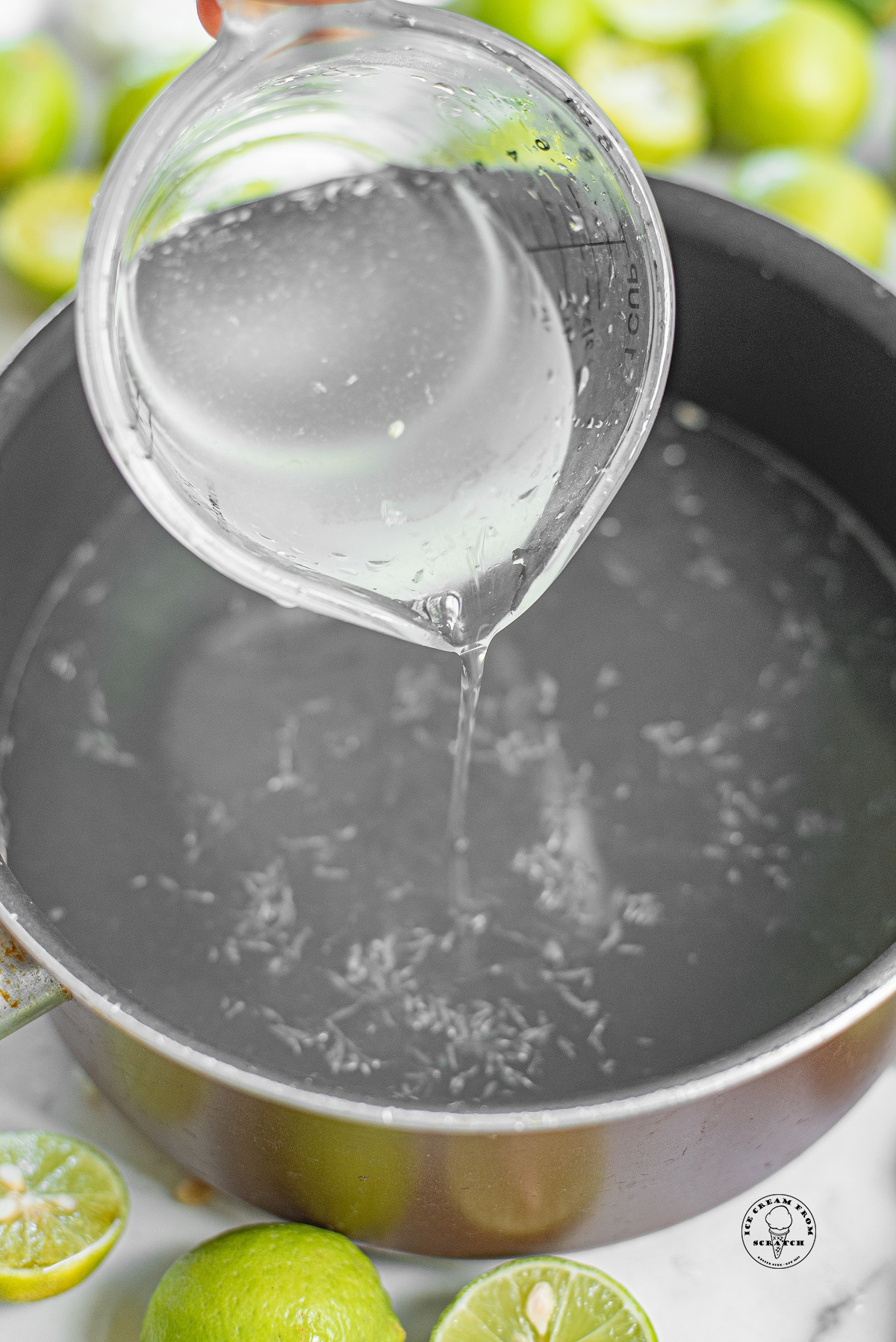 How to Make Lime Popsicles from Scratch
Mix the Ingredients: In a small saucepan, heat the water, sugar, and lime juice over low heat, stirring until the sugar has dissolved completely.
Cool: Allow the lime popsicle mixture to cool down completely until it's at room temperature.
Freeze: Pour the mixture carefully into your choice of popsicle molds. If you like, add in some very thinly sliced limes. Add the popsicle sticks and freeze for at least four hours, or until solid.
These numbered steps match the numbered photos above and are for illustration purposes. For the complete list of ingredients and instructions for making popsicles with limes, please see the recipe below.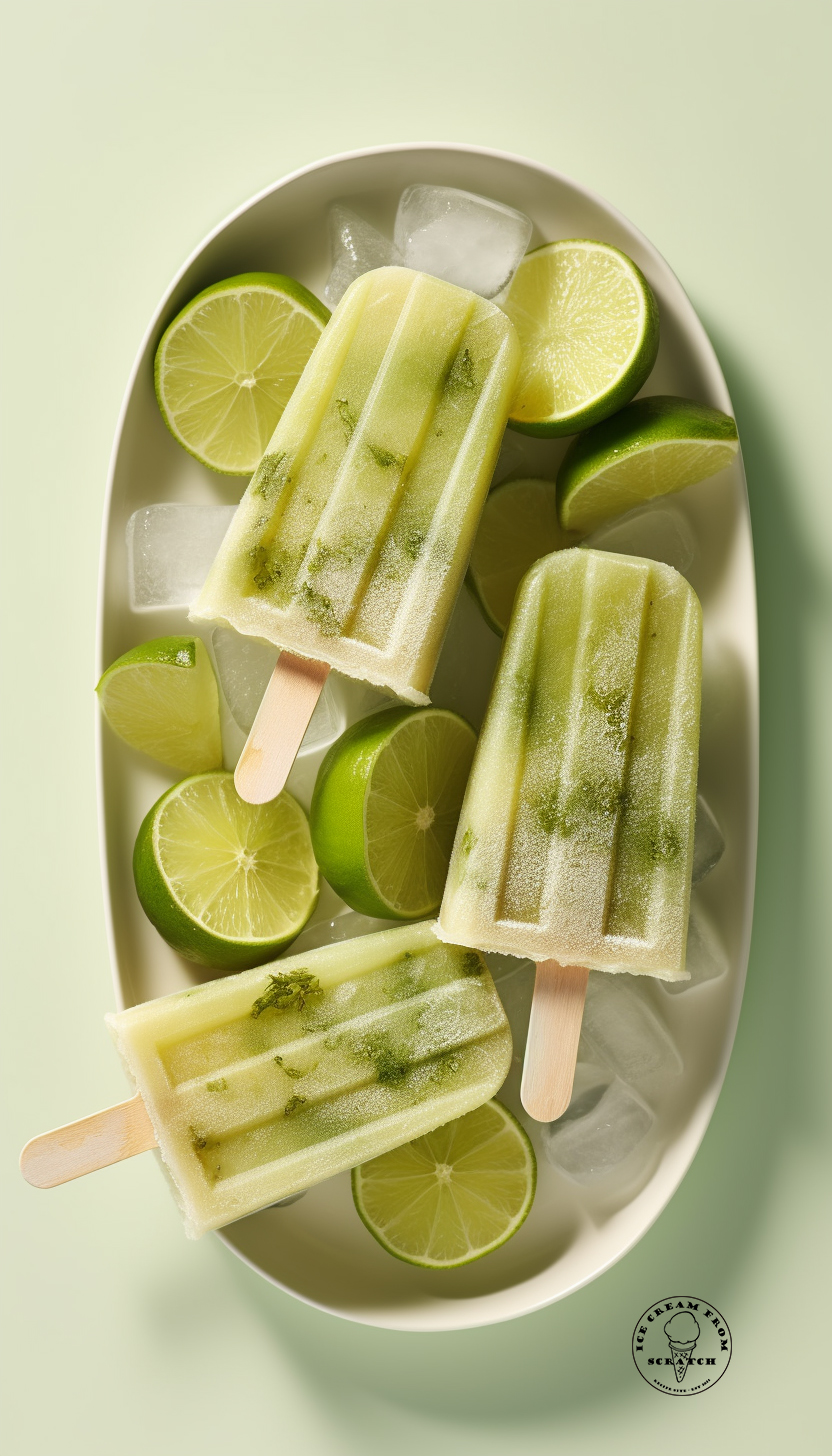 How to Store Homemade Popsicles
Store these Lime Popsicles in the freezer, in their mold until ready to enjoy.
If you decide to remove them from the mold, wrap each popsicle individually with plastic wrap before storing them in a freezer-safe, airtight container.
Homemade popsicles are best if enjoyed within 2-3 weeks, but often will stay fresh for much longer than that, up to 3 months
Tips for Making This Lime Popsicles Recipe
Use quality ingredients – When making homemade popsicles, you'll want to make sure you are using high-quality ingredients for the best outcome. Fresh lime juice is key!
Don't skimp on the sugar – Sugar not only adds sweetness to popsicles, but it also helps with the texture. Popsicles without enough sugar in them will be hard and icy.
Stir until the sugar has dissolved – If you aren't sure, rub the juice mixture in between two fingers. If you feel grit, keep stirring! Any sugar that isn't dissolved will end up at the bottom of your ice pop molds, and we don't want that.
You can also use agave or honey in place of the sugar if you like! Just make sure that whatever sugar you're using, it's fully dissolved.
How to Unmold Homemade Popsicles Easily
There are a few different methods to easily unmold homemade popsicles. The one that works for you will depend on your specific popsicle mold. None of them are complicated!
The trick to easily unmolding popsicles is to heat the very outer layer of the pops so that they release from the mold, without melting them in the process.
Method 1: Dipping in Hot Water. This method involves filling a large bowl or container with warm water. Then dip your tray of popsicles briefly into the water for 20-30 seconds until the popsicles are easy to remove.
Method 2: Running Water. Instead of filling a bowl with water, just turn the kitchen sink on and let it get warm. Hold the popsicles under the stream, moving them around, for about 30 seconds until you can get the popsicles out of the mold.
Method 3: Room Temperature. Take the popsicles out of the freezer and set them on the counter until they soften enough to be easily removed. This method can backfire if you forget about them, so be careful, or set a timer!
If you're using a silicone popsicle mold, you may not need to do anything. If it's flexible enough, the silicone can be peeled away from the popsicles easily!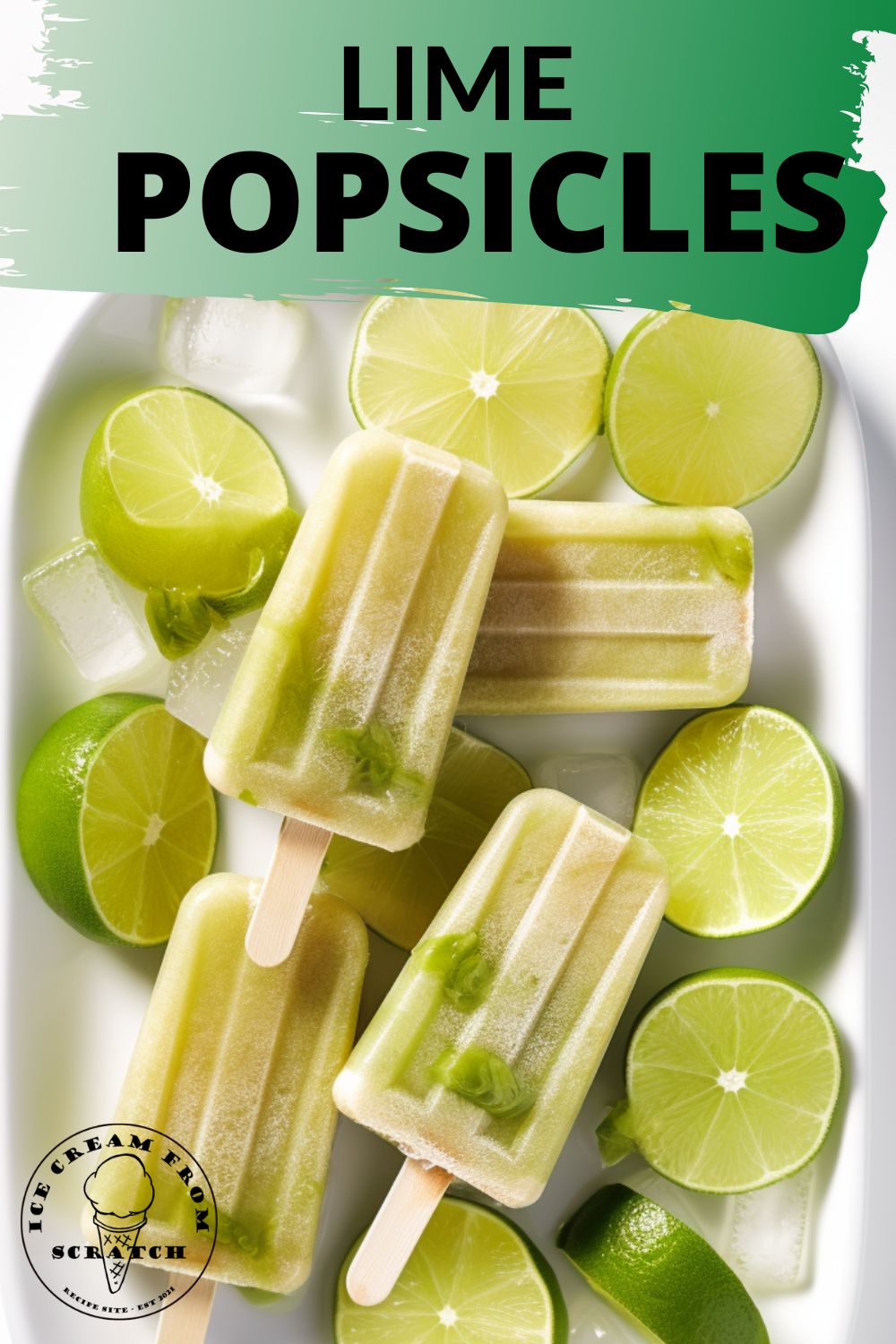 Lime Popsicle Variations
Coconut Lime Popsicles – Replace two tablespoons of water in this recipe with coconut syrup or cream of coconut.
Mixed Fruit Popsicles – Just use fruit purees or juices in place of some or all of the water! Strawberry puree, watermelon juice, mango juice, or orange juice would all be delicious here.
Spicy Lime Popsicles – add a dash of chili powder to the mixture to give this treat a bit of a kick!
How Long Do Popsicles Take to Freeze?
It takes at least 4 hours for homemade popsicles to freeze. It might take longer than that too, depending on your freezer temperature and the shape of your molds.
If in doubt, let them freeze overnight!
Why Are Homemade Popsicles So Hard?
Popsicles that you buy from the store have high amounts of sugar and often include additives to keep them from freezing completely solid.
In comparison, you'll find that your homemade popsicles will freeze much harder than you might be used to. It can be helpful to wait a few minutes to enjoy them after they come out of the freezer.
When making homemade popsicles, it is important to add enough sugar. Sugar decreases the freezing point and keeps the popsicles somewhat soft.
More Homemade Frozen Treats
Be sure to check out all of our easy homemade popsicle recipes! Once you start making popsicles from scratch, you'll want to make all different varieties.
Best Popsicle Molds
Note: Each of these links will take you to the exact product on Amazon. As an Amazon associate, I earn a little from each qualifying purchase.
LET'S GET SOCIAL, you can follow us on Pinterest or leave a comment below if you have any questions.
Did you make this Homemade Lime Popsicles Recipe? Leave a Comment Below letting us know what you thought!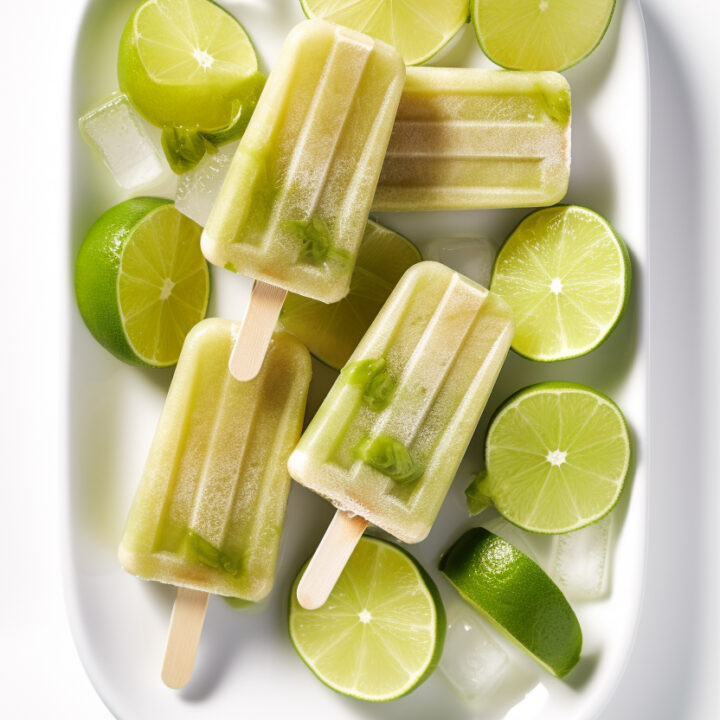 Easy Lime Popsicles
Total Time:
4 hours
20 minutes
Homemade Lime Popsicles are a cool and refreshing treat! Made with just a handful of ingredients, these all-natural popsicles are bright and citrusy and perfect for hot summer days.
Ingredients
2 cups water
½ cup granulated sugar
½ cup fresh squeezed lime juice
Optional: thinly sliced limes
Instructions
Add the water, sugar, and lime juice to a small saucepan.
Heat over low heat and stir until the sugar has dissolved.
Remove the pan from the heat and let the mixture cool to room temperature.
Pour the mixture into the popsicle molds, If desired, add thinly sliced limes.
Insert the popsicle sticks.
Freeze for at least 4 hours or until solid.
To remove from the mold, run the outside of the mold under warm water for about 10 seconds, being sure not to get any water into the inside of the mold. The popsicles should easily pop out of the mold with a little pressure.
Serve and enjoy!
Notes
You can use granulated sugar or honey in this recipe. Agave would also work. Just make sure that you stir until the sugar is dissolved. If you are having trouble getting your sugar to dissolve, you can heat the lime juice and sugar on the stove top or in the microwave and stir until it dissolves. Let it come back to room temperature before placing the molds in the freezer.
If you prefer, you can let the popsicles freeze for about 30 minutes, until the mixture gets a little slushy, and then put the popsicle sticks in the molds. Sometimes, this helps the molds keep straight and not go too far down into the popsicle mixture which can be a problem with thinner mixtures.
Nutrition Information:
Yield:

8
Serving Size:

1
Amount Per Serving:
Calories:

55
Total Fat:

0g
Saturated Fat:

0g
Trans Fat:

0g
Unsaturated Fat:

0g
Cholesterol:

0mg
Sodium:

3mg
Carbohydrates:

15g
Fiber:

0g
Sugar:

13g
Protein:

0g