Have you ever wondered how to make Mexican Ice Cream at home? You know, the ice cream they serve at Mexican restaurants that is crispy and deep fried out the outside, but still cool and creamy in the middle?
Fried ice cream seems like magic, but it's really not that complicated! Keep reading to learn how to make fried Mexican Ice Cream at home, using simple ingredients and a few easy tricks.
Your family will love you for making this for them! Mexican Ice Cream is the perfect dessert for Taco Tuesday, Cinco de Mayo or any time you have a craving for this special ice cream treat.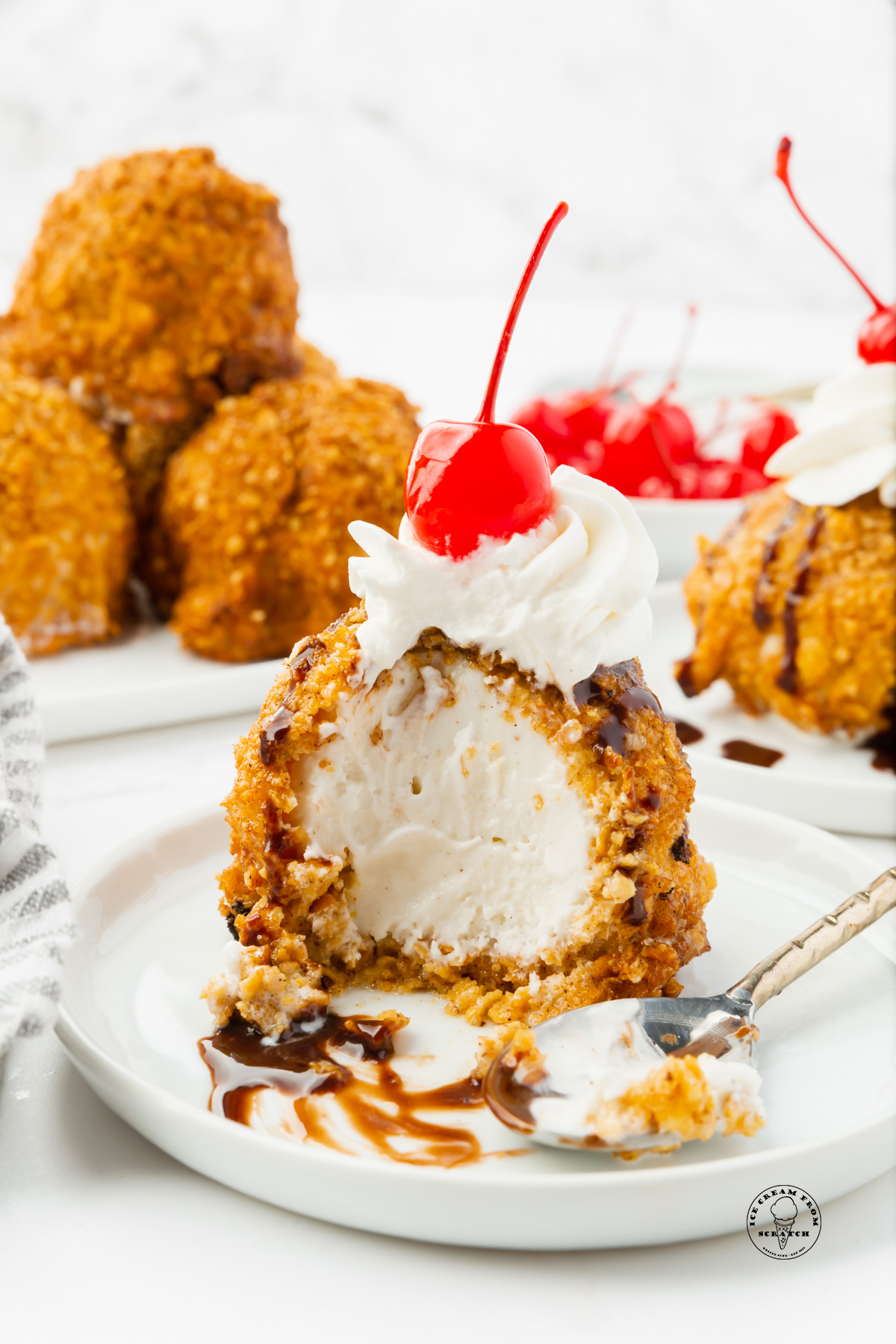 What Is Mexican Ice Cream?
The most iconic Mexican Ice Cream dessert is fried ice cream!
A simple-looking dessert that is slightly confusing, Mexican ice cream is a round ball of frozen ice cream, coated in cereal, that has been fried in oil so that the outer coating is hot and crispy.
You might think that deep frying would melt the ice cream, but actually, the ice cream is completely perfect inside!
I used to wonder, is it magic? How the heck do they do that?
Well, it's not magic, it's actually science! And, I've figured out how they do it, and I'm ready to share this recipe for Mexican fried ice cream with you.
Is Fried Ice Cream Actually Mexican?
The origins of this delicious dessert are a bit unclear.
Some say that Japanese tempura restaurants were the first to make it, while others claimed that fried ice cream was first served at the 1893 Chicago World's Fair.
Mexican restaurants started serving fried ice cream in the 1980s, likely after the popular restaurant Chi-Chi's added an ice cream sundae to its menu that featured a cinnamon sugar fried tortilla on top.
I just love reading about the history of ice cream, and learning about how ice cream is enjoyed in different cultures and regions! Check out our recipe for Thai Rolled Ice Cream if you're into that stuff too! It's easy and delicious.
You can order fried ice cream at Mexican restaurants, and various Asian restaurants, or you can follow this easy recipe and make it at home!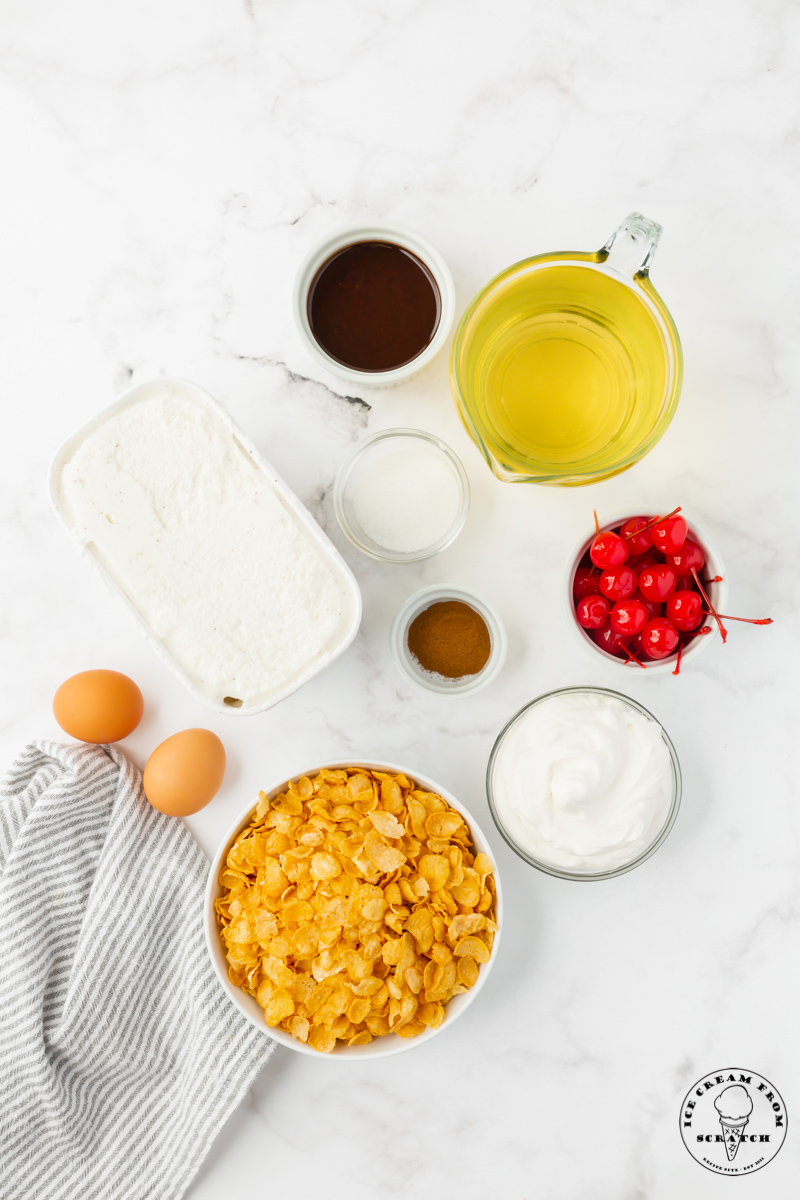 Ingredients in Homemade Mexican Ice Cream
Vanilla Ice Cream – I like the warm, rich flavor of vanilla bean ice cream in this recipe, but any style of vanilla ice cream will do. Make this recipe dairy free by using oat milk ice cream too! While I highly recommend making homemade ice cream, you can certainly use store-bought ice cream to make Mexican Ice Cream if you choose.
Corn Flakes – The crispy coating on Mexican fried ice cream is made up of crushed corn flakes! Gluten-free cornflakes work too.
Cinnamon and Sugar – To season the cornflakes, add a classic Mexican dessert flavoring. Sugar and cinnamon give the crispy ice cream coating a flavor very similar to churros!
Frying Oil – Any type of neutral flavored oil that you like to use for frying will work here. I usually prefer to use vegetable or canola oil, but peanut or corn oil is also ok.
Chocolate Sauce and Maraschino Cherries – Every ice cream dessert is better with a drizzle of Hershey's syrup and a cherry on top!
If you have any questions about the ingredients for making deep-fried Mexican ice cream, please leave a message below, and I will get back to you.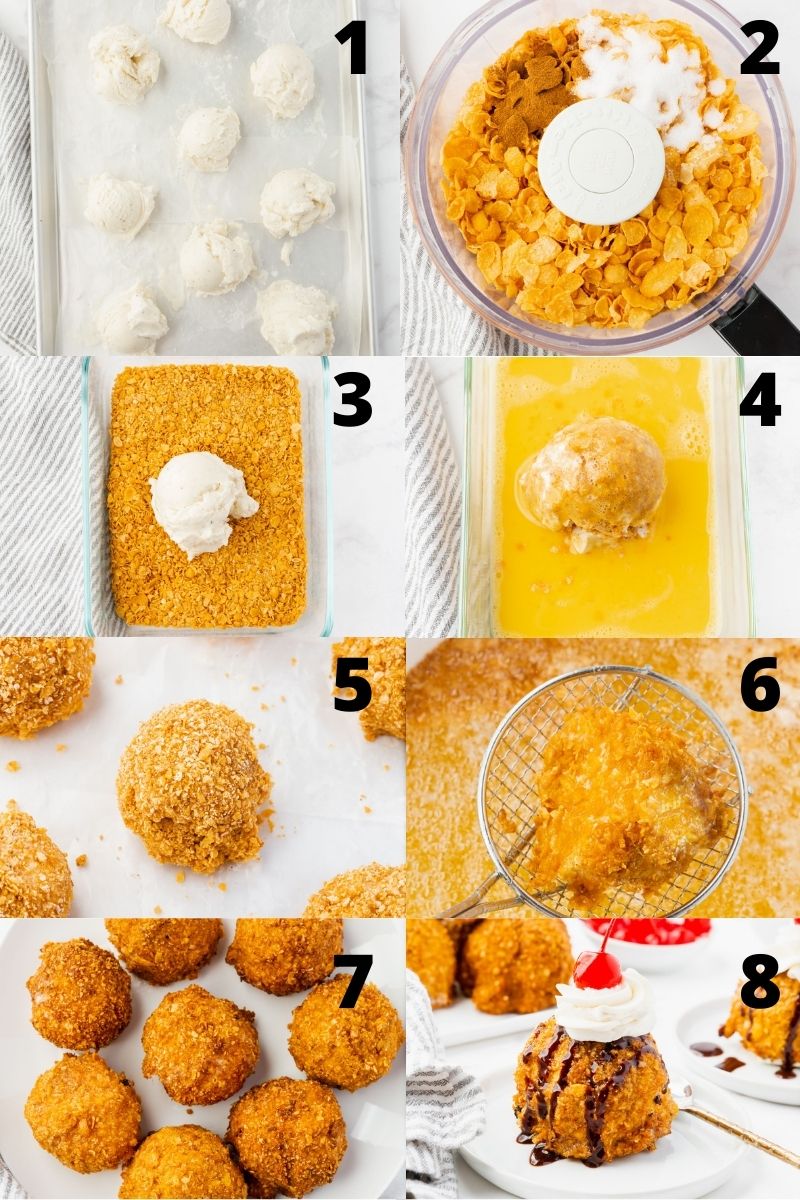 How to Make Mexican Ice Cream from Scratch
Scoop the vanilla ice cream into balls that are about 2/3 cup. Place them on a baking sheet that you've lined with wax paper, and place the tray in the freezer for 1 hour.
While the ice cream is in the freezer, add the corn flakes, ground cinnamon, and granulated sugar to a food processor. Pulse until finely ground, then place the cornflakes mixture into a shallow bowl or baking dish. In another shallow bowl, whisk two eggs together.
One at a time, coat the ice cream balls with corn flakes, pressing gently to cover all sides.
Then coat with beaten eggs, and again with the cornflake mixture.
Return the breaded ice cream balls to the freezer for at least 4 hours to solidify.
Add 2 inches of cooking oil to a Dutch oven or heavy saucepan. Heat the oil to 375°F/190°C. Use a candy thermometer to check the oil temp!
Fry the coated ice cream balls in the hot oil, one at a time, for 20-25 seconds or until lightly golden brown. A long-handled metal basket strainer is very helpful in this process. Serve immediately, or return to the freezer.
To serve, add the Mexican ice cream to a plate and top with a drizzle of chocolate sauce, whipped cream, and a maraschino cherry.
These numbered steps match the numbered photos above and are for illustration purposes. For the complete list of ingredients and instructions for making Mexican Ice Cream, please see the recipe below.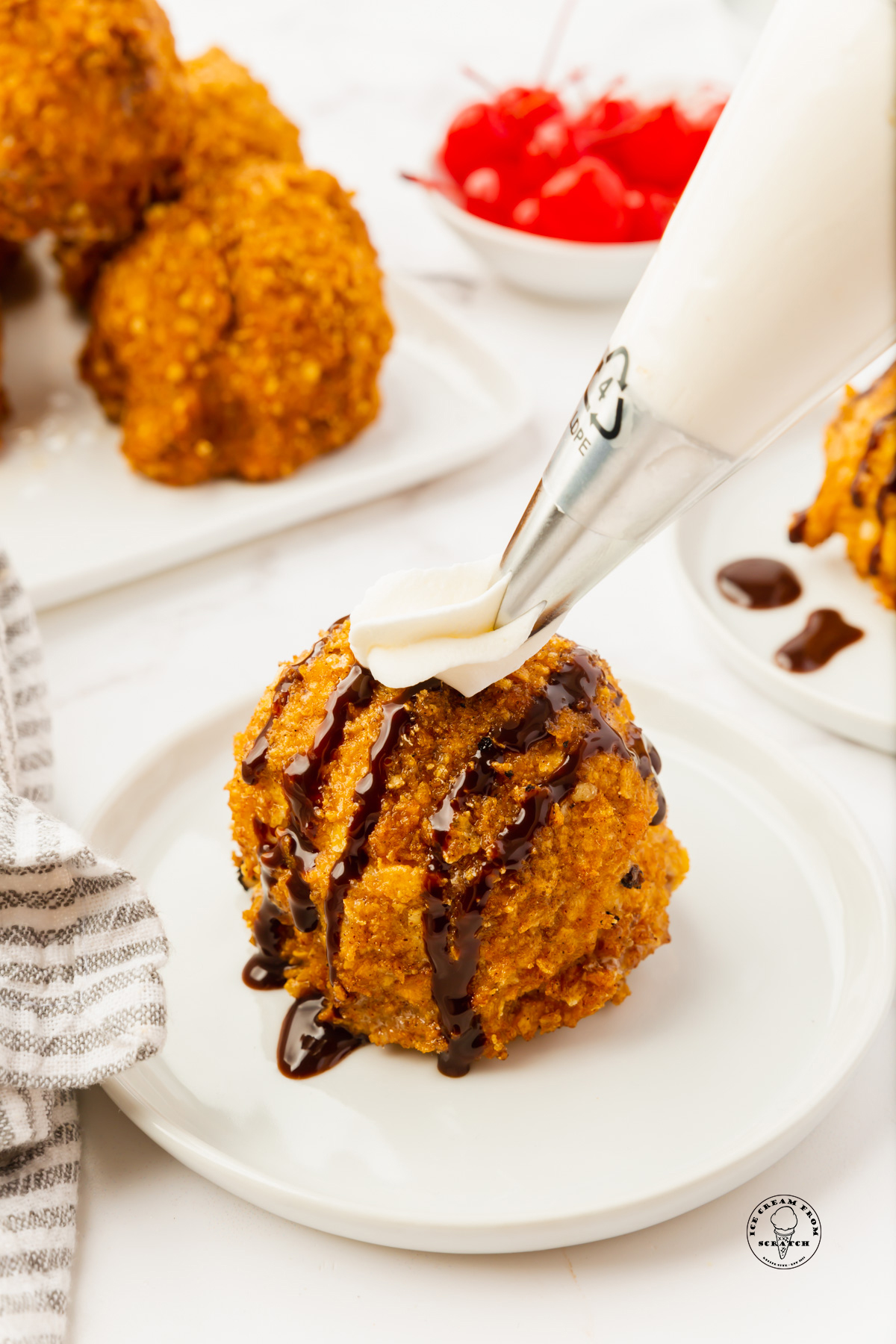 How to Store Mexican Ice Cream
Mexican fried ice cream needs to either be eaten immediately after frying or stored in the freezer for later enjoyment.
This dessert truly is best eaten right away. Fried ice cream from the freezer will not be as crispy or warm as it is directly from the hot oil, but it is still delicious.
If you are going to freeze these after frying, be sure to eat them within a week or so.
You can also freeze the coated ice cream balls, un-fried, for up to one month. Wrap them individually for best results, and fry them when you're ready to enjoy!
Tips for Making This Mexican Ice Cream Recipe
Freeze Well – There are several freezing steps in this recipe – Please don't skip any of them! It's important that the ice cream and the coating are very, very frozen before putting it into the hot oil, and freezing along the way will keep the ice cream from melting.
Make Room – Be sure that you have space in your freezer for a tray of ice cream balls before starting this Mexican ice cream recipe. Shift things around so that a cookie sheet can sit flat.
Disposable gloves can help if you find that the heat from your hands is melting the ice cream too quickly while you're adding the coating.
Coat the Ice Cream Well -Be sure not to leave any uncovered spots when breading the ice cream. The layers of crushed cornflakes on the ice cream create a barrier that keeps the ice cream from melting in the oil.
Only Fry One Mexican Ice Cream at a Time – Adding more than one frozen ice cream ball to the oil will bring the temperature too low, and you won't get the crispiness that you want in the short amount of time that's required.
How Do I Get the Cornflakes to Stick to Fried Ice Cream?
This recipe will tell you how to coat the ice cream in corn flakes, then egg, and then corn flakes again, and that should work fine.
Some recipes suggest doing it a bit differently and use egg, cornflakes, egg again, then cornflakes again. So, feel free to try that if you are having issues with the breading falling off.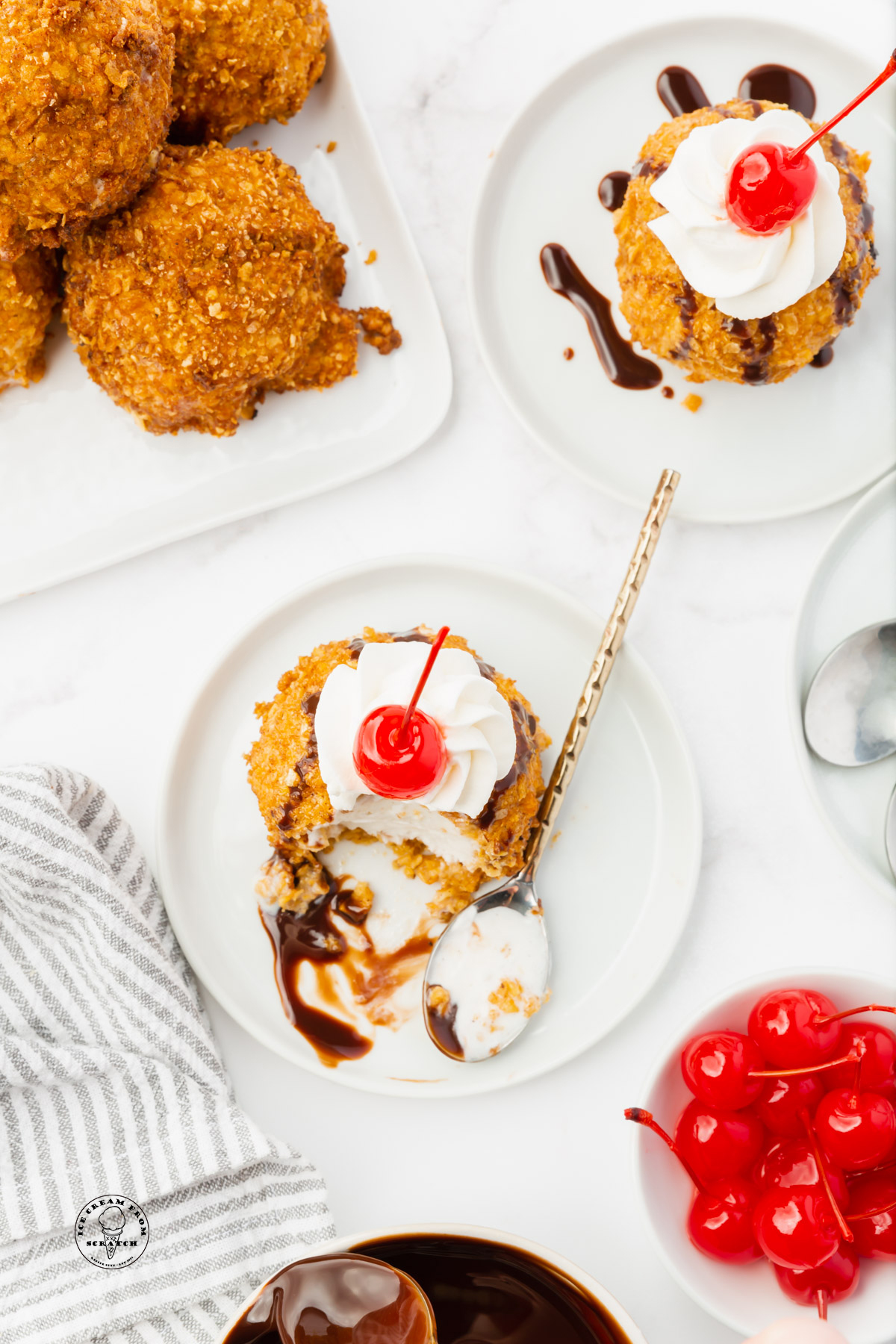 The Best Toppings for Mexican Fried Ice Cream
Just like your favorite restaurant serves it, chocolate sauce, whipped cream, and a cherry are the perfect finishing touches for Mexican ice cream!
Feel free to add any of your other favorite ice cream toppings instead though, like caramel sauce, strawberry syrup, chopped nuts, or crushed Oreos.
Can I Make Mexican Ice Cream That Isn't Fried?
If you'd rather not deep fry this recipe, I'll give you a shortcut that will allow you to make a dessert that resembles fried ice cream but isn't actually fried in oil.
Skip the eggs in this recipe, and instead roll the ice cream balls in the cornflake mixture, being sure to coat them very well. Freeze for at least an hour, and serve!
More Fun Homemade Ice Cream Desserts
Use homemade or store-bought ice cream to make any of these delicious frozen ice cream desserts:
Ice Cream Pizza starts with a baked cookie crust, and is topped with vanilla ice cream and all of your favorite toppings.
Baked Alaska is another ice cream dessert that seems impossible, with layers of cake and ice cream inside of a browned meringue.
Use your favorite soda and your favorite ice cream to make a Root Beer Float or a classic Coke Float.
LET'S GET SOCIAL, you can follow us on Pinterest or leave a comment below if you have any questions.
Did you make this Homemade Mexican Ice Cream Recipe? Leave a Comment Below letting us know what you thought and if you added any additional add-ins.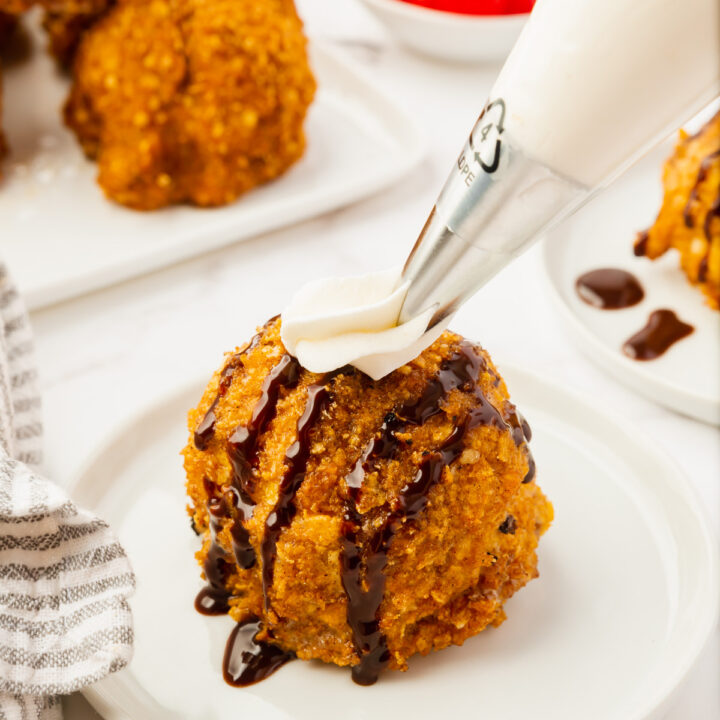 Mexican Ice Cream
Chilling/Freezing Time:
5 hours
Total Time:
5 hours
30 minutes
Fried Mexican Ice Cream is easy to make with this recipe. We'll show you how to coat vanilla ice cream in crushed cornflakes to create Mexican ice cream perfection!
Ingredients
1.5 quarts vanilla bean ice cream
4 cups crushed corn flakes
1/2 tbsp ground cinnamon
2 tbsp granulated sugar
2 eggs, whisked
vegetable oil or canola oil, for deep frying
chocolate sauce, for topping
whipped cream, for topping
maraschino cherries, for topping
Instructions
Scoop 2/3 cup sized scoops of ice cream and place on a baking sheet lined with wax paper. Freeze for 1 hour.
Add the crushed cornflakes, ground cinnamon, and granulated sugar to a food processor. Process until finely ground.
Place the corn flakes into a shallow bowl or baking dish. Set aside.
Add two eggs to a shallow bowl or baking dish and whisk until beaten.
One at a time, coat the ice cream scoops with the corn flakes, pressing the corn flakes into the ice cream until it sticks.
Then, coat the ice cream balls with the beaten eggs and again with the corn flake mixture. Freeze again for at least 4 hours.
Add vegetable oil or canola oil in a Dutch oven until it's about 2 inches deep. Heat until the oil reaches 375F.
One at a time, deep fry the coated ice cream balls for 20-25 seconds, until golden brown. Serve immediately or return to the freezer.
To serve, top with a drizzle of chocolate sauce, fresh whipped cream, and a maraschino cherry.
Notes
It's important that the ice cream balls are well covered in the eggs and corn flake mixture. The barrier will keep the ice cream from melting in the hot oil. Be sure the entire surface area of the ice cream is covered with the corn flakes.
There is a lot of freezing time required in this recipe. Do not be tempted to skip this as the ice cream melts quickly and it's very, very important that it is frozen before frying.
If you are having a hard time getting the first layer of corn flakes to stick to the ice cream balls, you can dip the ice cream balls in the eggs first to help it stick if need be.
You can keep already fried ice cream balls in the freezer until ready to serve, but they will not be as crispy as they were when they were just fried. For best results, fry just before serving.
Nutrition Information:
Yield:

6
Serving Size:

1
Amount Per Serving:
Calories:

444
Total Fat:

21g
Saturated Fat:

10g
Trans Fat:

0g
Unsaturated Fat:

10g
Cholesterol:

121mg
Sodium:

270mg
Carbohydrates:

56g
Fiber:

2g
Sugar:

38g
Protein:

8g