Ice cold Coca-Cola is topped with creamy vanilla ice cream to create the easiest and best Coke Float you've ever had.
Whipped cream and a cherry on top are optional but highly recommended for the full old-fashioned ice cream float experience.
This creamy treat only takes 5 minutes to make – so let's get started!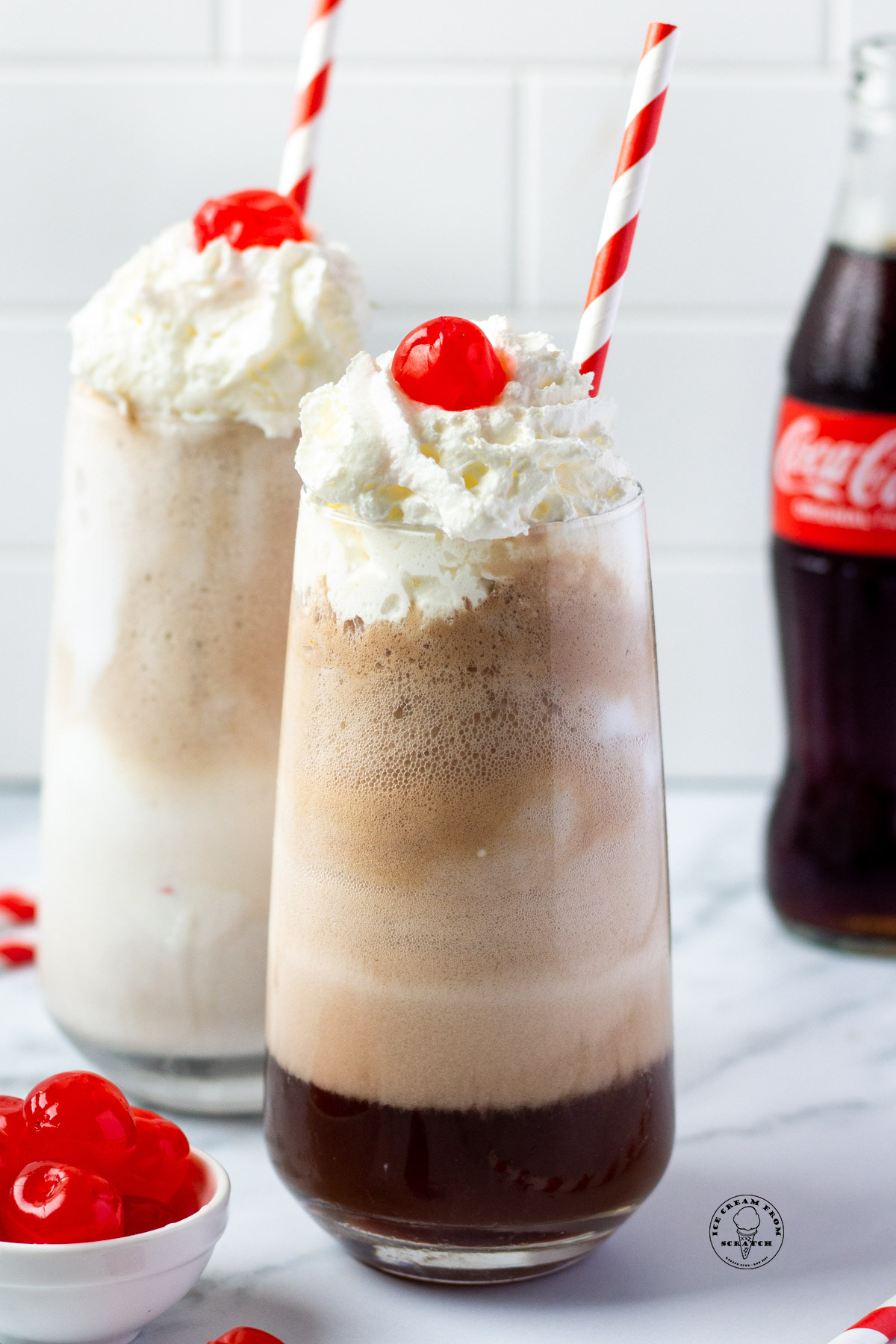 Coca-Cola Classic and Vanilla ice cream are a match that has definitely passed the test of time. This cold, creamy, and sweetly spiced ice cream soda has been around for over a hundred years now, and I don't think it's going anywhere.
If you like to enjoy your ice cream treats with a straw rather than a spoon, be sure to visit our Milkshake Recipes section. We'll show you how to make a strawberry milkshake, Nutella milkshakes, and so many more!
Why You're Going to Love this Coke Float Recipe
It's a Classic. Sure, you could make a root beer float, or a float with orange soda, but using a bottle of Coca-Cola to make an ice cream float just feels the most authentic.
It's Super Easy to Make. You need two ingredients and a tall glass. That's it!
No Waiting. Homemade ice cream is delicious and fun to make, but it takes time and patience. A coke float is ready in just a few minutes – no waiting required.
What You Need to Make a Coke Float
Soda– This is a coke float recipe, so I'm going to suggest that you use classic Coca-Cola to make it! You can also use Pepsi, or your favorite cola instead.
Vanilla Ice Cream – The classic flavor for ice cream floats is vanilla. It really enhances the sweet spiciness of coke to create a delicious creamy drink. You should try a coke float with homemade vanilla bean ice cream, or easy no-churn vanilla ice cream.
Toppings – Optionally, you can add whipped cream and a cherry to the top of your drink to make it extra special.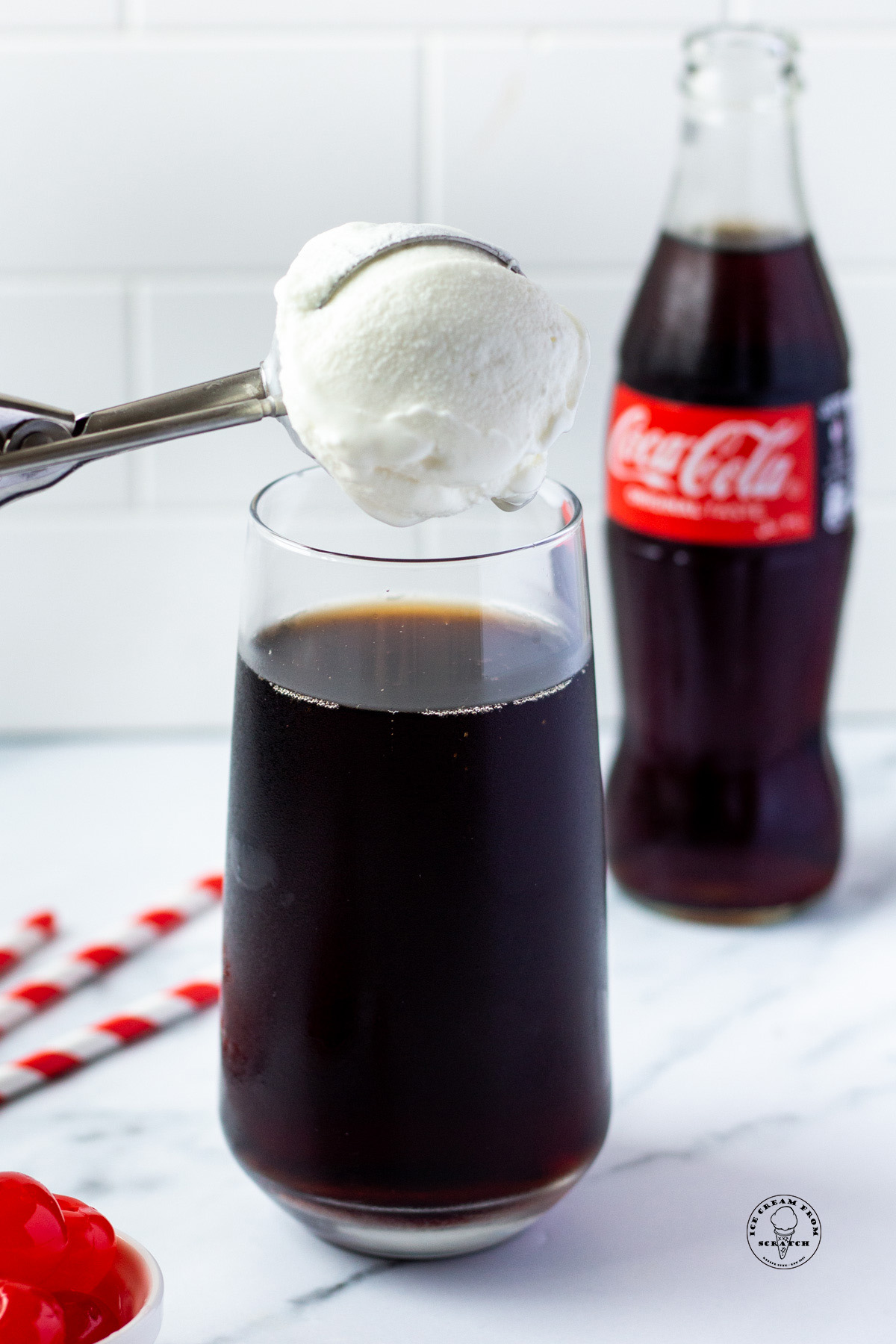 How to Make a Coke Float
You can make an ice cream float with Coke in two different ways. Each is slightly different but will give you very similar results. Choose the method that makes sense for you!
Ice Cream Into Soda Method. To make a float in this way, you will fill your glass of the way with cola first, leaving about 4 or 5 inches at the top. Then carefully add 1-2 scoops of ice cream, being careful not to overflow the glass.
Soda Over Ice Cream Method. This way is just the opposite! Start by adding 1-2 scoops of ice cream to a tall glass. Then slowly pour the soda over the ice cream until the glass is full.
For the complete list of ingredients and instructions, please see the recipe below.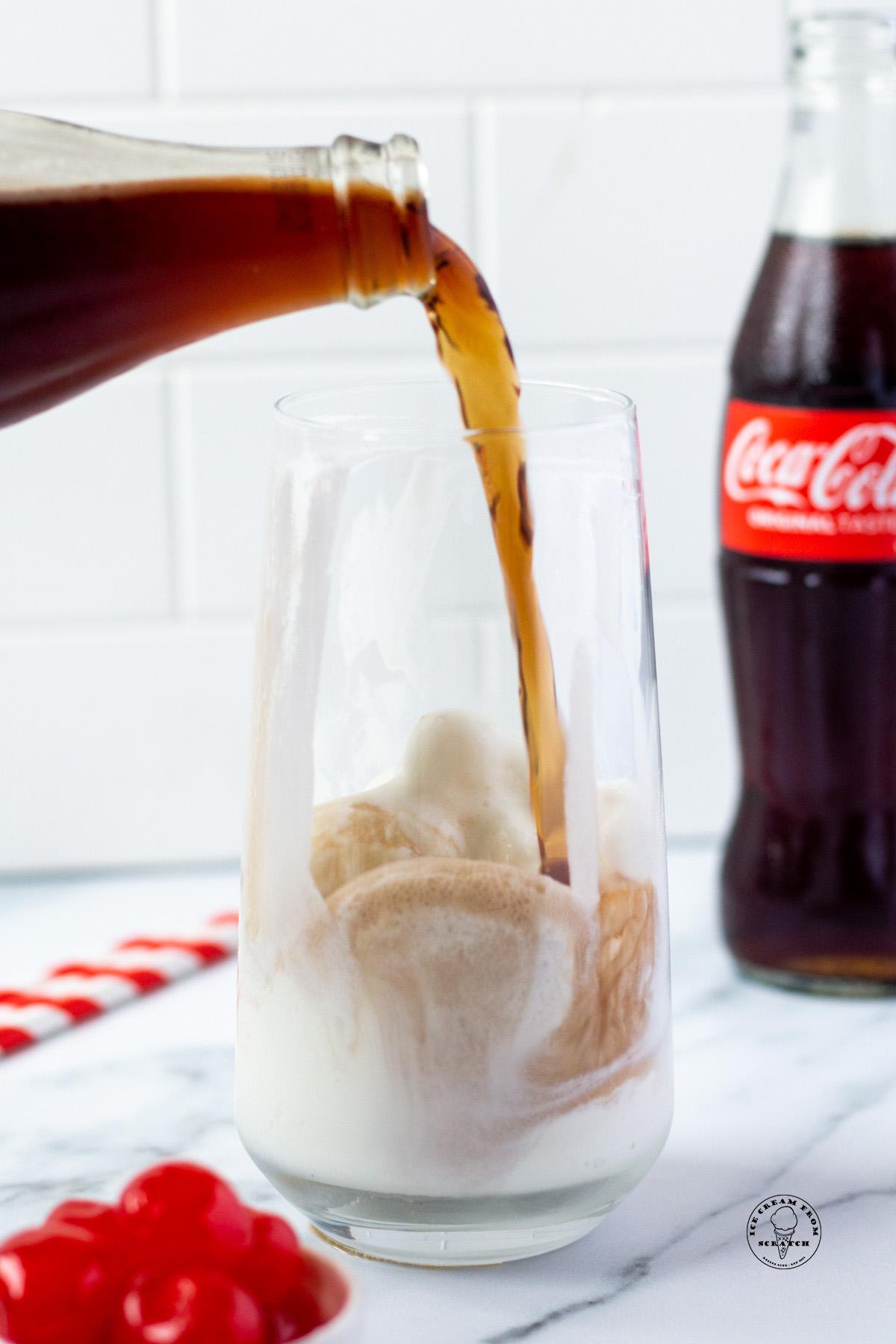 Tips for Making Ice Cream Floats
Plan ahead to be sure that your cola is chilled and ready for you. Room temperature soda will foam up too much when it comes into contact with the ice cream, so I don't recommend that!
Pour Slowly. Again, we want to avoid too much foam, and pouring the coke in too fast will cause a lot of bubbles.
Go the extra mile. Chill your glass in the freezer for about 10 minutes so that it's nice and frosty.
Lighten it up. You can use diet soda, or a lighter style of ice cream if you prefer.
Share, or don't! You can make two coke floats with a 20-ounce bottle of pop. If you're making a float just for yourself, use a can or a mini can of Coke instead. If you're serving a crowd, pick up a two-liter to make things simple.
Should You Add Ice Cream or Soda First When Making a Float?
You can do it either way!
Adding Ice Cream to a glass of Coke is my preferred way of doing things. The soda is less likely to foam up when you do it this way.
On the other hand, there is a benefit to adding the coke to the ice cream instead. You have more control over how much ice cream you can fit in the glass when you start with the ice cream first!
Where Did Coke Floats Come From?
Coke floats date back to simpler times when ice cream was served at drug store fountains (you can read more about that in our Ice Cream Sundae recipe) and soda shops in America.
The exact origination hasn't been agreed upon, as a few different people have claimed to have invented the simple concoction, but the drink probably started being served around in the late 1800's, gaining popularity around 1910.
Is a Coke Float called a Brown Cow?
In certain regions of the US, the terms "brown cow" and "black cow" have been given to describe root beer floats and in some cases, coke floats too.
I suppose if you live in one of those places, you already know this, but if you don't, now you'll know what it means when you see it on an ice cream shop menu board!
Where Can I Order a Coke Float?
While ice cream floats are a pretty old-fashioned drink, you're lucky in that they are still served at ice cream parlors, diners, and fast food restaurants all over the country!
Internationally, ice cream sodas are served in some places as well. Did you know that in Australia they call these tasty drinks "spiders"? In Mexico they're called "helado flotante" or "floating ice cream", and floats are served across Europe too.
You'll be glad that you learned how to make Coke Floats at home though because you'll save several dollars per serving with this easy DIY method.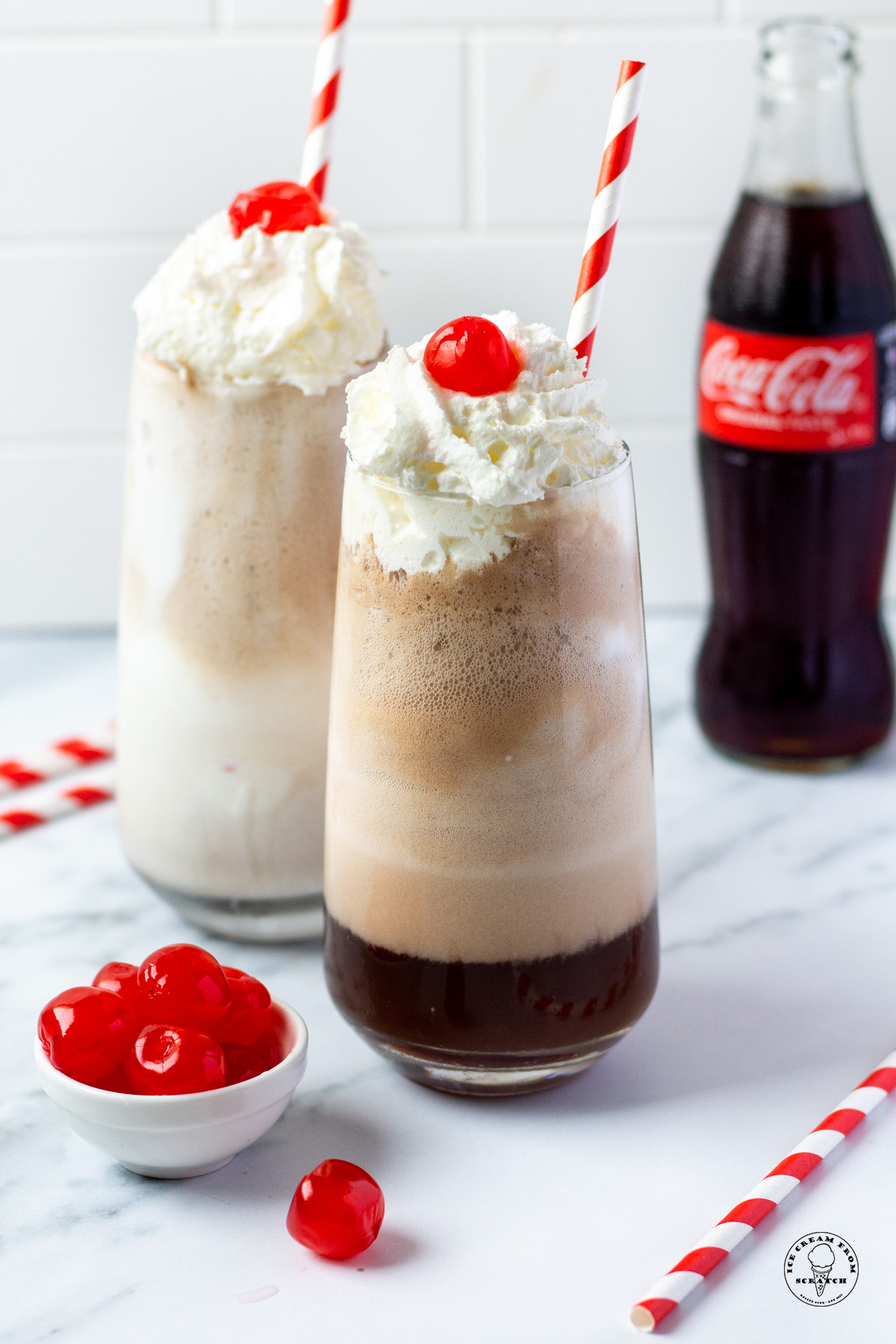 Coke Float Variations
It's no longer a coke float if you use a different type of soft drink, but I still think this is a great place to list some other ice cream soda flavors and combinations you can make at home!
Try any of these, or get creative and make up your own recipes. All you need is a fizzy drink and some ice cream.
Cherry Vanilla Float: Lemon Lime Soda + Grenadine + Cherry Vanilla Ice Cream
Creamsicle Float (Kids love these!): Orange Soda + Vanilla Ice Cream
Blueberry Pancakes Float: Maple Ice Cream + Blueberry Ice Cream + Cream Soda
Strawberries and Cream Float: Lemon Lime Soda + Vanilla and Strawberry Ice Cream + fresh berries.
Ice cream can be a dessert all by itself, but it's also super fun to use ice cream to create unique and classic desserts like:
More Homemade Ice Cream Recipes
You are in the right place if you're looking for recipes for all of your favorite ice cream flavors! We have so many recipes here, but I suggest you try one of these first:
Our Favorite Milkshake Ice Cream Float Tools:
Heat Conductive Ice Cream Scoop
Note: Each of these links will take you to the exact product on Amazon. As an Amazon associate, I earn a little from each qualifying purchase.
LET'S GET SOCIAL, you can follow us on Pinterest or leave a comment below if you have any questions.
Did you use this recipe to make a Coke Float? Leave a Comment Below letting us know what you thought.
Yield: 2 Servings
Easy Coke Float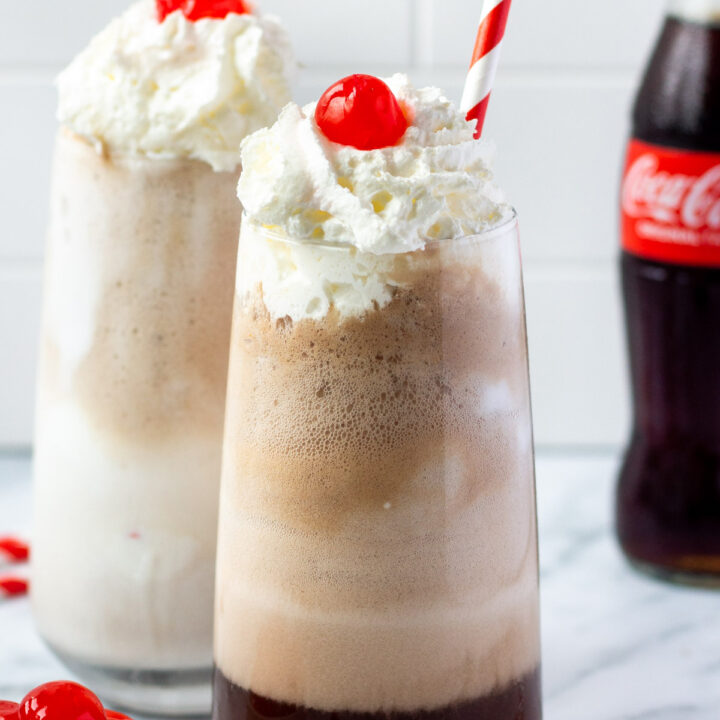 Ice cold Coca Cola is topped with creamy vanilla ice cream to create the easiest and best Coke Float you've ever had.
Ingredients
1, 20 oz bottle of Coke
2-4 scoops vanilla ice cream
Optional: whipped Cream for garnish
Optional: maraschino cherry for garnish
Instructions
Fill 2 tall clear glasses or clear glass mugs with coke, leaving 4-5 inches at the top for the ice cream.
Place 1-2 scoops of ice cream into the glass of soda, being careful not to overflow the glass.
If desired, top with whipped cream and a cherry.
You may also create your float the opposite way, by placing the ice cream into the glass first and then pouring the soda slowly over it to fill the glass.
Notes
To make two servings, use a 20-ounce bottle of coca cola and 1 or 2 scoops of ice cream per serving. To make just one coke float, you can use one 12-ounce can of soda. The actual amount of soda you'll need will depend on the size and volume of your glasses.
Chill the glasses in the freezer for 10-15 minutes before assembling your drinks to keep them nice and cold.
If you will be pouring the soda over the ice cream, be sure to do so very slowly to avoid too much foam.
Nutrition Information:
Yield:
2
Serving Size:
1
Amount Per Serving:
Calories:

414
Total Fat:

16g
Saturated Fat:

9g
Trans Fat:

0g
Unsaturated Fat:

5g
Cholesterol:

60mg
Sodium:

115mg
Carbohydrates:

64g
Fiber:

1g
Sugar:

60g
Protein:

5g