Easy Traditional Root Beer Float
An easy recipe for a delicious Root Beer Float features a frosty mug of root beer mingled with scoops of creamy vanilla ice cream.
The best Root Beer Float is this one because you can make it at home in less than 5 minutes!
Top your ice cream floats with whipped cream and cherries to make them extra fun.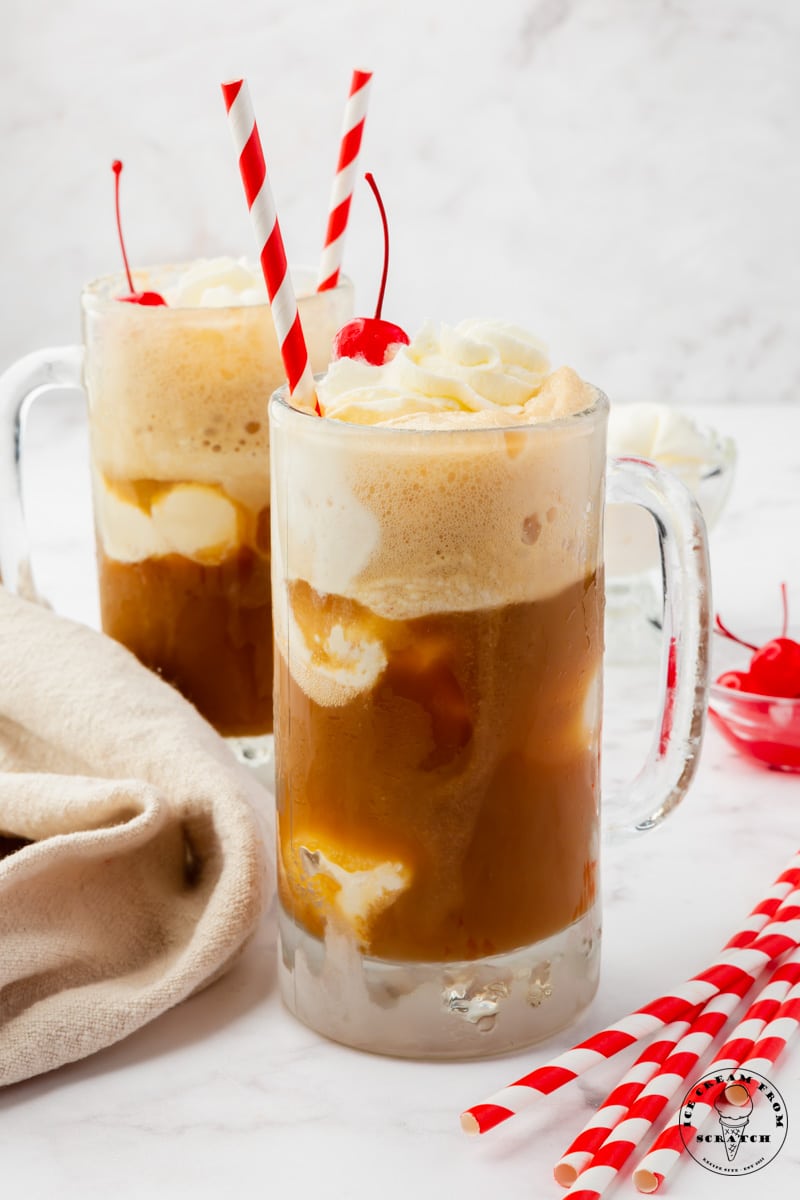 It's not hard to make a root beer float! In fact, this frozen treat is super simple to make, with just a few ingredients and very little time.
There's a trick to combining the ice cream and root beer together, and I'll share that with you here.
Once you understand the concept you'll be able to make root beer floats, Coke floats, or any other type of ice cream float that you can dream up.
Why You're Going to Love this Root Beer Float Recipe
A Cool, Creamy Classic: Zippy root beer and vanilla ice cream in a frosted glass mug is the best way to enjoy an ice cream float.
It's Super Easy to Make: You really just need two ingredients and a couple of mugs to make a root beer float for you and a friend. Optionally, add some whipped cream and a cherry on top!
No Waiting: I strongly urge you to take the time to let the glasses frost in the freezer, but other than that, you can make root beer floats in just a few minutes.
Save Money: A root beer float at an ice cream shop will put you back $6 or more. Here, you can make them for just a fraction of that cost.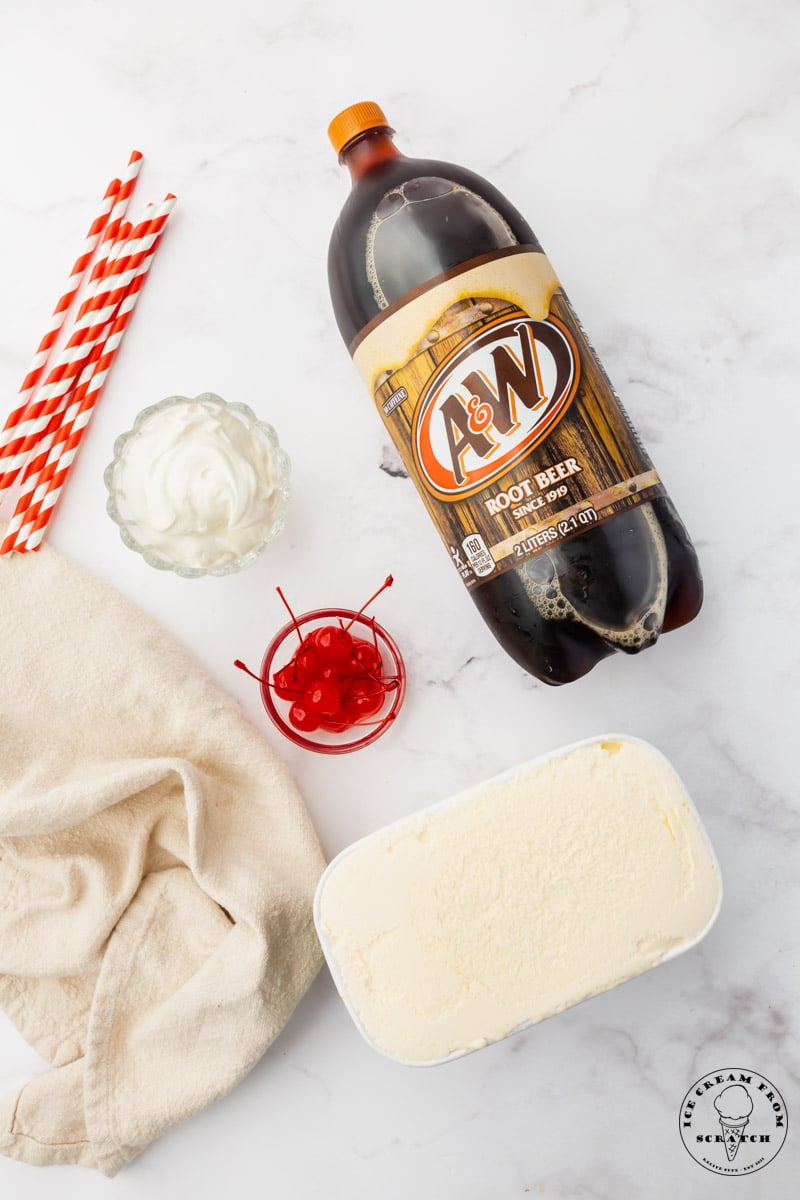 Ingredients in Homemade Root Beer Floats
Root Beer – Of course, we can't make a root beer float without a bottle of root beer! To make two floats you'll want to have about 16 ounces of soda. Feel free to use your favorite brand of root beer. I think each has its own special flavor, and you can sometimes find small-batch root beer from local brewers that are super tasty.
Vanilla Ice Cream – The classic flavor for ice cream floats is vanilla. It really enhances the spicy sweetness of root beer to create a delicious creamy drink. You should try a root beer float with homemade vanilla bean ice cream, or easy no-churn vanilla ice cream. You can pick up a carton of your favorite ice cream at the store too.
Garnishes – These are optional, but I like to top all of my ice cream desserts with whipped cream and maraschino cherries! I put this combo on floats, sundaes, and milkshakes too.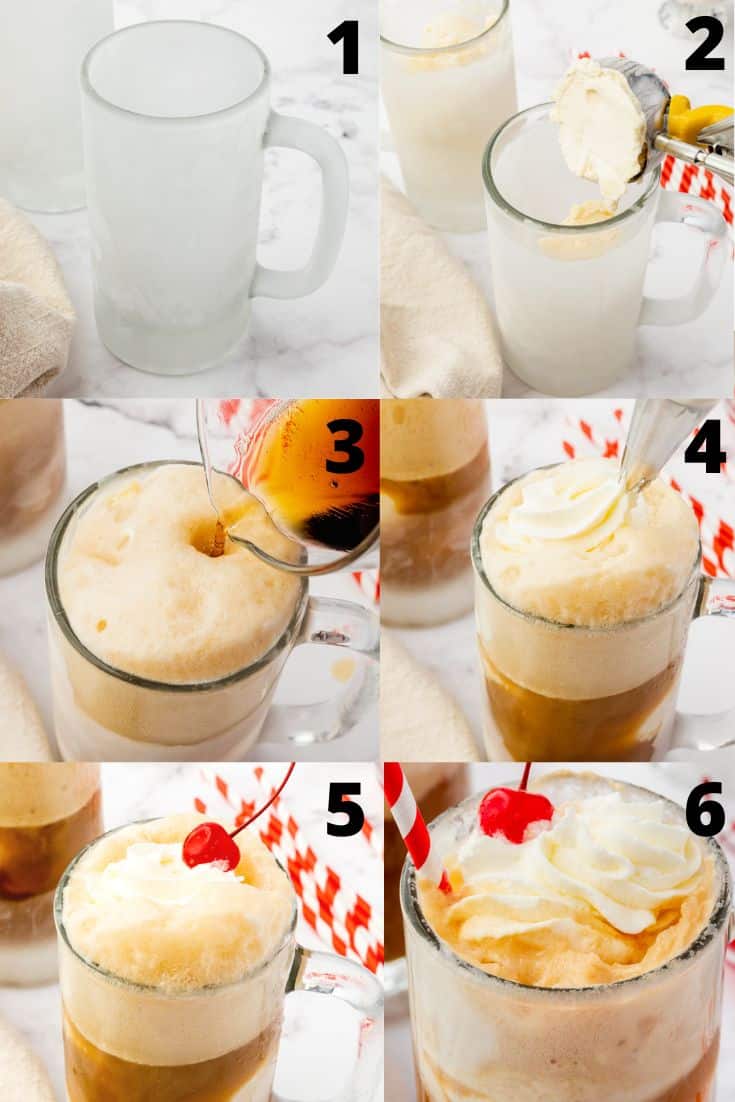 How to Make a Root Beer Float
Place two glass beer mugs in the freezer and let them sit for at least 20 minutes so that they are cold and frosty.
Remove the mugs from the freezer and fill them each with 3 scoops of vanilla ice cream.
Top each mug with about 8 ounces of root beer, taking care not to overfill the glasses.
Pipe or dollop whipped cream on top of the floats.
Then add a maraschino cherry garnish.
Serve immediately, and with a straw.
These numbered steps match the numbered photos above and are for illustration purposes. For the complete list of ingredients and instructions, please see the recipe below.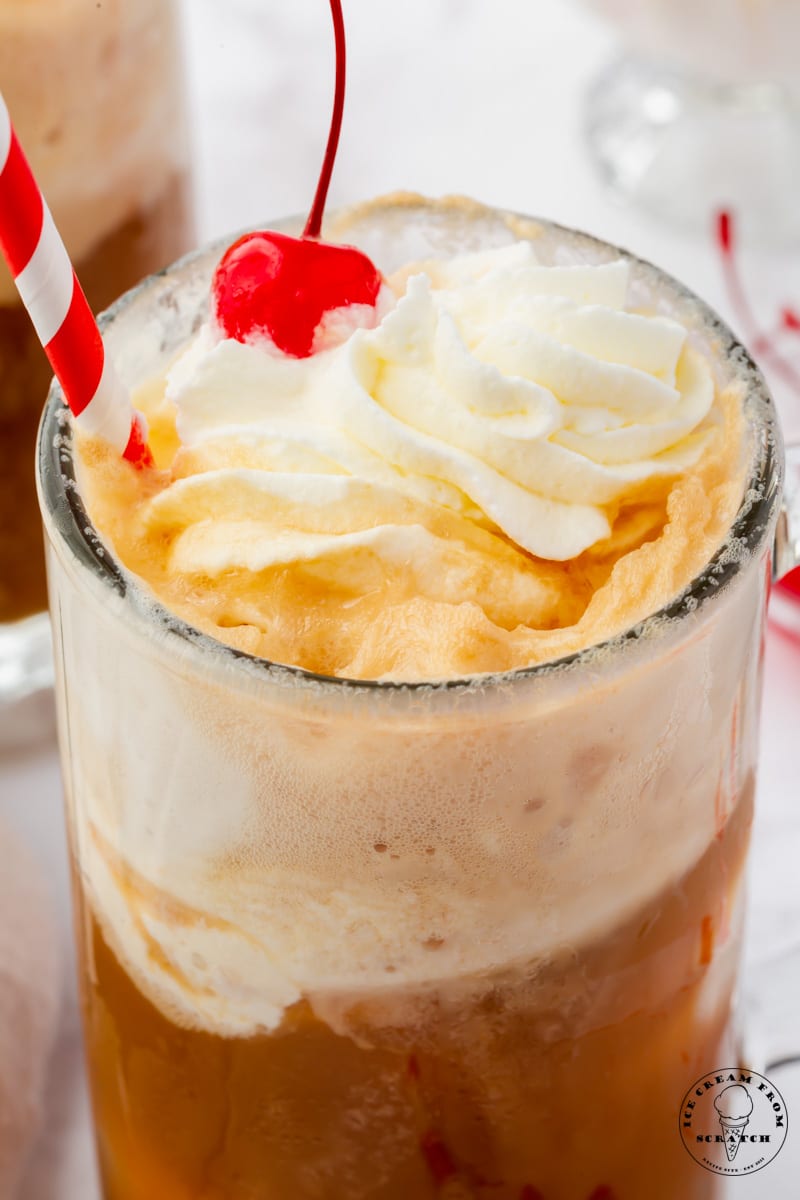 Tips for Making the Best Root Beer Float
Use quality ingredients – When making floats at home, you'll want to make sure you are using high-quality ingredients for the best outcome. Use homemade or high-quality ice cream, and be sure to use a root beer that you enjoy drinking.
Chill out – It's very important to start with chilled ingredients. Keep the root beer in the fridge, and the mugs and ice cream in the freezer until you are ready to make the floats.
Lighten it up – Diet root beer can be used if you want to reduce the calories in your dessert.
Pour slowly – This is the trick to making a float! Adding soda to ice cream too quickly will cause your float to foam up too much. Take your time, and pour slowly.
Make Extra – Feel free to make more than two root beer floats! Pick up a 2-liter so that you have enough to satisfy a crowd. Root beer floats are fun at kids' parties, or as a dessert to share with your family.
History of the Root Beer Float
The credit for creating the Root Beer Float is given to the owner of a brewing company in the Colorado mountains, Frank J. Wisner.
Frank is said to have been inspired by nature and designed the root beer float to feel like snow-covered mountains.
This happened back in 1893, which means that we have been enjoying root beer floats in America for almost 130 years!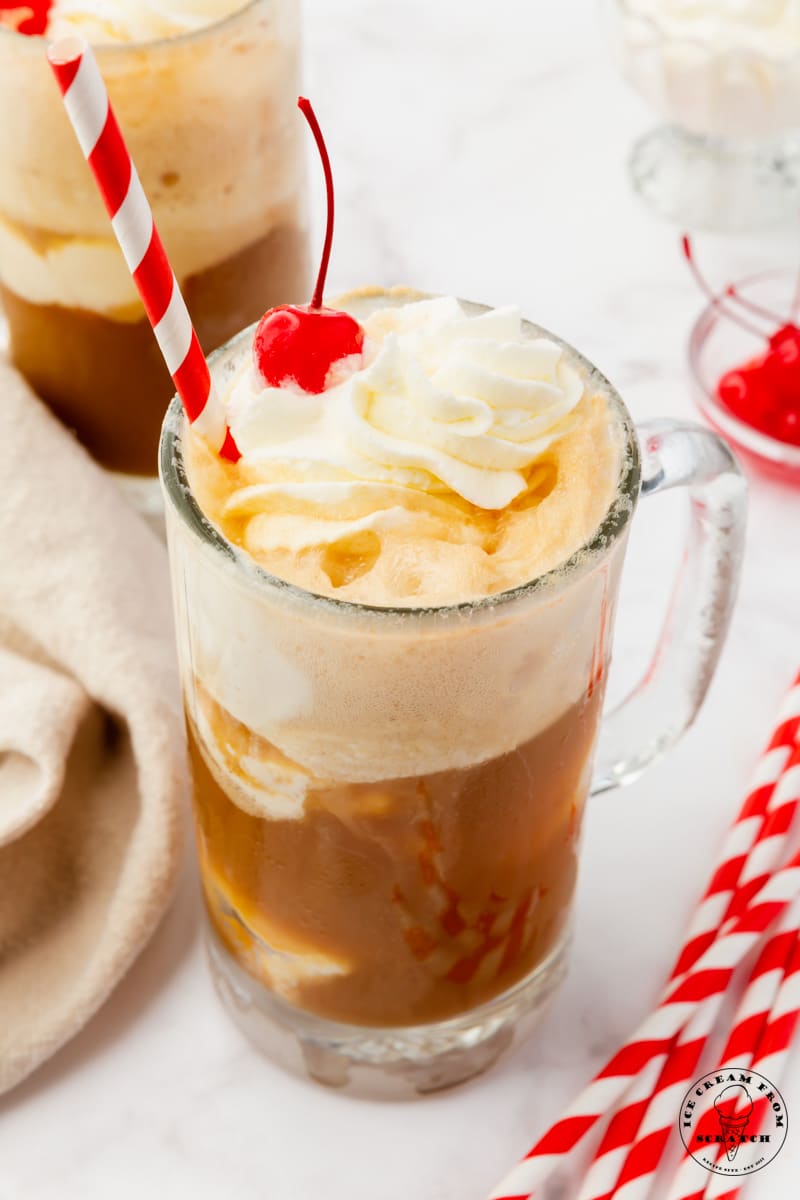 Fun Float Variations
Chocolate Root Beer Float – Use scoops of chocolate ice cream in your float instead of vanilla for an extra decadent treat. A drizzle of chocolate syrup is a must too.
Frozen Root Beer Float – For a slushy treat that kids will love, combine root beer, ice cream, and ice cubes in a blender and pulse until icy.
Hard Root Beer Float – For adults only, pick up a few bottles of alcoholic root beer and make some super creamy cocktails.
What Is the Best Root Beer for Root Beer Floats?
You truly can use any type of root beer to make a float, but I suggest choosing one that has lots of rich, spicy flavor.
Commonly available brands include A&W Rootbeer, Barq's, and Mug.
Look for six packs of bottled root beer too. These are a bit more expensive but typically super delicious. IBC, Dad's, Sprecher, and Stewart's are all good choices.
More Homemade Ice Cream Desserts
You can turn a few scoops of vanilla ice cream into so many tasty treats! Try some of our easy desserts that can be made with store-bought or homemade ice cream.
Ice Cream Flavors to Make at Home
We have so many ice cream recipes here! When you're ready to get out your ice cream maker, we have you covered. Here are some of our favorite flavors, and any of them would be delicious in an ice cream float: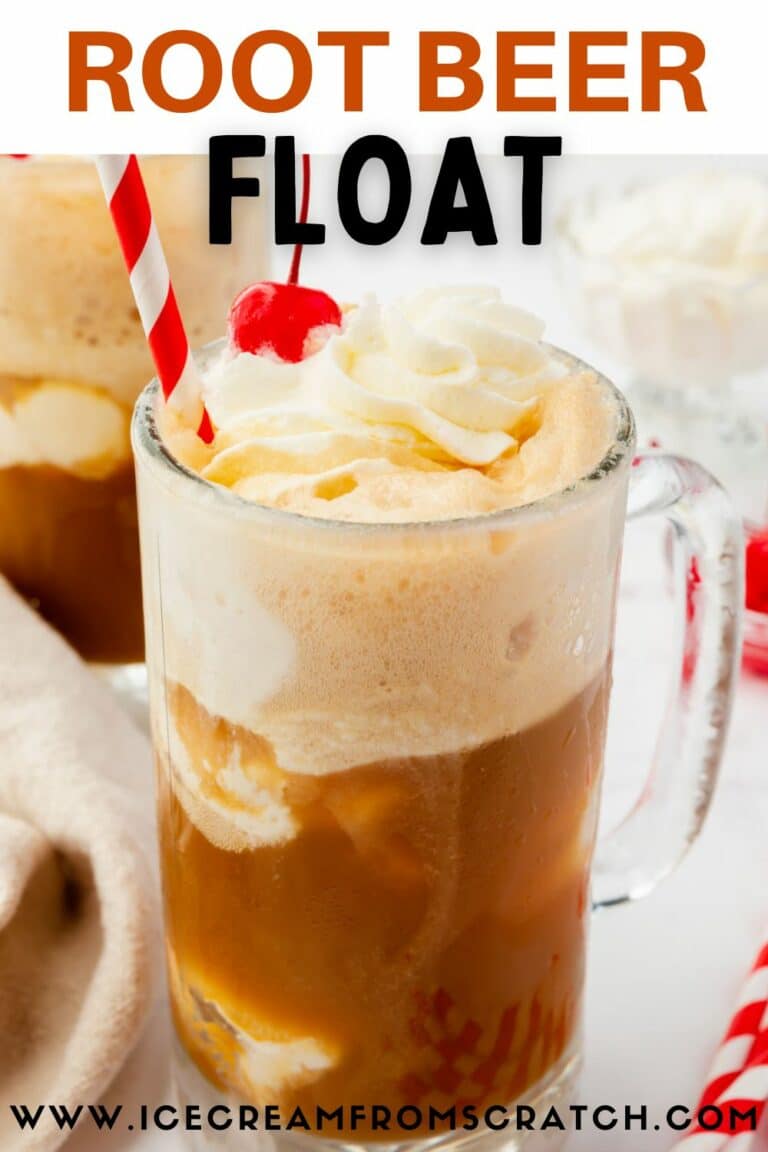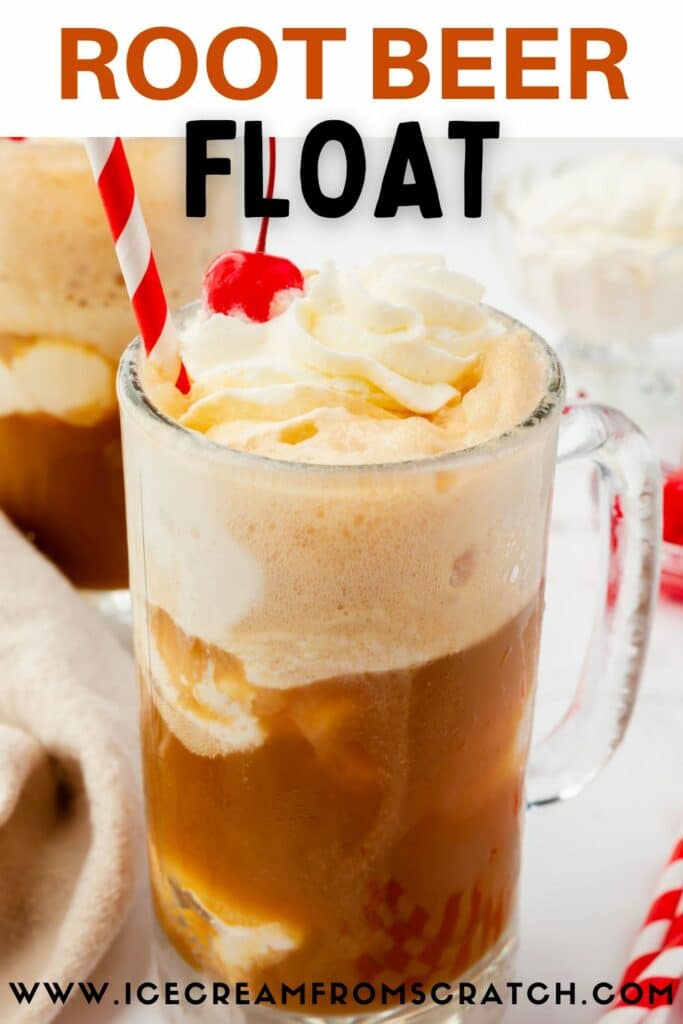 Our Favorite Ice Cream Making Tools:
Note: Each of these links will take you to the exact product on Amazon. As an Amazon associate, I earn a little from each qualifying purchase.
LET'S GET SOCIAL, you can follow us on Pinterest or leave a comment below if you have any questions.
Did you make this Homemade Root Beer Float recipe? Leave a Comment Below letting us know what you thought and if you added any additional add-ins.
Yield: 2 Servings
Easy Traditional Root Beer Float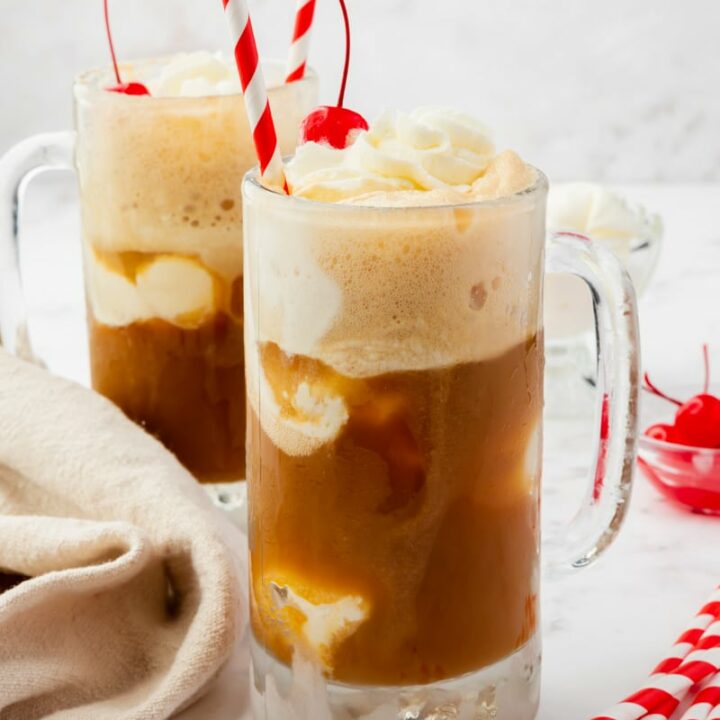 An easy recipe for a delicious Root Beer Float features a frosty mug of root beer mingled with scoops of creamy vanilla ice cream.
Chilling/Freezing Time
20 minutes
Ingredients
6 scoops vanilla ice cream
16 oz root beer
¼ cup whipped cream topping
2 maraschino cherries
Instructions
Place two beer mugs or milkshake glasses in the freezer for 20 minutes.
Place 3 scoops of vanilla ice cream in each mug.
Top each mug with 8 oz of root beer, making sure that the mug does not overflow.
Pipe or dollop whipped cream topping on top of the root beer float.
Garnish with a maraschino cherry.
Serve immediately.
Notes
Keep the ice cream in the freezer until just before ready to scoop. The root beer will melt the ice cream quickly. 
Make sure the root beer is chilled before using. Cold ingredients will help prevent the ice cream from melting too quickly. 
Technically, all you need for a root beer float is vanilla ice cream and root beer. You don't have to top your root beer float with whipped cream and a cherry, but I think it's a fun way to take your root beer float to the next level!
I used two 16 oz beer mugs, which was the perfect size to fit 2-3 scoops of ice cream and 8 oz of root beer. Depending on the size of your glasses, you may need to adjust the amount of root beer and ice cream in each glass. 
I personally like to add the ice cream first and then pour the root beer on top of the ice cream. This way, you will know when to stop pouring the root beer and there is less mess. However, you could pour the root beer first and top with scoops of ice cream if you prefer.
Nutrition Information:
Yield:
2
Serving Size:
1
Amount Per Serving:
Calories:

538
Total Fat:

23g
Saturated Fat:

14g
Trans Fat:

0g
Unsaturated Fat:

7g
Cholesterol:

93mg
Sodium:

191mg
Carbohydrates:

76g
Fiber:

2g
Sugar:

71g
Protein:

7g