What is more iconic than a classic Hot Fudge Sundae made with creamy vanilla ice cream, and warm, gooey fudge sauce?
Hot Fudge Sundaes are the original classic served in restaurants, ice cream shops, fast food drive-throughs, and now, at your house!
Learn how to make the very best hot fudge ice cream sundae with these easy instructions, including all of my favorite tips and tricks, and ice cream toppings.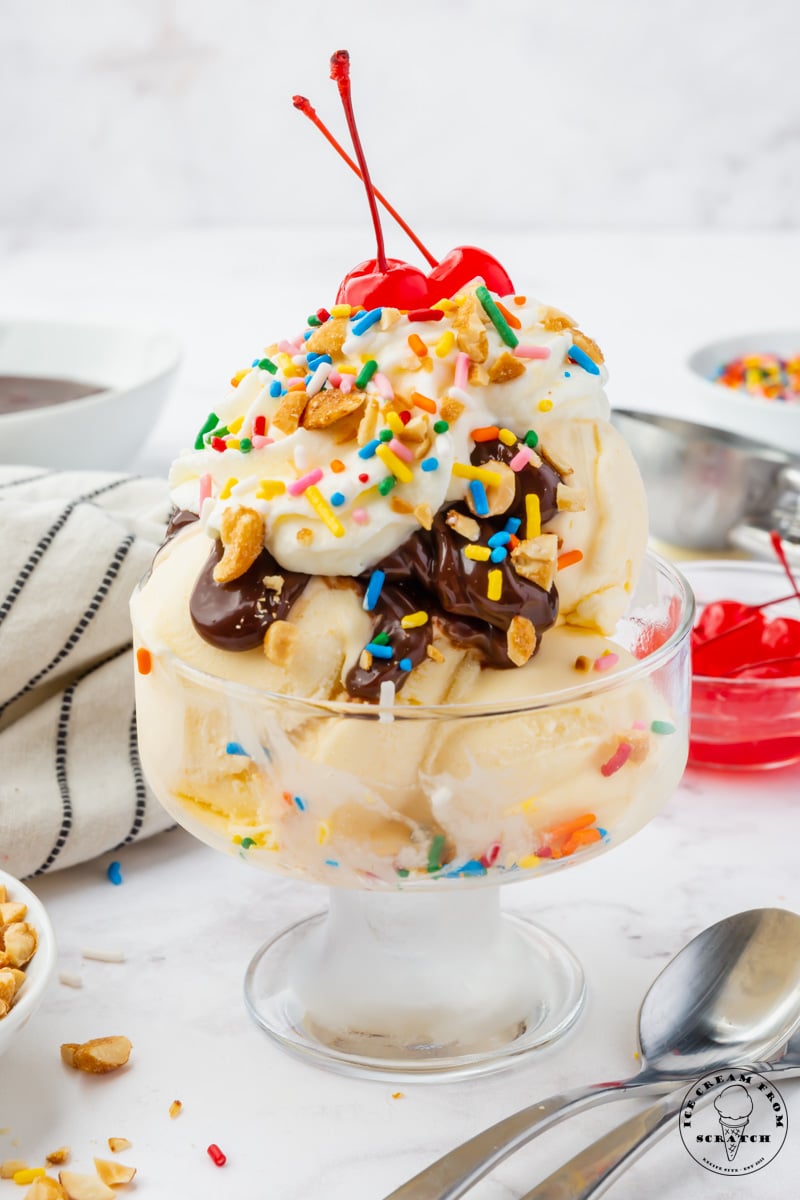 The Easy Way to Make an Ice Cream Sundae
There are of course many different ways to make an ice cream sundae, but here I'm showing you how I do it, and giving you all of the tips so that your hot fudge sundae can be the very best!
You will want to see my amazing recipe for Brownie Sundaes too. Caramel sundaes are also delicious.
This hot fudge sundae recipe is more of a tutorial. There's no cooking involved, just a list of ingredients and simple steps for putting them all together.
Why Is It Called an Ice Cream Sundae?
I love the history that goes along with Ice Cream, so I'll share a little bit of it here for you to enjoy!
Did you know that in the late 1800s and early 1900s, it was pharmacists who served ice cream, rather than ice cream shops or diners? They also served sugary sodas, malts, and shakes.
There is some disagreement about who was the first pharmacist to make an ice cream sundae. Because we didn't have the internet back then, nobody can really prove who started the trend, but many agree that the sundae was first created in Ithaca, New York in the early 1910s.
The first sundae was not topped with hot fudge though. It was a bowl of vanilla ice cream topped with cherry syrup and a cherry on top.
Originally, it was called an ice cream "Sunday" because of the day of the week it was offered. The spelling was later changed to "sundae", presumably because of a disagreement with a local church that preferred that advertisements about Sundays directed people to them.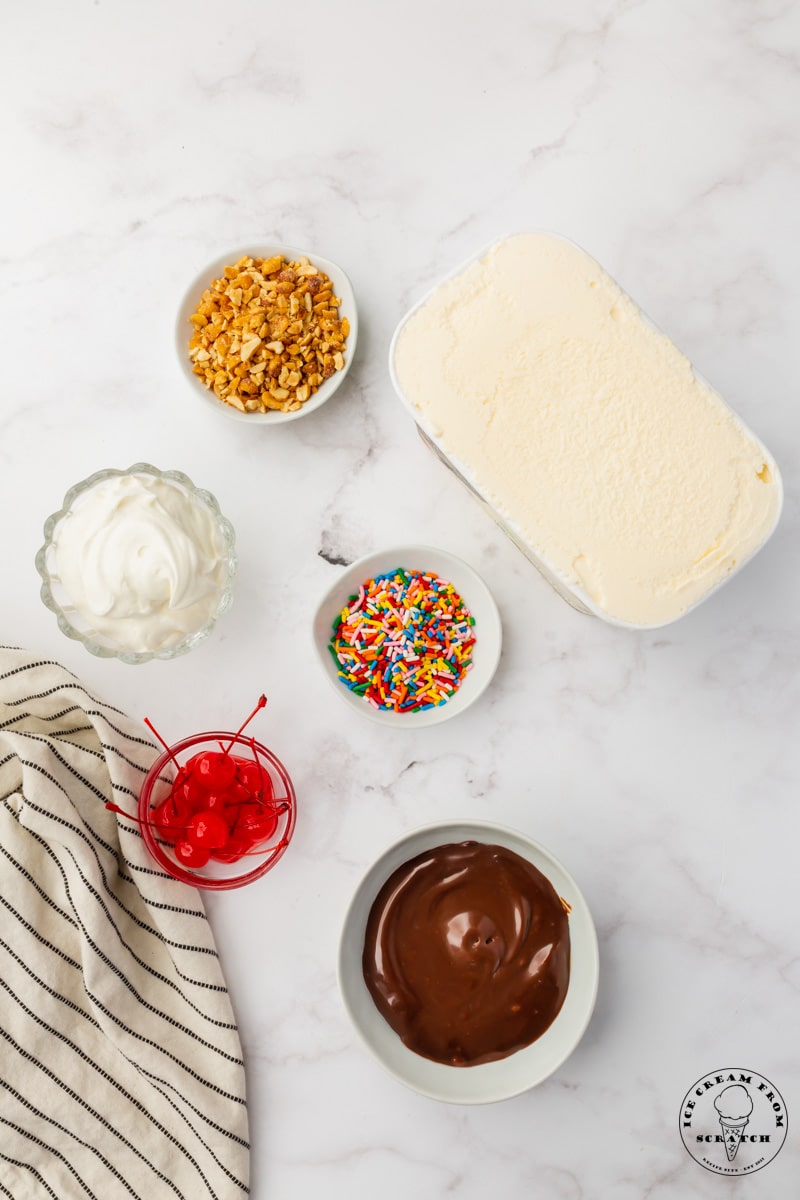 Ingredients in Homemade Hot Fudge Sundaes
Ice Cream – Vanilla ice cream is just delicious paired with rich, chocolatey fudge. That said, you can feel free to use other ice cream flavors in this sundae too.
Hot Fudge Sauce – Store-bought hot fudge is a simple topping that never disappoints. You can make your own fudge sauce for this recipe if you want to as well.
Whipped Cream – You can pick up a can of whipped cream at the store, or make up your own using heavy whipping cream.
Chopped Nuts – Choose salted peanuts to add another layer of flavor to your hot fudge sundaes.
Rainbow Sprinkles – Is ice cream even good without rainbow sprinkles? Seriously though, I love these on all ice cream desserts.
Maraschino Cherries – With a cherry on top: it's the only way. I like to buy cherries with the stems still on.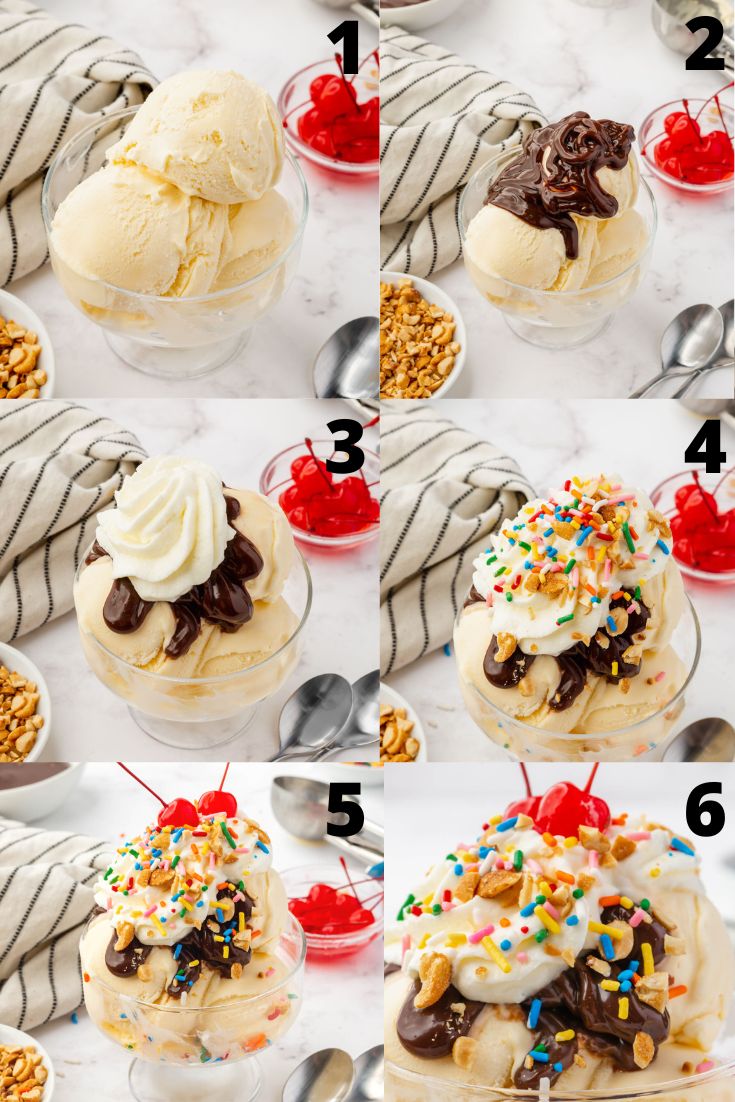 How to Make a Hot Fudge Sundae
I'm giving your step by step instructions below, but don't stress! Making the perfect hot fudge sundae is as simple as adding toppings to a bowl of ice cream.
Add 2-3 scoops of vanilla ice cream to your bowl.
Drizzle the ice cream with hot fudge. You can warm the fudge, or use it at room temperature.
Top your sundae with whipped cream.
Then sprinkle with chopped nuts and colorful sprinkles.
Top with a maraschino cherry (or two!)
Enjoy immediately.
These numbered steps match the numbered photos above and are for illustration purposes. For the complete list of ingredients and instructions, including the amounts needed, please see the recipe below.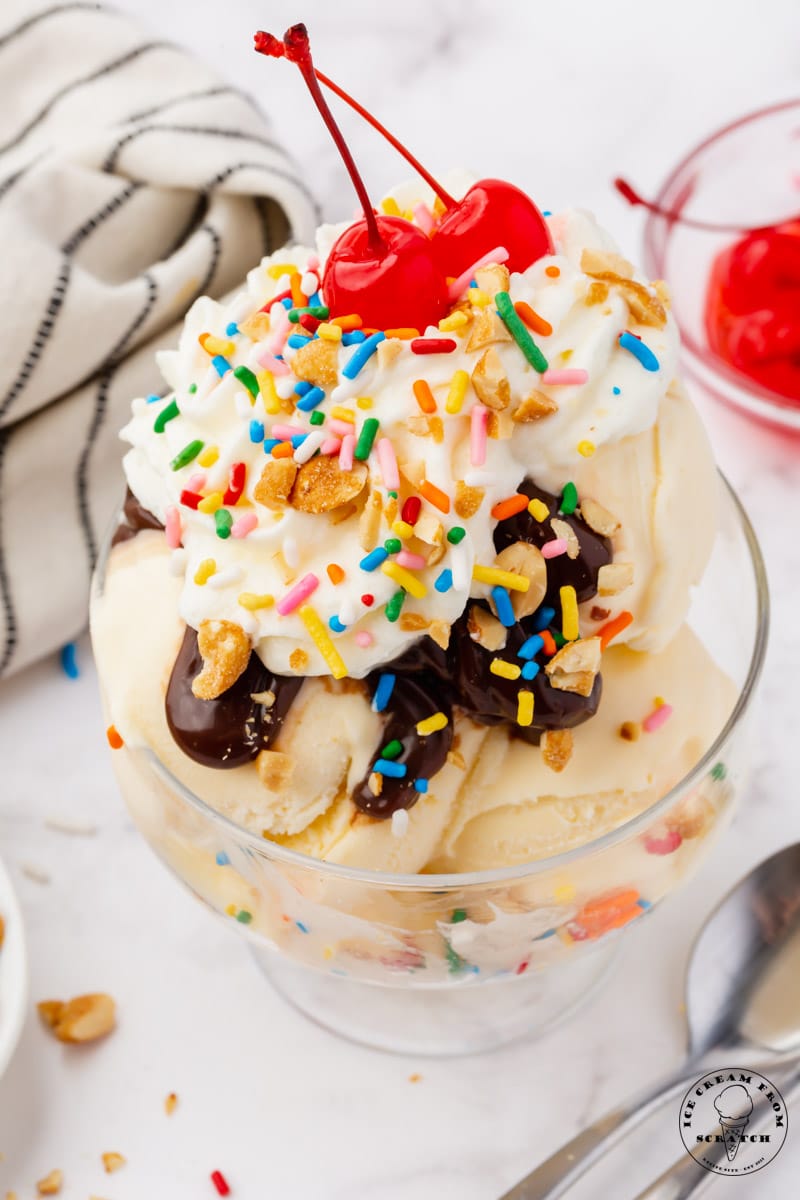 The Best Hot Fudge Sundae Topping
There are many delicious hot fudge sundae toppings available at your local grocery store. It's nice to have choices, and I know you'll be able to find one that you love. Try these brands if you aren't sure where to start:
Smucker's, Hershey's, Ghirardelli, or Mrs. Richardsons.
Ghirardelli and Smuckers come in plastic bottles that you can squeeze, which makes them very convenient for making a sundae without much fuss.
Tips for Making Amazing Hot Fudge Sundaes
Keep the ice cream in the freezer. While you're getting ready to make ice cream sundaes, be sure to keep your ice cream in the freezer until the very last minute. If you pull it out first, it will get too soft while you prepare the other sundae toppings.
Be sure to drizzle! When you're adding hot fudge to an ice cream sundae, use a spoon or even a piping bag to drizzle the syrup over the ice cream. You want some of that sauce in every bite! If you like extra fudge on your sundae, you can drizzle fudge on the inside of the glass as well.
You can heat the fudge, but you don't need to. At room temperature, most hot fudge sauce will be easily pourable.
Get creative with Sundae bowls. You don't need fancy dessert dishes to make fun ice cream sundaes. Try making them in a coffee mug, pint glass, or a regular cereal bowl.
Embrace variety. The fun part about making your own ice cream sundaes is experimenting with new flavor combinations. Check out the list of hot fudge sundae toppings below and try something new.
Don't forget the whipped cream. Freshly whipped cream is the best, but you can also buy canned whipped cream at the store.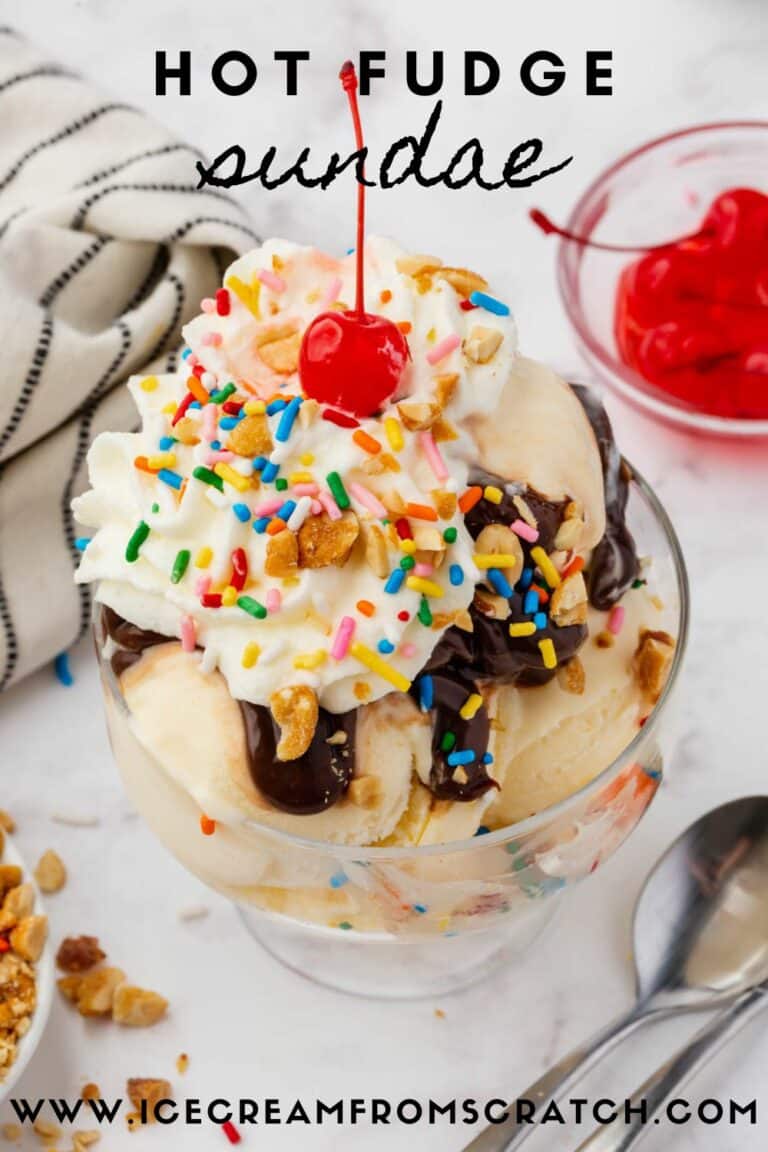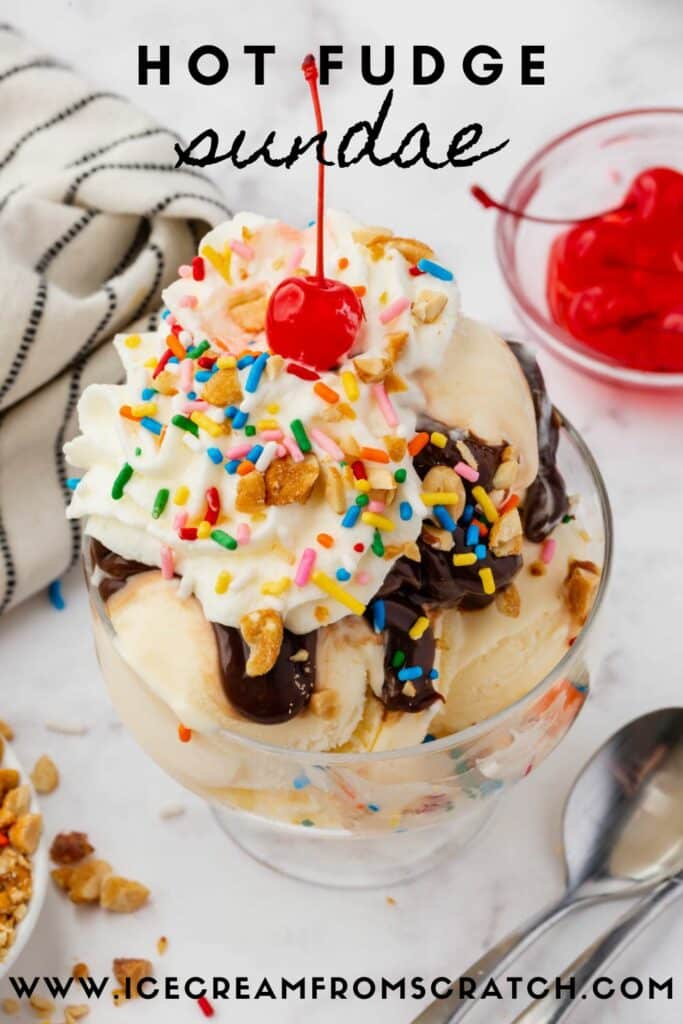 How Should I Heat Up Hot Fudge Sauce
There are a few ways to heat up that jar of hot fudge sauce that you need for this recipe.
First, I suggest reading the instructions on the back of the jar. Some brands may recommend that you use a certain method, and if so, do what is recommended.
Microwave: Remove the amount of hot fudge that you need from the jar, and transfer it to a microwave-safe bowl. Set the microwave to 50% power, and cook for 15 seconds, then stir. Repeat this process until the fudge is ready.
Some brands may recommend putting the jar directly in the microwave. I'd only do this if you plan to use the whole jar. Other brands will specifically tell you not to put the jar in the microwave.
Stovetop: Warming hot fudge on the stove requires a double boiler, or a glass bowl set over a small pot of simmering water (but not touching). Stir the fudge sauce constantly until it's warmed and pourable.
Is a Hot Fudge Sundae Gluten Free?
If you choose ice cream and toppings that don't contain gluten, then yes, your hot fudge sundae can be gluten-free!
When ordering a hot fudge sundae at a restaurant, you will need to double-check the ingredients for the hot fudge that they are using. While many brands of hot fudge are gluten-free, it isn't true for all.
Smucker's brand hot fudge is considered gluten-free, and Dairy Queen also serves gluten-free fudge.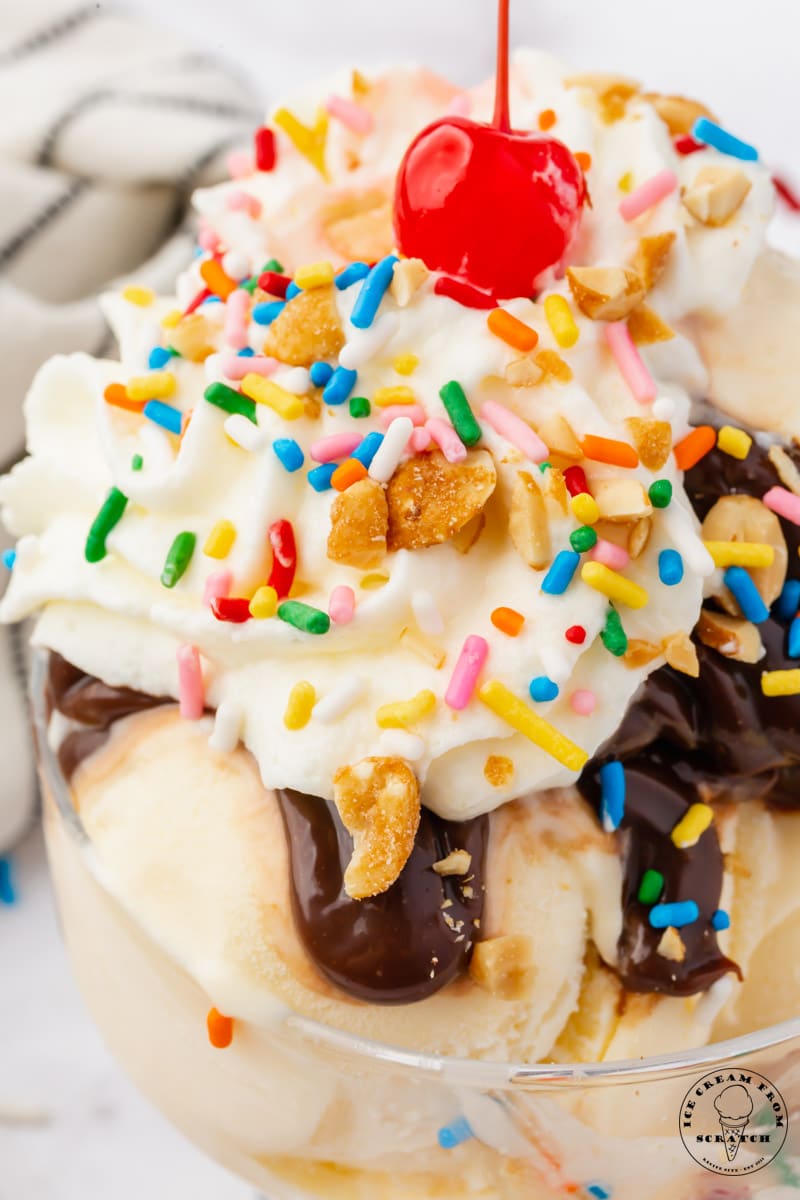 Hot Fudge Sundae Toppings
A classic hot fudge sundae is topped with chopped nuts, whipped cream, and a cherry on top, but that doesn't mean you can't add other things!
Other Syrups and Sauces: caramel, butterscotch, marshmallow sauce, melted peanut butter.
Nuts: Instead of salted peanuts, try cashews, pecans, almonds, or walnuts.
Crunchy Toppings: crushed Oreos or other cookies, sweet crunchy cereals like Cocoa Puffs, or Cinnamon Toast Crunch.
Chocolate: chocolate chips in any variety, chopped candy bars such as Snickers, Heath Bars, or Kit Kats.
Looking for another sundae recipe, try this turtle sundae next.
More Homemade Ice Cream Recipes
Pick up your favorite ice cream from the store, or make a batch of homemade ice cream using one of our recipes, then turn it into one of these delicious desserts:
Be sure to check out our Ice Cream Sundae post. It includes directions for setting up an ice cream sundae bar for a group. You could also make a brownie sundae. Sundaes are great at parties!
Our Favorite Ice Cream Making Tools:
LET'S GET SOCIAL, you can follow us on Pinterest or leave a comment below if you have any questions.
Did you make this Homemade Hot Fudge Sundae? Leave a Comment Below letting us know what you thought and if you added any additional add-ins.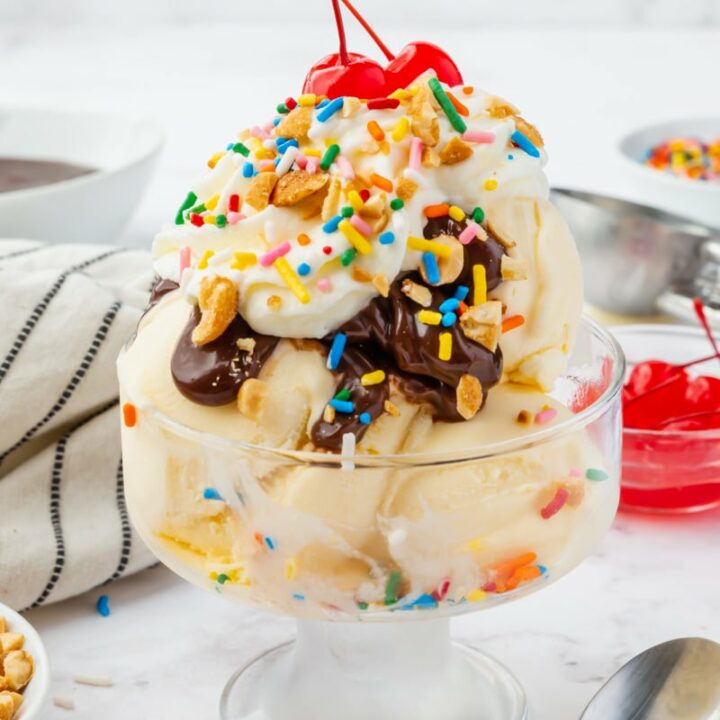 Hot Fudge Sundae
A classic Hot Fudge Sundae made with creamy vanilla ice cream, and warm, gooey fudge sauce, topped with nuts, sprinkles, whipped cream and a cherry.
Ingredients
2-3 scoops vanilla ice cream
2 tablespoons hot fudge
¼ cup whipped cream
1 tablespoon salted nuts, roughly chopped
1 tablespoon rainbow sprinkles
1-2 maraschino cherries
Instructions
Place 2-3 scoops of vanilla ice cream into the glass.
Drizzle the ice cream with hot fudge.
Top with whipped cream.
Sprinkle with chopped nuts and sprinkles.
Top with a maraschino cherry.
Serve immediately.
Notes
Keep the ice cream in the freezer until just before ready to scoop. You do not want the ice cream to melt too quickly under the hot fudge. I like to gather all of my toppings before removing the ice cream from the freezer. 
You can use a piping bag or a spoon to drizzle the hot fudge over the bowl. 
Fresh whipped cream is best, but you can also use store bought. 
The amounts listed in the recipe card are just suggestions, use as much or as little of the toppings as you prefer!
Nutrition Information:
Yield:

1
Serving Size:

1
Amount Per Serving:
Calories:

831
Total Fat:

47g
Saturated Fat:

20g
Trans Fat:

0g
Unsaturated Fat:

25g
Cholesterol:

99mg
Sodium:

369mg
Carbohydrates:

91g
Fiber:

5g
Sugar:

67g
Protein:

15g