An easy homemade Brownie Sundae is a fun dessert with classic flavors and toppings.
What could be better than a thick, fudgy brownie topped with vanilla ice cream, fudge and caramel sauces, nuts, sprinkles, and whipped cream? I'm not sure!
Make up a batch of your favorite homemade ice cream for this recipe, or simply use some you picked up at the store.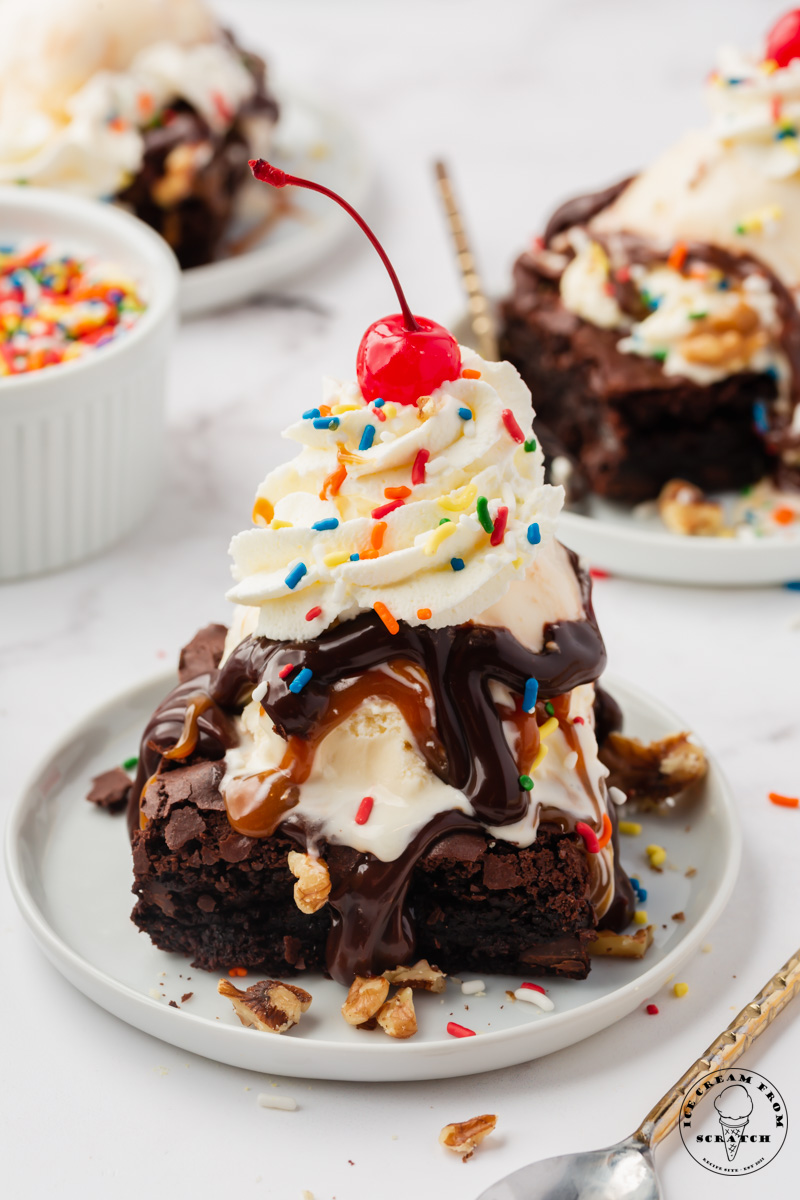 These instructions for how to make a brownie sundae are pretty simple, it's basically a brownie and ice cream, in a delicious combo.
After all, an ice cream sundae is really just a scoop or two of ice cream, made better by the addition of multiple sweet toppings. And with hot fudge, it's a delicious hot fudge sundae. If you love caramel, you'll want to try a caramel sundae next.
A brownie sundae takes the sundae concept one step further, and adds a base layer of my favorite baked treat!
Why You're Going to Love this Brownie Sundae Recipe
You'll save money by making brownie sundaes at home instead of heading to the scoop shop. A gourmet sundae like this one could cost $10 or more! You can make this recipe for much, much less than you'd spend on a Dairy Queen brownie sundae or a Baskin Robbins brownie sundae.
Make just one, or serve a crowd. This easy recipe can be scaled up or down to make as many hot fudge brownie sundaes as you need.
Sundaes are a quick and easy dessert! This recipe starts with brownies and ice cream that you buy at the store or have made ahead of time. It takes about 5 minutes to put everything together.
Let the kids help you make the sundaes. Making brownies and ice cream at home, and putting together these brownie sundaes are really fun ways to spend quality time in the kitchen with your family.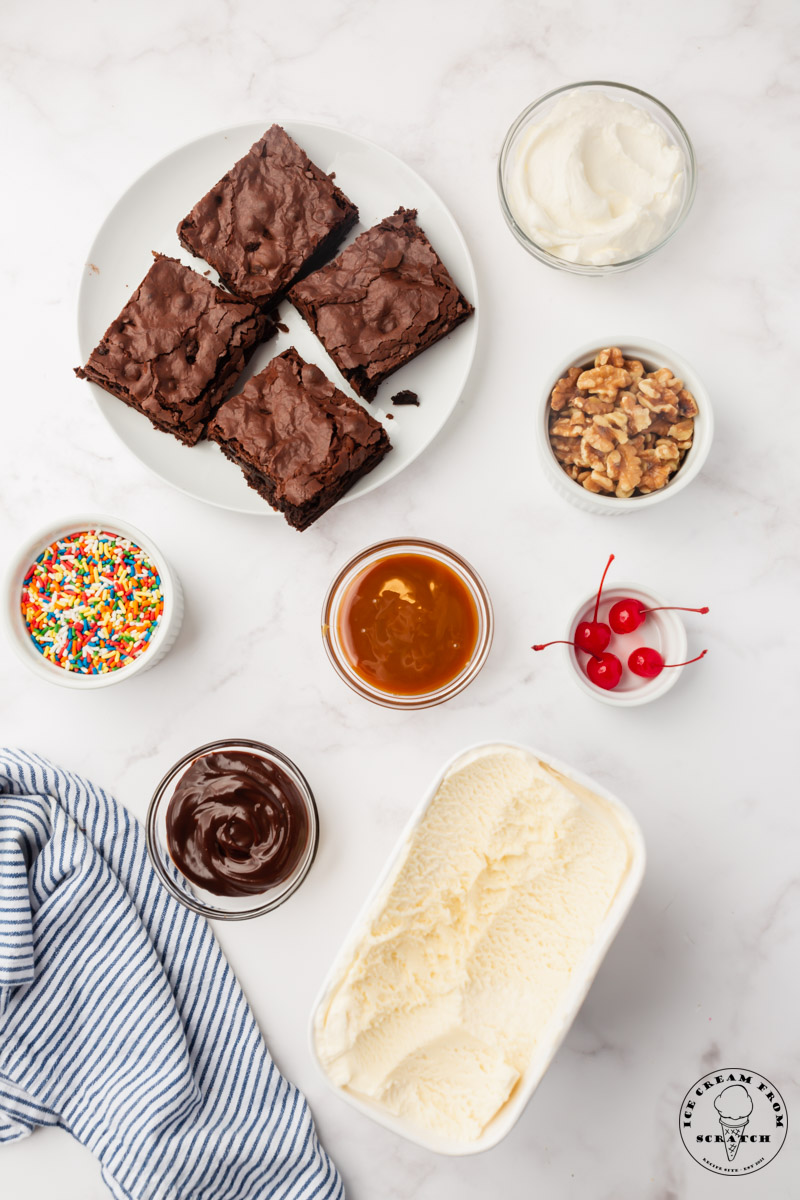 Ingredients in Homemade Brownie Sundaes
Brownies – For Sundaes, I like to use big, thick brownies that are a bit on the chewy side. You can make them at home, or pick them up from your favorite bakery.
Vanilla Ice Cream – Vanilla is just delicious paired with a rich, chocolatey brownie. That said, you can feel free to use other ice cream flavors in this sundae too.
Hot Fudge – Store-bought or homemade hot fudge sauce is just the first of our brownie sundae toppings.
Caramel Sauce – I find it very simple to buy this at the store, but if you have a recipe that you like for caramel ice cream sauce, by all means, use it!
Whipped Cream – You can pick up a can of whipped cream at the store, or make up your own using heavy whipping cream.
Chopped Nuts – I enjoy walnuts, but peanuts, almonds, or any other chopped nuts can be used instead.
Rainbow Sprinkles – I would put rainbow sprinkles on everything if it was a normal thing to do! You can of course leave the sprinkles out if you aren't as attached to them as I am. Overall, they make this sundae super fun and colorful.
Maraschino Cherries – With a cherry on top: it's the only way. I like to buy the cherries with the stems still on.
Or use your favorite ice cream toppings. For a next level brownie sundae, use Reese's Peanut Butter Cup Brownies in place of the regular brownie.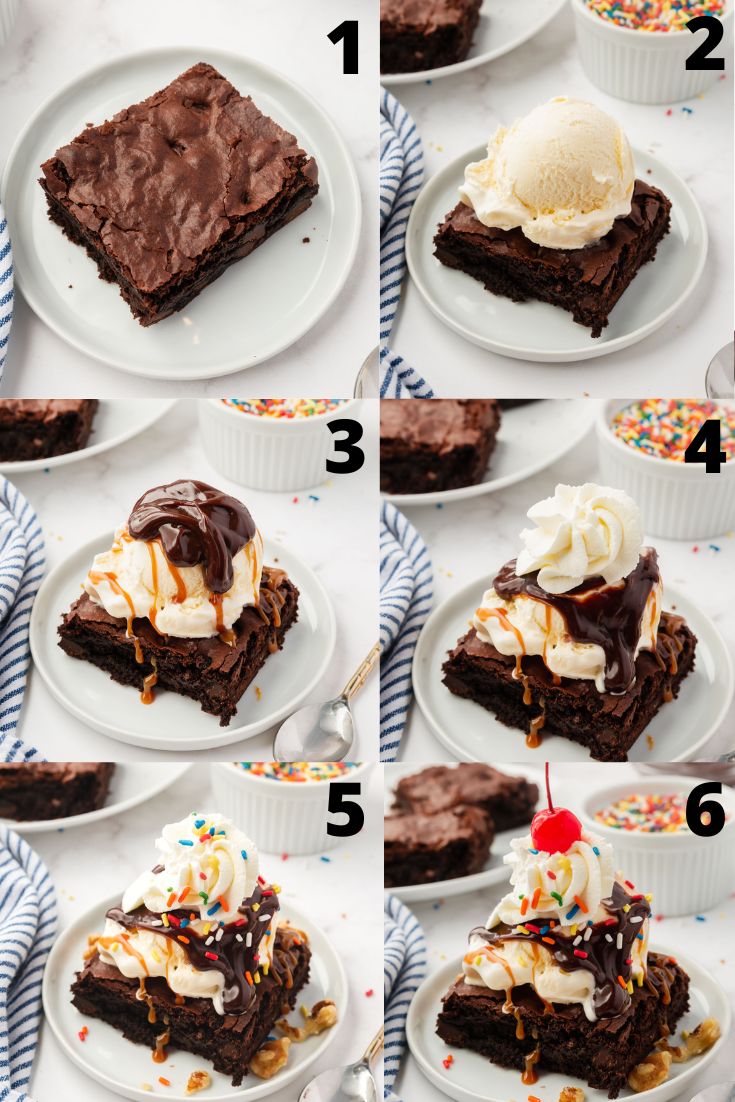 How to Make a Brownie Sundae
It's really very easy to make this sundae with a brownie. Just add the ingredients in the order listed!
Start by adding a brownie to each of four serving plates or bowls.
Top the brownies with a scoop of vanilla ice cream.
Drizzle about a tablespoon of hot fudge over the ice cream. Then drizzle a tablespoon of caramel sauce.
Add whipped cream on top. I used a piping bag to make a pretty swirl, but you can just spoon it on if you prefer.
Add chopped nuts and rainbow sprinkles on top of and around the sundae.
Finish with a maraschino cherry on top, and enjoy!
These numbered steps match the numbered photos above and are for illustration purposes. For the complete list of ingredients and instructions, please see the recipe below.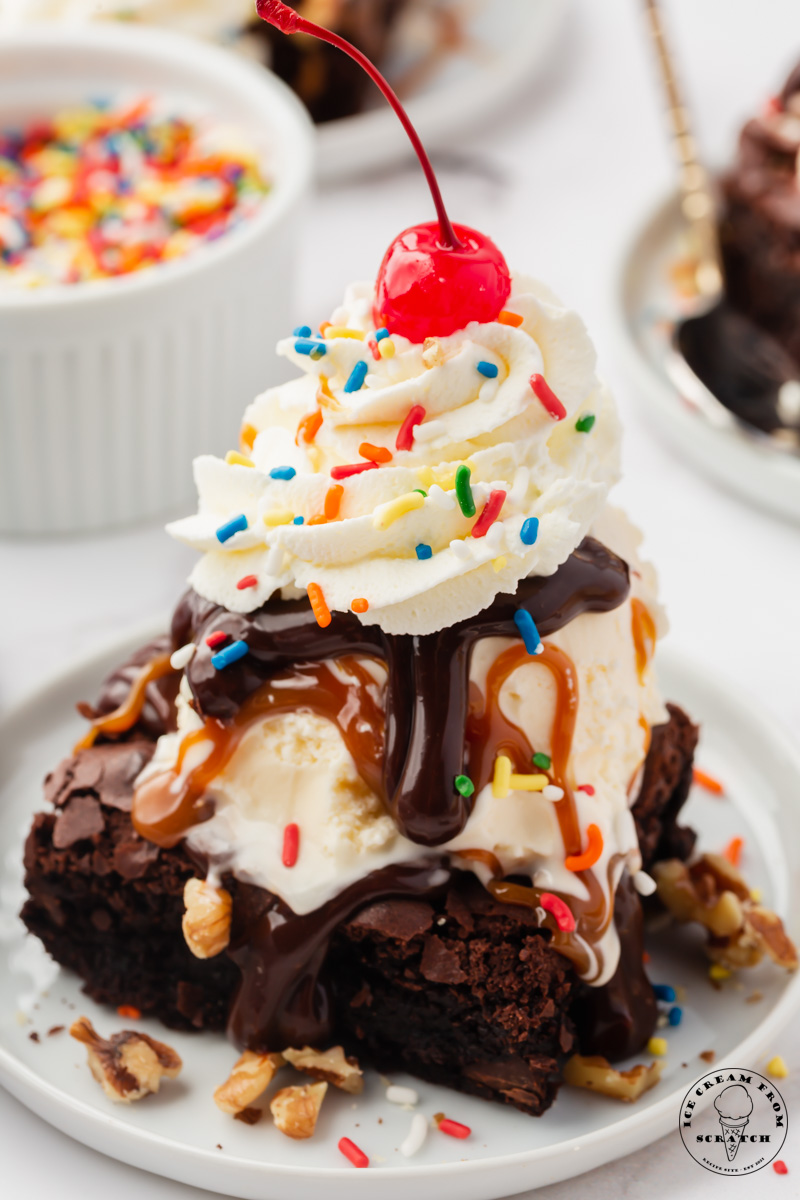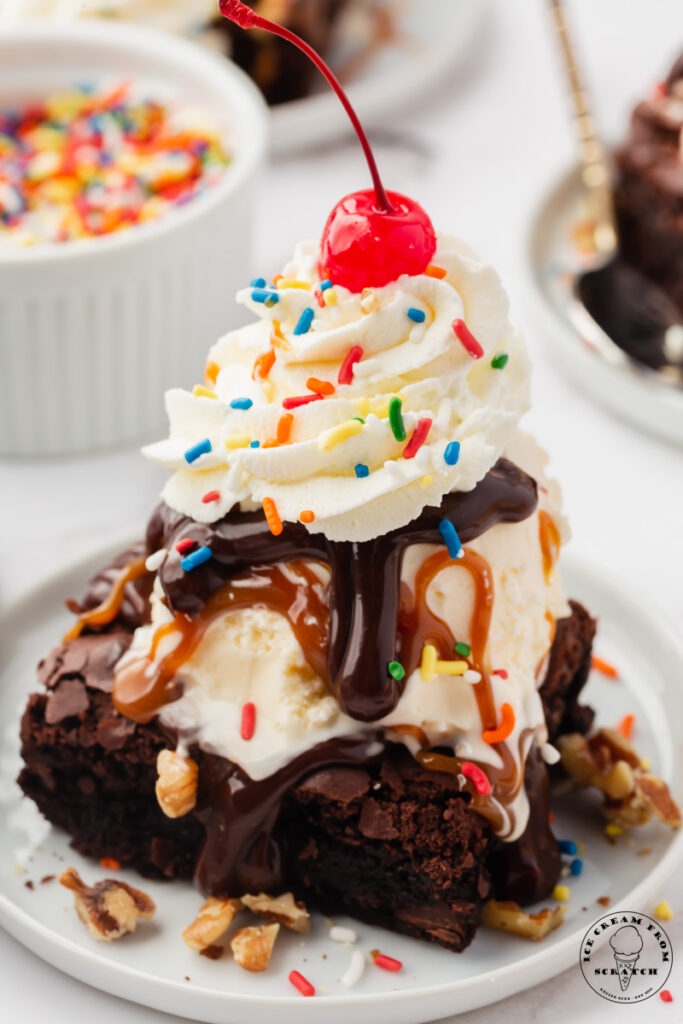 Tips for Making This Hot Fudge Brownie Sundae
Use quality ingredients – When making homemade ice cream sundaes, you'll want to make sure you are using high-quality ingredients for the best outcome.
Chill out – Keep your ice cream frozen until just before you're ready to assemble and serve your ice cream sundaes. Gather all of the ingredients first, and then pull it out to scoop.
Use your favorite brownies – Homemade brownies are great, and so are ones you picked up at the store. If you need a gluten free brownie recipe, make these. These Toblerone Brownies are also delicious.
Warm the Brownie – This is not required, but you can warm up the brownies before making the sundaes. The contrast between the warm brownie and the cool ice cream is lovely. Just be sure the brownies aren't too hot, or the ice cream will melt too quickly.
For the Hot Fudge and Caramel – You can warm these up as well, or use them straight from the jar. It's up to you. Warm ice cream sauces are generally easier to drizzle. Follow the instructions on the packaging or read my tips below to learn the best way to heat them. Some can go in the microwave, and others should not!
How Do You Eat Brownies with Ice Cream
Of course, I think that the best way to eat brownies with ice cream is to put them together to make a big brownie sundae.
If you are feeling like you'd rather not create this masterpiece right now, you can also just add pieces of a brownie to a bowl of vanilla ice cream and call it dessert. This is a totally acceptable way to eat two desserts at once, and don't you dare think otherwise!
When you make your own homemade vanilla ice cream you can add brownie pieces right into the ice cream machine along with any other add-ins you like.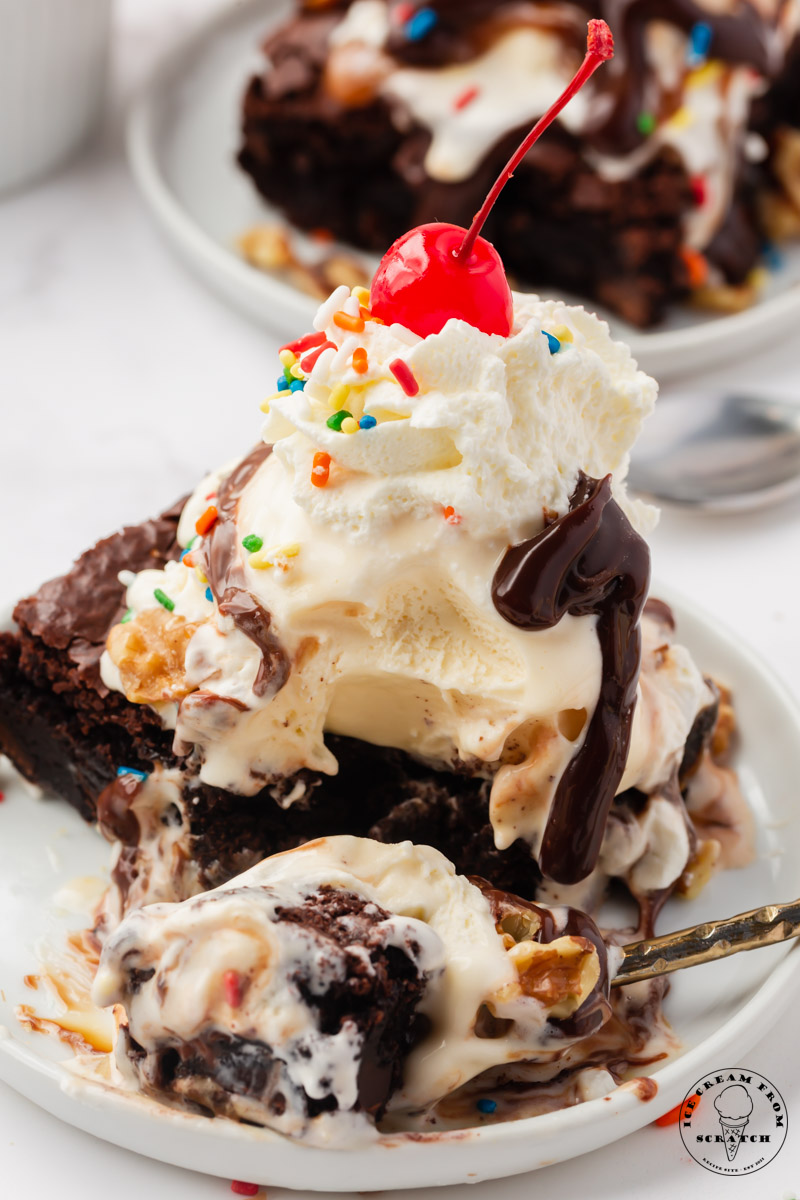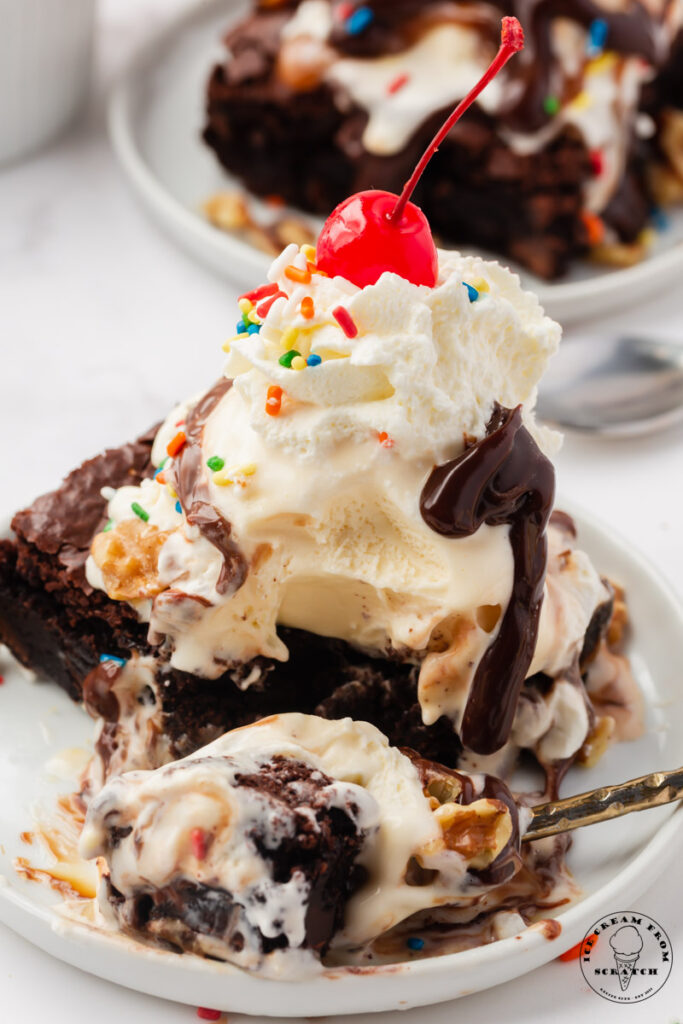 Brownie Sundae Variations
Just like any ice cream sundae recipe you'll find here, there is no "right" way to make it.
Add anything you like to this sundae to make it perfect for you, or to give it a gourmet twist.
Use different ice cream flavors. Try a brownie sundae with raspberry ice cream or peanut butter ice cream if you want to enjoy an amazing flavor experience. Mint chocolate chip ice cream and cookie dough ice cream are also great choices.
Try more sundae toppings. Peanut butter sauce, strawberry syrup, fresh berries, candy bar pieces, Oreo crumbs, gummy worms, and pretzels are just the beginning of my ideas! The possibilities here are truly endless.
Replace the brownies. Try this sundae with freshly baked chocolate chip cookies, blondies, brookies, or any type of dessert bar.
How Should I Heat Up Hot Fudge Sauce?
There are a few ways to heat up that jar of hot fudge sauce that you need for this recipe.
First, I suggest reading the instructions on the back of the jar. Some brands may recommend that you use a certain method, and if so, do what is recommended.
Microwave: Remove the amount of hot fudge that you need from the jar, and transfer it to a microwave-safe bowl. Set the microwave to 50% power, and cook for 15 seconds, then stir. Repeat this process until the fudge is ready.
Some brands may recommend putting the jar directly in the microwave. I'd only do this if you plan to use the whole jar. Other brands will specifically tell you not to put the jar in the microwave.
Stovetop: Warming hot fudge on the stove requires a double boiler, or a glass bowl set over a small pot of simmering water (but not touching). Stir the fudge sauce constantly until it's warmed and pourable.
Are Brownies Best Served Hot or Cold?
The brownies in these brownie sundaes are delicious no matter if they are warmed up first or served cold.
A warm brownie is extra gooey and will melt the ice cream quickly. This is a good option, so long as you are going to dig into your brownie sundae right away.
You can warm up brownies in the microwave for 10-30 seconds. Don't cook them for too long, or serve them too hot.
Cold or room temperature brownies give you the benefit of making the sundae easier and quicker to put together. Simply toss a brownie in your sundae dish and get started!
More Homemade Ice Cream Desserts
Check out all of our easy recipes for the best ice cream desserts:
Our Favorite Ice Cream Making Tools:
Note: Each of these links will take you to the exact product on Amazon. As an Amazon associate, I earn a little from each qualifying purchase.
LET'S GET SOCIAL, you can follow us on Pinterest or leave a comment below if you have any questions.
Did you make this Homemade Brownie Sundae Recipe? Leave a Comment Below letting us know what you thought and if you added any additional add-ins.
Yield: 4 servings
Brownie Sundae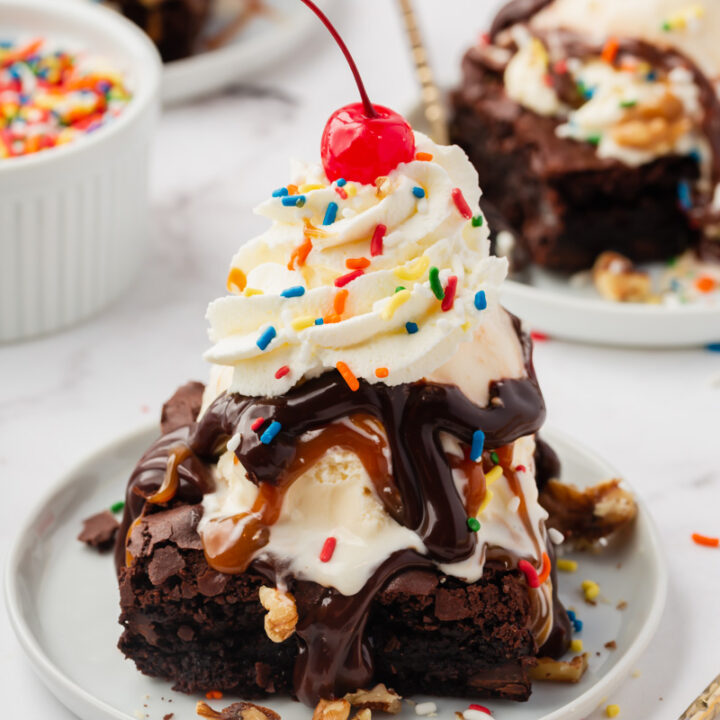 An easy homemade Brownie Sundae is a fun and classic dessert topped with hot fudge and caramel, plus nuts, sprinkles, and a cherry on top.
Ingredients
4 brownies, store-bought or homemade
¼ cup hot fudge
¼ cup caramel sauce
1/2 cup whipped cream, store-bought or homemade
¼ cup walnuts, or other nuts, roughly chopped
¼ cup rainbow sprinkles
4 maraschino cherries
Instructions
Purchase or make brownies.
Place one brownie on each of four dessert plates or in sundae glasses.
Top the brownies with a scoop of vanilla ice cream.
Drizzle hot fudge and caramel sauce over the ice cream, dividing the sauces evenly among each plate.
Dollop whipped cream on top of the ice cream. Sprinkle with chopped nuts and rainbow sprinkles, and garnish with a maraschino cherry.
Serve immediately.
Notes
Keep the ice cream in the freezer until just before ready to scoop. You do not want the ice cream to melt too quickly. I like to gather all of my toppings before removing the ice cream from the freezer. 
You can easily adapt this recipe to make more or less than four servings. A single serving is made from 1 brownie, one scoop of ice cream, and a tablespoon each of fudge and caramel sauce.
You can use store-bought or homemade brownies for this recipe. You can also make gluten free brownies to use for your sundaes.
If desired, you can gently warm the brownie and heat the ice cream sauces before assembling the sundaes. Keep in mind that adding warm things to ice cream will cause it to melt quickly.
Feel free to add or adjust any of the ingredients here. Try other ice cream flavors or add your favorite toppings.
Nutrition Information:
Yield:
4
Serving Size:
1
Amount Per Serving:
Calories:

651
Total Fat:

36g
Saturated Fat:

11g
Trans Fat:

0g
Unsaturated Fat:

23g
Cholesterol:

71mg
Sodium:

380mg
Carbohydrates:

77g
Fiber:

2g
Sugar:

41g
Protein:

9g