The rich flavor and gooey texture of this homemade Hot Fudge Sauce recipe make it the perfect complement to all of your favorite ice cream flavors!
While hot fudge is a requirement for ice cream sundaes, you'll find that you will never run out of other ways to use this silky, fudgy sauce. It's amazing on cakes, brownies, pancakes, and more!
This hot fudge sauce recipe is gluten-free, nut free, and ready in just minutes.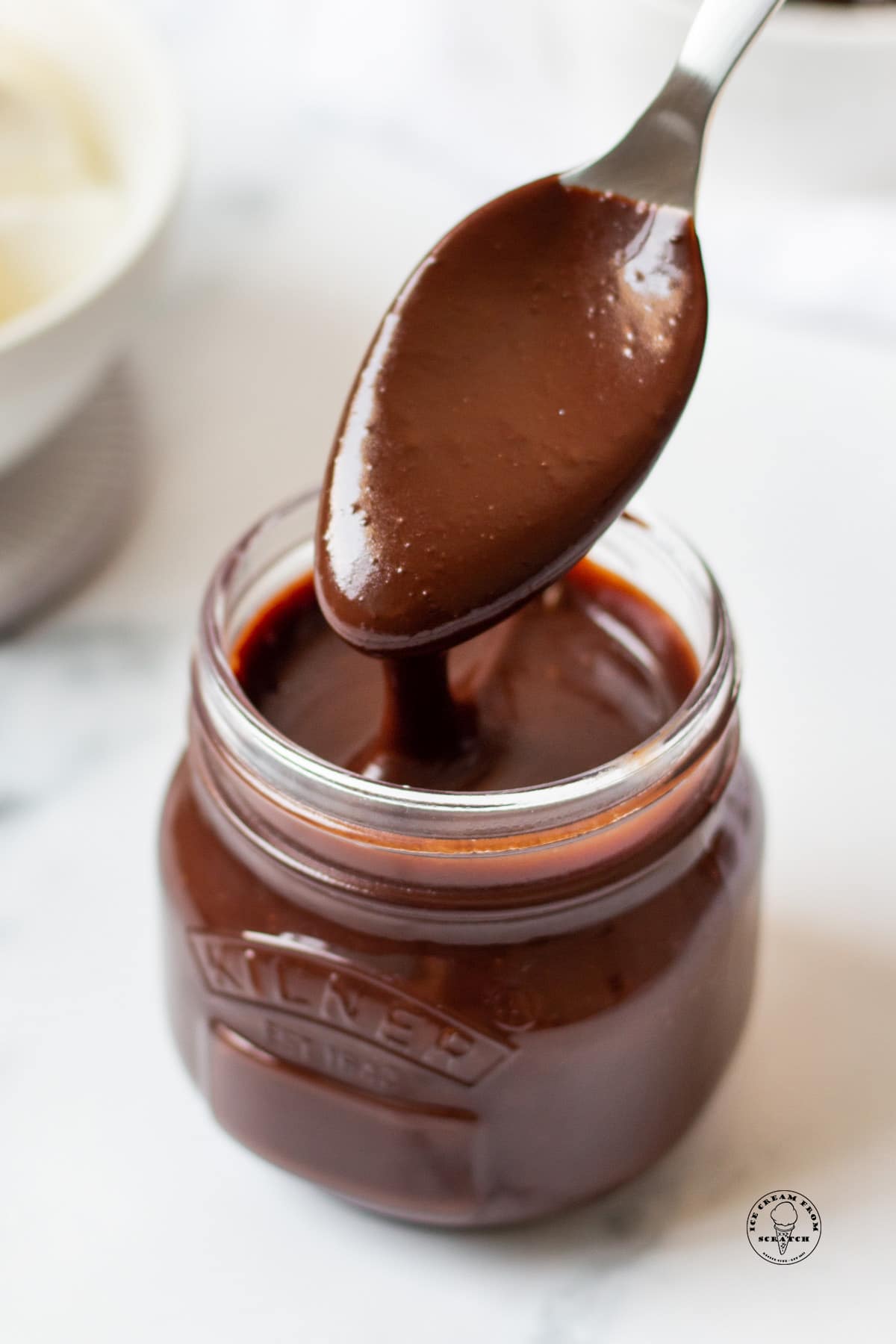 Hot Fudge Sundaes, Brownie Sundaes, and so many other types of ice cream sundaes require a heavy-handed drizzle of this thick, decadent, fudgy, and sweet hot fudge sauce.
You can swirl hot fudge into your homemade ice cream recipes, or spread it on ice cream cake. Hot fudge is truly welcome anywhere that ice cream is!
If you are the ice cream lover I think you are, you'll be happy to know that it's very easy to make hot fudge from scratch, and it only takes a few minutes! Let's go!
What's The Difference Between Hot Fudge and Chocolate Sauce?
Both are chocolate ice cream toppings, but only one is thick and gooey!
You'll see us referencing both hot fudge sauce and chocolate sauce in different recipes here, so it's helpful to understand the difference.
Sometimes chocolate sauce (think, chocolate syrup in a squeeze bottle) is the best choice, like in a chocolate milkshake, or drizzled over a serving of fried ice cream or a freshly pulled affogato.
Other times, you'll want the thickness and heavenly texture of hot fudge sauce, especially if you're making a brownie sundae, an ice cream pie, or swirling hot fudge into ice cream as we do in homemade Choco Tacos.
Why You're Going to Love this Hot Fudge Sauce Recipe
Minimal Ingredients – Sugar, cocoa, butter, and cream, plus a bit of vanilla extract. Open up the fridge, you probably already have the ingredients on hand!
Better than Store Bought – in more ways than one! First, making your own hot fudge sauce will save you money. This recipe makes as much sauce as three little jars from the store. Second, everything tastes better when you make it from scratch.
5-Minute Ice Cream Topping Recipe – It only takes a few minutes (between 5 and 10)to heat up these ingredients into the perfect fudge sauce. You can be ready to make the best hot fudge sundaes without any extra prep time.
Easy to Make Ahead – Homemade fudge sauce will keep in the fridge for up to two weeks. Pull it out when you need a chocolate fix.
A Large Batch – You'll get almost three cups of fudge from this recipe! You can also easily double this recipe so that you have enough to last your family for the whole two-week period! There's nothing worse than opening the fridge to realize that you're out of hot fudge.
If you're looking for a delicious and unique ice cream topping, go get our recipe for caramelized bananas next.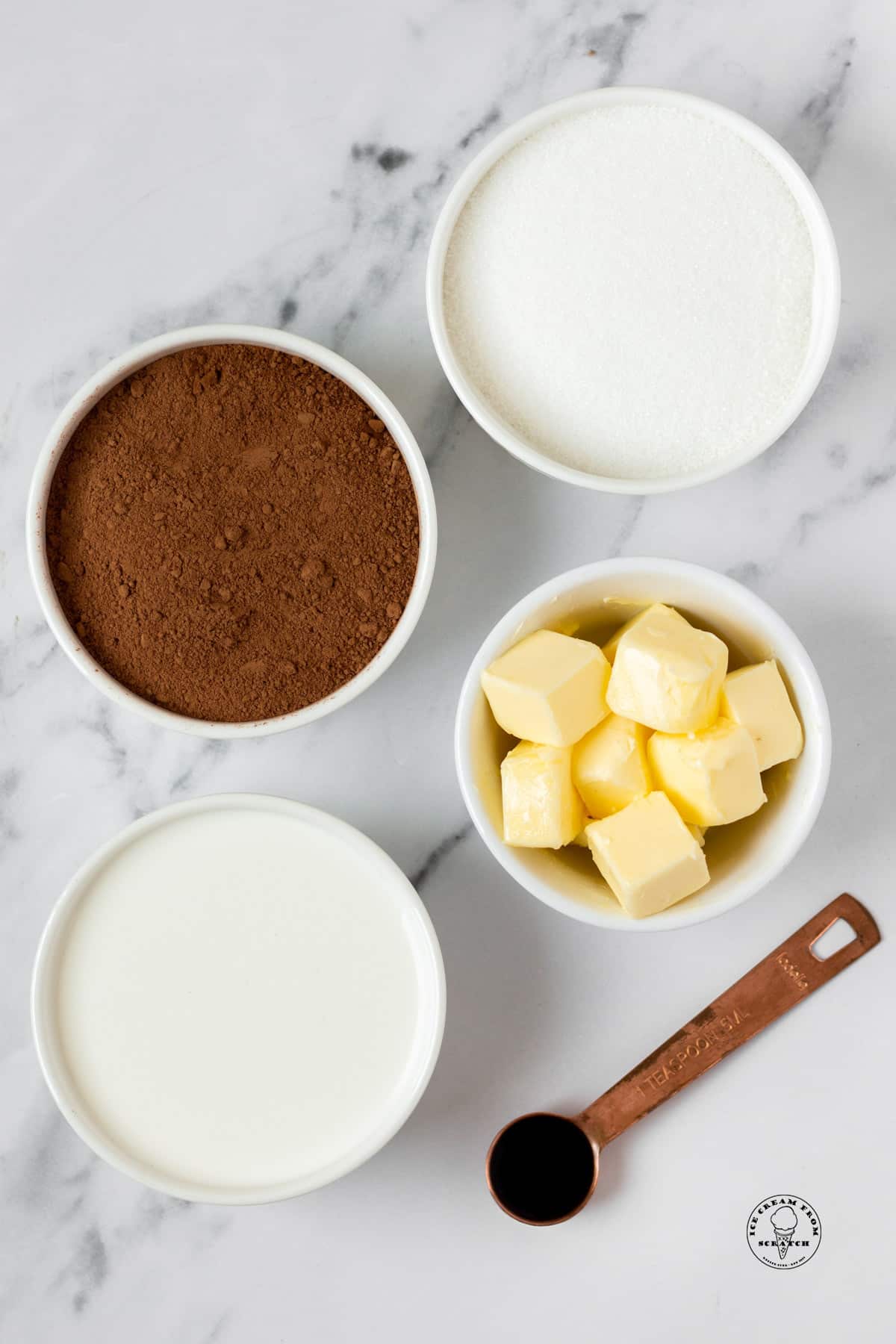 Ingredients in Homemade Hot Fudge Sauce
Sugar – Granulated sugar is my preferred sweetener for hot fudge sauce. This hot fudge has the perfect amount of sweetness.
Heavy Cream – This is what makes this sauce thicken, so I do not suggest substituting it with anything else.
Cocoa Powder – for the best chocolatey flavor, choose dark unsweetened cocoa powder. The better the quality of the cocoa powder, the better your hot fudge sauce will taste.
Salted Butter – Butter is a necessary ingredient because the fat keeps the cocoa suspended in the sauce. Without it, you'll have a clumpy mixture. I like salted butter because the salt enhances the richness of the chocolate. You can also use unsalted butter, just add a bit of salt too.
Vanilla Extract – Similarly to salt, vanilla makes chocolate taste better! I suggest using the best quality pure vanilla extract that you can reasonably afford. It's worth it, I promise.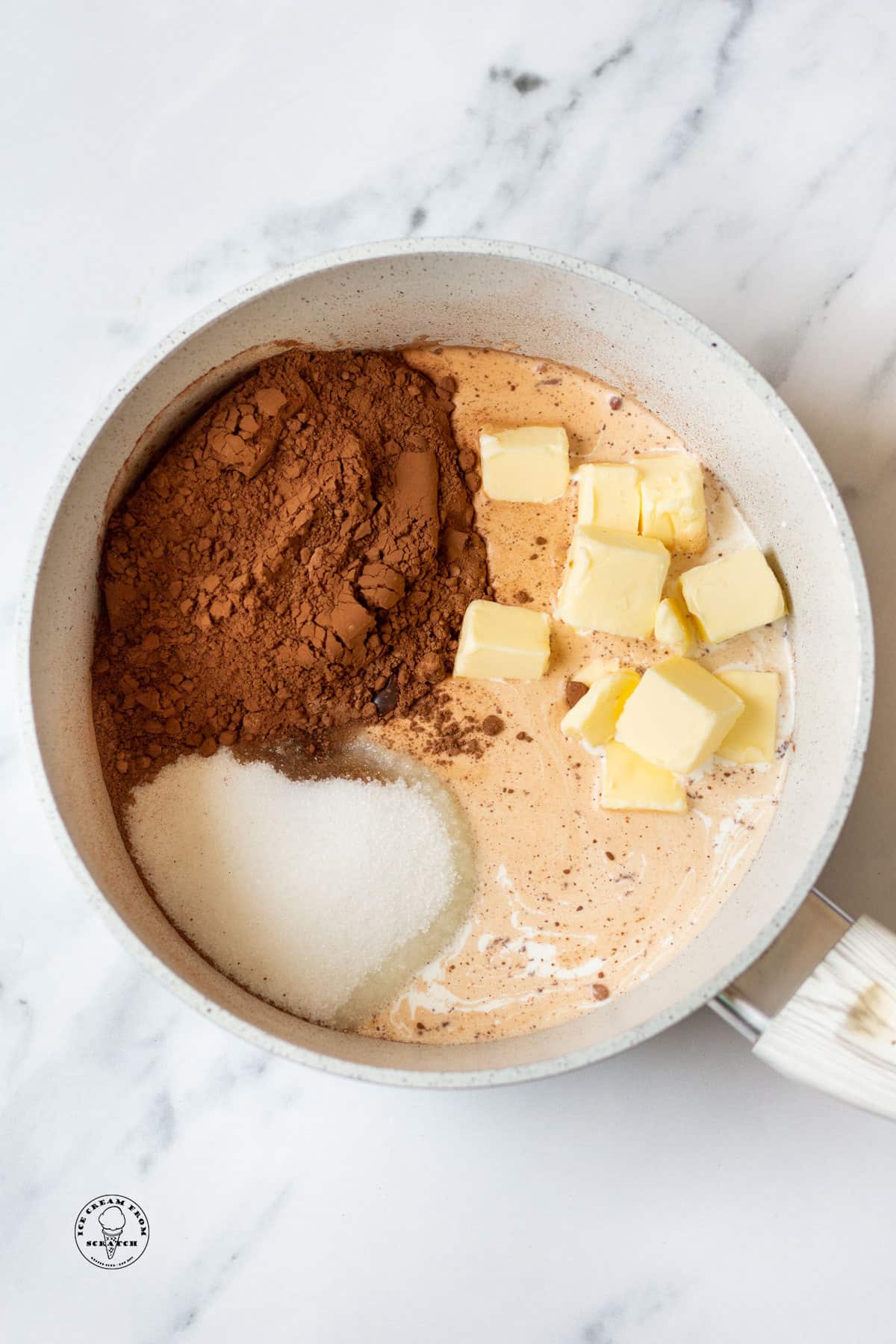 How to Make Hot Fudge from Scratch
This hot fudge sauce recipe is incredibly simple, just add the ingredients to the pan and heat them up!
Measure the sugar, heavy cream, cocoa powder, butter, and vanilla and add directly to a saucepan.
Heat over medium heat, stirring constantly until everything is melted and well combined. Do not overcook.
Serve warm, or allow to cool for storage.
For the complete list of ingredients and instructions, please see the recipe below.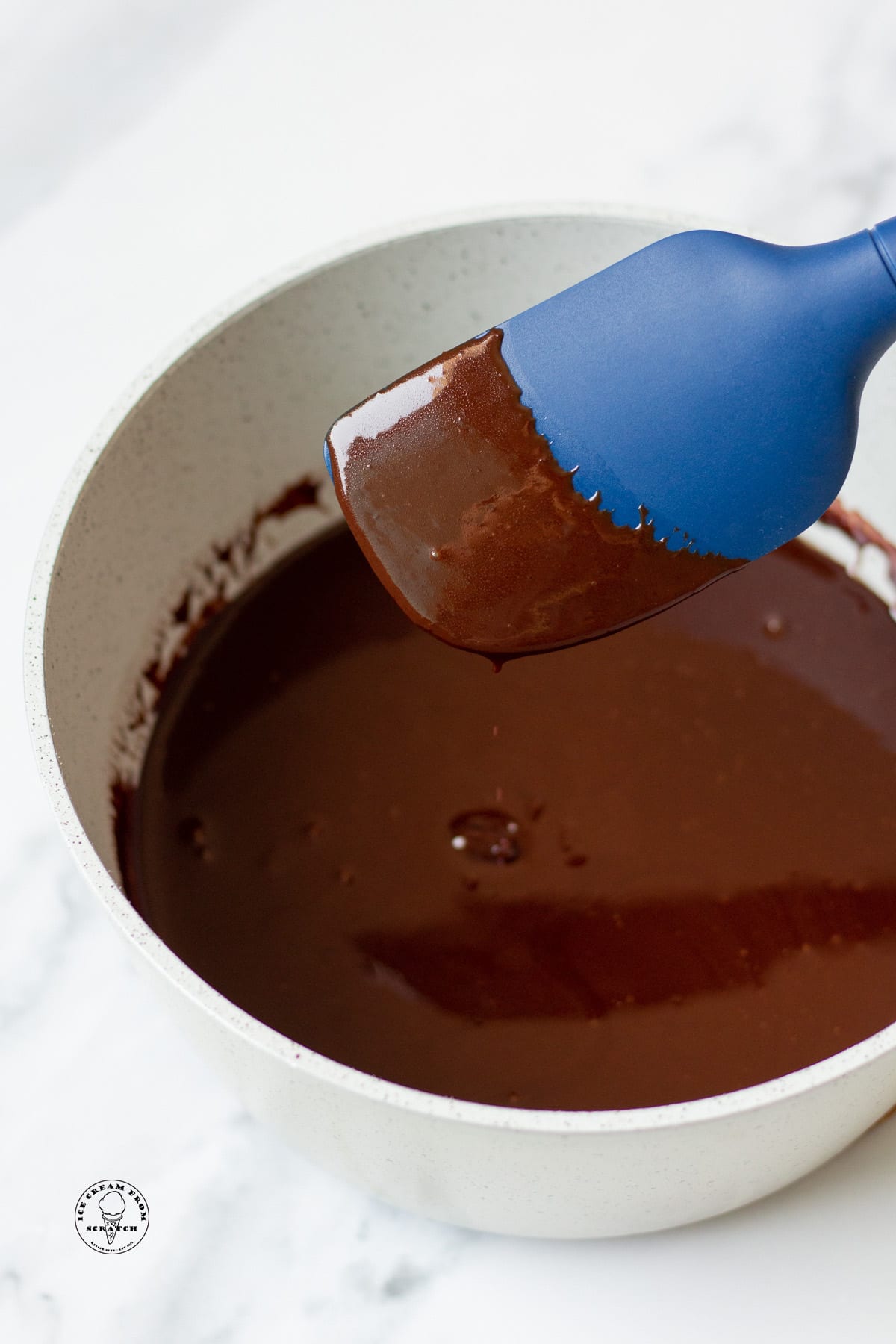 How to Store Homemade Hot Fudge
Homemade hot fudge sauce will last in the refrigerator for up to 2 weeks!
Let the sauce cool at room temperature before transferring it to a jar or other airtight container in the fridge.
How to Reheat Homemade Hot Fudge Sauce
The best way to reheat this homemade fudge sauce is on the stovetop.
Add the amount of fudge you need to a small saucepan, and heat on medium-low just until it's softened and warm.
I do NOT recommend using the microwave to reheat homemade hot fudge. The microwave can cause hot spots, graininess, and burning.
Tips for Making This Hot Fudge Recipe
Use quality ingredients – When making homemade ice cream toppings, you'll want to make sure you are using high-quality ingredients for the best outcome. Good quality cocoa powder, fresh butter, and pure vanilla extract are key.
Don't skimp on the fat – High-fat cream and butter are essential in this recipe. I don't recommend using substitutes.
Don't skimp on the sugar – You want hot fudge sauce to be sweet! The amount of sugar in this recipe is perfect.
Avoid Overcooking – Keep a close eye on the pan and stir it while it heats up. You don't need to boil the fudge, you only need to dissolve the sugar so that it forms a smooth sauce.
Can I Use Chocolate Chips instead of Cocoa Powder?
While you may find hot fudge sauce recipes that call for chocolate chips or melted chocolate, using them isn't your best option.
Solid chocolate needs to be tempered if you are going to successfully turn it into a silky sauce, and it's just not easy to do that right.
I use cocoa powder because hot fudge with cocoa powder doesn't need any special treatment, so you will have perfect hot fudge sauce every time.
Why is My Homemade Hot Fudge Grainy?
There are a few reasons that this might happen. The most common reason for grainy fudge sauce is that the sauce was overcooked. Remember, we aren't really cooking the sauce, we're only warming it gently to melt the butter and sugar.
Another reason for your sauce to be clumpy or grainy is that it cooled down too fast. Allow the fudge sauce to come to room temperature before putting it in the fridge for storage.
Sometimes you may start with perfect, creamy hot fudge, but notice that it's grainy after you've reheated it. Again, this can happen if the sauce is overcooked, so be sure that you are reheating hot fudge at a low temperature on the stove, only until it is warm again.
It's not really possible to fix a grainy hot fudge sauce once it's become grainy, so try to avoid it in the first place!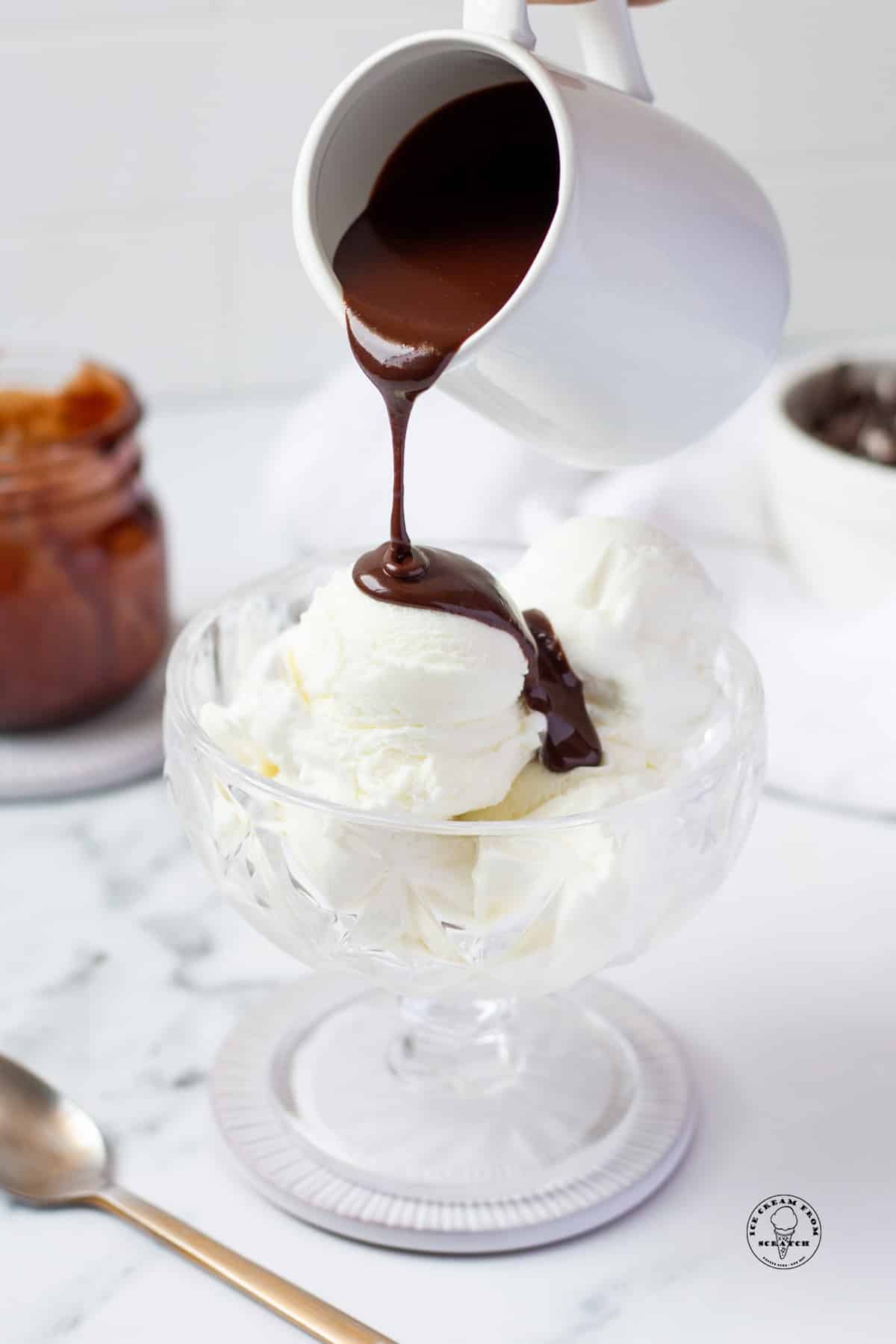 Hot Fudge Sauce Recipe Variations
If you're feeling creative, you can flavor your hot fudge sauce in different ways!
Natural Flavors: Try a natural flavoring like orange zest or cinnamon. Powdered freeze-dried berries can also be added to bring a fruity flavor.
Coffee: Instant espresso or coffee will deepen the flavor of the cocoa beautifully.
Flavor Extracts: In addition to the vanilla extract, any other alcohol-based extract can be added. Try caramel, almond, or peppermint extract.
Add heat! a pinch of chili powder goes a long way in a batch of homemade hot fudge and gives it a subtle spiciness that can be really delicious.
Adults only: add a tablespoon or so of your favorite liquer. (try Frangelico or rich red wine!) Alcohol brings out extra flavor notes from the cocoa, but since it won't be cooked out, avoid serving to anyone underage.
Homemade Ice Cream Recipes
These are all ice cream flavors that you can make at home in your ice cream maker, and they will all be delicious with a hot fudge topping:
You can also swirl hot fudge directly into any homemade ice cream recipe! Simply pour it into the loaf pan with the soft, just-churned ice cream. Swirl with a knife before freezing solid.
Our Favorite Ice Cream Making Tools:
Note: Each of these links will take you to the exact product on Amazon. As an Amazon associate, I earn a little from each qualifying purchase.
LET'S GET SOCIAL, you can follow us on Pinterest or leave a comment below if you have any questions.
Did you make this Homemade Hot Fudge Sauce Recipe? Leave a Comment Below letting us know what you thought and if you added any additional add-ins.
Yield: 12 servings (approximately 24 ounces total)
Hot Fudge Sauce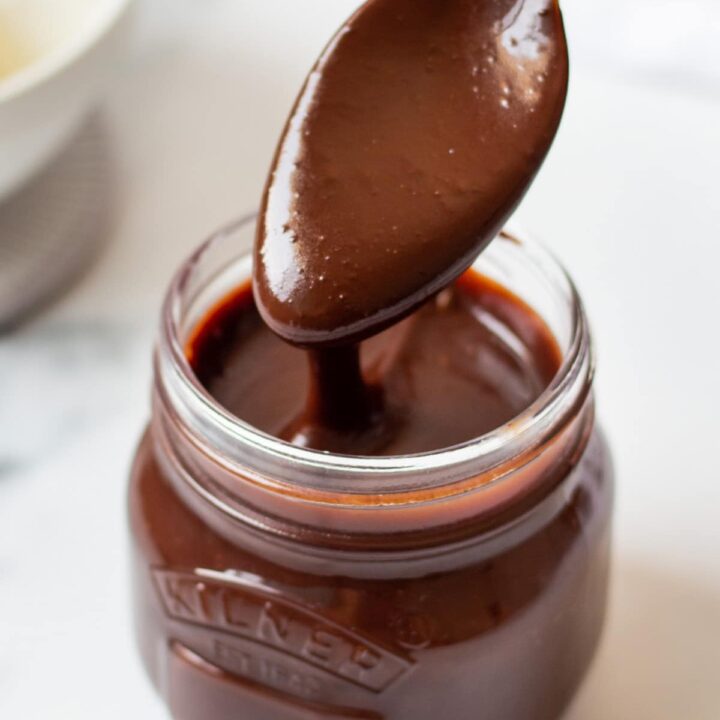 The rich flavor and smooth, gooey texture of this homemade Hot Fudge Sauce recipe make it the perfect complement to all of your favorite ice cream flavors.
Ingredients
1 cup sugar
1 cup heavy cream
1 cup dark unsweetened cocoa powder
1 stick (1/2 cup) salted butter
1 teaspoon vanilla extract
Instructions
Combine the sugar, cream, cocoa, butter, and vanilla extract in a small saucepan over medium heat.
Heat, stirring constantly until the mixture is hot, melted, and combined.
Serve warm over ice cream or allow to cool and store in the fridge.
Notes
If you only have unsalted butter, use that, and add 1/4 teaspoon of salt to the sauce.
Allow the fudge sauce to cool completely before transferring it to a jar or other container for storage. It will keep in the fridge for up to 2 weeks.
To reheat, warm the fudge in a saucepan over medium-low heat until it's warm and softened.
Nutrition Information:
Yield:
12
Serving Size:
2 ounces
Amount Per Serving:
Calories:

169
Total Fat:

9g
Saturated Fat:

5g
Trans Fat:

0g
Unsaturated Fat:

2g
Cholesterol:

25mg
Sodium:

13mg
Carbohydrates:

21g
Fiber:

1g
Sugar:

17g
Protein:

2g