This Vegan Milkshake recipe is exactly what you've been looking for! It's creamy, sweet milkshake perfection, without the dairy.
You only need three ingredients to make a vanilla milkshake using plant-based ice cream, and it's made in the blender in under 5 minutes.
Make this tasty frozen treat for yourself, or double the recipe and share it with your family or friends. Everyone loves milkshakes.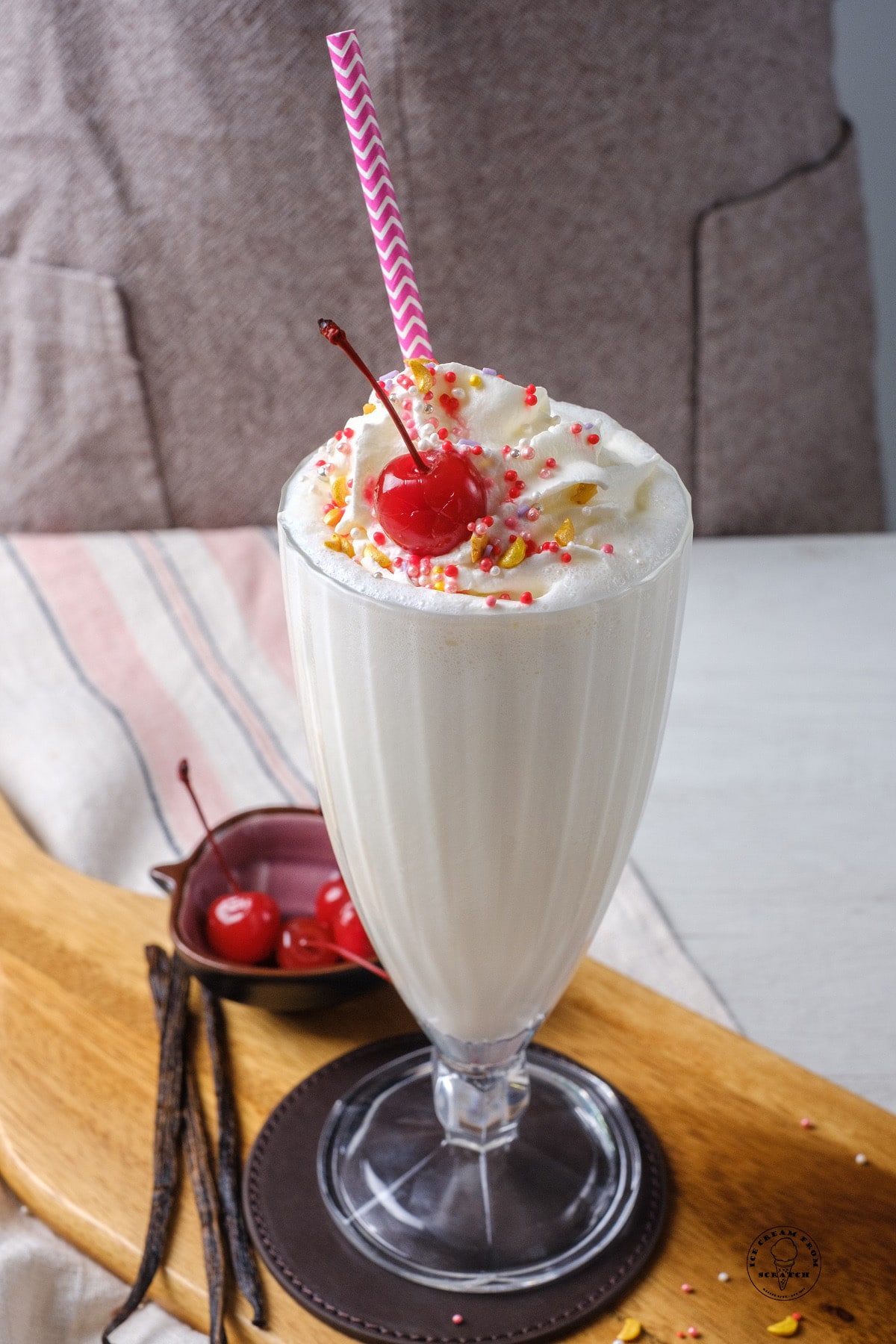 There are so many delicious dairy-free ice cream options now. Find your favorite vegan vanilla ice cream, and learn how to make a vegan milkshake with this easy recipe.
Once you have the method down, you will be well on your way to creating all sorts of different vegan milkshake flavors.
I'll even give you my recommendations for the best vegan ice cream and best vegan milk for making milkshakes.
Your vegan milkshakes will be rich and creamy, just like if they were made with traditional dairy ingredients!
Why You're Going to Love this Vegan Milkshake Recipe
Use your favorite non-dairy ice cream and milk to make a delicious vegan milkshake. Any type of creamy frozen dessert will work, and I'll give you some brand suggestions below.
Even better, make your own homemade vegan ice cream using our coconut ice cream recipe.
This recipe will help you make a creamy, classic, vanilla milkshake, but with some creativity, you can make any flavor vegan milkshake that you like!
Try making a chocolate milkshake or a strawberry milkshake and swapping in vegan substitutions.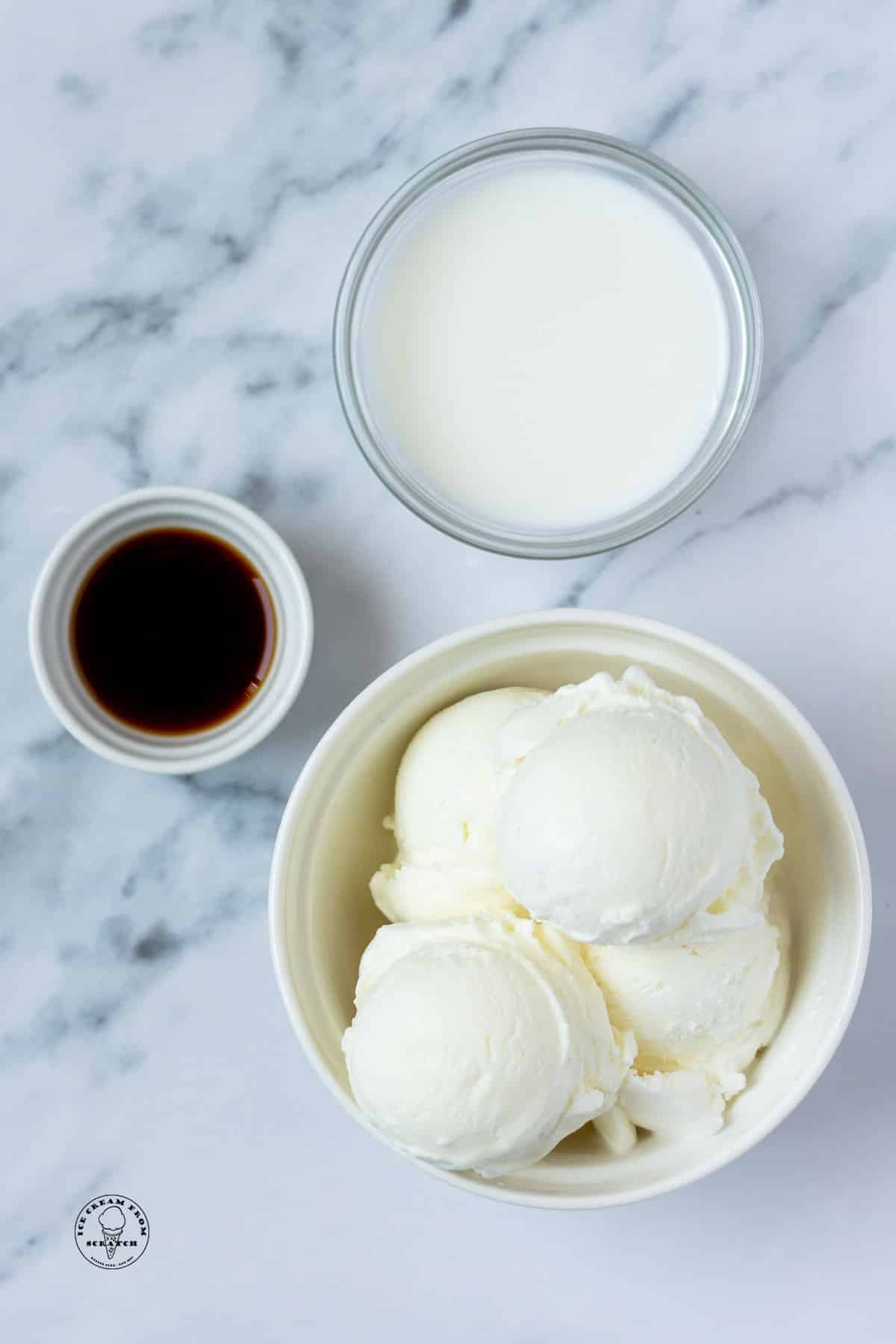 Ingredients in a Homemade Vegan Milkshake
Dairy-Free Milk – Any vegan milk that you enjoy drinking can be used to make a vegan milkshake. For the best results, use a dairy-free milk that you know is rich and thick. Barista blend oat milk is a really great choice, as is Ripple, and Silk extra creamy almond milk.
Vegan Vanilla Ice Cream – To make a vanilla milkshake, use vegan vanilla ice cream! I have more information about brands to look for later in the post. You can also use a vegan coconut ice cream to make it taste more like a vegan coconut cream pie.
Vanilla Extract – It's not enough to just mix milk and ice cream together. To make a really delicious milkshake, an extra bit of vanilla extract is exactly what you need.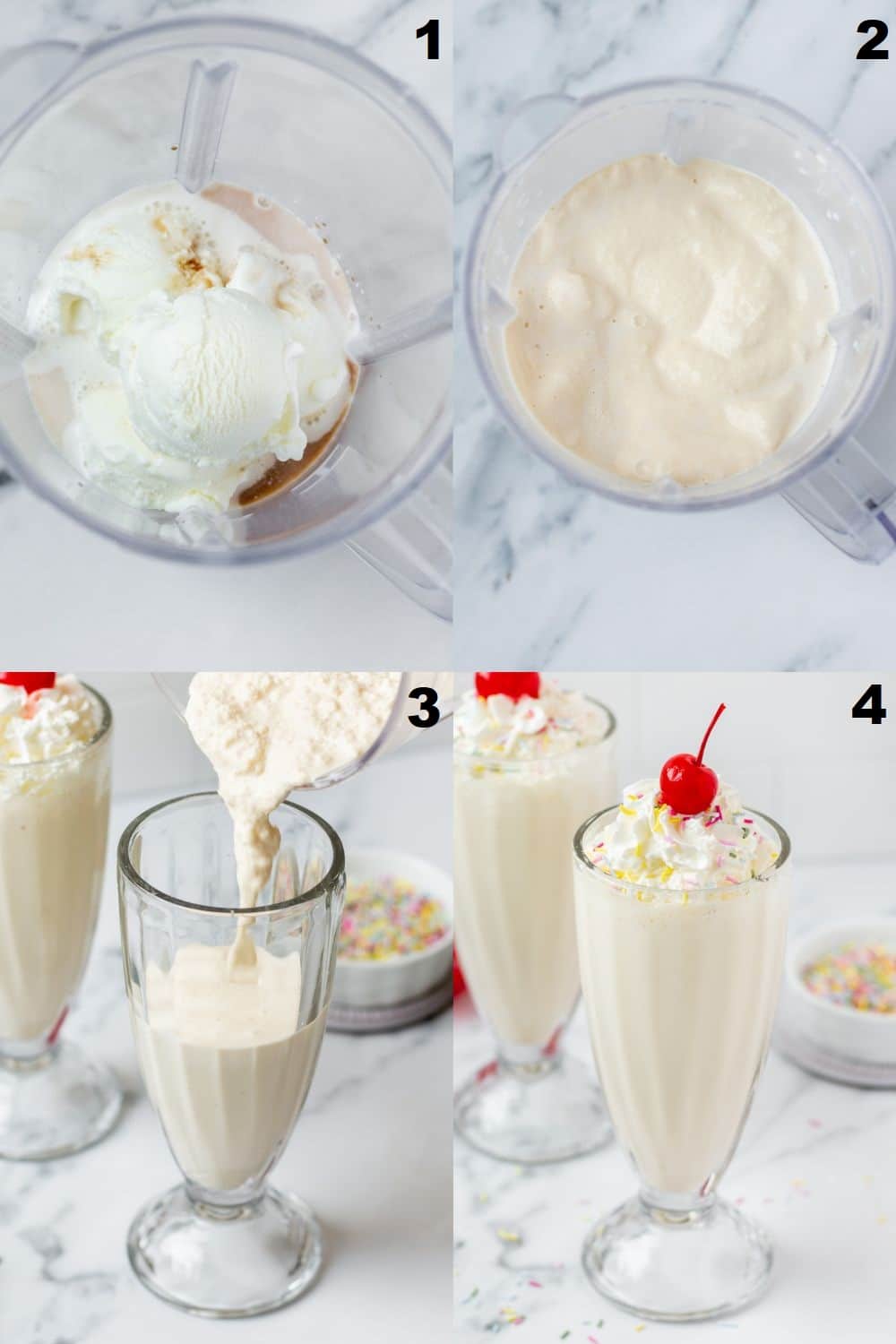 How to Make a Vegan Milkshake
This is so simple, you'll hardly believe it!
Add the ingredients to the blender. It's best if you add them in the order listed, so start with the milk, then add the vegan ice cream, and then some vanilla extract.
Turn on the blender, and blend until the milkshake is creamy and well-combined.
Pour the milkshake into a glass. If you like, top your vegan milkshake with whipped topping, rainbow sprinkles, and a sweet maraschino cherry.
Enjoy!
These numbered steps match the numbered photos above and are for illustration purposes. For the complete list of ingredients and instructions, please see the recipe below.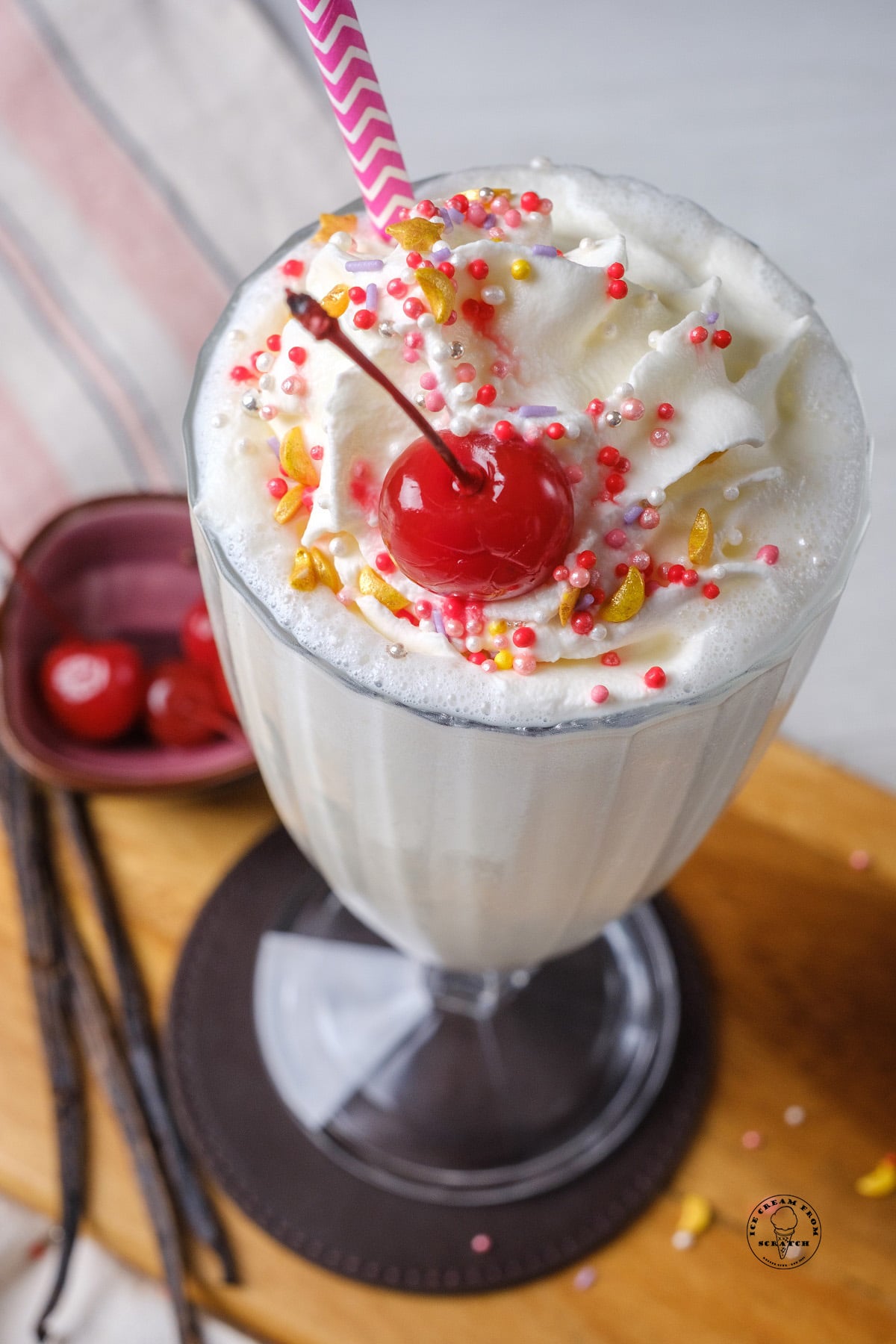 Tips for Making the Best Vegan Milkshake
Use quality ingredients – When making vegan milkshakes, you'll want to make sure you are using high-quality ingredients for the best outcome.
Chill out – If possible, always start with chilled ingredients. Keep the milk and the ice cream in the freezer until you need them.
Don't skimp on the fat – Look for high-fat vegan milk and frozen dessert options. The more fat in your ingredients, the better the milkshake will taste! Fat also has a lot to do with the creamy texture of a milkshake, so opting for a low-fat option often leads to icy milkshakes.
Don't go crazy with the add-ins – If you're adding in additional ingredients, pick one or two and just add a few tablespoons.
To adjust the consistency of a milkshake – For an extra thick milkshake, reduce the amount of milk that you use. Allow the ice cream to thaw slightly before blending. Because many vegan ice creams are hard to scoop, you may need to do this anyways. If you need the milkshake to be thinner, just use more milk!
What is the Best Vegan Ice Cream For Making Milkshakes?
You can make this recipe using your favorite brands and flavors, but if you're new to making vegan milkshakes, you may be wondering what to buy.
All dairy-free "ice creams" are labeled as "frozen dessert". Since they don't include any cream, they can't actually be called ice creams.
Typically, plant-based frozen desserts are made using a base of one type of dairy-free milk, and sometimes with a blend. Newer products are thinking outside of the box and using other ingredients instead of vegan milk.
Note that not all dairy-free frozen desserts are vegan! Be sure to check the ingredients list.
Oat Milk Ice Cream: Look for pints made by So Delicious, Oat-Ly, Planet Oat, and VanLeeuwen.
Almond Milk Ice Cream: You have more options if you are looking for ice cream made with almond milk. Specialty ice cream brands, well-known brands, and even store brands of ice cream come in almond milk versions. Look for Bryer's non-dairy or So Delicious almond ice cream at your favorite store, or find dairy-free ice creams in Target, Whole Foods, Aldi, Publix, Wegmans, and Albertsons, under their in-store brand names.
Many of Ben & Jerry's non-dairy flavors have an almond milk base, while others are actually made with sunflower milk and sunflower seed butter instead. You'll want to check the labels to be sure that the ingredients fit your dietary needs.
Others to try include Arctic Zero which is made with aquafaba, Cado, made with avocados, and Coolhaus, which is made with a base of yellow peas and brown rice.
Not finding what you need at your local grocery store? Don't worry! You can make homemade creamy Coconut Cream Ice Cream with our easy recipe.
Vegan Vanilla Ice Cream
To make a vanilla vegan milkshake, you will want to find a good vanilla-flavored vegan ice cream! Many of the brands mentioned above make a variety of different flavors, but here's who definitely makes vanilla:
Oatly Frozen Dessert -Vanilla
So Delicious Almond Milk Vanilla Ice cream
NadaMoo! – Organic Vanilla Bean
Favorite Day (from Target) – Vanilla Bean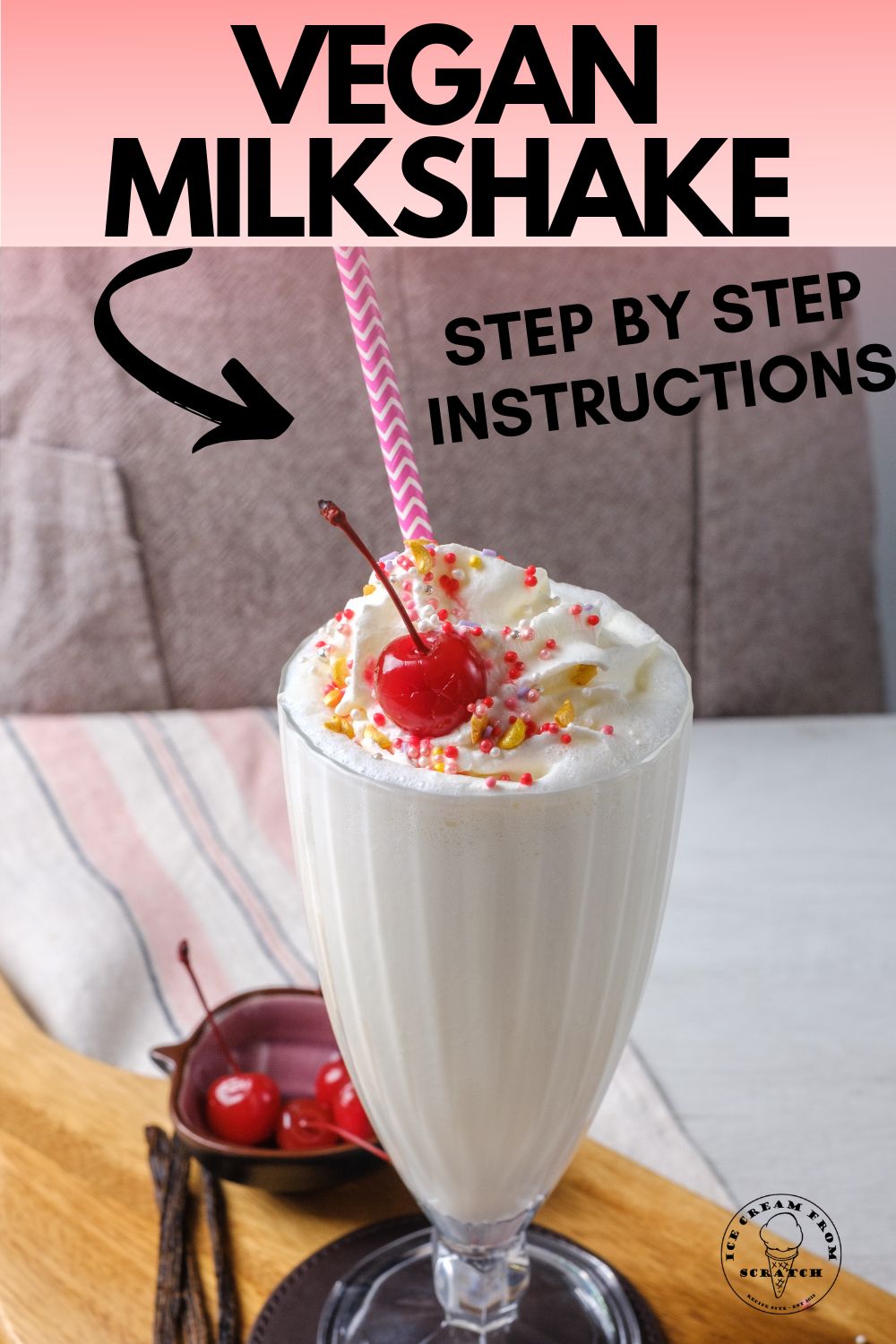 Vegan Milkshake Variations
If you'd like to go above and beyond the simple, yet classic flavor of a vanilla milkshake, it's super easy to change this recipe and add other flavors.
First, check out our list of milkshake recipes. You can turn any of these recipes vegan using the substitutions and suggestions listed here.
Try a vegan pineapple milkshake using coconut milk ice cream, or a chocolate banana milkshake using vegan chocolate frozen dessert.
More Homemade Ice Cream Recipes
Now that you understand that any ice cream dessert can be easily made vegan with the right ingredients, try making some of these decadent ice cream desserts!
Our Favorite Kitchen Tools for Making Milkshakes:
Heat Conductive Ice Cream Scoop
Note: Each of these links will take you to the exact product on Amazon. As an Amazon associate, I earn a little from each qualifying purchase.
LET'S GET SOCIAL, you can follow us on Pinterest or leave a comment below if you have any questions.
Did you make this Homemade Vegan Milkshake Recipe? Leave a Comment Below letting us know what you thought and if you tried any variations!
Yield: 1 serving
Vegan Milkshake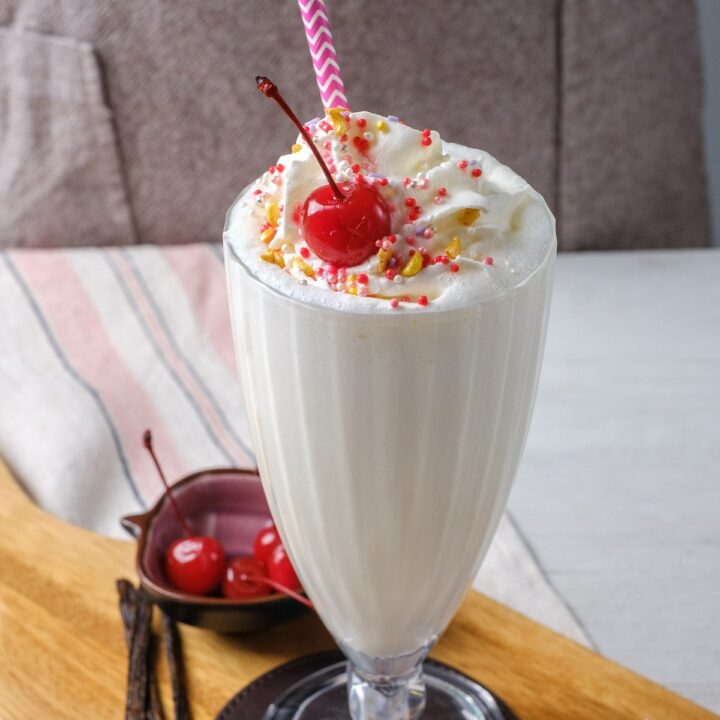 This easy Vegan Milkshake recipe is exactly what you've been looking for! It's creamy, sweet, delicious milkshake perfection, without the dairy!
Ingredients
¼ cup (2 oz.) dairy-free milk
2 cups vegan vanilla ice cream (or ice cream flavor of choice)
1 teaspoon vanilla extract
Instructions
Add the ingredients to the blender jar in the order listed.
Blend until combined.
Top with whipped cream, colorful sprinkles, and a cherry.
Serve immediately.
Notes
Whipped cream, sprinkles, and cherries are optional but delicious ways to make your milkshake extra special.
Sometimes vegan ice creams can be hard. You can let the vegan ice cream sit at room temperature to soften for 5-10 minutes and omit the dairy-free milk.
Choose your favorite type of dairy-free milk and dairy-free ice cream to make this milkshake. All of them will work!
Nutrition Information:
Yield:
1
Serving Size:
1
Amount Per Serving:
Calories:

589
Total Fat:

30g
Saturated Fat:

19g
Trans Fat:

0g
Unsaturated Fat:

9g
Cholesterol:

121mg
Sodium:

240mg
Carbohydrates:

66g
Fiber:

2g
Sugar:

60g
Protein:

11g