A sweet, creamy, and tropical Pineapple Milkshake is a delicious way to enjoy a fruit and ice cream treat.
Use fancy stemmed glasses to make these milkshakes feel just like the icy pineapple drinks you might enjoy on a tropical beach vacation.
This recipe is naturally gluten-free and nut free and can be made dairy free too!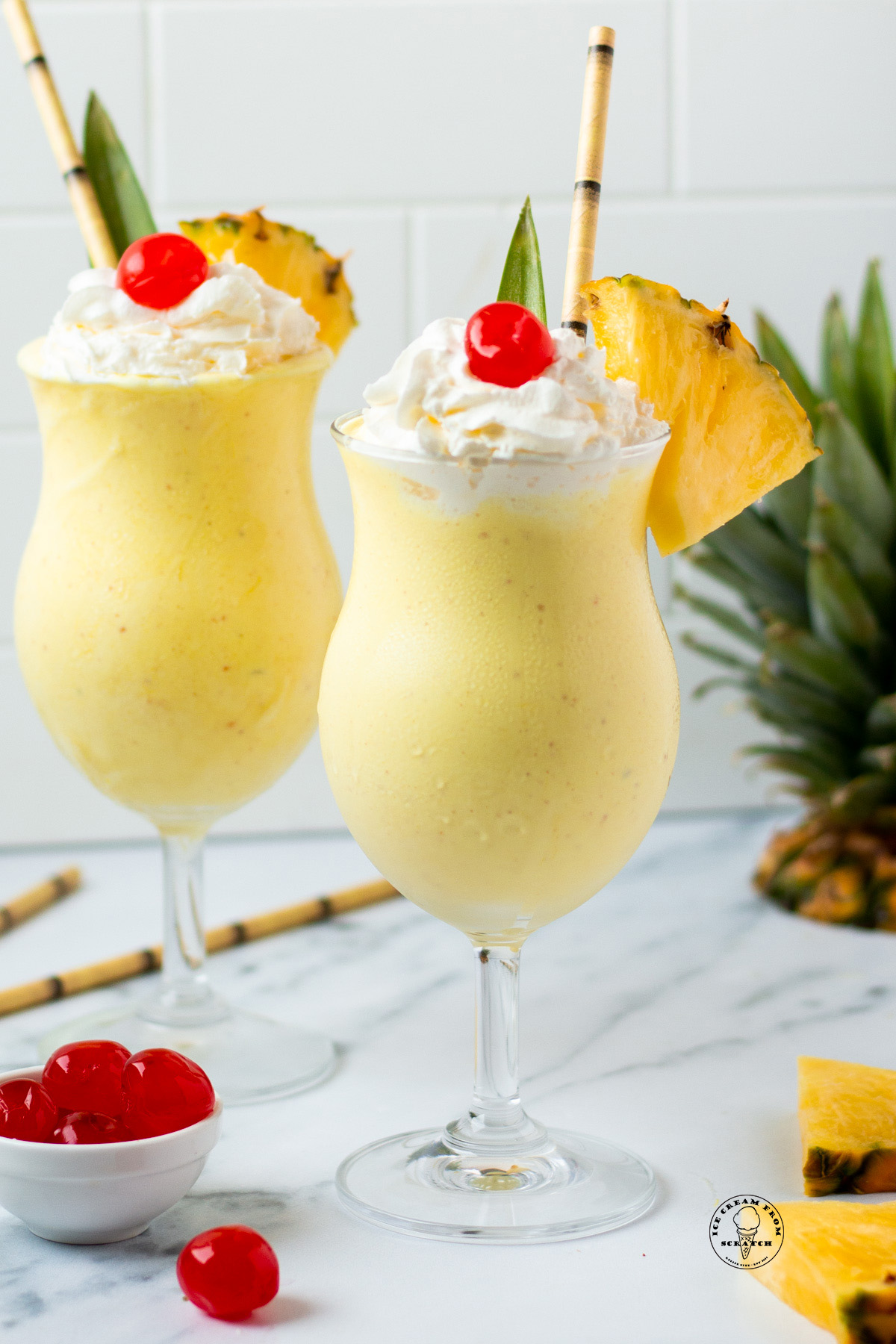 Pineapple is one of our favorite ice cream flavors.
You can enjoy a homemade pineapple milkshake with a tropical vibe. These are incredibly delicious with or without whipped cream and garnishes, but I think the pineapple leaves and wedges really make them special.
If you like this milkshake recipe, I think you'll also love our Coconut Sorbet and Pineapple Ice Cream recipes. You might want to try this blueberry milkshake next.
For another pineapple treat, try this pineapple mango smoothie.
Why You're Going to Love this Pineapple Milkshake Recipe
No Added Sugar – Ice cream already has sugar added to it, but we aren't adding any extra to make a pineapple milkshake. The sweetness and slight tartness of the pineapple is all we need to make this milkshake taste amazing.
Customizable – You can make a vegan pineapple milkshake using your favorite dairy-free swaps, or reduce the calories by choosing frozen yogurt or no sugar added ice cream.
5 Minute Recipe – Just toss all of the ingredients in your blender and you'll be enjoying a pineapple milkshake in minutes! If you use frozen pineapple chunks, you won't even need to do any prep.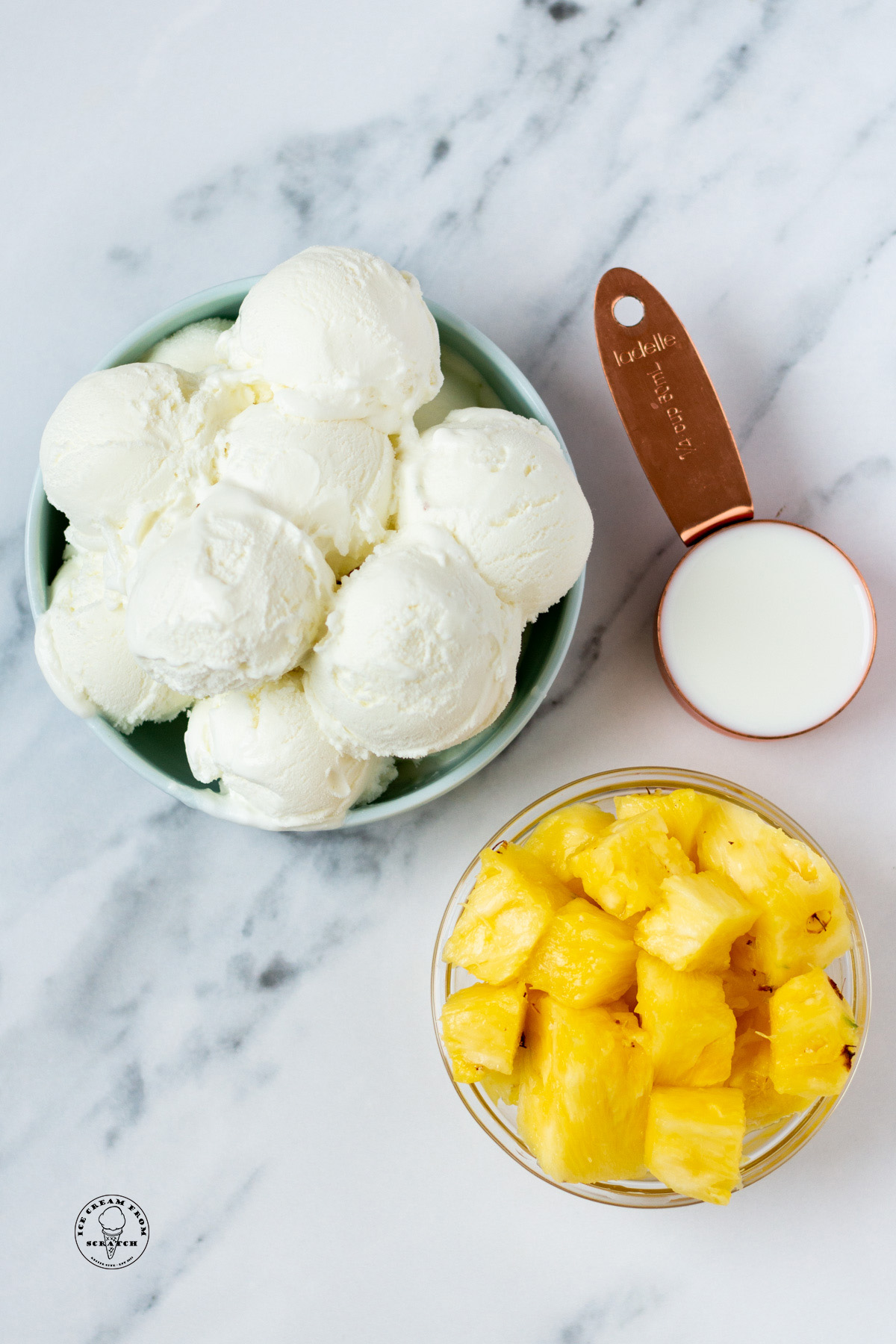 Ingredients For Pineapple Milkshake
Whole Milk – To make the creamiest milkshake, whole milk is your best choice. If you're making this recipe with dairy-free ice cream, choose your creamiest dairy-free milk.
Ice Cream – Vanilla ice cream is the perfect thing to blend pineapple chunks into a creamy and flavorful milkshake. Use your favorite store-bought ice cream flavor, or make vanilla ice cream instead. To make an extremely pineapple-y milkshake, use pineapple ice cream that you made from scratch.
Pineapple – Fresh or frozen pineapple. You can use more or less, depending on what you like. If you use frozen pineapple, let it thaw first or add a touch more milk.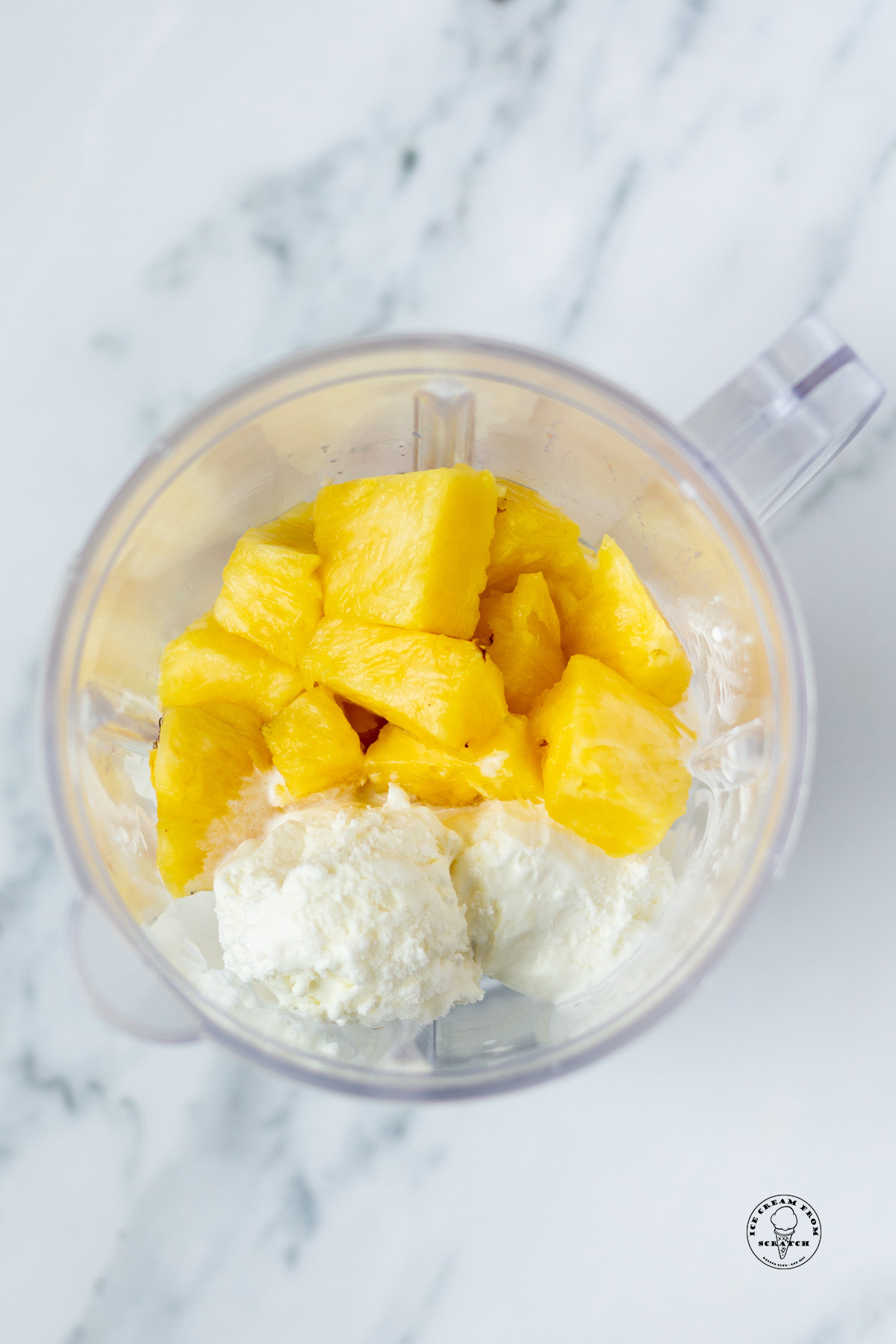 How to Make a Pineapple Milkshake
Add the ingredients into your blender jar in the order listed (milk, then ice cream, then pineapple chunks).
Blend until your milkshake is smooth and creamy.
Transfer to a glass, and top with whipped cream and fun garnishes like pineapple wedges and pineapple leaves if you like.
For the complete list of ingredients and instructions, please see the recipe below.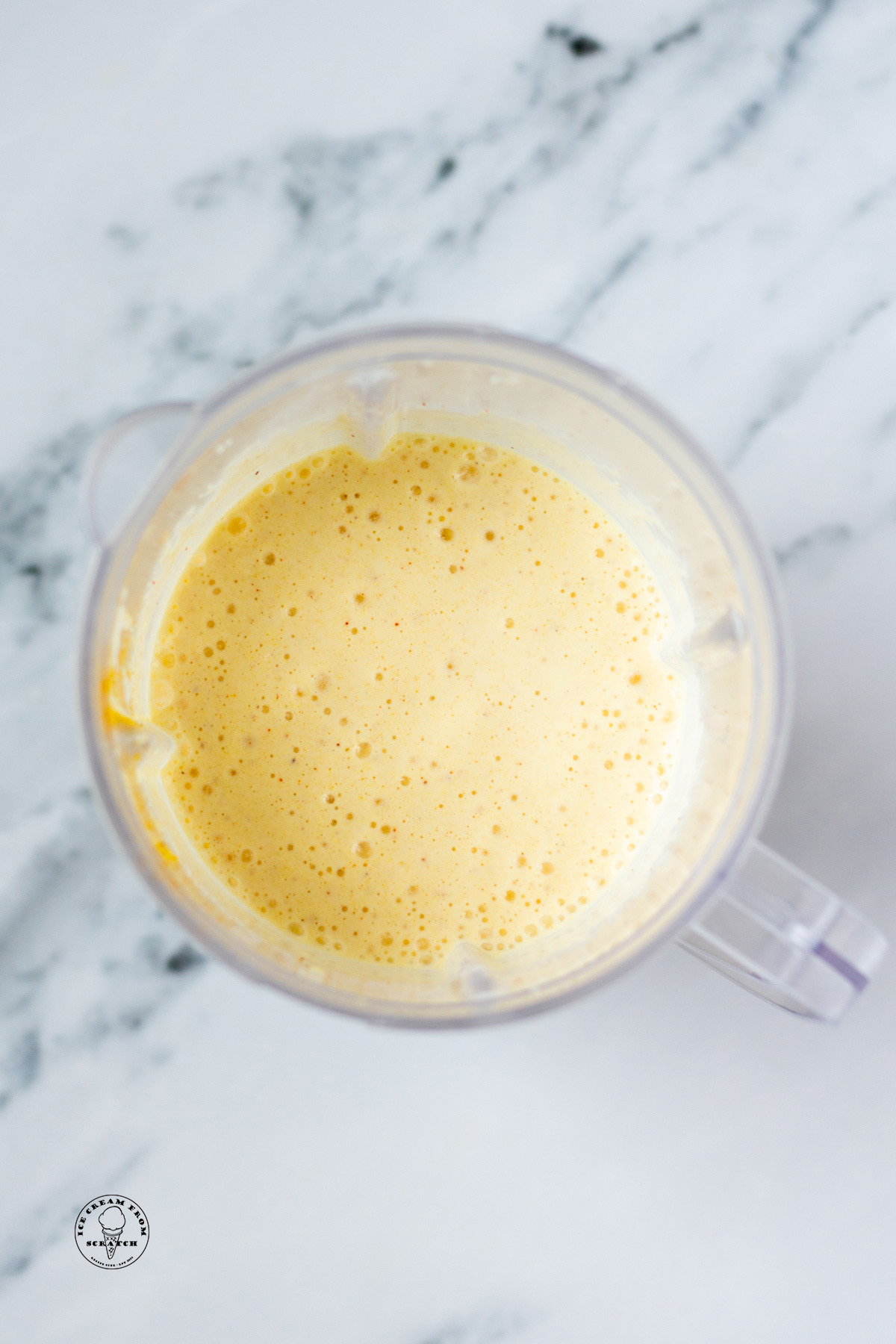 Which Milk is Best for Making Milkshakes
For a creamy, non-icy milkshake you'll want to use whole milk. The fat plays a huge role in keeping the texture smooth. Skim milk or reduced fat milk won't give you the same thick, creamy texture.
You can use other kinds of milk, including dairy-free milk. Oat milk and almond milk can make delicious milkshakes, but you may notice that they are less creamy than if you had used dairy.
If you do use another milk I recommend using less milk and letting the ice cream soften for a few minutes before you make a milkshake.
This will reduce the chances of the milkshake being too icy.
What Other Fruits Go Well in A Pineapple Milkshake?
I love this shake made with just pineapple, but bananas, mango, strawberries, or peaches can be included in this recipe to make a completely different fruity milkshake!
Sometimes we like to use creamsicle ice cream in place of the vanilla, for a fun and fresh twist.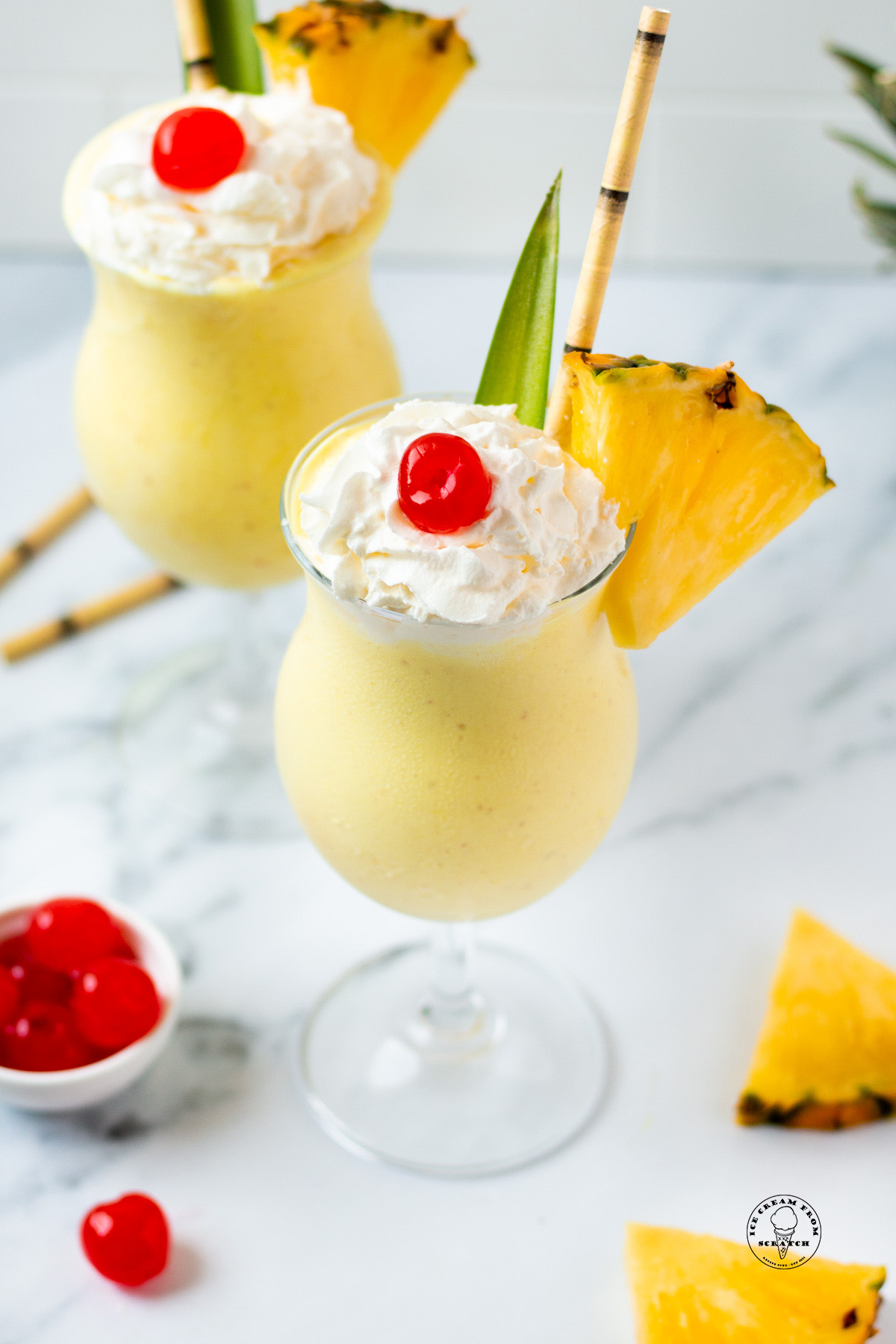 How to Make a Vegan Pineapple Milkshake
To make this recipe vegan, you'll want to use your favorite vegan vanilla ice cream and your creamiest non-dairy milk along with the pineapple.
There are many excellent non-dairy ice cream options at the store these days, or you can make your own coconut cream ice cream or oat milk ice cream from scratch.
Pineapple Milkshake Mix-Ins and Extras
This shake is delicious just like this, but if you want to get creative, you can add extra ingredients to the mix.
Make a Pina Colada Milkshake by replacing the milk in this recipe with cream of coconut. You can also use Coconut Ice Cream in place of the vanilla. For the adults, you could add in dark or light rum too.
If you're using a high-powered blender, you can blend in shredded coconut or a few fresh mint leaves to add a more sophisticated flavor to your milkshake.
Is It OK to Mix Pineapple with Milk?
There is this wild idea floating around out there that it's somehow unsafe to mix pineapple with milk.
Unless you are a person with a sensitivity to either of those foods, this is just not true. In fact, in this case, mixing pineapple with milk and ice cream creates a very delicious (and completely safe to consume) milkshake treat!
Fresh pineapple can cause milk to curdle though, which may be where this confusion comes from. This is another reason that it's important to use full-fat milk, as fat protects the proteins in the milk from the acid of the pineapple.
The inclusion of ice cream, another ingredient with a high amount of fat, ensures that there will be no curdling in your shake.
What is The Best Blender for Making Milkshakes?
Any kind of blender can be used to make homemade milkshakes!
A common inexpensive blender works just the same as a high-powered one, so use what you have.
Here is the basic method for making a milkshake in a blender:
Add the milk to the blender first. Then add in the ice cream, and fruit or other mix-ins.
Blend until well combined and serve immediately.
How to Make a Milkshake Without a Blender
While it's not the ideal way to do it, you can enjoy a delicious milkshake without any fancy equipment.
Scoop the ice cream into a quart-size mason jar or a deep glass container and microwave it for 15-30 seconds so that it is soft but not melted.
Use a knife to cut the pineapple into very small pieces, or mash them into a thick paste. Canned crushed pineapple can also be used, but try to use the kind without a ton of added sugar.
Add the fruit to the jar with the ice cream and secure the lid. Shake, shake, shake!
Use a spoon to break up any larger sections of ice cream. If needed, add a splash of milk and shake again to get a thinner consistency.
How to Make a Thick Milkshake
For a thicker milkshake use only slightly softened ice cream and the add-ins, without any milk. You can always add a little milk at a time to get the desired consistency.
You can also add ice and blend until creamy, or use frozen pineapple to make the milkshake extra thick.
Can I Use Frozen Pineapple to Make a Milkshake?
Yes, frozen pineapple chunks work very well in this recipe, and are super convenient to keep on hand in your freezer.
If you use frozen fruit, be sure not to omit the milk from the recipe. Your milkshake will be very thick due to the frozen ingredients used.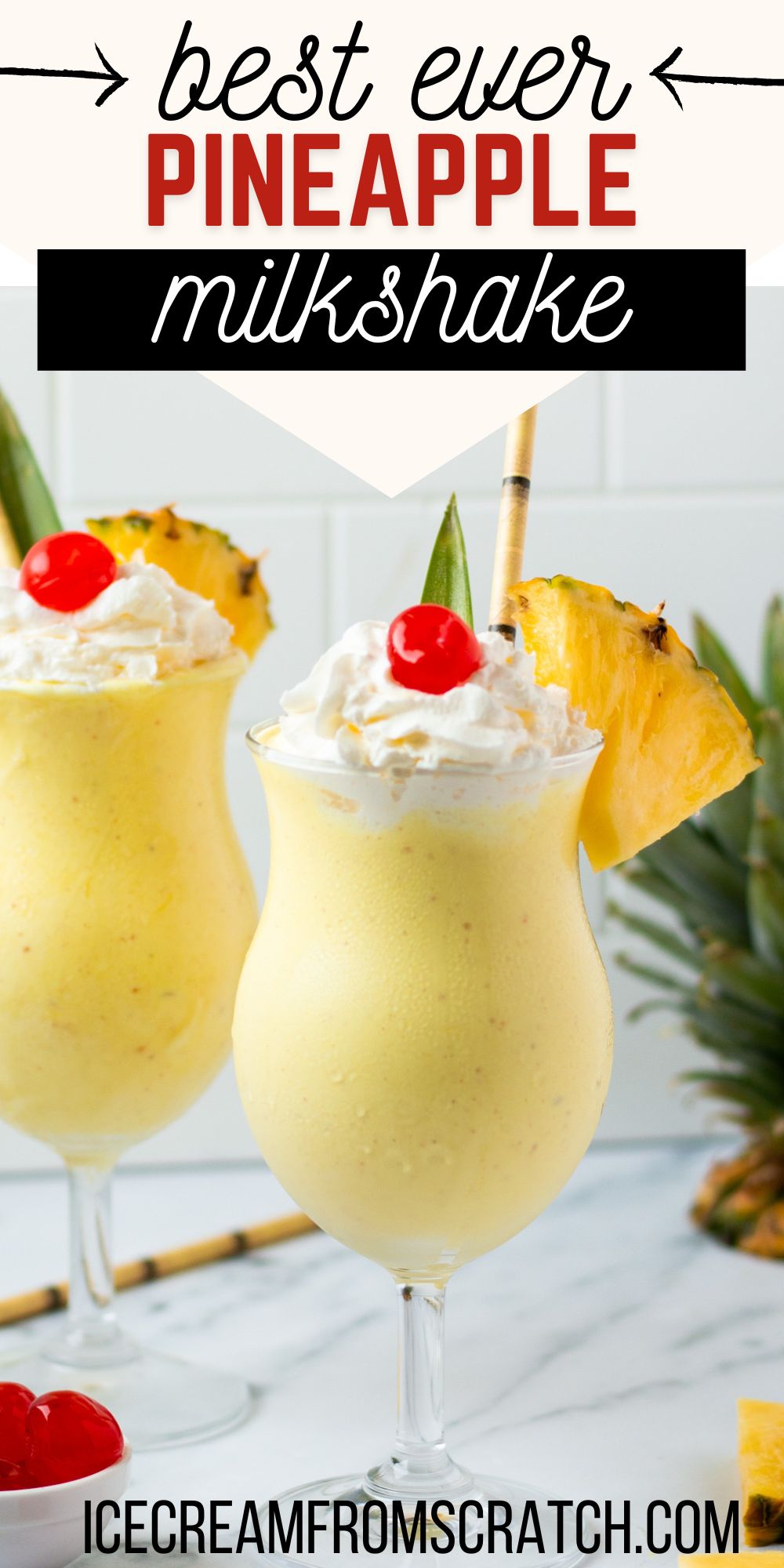 More Milkshake Recipes
We have a whole collection of milkshake recipes for you to try.
Things we love for making milkshakes:
Heat Conductive Ice Cream Scoop
Note: Each of these links will take you to the exact product on Amazon. As an Amazon associate, I earn a little from each qualifying purchase.
LET'S GET SOCIAL, you can follow us on Pinterest or leave a comment below if you have any questions.
Did you make this Homemade Pineapple Milkshake Recipe? Leave a Comment Below letting us know what you thought and if you added any additional add-ins.
Yield: 1 serving
Pineapple Milkshake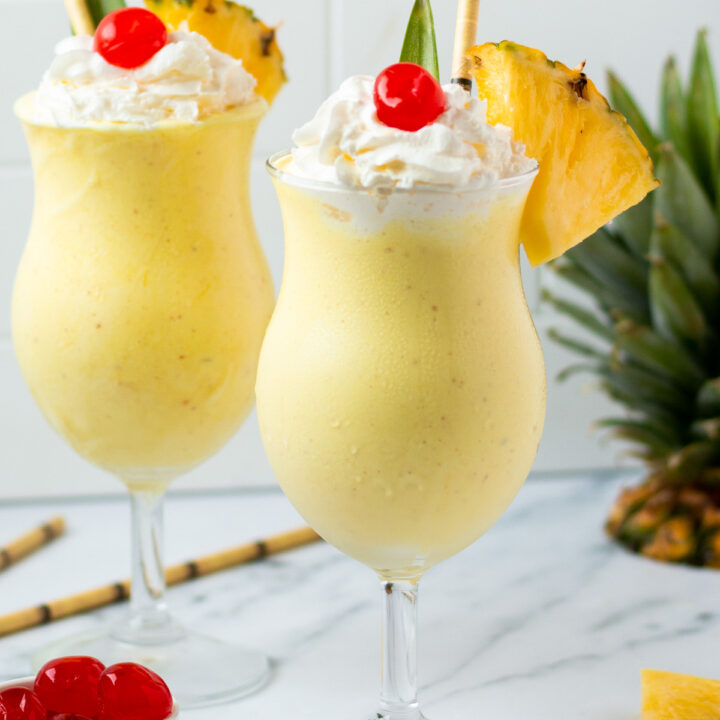 A sweet, creamy, and tropical Pineapple Milkshake is the most delicious way to enjoy a fresh fruit and ice cream treat that's ready in just a few minutes.
Ingredients
¼ cup (2 oz.) whole milk
2 cups vanilla ice cream
1 cup pineapple chunks (or more if you like), fresh or frozen
Instructions
Add the ingredients to the jar of a blender in the order listed (milk, then ice cream, then pineapple)
Blend until combined.
Serve immediately with or without fun garnishes like whipped cream, cherries, and pineapple wedges.
Notes
To make a thicker milkshake, let the ice cream sit at room temperature for 5-10 minutes so that it's softer, and omit the milk from the recipe.
Frozen pineapple can be used to make a milkshake, but since it's icy, you will need to add milk in order to get the right consistency.
Feel free to use dairy-free milk and ice cream to make this milkshake.
Nutrition Information:
Yield:
1
Serving Size:
1
Amount Per Serving:
Calories:

726
Total Fat:

30g
Saturated Fat:

19g
Trans Fat:

0g
Unsaturated Fat:

10g
Cholesterol:

121mg
Sodium:

242mg
Carbohydrates:

104g
Fiber:

4g
Sugar:

95g
Protein:

12g