With just 3 ingredients and 5 minutes of your time, you can make a rich, creamy, chocolatey Hershey's Milkshake.
The classic chocolate syrup makes this milkshake better than any milkshake without it, so grab yours and let's get going.
This milkshake recipe is a treat for everyone to enjoy! Hershey's syrup is nut-free, gluten-free, dairy free, and your milkshake can be too.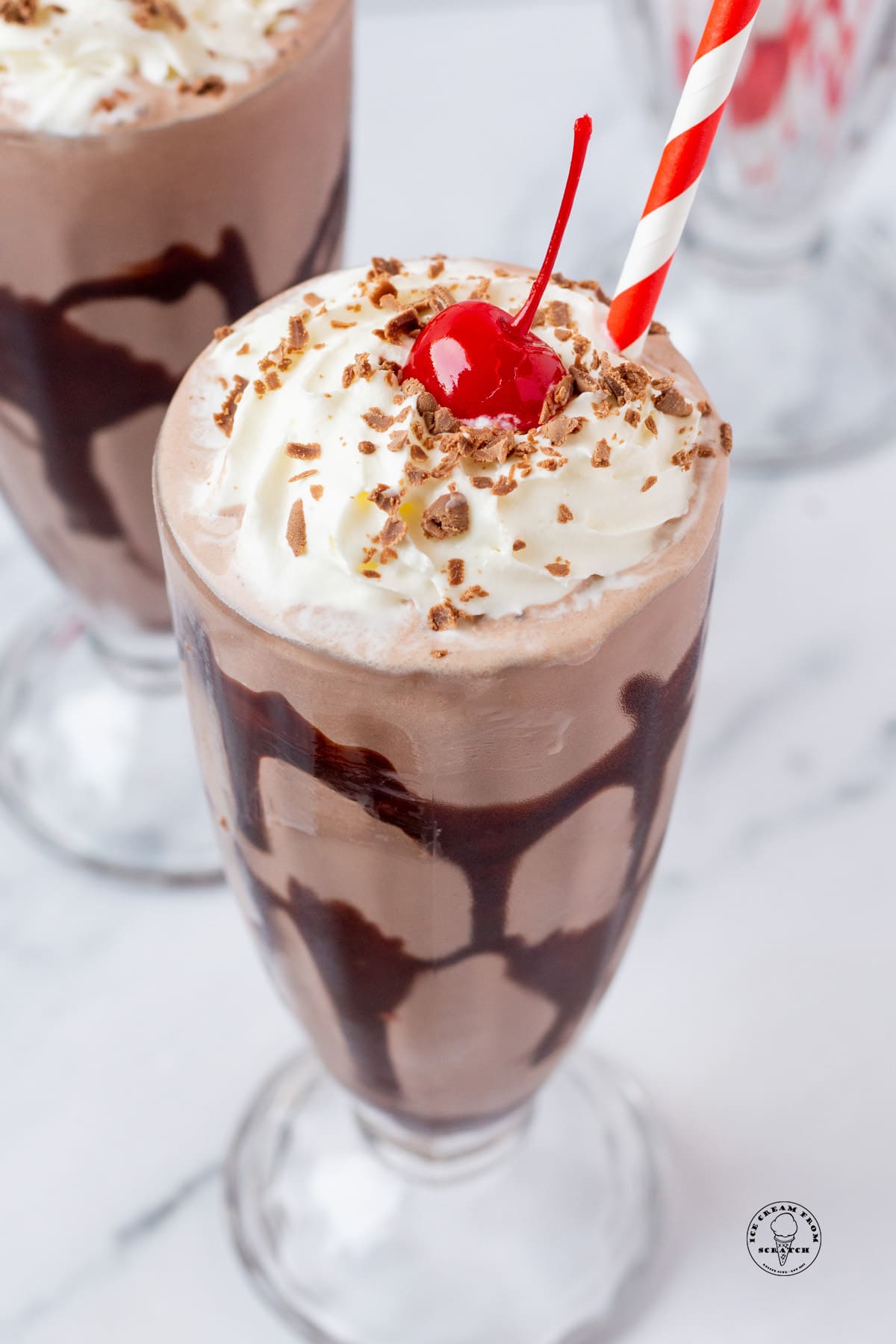 Hershey's chocolate syrup is a classic ice cream topping, and it's just as good when blended into a chocolatey milkshake.
This recipe is very easy to make, and I'll give you all of my best milkshake tips so that you can make Hershey's syrup milkshakes for yourself, or to share.
Be sure to check out all of our tasty milkshake recipes! I think you'll enjoy making a Nutella Milkshake or a Cookies and Cream Milkshake quite a bit. We also have an amazing vegan milkshake.
Why You're Going to Love this Hershey's Milkshake Recipe
Just 3 Ingredients – Milk, ice cream, and of course, Hershey's syrup, are all you need to blend up this delicious shake. If you don't already have these things at home, you can easily pick them up at just about any grocery store.
Double Chocolate Milkshake – Chocolate syrup blended with chocolate ice cream makes a milkshake that is over-the-top chocolatey, and that's exactly the way I like it!
Simple Instructions – This post will teach you how to make the best Hershey's milkshake in a blender. I'll also tell you how to make a chocolate milkshake without a blender, and how to make your shake perfectly thick and smooth.
Ingredients in Homemade Hershey's Milkshake
Whole Milk – Whole fat milk will help you to make the creamiest milkshakes ever! You can make a milkshake with lower-fat milk if you must, and you can also use non-dairy milk if you prefer.
Chocolate Ice Cream – You can make a Hershey's milkshake with either chocolate ice cream or vanilla ice cream. I always vote for extra chocolate if it's an option, so my choice is chocolate! Pick up your favorite chocolate pint from the store, or make your own using one of our simple ice cream recipes.
Hershey's Chocolate Syrup – Hershey's is the most popular name brand of milk chocolate syrups, but there are store-brand versions and other options out there. You can use any of them, just be sure you're using a syrup rather than a thick hot fudge sauce.
Fun Milkshake Toppings – This is optional, but I top my double chocolate milkshake with fresh whipped cream, shaved milk chocolate, and a maraschino cherry.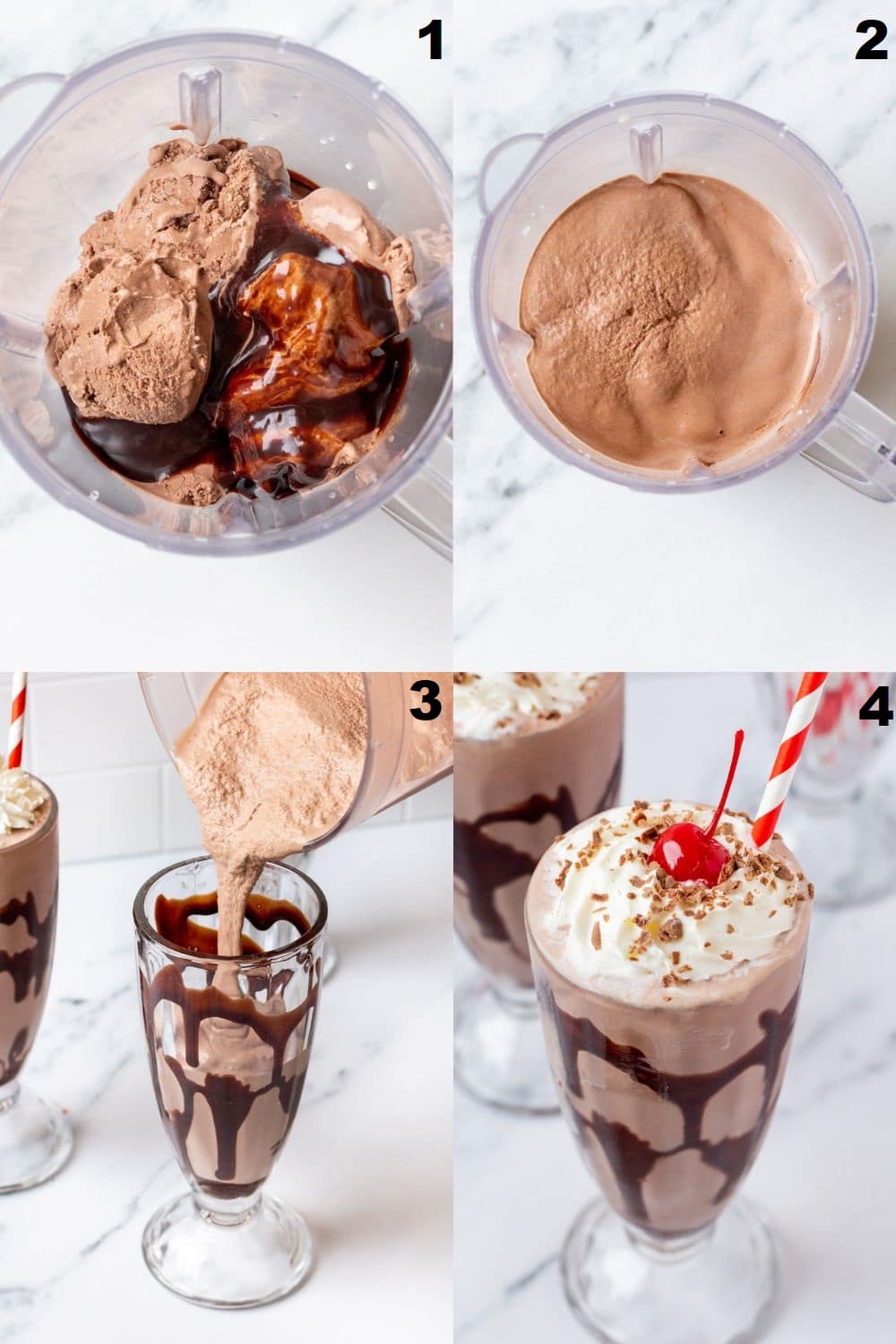 Here's a fun fact! If you make a milkshake with Hershey's syrup and vanilla ice cream, that's called a "black and white" milkshake!
How to Make a Hershey Milkshake
Add the milk, ice cream, and chocolate sauce to the blender in that order.
Blend until creamy and combined.
Pour into a glass and serve immediately topped with whipped cream, chocolate shavings, and a cherry if desired.
These numbered steps match the numbered photos above and are for illustration purposes. For the complete list of ingredients and instructions, please see the recipe below.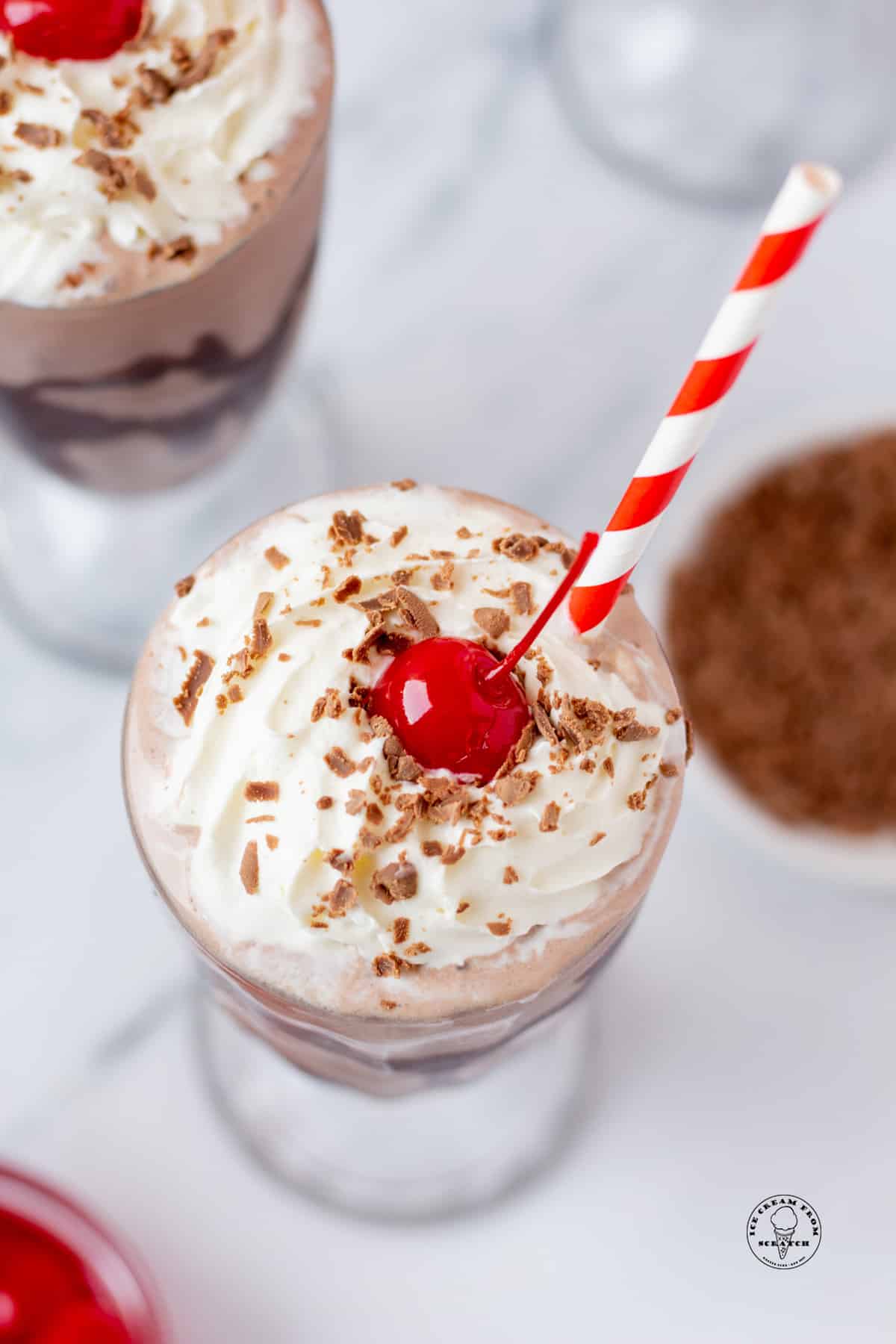 How to Make a Thicker Milkshake
Omit the milk called for in the recipe and make the milkshake using just slightly softened ice cream and chocolate sauce.
How to Thin Down a Milkshake
Add more milk, a little bit at a time, and blend until the milkshake is exactly how you like it.
Tips for Making This Hershey's Milkshake Recipe
Use quality ingredients – When making homemade milkshakes, you'll want to make sure you are using high-quality ingredients for the best outcome. Good quality ice cream and fresh milk are a must here. I also suggest using the name-brand chocolate syrup, unless you really enjoy another brand.
Chill out – If possible, always start with chilled ingredients. Unless you need the ice cream to melt (sometimes you want it to be softer when making milkshakes, I'll explain more later), keep it in the freezer until right before you need it.
Don't go crazy with the add-ins – If you're adding in additional ingredients, pick one or two and try not to overwhelm the flavor of the Hershey's syrup too much.
Try a Drizzle – Before you pour the milkshake, drizzle some Hershey's syrup around the inside of the glass.
Which Milk is Best for Making Milkshakes?
For a creamy, non-icy Hershey's chocolate milkshake you'll want to use whole milk. The fat plays a huge role in keeping the texture smooth.
Skim milk or reduced-fat milk won't give you the same thick, creamy texture. The lack of fat in skim milk can also give the milkshake an icy texture, more like a slushy than a milkshake.
You can use other kinds of milk, including dairy-free milk. Oatmilk and almond milk can make delicious milkshakes, but you may notice that they are less creamy than if you had used dairy.
If you do use another milk I recommend using a bit less milk and letting the ice cream soften for a few minutes before you make a milkshake.
Dairy Free ice cream can be used to make this chocolate milkshake vegan! Choose your favorite from the store, or start with homemade Coconut Ice Cream.
Can I Make a Milkshake with Hot Fudge Sauce?
Adding fudge sauce to a milkshake may sound like a good idea, but you will find that the fudge is too thick to blend in smoothly. You'll have little bits of fudge sauce floating around in the milkshake.
Or, you can use fudge sauce, but you'll end up needing to blend the milkshake longer, so it won't be as thick as you may want it to be.
Bottom line: I don't recommend using hot fudge or Hershey's Sundae Dream syrups to make this homemade chocolate shake recipe.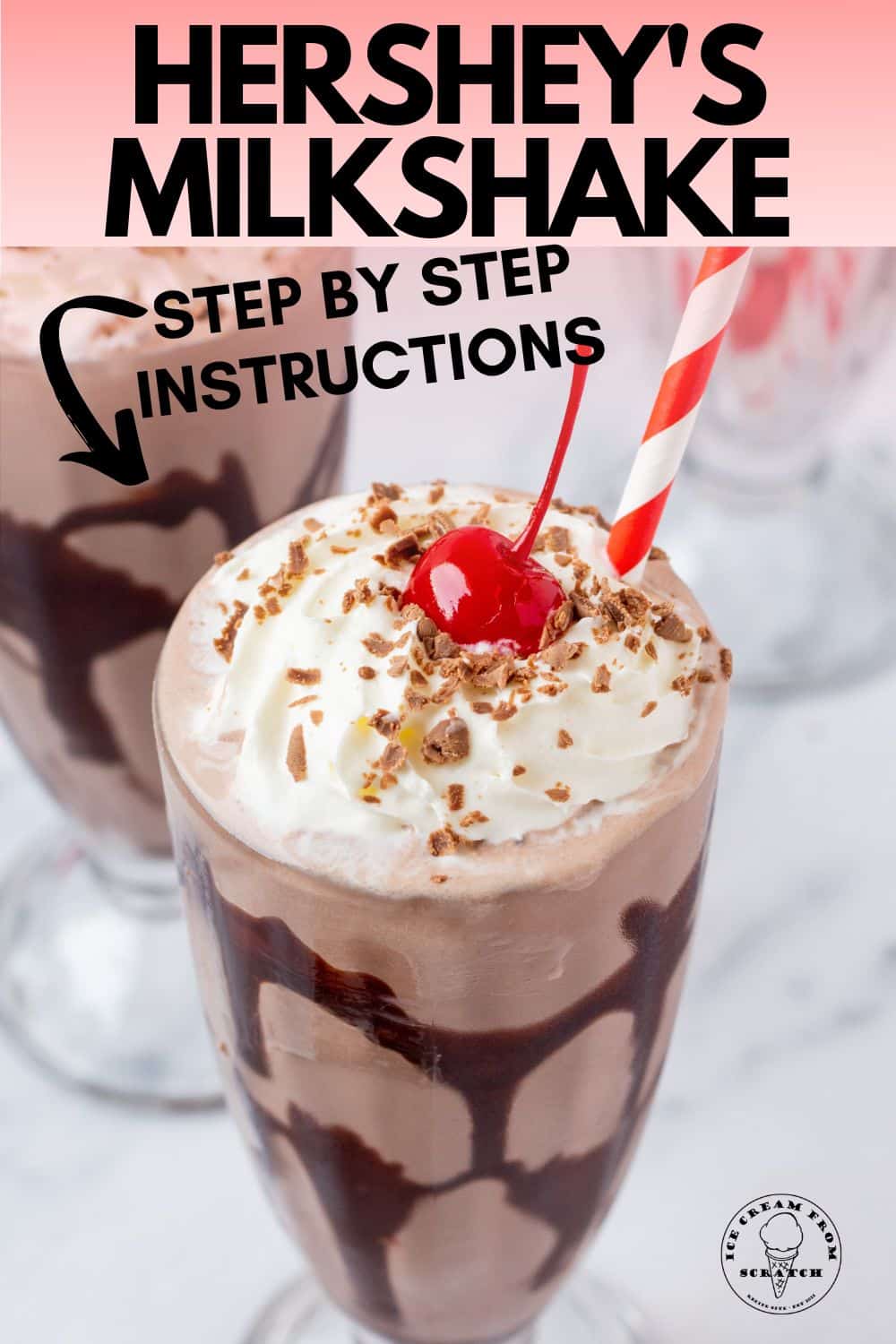 How to Make a Milkshake with a Blender
If you're adding milk to your milkshake, you'll want to add the milk to the blender jar first. Then add in the ice cream, and finally any add-ins.
Blend until well combined and serve immediately.
All blenders work a bit differently, so follow the instructions that came with your blender, or play around until you find the right settings to get a smooth, blended milkshake.
How to Make a Milkshake without a Blender
While it's not the best way to do it, you can make a milkshake without a blender! Here's what to do:
Scoop the ice cream into a quart-size mason jar or a deep glass container and microwave it for 15-30 seconds. You want to soften the ice cream but not completely melt it.
Add in the flavors or add-ins (in this case, the Hershey's syrup), secure the lid, and shake. You can also stir the milkshake mixture with a spoon.
Use the spoon to break up any larger sections of ice cream.
This method doesn't require you to add any milk, but if needed, you can add a splash to thin the milkshake out a bit.
Hershey's Milkshake Add-Ins
This milkshake recipe is perfection already, but you can feel free to add things to make it even better!
For Extra or Additional Flavor:
Mix in a teaspoon of vanilla extract, half a teaspoon of almond extract, or a pinch of instant coffee. Each of these things will make the flavor of chocolate even richer.
You can also try other Hershey's syrup varieties. They make Strawberry flavored syrup, caramel syrup, a Special Dark version, and sugar-free chocolate syrup.
Hershey's Milkshake Toppings and Mix-Ins:
Keep things simple by topping your milkshake with whipped cream before enjoying it. Be sure to include a straw for sipping!
Add crushed Oreos, a piece of chocolate cake, or chopped pieces of your favorite candy bars to the blender if you want to add some texture.
More Homemade Milkshake Recipes
Things we love for making milkshakes:
Heat Conductive Ice Cream Scoop
Note: Each of these links will take you to the exact product on Amazon. As an Amazon associate, I earn a little from each qualifying purchase.
LET'S GET SOCIAL, you can follow us on Pinterest or leave a comment below if you have any questions.
Did you make this Homemade Hershey's Chocolate Milkshake Recipe? Leave a Comment Below letting us know what you thought and if you added any additional add-ins.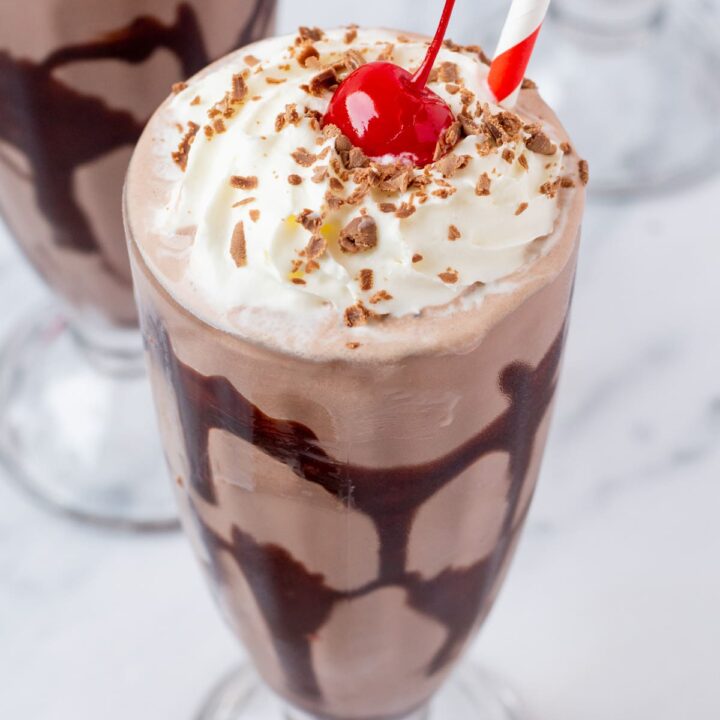 Hershey's Milkshake
With three ingredients and 5 minutes of your time, you can make a rich, creamy, chocolatey Hershey's Milkshake! This recipe is a classic, and everyone is going to love it.
Ingredients
¼ cup (2 oz.) whole milk
2 cups vanilla ice cream or chocolate ice cream
1/3 cup Hershey's Chocolate Syrup
Instructions
Add the ingredients to the blender jar in the order listed.
Blend until combined.
Serve immediately.
Top with whipped cream, chocolate shavings, and a cherry if desired.
Notes
Use chocolate ice cream for a richer chocolate milkshake.
Use dairy-free ice cream and creamy dairy-free milk if desired.
For a thicker milkshake, let the ice cream sit at room temperature for 5-10 minutes and omit the milk.
This recipe makes 1 milkshake. You can double the ingredients in the blender, or make milkshakes one at a time using these proportions.
Nutrition Information:
Yield:

1
Serving Size:

1
Amount Per Serving:
Calories:

1138
Total Fat:

46g
Saturated Fat:

28g
Trans Fat:

0g
Unsaturated Fat:

15g
Cholesterol:

166mg
Sodium:

411mg
Carbohydrates:

167g
Fiber:

6g
Sugar:

142g
Protein:

18g