A homemade coffee milkshake is rich and creamy, sweet and simple, and the perfect blend of chocolate ice cream and coffee to give you a pick-me-up any time you need it.
It takes just a few minutes to whip up this tasty frozen drink in a blender, and it's easy to make just one for yourself or make a few for your friends at the same time.
Homemade coffee milkshakes are nut-free and gluten-free, depending on the ingredients you choose. Instructions for making dairy-free milkshakes are included too!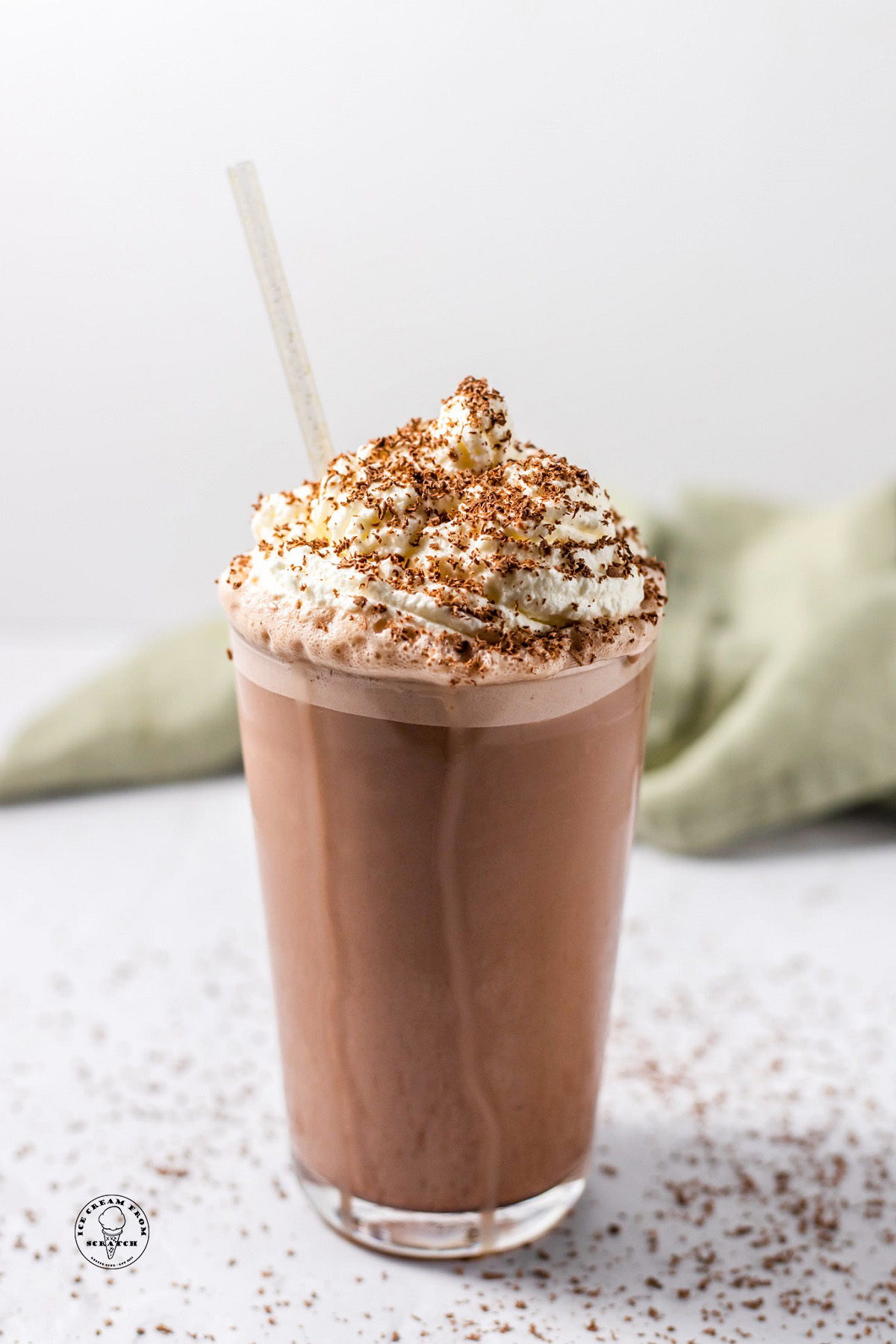 Homemade milkshakes, including this Coffee Milkshake, are super easy to make and always enjoyed.
Chocolate milkshakes, Oreo milkshakes, and peanut butter milkshakes are the top three favorite milkshakes when it comes to the kids in my house, but if you ask the adults, the clear winner is this coffee milkshake!
I love making this coffee shake recipe in my blender in the afternoon when my morning coffee has long ago worn off. A little bit of coffee and sweet ice cream puts me in the best mood for the rest of the day.
Another perfect way to enjoy some coffee with your ice cream is in an Italian affogato. An Affogato mixes ice cream with hot espresso, and it's delicious!
Why You're Going to Love this Coffee Milkshake Recipe
Coffee and ice cream are the perfect match! If you like mocha Frappuccinos, you'll definitely enjoy this easy coffee milkshake that you can make at home. You'll save a ton of money too!
This coffee shake is cool and smooth, with the exact right amount of coffee, so that you can really taste it.
But because we're mixing coffee with chocolate ice cream, it's sweet instead of bitter, and super satisfying in every way!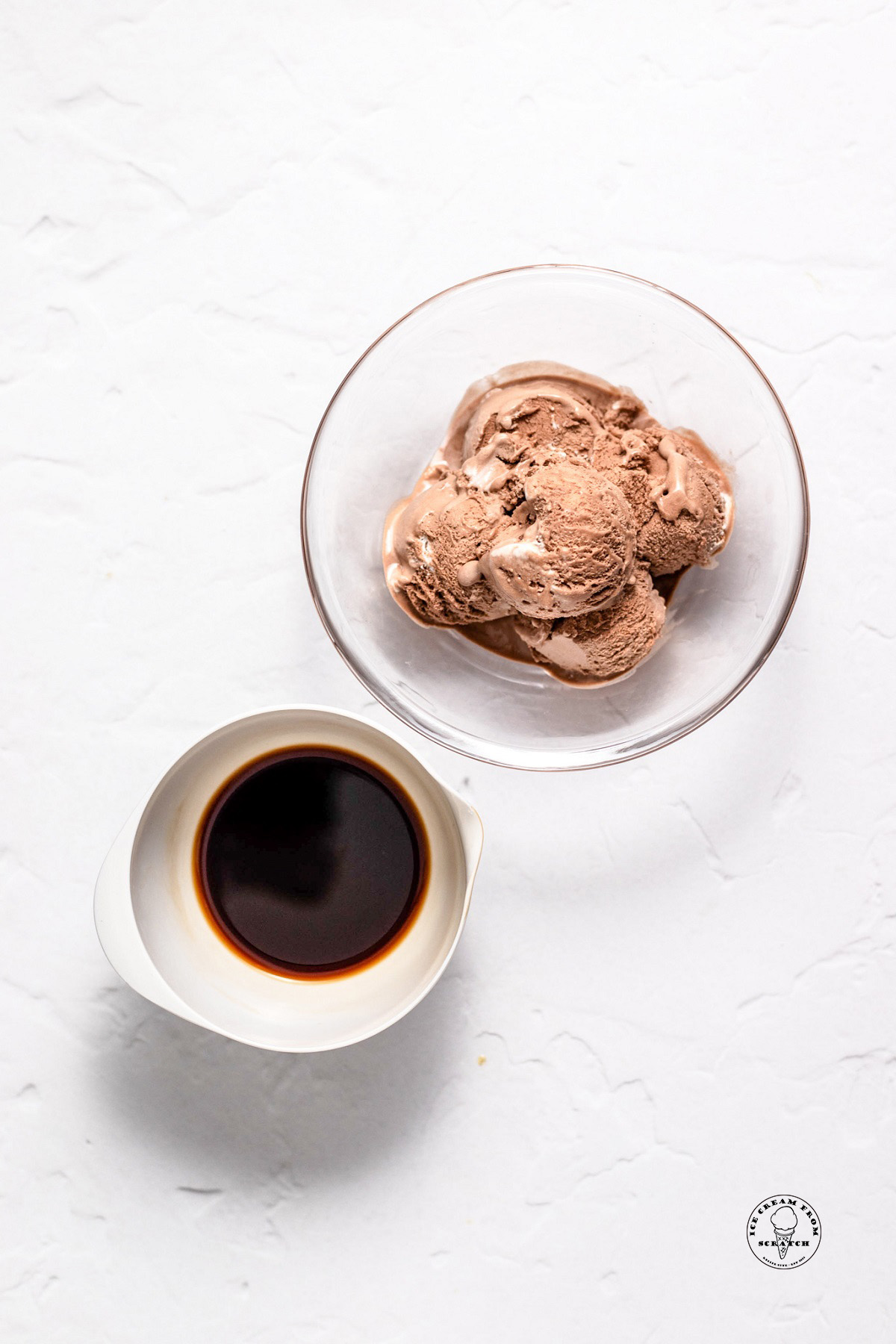 Ingredients in this Homemade Coffee Milkshake
You only need two ingredients to make the best coffee milkshake!
Chocolate Ice Cream – If I had to pick an ideal flavor of ice cream to make coffee milkshakes with, I choose chocolate. You can also make this recipe with vanilla ice cream, coffee ice cream, or any flavor you think will go good with coffee.
Strong Coffee – You need about half a cup of strong coffee or espresso to make this coffee shake. Be sure that the coffee is chilled before you make the milkshake, or you'll end up with a melty drink.
Optional Toppings – If you like, top your milkshake with whipped cream, chocolate shavings, and a cherry on top!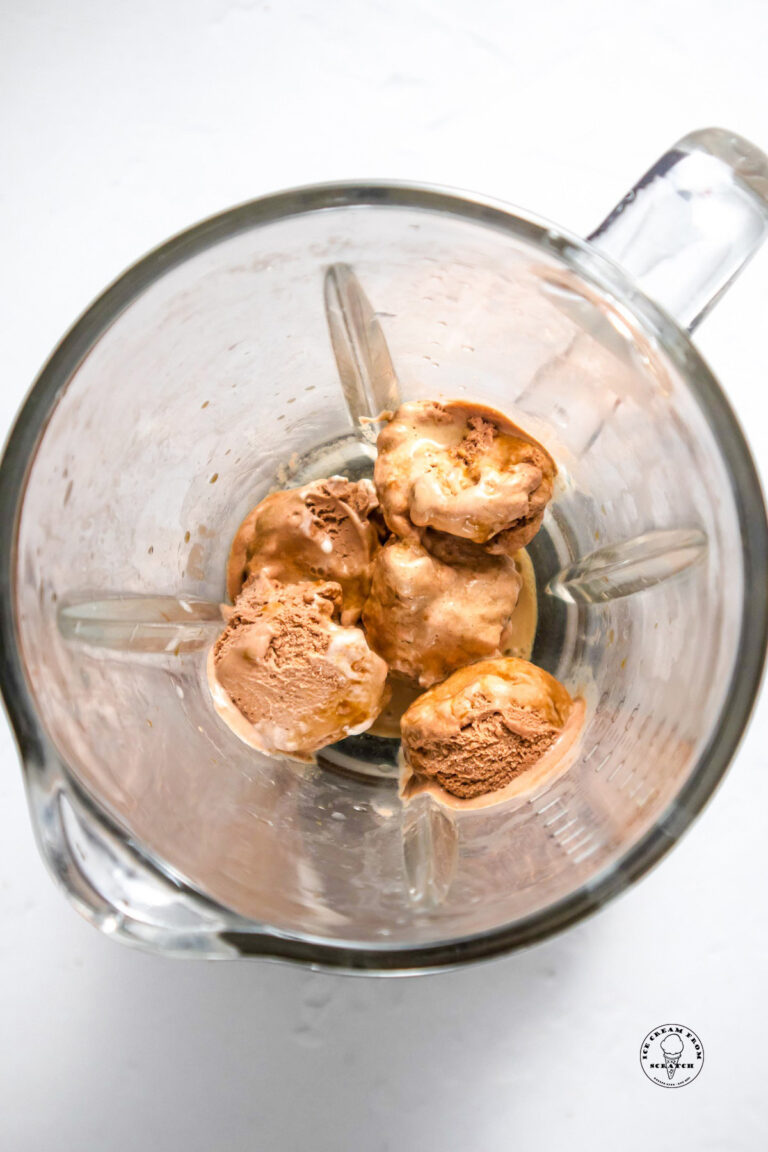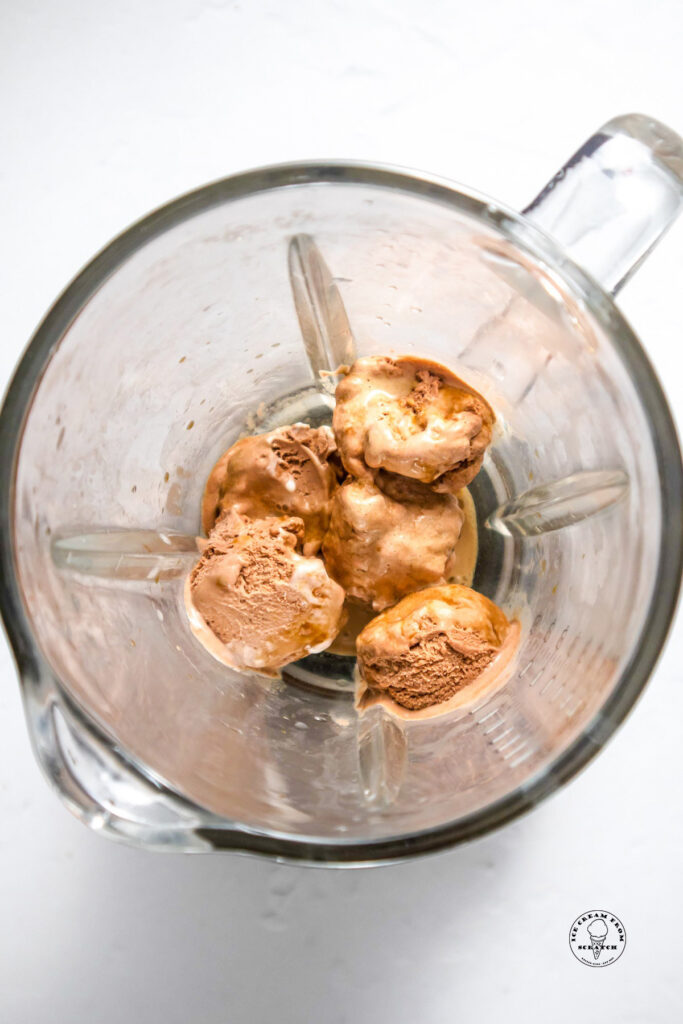 How to Make a Coffee Milkshake
Add the ice cream and strong coffee or espresso to the jar of your blender.
Blend on high speed until the milkshake is smooth and creamy, and no chunks remain.
Pour into a glass and serve immediately, with toppings if you like.
These photos are for illustration purposes. For the complete list of ingredients and instructions, please see the recipe below.
Coffee Milkshake Tips and Tricks
Use cold coffee or espresso, and keep your ice cream in the freezer until you're ready to make your milkshake. This will ensure that your milkshake is thick and creamy.
Enjoy your milkshake right away. It will get melty if you let it sit too long, and you can't re-freeze it to enjoy later.
Double the ingredients to make two milkshakes. It's always nice to share!
Coffee Milkshake Variations
When you're thinking about what to add to a coffee milkshake, I find it's helpful to ask yourself, "What would Starbucks do?".
Any flavor combination that you'll find on a coffee shop menu will translate to making milkshakes with coffee too. Here are some ideas:
Add more chocolate: Mix in chocolate syrup or very small shavings of chocolate.
For bolder coffee flavor, try adding a pinch of instant espresso granules to the blender!
Try other syrups and sauces: Caramel Sauce is delicious in a coffee milkshake, or you can add a splash of your favorite coffee flavoring syrup (hazelnut is my fave!), or a few drops of vanilla or almond baking extract.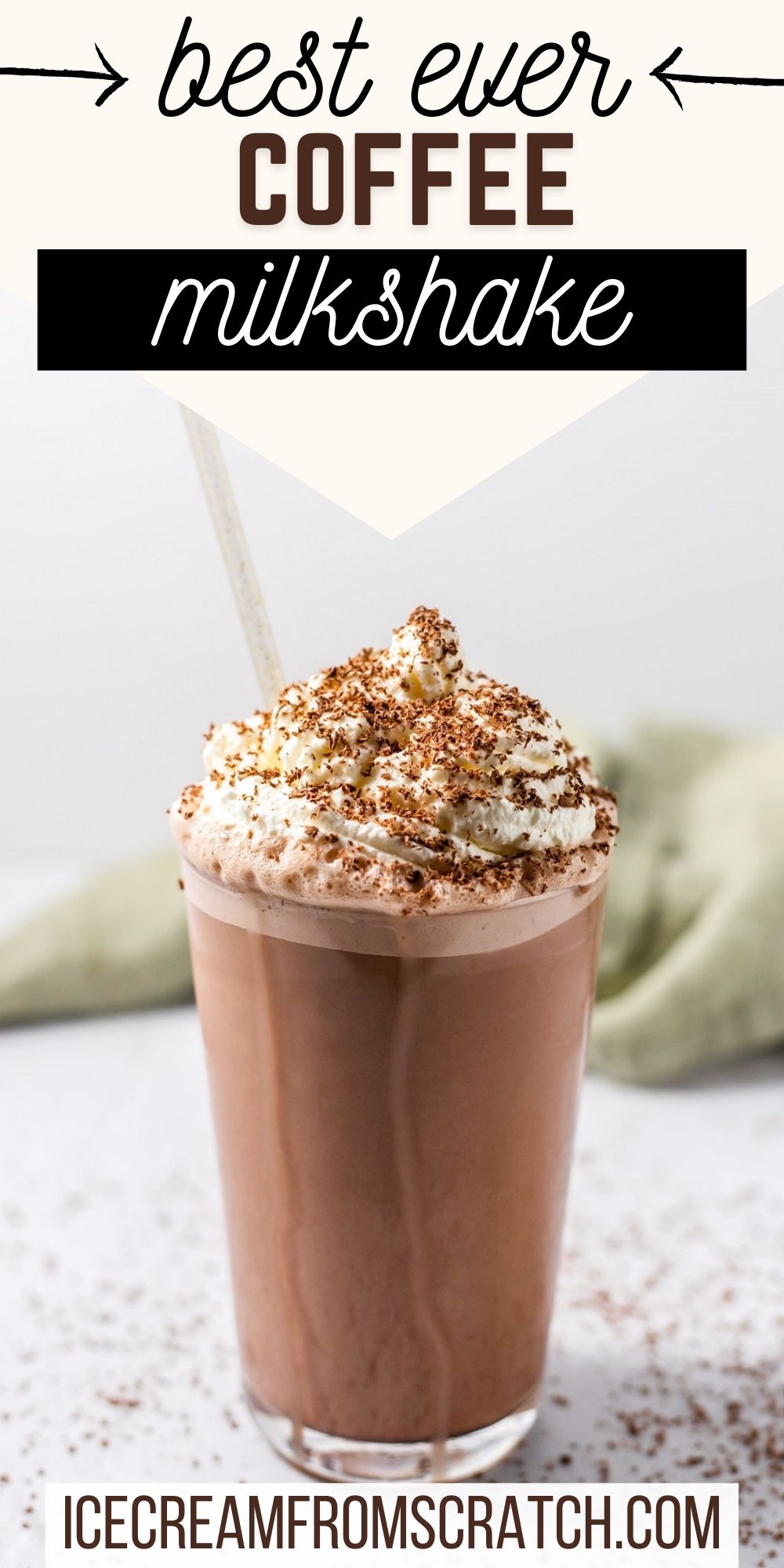 How to Make a Thick Coffee Milkshake
This milkshake is already nice and thick, but there are a few different ways for making a thicker milkshake.
You can reduce the amount of liquid in the recipe so that there is a higher ratio of ice cream to coffee.
You can also reduce the amount of ice cream used to get a similar result.
How to Thin Down a Milkshake
If your milkshake seems too thick when you're done blending it, you can add a little bit more coffee or milk, and blend until the milkshake is exactly the way you like it.
What is the Best Blender for Making Homemade Coffee Milkshakes?
You can use any kind of blender to make homemade milkshakes!
The beauty of this recipe is that a common inexpensive blender will work just as well as a high-powered one.
How to Make a Coffee Milkshake Without a Blender
While it's not the best way to do it, you can make an easy coffee milkshake without any special equipment.
Scoop the chocolate ice cream into a quart-sized mason jar or another deep glass container, and microwave it for 15-30 seconds so that it's soft but not completely melted.
Then add your coffee, place the lid on the jar, and shake, shake, shake! Keep shaking until the mixture is smooth and creamy. You can use a spoon to break up any large chunks if needed.
How to Make a Vegan Coffee Milkshake
It's simple to make a vegan milkshake! Just replace the ice cream with your favorite non-dairy version. You might enjoy our recipe for coconut ice cream, or our oat milk ice cream, which isn't vegan but is dairy-free.
More Homemade Milkshake Recipes
If you love milkshakes, you are going to be happy you're here! We have tons of other milkshake recipes that you can make at home. Try them all, or choose a new favorite!
Don't miss our easy instructions for making old-fashioned Root Beer Floats too!
Things we love for making milkshakes:
Heat Conductive Ice Cream Scoop
Note: Each of these links will take you to the exact product on Amazon. As an Amazon associate, I earn a little from each qualifying purchase.
LET'S GET SOCIAL, you can follow us on Pinterest or leave a comment below if you have any questions.
Did you make this Homemade Coffee Milkshake Recipe? Leave a Comment Below letting us know what you thought and if you tried any variations!
Yield: 1 Serving
Coffee Milkshake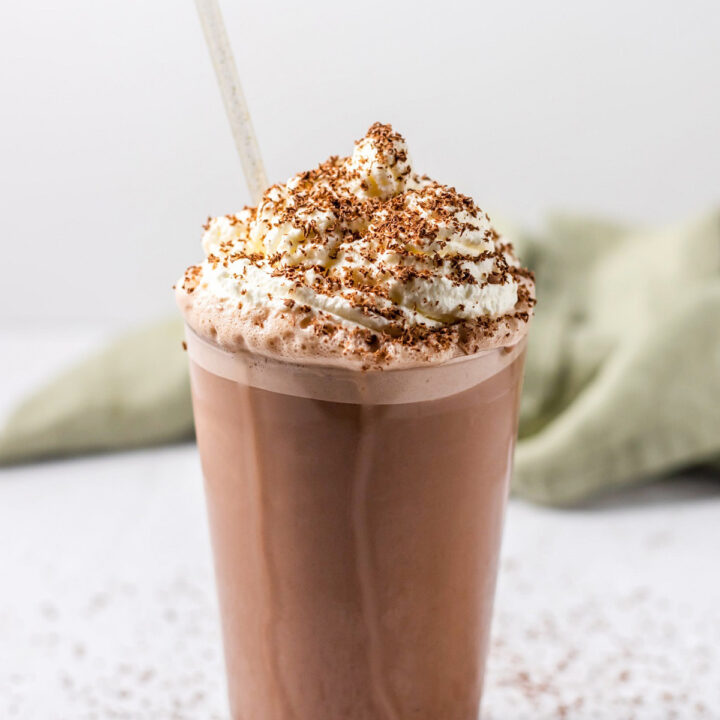 A homemade coffee milkshake is rich and creamy, sweet and simple, and the perfect blend of chocolate ice cream and coffee to give you a pick-me-up any time you need it.
Ingredients
2 cups chocolate ice cream
4 tablespoons strong coffee or 3 tablespoons espresso, cooled or chilled
Instructions
Add the ice cream and strong coffee or espresso to a blender jar.
Blend on high until the coffee milkshake is smooth and creamy, and no chunks remain.
Serve immediately.
If desired, top with whipped cream, chocolate shavings and a cherry.
Notes
For the most coffee flavor, use cold espresso to make this recipe. If you don't have espresso, brew very strong coffee instead.
It's important that the coffee or espresso is cold before you blend the milkshake.
Feel free to use vanilla ice cream instead of chocolate.
Nutrition Information:
Yield:
1
Serving Size:
1
Amount Per Serving:
Calories:

575
Total Fat:

29g
Saturated Fat:

18g
Trans Fat:

0g
Unsaturated Fat:

10g
Cholesterol:

90mg
Sodium:

208mg
Carbohydrates:

75g
Fiber:

3g
Sugar:

67g
Protein:

10g