Make this easy Caramel Sauce recipe and drizzle it all over your favorite ice cream flavors! It's also delicious on cakes, cookies, or homemade cheesecake too.
You need just 5 simple ingredients to make homemade caramel sauce, and you might have them in your kitchen already.
This rich ice cream topping is gluten-free, nut-free, and can be stored for up to 3 weeks in the refrigerator!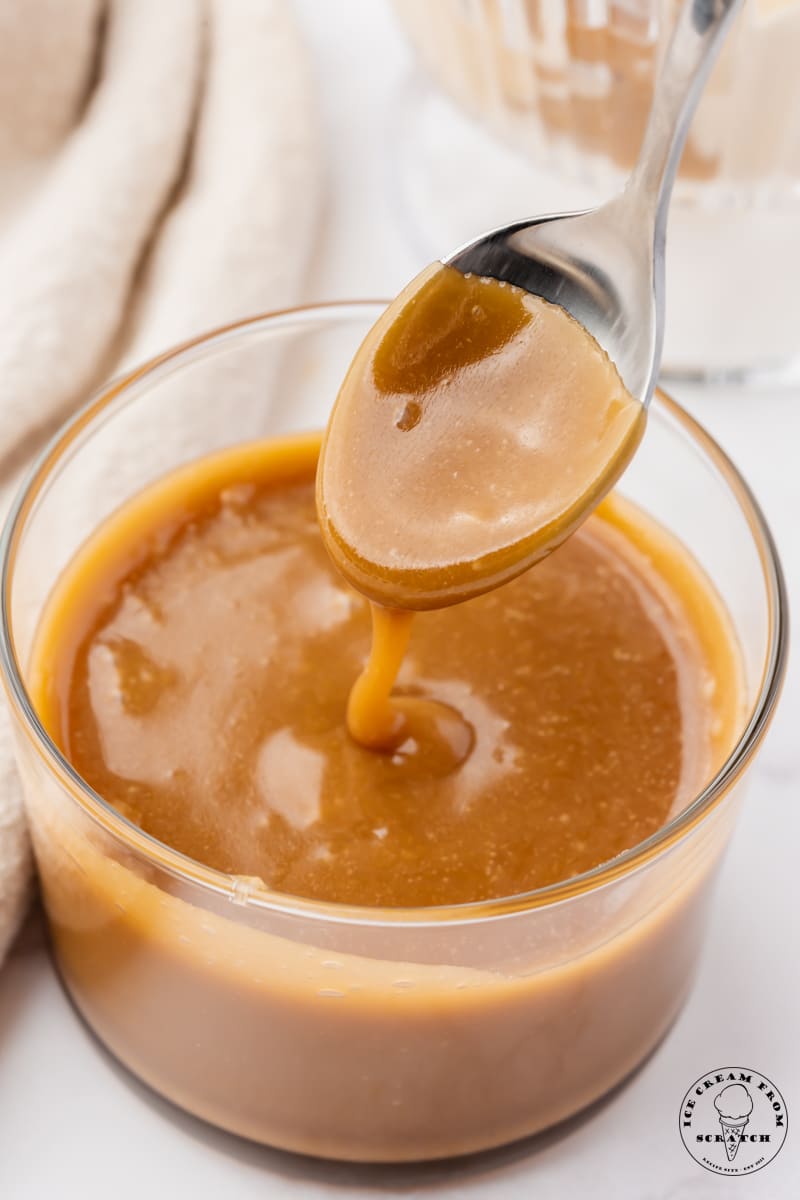 Hot fudge sauce gets lots of attention when it comes to ice cream sundae toppings, but I think we should give a bit more love to this buttery, sweet, and decadent caramel sauce.
You can always find caramel ice cream toppings at the store, but once you learn how to make caramel sauce at home, you won't need to shop for it anymore!
Your made-from-scratch caramel syrup can be made in just 10 minutes, and stored in the fridge for weeks, so it's always ready to top a brownie sundae, apple pie a la mode, or a bowl of homemade frozen yogurt.
Caramel sauce is perfect for stirring into coffee too!
Why You're Going to Love It
Better than Store Bought – This homemade sauce is better than anything you can buy in the store, for many reasons. First, it's much cheaper to make caramel sauce at home. Save money by cooking from scratch! Second, because there are no preservatives or artificial ingredients, this sauce will taste better.
Easy Recipe – There's nothing complicated about making caramel from scratch. Simply add the ingredients to a pot and cook them until the sauce is smooth and perfect.
Make Ahead – You can keep homemade caramel in the fridge for up to 3 weeks, so it's ready to go whenever you are.
The Perfect Ice Cream Topping – Drizzle caramel over all of your favorite ice cream flavors! You can even drizzle it in with your homemade ice cream when you freeze it or use it to make ice cream cakes or ice cream pies.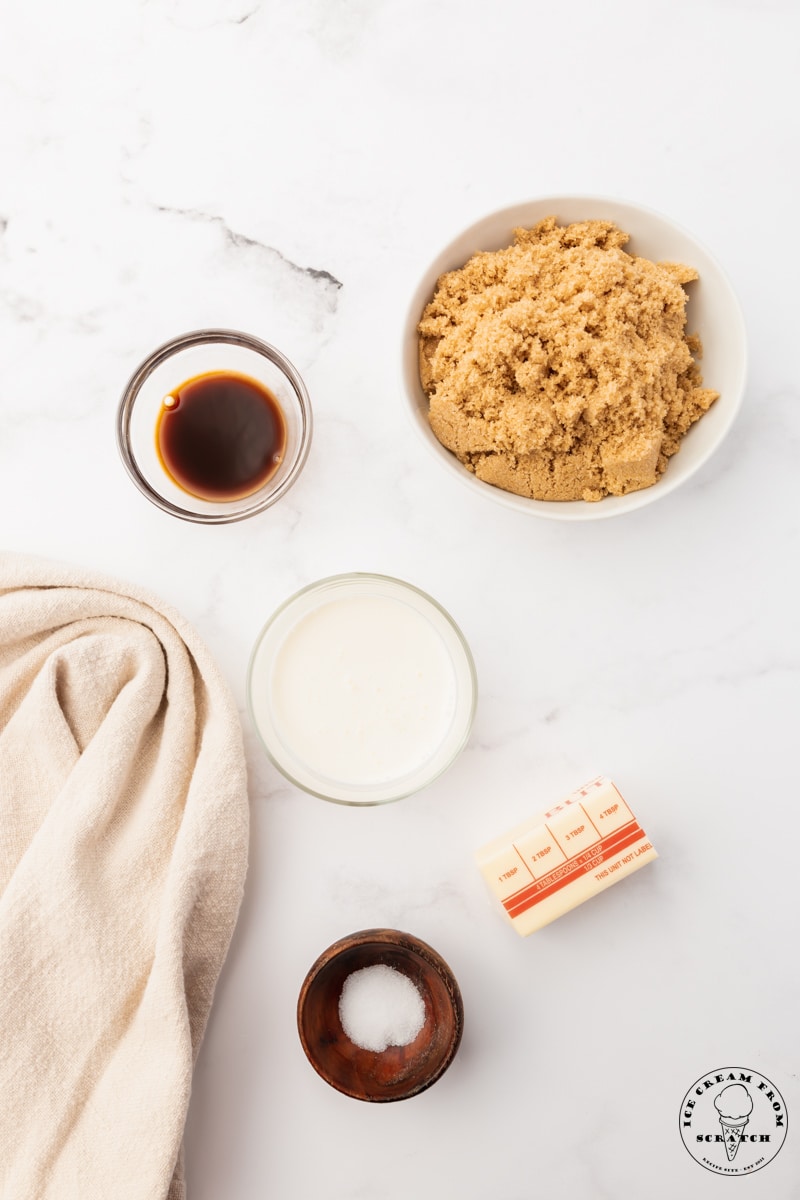 Ingredients Needed
Brown Sugar – Light brown sugar has molasses in it, which makes the caramel richly flavored and a lovely brown color.
Heavy Cream – Cream keeps the cooked sugar from getting too hard and makes caramel sauce extra creamy and smooth.
Unsalted Butter – We'll add salt ourselves since you can never tell exactly how much salt is in salted butter. Butter gives caramel its richness.
Kosher Salt – Just a bit gives this sauce the perfect balance of salty and sweet. For a salted caramel sauce, just add a pinch more.
Vanilla Extract – This elevates the flavors of sugar and cream to make the caramel perfect.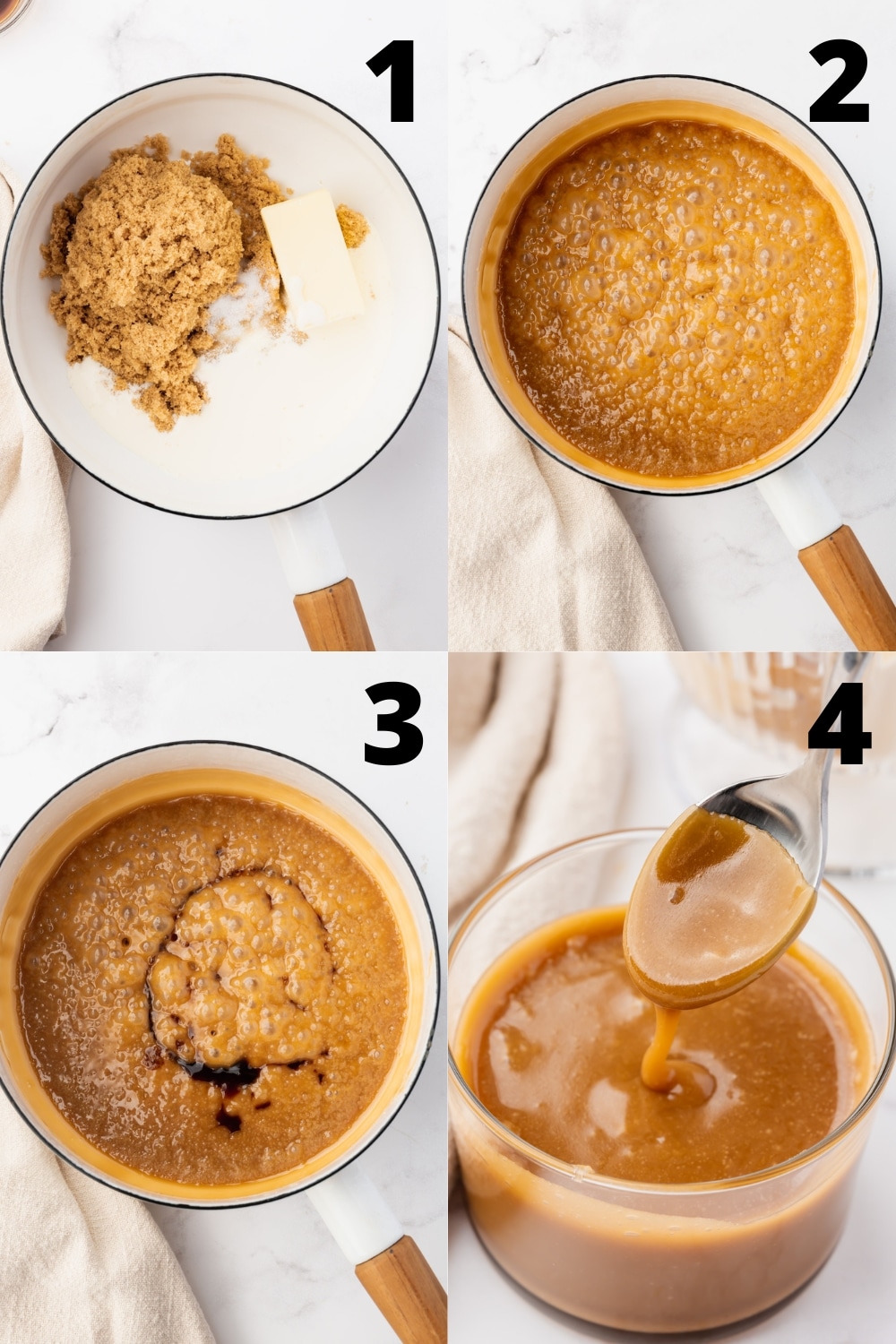 How to Make Caramel Sauce from Scratch
Add the brown sugar, heavy cream, butter, and salt to a small saucepan over medium heat.
Bring the mixture to a boil, stirring often. Once boiling, cook for 5 minutes to let the mixture thicken and the sugar melt completely.
Stir in the vanilla extract once the caramel sauce has been removed from the heat.
Allow your homemade caramel to cool slightly before serving it over ice cream, or pour it into a glass jar for storage.
These numbered steps match the numbered photos above and are for illustration purposes. For the complete list of ingredients and instructions for making homemade caramel sauce, please see the recipe below.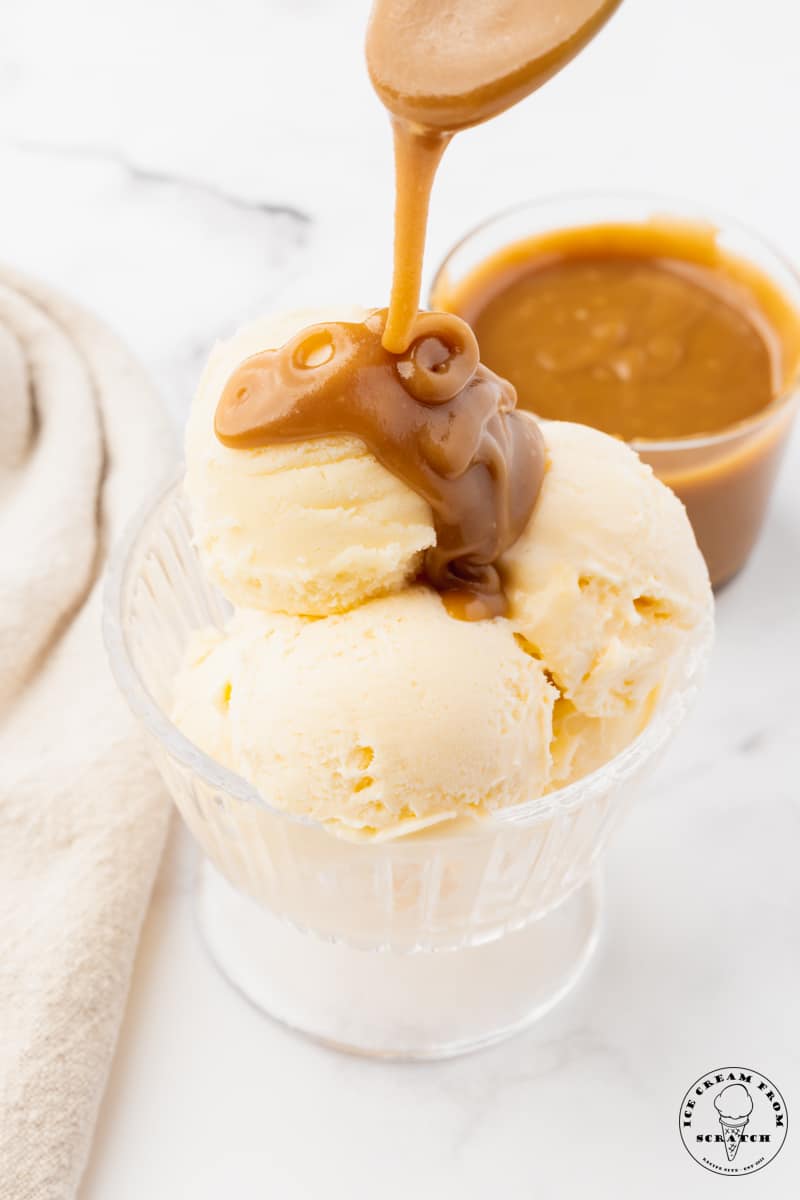 How to Store Caramel Sauce
Keep leftovers in a glass container in the fridge. Your homemade ice cream topping will stay fresh for up to 2 weeks if stored correctly.
When you're ready to use it, just microwave the caramel sauce for 15-20 seconds to warm it up.
For longer storage, keep homemade caramel sauce in an airtight, freezer-safe container, in the freezer for up to 3 months.
Let it thaw in the fridge, then reheat as needed.
Tips for Making This Easy Caramel Sauce Recipe
Use quality ingredients – To make the best homemade caramel sauce, use the best ingredients! Fresh butter and high-quality pure vanilla extract will make a difference.
Don't skimp on the fat – High-fat cream and butter are essential in this recipe. I don't recommend using substitutes.
Avoid grainy caramel sauce – When cooking the caramel, be sure that the sugar has fully melted and dissolved. If it does not, you will end up with a grainy final product.
Let it cool – Right after cooking, the caramel sauce will be too hot to add to ice cream. Give it a few minutes to come to a temperature that is warm but not hot.
Double the recipe – You'll get about 1 cup of caramel sauce using this recipe. Feel free to make more. Simply double all of the ingredients, and use a larger saucepan to cook it in.
Why is My Caramel Sauce Grainy?
Be sure to cook the sugar, butter, and cream mixture until all of the sugar has completely dissolved. If there are still sugar crystals, then your sauce will feel grainy.
You want to stir the caramel as it cooks, but not too much. Introducing too much air to the mixture can cause crystallization.
You can also get grainy caramel sauce if you try to reheat the caramel too much. Be sure to gently reheat the sauce in the microwave or on the stovetop over low heat.
Can I Fix Grainy Caramel Sauce?
Yes, you can! If you notice that the sauce has caramelized before you've put it in the fridge, you can put it back on the heat with a few tablespoons of water. Bring it back to a bubble to dissolve the crystals and then let it cool again.
The Caramel Sauce is Hard After Refrigerating!
This is to be expected and is nothing to worry about. After being gently warmed, the caramel sauce will be silky smooth and ready to drizzle again.
Is Caramel Sauce Gluten Free?
Some store-bought caramel sauces are gluten-free, but you may find that many of them contain ingredients that aren't safe. Making caramel sauce from scratch with simple gluten-free ingredients is the best way to be sure that your caramel sauce is gluten-free.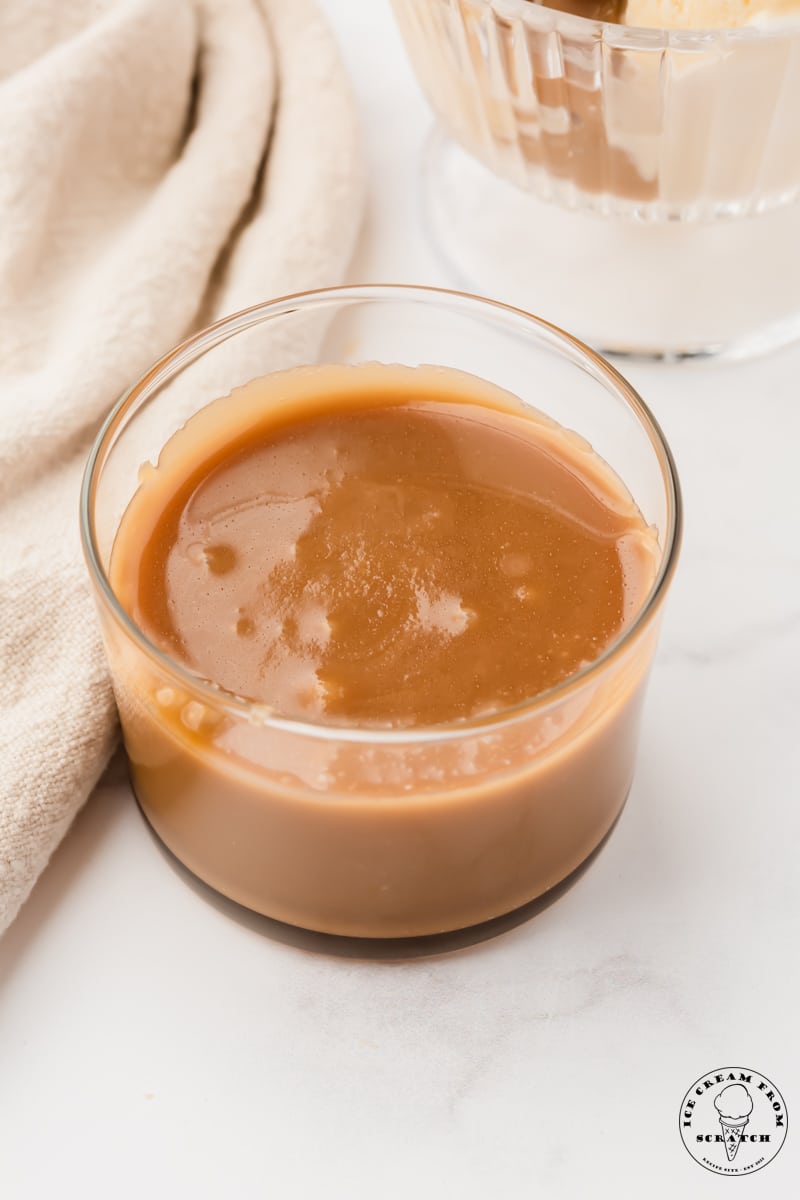 Can I Make Caramel Sauce with White Sugar?
You can, and many recipes call for white sugar instead of brown. But if you're following this recipe, I don't suggest making that substitution. We've developed this recipe with brown sugar, and white sugar won't give you the same result.
Can Caramel Sauce Be Kept at Room Temperature?
Because of the high amount of sugar in the recipe, you can keep it at room temperature for a few days, but since it does include cream, I highly suggest keeping homemade caramel in the fridge to be safe.
Looking for another treat to try with caramel sauce? Serve it over this Sticky Toffee Pudding.
What Ice Cream Flavors Go with Caramel?
Try any of these delicious homemade ice cream flavors with homemade caramel sauce!
More Homemade Ice Cream Topping Recipes
LET'S GET SOCIAL, you can follow us on Pinterest or leave a comment below if you have any questions.
Did you make this Homemade Caramel Sauce Recipe? Leave a Comment Below letting us know what you thought and if you added any additional add-ins.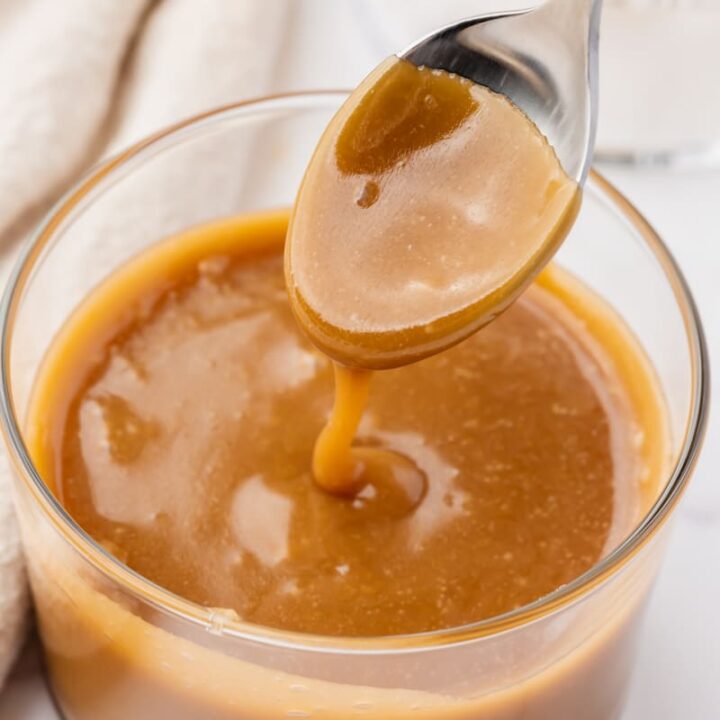 Easy Caramel Sauce
Make this easy Caramel Sauce recipe and drizzle it all over your favorite ice cream flavors, use it for sundaes, or add it to milkshakes!
Ingredients
1 cup brown sugar
1/2 cup heavy cream
1/4 cup unsalted butter
1/4 tsp kosher salt
2 tsp vanilla extract
Instructions
Add the brown sugar, heavy cream, butter and salt into a small pot over medium heat.
Bring to a boil, stirring often, and cook an additional 5 minutes once boiling to let the mixture thicken and the sugar melt completely.
Remove from the heat and add the vanilla extract. Stir to combine.
Let the caramel sauce cool slightly before serving or pouring into a jar for later.
Notes
With this method of making caramel sauce, you need to make sure that all of the brown sugar has melted thoroughly. If the sugar does not melt and dissolve into the mixture completely, you could get a grainy caramel sauce.
You can store leftovers in the refrigerator in a jar for up to 3 weeks. When you're ready to use, just microwave the caramel sauce for 15-20 seconds to warm it up. It's best to store homemade caramel in a glass or heat-proof container.
You can also freeze this sauce for up to 3 months.
This recipe makes approximately 1 cup of caramel sauce.
Nutrition Information:
Yield:

8
Serving Size:

2 tablespoons
Amount Per Serving:
Calories:

191
Total Fat:

11g
Saturated Fat:

7g
Trans Fat:

0g
Unsaturated Fat:

3g
Cholesterol:

32mg
Sodium:

51mg
Carbohydrates:

23g
Fiber:

0g
Sugar:

23g
Protein:

1g