An old-fashioned, all-American classic ice cream dessert, the Banana Split is an iconic ice cream sundae, fun to make, and tasty too!
Make one giant banana split to share, or let everyone assemble their own using fresh bananas, three types of ice cream, and all of the necessary banana split toppings – whipped cream and cherries on top is a must!
If you want to make more of your own homemade classic ice cream desserts, check out our recipes for homemade Ice Cream Cake, and Ice Cream Sandwiches!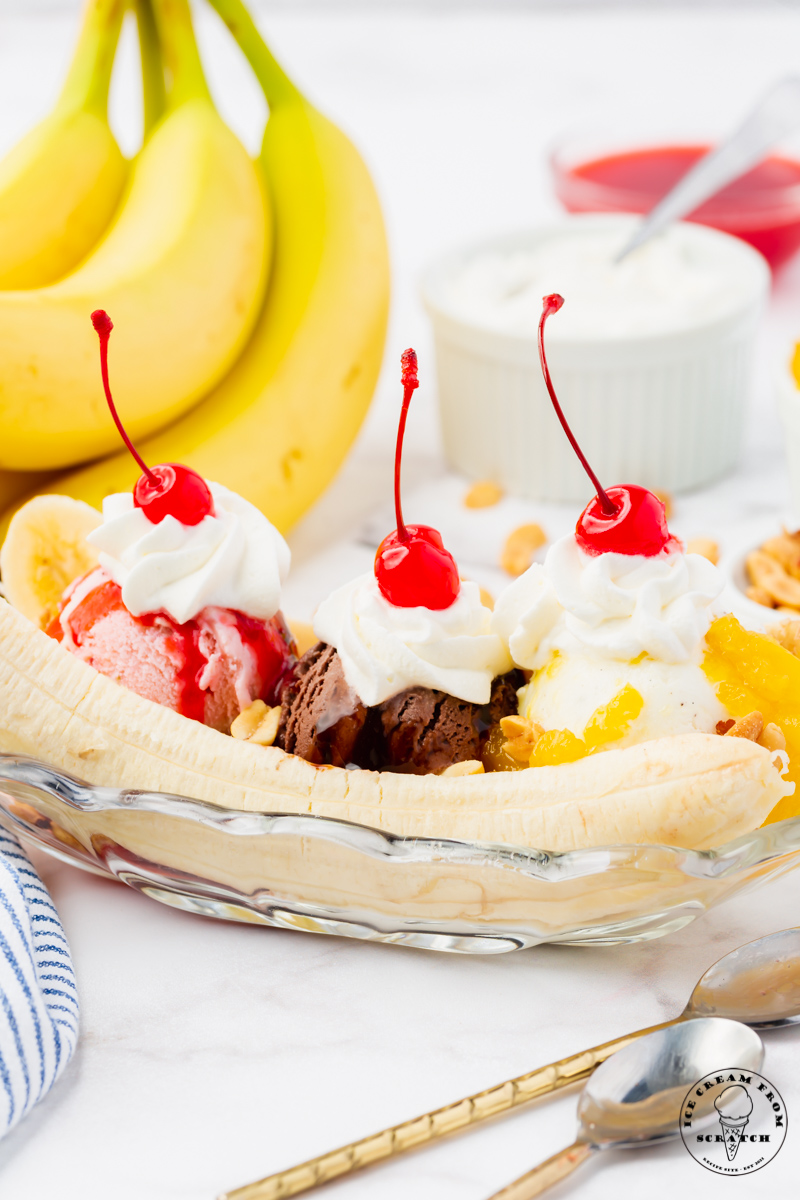 You might also like this Ice Cream Pie recipe.
Banana Split Recipe
We can call this a recipe, but in reality, it's an in-depth tutorial on how to assemble the perfect banana split. We'll go over the specific ingredients needed to make a traditional banana split, and offer some fun variations too.
You are going to love this recipe, and have so much fun making banana splits at home! Here's the lineup:
3 Ice Creams: Vanilla, Chocolate, and Strawberry (the classic favorites), one scoop of each.
3 Toppings: Chocolate syrup, Pineapple, and Strawberry sauce
3 Finishing Touches: Toasted peanuts, Whipped Cream, and Maraschino Cherries
Put all of this together in just the right way to create the perfect banana split.
If you love frozen treats that include bananas, you'll want to try these banana popsicles next.
Who Invented the Banana Split?
It seems that there are a number of people in history who would like to claim to be the first to serve a banana split! The internet is full of stories. One explains that a restaurant owner in Ohio created the dessert to bring in more customers in 1907, while another gives the credit to a pharmacy apprentice in Pennsylvania for creating the banana split dessert a few years earlier, in 1904.
It always makes me chuckle to think that back then, the place to go to get an ice cream sundae or a sugary soda was a pharmacy! In fact, the ice cream sundae itself was invented by a pharmacist in Ithaca, New York (near Cornell University), over a decade before the Banana Split.
Originally, he called his ice cream and toppings creation a Sunday, since he made it on that day of the week, but eventually changed the spelling because the local church didn't approve.
I hope you enjoyed that little bit of ice cream history! Let's get on to making a modern-day banana split sundae, still made the same way as it was over 100 years ago.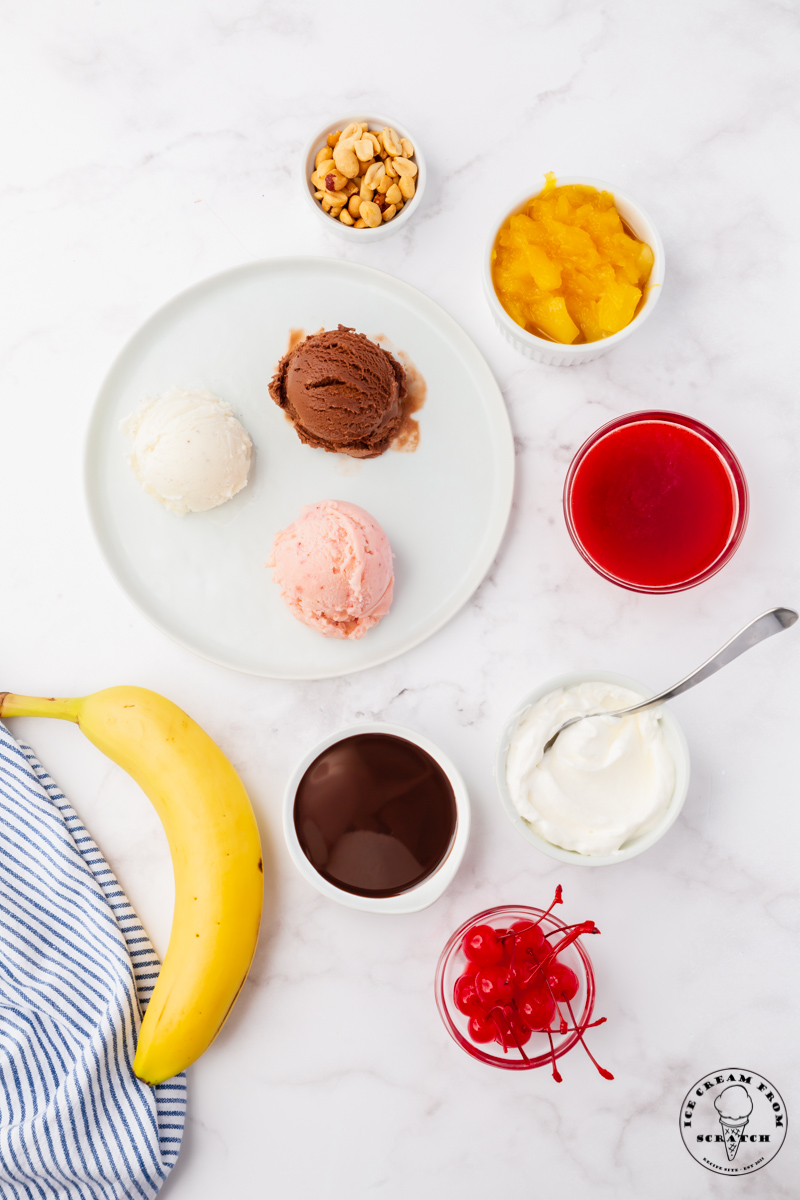 Traditional Banana Split Ingredients
These ingredients make one large banana split. You can adjust them as needed to serve more people!
Banana: One banana is the base layer of a traditional banana split. You want to peel it and then slice it in half lengthwise so that you can form a boat shape with the pieces.
Vanilla Ice Cream: You can use store-bought vanilla ice cream, or make it from scratch! No Churn Vanilla Ice Cream is a simple recipe, or try Sweet Cream Ice Cream.
Chocolate Ice Cream: Chocolate is America's most favorite ice cream flavor! Use your favorite brand, or make No Churn Chocolate Ice Cream to use in your sundae.
Strawberry Ice Cream: A classic fruit-flavored ice cream, Strawberry Ice Cream is the third flavor needed to make a classic banana split.
Chocolate Syrup: Straight from the bottle, Hershey's syrup or similar is what's called for here.
Pineapple Ice Cream Topping: When you're shopping, look for Smucker's pineapple sauce near the other ice cream toppings. If you can't find that, just use crushed canned pineapple, or I'll give you a super quick recipe below for making a sweet, thick, homemade pineapple topping. It's easy!
Strawberry Sauce: You have options here. Pick up a bottle of strawberry sauce like you would mix with milk, or look for a sauce marketed for ice cream topping, which will be thicker and more syrupy. Either will work!
Peanuts: Salted, roasted peanuts are the crunchy topping of choice for a banana split.
For extra banana goodness, you can also include a scoop of Chunky Monkey Ice Cream.
If you have any questions about the ingredients in a banana split, please leave a comment and I will get back to you!
HOW TO MAKE A BANANA SPLIT
Making the perfect banana split is all about the order you assemble the ice cream and toppings in. These easy banana split instructions will tell you the right way to do it.
Peel a banana, and slice it in half lengthwise.
Then place the banana slices in a long, shallow serving bowl.
Add one scoop of each flavor of ice cream on top of and in between the bananas. The Chocolate ice cream scoop should go in the center, with Strawberry and Vanilla on either side.
The strawberry ice cream gets topped with strawberry sauce, the chocolate ice cream with chocolate sauce, and the vanilla ice cream gets a drizzle of pineapple sauce. Sprinkle roasted peanuts over the whole sundae.
The final touch is a dollop of fresh whipped cream and a maraschino cherry on each ice cream scoop!
Serve immediately and enjoy.
These numbered steps match the numbered photos above and are for illustration purposes. For the complete list of ingredients and instructions, please see the recipe below.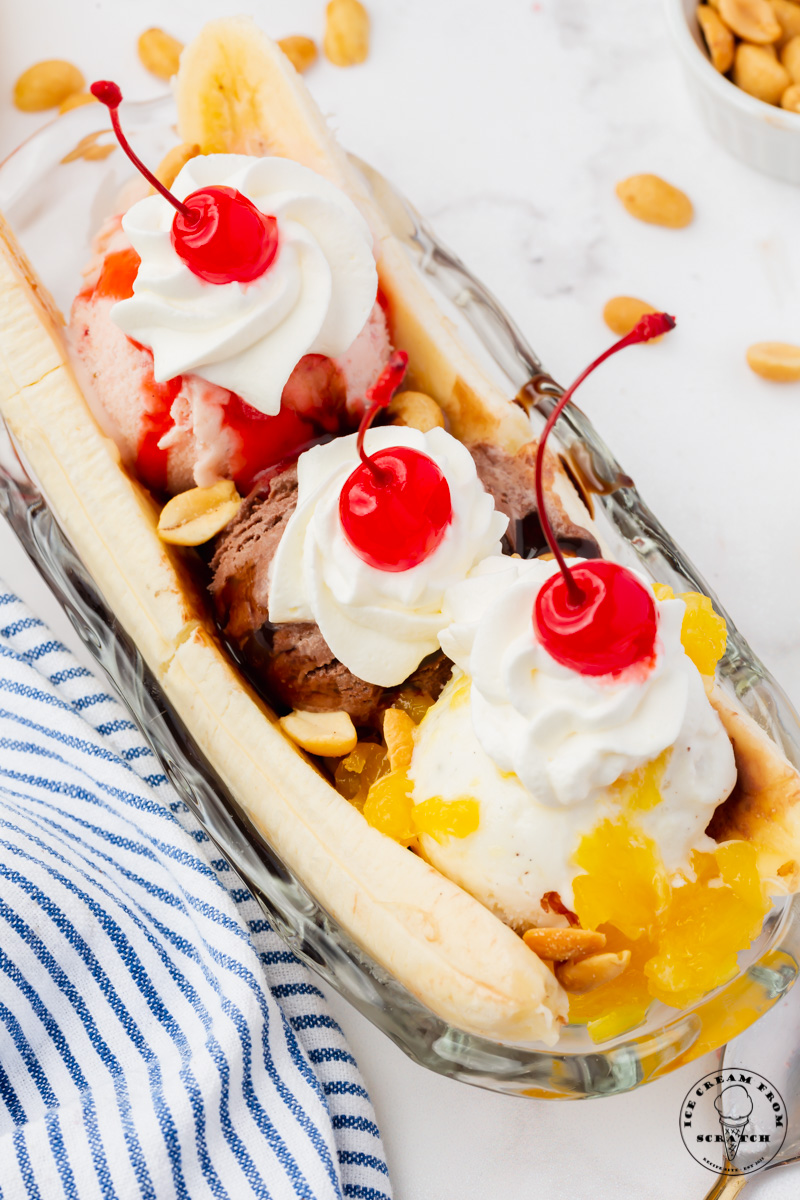 TIPS FOR MAKING BANANA SPLITS
Make it Fresh: You want to make the entire recipe for banana splits just before serving. Sliced bananas will turn brown if they are exposed to air for too long. So be sure that your toppings are ready to go before starting.
No Banana Split Dish? You can buy dishes specifically sized for holding a banana split if you like, or you can use regular bowls. Instead of slicing the banana lengthwise, slice it into rounds and place them at the bottom of the bowl. Arrange the ice cream and toppings in a circle on top of the banana slices. (If you're curious, this style of sundae is called a "banana royale" rather than a banana split!)
Make Smaller Servings: A full banana split can be a lot, particularly for small kids. Adjust the recipe to use just half of a banana, and half scoops of ice cream if you like.
Change up the Toppings: This is a recipe for a classic banana split, but nobody said that you have to stick to tradition! See below for some other topping ideas to make a gourmet banana split or a specialty banana split.
ALTERNATE BANANA SPLIT TOPPINGS
You don't have to stick to the classic banana split toppings! Choose your own adventure and make banana splits that suit your personal tastes. Anything goes when it comes to ice cream sundaes. Try these optional banana split toppings:
Caramel Sauce
Marshmallow topping
Melted Peanut Butter
Hot Fudge
Other Fruit syrups or jam
Sprinkles
Chocolate Chips
Candy Pieces
Crushed Oreos
MAKE A GOURMET BANANA SPLIT
Here are a few ideas for making specialty banana splits, and I bet you can come up with your own ideas too, using your favorite ice cream flavors.
Make a Tropical Banana Split by topping banana slices with Vanilla and Mango Ice cream. Top that with crushed pineapple, toasted coconut, and whipped cream.
A Chocolate Lover's Banana Split can be made with Chocolate, Chocolate Marshmallow, and/or Mississippi Mud Ice Cream. Top all of it with hot fudge, chocolate sauce, and shaved chocolate.
If you love Peanut Butter with chocolate and bananas, make a banana split with Chocolate and Peanut Butter Ice cream. Top it with chocolate sauce, peanut butter topping, and chopped Reese's Cups.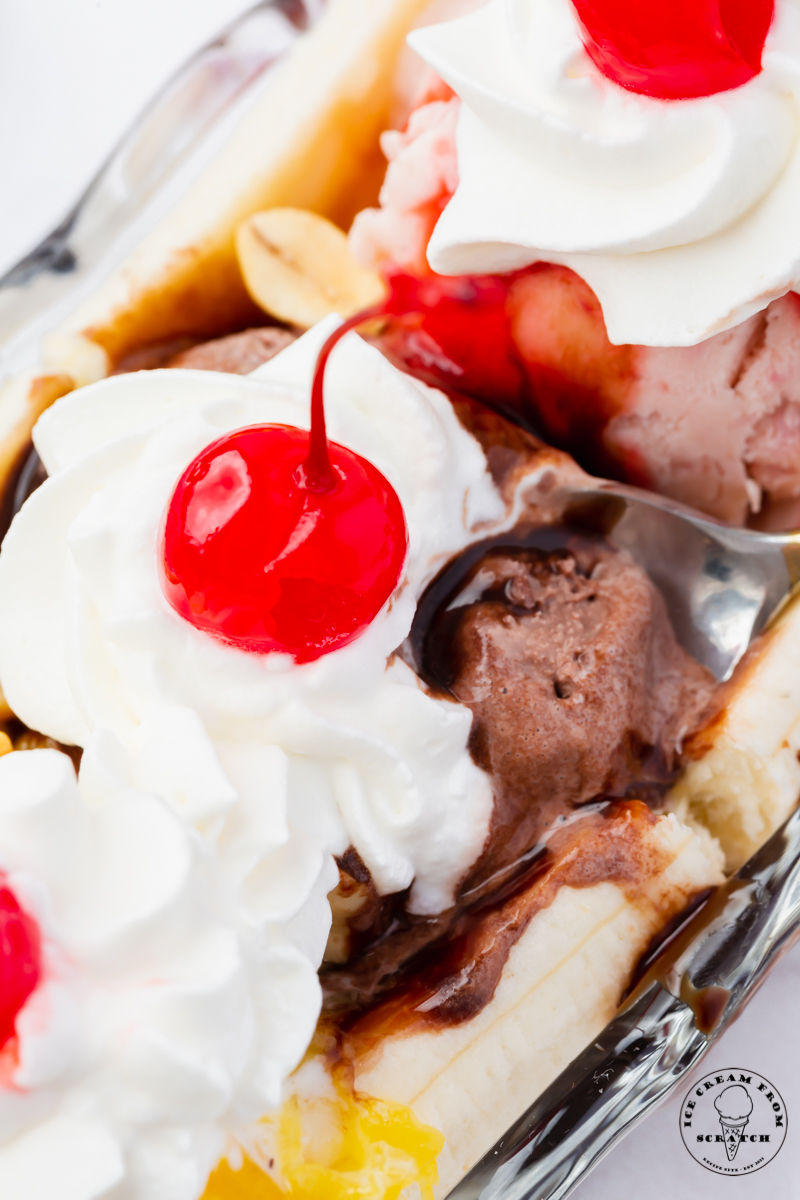 HOW TO MAKE A BANANA SPLIT BAR
Banana Split Bars are a popular treat served at weddings, birthday parties, and other gatherings. Here's how to serve Banana Splits for a crowd:
Shop for Supplies: To make Banana Splits for 10-12 people you'll need 1 to 2 containers (1.5 quart) of each flavor of ice cream and a dozen ripe bananas. You'll also need 2 jars each of pineapple topping and strawberry topping, a large bottle of chocolate syrup, two cans of whipped cream (or 4-5 cups of fresh whipped cream, a can of roasted peanuts, and at least 30 cherries.
To serve a banana split bar for your family, or a smaller group of up to 6 people, you'll want to have one container of each ice cream, one cup of each topping, 2 cups of whipped cream, 1 cup of chopped nuts, and a jar of cherries.
Set up the Ice Cream: Be sure that you have a cooler or a freezer to keep the ice cream cold. Set out containers of strawberry, vanilla, and chocolate ice cream, each with its own scooper. Keep the whipped cream cold as well.
Set up Toppings: Set out the pineapple, strawberry, and chocolate toppings in bowls with spoons or small ladles for serving. Add peanuts in a small bowl, and the cherries in another bowl. A spoon is great for serving the peanuts, and tongs are perfect for grabbing maraschino cherries.
Don't peel the Bananas: Let your guests do that part themselves so that they are fresh. Provide a small cutting board and a knife for slicing.
Provide Instructions: If you won't be serving the banana splits personally, you may want to provide a sign that explains how to make a banana split so that your guests can do it themselves!
EASY PINEAPPLE SAUCE FOR ICE CREAM
If you can't find pineapple sauce at the store, it is simple to make your own.
Mix a 20 ounce can (do not drain) if crushed pineapple with 1/2 cup of sugar, and 1 tablespoon of cornstarch in a medium saucepan.
Bring to a boil, and cook until thickened. This should only take 2 or 3 minutes.
Let the pineapple sauce cool before using as an ice cream topping for your banana splits!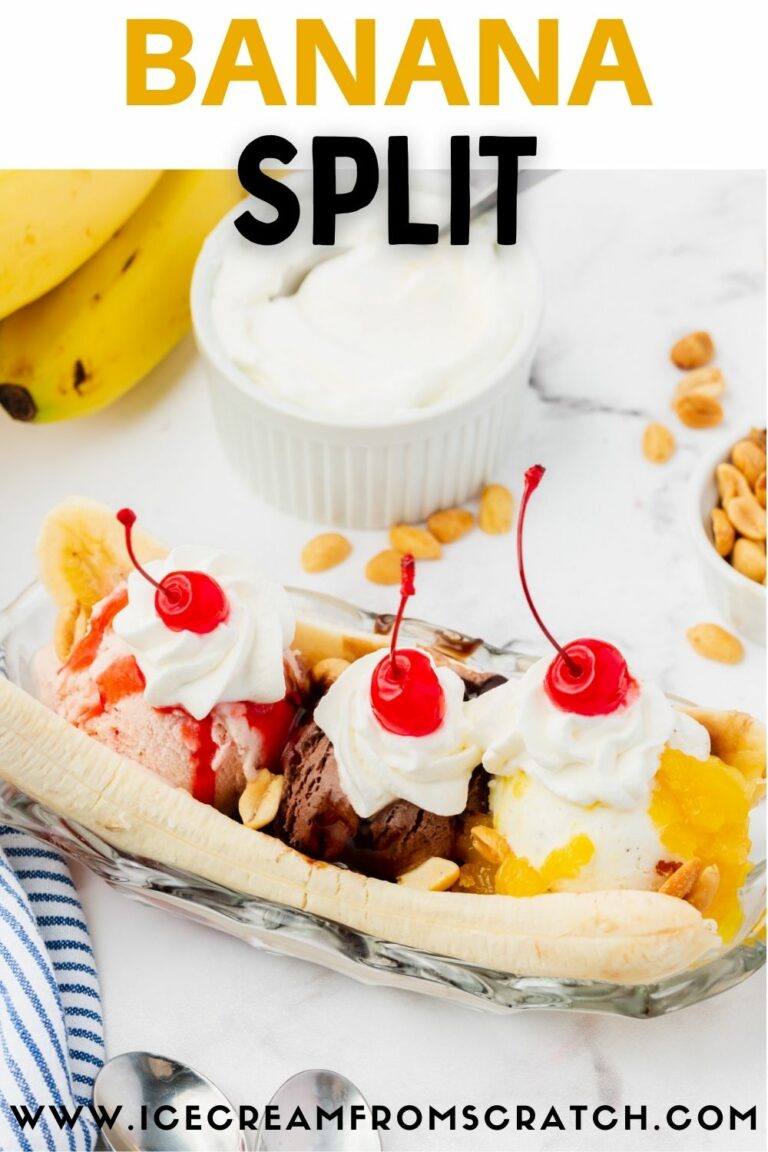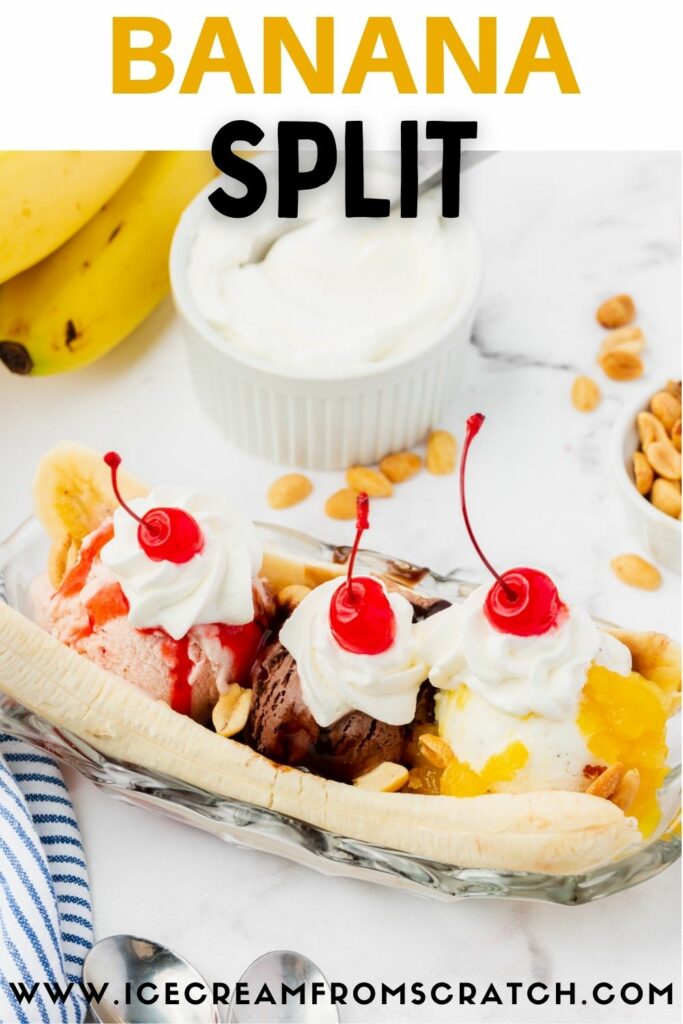 IS A BANANA SPLIT THE SAME AS A BANANA BOAT?
While a banana split kind of looks like a boat made out of a banana, a dessert called a banana boat is actually a campfire treat, made by hollowing out a banana and filling it with chocolate and marshmallows before wrapping it up with foil and cooking it on hot coals! If you like bananas, you should certainly try this the next time you're enjoying the great outdoors.
WHEN IS THE BEST TIME TO HAVE A BANANA SPLIT?
National Banana Split Day is August 25, so be sure to put that date in your planner! Celebrate by making this banana split recipe for your family and friends.
MORE HOMEMADE ICE CREAM DESSERTS TO MAKE
Use store bought ice cream or any of the homemade ice cream recipes here to create these delicious treats!
Some of Our Favorite Ice Cream Making Tools:
Note: Each of these links will take you to the exact product on Amazon. As an Amazon associate, I earn a little from each qualifying purchase.
LET'S GET SOCIAL, you can follow us on Pinterest or leave a comment below if you have any questions.
Did you make this Banana Split Recipe? Leave a comment below letting us know what you thought and if you made any delicious changes!
Yield: 1 banana split
Quick Banana Split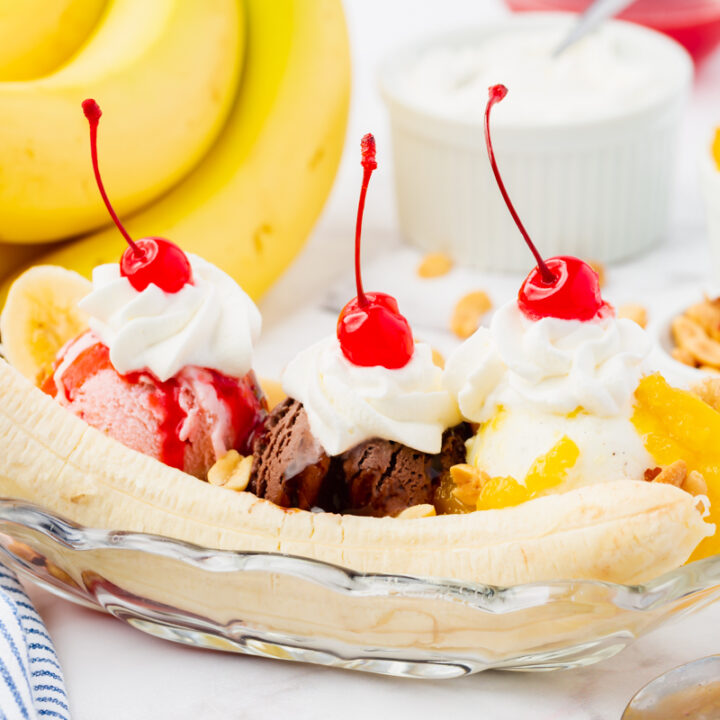 An old-fashioned, all-American classic ice cream dessert, the Banana Split is an iconic ice cream sundae, fun to make, and tasty too!
Ingredients
1 banana, peeled and sliced lengthwise
1 scoop vanilla ice cream
1 scoop chocolate ice cream
1 scoop strawberry ice cream
2 tablespoons pineapple sauce
2 tablespoons chocolate syrup
2 tablespoons strawberry sauce
2 tablespoons toasted peanuts
¼ cup fresh whipped cream
3 maraschino cherries
Instructions
Peel the banana and slice it in half lengthwise.
Place the banana slices in a shallow oval dish.
Place the scoops of ice cream in between the banana slices.
Drizzle the vanilla ice cream with pineapple sauce, the chocolate ice cream with chocolate syrup, and the strawberry ice cream with strawberry sauce. Sprinkle with peanuts.
Top each scoop of ice cream with fresh whipped cream and a maraschino cherry.
Serve immediately.
Notes
Prep all of your toppings before slicing the banana so that it doesn't get brown.
Feel free to change up the ice cream flavors and toppings to any flavors that you enjoy.
If you would like to make a banana split bar, set out a quart of each ice cream, 1 cup of each of the sauces, 1 cup of peanuts or other chopped nuts, 2 cups of fresh whipped cream, and a jar of maraschino cherries. You can add other toppings like caramel sauce, crushed Oreo cookies, rainbow sprinkles, marshmallows, and fresh fruit to add more choices for your guests. 
If you do not have a banana split bowl that is long and shallow, do not be discouraged. You can easily make this in a regular bowl. Slice the banana in half before slicing it lengthwise so you can better fit your banana split in your bowl.
Recommended Products
As an Amazon Associate and member of other affiliate programs, I earn from qualifying purchases.
Nutrition Information:
Yield:
1
Serving Size:
1
Amount Per Serving:
Calories:

939
Total Fat:

33g
Saturated Fat:

16g
Trans Fat:

0g
Unsaturated Fat:

13g
Cholesterol:

82mg
Sodium:

292mg
Carbohydrates:

154g
Fiber:

8g
Sugar:

109g
Protein:

14g
Banana Split Tutorial