Banana popsicles are a creamy, sweet, and refreshing frozen treat. They are made with all-natural ingredients like bananas, maple syrup, and milk.
Homemade banana popsicles are gluten-free, refined sugar-free, and easily made dairy-free.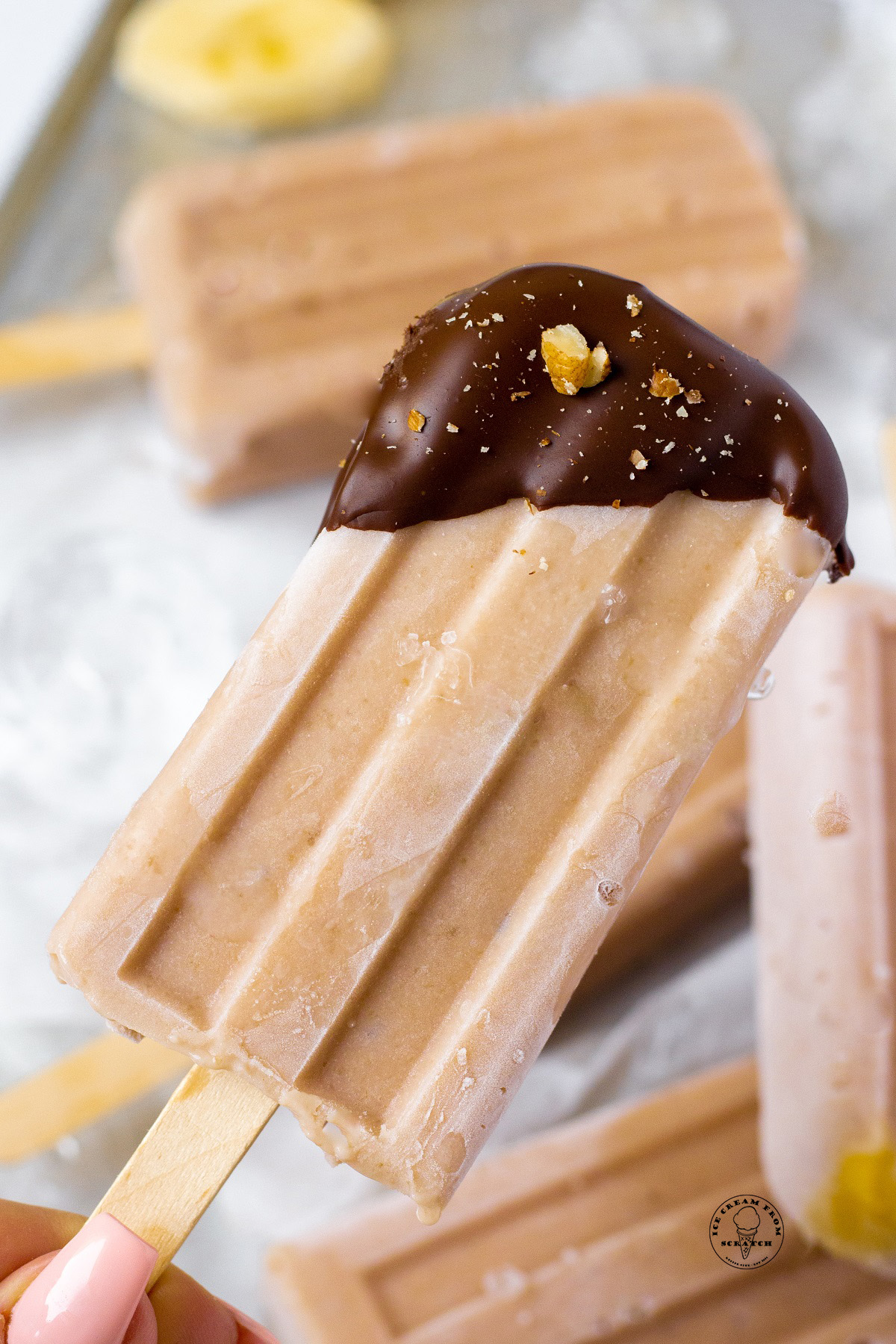 Love banana popsicles? You might like Bananas Foster Ice Cream as well. If you're looking for more chocolate options, you'll love these fudgesicles. Readers also love chocolate ice cream bars.
Bananas are a magical ingredient when it comes to frozen treats. They have the ability, when blended and frozen, to mimic the sweetness and creamy texture of ice cream.
This means that ripe bananas are the perfect choice for making creamy popsicles that use only a small amount of added sugar in the form of rich maple syrup.
Get fancy and dress up banana popsicles with a coating of melted chocolate and chopped nuts, or enjoy them as-is. Either way, you are going to love these homemade popsicles!
Do you love bananas? Check out our recipe for Banana Pudding Ice Cream, or make yourself a creamy Banana Milkshake! Our recipe for Nice Cream uses similar ingredients.
Why You're Going to Love This Banana Popsicle Recipe
A Simple Treat – Each homemade banana popsicle is only about 100 calories and is made with all-natural ingredients, and without any refined sugar, artificial sweeteners, or food dyes.
Simple to Make – It takes less than 5 minutes to make these popsicles in your trusty blender. The hardest part is waiting for them to harden in the freezer!
Easy to Customize – See below for ideas to make these tasty banana popsicles even better.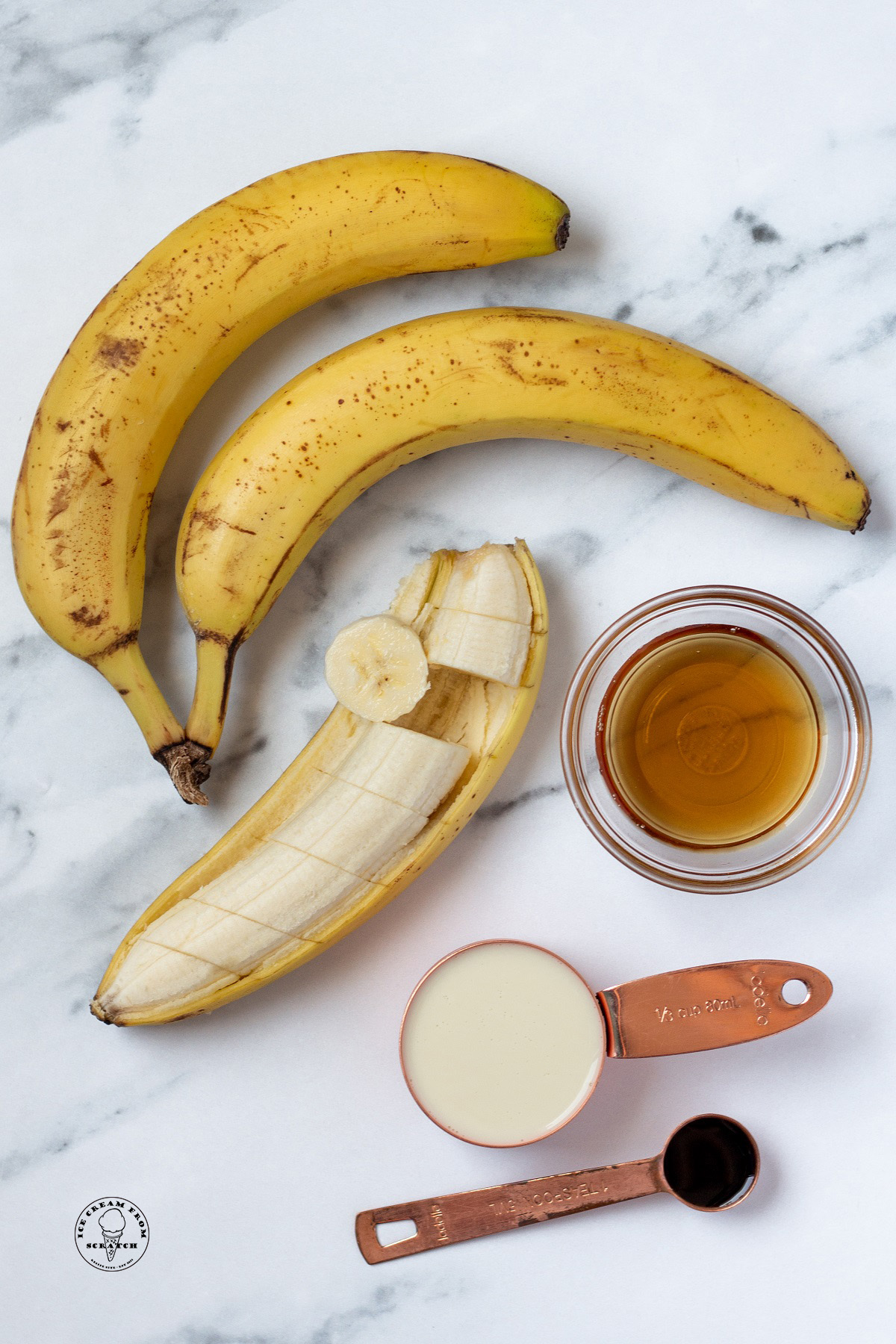 Ingredients in Banana Popsicles
Bananas: This recipe uses 3 medium bananas. For the most sweetness and creaminess, use very ripe bananas. They should not be green and should have a few black spots on them.
Maple Syrup: Using maple syrup in these popsicles makes them a bit healthier since we're avoiding refined sugar!
Milk: Regular milk or non-dairy milk both work well in this recipe. The milk adds needed moisture and extra creaminess.
Vanilla Extract: To flavor the milk, a bit of pure vanilla extract does the trick.
Optional Toppings: You can dip these banana popsicles in melted chocolate (dark, semisweet, or milk chocolate are all delicious) and sprinkle them with chopped walnuts or pecans.
If you have any questions about making banana popsicles, please leave a comment below and I will get back to you!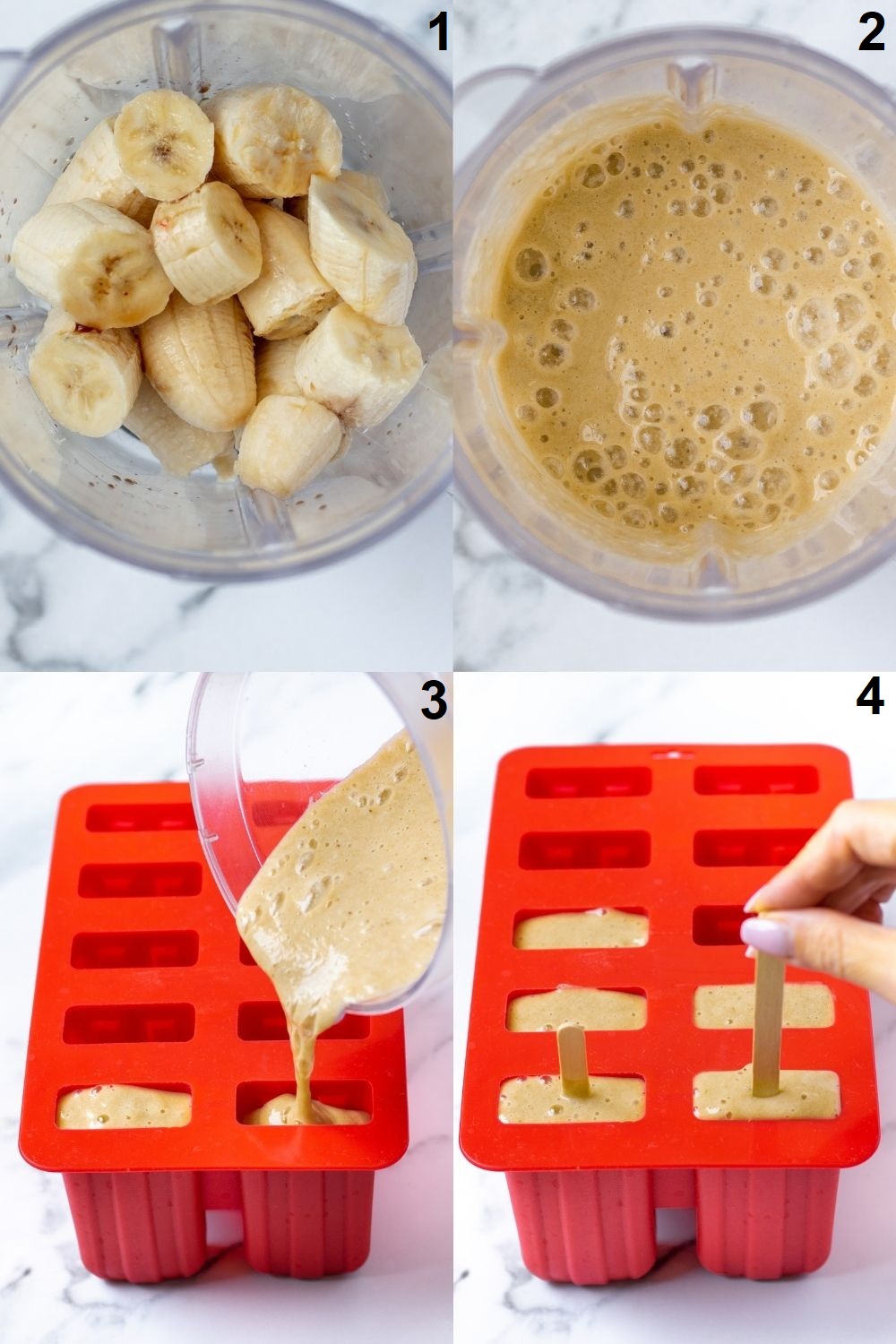 How to Make Homemade Banana Popsicles
Making banana popsicles is a lot like making a banana smoothie!
Add ripe bananas, maple syrup, milk, and vanilla extract to a blender.
Blend until smooth. If needed, add a small amount of additional milk so that the mixture is pourable.
Pour the banana mixture into popsicle molds. Place the mold in the freezer and freeze for 4-6 hours, or overnight, until frozen solid.
Remove the banana popsicles from the molds and enjoy.
Optionally, dip each popsicle into melted chocolate, and sprinkle with chopped nuts.
These numbered steps match the numbered photos above and are for illustration purposes. For the complete list of ingredients and instructions, please see the recipe below.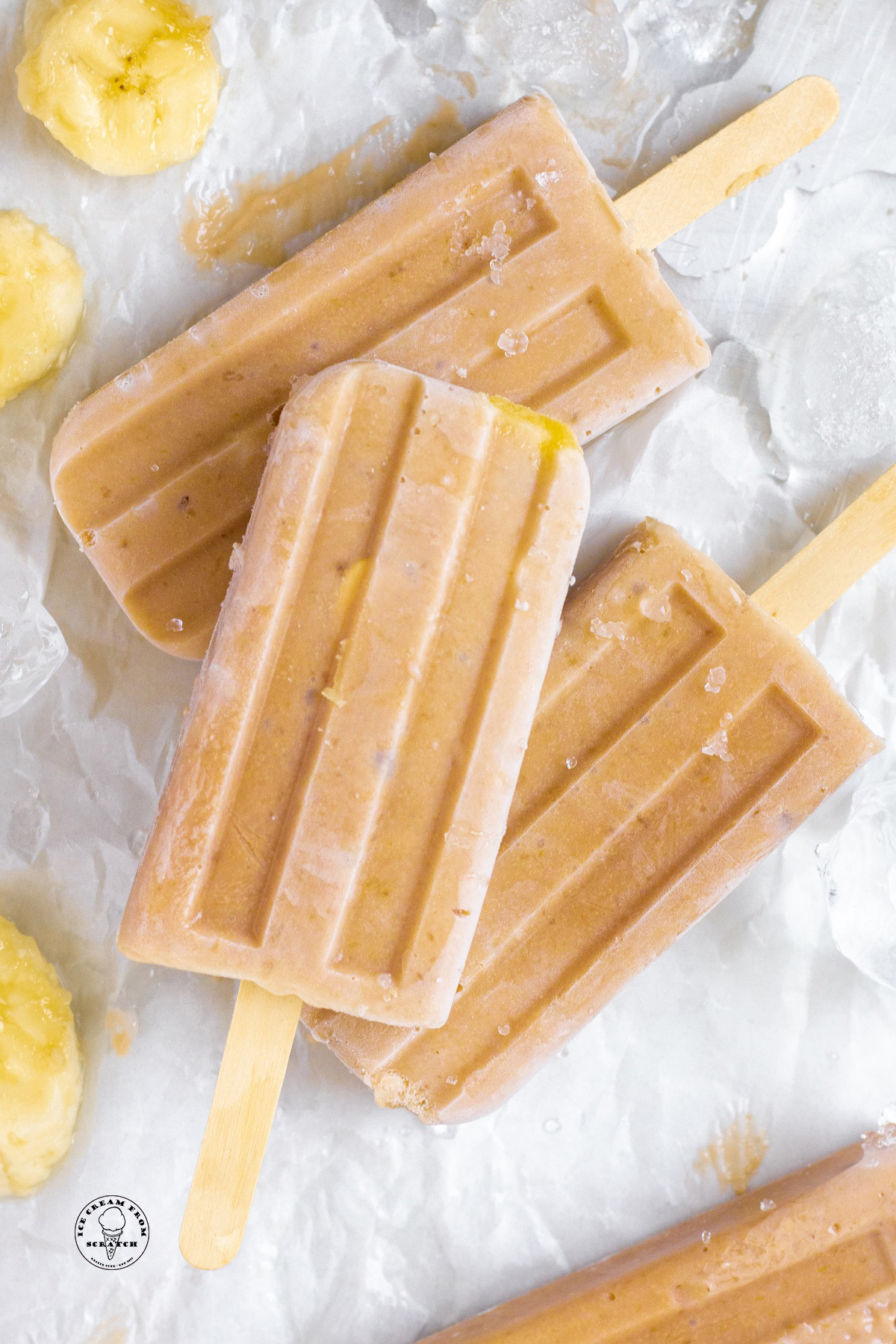 How to Unmold Homemade Popsicles Easily
There are a few different methods to easily unmold homemade popsicles. The one that works for you will depend on your specific popsicle mold. None of them are complicated!
The trick to easily unmolding popsicles is to heat the very outer layer of the pops so that they release from the mold, without melting them in the process.
Method 1: Dipping in Hot Water. This method involves filling a large bowl or container with warm water. Then dip your tray of popsicles briefly into the water for 20-30 seconds until the popsicles are easy to remove.
Method 2: Running Water. Instead of filling a bowl with water, just turn the kitchen sink on and let it get warm. Hold the popsicles under the stream, moving them around, for about 30 seconds until you can get the popsicles out of the mold.
Method 3: Room Temperature. Take the popsicles out of the freezer and set them on the counter until they soften enough to be easily removed. This method can backfire if you forget about them, so be careful, or set a timer!
If you're using a silicone popsicle mold, you may not need to do anything. If it's flexible enough, the silicone can be peeled away from the popsicles easily!
How to Store Popsicles
Store Banana Popsicles in the freezer in their mold until ready to enjoy.
If you decide to dip these popsicles in chocolate, you can remove them from the molds, then wrap them individually very well in plastic wrap before storing in a freezer-safe, airtight container.
I find that homemade popsicles are best if enjoyed within 2-3 weeks, but often will stay fresh for much longer than that, up to 3 months.
Tips for Making Banana Popsicles
Use quality ingredients – When making homemade popsicles, you'll want to make sure you are using high-quality ingredients for the best outcome.
Don't skimp on the sugar – Sugar not only adds sweetness to popsicles, it also helps with the texture. In this recipe, we're using maple syrup, but the idea is still the same. Popsicles with not enough sugar can turn out very hard and icy.
Be sure to use ripe bananas – Green bananas won't blend up smoothly and won't be sweet enough either.
Blend it smooth – You can decide how smooth you want the popsicles to be. If you want to, leave a few of the pieces of banana so that there is some texture. Otherwise, I think these are best if blended really smooth.
If it's too thick – add more milk! The mixture should be pourable. If it isn't, it just needs a bit more liquid to thin it out.
Are Banana Popsicles Good for Kids?
I'm not an expert in nutrition for babies and toddlers so I can't tell you what you should feed yours. I can tell you that these popsicles contain simple, all-natural ingredients.
Most popsicle recipes designed for young children omit the added sugar/syrup, so you can consider that if you're making banana popsicles for little ones.
Each one of these popsicles comes in at around 100 calories, plus they are gluten-free, refined sugar-free, and can be made dairy-free.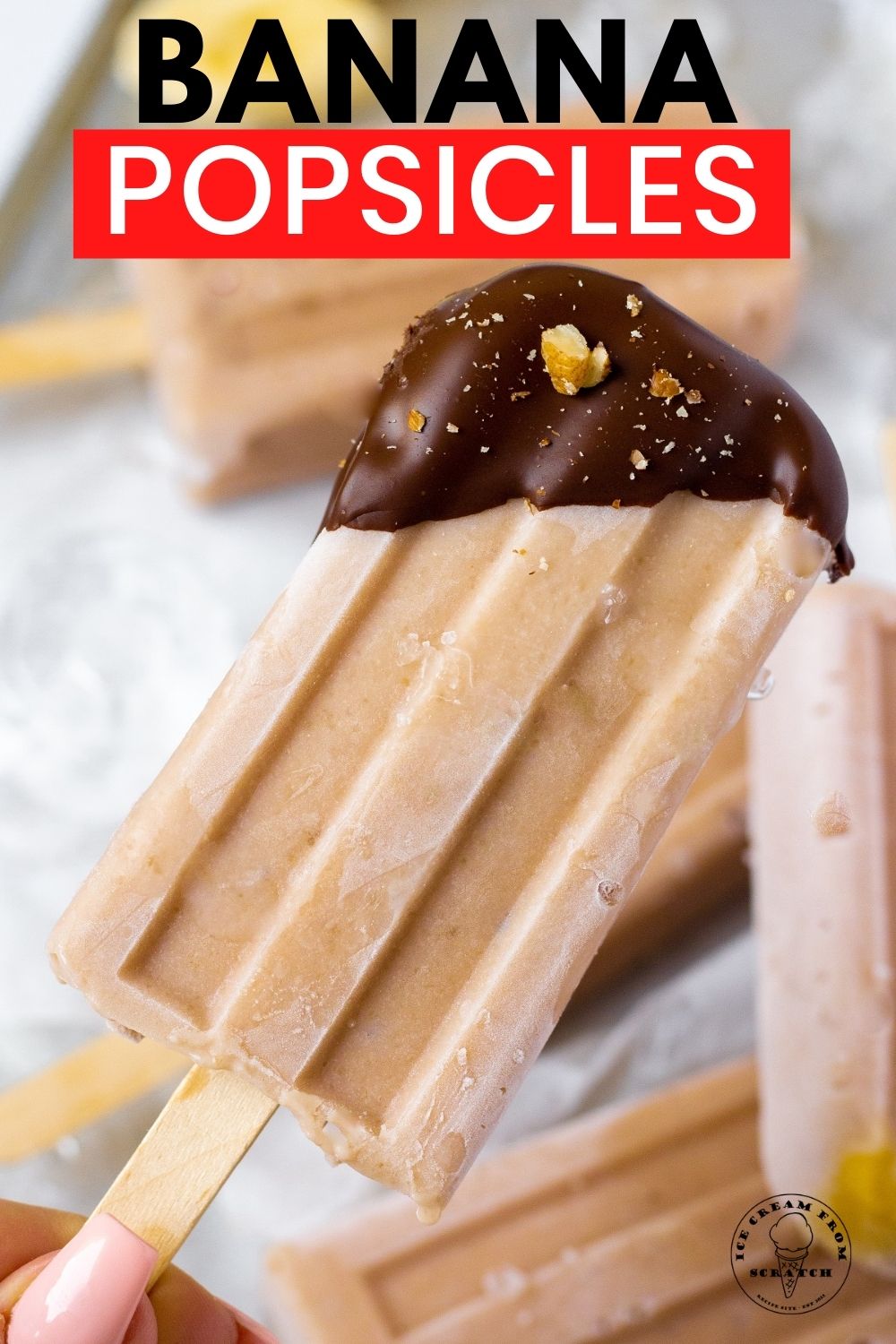 Banana Popsicle Variations
Change the sweetener: Maple syrup is delicious in this recipe, but you can also use the same amount of honey or agave nectar. Regular sugar can also be used if you'd like.
Add more flavor: To make this banana popsicles recipe extra special, experiment with adding ground cinnamon, peanut butter or almond butter, unsweetened cocoa powder, or a bit of chocolate syrup to the mix.
Try more fruit: Toss in a handful of strawberries to turn these pops into strawberry banana popsicles!
How to Keep Popsicle Sticks Straight
Many modern popsicle molds have spaces for the sticks to go into which will hold them upright. Some even come with sticks that are also lids.
If your popsicle mold doesn't have a cover, you can use a piece of foil to cover it. Use a small knife to cut holes in the center of each cavity, then insert the popsicle sticks. Aluminum foil will keep them straight!
How Long Do Homemade Popsicles Take to Freeze?
Depending on how cold your freezer is, it should take between 4 and 8 hours for popsicles to freeze solid. Be patient! I promise it will be worth it.
More Homemade Frozen Treats
We have tons of amazing homemade ice cream recipes here, but if you're looking to make a frozen dessert without your ice cream maker, try one of these!
You can also check out our post on fruit popsicles, which we will update when new recipes come out.
The Best Popsicle Molds
You can make popsicles in any small cups, or even ice cube trays in a pinch, but I suggest picking up one or two good quality popsicle molds so that you can make pops that are both tasty and good looking.
Note: Each of these links will take you to the exact product on Amazon. As an Amazon associate, I earn a little from each qualifying purchase.
LET'S GET SOCIAL, you can follow us on Pinterest or leave a comment below if you have any questions.
Did you make this Homemade Banana Popsicle recipe? Leave a Comment Below letting us know what you thought!
Yield: 6 popsicles
Banana Popsicles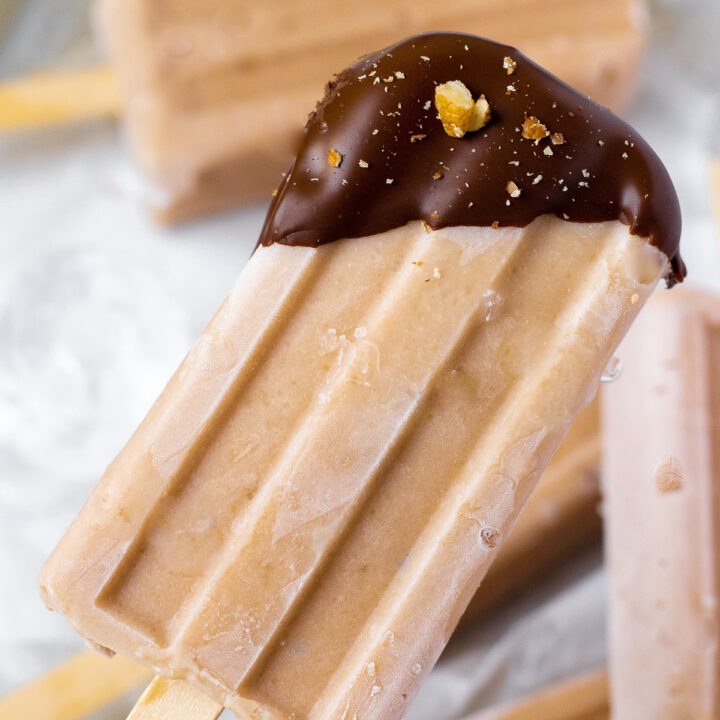 Banana popsicles are a creamy, sweet, and refreshing frozen treat. They are also a healthy option, using all-natural ingredients like bananas, maple syrup, and milk.
Total Time
6 hours
5 minutes
Ingredients
3 medium ripe bananas
2 tablespoons pure maple syrup
1/3 cup milk (6 oz.) (use dairy-free milk to make it dairy-free)
1 teaspoon vanilla extract
Optional: melted chocolate and chopped walnuts or pecans for dipping
Instructions
Place all ingredients (Bananas, maple syrup, milk, and vanilla extract) in a blender.
Blend until the mixture is smooth.
Pour into popsicle molds and freeze for 8 hours, or overnight.
Release popsicles from the mold by running the outside of the mold under warm running water for 5-10 seconds.
Optional: Melt chocolate. Dip the top of each popsicle into the chocolate and sprinkle with chopped walnuts.
Notes
This recipe makes enough to fill 6 large popsicle molds. You may get more or less popsicles depending on the size of your molds.
This recipe can be dairy-free and vegan if you use plant-based milk in place of dairy milk.
Be sure to use ripe bananas that are no longer green.
Homemade popsicles can be stored, frozen, for up to 2 weeks. They stay fresher longer if left in the molds. If you remove them from the molds, be sure to wrap each well in plastic wrap.
Nutrition Information:
Yield:
6
Serving Size:
1 Popsicle
Amount Per Serving:
Calories:

95
Total Fat:

2g
Saturated Fat:

1g
Trans Fat:

0g
Unsaturated Fat:

1g
Cholesterol:

1mg
Sodium:

9mg
Carbohydrates:

20g
Fiber:

2g
Sugar:

13g
Protein:

1g