Mango Popsicles are a fruity treat made from fresh mango chunks and real fruit juice.
It's easy to make this recipe for mango popsicles with just 4 ingredients, a blender, and your favorite popsicle mold.
These ice pops are lower in sugar than store-bought popsicles, gluten-free, nut-free, and dairy-free.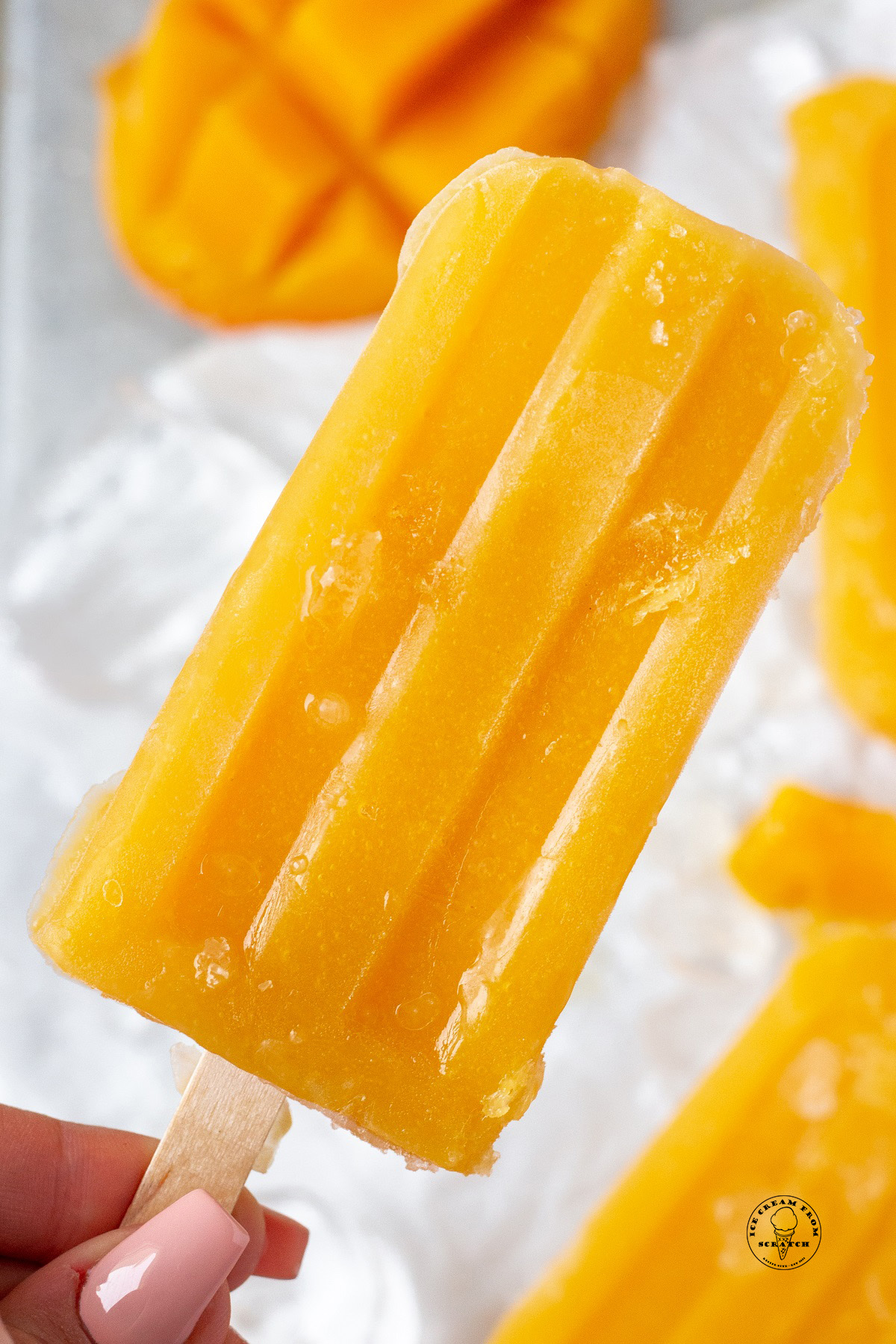 While we love making mango ice cream, and mango milkshakes, it's nice to have a light mango treat in the freezer too!
Fresh or Frozen mango can be blended up to make these popsicles that are juicy, sweet, and perfectly balanced with citrus juices.
Banana Popsicles are another popsicle recipe that you have to try. They are creamy and delicious without any milk or cream. This recipe for Orange Popsicles is also super simple to make. You might also love these cherry pineapple popsicles.
Why You're Going to Love this Mango Popsicle Recipe
Mango Popsicles are a delicious treat! Coming in at around 100 calories each, you can feel good about choosing to enjoy a popsicle made from fresh fruit.
Popsicle Recipes are easy and forgiving. You don't need to be super exact with the size of the mangoes or complete any tricky cooking tasks to make these popsicles. Just toss the ingredients into your blender, freeze, and enjoy.
A fun family recipe. Kids love making homemade popsicles, and it's a great exercise in patience while they wait for them to harden up enough to eat!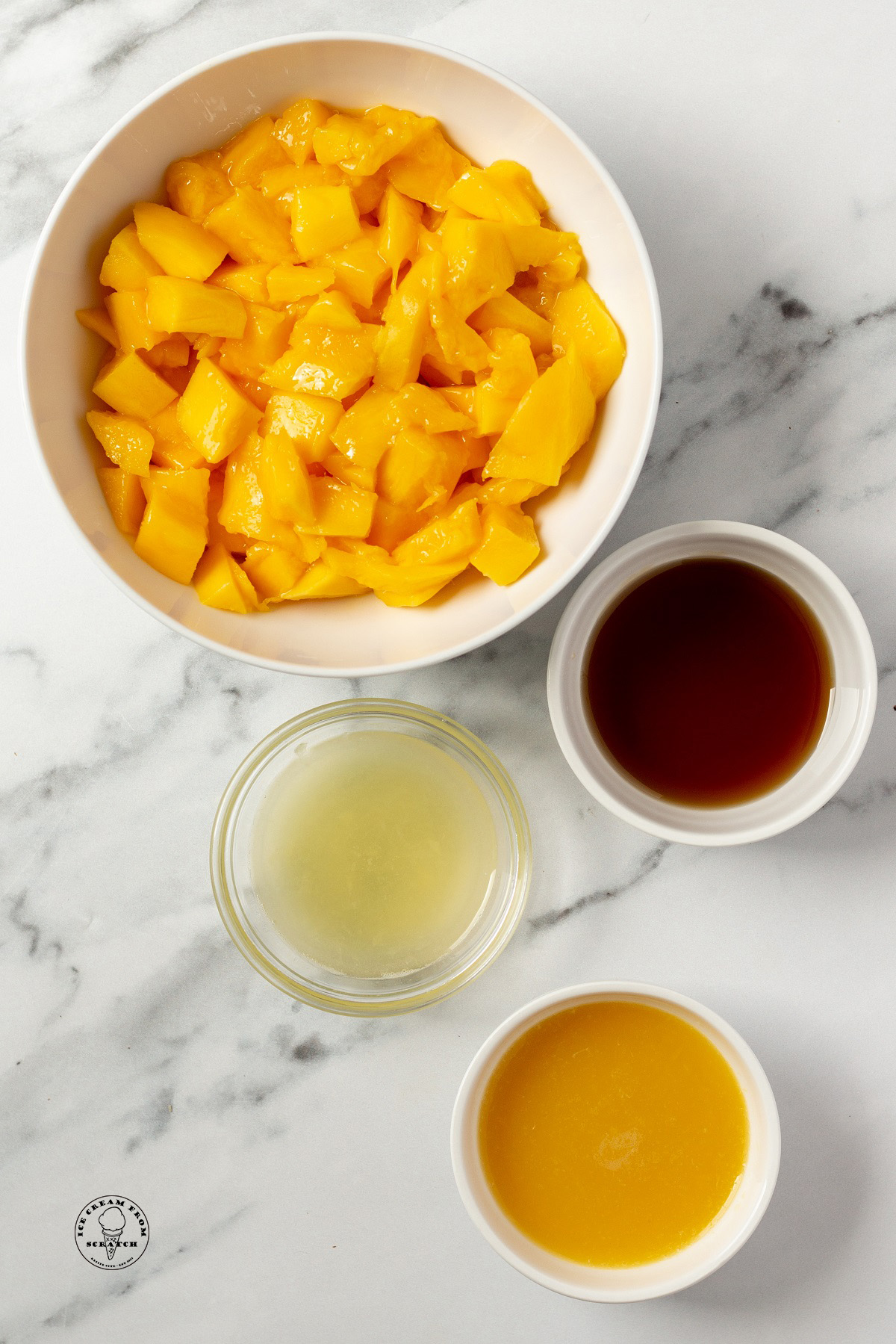 Ingredients in Homemade Mango Popsicles
Mangoes – These popsicles can be made with frozen mango pieces that you've thawed or fresh mango that you've cut into chunks. You need 3 cups of chopped fruit total.
Orange Juice – Orange complements the flavor of mangoes very well and keeps the popsicles a beautiful bright orange color.
Lemon Juice – Use fresh lemon juice to brighten up the flavor. Please don't use bottled lemon juice to make these, it's not the same.
Sugar – Just a quarter cup of sugar is enough to make these mango popsicles perfectly sweet. Feel free to use more or less sugar, or honey if you prefer.
If you have any questions about making Mango popsicles, please leave a comment below and I will get back to you!
These homemade popsicles can be an easy frozen treat option, especially compared to ice cream or store bought popsicles. Each popsicle is around 100 calories.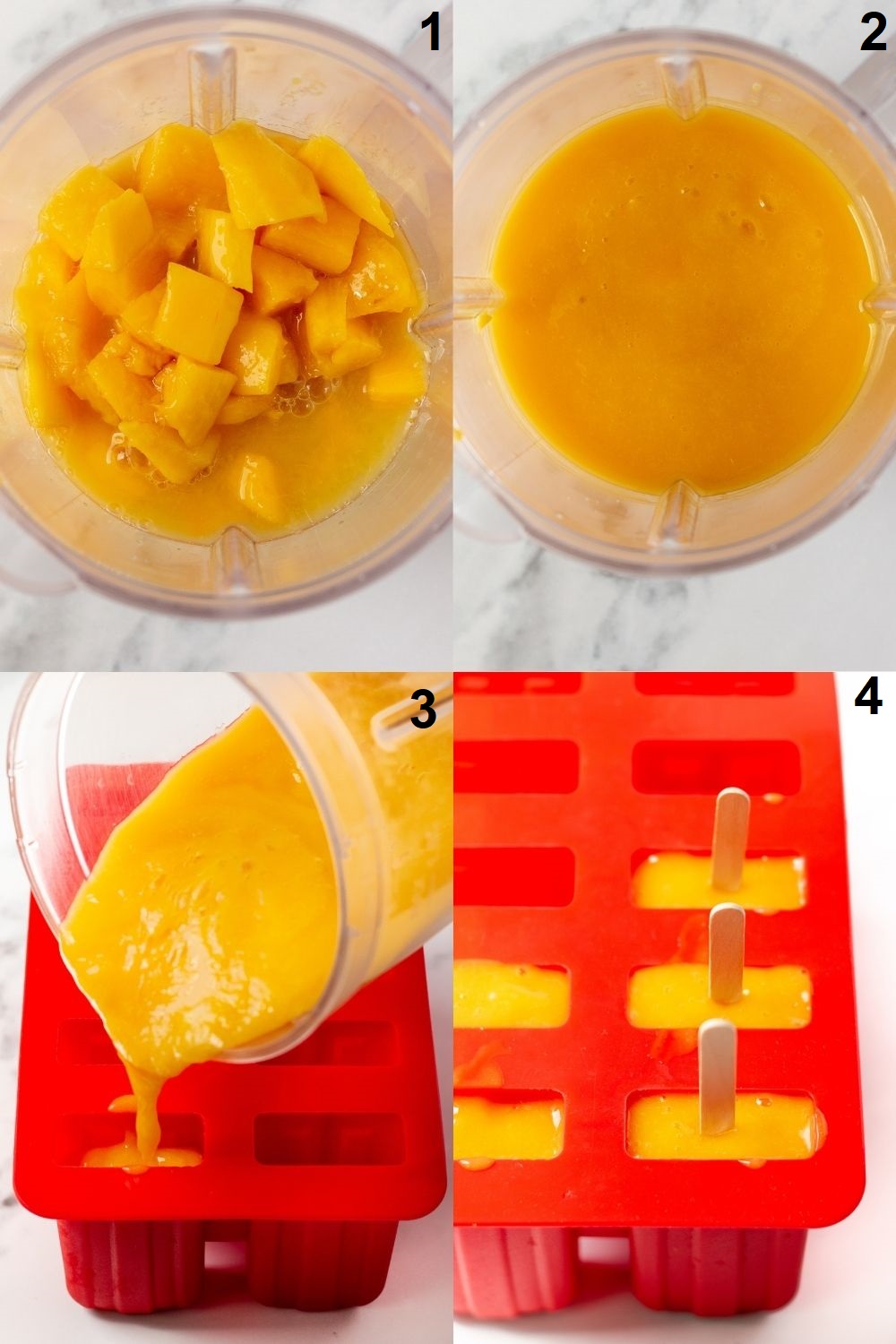 How to Make Fresh Mango Popsicles from Scratch
Place all of the ingredients into a blender.
Blend until the mixture is smooth and combined. It should be pourable, like a fruit smoothie.
Pour the mixture into popsicle molds, and freeze for 4-6 hours, or overnight.
Remove popsicles from the mold by running the outside of the mold under warm water for 5-10 seconds, or using one of the other methods described below.
These numbered steps match the numbered photos above and are for illustration purposes. For the complete list of ingredients and instructions, please see the recipe below.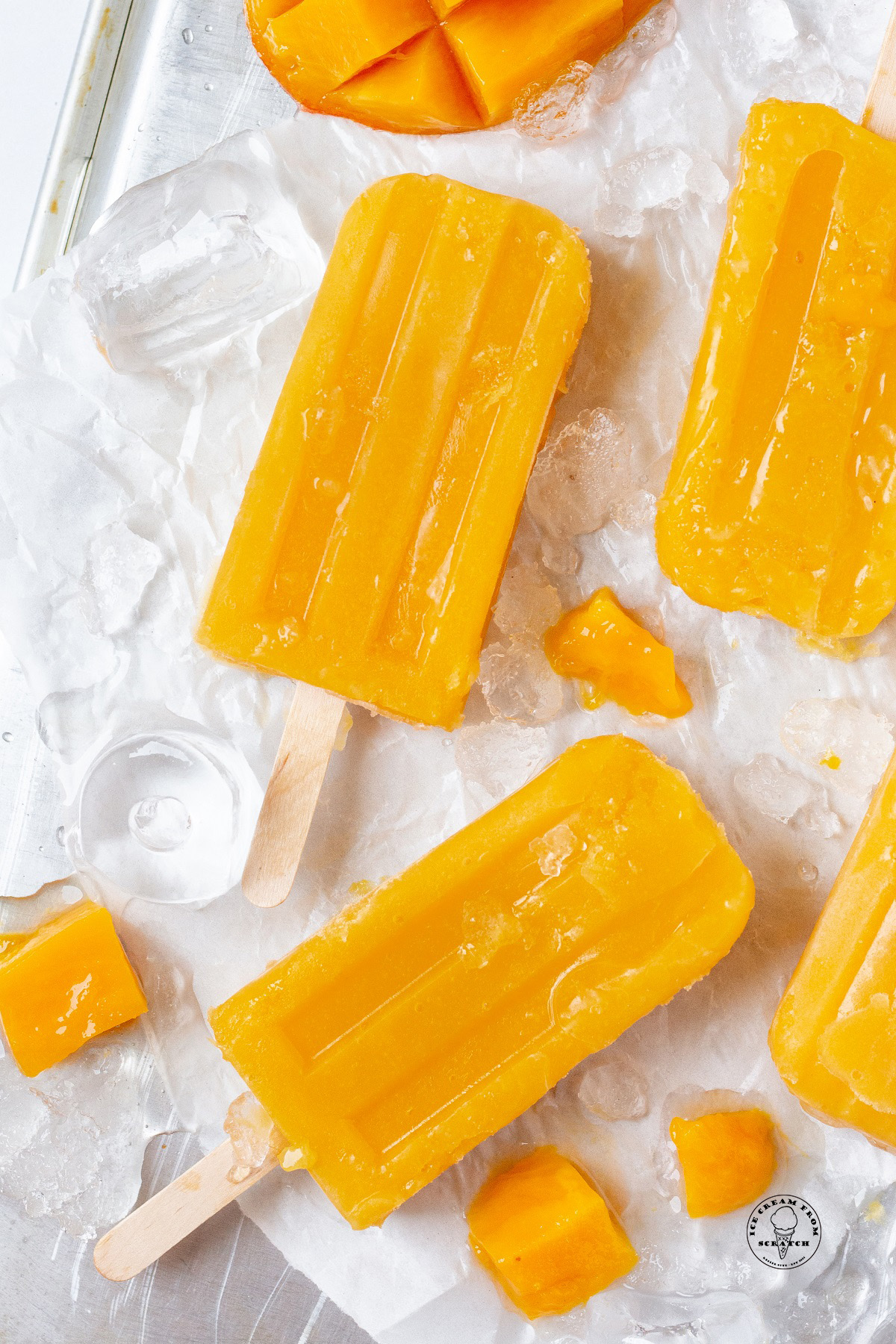 How to Store Homemade Popsicles
Store your Mango Popsicles in the freezer, in their mold until ready to enjoy.
If you decide to remove them from the mold, wrap each popsicle individually with plastic wrap before storing them in a freezer-safe, airtight container.
I find that homemade popsicles are best if enjoyed within 2-3 weeks, but often will stay fresh for much longer than that, up to 3 months
Tips for Making This Mango Popsicle Recipe
Use quality ingredients – When making homemade popsicles, you'll want to make sure you are using high-quality ingredients for the best outcome.
Don't skimp on the sugar – Sugar not only adds sweetness to popsicles, it also helps with the texture. Popsicles without enough sugar in them will be hard and icy.
Adjust the consistency if needed – The mixture should be pourable after you blend it. You can add additional water or orange juice if it's too thick.
How to Unmold Homemade Popsicles Easily
There are a few different methods to easily unmold homemade popsicles. The one that works for you will depend on your specific popsicle mold. None of them are complicated!
The trick to easily unmolding popsicles is to heat the very outer layer of the pops so that they release from the mold, without melting them in the process.
Method 1: Dipping in Hot Water. This method involves filling a large bowl or container with warm water. Then dip your tray of popsicles briefly into the water for 20-30 seconds until the popsicles are easy to remove.
Method 2: Running Water. Instead of filling a bowl with water, just turn the kitchen sink on and let it get warm. Hold the popsicles under the stream, moving them around, for about 30 seconds until you can get the popsicles out of the mold.
Method 3: Room Temperature. Take the popsicles out of the freezer and set them on the counter until they soften enough to be easily removed. This method can backfire if you forget about them, so be careful, or set a timer!
If you're using a silicone popsicle mold, you may not need to do anything. If it's flexible enough, the silicone can be peeled away from the popsicles easily!
How to Make Creamy Mango Popsicles
This recipe for mango popsicles is dairy-free, but if you'd like to make the popsicles a bit creamy, add, or replace some of the orange juice with plain or vanilla flavored yogurt.
The great thing about popsicle recipes is that they are very forgiving. You can adjust things and experiment with new flavors and ingredients without much worry that you'll mess anything up.
How Do I Know if A Mango Is Ripe?
To choose a ripe mango, apply gentle pressure to it. It should give slightly when squeezed. A ripe mango will also give off a sweet and fragrant aroma when it's ready to eat.
You cannot rely on the color of a mango to determine ripeness. All colors of fresh mangoes can be perfectly ripe.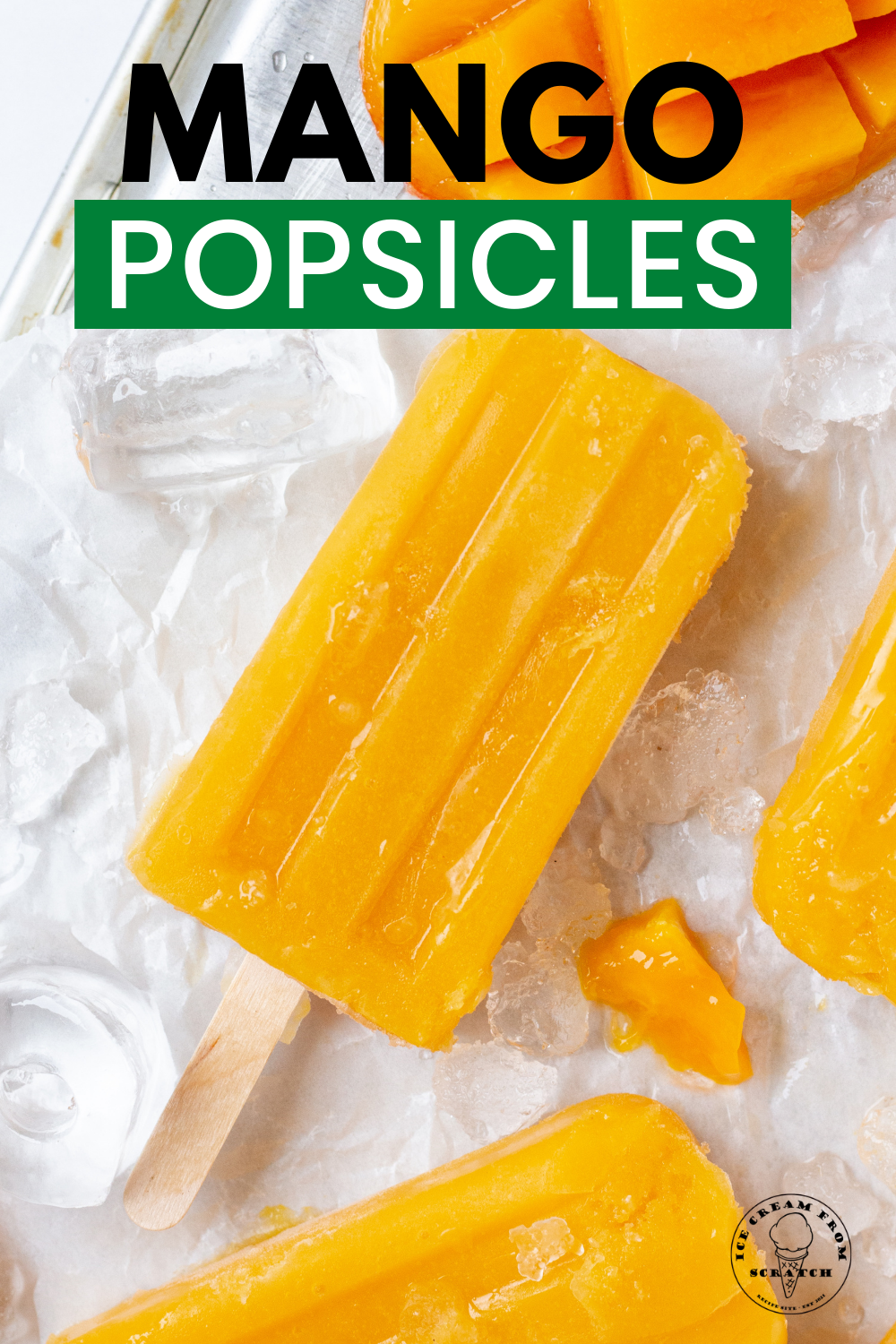 Mango Popsicle Variations
Add Other Fruit – Swap out some of the mango chunks for strawberries, bananas, pineapple, raspberries, or any other fruit you like. Mango Strawberry popsicles are delicious!
Make Them Creamy – Try mixing in a quarter to a half cup of plain or vanilla-flavored yogurt.
Note that if you add ingredients to your popsicles, you'll end up with more popsicle mixture, so be sure you have enough molds!
How Long Do Homemade Popsicles Take to Freeze?
Depending on how cold your freezer is, it should take between 4 and 8 hours for popsicles to freeze solid. I find it works best to make popsicles in the evening so that they can do their thing in the freezer overnight.
Be patient! I promise it will be worth it.
More Homemade Frozen Treats
We have tons of amazing homemade ice cream recipes here, but if you're looking to make a frozen dessert without your ice cream maker, try one of these!
You can also check out our post on fruit popsicles, which we will update when new recipes come out.
Best Popsicle Molds
Note: Each of these links will take you to the exact product on Amazon. As an Amazon associate, I earn a little from each qualifying purchase.
LET'S GET SOCIAL, you can follow us on Pinterest or leave a comment below if you have any questions.
Did you make this Homemade Mango Popsicle Recipe? Leave a Comment Below letting us know what you thought!
Yield: 6 popsicles
Mango Popsicles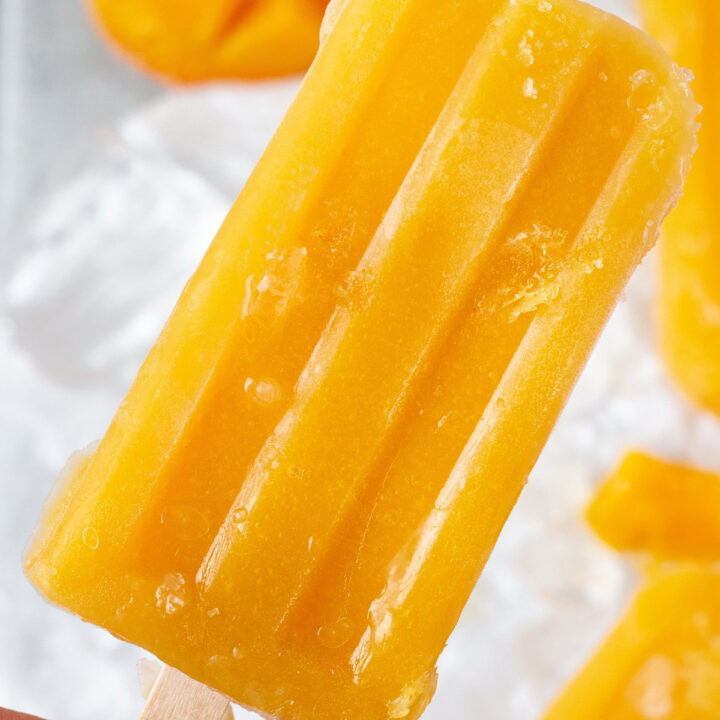 Mango Popsicles are a healthy tropical fruity treat made from fresh mango chunks and real fruit juice. It's easy to make this recipe for mango popsicles with just 4 ingredients, a blender, and your favorite popsicle mold.
Total Time
6 hours
10 minutes
Ingredients
3 cups frozen mango chunks, thawed (or you can use fresh mangos, peeled and cut into chunks)
1/3 cup of orange juice (or water)
1 tablespoon fresh lemon juice (not bottled)
1/4 cup granulated sugar or honey
Instructions
Place all ingredients in a blender or food processor.
Blend until smooth and combined.
Pour mixture into 6 popsicle molds and freezer overnight.
To release the popsicles, run the outer mold under warm water for 5-10 seconds.
Notes
This recipe makes enough to fill 6 large popsicle molds. You may get more or fewer popsicles depending on the size of your molds.
Homemade popsicles can be stored, frozen, for up to 2 weeks. They stay fresher longer if left in the molds. If you remove them from the molds, be sure to wrap each well in plastic wrap.
Fresh or frozen mango pieces can be used in this popsicle recipe.
If needed, add additional orange juice to get the mixture to pour easily into the molds.
Nutrition Information:
Yield:
6
Serving Size:
1
Amount Per Serving:
Calories:

99
Total Fat:

0g
Saturated Fat:

0g
Trans Fat:

0g
Unsaturated Fat:

0g
Cholesterol:

0mg
Sodium:

1mg
Carbohydrates:

25g
Fiber:

1g
Sugar:

24g
Protein:

1g