3 Ingredient Rolled Ice Cream
Rolled Ice Cream is a wildly popular ice cream dessert, typically found in malls and specialty shops, or maybe you've been so lucky to enjoy it in Thailand or elsewhere in Southeast Asia.
Even if you've never had ice cream rolls before, you will be thrilled to know that this spiralized ice cream is super simple to make at home, from scratch.
This no-churn ice cream recipe is gluten free, nut free, fun to make, and completely delicious!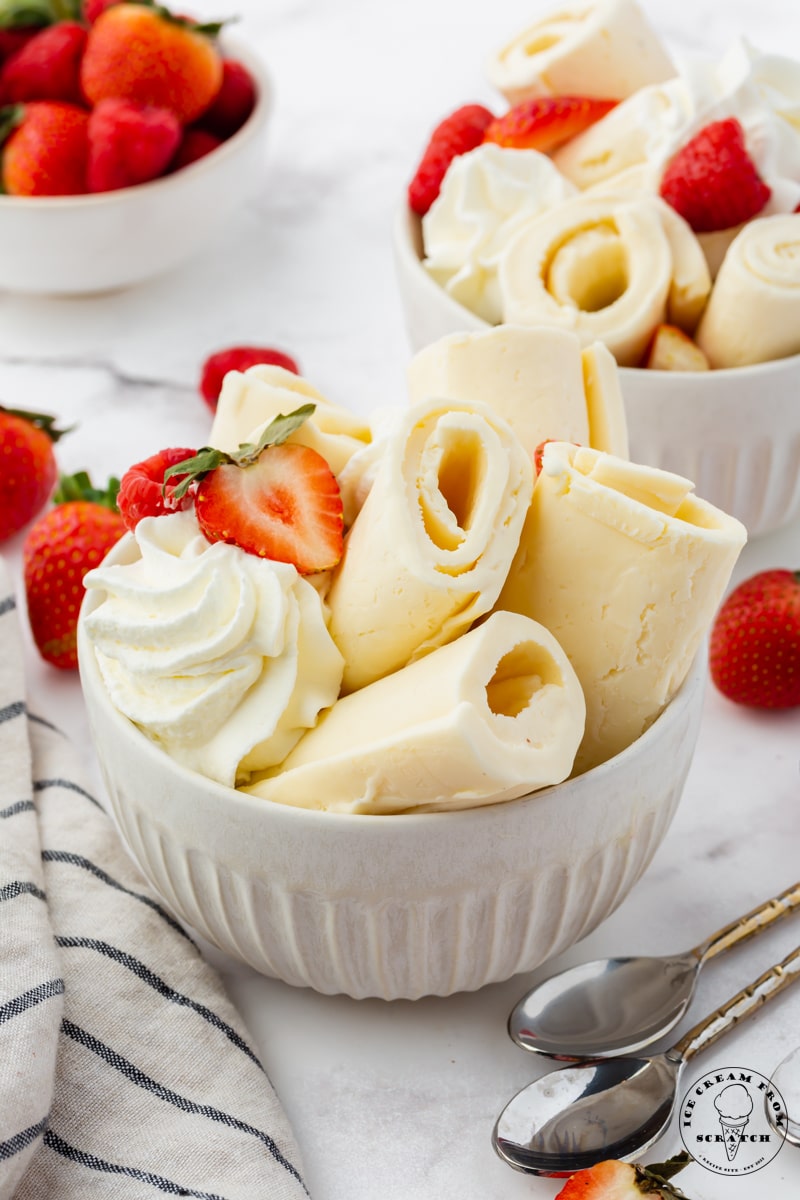 Is there a rolled ice cream shop in your town? Or maybe you've found yourself entranced, watching people make this fun ice cream treat in viral videos (I know I have!), wondering where you can get some?
If you aren't familiar with this amazing ice cream dessert, all I can tell you is that you MUST try it. Rolled ice cream, sometimes known as stir-fried ice cream is made on a larger scale by spreading an ice cream mixture onto a large cold surface and then scraping it up into beautiful creamy spirals.
Great news! You can make Thai rolled ice cream at home, on a smaller scale. It's a super easy, 4 ingredient recipe that doesn't require an ice cream machine.
We have more no-churn ice cream recipes that you are going to love! Try making three-flavor Neapolitan ice cream, or cotton candy ice cream with fun pastel colors.
Why You're Going to Love this Rolled Ice Cream Recipe
Simple Recipe – Sweetened condensed milk mixed with heavy cream and vanilla makes the perfect base recipe for roll ice cream. Once you get the hang of it, you can add flavors and mix-ins too.
Fun Method – You'll have fun recreating this method to make ice cream rolls, and your kids will love to help you. Let them mix the ingredients, and then try to scrape the pan when the ice cream is ready.
Tips and Tricks – I'm answering all of your rolled ice cream questions in this post! Keep reading and you'll be a pro in no time.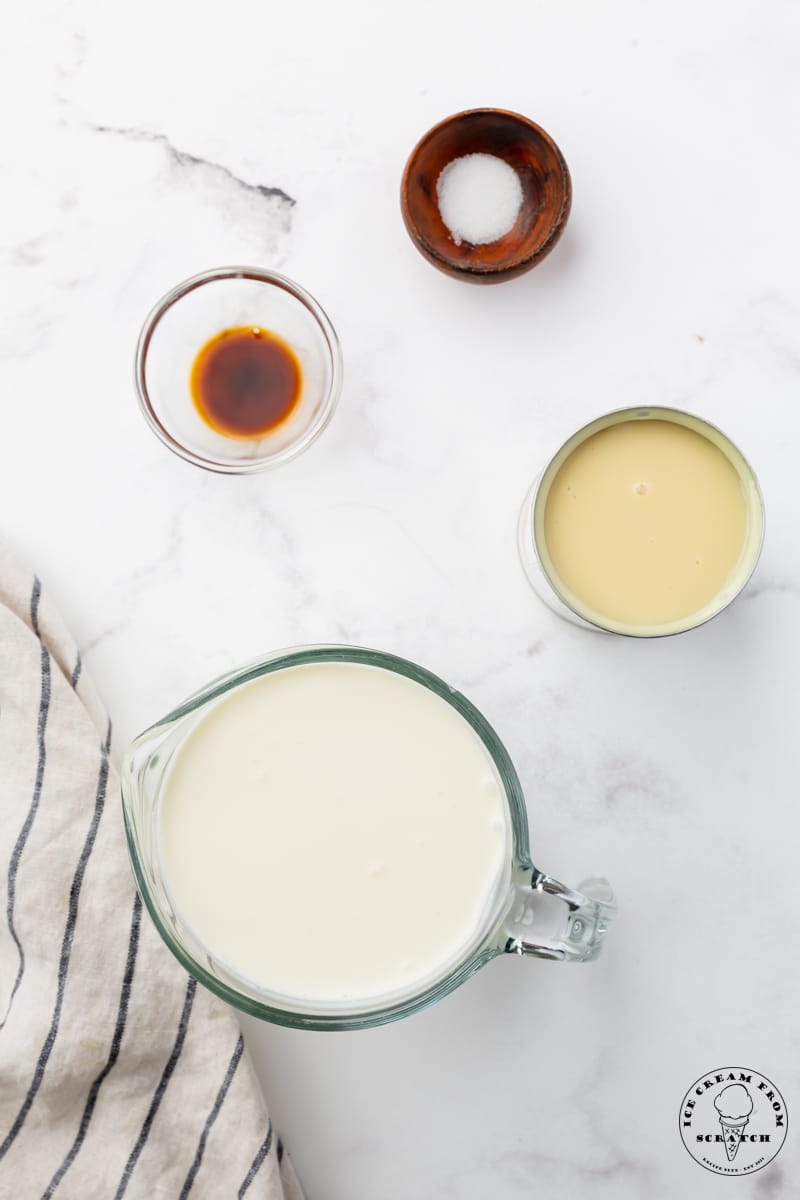 Ingredients in Homemade Rolled Ice Cream
Heavy Cream – Creamy ice cream is almost always accomplished with rich heavy cream.
Sweetened Condensed Milk – This canned ingredient is used in many no-churn ice cream recipes. It replaces the sugar, milk, and custard included in traditional recipes, and is a great shortcut.
Vanilla Extract – This is a must! Vanilla elevates the simple flavors of cream and sugar.
Salt – Just a bit of salt balances the richness and sweetness of the other ingredients.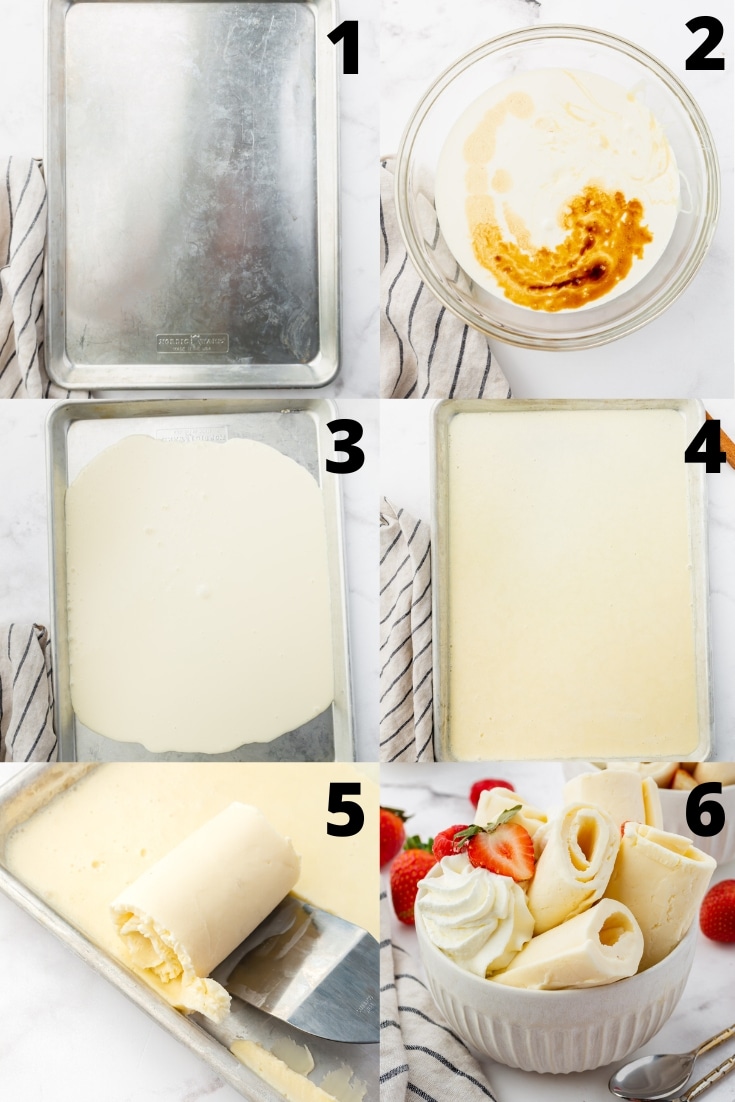 How to Make Rolled Ice Cream
Freeze the Pans – This recipe makes enough to fill two 13×9-inch sheet pans. Freeze them for at least 15 minutes while you mix up the rolled ice cream base.
Make Ice Cream Base – Add heavy cream, sweetened condensed milk, vanilla extract, and salt to a bowl, and whisk to combine.
Pour the base into the chilled pans, dividing it equally.
Freeze – Place both pans on a level surface in the freezer and freeze for 4 hours, or until completely frozen. If you don't have room for two pans, see my tips below.
Scrape – Start on the long side of the pan. Use a sharp-edged spatula to scrape up the ice cream from one side of the pan to the other, rolling the ice cream into rolls.
Serve – Place the rolled ice cream into serving bowls and serve immediately with your favorite ice cream toppings.
These numbered steps match the numbered photos above and are for illustration purposes. For the complete list of ingredients and instructions, please see the recipe below.
How to Store Rolled Ice Cream
Scrape the ice cream from the pans into rolls, and freeze the rolls on parchment paper for at least 30 minutes. Then transfer the rolled ice cream to a freezer container for longer storage, up to about a week.
Tips and Notes
Use quality ingredients – When making any kind of homemade ice cream, you'll want to make sure you are using high-quality ingredients for the best outcome. There are only four ingredients in this recipe, so it's important that they are all fresh and delicious.
Chill Out – In this specialty ice cream recipe, it's important to chill the sheet pans for at least 15 minutes in the freezer before starting.
Clean your sheet pans well. Freezing this sugary liquid ice cream mixture directly on the sheet pans and then scraping it off is a process that will also pull off any old residue that might be stuck on your pans! Be sure that they have been thoroughly scrubbed, or use newer pans for rolled ice cream.
Don't skimp on the fat – High-fat milk and cream are essential when making homemade ice cream. Opting for a low-fat option often leads to icy ice creams and inconsistency in the texture.
Don't go crazy with the add-ins – If you're adding in additional ingredients, pick one or two and make sure they are chopped into very small pieces for rolled ice cream.
Make room in the freezer – This recipe makes enough to fill two sheet pans with the rolled ice cream mixture, and you don't want to use only one pan or the ice cream rolls will be too thick. In fact, the thinner the better when it comes to rolled ice cream! Either make room in the freezer for two pans to sit completely flat or freeze just one at a time. You might also want to cut the recipe in half.
Make Ahead – You can stir the rolled ice cream mixture together and store it in the refrigerator for up to a day if needed. This is helpful if you only have freezer room for one tray at a time.
Go slow – When it's time to scrape up your ice cream rolls, be careful not to go too fast, or the ice cream could break rather than bend.
Rolled ice cream melts quickly – Since the ice cream is thin, it will melt pretty quickly once it's removed from the pan. I like to scrape up the rolls, place them on a parchment-lined baking sheet, and freeze them again for 30 minutes before serving. Chilling the bowls can also help!
What Kind of Tool Do I Need to Make Rolled Ice Cream?
In rolled ice cream shops or in videos, you might see them using a flat scraper, similar to a tool you might use to fill holes in walls or seam drywall. Something like that can work, so long as it's food-safe, and used only for food.
Instead, I prefer to use a metal spatula with a squared edge. It works best when used upside down to scrape the ice cream off of the pan. When I'm not making rolled ice cream, this spatula doubles as a burger flipper!
A plastic spatula won't be strong enough to remove the ice cream from the pan, and one with a curved edge won't pull up all of the product neatly.
Other than that, you'll need a mixing bowl, and two 9×13-inch (quarter sheet sized) rimmed baking sheets. Avoid pans that have a nonstick coating, since you'll be scraping them with a metal spatula!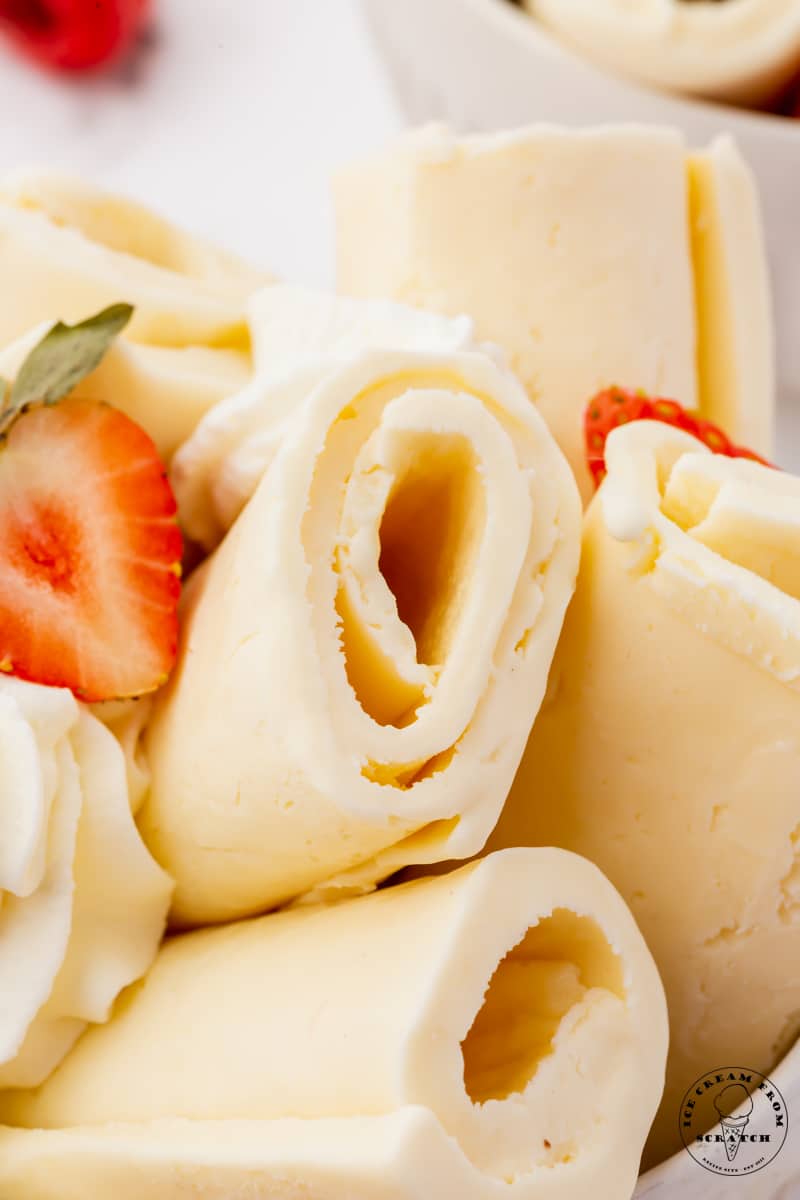 Rolled Ice Cream Variations
I like to make vanilla ice cream rolls, and then use them to create ice cream sundaes using everyone's favorite toppings. Hot fudge, caramel sauce, whipped cream, and fresh fruit are all delicious on a bowl of rolled ice cream.
But you can also add things directly into the rolled ice cream base mixture. Try sprinkles, shaved chocolate, crushed Oreos, or finely diced berries.
Convert No-Churn Recipes to Rolled Ice Cream
In most of our no-churn ice cream recipes, we combine cream, sweetened condensed milk, and flavorings to make the base, just like we're doing here.
For traditional ice cream, we use a mixer to whip the cream, adding air to it before freezing, but for rolled ice cream, you don't want air in the base.
You can take any of our no-churn recipes, make a couple of adjustments, and turn them into rolled ice cream!
First, don't whip the cream. Just stir it in with the other ingredients.
Second, You should reduce the amount of sweetened condensed milk in any of our no-churn recipes to just 4 ounces rather than 14 if you'd like to convert the recipe to a rolled ice cream recipe.
We found that roll ice cream doesn't need quite as much sugar because of its denser texture.
Finally, if the recipe calls for add-ins, consider using those as toppings instead. Rolled ice cream is easier to make if it's smooth.
Want to make chocolate rolled ice cream? Use our no-churn chocolate ice cream recipe, with the adjustments mentioned above!
More Easy Ice Cream Recipes – No Ice Cream Maker Needed
Tools We Love for No Churn Ice Cream Recipes
Note: Each of these links will take you to the exact product on Amazon. As an Amazon associate, I earn a little from each qualifying purchase.
LET'S GET SOCIAL, you can follow us on Pinterest or leave a comment below if you have any questions.
Did you make this Homemade Rolled Ice Cream Recipe? Leave a Comment Below letting us know what you thought and if you added any additional add-ins.
Yield: 4 servings
3 Ingredient Rolled Ice Cream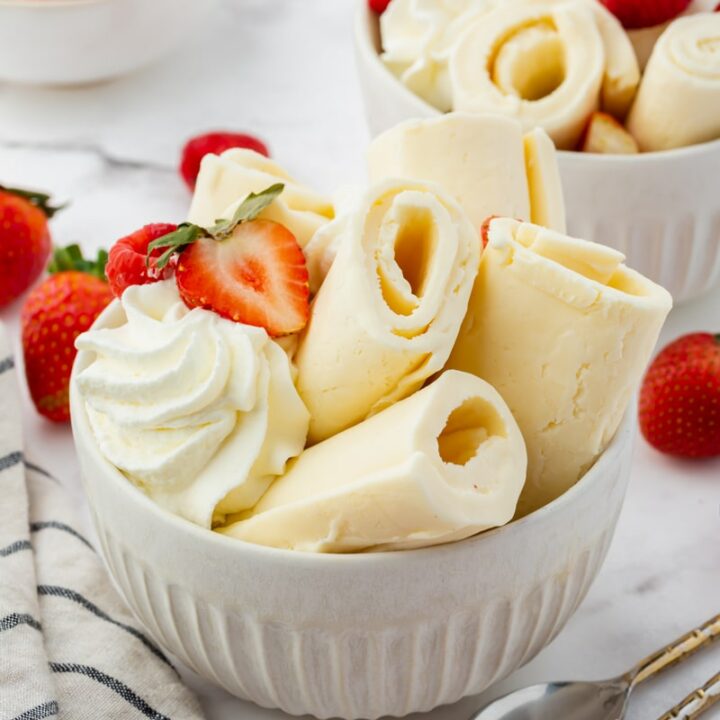 Learn how to make Rolled Ice Cream, the popular spiralized ice cream dessert! It is super simple to make at home, from scratch.
Total Time
4 hours
20 minutes
Ingredients
2 cups heavy cream
1/2 cup sweetened condensed milk
1 tsp vanilla extract
1/4 tsp salt
Instructions
Place two sheet pans in the freezer for at least 15 minutes.
Add the heavy cream, sweetened condensed milk, vanilla and salt to a bowl. Whisk to combine.
Divide the mixture between the two sheet pans. Place them in the freezer on a level surface.
Freeze for at least 4 hours, until completely frozen.
Start on the long side of the pan. Use a sharp edged spatula (between 2-3 inches) to roll from end to end, rolling up the ice cream into rolls.
Place the rolled ice cream into serving bowls. Serve immediately with your favorite toppings.
Notes
The rolled ice cream will melt really quickly, so it's important to keep your sheet pans very cold. I like to roll my ice cream and then place the rolls back onto a frozen parchment lined baking sheet and freeze for about 30 minutes so that they will not melt as quickly in the bowl. You can also freeze your serving bowls to help make the rolled ice cream last longer.
You can keep leftover rolled ice cream in the freezer for about a week. Just flash freeze on a baking sheet and then place in a freezer-safe bag or container. 
Use a sharp straight-edge spatula, about 3-inch in width, to roll the ice cream. Go slowly so that the ice cream does not break or fold in on itself.
I like to use two 9x13-inch baking sheets for this recipe to get the right thickness for the rolled ice cream. If you don't have enough freezer space, leave the remaining mixture in the fridge until you are ready to freeze the next batch on the baking sheet. You can also cut this recipe in half if need be.
Nutrition Information:
Yield:
4
Serving Size:
1
Amount Per Serving:
Calories:

530
Total Fat:

46g
Saturated Fat:

30g
Trans Fat:

1g
Unsaturated Fat:

14g
Cholesterol:

147mg
Sodium:

226mg
Carbohydrates:

24g
Fiber:

0g
Sugar:

24g
Protein:

6g