Zingy, sweet, tart, and refreshing, this homemade recipe for Lime Sherbet is simple to make, and so much tastier than store-bought!
You are going to love the creamy citrusy flavor that comes from freshly squeezed lime juice and zest, and a bit of milk.
Lime sherbet is naturally gluten-free and nut-free. You can also feel free to make this recipe with or without food dyes.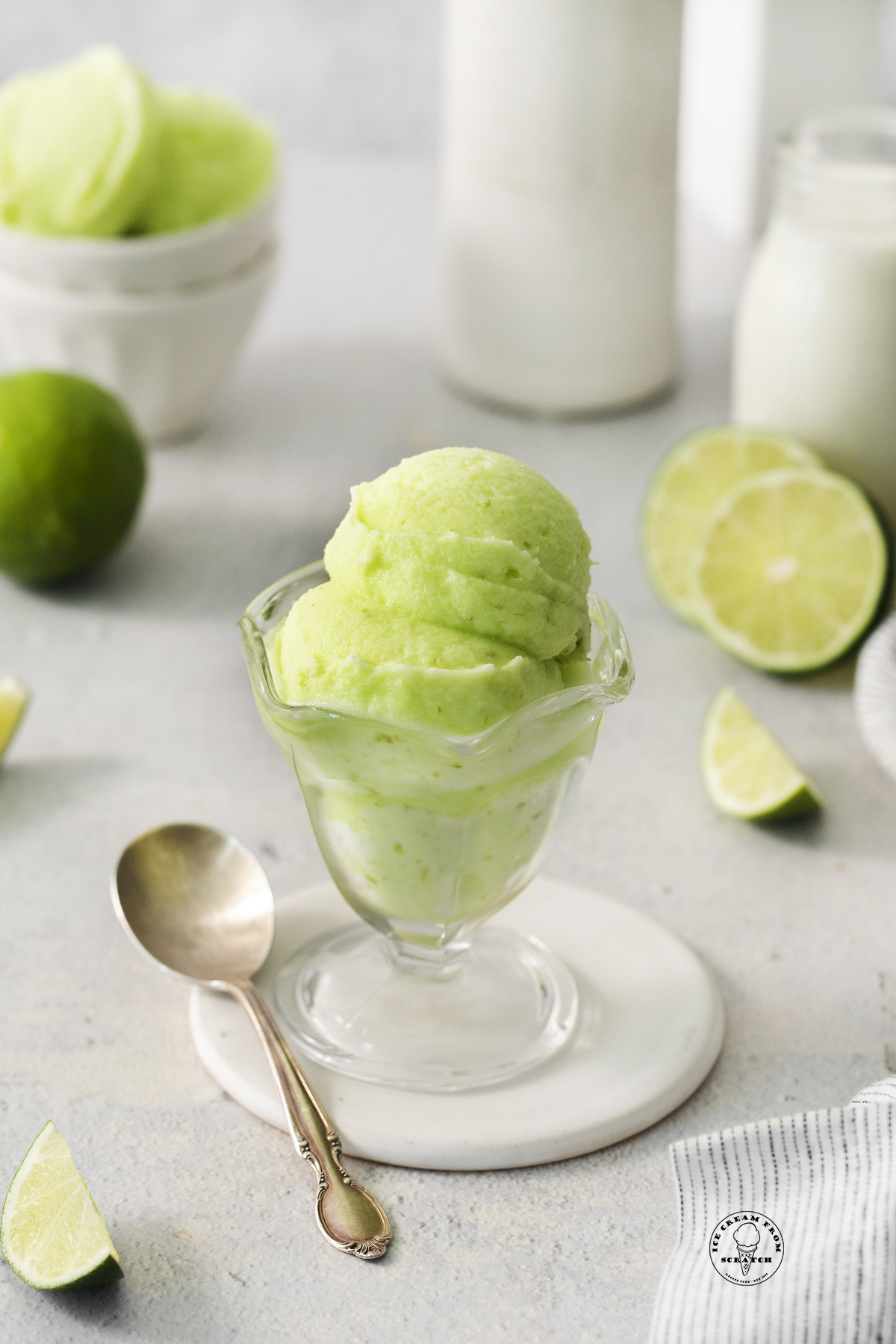 After the classic Orange Sherbet, Lime Sherbet is a close second when it comes to favorite sherbet recipes! Or make a mix of flavors with Rainbow Sherbet.
The bright, tart flavor of lime juice is perfectly balanced with sugar and cream to create a fresh, light dessert that everyone is going to love.
If you love the flavor of citrus in frozen desserts, be sure to try our rich Lemon Custard Ice Cream Recipe and easy Lemon Sorbet.
You can use this lime sherbet to make lime sherbet punch!
Try this lime sherbet in sherbet punch next. You can use lime sherbet, raspberry sherbet, or your favorite flavor.
Why You're Going to Love This Lime Sherbet Recipe
Sherbet is a healthier ice cream option. The main ingredient in lime sherbet is freshly squeezed lime juice, and this recipe uses whole milk rather than heavy cream to keep things light.
This recipe is simple to make! All of the ingredients (and there are only 5 of them!) are mixed together in your blender before being chilled and added to the ice cream maker.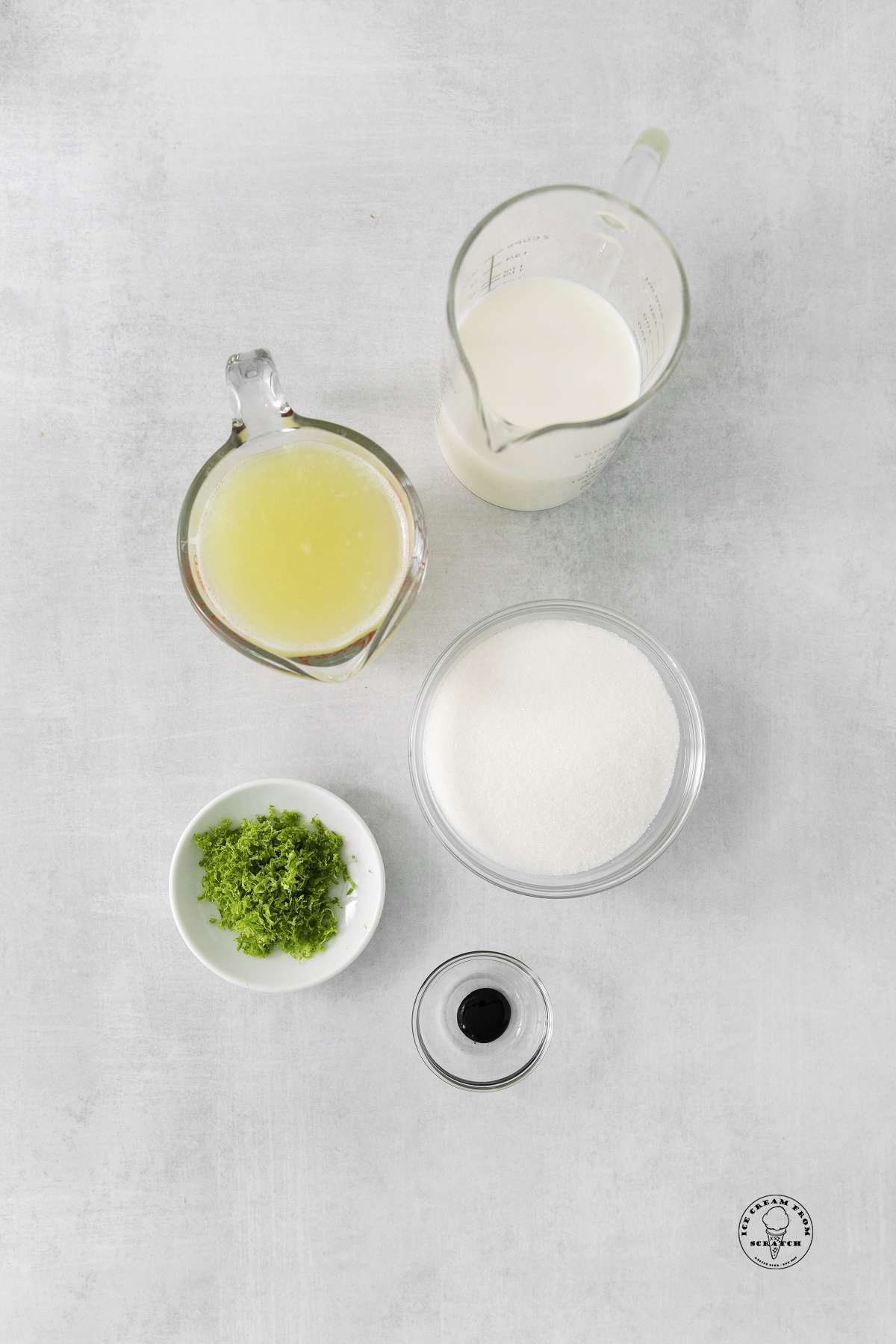 Ingredients in Homemade Lime Sherbet
Lime Juice – You'll need 1 full cup of freshly squeezed lime juice for this recipe. This is the main ingredient, so please don't try to take shortcuts! Bottled lime juice doesn't have the same brightness as fresh juice will.
Whole Milk – This gives sherbet a creamy texture. I prefer milk in this recipe over heavy cream – it gives the perfect amount of creaminess without going too far into "ice cream" territory.
Sugar – Granulated sugar balances the acidity in the lime juice, and adds sweetness to the mix.
Lime Zest – be sure to remove the zest from your limes before juicing them. If you've ever tried to zest half a lime, you'll know why I'm reminding you!
Green Food Coloring – This is a totally optional way to give your sherbet a vibrant green color.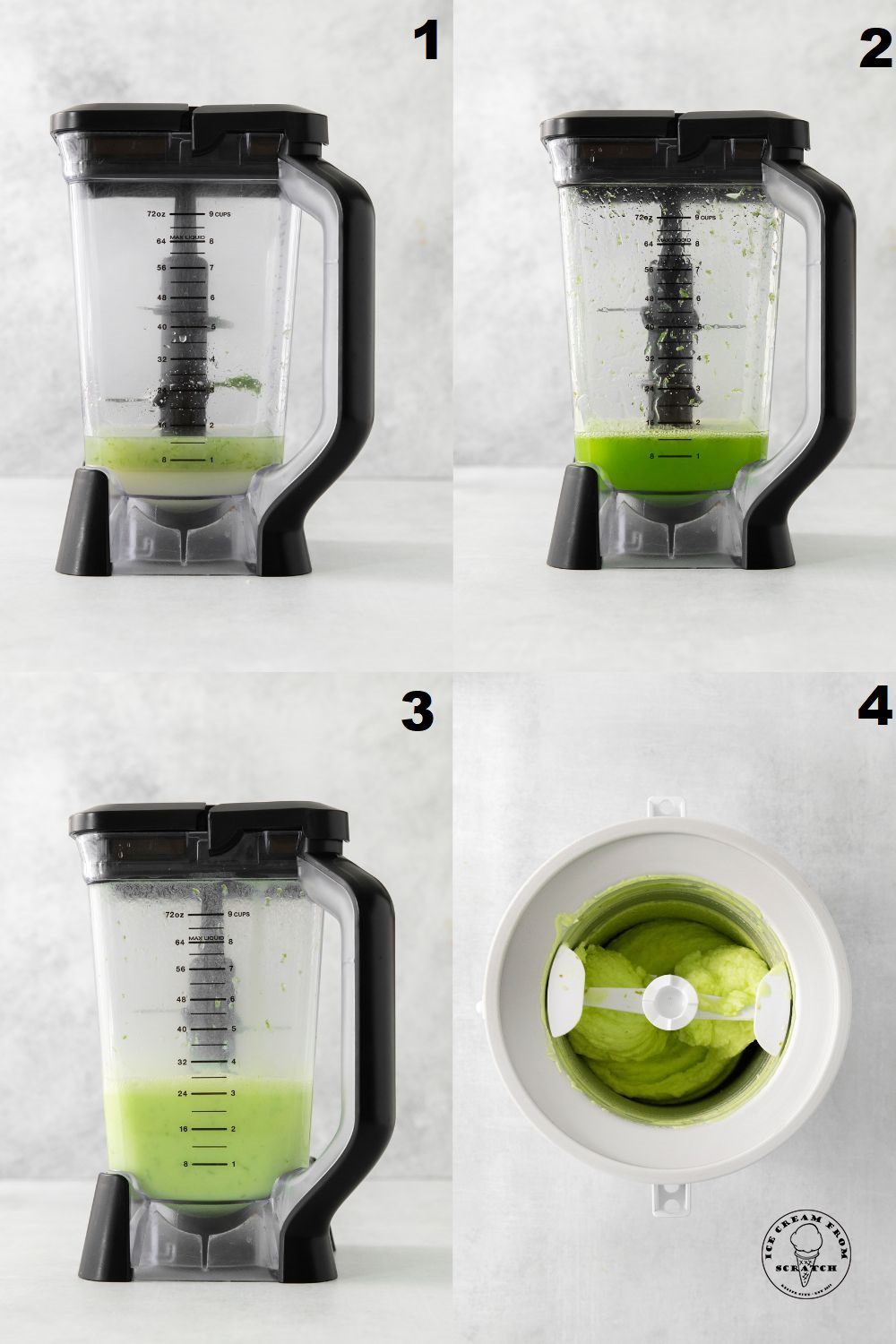 How to Make Lime Sherbet from Scratch
Start the day before by making sure that the bowl for your ice cream maker has at least 24 hours to freeze solid.
Add all of the ingredients to a high-speed blender and blend until smooth and the sugar has fully dissolved.
Then add the sherbet mixture to the bowl of your ice cream machine, and churn according to the manufacturer's instructions.
Enjoy right away if you want soft-serve lime sherbet.
For a scoopable dessert, transfer the sherbet to a shallow container or a loaf pan, wrap it tightly with plastic wrap, and freeze for 6 hours, or until solid.
These numbered steps match the numbered photos above and are for illustration purposes. For the complete list of ingredients and instructions for making homemade lime sherbet, please see the recipe below.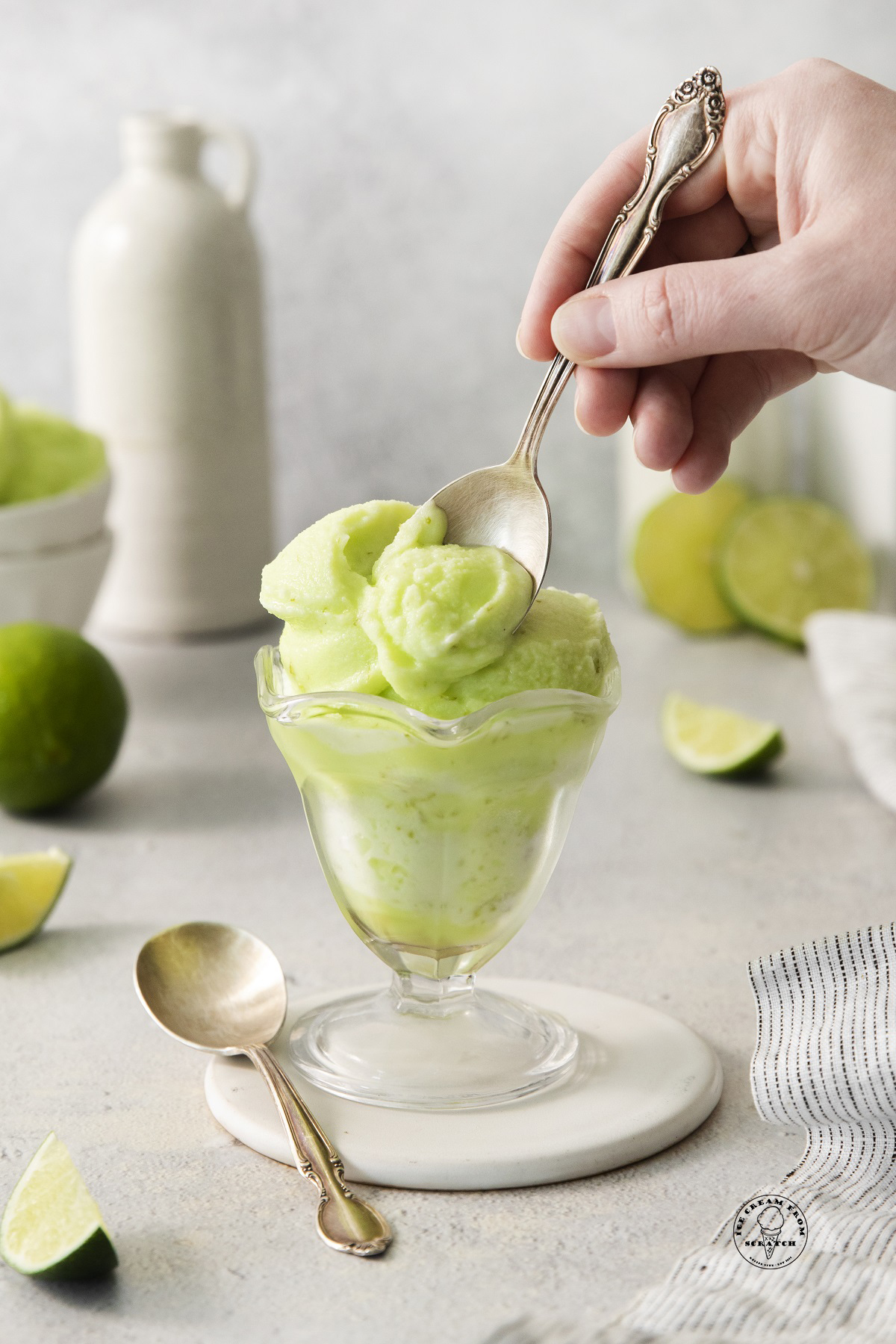 How to Store Homemade Sherbet
Store this homemade lime sherbet in the freezer in an airtight container with a piece of parchment paper or wax paper pressed on top for up to one month.
Tips for Making This Lime Sherbet Recipe
Use quality ingredients – When making homemade sherbet, you'll want to make sure you are using high-quality ingredients for the best outcome.
For the best lime flavor, use freshly squeezed juice from fresh, quality limes.
Chill out – Don't skip the chilling step after blending up the sherbet base. If your base isn't cold, the sherbet won't solidify in the ice cream machine.
Don't skimp on the sugar – Sugar is essential for the creamy texture of ice cream and sherbet. Don't try to reduce the amount in this recipe, or you will end up with icy sherbet.
Why is Homemade Sherbet So Hard to Scoop?
Since we aren't adding any stabilizers or preservatives to our recipes like conventional ice cream makers do, homemade lime sherbet won't be soft when completely frozen, and you may find it difficult to serve.
To make things easier, plan to give the sherbet 5 minutes at room temperature before trying to scoop it.
Does Lime Sherbet Have Milk In It?
Yes! Without adding milk, this recipe would be considered lime sorbet. All sherbet recipes include some type of dairy to make them creamy, either milk or heavy cream.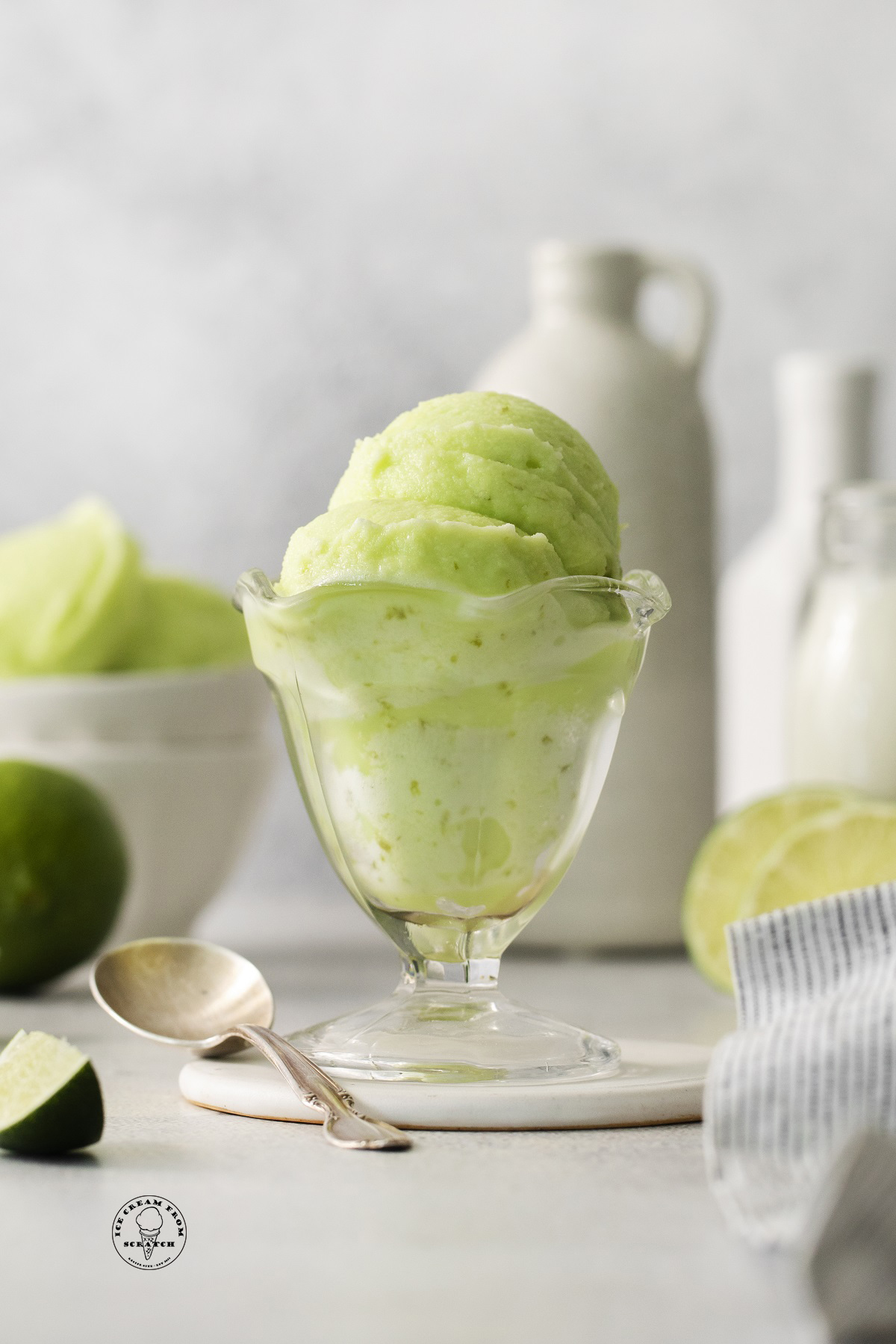 No Churn Lime Sherbet Directions
Chill a shallow container or a loaf pan in the freezer while you mix the sherbet ingredients. There's no need to pre-chill the base if you're not using the ice cream maker!
Pour the mixture into the prepared pan and freeze for 3-4 hours. Stir the sherbet every 30 minutes for the first 2 hours to help add air. This will help create a creamy, smooth texture.
How to Make Sherbet Pops
Once the lime sherbet has finished churning, you can transfer it to your popsicle molds to turn it into refreshing, single-serve ice pops!
Let the sherbet mixture freeze in the molds for at least six hours, or until it's frozen solid.
Be sure to check out all of our easy homemade popsicle recipes for more ideas for filling your popsicle mold!
What is the Difference Between Sherbet and Sorbet?
Both of these fruity frozen desserts are made with real fruit or fruit juice. The main difference is that sorbet is dairy-free, while sherbet includes milk or cream to give the dessert a creamier, richer texture.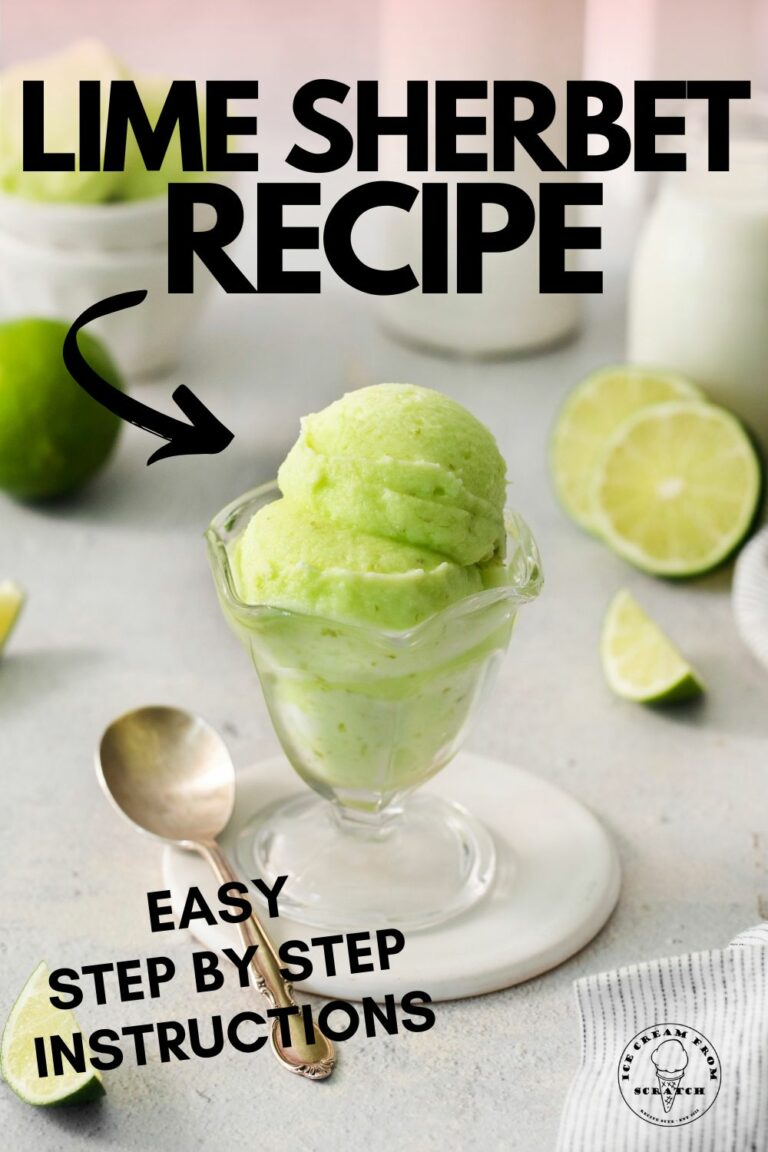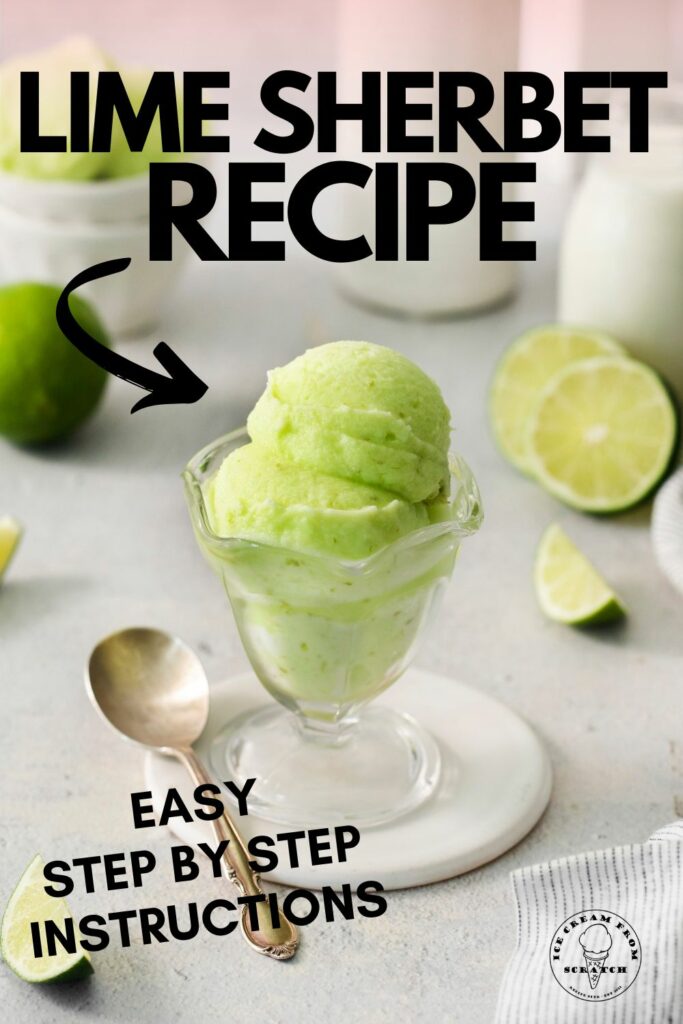 Is It Called Sherbet or Sherbert?
Many people add an extra "r" to the word sherbet to make it "sherbert", and while you might think that they're pronouncing sherbet wrong, technically both spellings are correct!
Merriam-Webster asserts that both variants of this word have existed since the word entered the English language.
Can I Make Lime Sherbet With Bottled Juice?
Technically you can make lime sherbet with bottled lime juice, but I don't recommend it. The flavor of freshly squeezed lime juice is so much better and well worth the little bit of effort it takes to get it.
More Fruity Homemade Ice Cream Recipes
LET'S GET SOCIAL, you can follow us on Pinterest or leave a comment below if you have any questions.
Did you make this Homemade Lime Sherbet Ice Cream Recipe? Leave a Comment Below letting us know what you thought and if you added any additional add-ins.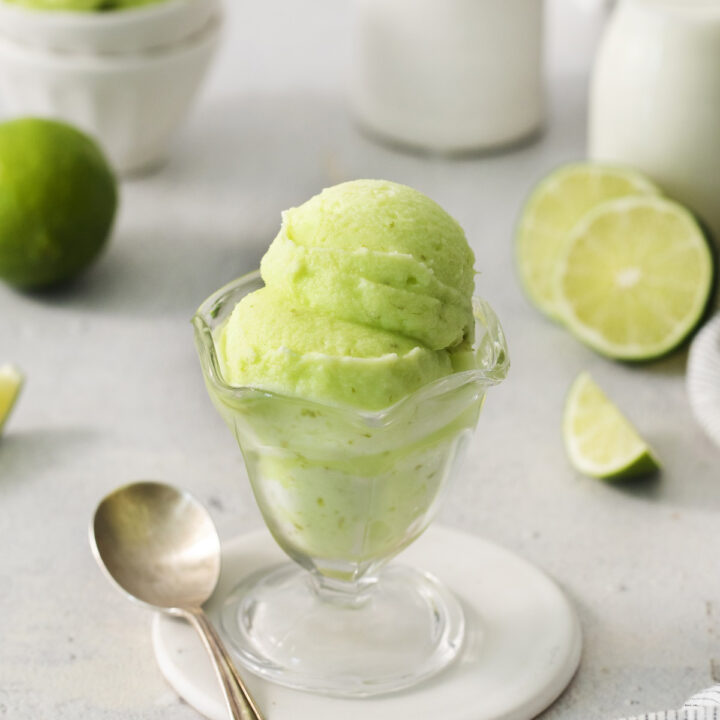 Lime Sherbet
Total Time:
6 hours
20 minutes
Zingy, sweet, tart, and refreshing, this homemade recipe for Lime Sherbet is simple to make, and so much tastier than store-bought!
Ingredients
1 cup cold freshly squeezed lime juice
1 ¼ cups cold whole milk
1 cup granulated sugar
2 tablespoons fresh lime zest
¼ teaspoon green food coloring, optional
Instructions
Add all of the ingredients to a high-speed blender and blend until smooth and the sugar has dissolved– about 1 minute.
Freeze the sherbet in your ice cream maker according to the manufacturer's instructions. Mine took about 20 minutes on low speed.
For soft serve sherbet: enjoy immediately.
For scoopable sherbet: transfer the soft frozen sherbet to a 9x5" loaf pan and wrap it tightly with plastic wrap. Freeze for an additional 6 hours and then scoop and enjoy.
Notes
Store any leftover sherbet in an airtight container in the freezer for up to two weeks.
Use fresh limes for the juice and zest needed for this recipe. Bottled lime juice just doesn't have the same tart, fresh flavor.
Without food coloring, lime sherbet will be a pale, pastel green color. Add a few drop of bright green to make the color more vibrant.
Nutrition Information:
Yield:

4
Serving Size:

1
Amount Per Serving:
Calories:

257
Total Fat:

3g
Saturated Fat:

1g
Trans Fat:

0g
Unsaturated Fat:

1g
Cholesterol:

8mg
Sodium:

35mg
Carbohydrates:

59g
Fiber:

1g
Sugar:

55g
Protein:

3g