This Lime Sherbet Punch recipe is a quick and easy drink recipe that the whole family will love!
It starts with tart limeade and sweet tropical pineapple juice and is topped off with bubbly ginger ale and creamy lime sherbet.
This refreshing treat is as fun to make as it is to drink!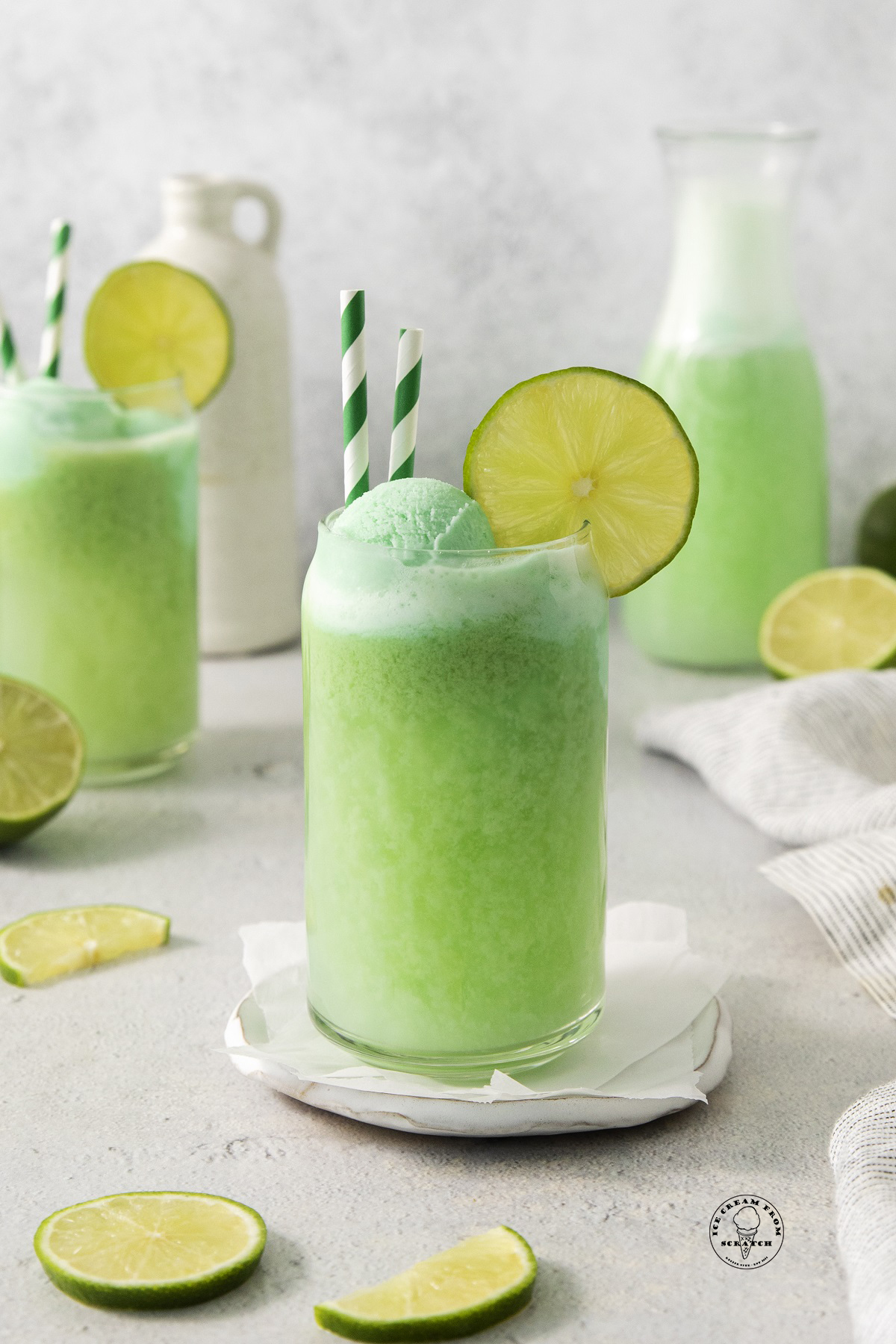 If you love all things lime flavored, stop right now and mix up this delicious Lime Sherbet Punch!
It takes just a few minutes to combine limeade with pineapple juice, ginger ale, and sherbet to make a gorgeous green drink that is sweet, tart, and creamy all at once.
Need more citrusy sweets? Try our recipes for Lime Sorbet and Lemon Custard Ice Cream next.
Why You're Going to Love This Lime Sherbet Punch Recipe
It's Perfect for Parties! This recipe will show you how to make a small pitcher of punch which serves about 4, but you can easily double or triple this recipe to fill a punch bowl for your next shin-dig.
Wonderful Green Color. Serve green sherbet punch for St. Patrick's Day, at a Halloween Party (think "monster goo", or "witches brew"), or any time that a bright green beverage will fit the theme. At Christmastime, you can call this Grinch punch!
Customize It: Adjust the ingredients to make this lime sherbet punch exactly how you like it. I'll give some smart suggestions below, or you can make your own fun changes.
For the adults, you can even spike lime punch with vodka, tequila, or triple sec!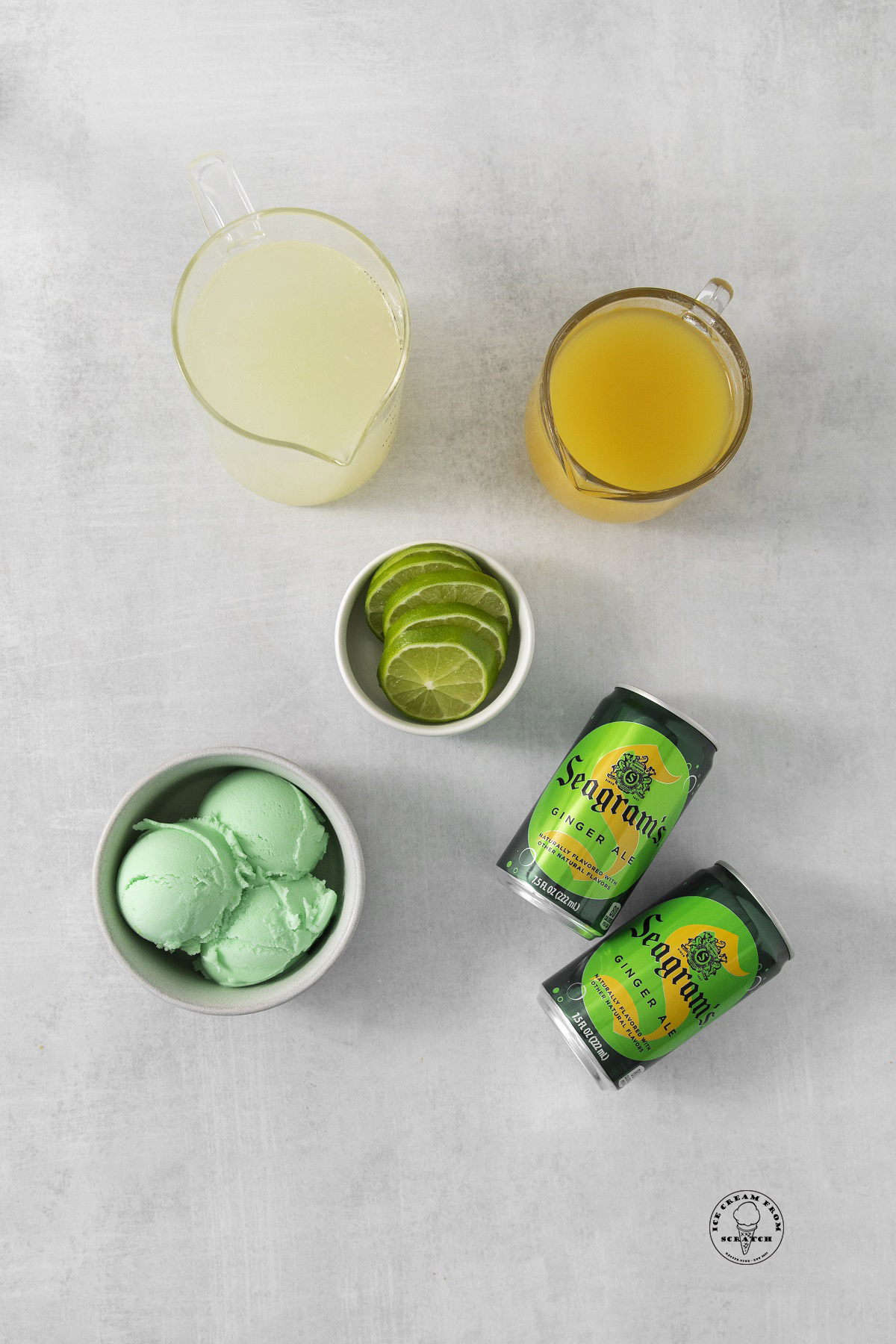 Ingredients in The Best Lime Sherbet Punch
Limeade – Limeade is a sweet and tart beverage that goes perfectly with lime sherbet! You can use bottled limeade, or make it from concentrate using the canned juice in the freezer section.
Pineapple Juice – I feel like all delicious punch recipes include a little bit of pineapple in some form. This one is no exception.
Ginger Ale – To add fizz and effervescence and a bit of sweetness to the punch. I'm using two mini cans of ginger ale which add up to about 15 ounces of soda. That's a bit more than one standard can of pop.
Lime Sherbet – Cool and refreshing with more sweet lime flavor, lime sherbet is the star of this recipe! Use store-bought sherbet, or make your own homemade lime sherbet for this punch.
Limes – To garnish the pitcher, I like to toss in thinly sliced lime wheels. Cut a slit on one side of the wheel if you want to use it on the rim of the glass.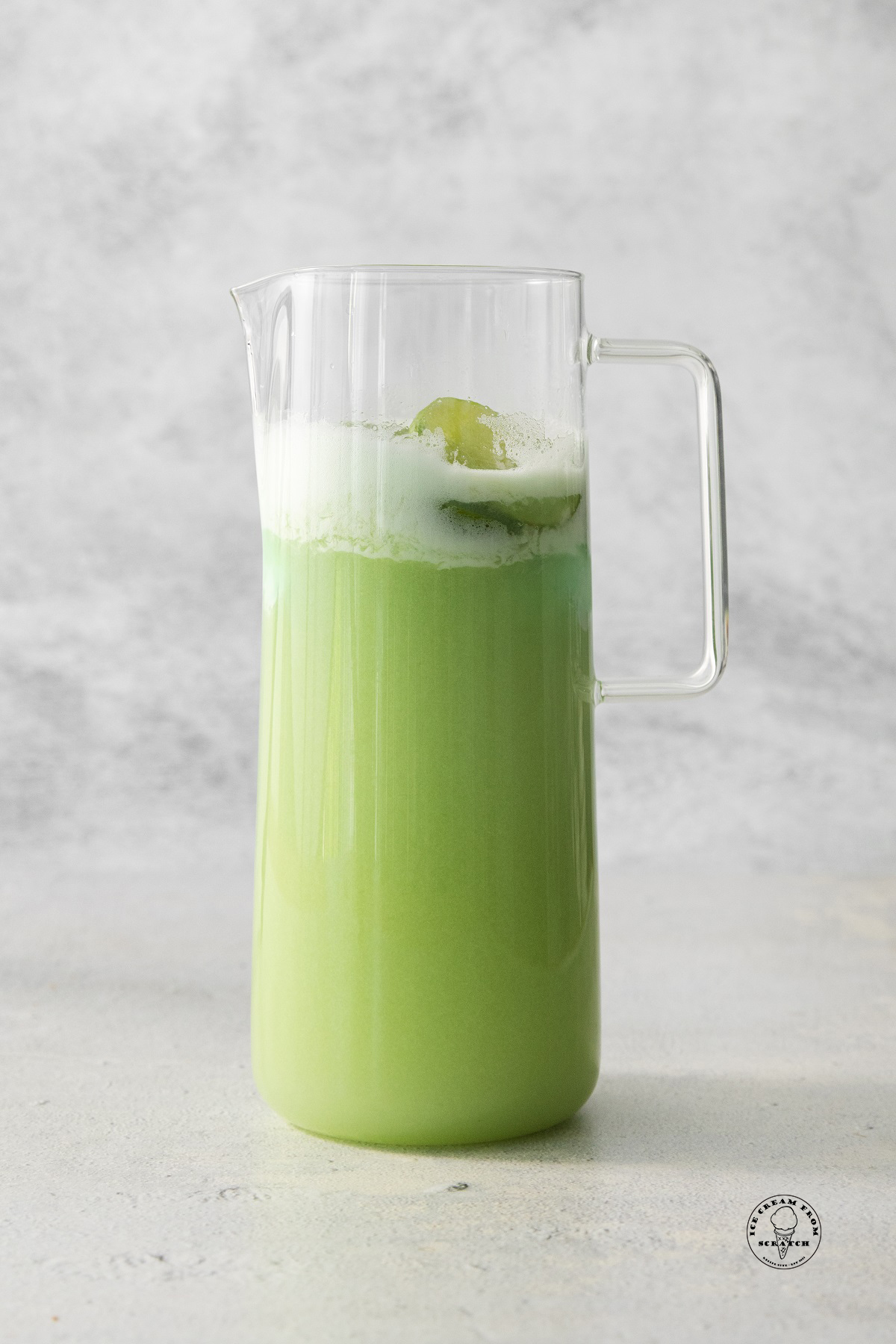 How to Make Lime Sherbet Punch
This recipe is really just as easy as mixing all the ingredients together!
Start by stirring the limeade and pineapple juice together in a pitcher or punch bowl.
Next, add the ginger ale, and stir gently to combine.
To serve, add scoops of lime sherbet and fresh lime slices, then enjoy!
For the complete list of ingredients and instructions, please see the recipe below.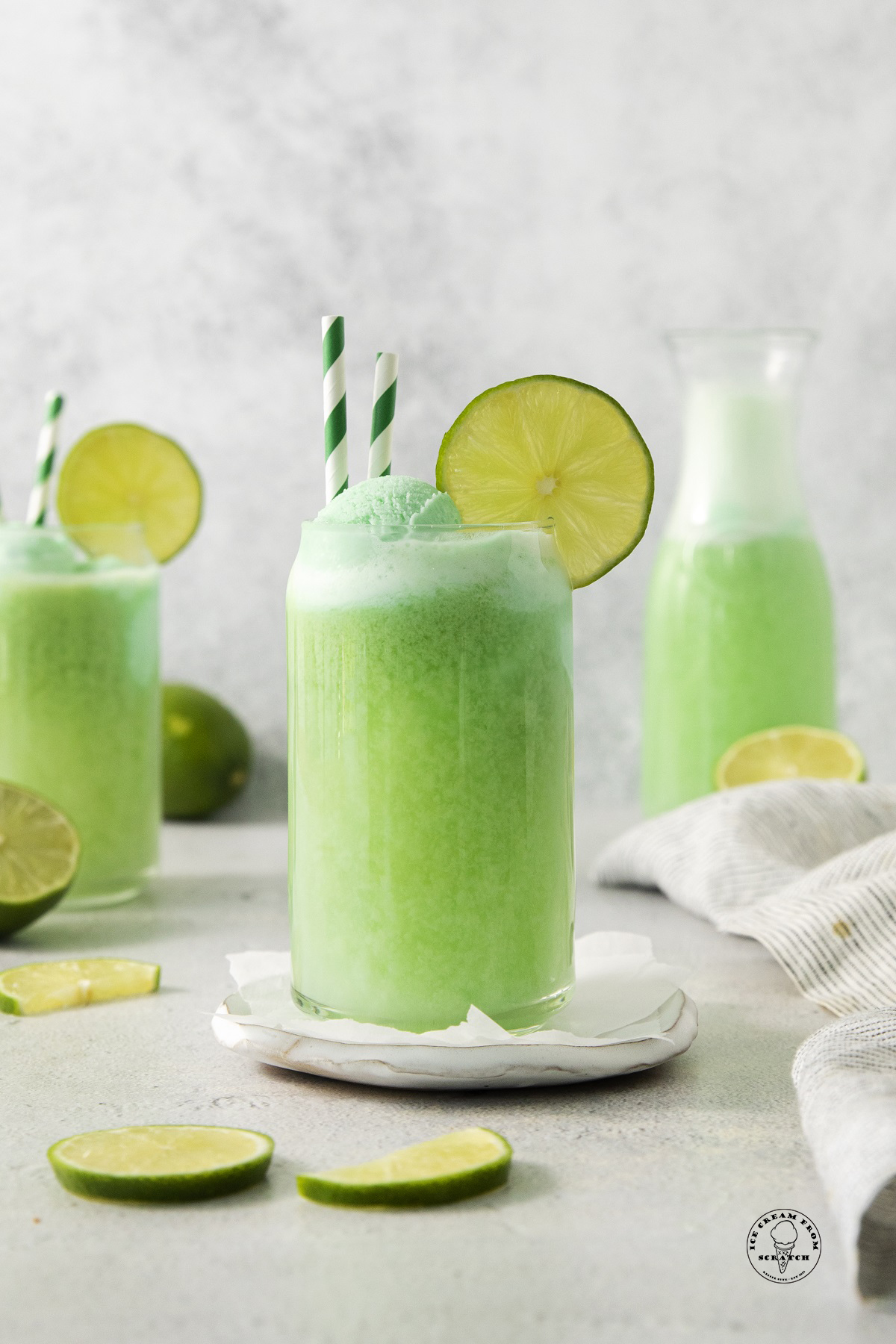 Can I Make Sherbet Punch Without Soda?
Technically, you could make a lime punch without bubbly soda, but I wouldn't recommend it. The bubbles react with the sherbet to create a delicious and airy foam on the top of the punch, much like what happens when you make a Coke float or rootbeer float.
What Can I Use Instead of Pineapple Juice in Punch Recipes?
If you're not a fan of pineapple juice or don't have any on hand, don't worry!
You can make Lime punch using just limeade, or replace the pineapple juice with another light-colored juice, like white grape or apple.
Lime Sherbet Punch Recipe Tips
Stir Gently – You want the soda to stay fizzy, so be sure not to stir it up too much.
Drink Up! – After the punch has been mixed, it will start to lose its effervescence, so it's best to serve and enjoy this recipe just after making it. I don't suggest making sherbet punch ahead of time.
To Spice the Punch – Stir in a quarter cup of your favorite liquor. Clear alcohols like vodka, rum, or tequila will work best in this recipe.
Chill out – Start with chilled juices and soda so that you don't need to add any ice to the punch.
How Much Punch To Make For a Party
This recipe makes enough lime sherbet punch to serve 4, so it's perfect when you want to make a fun beverage for your family or a few friends.
For a larger group, simply multiply the recipe!
If you'd like to double this recipe to serve 8 people, use double the ingredients, and a larger container.
For simplicity, you can use a little bit less than one liter of ginger ale, or 1.5 20-ounce bottles.
Add that to 4 cups of limeade and 2 cups of pineapple juice, then mix in at least 4 cups of lime sherbet!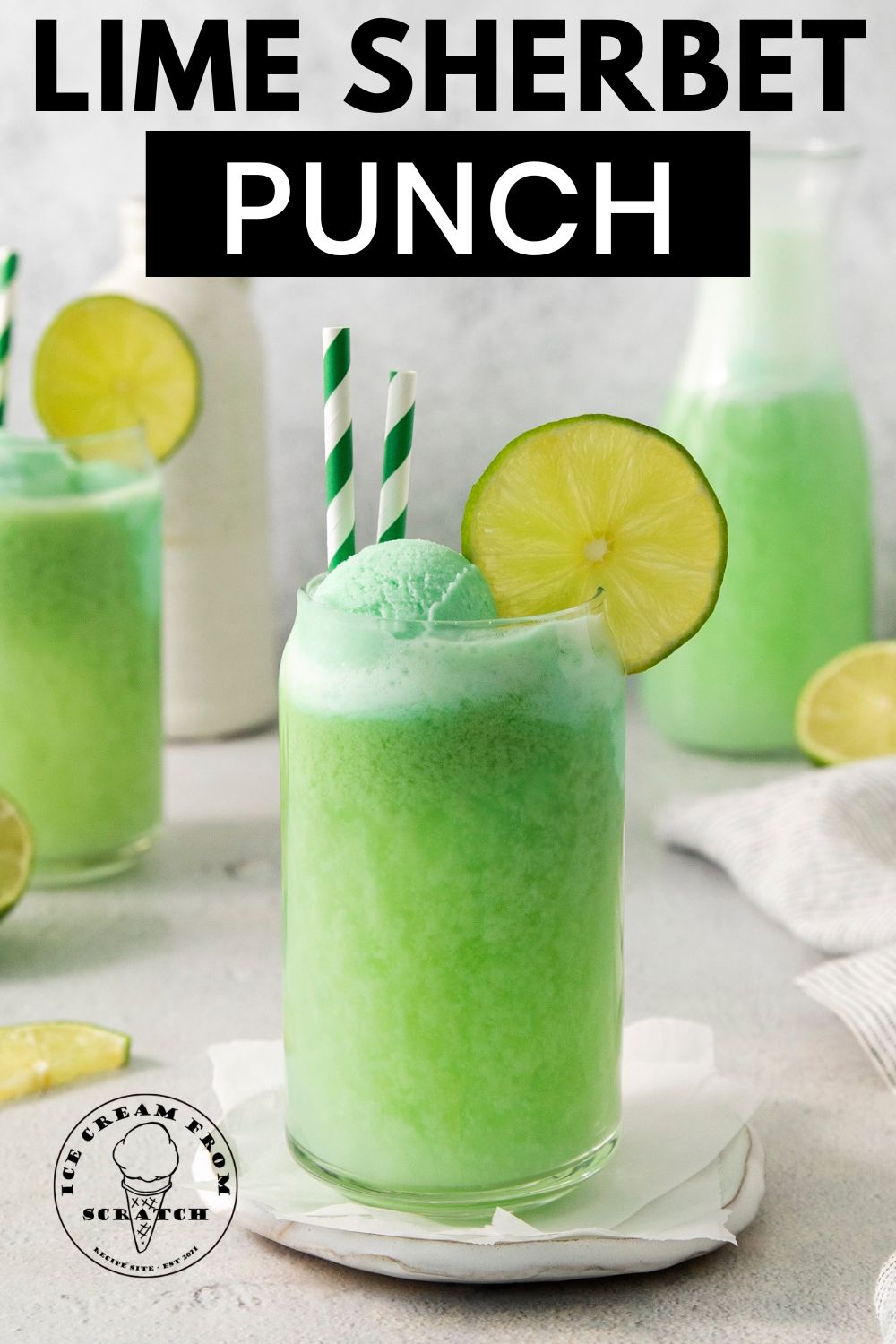 Where Did Sherbet Punch Originate?
Wondering about the history of this sweet and unique party beverage?
Punches of all types have been enjoyed throughout modern history. Punch recipes including sherbet started showing up in the 1950's when rainbow sherbet was first invented and made available in supermarkets.
You'll find many party punch recipes in old cookbooks from the mid-century, when both non-alcoholic and spiked versions were very popular.
Can I Make Sherbet Punch with Sorbet?
You can, but I don't recommend it.
Why Not?
Well, it's important to understand the difference between sherbet and sorbet. Sherbet is made with milk or cream, while sorbet is made from only fruit juice and is generally dairy free.
Punch made with sorbet will not have the creamy, foamy layer on top, because it's the dairy in the fruity sherbet that creates that.
But if you insist, we recommend you use Lime Ice Cream.
Lime Sherbet Punch Variations
Instead of Ginger Ale: Try this recipe with lemon-lime soda, cream soda, or lime soda if you can find it.
More Garnishes: Mint leaves, maraschino cherries, or fresh pineapple wedges will all be delicious and beautiful.
To Make it Extra Green: Add a few drops of green food coloring to the pitcher with the juices!
Try Other Sherbet Flavors: Try this recipe with Rainbow Sherbet or Orange Sherbet instead! Raspberry sherbet can also be used, but the red color may mix with the green from the limeade to turn your drink a cloudy brown color.
More Homemade Ice Cream Drink Recipes To Try
Our Favorite Ice Cream Making Tools:
Note: Each of these links will take you to the exact product on Amazon. As an Amazon associate, I earn a little from each qualifying purchase.
LET'S GET SOCIAL, you can follow us on Pinterest or leave a comment below if you have any questions.
Did you make this Homemade Lime Sherbet Punch Recipe? Leave a Comment Below letting us know what you thought and if you added any additional add-ins.
Yield: 4 Servings
Lime Sherbet Punch
This sweet, tart, and creamy Lime Sherbet Punch recipe is a quick and easy drink recipe that the whole family will love!
Ingredients
2 cups limeade
1 cup pineapple juice
2 cans (7.5 ounces each) ginger ale
2 cups lime sherbet
1 lime, sliced into wheels
Instructions
In a large pitcher or punch bowl, stir together the limeade and pineapple juice. Next add the ginger ale and mix to combine.
Add the sherbet and sliced lime and enjoy.
Notes
I'm using two mini cans of ginger ale to make this recipe, which is about 15 ounces of soda.
Sliced lime is optional but makes a great garnish.
You can either use bottled limeade or make limeade from concentrate (found in the freezer section of the grocery store).
Lime Sherbet is the star of this recipe! Use store-bought sherbet, or make your own homemade lime sherbet for this recipe.
Nutrition Information:
Yield:
4
Serving Size:
1
Amount Per Serving:
Calories:

342
Total Fat:

2g
Saturated Fat:

1g
Trans Fat:

0g
Unsaturated Fat:

1g
Cholesterol:

1mg
Sodium:

65mg
Carbohydrates:

68g
Fiber:

2g
Sugar:

51g
Protein:

2g