Halloween Punch with orange sherbet is a festive and refreshing party drink that will really set the mood this October!
This non-alcoholic punch for Halloween is sure to be a hit with both kids and adults alike.
With its vibrant orange color and bright citrus flavor, it just oozes Halloween spirit, and it is easy to make for a crowd or a single serving.
Why You're Going to Love this Halloween Punch Recipe
Orange sherbet Halloween Punch is so easy to make! With just a few simple ingredients, your party drink comes together in minutes. It's the perfect last-minute addition to your party menu.
It's Kid Friendly too. This punch is made with non-alcoholic ingredients, so it's a great option for even the littlest gobblins and ghouls. They'll love the sweet and tangy taste of this punch.
For the grown-ups, feel free to add a little bit more fun to your Halloween punch by mixing in a bit of vodka or orange liqueur.
We love making sherbet punch recipes! Be sure to try our green Lime Sherbet Punch (also a fun option for Halloween) or delicious and classic rainbow Sherbet Punch.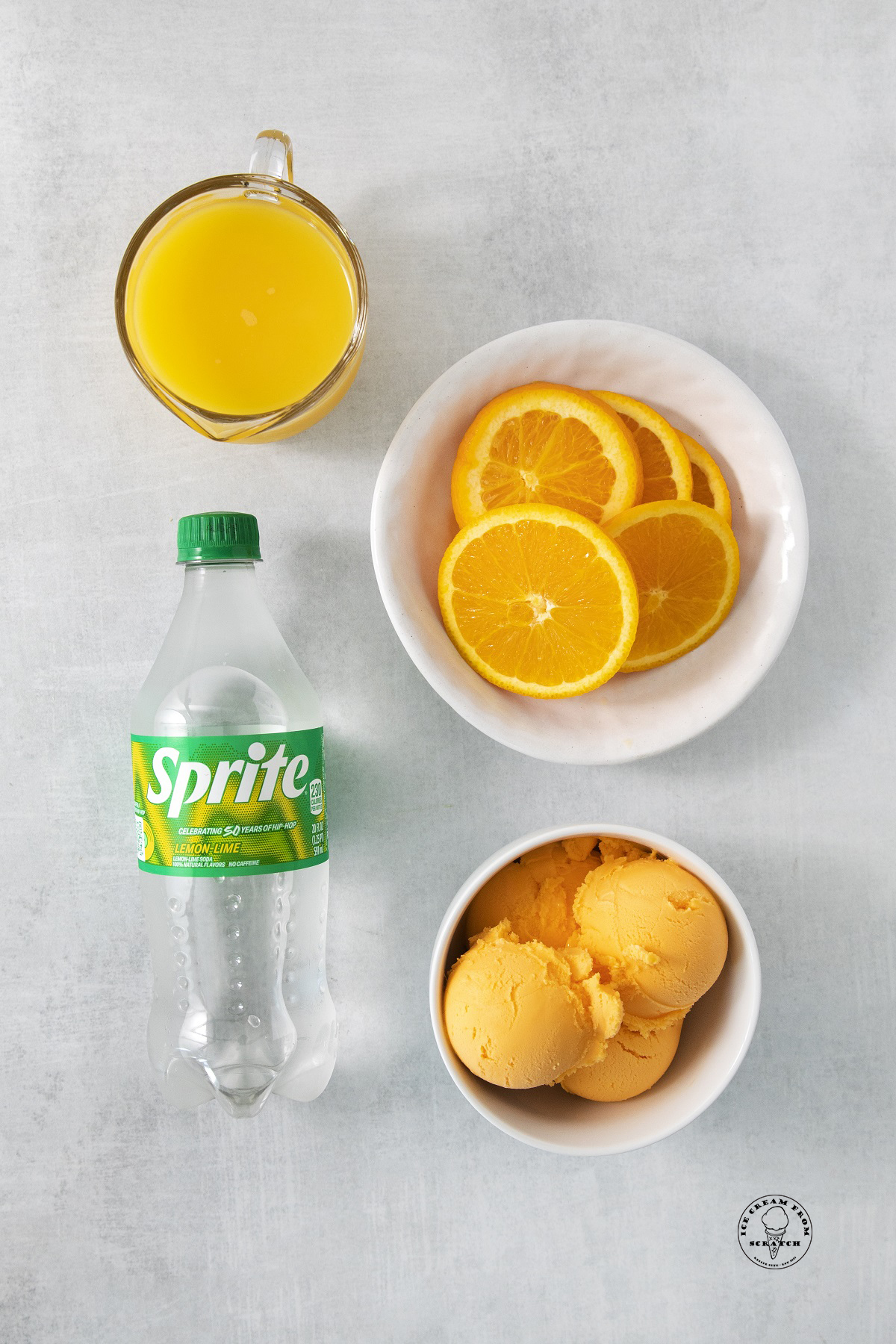 Ingredients in Halloween Punch
Lemon Lime Soda – Choose your favorite brand! Sprite, 7-Up, Starry, or store-brand soda all work perfectly. For a large batch, you'll need one 20-ounce bottle of pop.
Orange Juice – For the best and freshest flavor, use freshly squeezed orange juice in this punch recipe. If that's not an option, choose high-quality bottled juice.
Orange Sherbet – To add sweetness and a creamy, foamy layer to the punch. Make your own homemade orange sherbet, or grab some from the grocery store freezer.
Oranges – To garnish the punch I like to use thinly sliced orange wheels. cut a slit on one side of the orange wheels if you'd like to pop them on the side of each glass.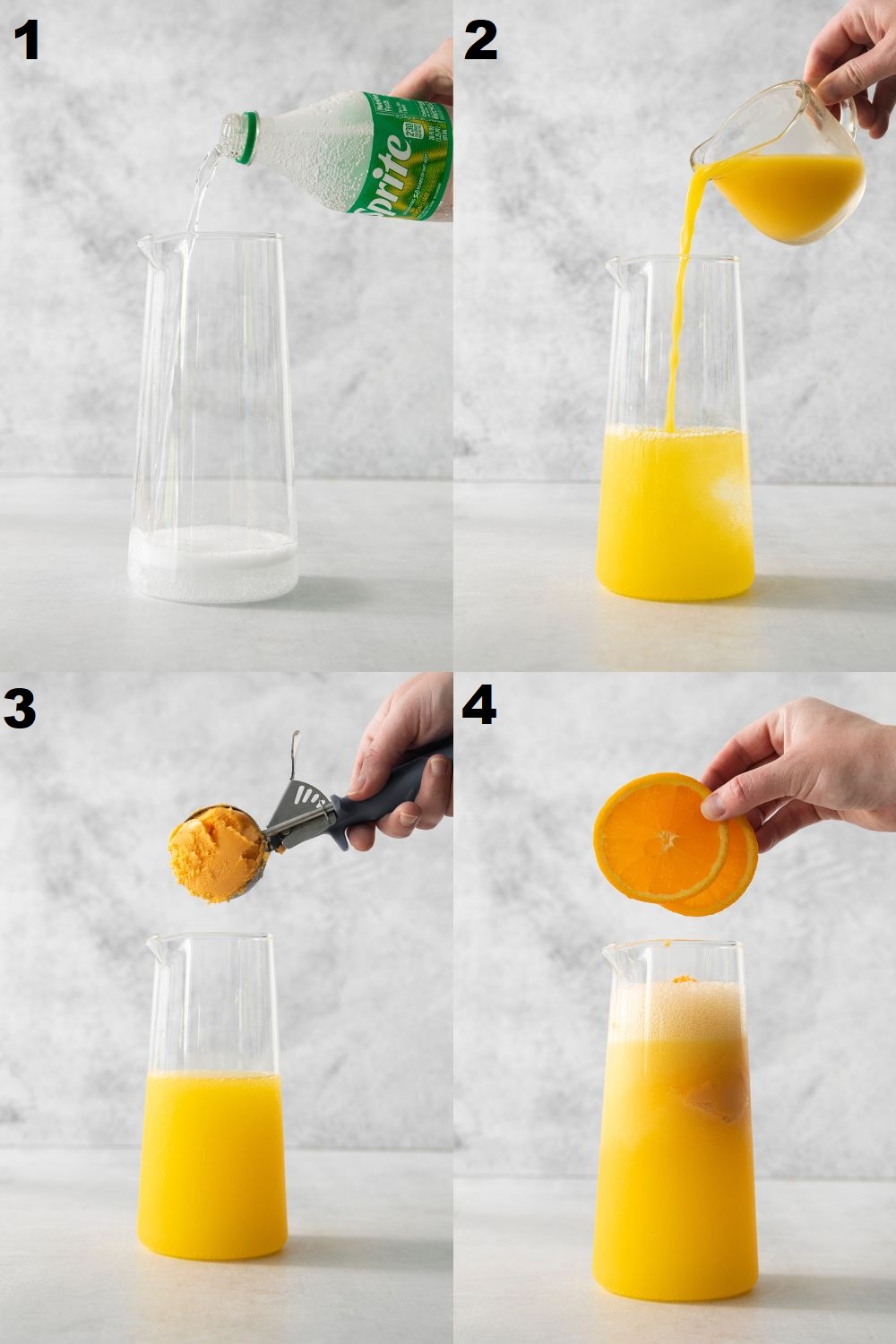 How to Make The Best Halloween Punch
The basic recipe for Halloween punch makes enough to serve 8 people. Instructions for making a single serving are included below for you as well!
Add Lemon Lime Soda to a pitcher or punch bowl.
Then add the Orange Juice, and stir gently to combine.
Top with scoops of Orange Sherbet.
Serve immediately, garnished with Orange Slices.
These numbered steps match the numbered photos above and are for illustration purposes. For the complete list of ingredients and instructions, please see the recipe below.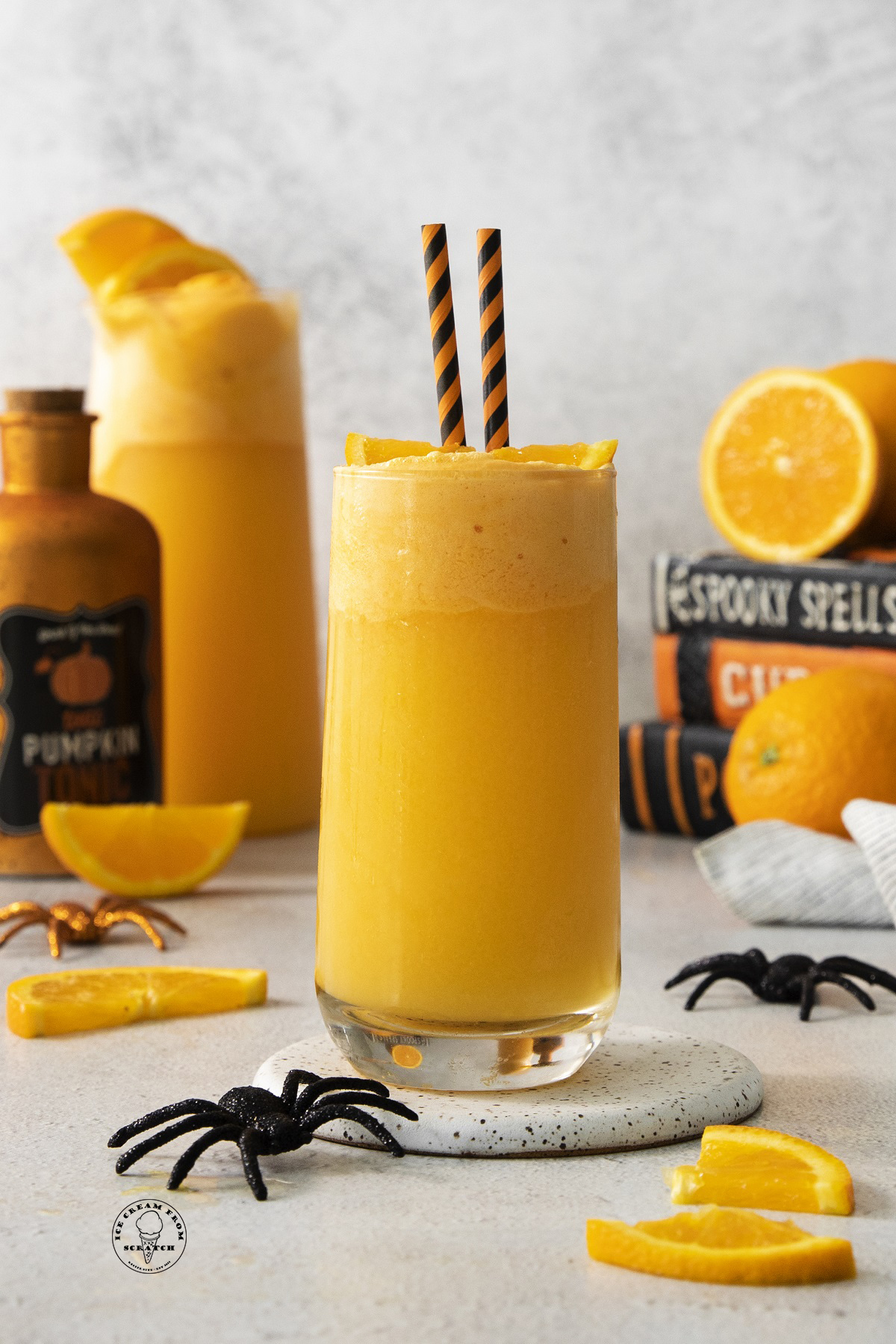 Tips for Making This Halloween Punch Recipe
Use quality ingredients – When making party punch for Halloween, you'll want to make sure you are using high-quality ingredients for the best outcome. Freshly squeezed OJ, good quality sherbet, and juicy oranges will make all the difference.
Chill out – Start with chilled juice and soda so that you don't need to add any ice to the punch.
Stick with Orange Sherbet – While this Halloween punch would be tasty with raspberry or lime sherbet mixed in, you will find that those colors don't mix well with orange juice and will give your punch a brown or gray, murky color.
Stir Gently – You want the soda to stay fizzy, so be sure not to stir it up too much.
Try Other Soda Flavors – Instead of lemon-lime, make this with ginger ale, grapefruit soda, cream soda, or any clear soda you like! This punch is also delicious (and slightly less sweet) if made with unsweetened sparkling water instead of soda.
Enjoy Immediately – After the punch has been mixed, it will start to lose its effervescence, so it's best to serve and enjoy this recipe just after making it. I don't suggest making sherbet punch ahead of time.
How Do I Make a Single Serving of Punch?
You can mix up just one glass of Halloween punch! It's perfect for enjoying while you hand out candy to trick-or-treaters.
To make a single serving, mix together a half cup of lemon-lime soda, 2 ounces of orange juice, and one scoop of orange sherbet.
Garnish with an Orange slice and grab a straw!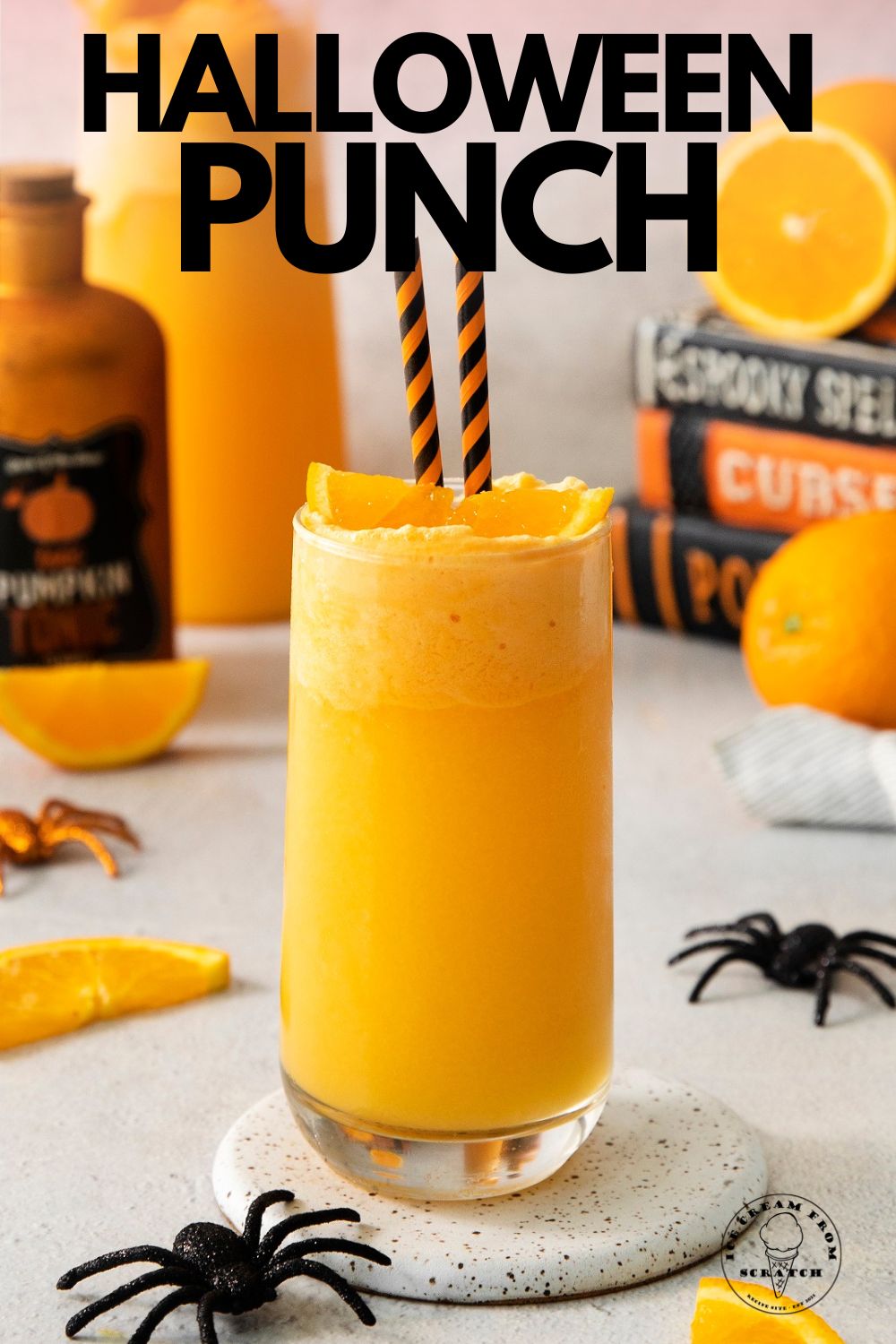 What Else Can I Add to Halloween Punch?
If you're looking for more flavor, try including some pineapple juice! It will add a bit of tropical flavor that is really tasty.
To make your punch extra spooky for Halloween, play around with your garnishes.
Edible garnishes like Gummy worms or bugs, candy eyeballs, or black licorice stirrers are all super fun! If your Halloween party is for kids, I suggest serving the candy on the side so that there's no concern about choking.
I've also seen edible eyeballs made with canned lychees stuffed with blueberries. I haven't tried this, but it looks very cool!
If you can get your hands on a little bit of dry ice, that's always a party favorite! Add it to the punch bowl and it will create a smoky, spooky effect.
Can I Make Punch Without Sherbet?
While you technically can make a punch without sherbet, it's the orange sherbet that makes this punch extra special!
The reaction of the creamy sherbet with the bubbles from the soda creates a delicious and airy foam on top of the punch, just like when you make a Coke Float!
You can also use Orange Creamsicle Ice Cream, instead of the Sherbet.
How Much Halloween Punch To Make for A Party
This recipe makes enough Halloween Punch to serve about 8 people. If you invited more people over, feel free to double or triple the recipe!
Just make sure that you have a large enough pitcher or punch bowl for everything to fit into.
How Do I Keep Sherbet Punch Fresh?
Once you've mixed up this Halloween punch recipe, it's best to enjoy it right away. The soda will start to lose its fizz, and the sherbet will start to melt.
For this reason, I suggest waiting to make this Halloween punch until all of your guests have arrived. Don't try to make it ahead of time.
Make one pitcher or punch to start. When that one is gone, feel free to make another!
More Homemade Beverage Recipes to Try
Our Favorite Ice Cream Making Tools:
Note: Each of these links will take you to the exact product on Amazon. As an Amazon associate, I earn a little from each qualifying purchase.
LET'S GET SOCIAL, you can follow us on Pinterest or leave a comment below if you have any questions.
Did you make this Halloween Punch Recipe? Leave a Comment Below letting us know what you thought and if you added any additional add-ins.
Yield: 8 Servings
Halloween Punch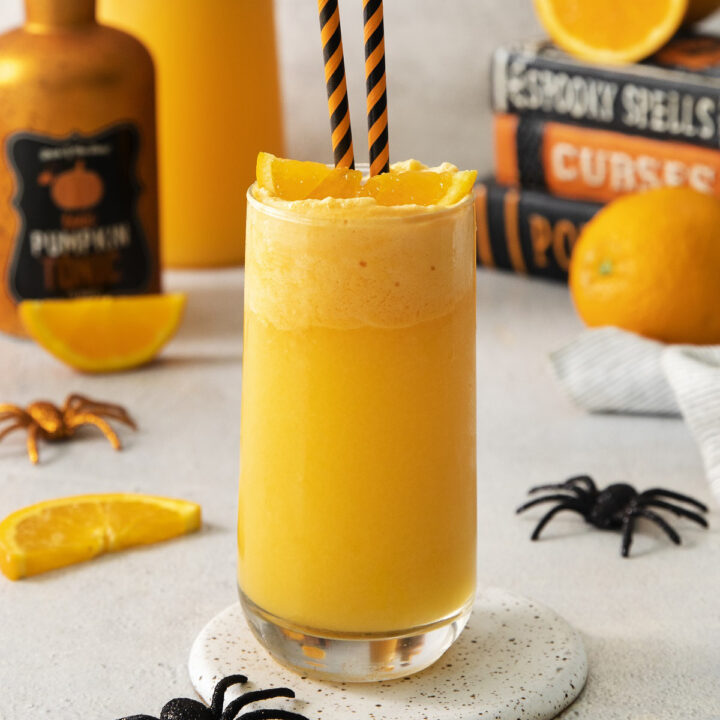 Halloween Punch with orange sherbet is a festive and refreshing party drink that will really set the mood this October!
Ingredients
1 standard (20 ounce) bottle lemon-lime soda, chilled
1 cup orange juice, chilled (preferably freshly squeezed)
2 cups orange sherbet
1 orange, sliced
Instructions
Add the lemon-lime soda and orange juice to a large pitcher or punch bowl. Top with orange sherbet scoops and sliced orange. Enjoy immediately.
To make a single serving, add ½ cup lemon-lime soda, and 2 ounces of orange juice to a glass. Top with a scoop of orange sherbet and 1 orange wheel or wedge for garnish.
Notes
We're using lemon-lime soda but this punch is also delicious (and slightly less sweet) if made with sparkling water– such as San Pellegrino. 
Make this punch boozy by adding ½ cup (or 1 shot for a single serving) or triple sec, Cointreau, vodka, or tequila. 
Try using different orange juices for different flavors– blood oranges will give the punch a slightly redder color and more subtle orange flavor while cara cara oranges will give a sweeter, more floral flavor. 
Nutrition Information:
Yield:
8
Serving Size:
1
Amount Per Serving:
Calories:

123
Total Fat:

1g
Saturated Fat:

1g
Trans Fat:

0g
Unsaturated Fat:

0g
Cholesterol:

1mg
Sodium:

31mg
Carbohydrates:

27g
Fiber:

1g
Sugar:

23g
Protein:

1g