Creamy homemade Orange Sherbet is a bright and delicious summer treat! This classic dessert is made in your ice cream maker with fresh orange juice, lots of orange zest, and a bit of heavy cream so that it has a delicious, smooth, richness, and vibrant orange flavor.
Homemade Orange Sherbet Ice Cream is naturally gluten-free, and nut-free, and can be made without any added food dyes if you like!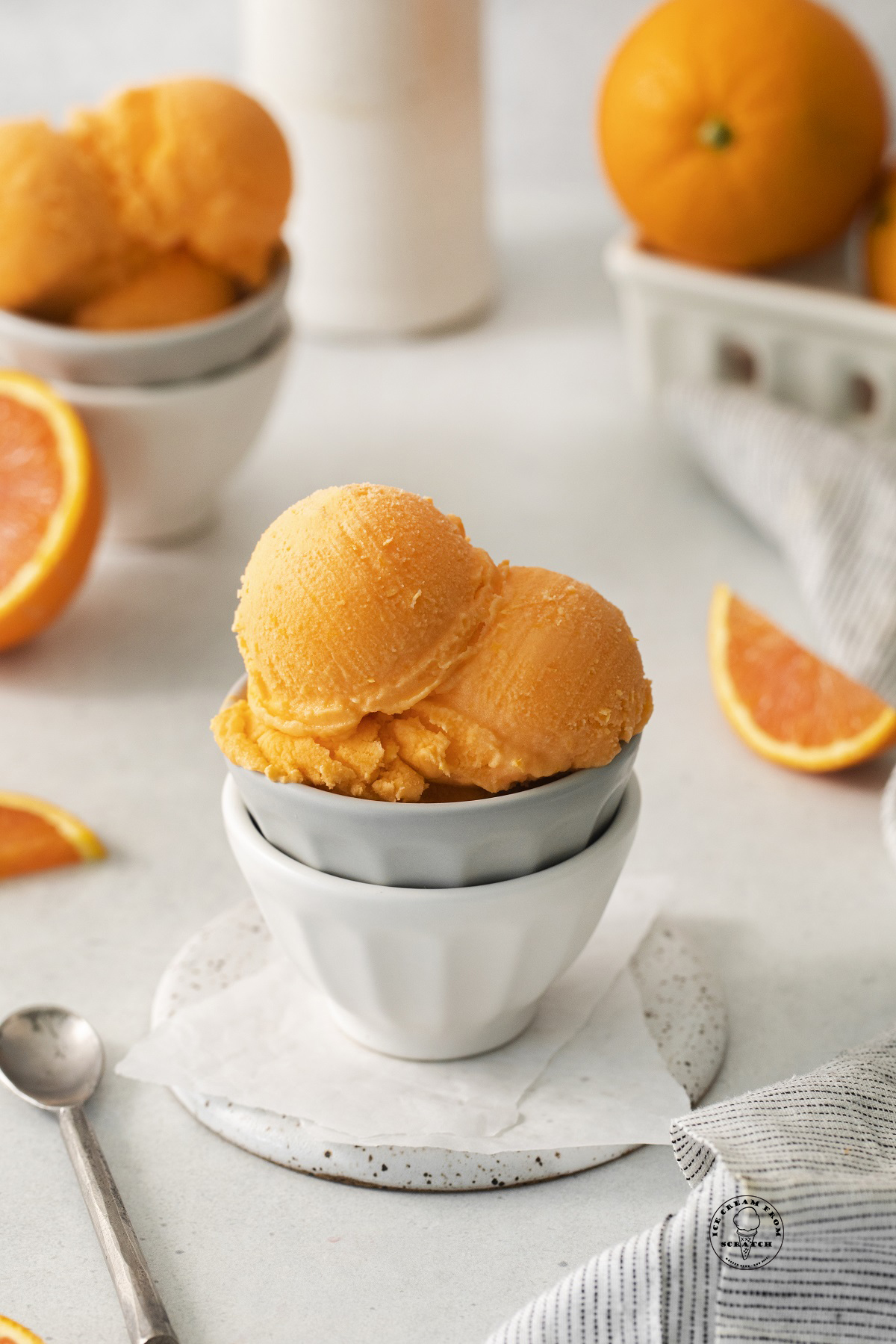 This sherbet ice cream is fantastic in this orange sherbet punch with sprite. If you love this orange sherbet recipe, you'll want to try this lime sherbet recipe next. You'll also love this recipe for rainbow sherbet.
You might also like this raspberry sherbet. This Orange Creamsicle Ice Cream is also a reader favorite.
Sherbet vs. Sorbet vs. Ice Cream
Sherbet is sort of a hybrid frozen dessert that fits in between ice cream and sorbet. Like sorbet, sherbet is made from fruit juice, but the added cream gives it a texture that's more similar to ice cream.
There isn't any cream in traditional sorbet. Sherbet is closer to ice cream, but with the same flavor depth as a sorbet.
Orange Sherbet is a very popular flavor, and to me, it tastes exactly like summer! It's sweet and creamy with the perfect amount of orange flavor.
Why You're Going to Love this Orange Sherbet Recipe
Making sherbet is a bit easier than making ice cream. See, there's no cooking involved in this recipe, and just like making orange popsicles, all of the mixing can be done in your blender!
Orange sherbet is also a bit healthier than orange ice cream, since the ratio of orange juice to cream is shifted so that this recipe is made primarily with freshly squeezed OJ.
By comparison, our orange ice cream recipe uses 3/4 cup of orange juice, while orange sherbet uses 2 full cups!
If you love desserts with bright citrus flavors, be sure to try our homemade lemon ice cream recipe, or lime sorbet recipe next.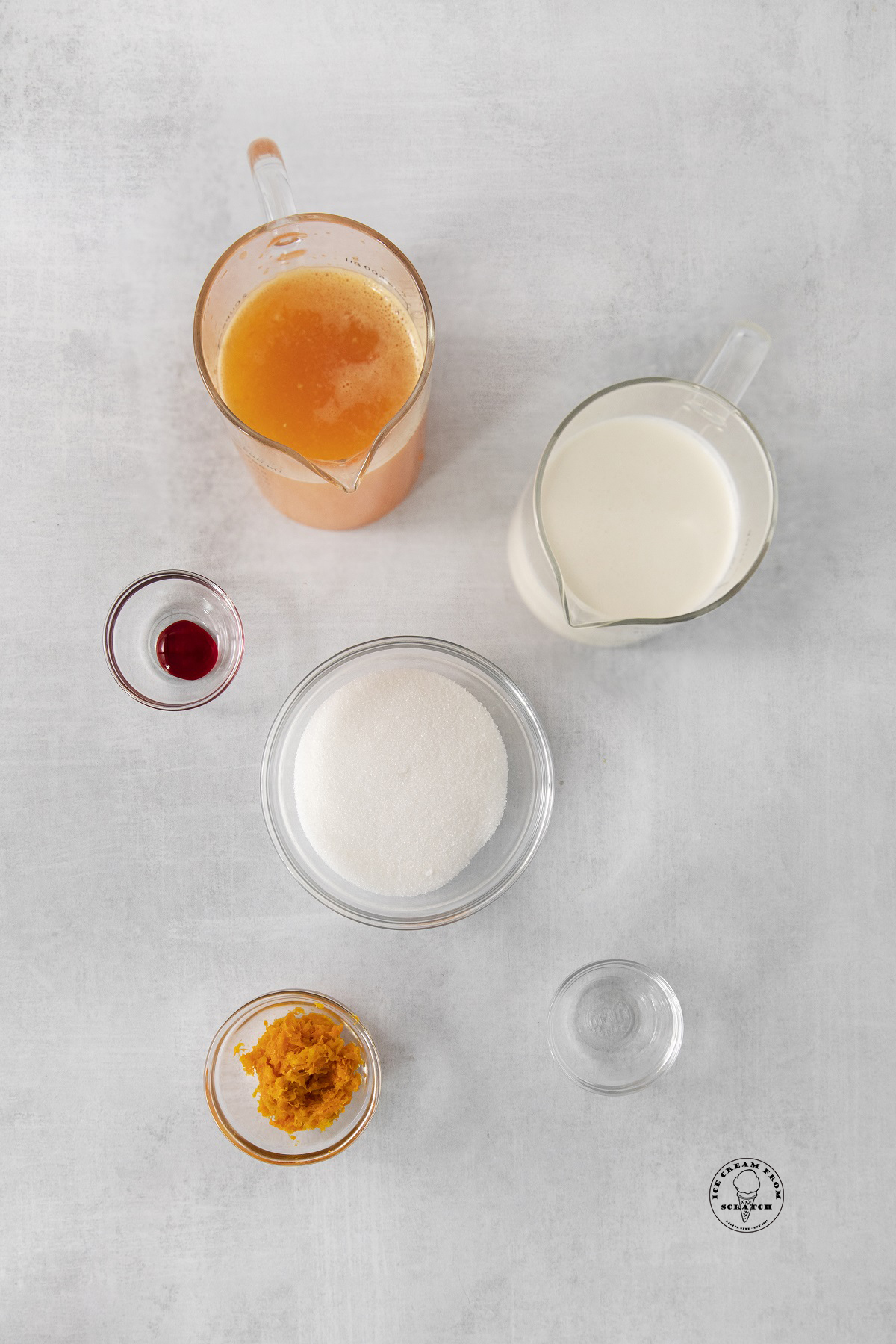 Ingredients in Homemade Orange Sherbet
Orange Juice – Freshly squeezed juice from juicy oranges is key to getting great flavor in orange sherbet. You can use a juicer or juice them by hand, just be sure to remove any seeds.
Heavy Cream– This gives the recipe a rich, silky smoothness.
Granulated Sugar – Sugar adds sweetness to homemade sherbet recipes, and also helps to create a smooth, creamy texture.
Orange Zest – Remove the zest from the oranges before you juice them. Trust me, it's much easier this way!
Orange Extract – This is optional, but I love the extra orange flavor that this gives the sherbet. If your oranges are very flavorful and delicious, you can skip the extract.
Orange Food Coloring – Without added food coloring this sherbet will have a pale orange color. If you want it to look like store-bought orange sherbet, add a few drops of orange coloring to the mixture.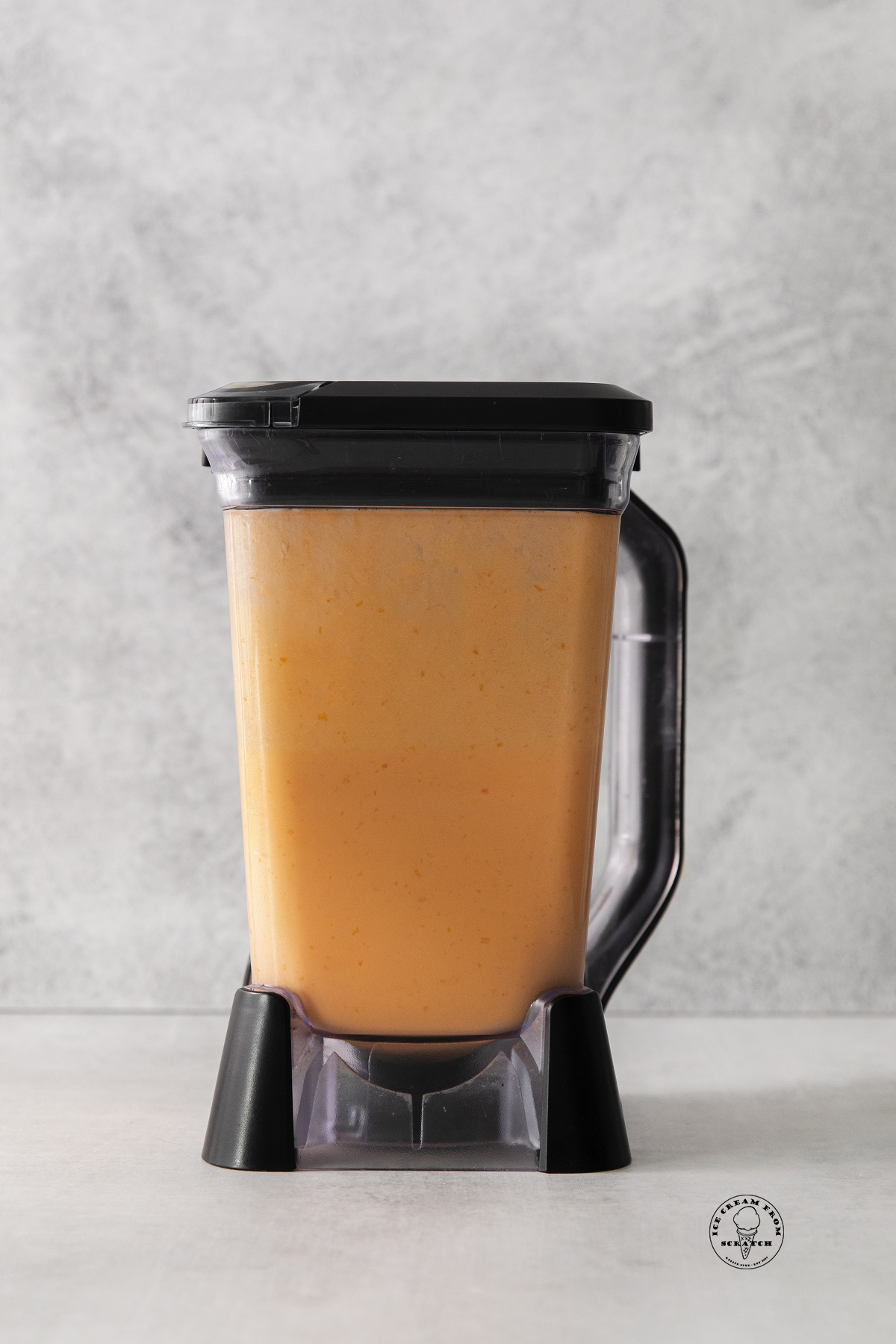 How to Make Orange Sherbet from Scratch
Start the day before by making sure that the bowl for your ice cream maker has at least 24 hours to freeze solid.
Blend. Add all of the ingredients to a high-speed blender. Blend until the mixture is smooth and all of the sugar has fully dissolved.
Chill. before churning, make sure that the sherbet mixture is very cold. The easiest way to do this is to just put the blender pitcher in the fridge for an hour. If it separates while chilling, give it a stir before proceeding.
Churn. Freeze the sherbet in your ice cream maker, according to your manufacturer's instructions.
Enjoy. You can eat the sherbet right from the ice cream maker as soft serve, or, transfer it to a shallow container or loaf pan, wrap it tightly with plastic wrap, and freeze for 4-6 hours, or until solid.
These numbered steps match the numbered photos above and are for illustration purposes. For the complete list of ingredients and instructions for making orange sherbet, please see the recipe below.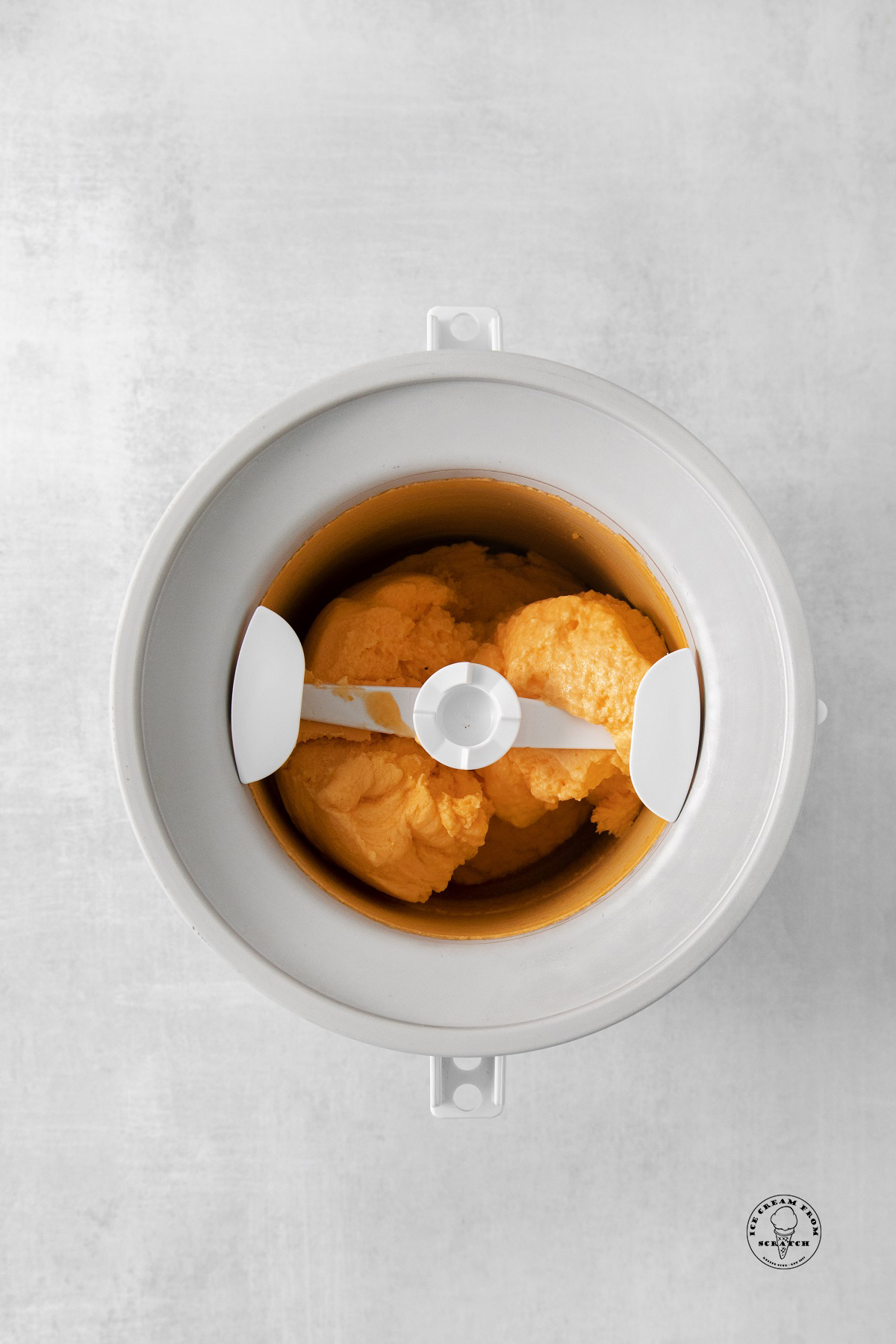 How to Store Homemade Orange Sherbet
Store this homemade sherbet in the freezer in an airtight container with a piece of parchment paper or wax paper pressed on top for up to two weeks.
The paper helps to protect the sherbet from freezer burn and keeps it fresher for longer.
Tips for Making This Orange Sherbet Recipe
Use quality ingredients – When making homemade sherbet or ice cream, you'll want to make sure you are using high-quality ingredients for the best outcome.
For the best orange flavor, use freshly squeezed orange juice from quality oranges. I used Cara Cara oranges.
Chill out – Don't skip the chilling step after blending up the sherbet base. If your base isn't cold, the sherbet won't solidify in the ice cream machine.
Don't skimp on the fat – High-fat cream is essential when making homemade ice cream or sherbet. Opting for a low-fat option often leads to icy ice creams and inconsistency in the texture.
Don't skimp on the sugar – Sugar is essential for the creamy texture of ice cream and sherbet. Don't try to reduce the amount in this recipe, or you will end up with icy sherbet.
Is it Sherbet or Sherbert?
Technically, it seems that the word sherbet is the correct spelling for this frozen treat, although sherbert (with an added r) is now also considered correct, according to Merriam-Webster.
Both variants of the word have been around since the word entered the English language. For the sake of simplicity, we'll stick with "sherbet" for now.
Why is Homemade Sherbet So Hard to Scoop?
To make things easier, allow the sherbet to sit out at room temperature for 5 minutes before trying to scoop it.
Since we aren't adding any stabilizers or preservatives to our recipes like conventional ice cream makers do, homemade orange sherbet won't be soft when completely frozen.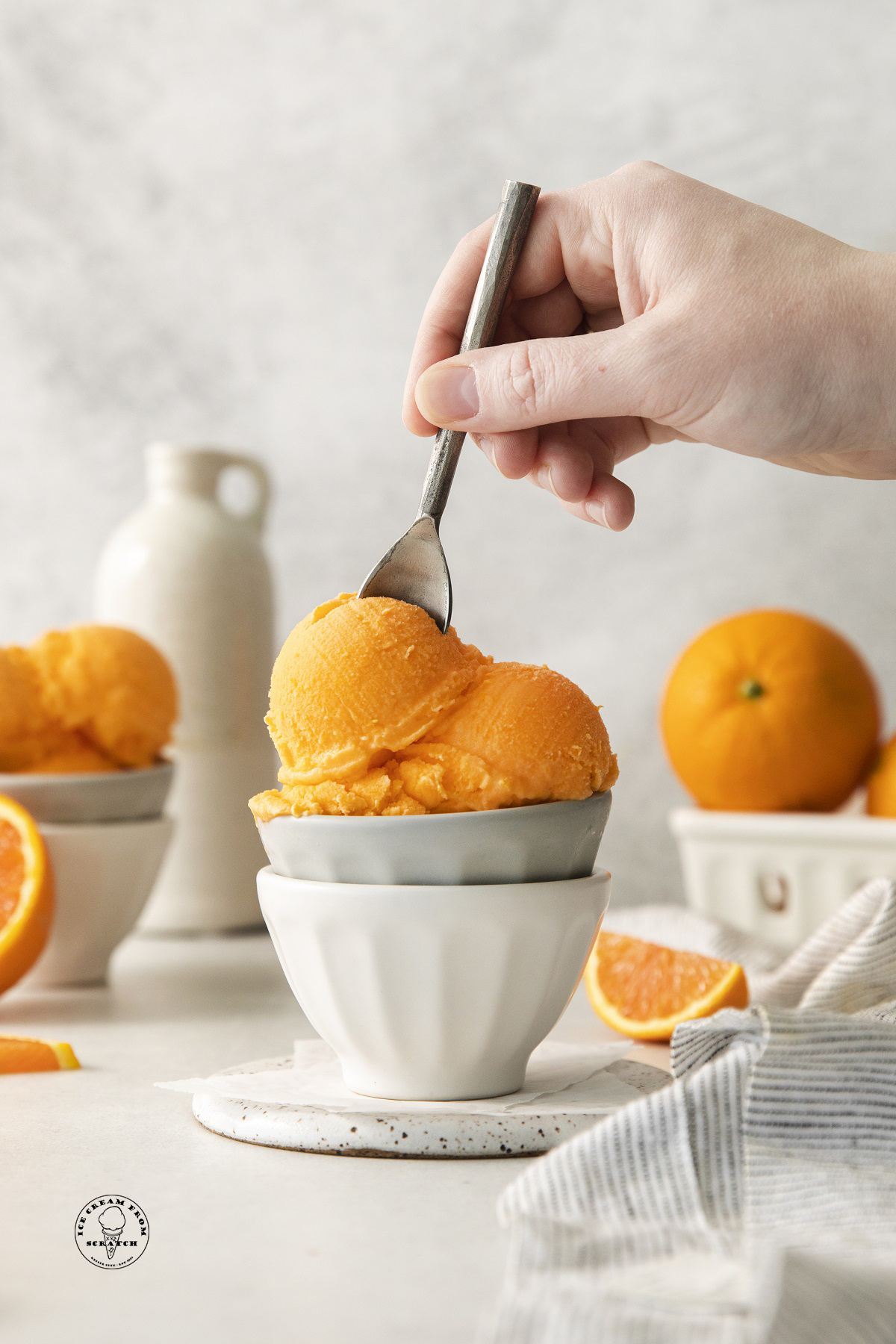 No Churn Orange Sherbet Directions
Chill a shallow container or a loaf pan in the freezer while you mix the sherbet ingredients. There's no need to pre-chill the base if you're not using the ice cream maker!
Pour the mixture into the prepared pan and freeze for 3-4 hours. Stir the sherbet every 30 minutes for the first 2 hours to help add air. This will help create a creamy, smooth texture.
How to Make Sherbet Pops
After the sherbet has finished churning, transfer it with a spoon into popsicle molds. Freeze for at least 8 hours before enjoying.
We also have many more easy popsicle recipes here for you to try!
More Homemade Fruity Ice Cream Recipes
Our Favorite Ice Cream Making Tools:
Note: Each of these links will take you to the exact product on Amazon. As an Amazon associate, I earn a little from each qualifying purchase.
LET'S GET SOCIAL, you can follow us on Pinterest or leave a comment below if you have any questions.
Did you make this Homemade Orange Sherbet Ice Cream Recipe? Leave a Comment Below letting us know what you thought and if you added any additional add-ins.
Yield: 1 quart
Orange Sherbet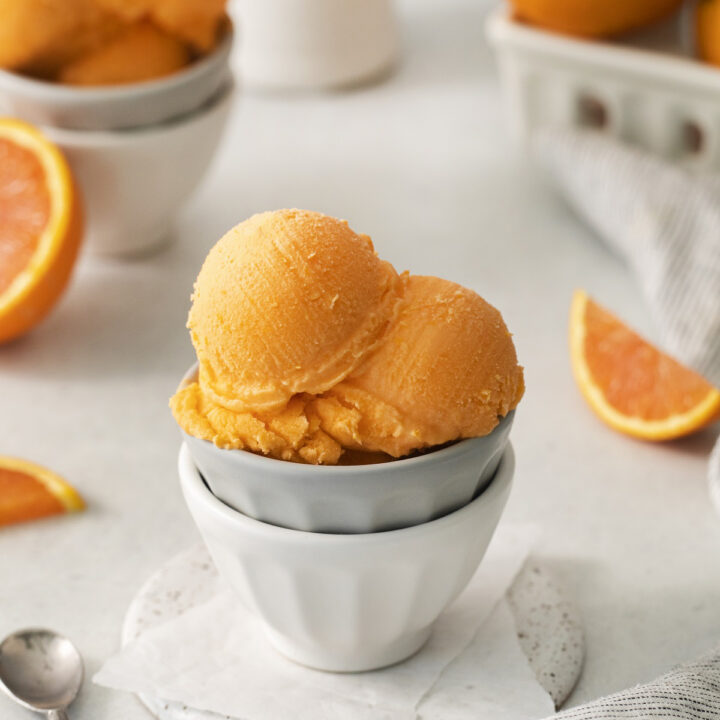 Creamy homemade Orange Sherbet is a bright and delicious homemade summer treat that is easily made with fresh orange juice and cream!
Chilling/Freezing Time
8 hours
Total Time
8 hours
25 minutes
Ingredients
2 cups freshly squeezed orange juice
1 ½ cups heavy cream
½ cup granulated sugar
2 tablespoons fresh orange zest
½ teaspoon orange extract, optional
¼ teaspoon orange food coloring, optional
Instructions
Add all of the ingredients to a high-speed blender and blend until smooth and the sugar has dissolved.
Transfer the mixture to the fridge and chill until very cold– at least 1 hour, but up to overnight. The mixture may separate as it sits– just give it a stir before churning.
Freeze the sherbet in your ice cream maker according to the manufacturer's instructions.
For soft serve sherbet: enjoy immediately.
For sherbet pops: place the soft frozen sherbet in your popsicle molds and freeze for at least 8 hours before enjoying.
For scoopable sherbet: transfer the soft frozen sherbet to a 9x5" loaf pan and wrap it tightly with plastic wrap. Freeze for an additional 6 hours and then scoop and enjoy.
Notes
Store any leftover sherbet in an airtight container in the freezer for up to two weeks.
Freshly squeezed orange juice and fresh orange zest will give you the best flavor in this recipe.
Orange extract is optional, but it adds extra zesty flavor!
Without food coloring, this orange sherbet will have a pale orange color. You can add drops of orange food coloring to get a bright color if you prefer.
Recommended Products
As an Amazon Associate and member of other affiliate programs, I earn from qualifying purchases.
Nutrition Information:
Yield:
6
Serving Size:
1
Amount Per Serving:
Calories:

307
Total Fat:

22g
Saturated Fat:

14g
Trans Fat:

1g
Unsaturated Fat:

6g
Cholesterol:

67mg
Sodium:

17mg
Carbohydrates:

27g
Fiber:

0g
Sugar:

25g
Protein:

2g