Buttery and rich, with chunks of fresh cornbread, this recipe for Cornbread Ice Cream is going to blow you away!
This homemade ice cream is sweet and savory, salty, and decadent, and because this is a no-churn ice cream recipe, it's super simple to make. When you make cornbread ice cream from scratch, you can easily make it gluten-free, nut-free, and free from any additives.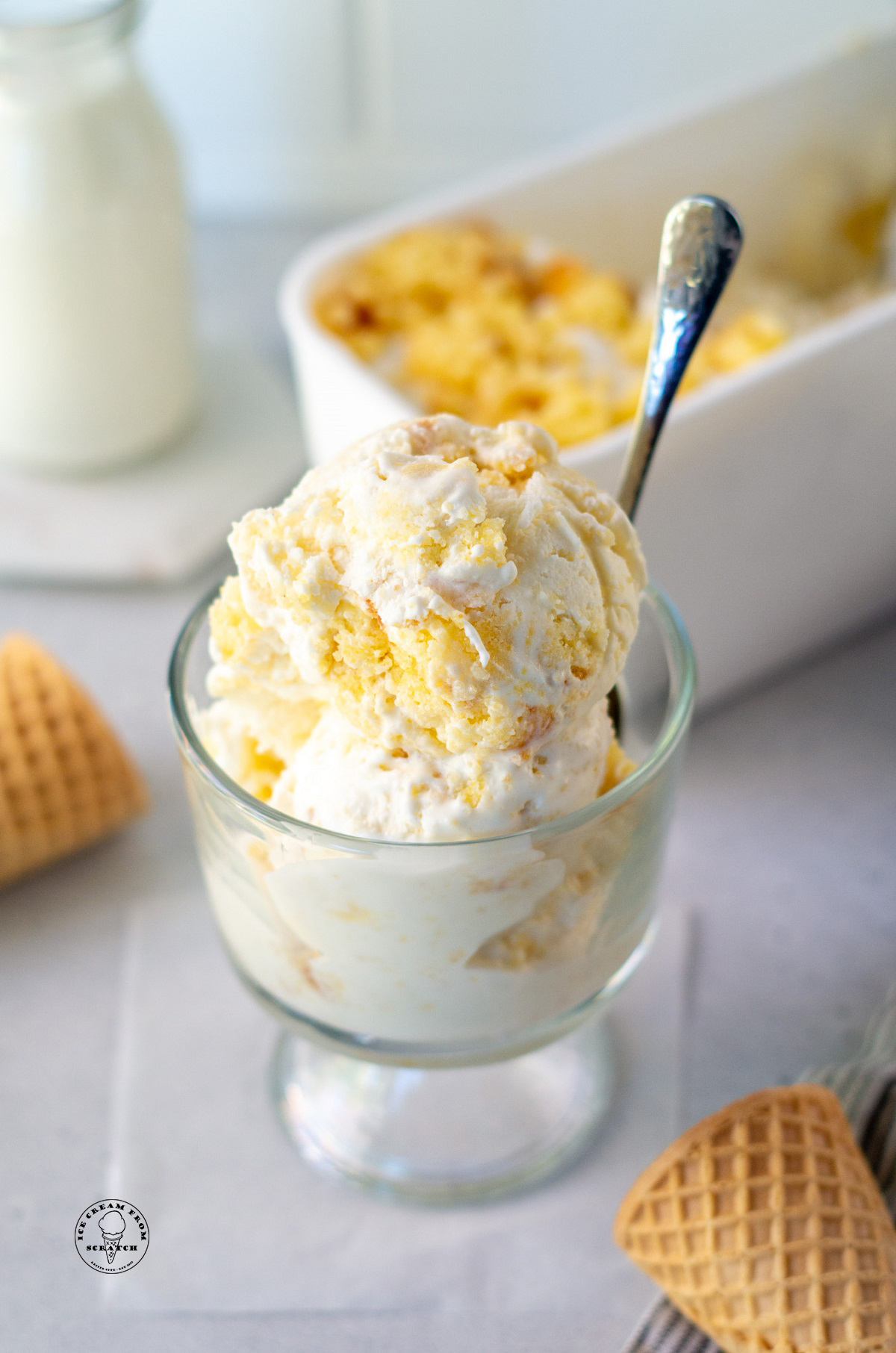 Pick up a premade cornbread from the bakery, or make a fresh batch using your favorite recipe. Then mix bits of cornbread into a sweet, buttery no-churn ice cream base for the most amazing Southern-inspired dessert experience ever!
I love developing ice cream recipes for flavors that you wouldn't normally be able to find anywhere else! I am often pleasantly surprised by how good these flavors are. In fact, I'm kind of obsessed with cornbread ice cream now, and I will be making it again, really soon!
This delicious ice cream flavor fits in the special and gourmet category, right alongside Watermelon Ice Cream, Matcha Ice Cream, and Churro Ice Cream.
Why You're Going to Love This Recipe
Cornbread Ice Cream is such a fun and unique flavor! The base of this ice cream is flavored with butter extract, making it extravagantly rich, while the chewy bits of cornbread throughout give it the most amazing texture.
You won't find this epic ice cream flavor in the grocery store freezer, so consider this a special, gourmet treat!
You'll love how easy this recipe is too, with just 5 ingredients. It's also made without an ice cream maker, so anyone can make cornbread ice cream whenever the mood strikes for a creamy frozen Southern treat.
Need more easy no-churn ice cream recipes? Try my decadent Death by Chocolate Ice Cream recipe, or peanut butter and banana Fat Elvis Ice Cream next!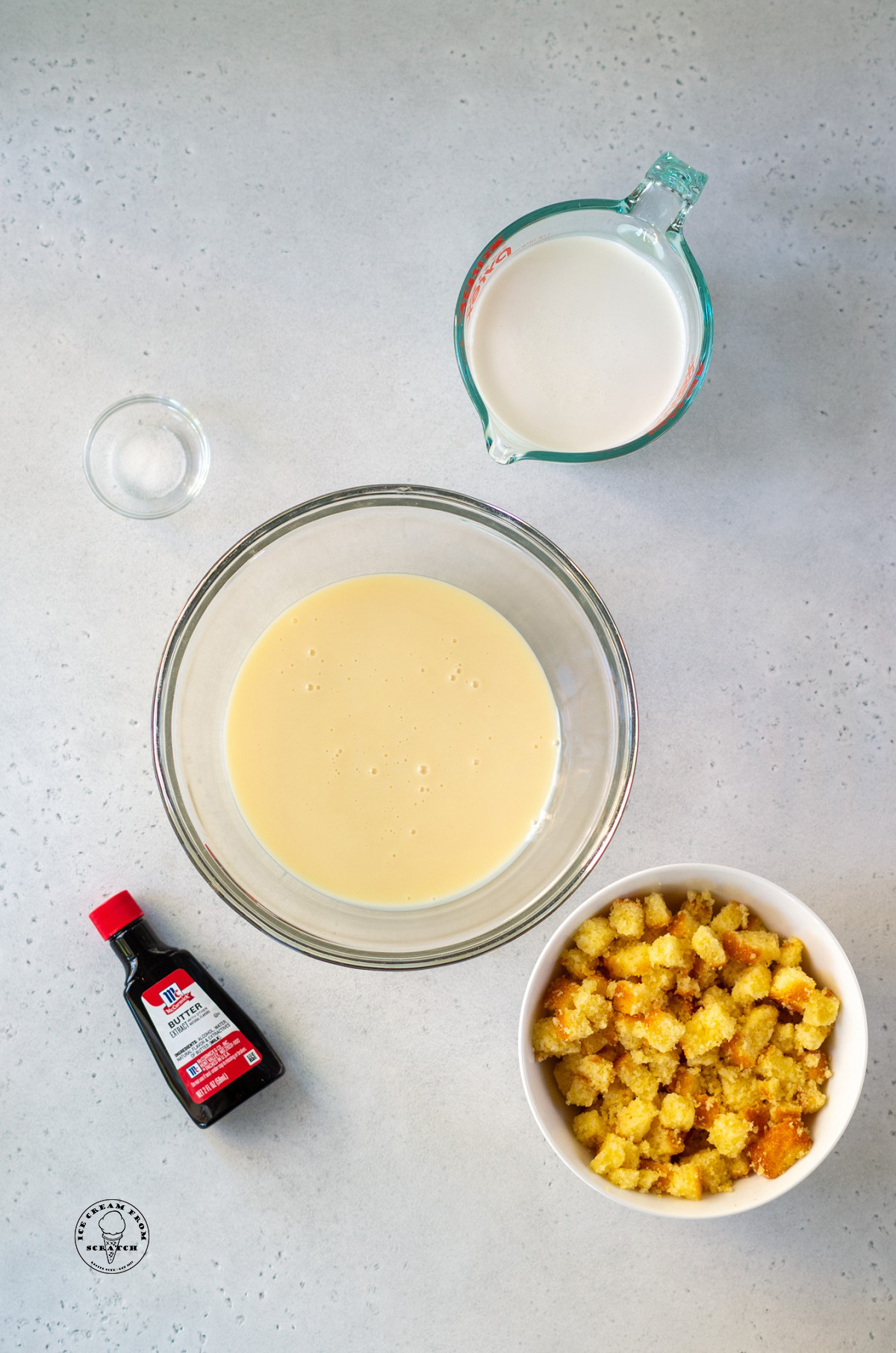 Ingredients in Homemade Cornbread Ice Cream
Sweetened Condensed Milk – Using this thickened, sweetened milk is a shortcut that replaces the traditional custard used in churned ice cream recipes. You'll need just 1 standard-sized can.
Heavy Cream – To add air to ice cream without using an ice cream maker we are whipping heavy cream and folding it in gently.
Butter Extract – I tested this recipe with vanilla extract and it was good. Then I tested it again with butter extract, and it was amazing! The butter extract really brings out the flavor of the cornbread, but if you can't find it, vanilla extract is also a good option.
Salt – A little bit of salt helps to balance the sweetness of the ice cream base.
Cornbread – You need about 2 cups of crumbled, baked cornbread. I love this cornbread recipe, or you can use your favorite one. Be sure to avoid extra savory versions of cornbread, like those that have jalapenos or whole kernels of corn. For this recipe, you want a sweet cornbread.
How to Make No Churn Cornbread Ice Cream
Get started by lining a loaf pan with parchment paper and placing it in the freezer to get nice and cold.
In a large mixing bowl, combine sweetened condensed milk, butter extract, and salt.
In a second large mixing bowl, beat the heavy whipping cream with a hand mixer until it shows stiff peaks.
Gently fold the whipped cream into the condensed milk mixture. You want the no-churn ice cream base to retain the fluffy texture as much as possible.
Add half of the cornbread crumbs. I like to cut the bread into small cubes, and also use all of the little bits too!
Still being gentle, fold the cornbread into the ice cream base.
Pour half of the ice cream mixture into your loaf pan, then layer with a half cup of cornbread crumbs, the rest of the ice cream base, and finally the last of the cornbread. Cover the pan and freeze the ice cream for at least 6 hours, or overnight.
These numbered steps match the numbered photos above and are for illustration purposes. For the complete list of ingredients and instructions for making ice cream with cornbread, please see the recipe below.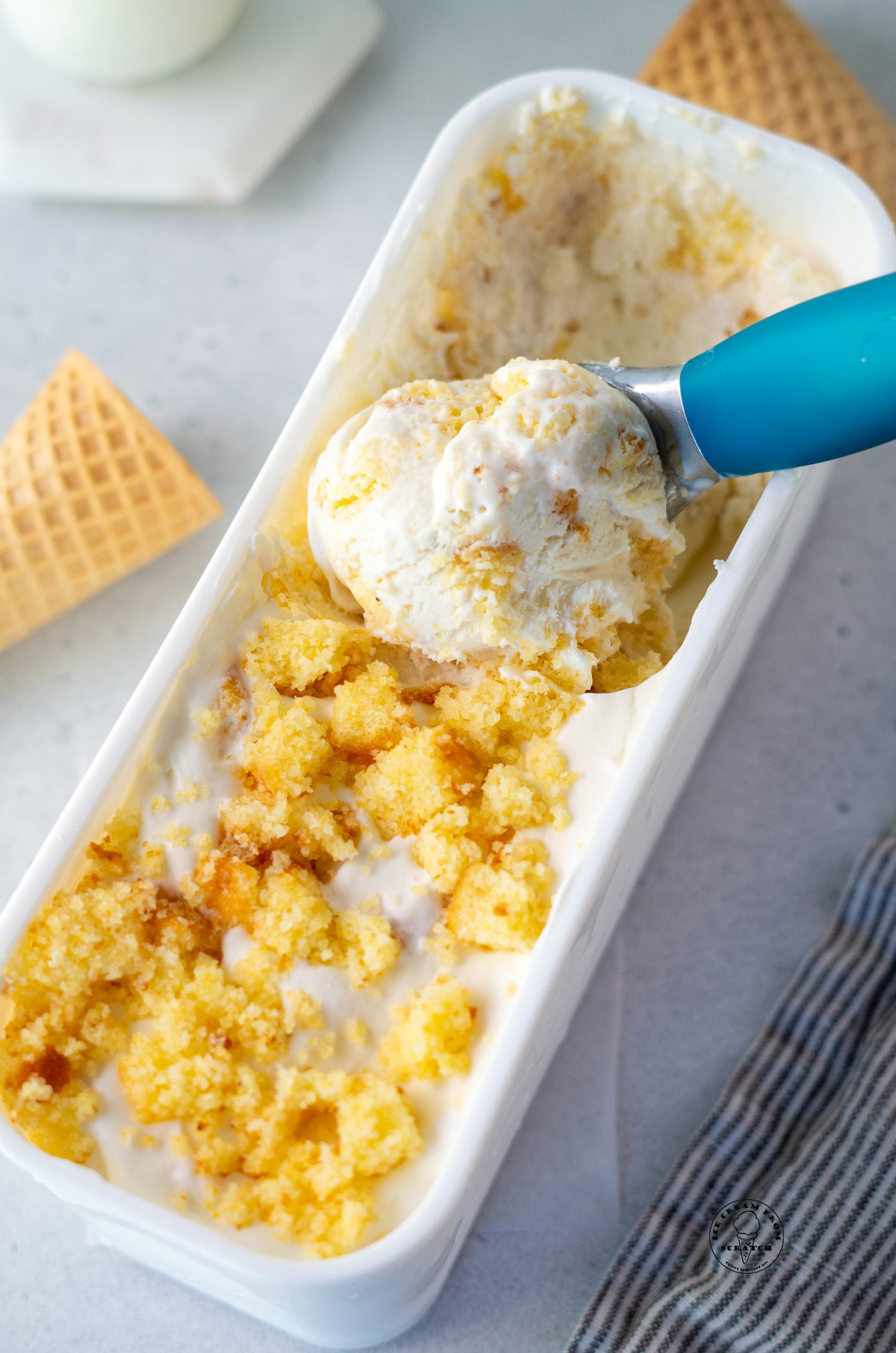 How to Store Homemade Ice Cream
Store this homemade Cornbread ice cream in the freezer in an airtight container with a piece of parchment paper or wax paper pressed on top for up to one month.
Homemade ice cream doesn't store as long as commercial ice creams will because it's made without any preservatives.
It's also made without any chemicals that will keep it soft, so if you find that the ice cream is too hard to scoop, just let it sit out at room temperature for a few minutes first!
Tips for Making This Ice Cream Recipe
Use quality ingredients – When making homemade ice cream, you'll want to make sure you are using high-quality ingredients for the best outcome. Make sure to use fresh cornbread! If you don't want to make it from scratch, check out the bakery department at your grocery store.
Chill out – If at all possible, start with chilled ingredients, bowls, and utensils. The recipe should work fine if you skip this step, but I still suggest it, because the cream will whip up faster if it's cold.
Don't skimp on the fat – High-fat milk and cream are essential when making homemade cornbread ice cream. Don't try to use low-fat cream or half-and-half here – Heavy whipping cream is a must!
Don't go crazy with the add-ins – If you're adding in additional ingredients, pick one or two and make sure they are chopped into pieces no larger than a blueberry or pea.
Don't skimp on the sugar – Sugar not only adds sweetness to homemade ice creams, it also helps with the texture. This recipe has not been tested with alternative sweeteners other than classic sweetened condensed milk.
Is Cornbread Gluten Free?
Must recipes for cornbread are made with regular wheat flour, and are not gluten-free. If you want to make this recipe gluten-free, I suggest making a recipe for gluten-free cornbread at home and using that to mix into your ice cream.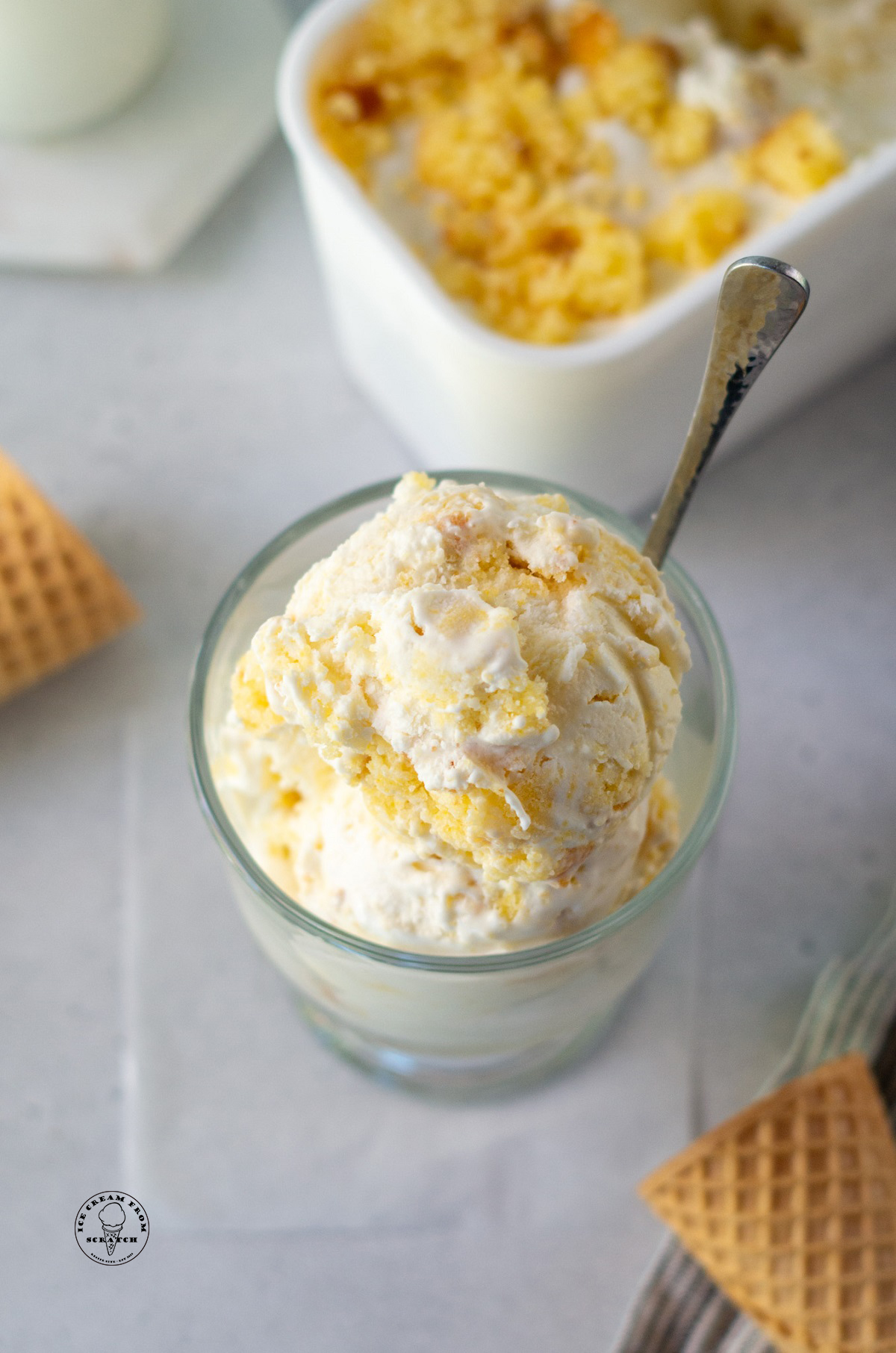 Can I Make Cornbread Ice Cream in an Ice Cream Maker?
Yes, you can! Start with my basic vanilla bean ice cream recipe. Flavor it with butter extract instead of vanilla beans, and add chunks of cornbread to the machine during the last 2 minutes of churning.
Cornbread Ice Cream Add-Ins
This ice cream will be delicious with some fruit added in, just like if you were eating a blueberry cornbread muffin or a strawberry cornbread trifle!
I suggest swirling in some cooked fruit, like in the form of my blueberry compote or strawberry compote.
You could also serve the compote or fresh fruit over scoops of your homemade cornbread ice cream to make the most amazing sundaes!
Can I Add Honey To Cornbread Ice Cream?
This recipe is already quite sweet from the sweetened condensed milk, but if you want to give your ice cream a more authentic Southern cornbread flavor, I suggest drizzling it with pure honey after you've scooped it.
Adding honey directly to this recipe could alter the texture of the ice cream, and I haven't tested it for you that way.
More Homemade Ice Cream Recipes
If you are like me and want to eat all of your desserts in ice cream form, be sure to check out more of our ice cream recipes inspired by baked goods!
LET'S GET SOCIAL, you can follow us on Pinterest or leave a comment below if you have any questions.
Did you make this Homemade Cornbread Ice Cream Recipe? Leave a Comment Below letting us know what you thought and if you added any additional add-ins.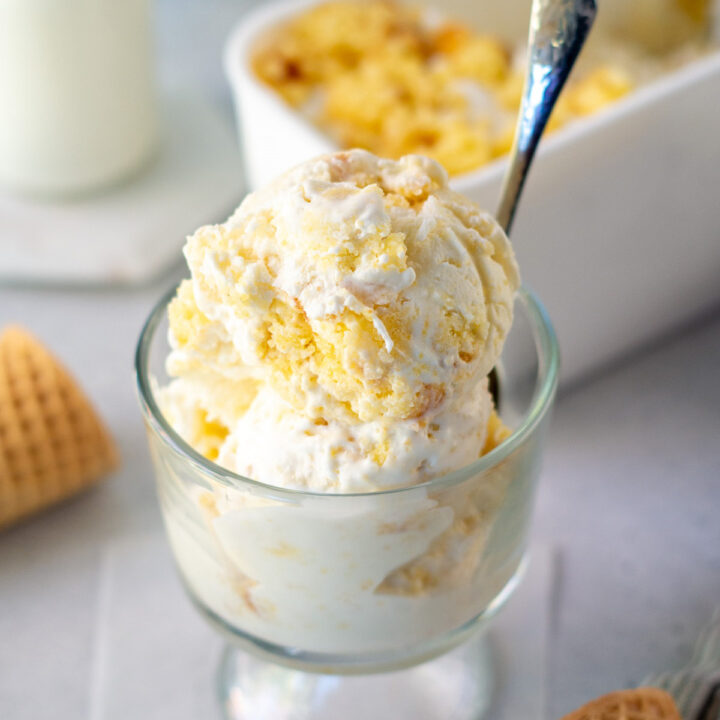 Cornbread Ice Cream
Total Time:
6 hours
15 minutes
Buttery and rich, with chunks of fresh cornbread, this easy no-churn recipe for Cornbread Ice Cream is going to blow you away!
Ingredients
14 oz sweetened condensed milk
1 tsp butter extract (or vanilla extract)
¼ teaspoon salt
2 cups heavy whipping cream
2 cups cornbread crumbs
Instructions
Line a 9x5 loaf pan with parchment paper. Place in the freezer.
Combine sweetened condensed milk, butter extract, and salt in a large mixing bowl; set aside.
In a separate large mixing bowl, beat the heavy whipping cream on medium-high speed until stiff peaks form, similar to making whipped cream.
Gently fold the whipped cream into the sweetened condensed milk mixture.
Next, gently fold in half of the cornbread crumbs.
Pour half of the cornbread ice cream mixture into the prepared pan, layer with a half cup of cornbread crumbs, the remaining ice cream mixture, and finally the remaining half cup of cornbread crumbs.
Cover the pan with plastic wrap and freeze at least 6 hours or overnight.
Notes
You can use vanilla extract instead of the butter extract, but we recommend using the butter extract for optimal flavor.
You can make cornbread from scratch using your favorite recipe, or buy it premade at your bakery or grocery store.
Be sure that your whipping cream is cold before you whip it. It's also helpful if the bowl is chilled too.
Nutrition Information:
Yield:

12
Serving Size:

1
Amount Per Serving:
Calories:

381
Total Fat:

21g
Saturated Fat:

12g
Trans Fat:

1g
Unsaturated Fat:

7g
Cholesterol:

76mg
Sodium:

363mg
Carbohydrates:

42g
Fiber:

0g
Sugar:

25g
Protein:

7g