Chocolate Vanilla And Strawberry Ice Cream
Chocolate Vanilla and Strawberry Ice Cream. These three flavors are the top three most favorite ice cream flavors and for good reason!
All three are classic, traditional, and epic ice cream classics.
Whether you enjoy chocolate, vanilla, or strawberry best, or if you prefer them mixed together in a box of Neapolitan, here you'll find all the best ice cream recipes for the top three ice cream flavors.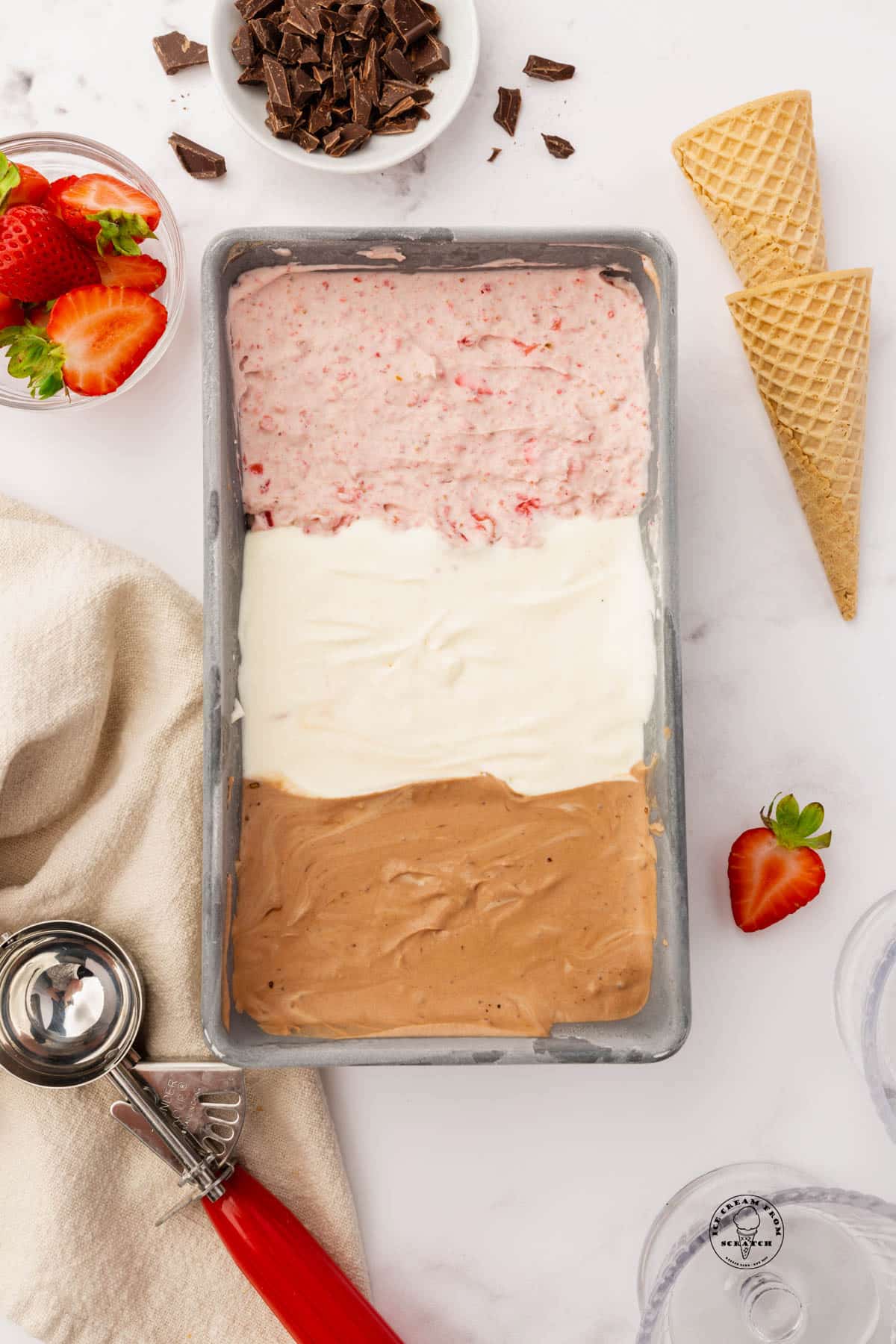 A 2022 survey of 20,000 American adults determined that Chocolate ice cream is our favorite, followed closely by Vanilla ice cream. Strawberry comes in third, but it's tied with Mint Chocolate Chip and Butter Pecan.
With the hundreds of available ice cream flavors out there, why are we still so in love with these basics? Keep reading to learn more about why chocolate, vanilla, and strawberry ice creams are so amazing.
What's The Name Of The Ice Cream With Vanilla Chocolate and Strawberry?
You must be thinking of Neapolitan Ice Cream. The three favorite ice cream flavors – chocolate, vanilla, and strawberry – are layered or stacked together.
I like Neapolitan ice cream because I can either enjoy all of those flavors at once or simply scoop the flavor that I'm in the mood for currently.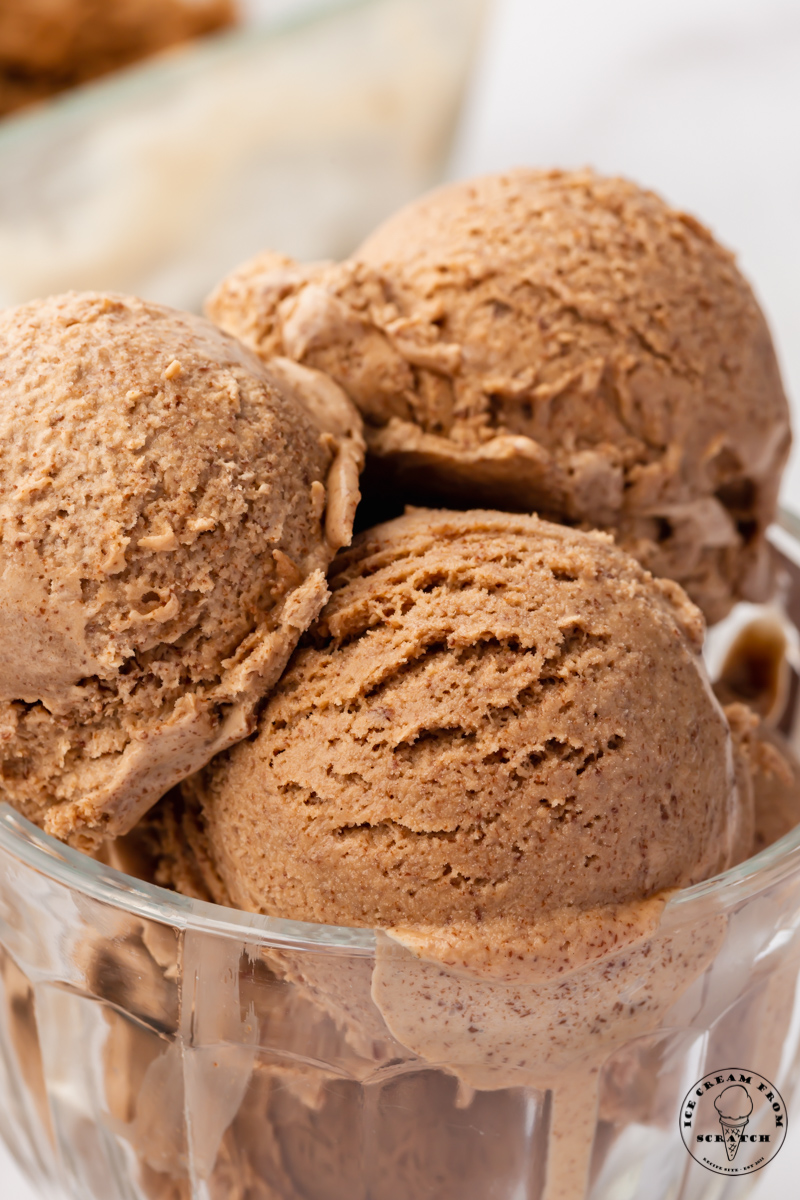 Chocolate Ice Cream
America's favorite ice cream flavor is chocolate! Chocolate ice cream combines the milky creaminess of ice cream with the rich, decadent flavor of milk chocolate. What's not to love?
Chocolate ice cream is the base flavor of many other spectacular ice creams such as Rocky Road and Mississippi Mud. It also plays a leading role in the creation of ice cream cakes and ice cream pies.
How many of us would say that chocolate is our favorite ice cream flavor? If it's yours, check out these delicious, decadent chocolate ice cream recipes you can make at home:
Is There Vanilla in Chocolate Ice Cream?
Yes, chocolate ice cream has vanilla extract in it. Vanilla makes chocolate taste better and is a must when making chocolate ice cream from scratch.
How Do You Turn Vanilla Ice Cream into Chocolate Ice Cream?
You can't truly turn vanilla ice cream into chocolate, but there are ways to add chocolatey goodness to a simple bowl of vanilla ice cream!
Try making a hot fudge sundae, or simply topping ice cream with chocolate syrup or fudge sauce.
Stir chocolate chips, chocolate chunks, or chocolate shavings into your vanilla ice cream.
Now, if you're making homemade ice cream from scratch, you can easily adjust any vanilla ice cream recipe by adding cocoa powder and/or melted chocolate to the ice cream base.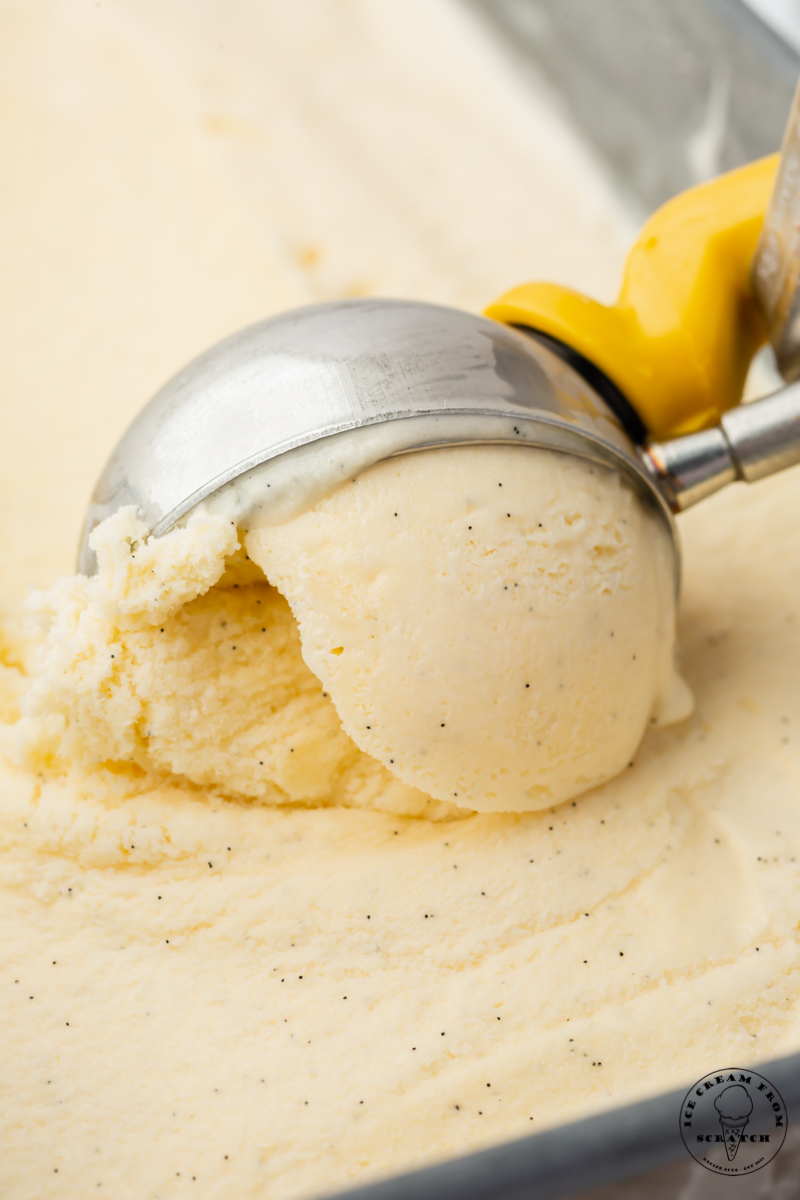 Vanilla Ice Cream
A wonderful rock band from the '90s once said, "I like vanilla, it's the finest of the flavors", and they were not wrong!
Vanilla Ice Cream is clean, pure, unadulterated, creamy ice cream that is flavored with either vanilla extract or vanilla beans. It's delicious enough to enjoy on its own, but versatile too.
You can add just about any ice cream toppings or mix-ins to vanilla ice cream. It plays very well with all other flavors, including (but certainly not limited to) fruits, chocolate, and caramel.
If you would choose vanilla as your favorite ice cream flavor, given the choice between chocolate, vanilla, and strawberry, check out these vanilla ice cream recipes: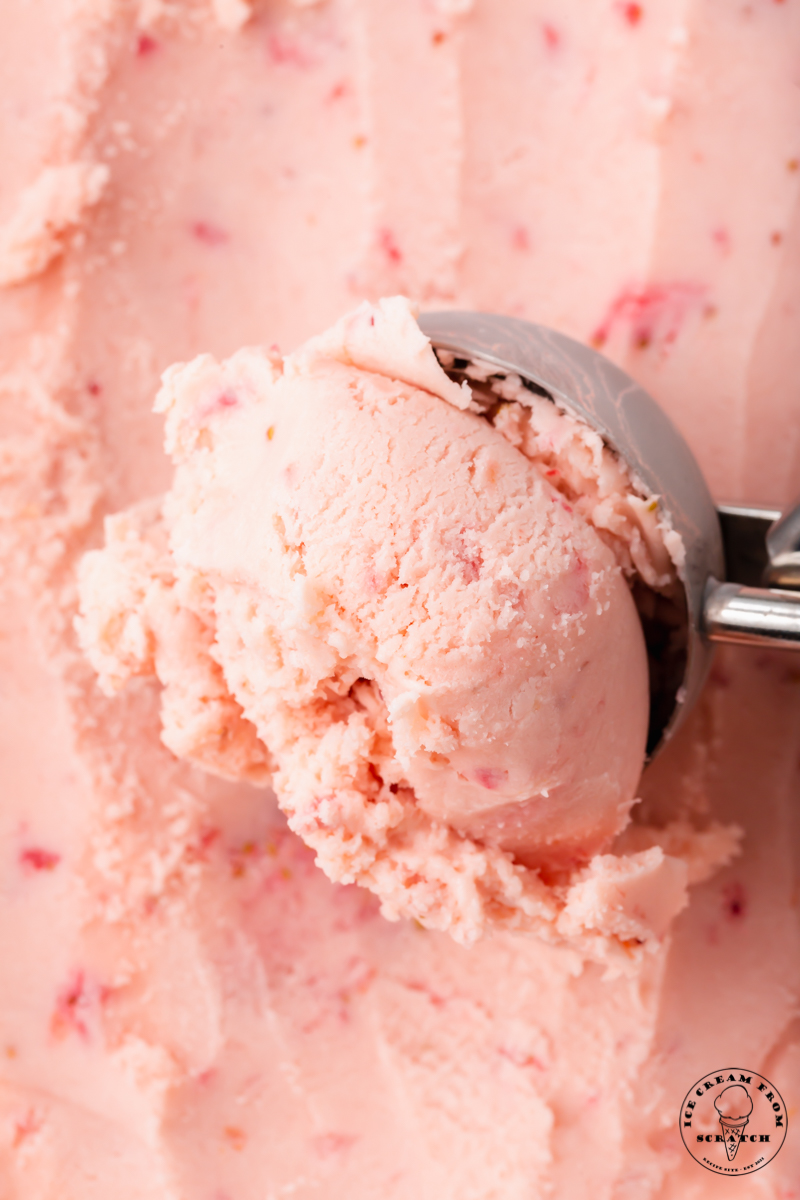 Strawberry Ice Cream
Ice cream made with fruit is not everyone's favorite, but strawberry ice cream is the most popular fruit-flavored ice cream out there.
Its pretty pink color and sweet, juicy strawberry flavor make it a favorite of kids and adults.
Strawberry ice cream is usually made by adding real strawberries to a simple vanilla ice cream base to create a strawberries and cream flavor that is irresistible.
If Strawberry Ice Cream is your favorite, you'll want to check out these strawberry frozen dessert recipes:
Does Strawberry Ice Cream have Vanilla in It?
Yes, it does. Strawberry ice cream has vanilla in it, and so does chocolate ice cream.
Vanilla is a universal flavor enhancer when it comes to ice cream. It elevates the flavor of milk and cream and makes everything taste richer and creamier.
We add vanilla extract to all of our homemade ice cream recipes!
How Do You Turn Vanilla Ice Cream into Strawberry Ice Cream?
Our homemade strawberry ice cream recipe starts with a vanilla ice cream base. Then we blend that base with a mixture of fresh strawberries and sugar that have been mashed so that all the yummy strawberry juices are extracted.
Why Is The Combination of Chocolate Vanilla and Strawberry called Neapolitan?
I just love sharing ice cream history with you! Here's how Neapolitan Ice Cream came to be:
The word Neapolitan refers to the province of Naples in Italy. If something is from Naples, it's Neapolitan.
When Italians started coming to America, they brought with them some serious frozen dessert expertise and taught their new neighbors many new ice cream recipes.
One dessert, in particular, is called spumoni and was a molded ice cream made with three different flavors of ice cream, usually pistachio ice cream, chocolate, and maybe cherry.
Americans took that idea and switched the flavors to include America's favorites. The resulting chocolate, vanilla, and strawberry ice cream was called Neapolitan as an homage to the Italians who taught us how to do it.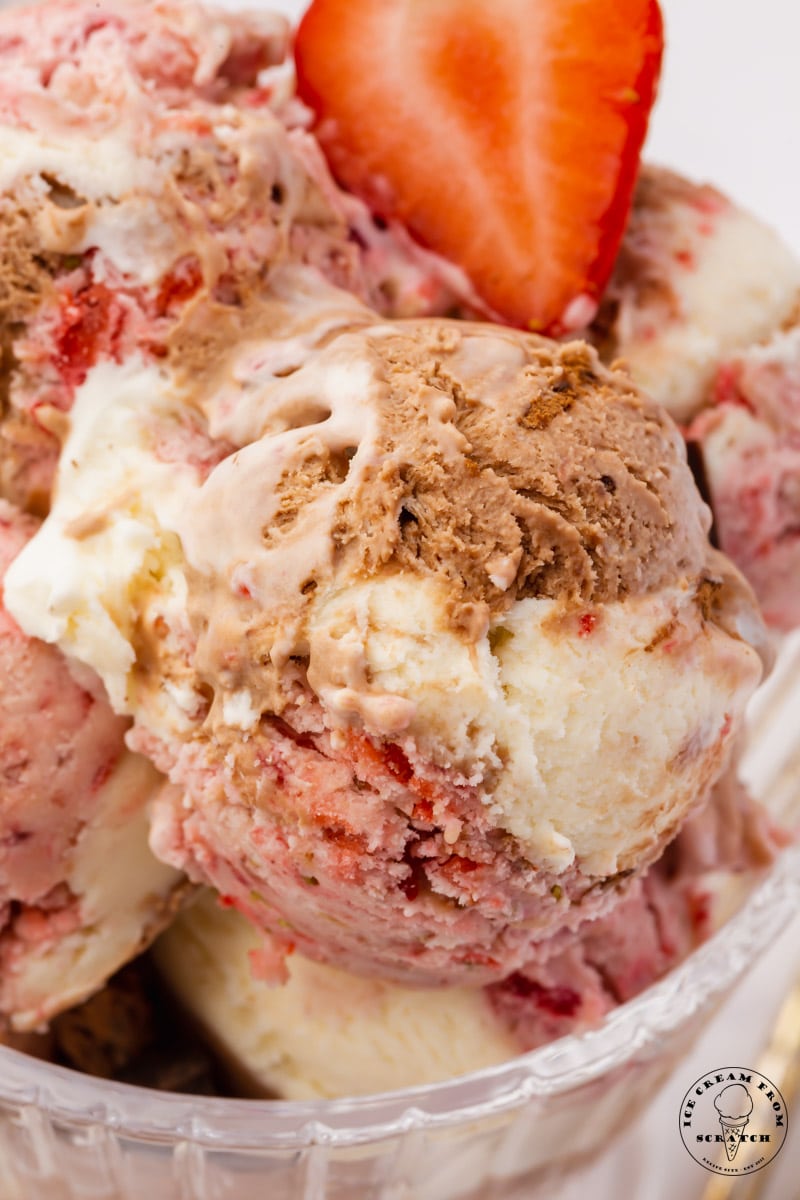 More Homemade Ice Cream Recipes
If chocolate, vanilla, and strawberry ice cream recipes aren't enough for you, you're in luck! We have tons of different ice cream flavors here that you can make at home.
Try some of these out-of-the-ordinary ice cream recipes:
If you plan to make vanilla, chocolate, strawberry, or any of the ice cream recipes mentioned here, you're going to need the right tools. Here are the ones we use and love:
Note: Each of these links will take you to the exact product on Amazon. As an Amazon associate, I earn a little from each qualifying purchase.
LET'S GET SOCIAL, you can follow us on Pinterest or leave a comment below if you have any questions.
Which is your favorite – Chocolate, Vanilla, or Strawberry Ice Cream? Leave a Comment Below letting us know!
Yield: 6 servings
Chocolate Vanilla Strawberry Ice Cream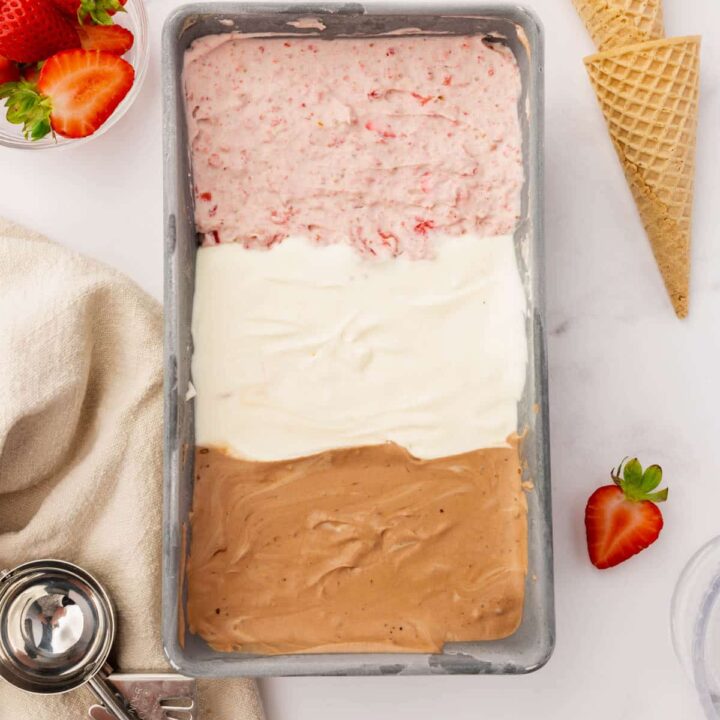 Whether you enjoy chocolate, vanilla, or strawberry best, or if you prefer them mixed together in a box of Neapolitan, also called chocolate vanilla strawberry ice cream, we've got a simple to make recipe you're going to love.
Chilling Freezing Time
5 hours
Total Time
5 hours
15 minutes
Ingredients
14 oz sweetened condensed milk
2 teaspoons vanilla extract
1/4 teaspoon salt
2 cups heavy whipping cream
2 tablespoons cocoa powder
1/2 cup freeze-dried strawberries, powdered
red food coloring, if desired
Instructions
Combine sweetened condensed milk, vanilla, and salt in a large mixing bowl. Mix together and set aside.
Add the heavy whipping cream to a large bowl. Use a hand mixer or stand mixer to whip the cream until stiff peaks form. This should only take a few minutes.
Add the whipped cream to the sweetened condensed milk mixture. Carefully fold the whipped cream into the sweetened condensed milk mixture. Try to keep the mixture light and fluffy.
Divide the mixture into three separate bowls.
Leave one bowl as is. In the second bowl, stir in the cocoa powder.
In the last bowl, add the powdered freeze-dried strawberries and a few drops of red food coloring until you get a light pink ice cream.
Layer the chocolate, vanilla, and strawberry ice creams side by side in a loaf pan using cake cardboard or parchment as dividers. Remove the parchment paper after filling the pan.
Cover with plastic wrap and freeze for at least 5 hours or overnight until firm. Scoop and serve.
Notes
Avoid overwhipping the cream. You want the whipped cream to stand up straight when you pull the beater out of it. If the peaks of the whipped cream fold over, then you need to keep going a little while longer. 
The amount of red food coloring you need will depend on what type of food coloring you are using. If you use gel food coloring, you will need much less food coloring to get your desired colors. Water-based coloring will require more food coloring. 
If you are having trouble splitting the ice cream base into three equal parts, use a food scale. I got about 9 oz of ice cream base in each bowl. 
Freeze-dried strawberries are slices of strawberries that have been dried until thin and crispy. They pack a ton of strawberry flavor. These are not dehydrated strawberries that are gummy - those will not work. You need the crispy kind. 
To powder the freeze-dried strawberries, place them in a food processor and pulse until finely ground. You don't need to have it all processed into a powder. In fact, some of the larger pieces become pretty flecks in the strawberry ice cream. If you don't have a food processor, you can place the freeze-dried strawberries in a plastic bag and roll over them with a rolling pin until finely ground.
Layering the three flavors of ice cream side by side is the most complicated way to do it. See more details on how to accomplish this in the blog post. The easiest way to layer Neapolitan Ice Cream is to do it horizontally. First, add the chocolate ice cream to the pan, then the vanilla, and finally the strawberry.
You can also dollop the flavors into the pan, alternating as you go to create a tie-dye pattern. You'll have some of each flavor in every scoop this way!
Recommended Products
As an Amazon Associate and member of other affiliate programs, I earn from qualifying purchases.
Nutrition Information:
Yield:
6
Serving Size:
1
Amount Per Serving:
Calories:

571
Total Fat:

37g
Saturated Fat:

23g
Trans Fat:

1g
Unsaturated Fat:

11g
Cholesterol:

120mg
Sodium:

223mg
Carbohydrates:

53g
Fiber:

1g
Sugar:

52g
Protein:

10g