Creamy Vanilla Ice Cream on top of a rich and fudgy chocolate brownie is all that it takes to make the best dessert: Brownie a la Mode! Use homemade brownies, or grab a few from your favorite bakery to top with ice cream for tonight's treat.
You can also make this ice cream dessert with store-bought ice cream, or one of our decadent homemade ice cream recipes.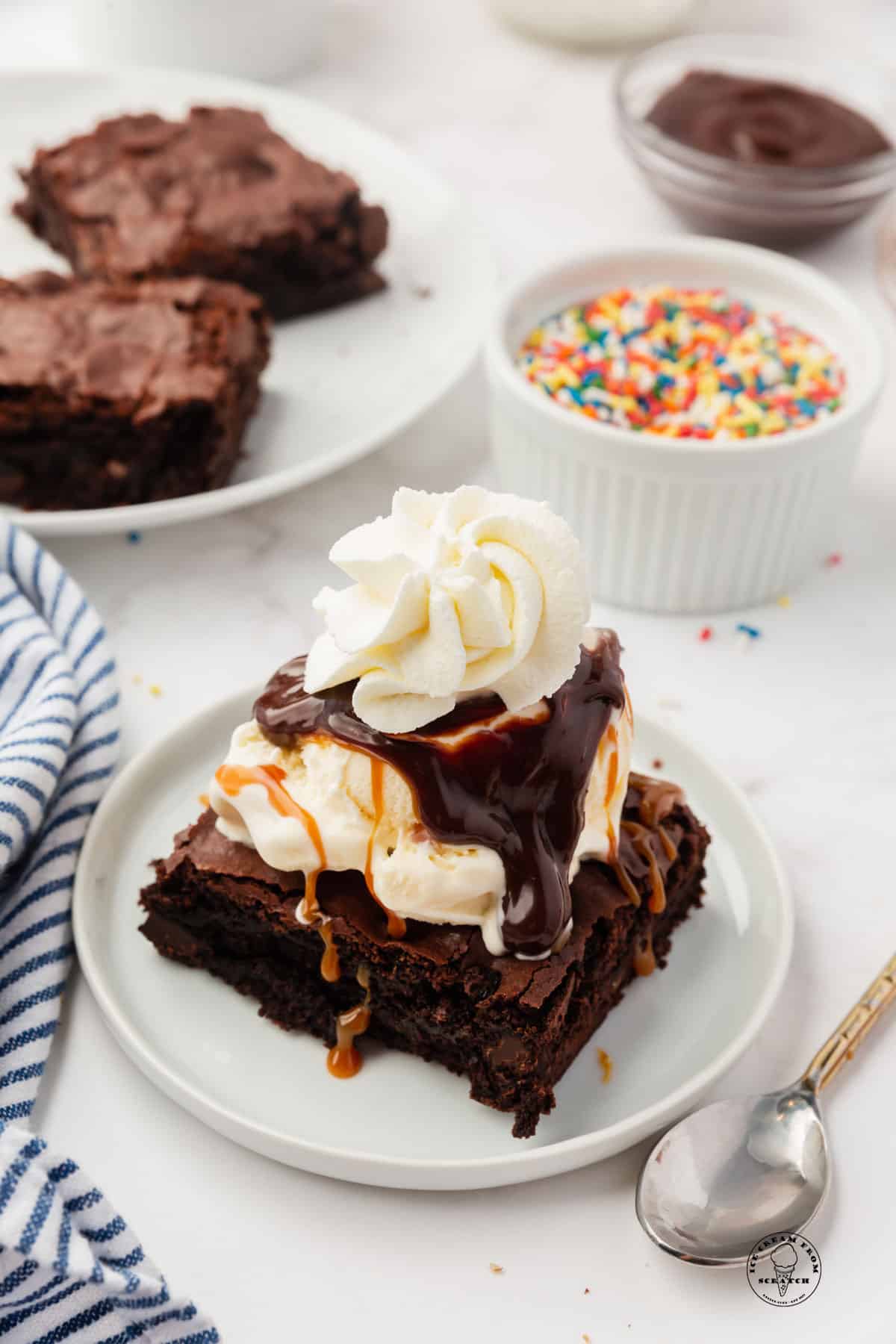 While I'm sure you've heard of apple pie a la mode, did you know that you can serve brownies a la mode too?
What Does Brownies A La Mode Mean?
"à la mode" is a French term, that translates literally to mean, "in the current fashion". That term came to be understood in the culinary world as "topped with ice cream" back in the late 1800's.
Pie a la mode was the original ice cream topped dessert, but the concept evolved. Now you can have chocolate chip cookies a la mode, bananas foster a la mode, and of course, this big, beautiful Brownie A La Mode too!
Why You're Going to Love this Brownie A La Mode Recipe
It's a super easy dessert. You can just as easily make one serving of this chocolate and ice cream treat, or ten. You need 1 brownie and 1 scoop of ice cream per person, and the assembly takes just a minute.
Try different variations. I'll give you some ideas below, but think about it. Chocolate brownies are pretty basic, as is vanilla ice cream. This dessert can only get better with a little tweaking.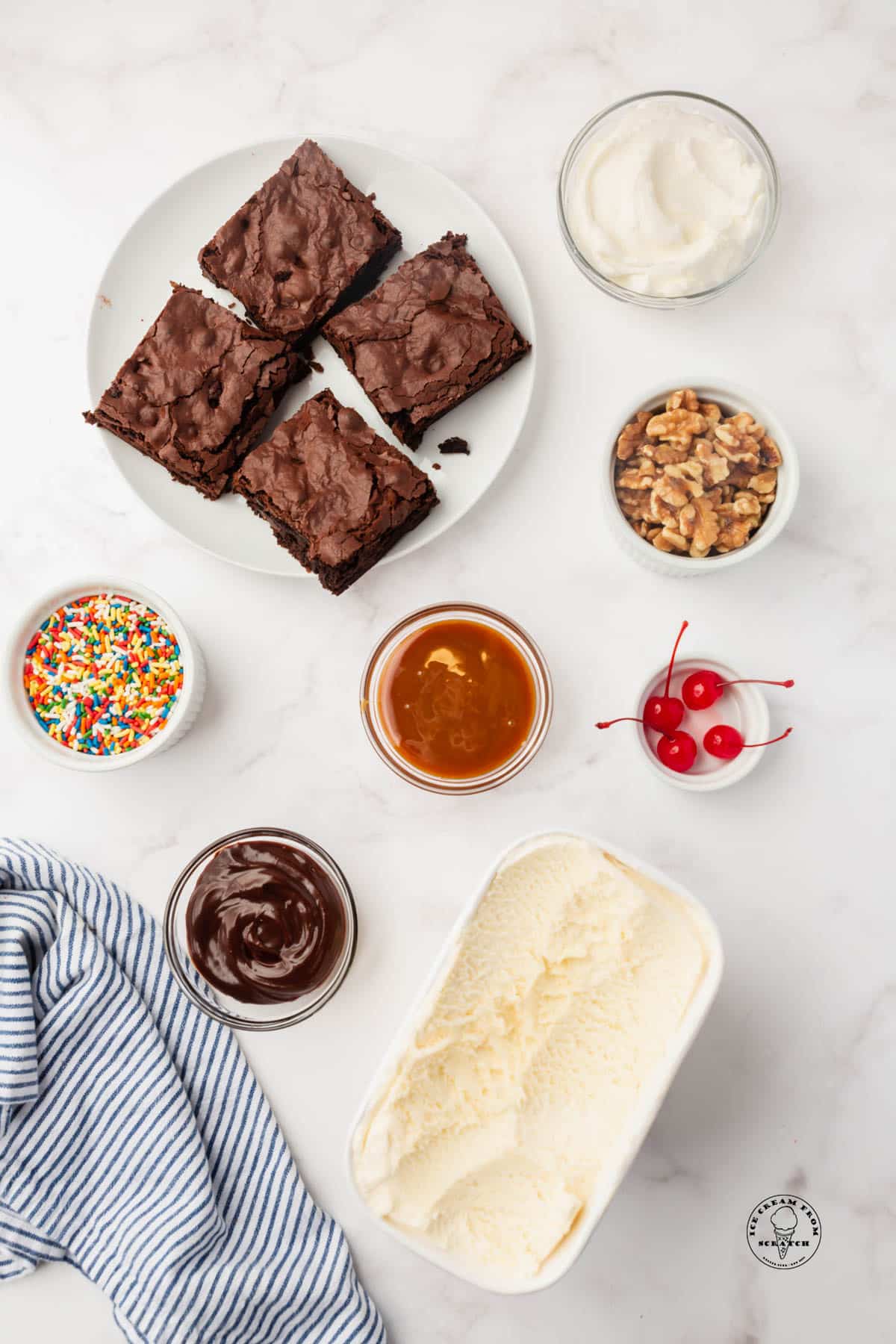 Ingredients Needed for Brownies A La Mode
Brownies – Brownies are one of the most loved baked goods, and so they are never hard to find! You can make a la mode brownies with bars that you've baked yourself, or with brownies you've bought at the grocery store or bakery.
Here's a homemade brownie recipe to get you started. We also like this gluten free brownies recipe too. Want to make brownies from a box mix? Go right ahead! These olive oil brownies are also a great choice. Cherry brownies are a great option too.
Ice Cream– Vanilla ice cream is the classic flavor when it comes to topping desserts like brownies, cookies, or pie. There's no need to fix something that isn't broken, but you can feel free to use different ice cream flavors on your brownie if you like. Store-bought or homemade ice cream can be used.
Want to make Vanilla Ice Cream from scratch? We have a classic French-style vanilla bean ice cream recipe, a no churn vanilla ice cream recipe, and instructions for making vanilla ice cream in a bag.
Optional Toppings – Add caramel, fudge, whipped cream, sprinkles, maraschino cherries, or anything else you like!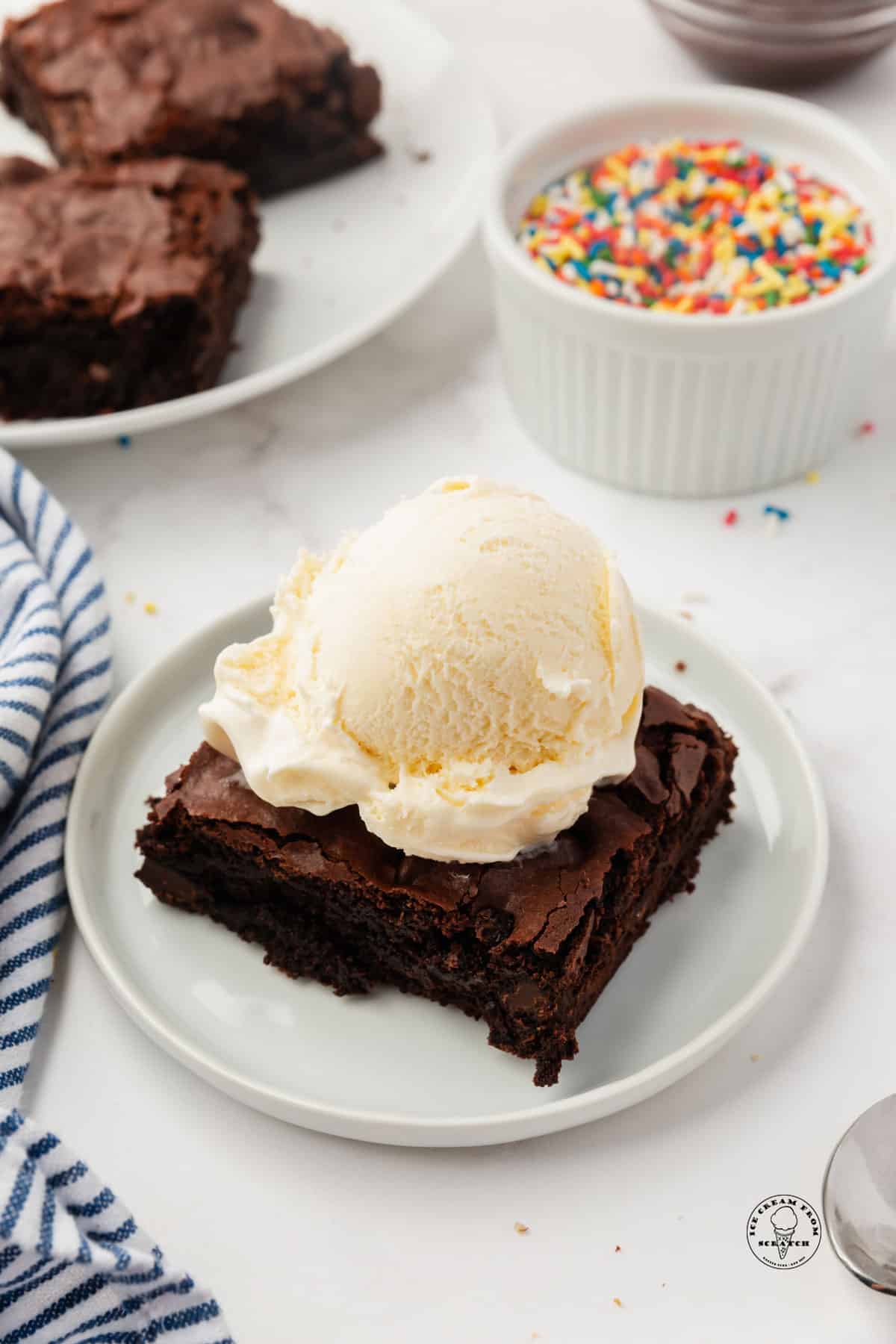 How to Make Brownies A La Mode
Brownies A La Mode are so easy to make! Here are the step by step instructions:
Add a brownie to a dessert plate, or place it into a sundae glass. You can warm the brownie if you like (tips below on how to do that!)
Top the brownie with a generous scoop of vanilla ice cream.
If desired, add toppings such as caramel, chocolate sauce, or sprinkles, and serve immediately.
For the complete list of ingredients and instructions for making brownie a la mode, please see the recipe below.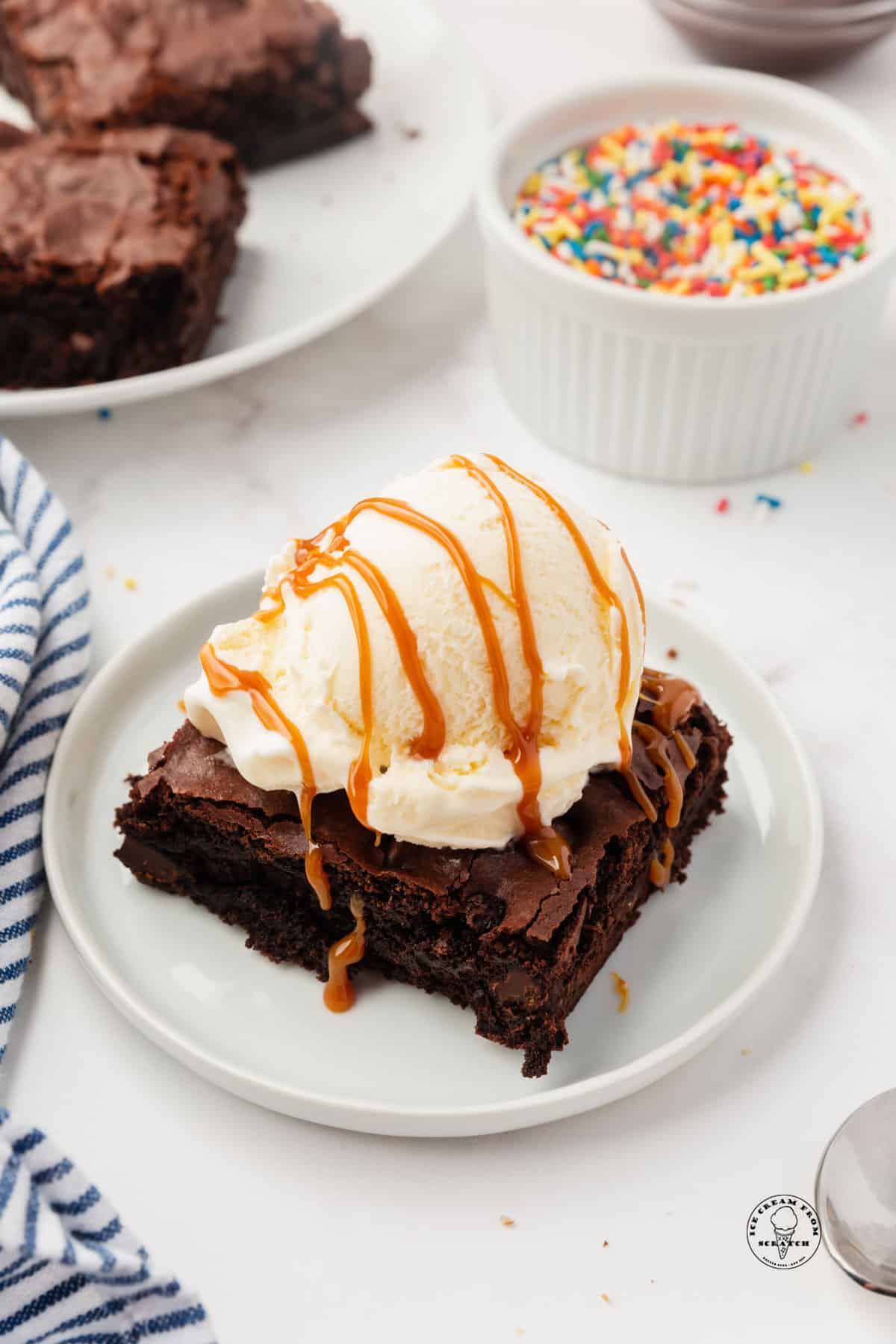 Should You Use Hot Brownies for A La Mode?
It's not necessary to heat up the brownies before adding ice cream to them, but cold creamy ice cream on a hot, soft brownie is a pretty amazing experience.
All brownies will be different sizes and thicknesses, but it doesn't take long at all to heat up a brownie in the microwave.
Microwave 1 brownie at high power for 15-second increments, until it's warm!
Be careful not to make the brownie too hot though – if it's steaming or molten, the ice cream you add to it will melt much too quickly.
How to Make Dairy Free Brownies a la Mode
Make sure that your brownie is already dairy free, then top it with your favorite non-dairy ice cream.
We have easy recipes here for plant-based ice creams. Try Oat Milk Ice Cream or Coconut Mint Ice Cream with brownies.
How Many Scoops of Ice Cream Go On Brownies A La Mode
I suggest that you top a brownie with one large scoop of ice cream, but I'm sure you've come to understand that I don't really believe that there should be rules about ice cream serving sizes!
Add two scoops, or three if you want to. Nobody here is judging.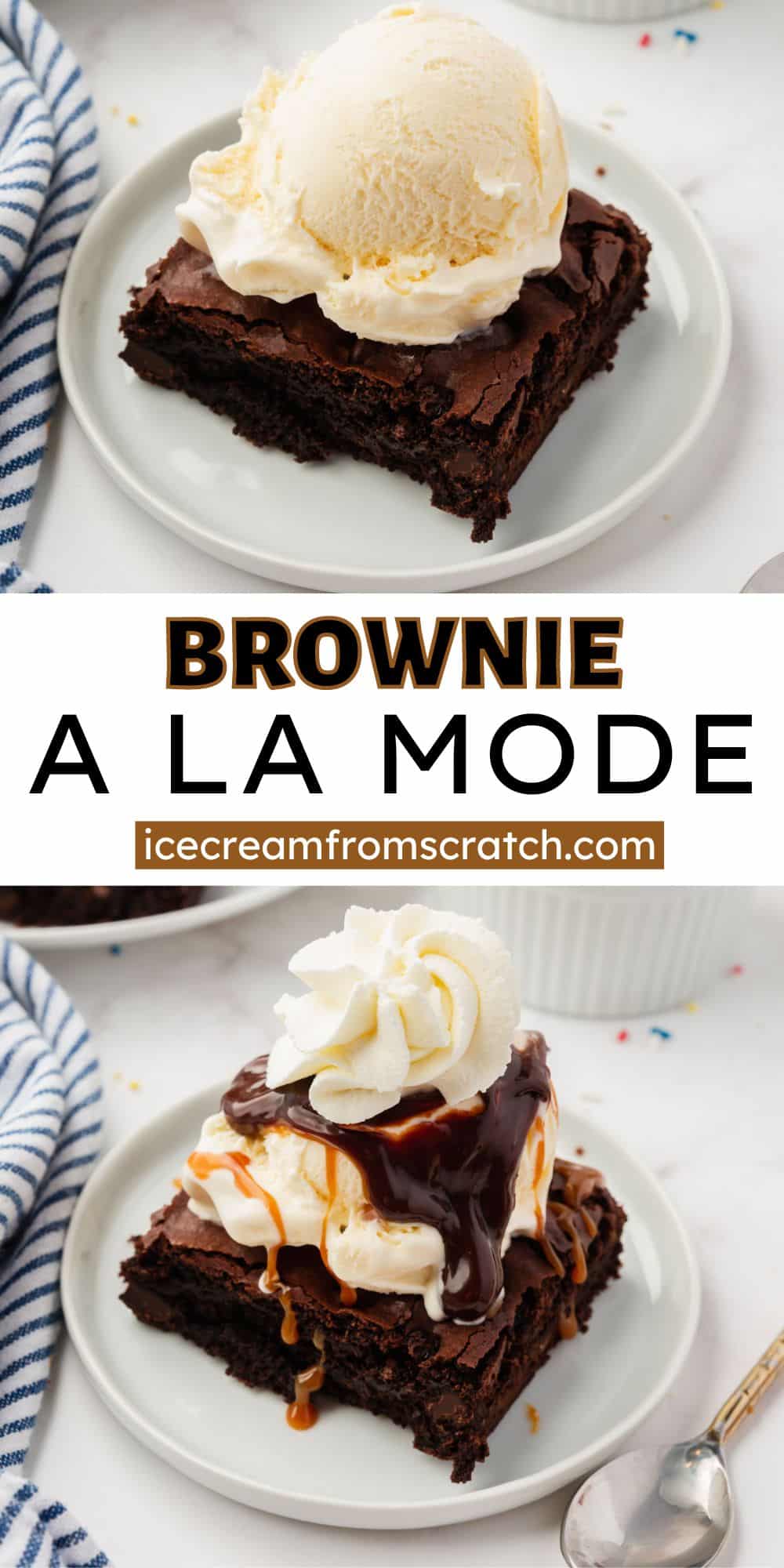 Brownie A La Mode Variations
Try a Different Brownie: Peanut butter brownies, mint brownies, blondies, brookies, and more all exist for you to enjoy with a big scoop of ice cream on top.
Add Toppings: Turn your brownies a la mode into something that resembles a brownie sundae by adding your favorite ice cream toppings. Caramel, chocolate sauce, raspberry compote, sprinkles… the only limit is your imagination.
Other Ice Cream Flavors: Instead of vanilla, use a scoop of chocolate ice cream to make a double chocolate brownie a la mode. Or, try a unique flavor like raspberry ice cream or butterscotch ice cream.
What's the Difference Between Brownie A La Mode and Brownie Sundae?
I think that you can probably use these two terms interchangeably to describe the same thing: a Brownie served with ice cream.
You'll probably find that a Brownie Sundae has more toppings on it, like whipped cream, fudge sauce, chocolate syrup, nuts, or sprinkles, while Brownie a la Mode will be more simple.
Brownies A La Mode For a Crowd
Wondering how to serve brownies a la mode for your next dinner party, birthday party, or get-together? Here are some tips:
Plan how many brownies you'll need. Most standard brownie recipes are made in either a 9×9-inch pan or a 9×13-inch pan. The square pan recipes make 9 3-inch square brownies, while the larger recipes allow you to make 12 large squares, or 20 smaller ones (perfect for kids!).
Trim the edges. This is optional, but for perfect presentation, you may want to trim away the crust pieces of the brownies before serving. The edges are actually my favorite part, so I typically leave them.
Ice cream. A standard store-bought ice cream tub in the U.S. is 1.5 quarts, which is 6 cups. If you scoop standard 1/4 cup servings of ice cream, you can serve 12 people with just one container of ice cream.
Buy extra ice cream, just in case!
Prep Ahead. You can scoop ice cream for a la mode desserts ahead of time. Simply line a plate or tray with parchment paper, scoop out individual servings, and then cover and place the plate in the freezer until you're ready to assemble the dessert.
More Homemade Ice Cream Desserts
We have so many amazing homemade ice cream recipes that you can make from scratch!
But sometimes, it's just easier to use some ice cream that you already have, or that you've purchased, to make a sweet ice cream dessert instead.
Try these easy ice cream desserts:
Want an even easier recipe? Make yourself a milkshake!
All you need is a blender to whip up the perfect chocolate milkshake, or a tasty strawberry milkshake.
Looking for more chocolate dessert ideas? Try this chocolate torte next.
LET'S GET SOCIAL, you can follow us on Pinterest or leave a comment below if you have any questions.
Did you make this Homemade Brownie A La Mode Ice Cream Recipe? Leave a Comment Below letting us know what you thought and if you added any additional toppings.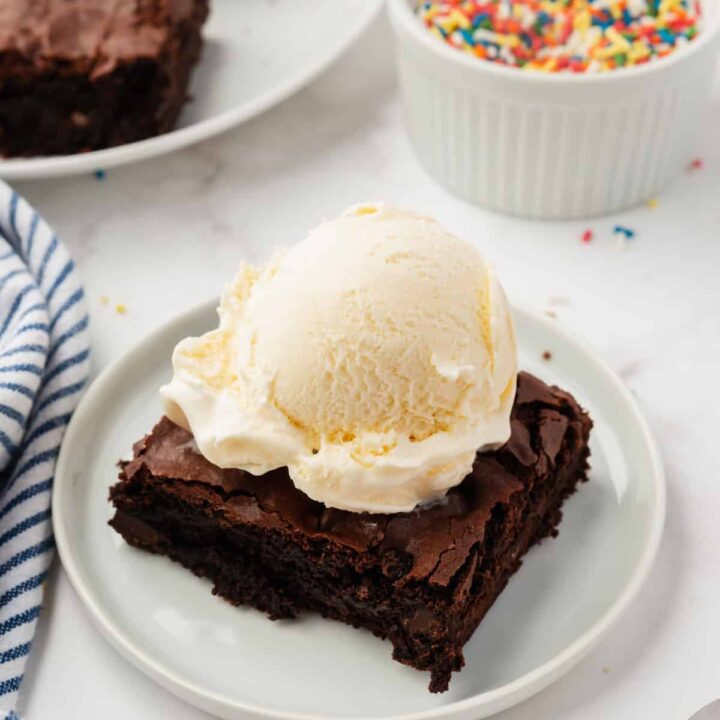 Brownie A La Mode
Creamy Vanilla Ice Cream on top of a rich and fudgy chocolate brownie is all that it takes to make the best dessert: Brownie a la Mode!
Ingredients
1 brownie, store-bought or homemade
1 scoop vanilla ice cream, store-bought or homemade
Optional: hot fudge sauce, caramel, whipped cream, cherry, chopped nuts
Instructions
Purchase or make brownies.
Place a brownie on a dessert plate or in a sundae glass.
Top the brownie with a scoop of vanilla ice cream.
If desired, add hot fudge sauce, caramel, whipped cream, a cherry, or chopped nuts.
Serve immediately.
Notes
Scale this recipe to make as many servings as you need.
Keep the ice cream in the freezer until just before you're ready to scoop it. You don't want the ice cream to melt too quickly.
If desired, warm the brownie first. Use the microwave and heat at 15-second intervals until warm, but not too hot.
Need a brownie recipe? We like these gluten free brownies, or this homemade brownie recipe.
Nutrition Information:
Yield:

1
Serving Size:

1
Amount Per Serving:
Calories:

784
Total Fat:

42g
Saturated Fat:

13g
Trans Fat:

0g
Unsaturated Fat:

27g
Cholesterol:

70mg
Sodium:

573mg
Carbohydrates:

96g
Fiber:

4g
Sugar:

53g
Protein:

14g