This easy Pizookie recipe is packed with chocolate chips, with a gooey center and the kind of crispy edges only a cast iron skillet can provide!
Once baked, your homemade Pizookie can be served warm, topped with a generous scoop of vanilla ice cream, or used as a base for the most amazing ice cream sundaes!
You're going to this giant skillet cookie recipe so much!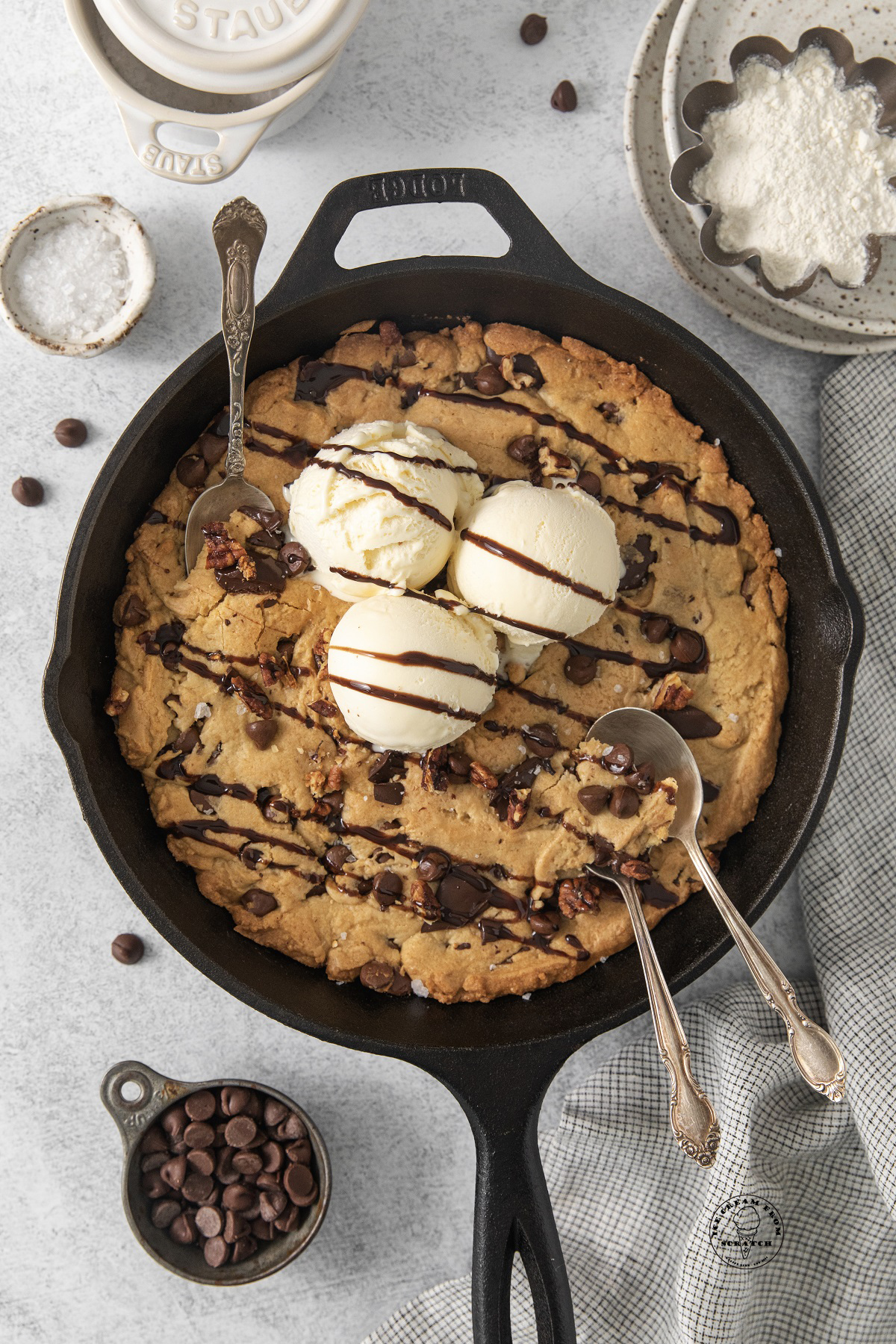 What is a Pizookie?
Oh, you are in for a real treat! A Pizookie is a term made from a combination of the words pizza and cookie, and it is a large, deep-dish cookie, cooked in a cast-iron skillet.
Also sometimes spelled "Pazookie", this dessert was made popular by BJ's Restaurant, where they deliver individual-sized pizookies topped with scoops of ice cream to your table. Pizooki are simple to make at home, and in a size big enough to share!
Why You're Going to Love this Pizookie Recipe
It's Made in a Skillet – Making one giant cookie in a cast iron skillet is much easier than making multiple individual cookies. Plus, this skillet cookie is thick and soft, with the most delicious crisp edges.
Perfect chocolate chip cookie flavor and texture – To make the best pizookie, you have to be sure that it's a bigger version of the most delicious chocolate chip cookie! Plenty of semi-sweet chocolate chips, brown sugar, vanilla extract, and flaky sea salt are included in this recipe to make this pizookie taste amazing.
Pizookie is amazing with ice cream! Just like apple pie a la mode or a brownie sundae, cookies and ice cream are a delicious pair. Vanilla Ice Cream is the ultimate pizookie topping, but other flavors are also yummy.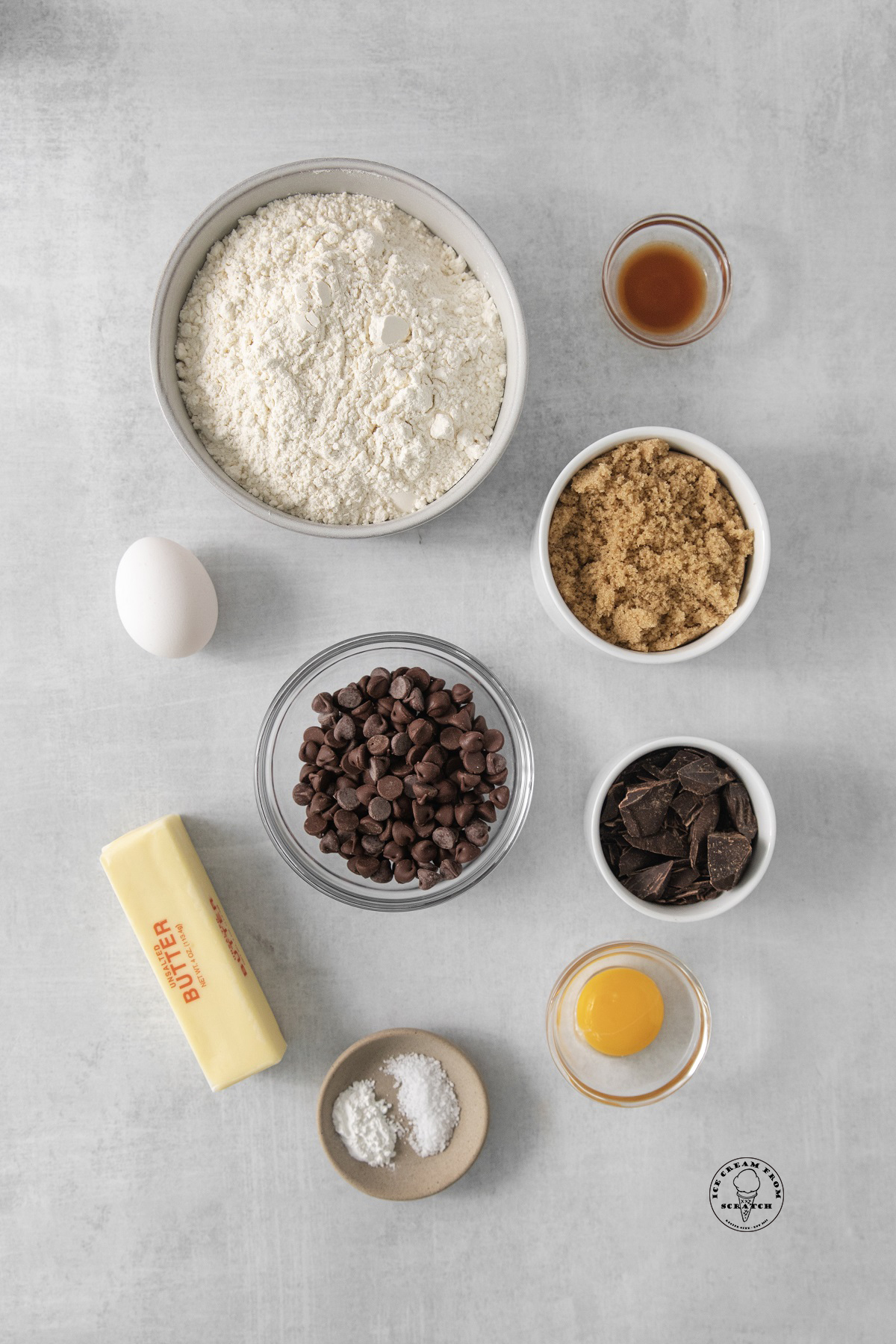 Ingredients in this Pizookie Recipe
Butter – The base ingredient in any good cookie recipe, butter adds richness and structure to the pizookie.
Brown Sugar – For sweetness, and to give this giant cookie a soft, tender crumb.
Eggs – Adding an egg to the cookie dough helps bind it together. We're also adding an extra egg yolk for even more richness.
Vanilla – This baking extract enhances and elevates all of the other flavors in the mix.
Flour – Be sure to measure your flour using the spoon and level method so that you don't add too much flour to the dough.
Salt – Just a bit of salt in the dough helps to balance out the sweetness. Flaky sea salt added to the cookie after it's baked gives a deliciously salty finish too.
Baking Powder – This helps to soften the cookie and make it rise slightly to create the best pizookie texture.
Chocolate Chips – Any combination of chocolate chips will work here! I'm using half semi-sweet chips and half chopped dark chocolate bits.
Pizookie Toppings – These are optional, but very much suggested! Vanilla ice cream, hot fudge sauce, and pecans.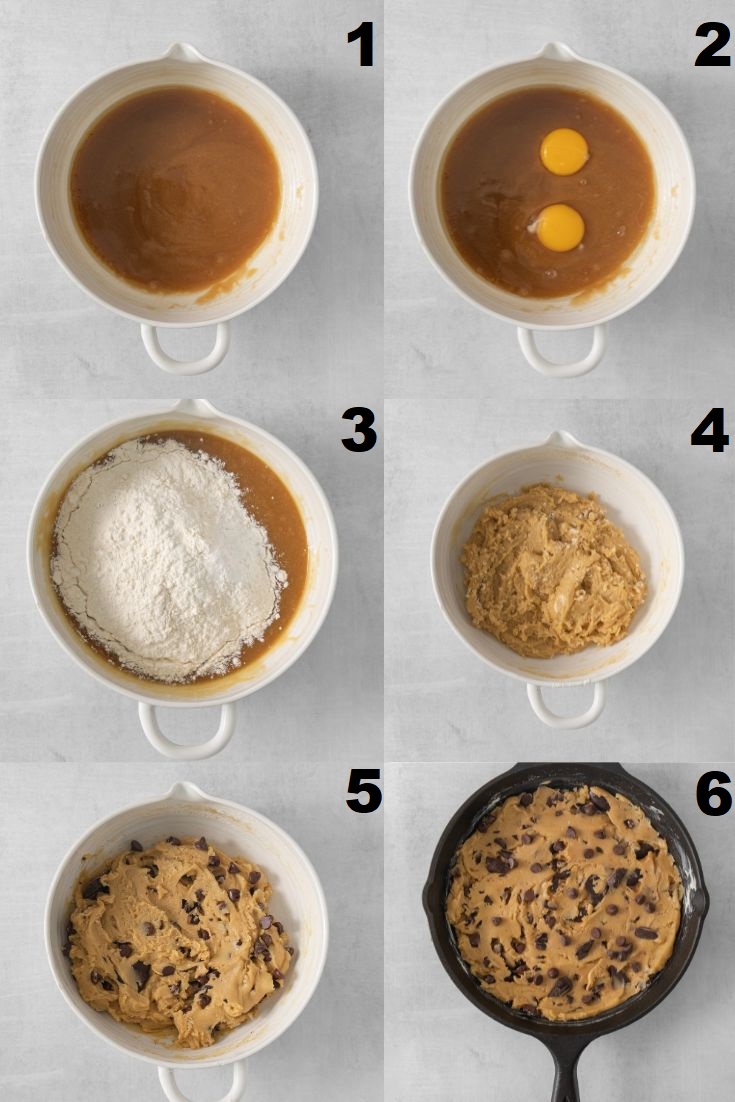 How to Make a Pizookie
This easy cookie dough is made with melted butter, so you don't even need to use a mixer!
Preheat the oven to 350°F and lightly grease a 10-inch cast iron skillet with butter. Then whisk together melted butter and brown sugar in a bowl.
Next, whisk in the egg, egg yolk, and vanilla.
To the same bowl, add the flour, salt, and baking powder.
Stir to combine, being careful not to overmix.
Fold in the chocolate chips.
Spread the cookie dough into the prepared skillet, and top with additional chocolate chips if you like. Bake for 28-30 minutes, or until golden brown and set in the center. Sprinkle with flaky sea salt immediately after removing the pizookie from the oven.
These numbered steps match the numbered photos above and are for illustration purposes. For the complete list of ingredients and instructions, please see the recipe below.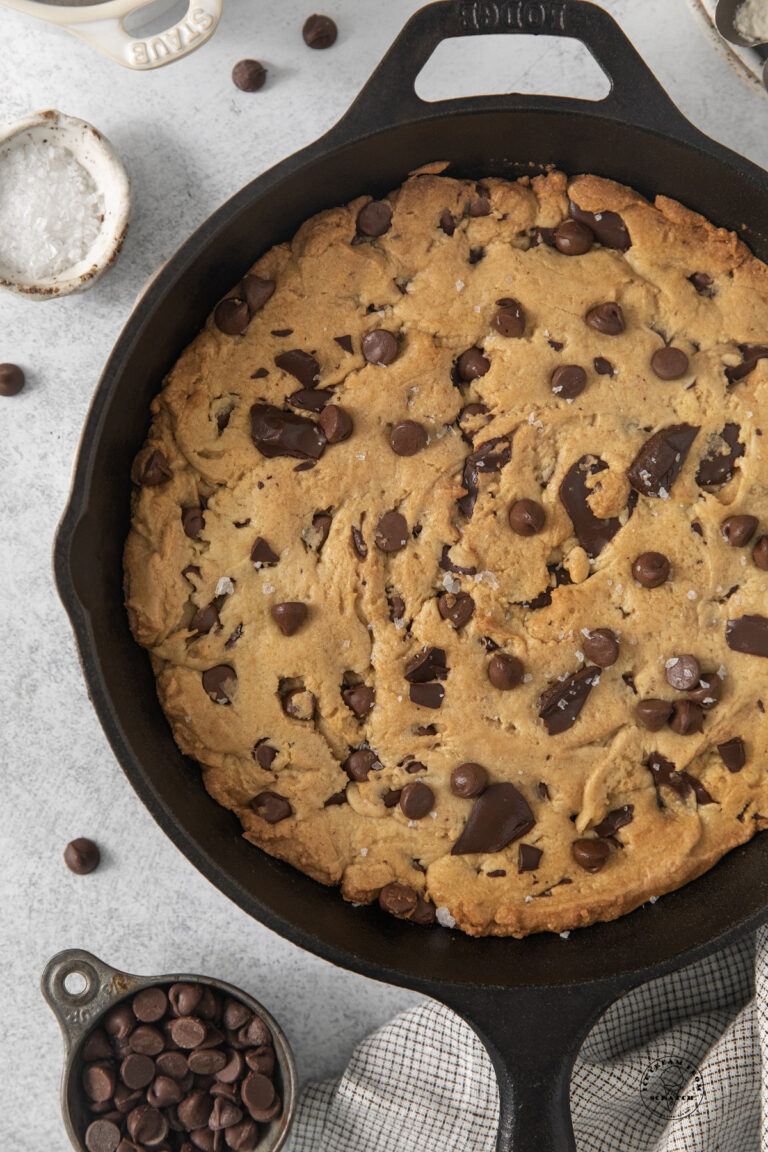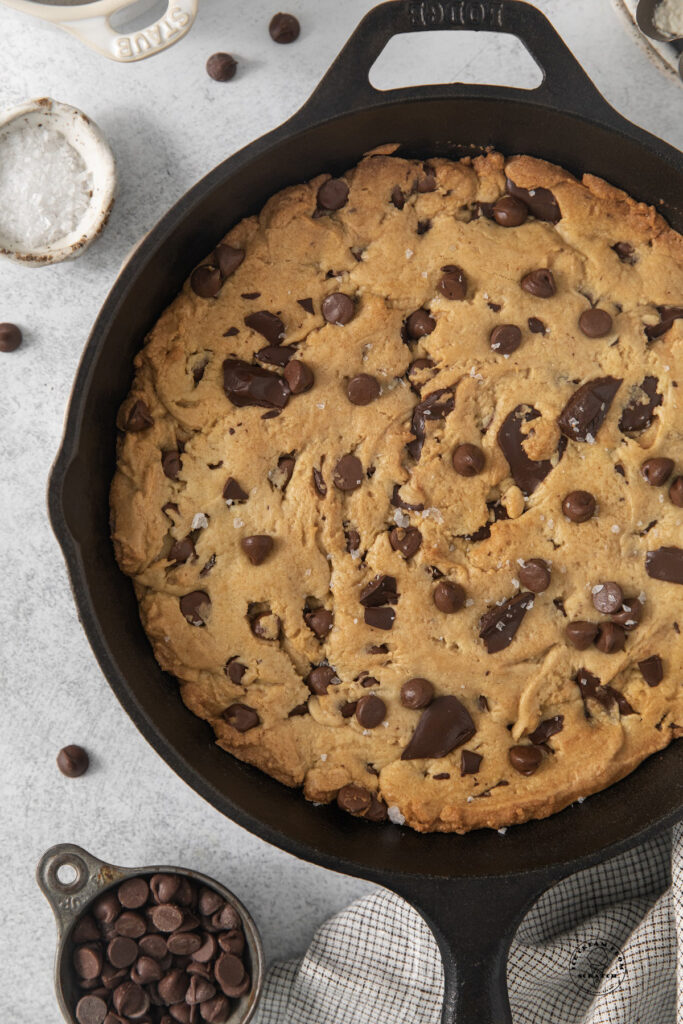 How to Store Pizookie
If you aren't eating your Pizookie right away, allow it to cool completely, and then remove it from the pan. Store in an airtight container at room temperature for up to 4 days.
You can also freeze a pizookie for up to 3 months. Allow it to thaw overnight, then enjoy it at room temperature or reheat it in the skillet if you want it warm.
Tips for Making This Pizookie Recipe
Choose the right skillet – This recipe works best in a 10-inch cast iron skillet. If your skillet is larger than that, the cookie will be larger, but also thinner, so it will cook faster. You can also bake a pizookie in a different oven-safe skillet, such as stainless steel or enameled cast iron, but you won't get the same texture on the crust.
Allow the melted butter to cool a bit before mixing up the dough. If it's too hot, you might end up with scrambled eggs in your cookie, and you don't want that!
Use any kind of chocolate or baking chips – Dark or semisweet chocolate is my choice, but you might also enjoy white chocolate chips, toffee bits, or milk chocolate in your chocolate chip pizookie. Chopped nuts are also a fun addition!
To make this recipe gluten-free, use your favorite gluten-free all-purpose baking flour blend.
Don't overbake – You want your cookie to be soft and a bit gooey in the center with browned, crisp edges. Keep an eye on the oven and pull the pizookie out as soon as it looks ready. It will continue to cook a bit in the pan as it cools.
Make Ahead – You can prep the dough for pizookie and store it in the fridge for 1-3 days, or in the freezer for up to 3 months. Thaw the dough before baking as directed in the recipe.
If you're going to eat this while it's still warm and gooey, don't try to cut neat slices. Just spoon the pizookie out of the pan into bowls!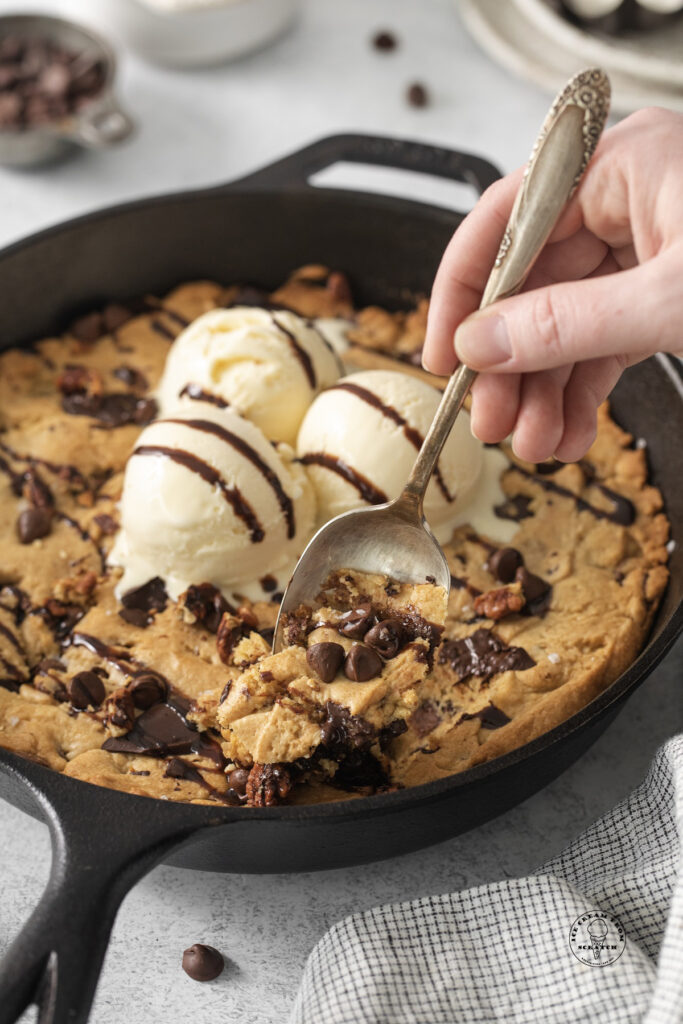 Toppings for Pizookie
You can enjoy this cookie plain, but why would you when you can add all of your favorite toppings?! Try some of these delicious topping suggestions:
Ice Cream: Vanilla Ice Cream, Chocolate Peanut Butter Ice Cream, Butterscotch Ice Cream, Oreo Ice Cream, Death by Chocolate Ice Cream, or any other flavor you enjoy. Make ice cream from scratch, or use your favorite store-bought variety.
Sauces: Chocolate syrup, hot fudge sauce, peanut butter ice cream topping, or caramel sauce.
Other Toppings: Try rainbow sprinkles, whipped cream, maraschino cherries, or chopped Oreo cookies.
How Do You Heat Up a Pizookie?
If you've stored your baked Pizookie, you can easily reheat it! When you're ready to serve it, put the cookie back in the skillet and reheat in a 350°F oven for 5-10 minutes, or just until it's heated through.
Can I Bake Pizookie in a Cake Pan?
Yes, you can use a 10-inch round cake pan or deep dish pizza pan to make this recipe. A 9 or 10-inch square baking pan will also work.
Just be sure not to use a pan that is much larger than 10 inches, or the pizookie won't be thick enough.
How Do I Make Individual Sized Pizookies?
Divide the cookie dough into ramekins or mini skillets, pressing the dough in so that it's about 1.5 inches thick. Bake as directed in the recipe card below, but reduce the baking time to 7-10 minutes, baking just until the centers are barely set.
Is Pizookie a Real Word?
Not really. Pizookie is a fun mashup of the words pizza and cookie. You could also call this giant cookie dessert a skillet cookie, a pizza cookie, or a deep dish cookie, but I think "Pizookie" is more fun to say!
More Homemade Desserts
We have all of the best Ice Cream Dessert Recipes here for you! Start with these easy favorites:
For another dessert idea, you might like this cottage cheese chocolate mousse.
LET'S GET SOCIAL, you can follow us on Pinterest or leave a comment below if you have any questions.
Did you make this Homemade Pizookie recipe? What kind of ice cream did you eat it with? Leave a Comment Below letting us know what you thought and if you added any additional add-ins.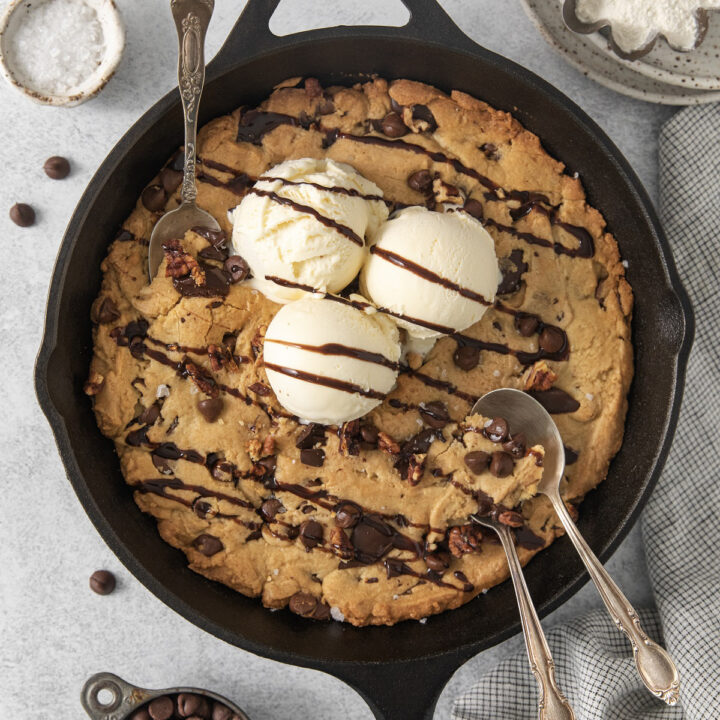 Pizookie
Chocolate chip Pizookie baked in a cast iron skillet has a gooey center and crispy edges. It's perfect with scoops of vanilla ice cream on top!
Ingredients
For the Cookie
1 stick (½ cup) butter, melted
1 cup light brown sugar, lightly packed
1 large egg + 1 egg yolk
1 teaspoon pure vanilla extract
1 ¾ cups all-purpose flour
½ teaspoon kosher salt
½ teaspoon baking powder
1 cup semi-sweet chocolate chips
½ cup chopped dark chocolate
1 teaspoon flakey sea salt, optional
For Topping (all optional)
3 scoops vanilla ice cream
¼ cup chocolate syrup or hot fudge sauce
¼ cup chopped pecans
Instructions
Preheat the oven to 350F and lightly grease a 10" cast iron skillet with butter.
In a large bowl, whisk together the melted butter and brown sugar until combined. Next add the egg, egg yolk, and vanilla.
Add the flour, salt, and baking powder. Stir to combine. Fold in the chocolate chips and chopped chocolate.
Spread the cookie dough into the prepared pan and top with additional chocolate chips, if desired.
Bake for 28-30 minutes, or until golden brown and set in the center.
Immediately when the pizookie comes out of the oven, sprinkle it with flakey sea salt, if using.
(Optional) Top the pizookie with ice cream, chocolate syrup, and pecans. This pizookie can be eaten warm from the skillet or sliced into triangles once cooled.
Notes
I'm using a combination of semi-sweet chocolate chips and chopped dark chocolate but you could use any chocolate you like! 
Flakey sea salt adds a delicious salty finish to the cookie. If you don't have any flakey salt on hand, a pinch of sea salt will work too.
To make this recipe gluten-free, use your favorite gluten-free all-purpose baking flour blend.
Nutrition Information:
Yield:

8
Serving Size:

1
Amount Per Serving:
Calories:

503
Total Fat:

18g
Saturated Fat:

9g
Trans Fat:

0g
Unsaturated Fat:

8g
Cholesterol:

58mg
Sodium:

439mg
Carbohydrates:

82g
Fiber:

4g
Sugar:

53g
Protein:

7g